A couple years ago, I watched all the movies on the Sight & Sound 2012 Director's Poll Top 100, and that was a lot of fun — lots of great movies I hadn't seen before, and lots of stuff I hadn't seen in a long time.
But then there was a new poll in 2022, so I had to watch all the new movies, right?
Right.
So project completed, and here's the new list, and I'll continue nattering on in a random way after the list.
As you can see, almost all of the new movies are on #29 and down — just one of the top 28 are new. And that's natural, of course — the films on the bottom of the list are pretty random, and come and go from decade to decade. (Because there aren't that many people voting, and people can vote for whichever movie they want to (i.e., there's no "nomination process"), it's not a very stable list.)
And another thing: Should they rename the list "the Criterion list"? While buying these 30 films, I found that the majority of them are carried by Criterion. And Criterion are great at curating stuff: They produce excellent Blurays and DVDs with interesting booklets, and they put the movies they carry on their own on-demand channel. I wonder whether they've become the gatekeepers to which art films are remembered: If it's on Criterion, it's available to a huge number of people. If it's not on Criterion, does it even exist?
So I was excited to go to the Criteron web page and see this: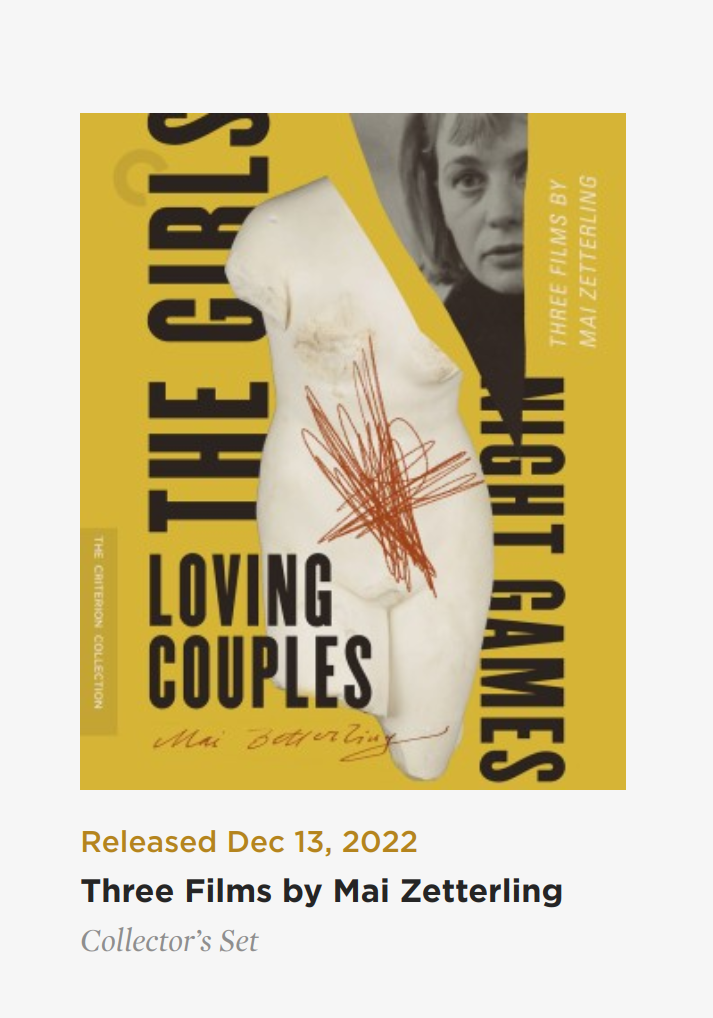 Criterion is doing Mai Zetterling! I was absolutely flabbergasted by her film The Girls when I watched it the other year, but it was a largely forgotten movie then — only available on a Swedish box set. Now that Criterion is carrying it, will it make an appearance on the 2032 Sight & Sound poll?
Misunderstand me correctly — I'm not saying this is a bad thing, but I think it's a thing: What's being remembered is, of course, a matter of what's possible to watch. And Criterion has turned into a gatekeeper: If an older art movie isn't on Criterion (and the Criterion Channel, and therefore HBO), it doesn't exist.
Anyway, the following films that were on the 2012 list are gone from the 2022 list:
Here's the list of the new movies:
This movies that are gone are ⚄⚅⚂⚃⚂⚅⚅⚄⚄⚄⚅⚅⚄⚅⚅⚄⚂⚄⚂⚀⚄⚂⚂⚃⚃⚃⚅⚅⚂⚃⚂⚄⚅⚄⚅, 35 films with a mean rating (from me) of 4.6.
The new movies are ⚅⚃⚄⚄⚄⚅⚄⚅⚅⚃⚅⚂⚅⚃⚂⚅⚃⚂⚃⚃⚃⚁⚂⚅⚄⚅⚃⚂⚄⚃⚄⚃, 32 films with a mean rating (from me) of… 4.6.
OK, we need more decimals. 4.60 vs 4.58! The 2022 list is so much worse than the 2012 list! Scandalo!!!
So there you go. It's fun watching films this way — I don't have to decide myself what to watch, which makes things more efficient. But (like I probably said last time around) there's a certain sameyness to the films on this list: We're talking "serious dramas" for the most part, and that can become oppressive when watching so many of them in a row.
My list of "best 100 films" would look quite different. It'd have, like, Liquid Sky at #71, Polyester at #72 and India Song at #73. (What would your #71-73 look like?) And Bringing Up Baby at #7 or something. But there's a certain genre — the "film club films" — that invariably have hegemony over these lists.
I'm not complaining or anything — it is what it is, and it's a list of very good films.
Just kinda one note.