After a pretty random decision to see all films Tilda Swinton had appeared in, and a basic run-through and then a mopping-up weekend, I've basically seen all the Swinton films that are kinda available.  (In some form or other.)
This post is a place-holder article I'll just be editing to keep track of what films I still have to seek out.  Because it makes more sense to do that on a blog than in a text file.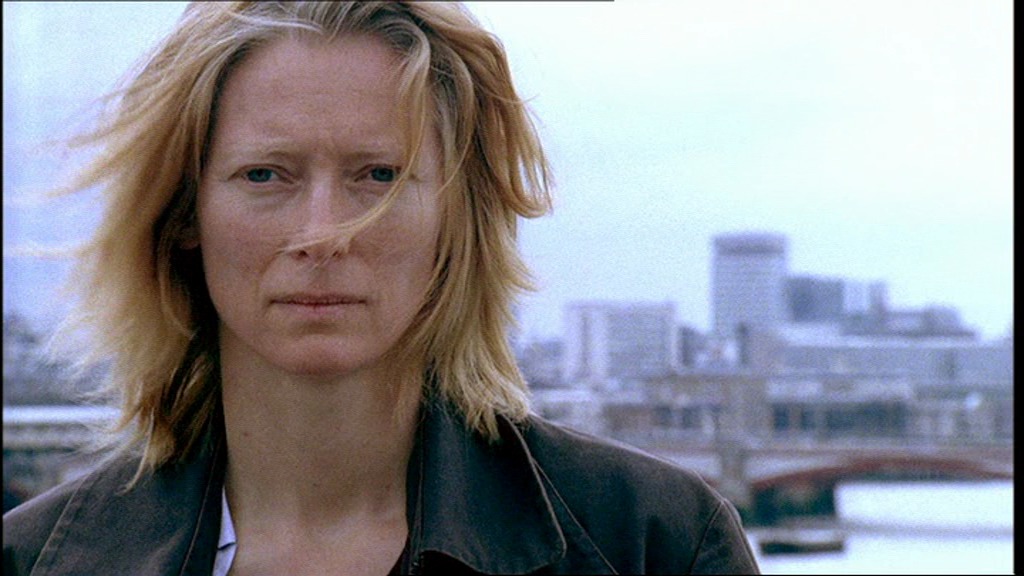 You know.
The films with "-" in the first column are the ones I've yet to watch.
* 1986: Caravaggio
* 1986: Zastrozzi: A Romance
* 1986: Egomania
* 1986: Caprice
* 1987: Aria
* 1987: Friendship's Death
* 1988: The Last of England
* 1988: L'ispirazione
* 1988: Degrees of Blindness
– 1988: Das andere Ende der Welt
* 1989: Play Me Something
* 1989: War Requiem
* 1989: Cycling the Frame
* 1990: The Garden
* 1990: Your Cheatin' Heart
* 1990: Fruits of Fear
* 1991: Edward II
– 1991: The Party: Nature Morte
– 1992: Man to Man: Another Night of Rubbish on the Telly
* 1992: Orlando
* 1992: Shakespeare: The Animated Tales
* 1993: Wittgenstein
* 1993: Blue
* 1993: Das offene Universum
– 1994: Remembrance of Things Fast: True Stories Visual Lies
* 1994: Visions of Heaven and Hell
* 1994: Glitterbug
* 1996: Female Perversions
* 1997: Conceiving Ada
* 1998: Love is the Devil
* 1999: The War Zone
* 1999: The Protagonists
* 2000: The Beach
– 2000: The Dilapidated Dwelling
* 2000: Possible Worlds
* 2001: The Deep End
* 2001: Vanilla Sky
* 2002: Teknolust
* 2002: Adaptation.
– 2002: Tilda Swinton: The Love Factory
* 2003: Young Adam
* 2003: The Box
* 2003: The Statement
* 2004: Derek Jarman: Life as Art
* 2005: Thumbsucker
* 2005: Constantine
* 2005: Constantine (Video Game)
* 2005: Broken Flowers
* 2005: The Absent Presence
* 2005: The Somme
* 2005: Narnia: The Lion, The Witch and the Wardrobe
* 2006: Stephanie Daley
* 2006: Galápagos
* 2006: Deep Water
* 2007: Sleepwalkers
* 2007: Faceless
* 2007: Strange Culture
* 2007: The Man From London
* 2007: Michael Clayton
– 2007: Schau mir in die Augen, Kleiner
* 2007: Hitler's Favourite Royal
* 2007: Derek
* 2008: Julia
* 2008: The Chronicles of Narnia: Prince Caspian
* 2008: Burn After Reading
* 2008: The Curious Case of Benjamin Button
– 2008: Requiem for Jarman
* 2009: The Limits of Control
* 2009: The Invisible Frame
* 2009: Io sono l'amore
* 2010: The Chronicles of Narnia: The Voyage of the Dawn Trader
* 2010: Climate of Change
* 2010: Spur der Bären
* 2011: Genevieve Goes Boating
* 2011: We Need To Talk About Kevin
* 2011: Women War & Peace
* 2011: Cinema is Everywhere
* 2011: Making it In Hollywood
– 2013: Amore carne
* 2012: Moonrise Kingdom
* 2012: Getting On
* 2012: Radioman
* 2013: The Stars Are Out Tonight
* 2013: Only Lovers Left Alive
* 2013: When Björk Met Attenborough
* 2013: Snowpiercer
* 2013: Death for a Unicorn
* 2013: The Zero Theorem
* 2014: The Grand Budapest Hotel
– 2014: Antarctica 3D: On the Edge
* 2014: Travelling at Night with Jim Jarmusch
* 2014: The Gospel According to St. Derek
* 2014: Trainwreck
* 2015: Dreams Rewired
* 2015: A Bigger Splash
* 2015: B-Movie: Lust & Sound in West-Berlin 1979-1989
* 2016: Hail, Caesar!
* 2016: Letters from Baghdad
– 2016: Phantom of the Universe: The Hunt for Dark Matter
* 2016: Doctor Strange
* 2016: The Seasons in Quincy: Four Portraits of John Berger
* 2017: async – first light
* 2017: Okja
* 2017: Letters From Generation RX
* 2017: War Machine
* 2017: Last and First Men
– 2017: Tania Libre
– 2018: Women Make Film: A New Road Movie Through Cinema
* 2018: Isle of Dogs
* 2018: Suspiria
* 2019: The Souvenir
* 2019: Avengers: Endgame
* 2019: What We Do In The Shadows: The Trial
* 2019: The Dead Don't Die
* 2019: The Personal History of David Copperfield
* 2019: Uncut Gems
* 2020: Story and the Writer
* 2020: The Human Voice
* 2021: Memoria
* 2021: The French Dispatch
* 2021: The Souvenir: Part II
– 2021: The Dong with the Luminous Nose
* 2021: What If… Doctor Strange Lost His Heart Instead of His Hands?
– 2022: Guillermo del Toro's Pinocchio
* 2022: The Eternal Daughter
* 2022: Three Thousand Years of Longing