We're Depressed by Mark Beyer (327x330mm)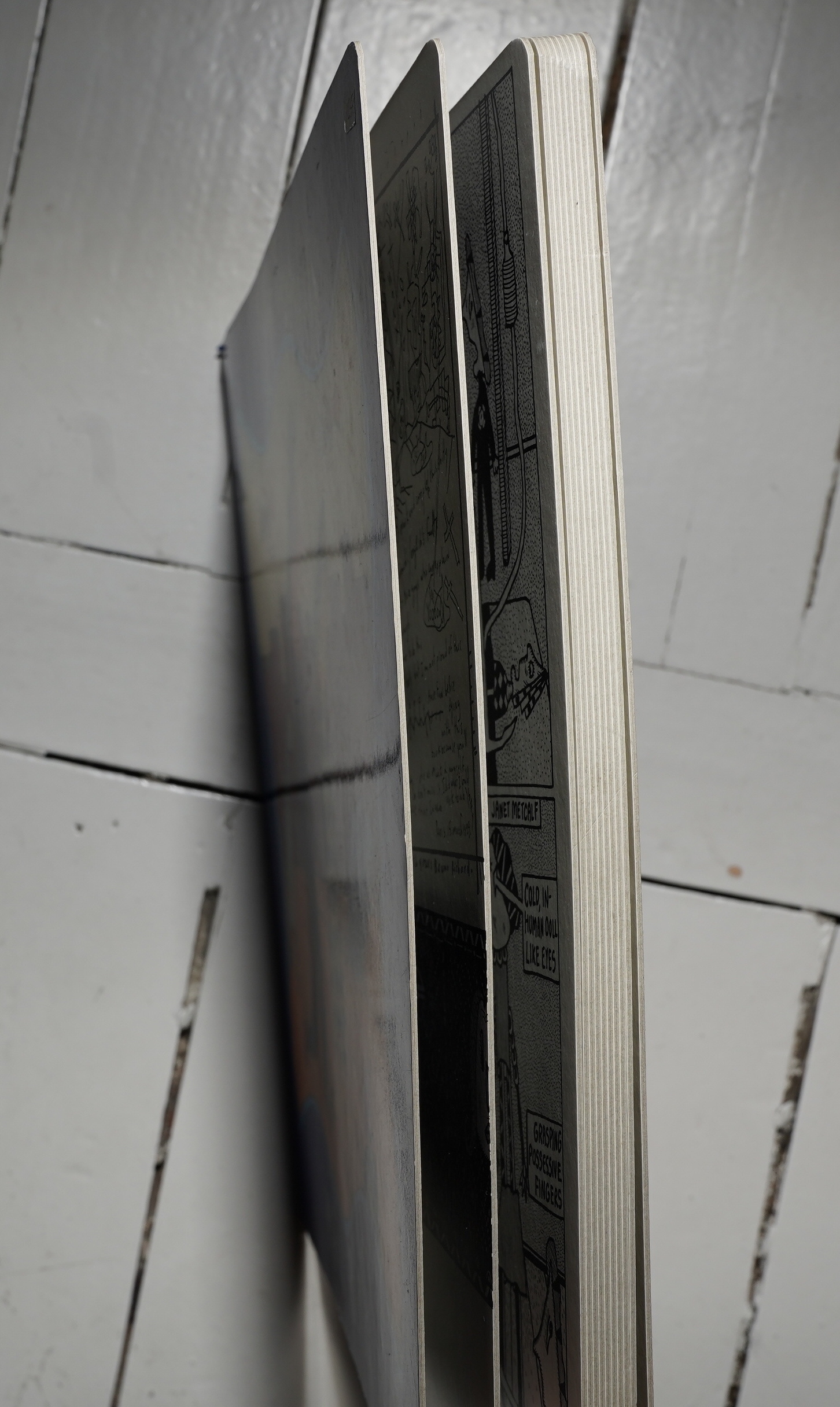 This is a physically pretty unique book — it's square and has these very thick pages — like a children's book, I guess.
It's published by Water Row Books, who've done a bunch of high end publications.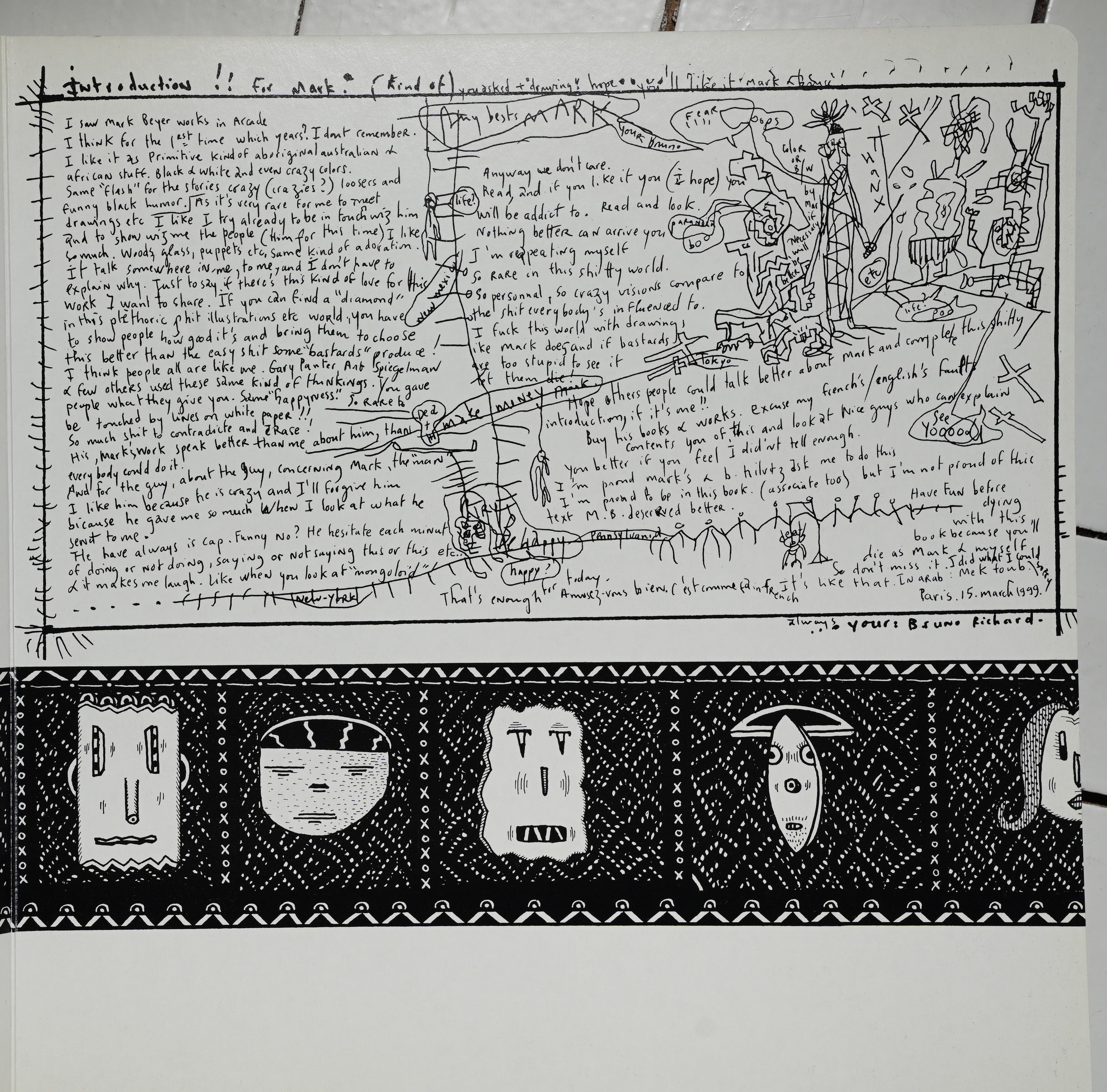 Bruno Richard does a… unique… introduction to the book (which is a collection of Amy & Jordan strips printed in 1983 in the British music paper New Musical Express).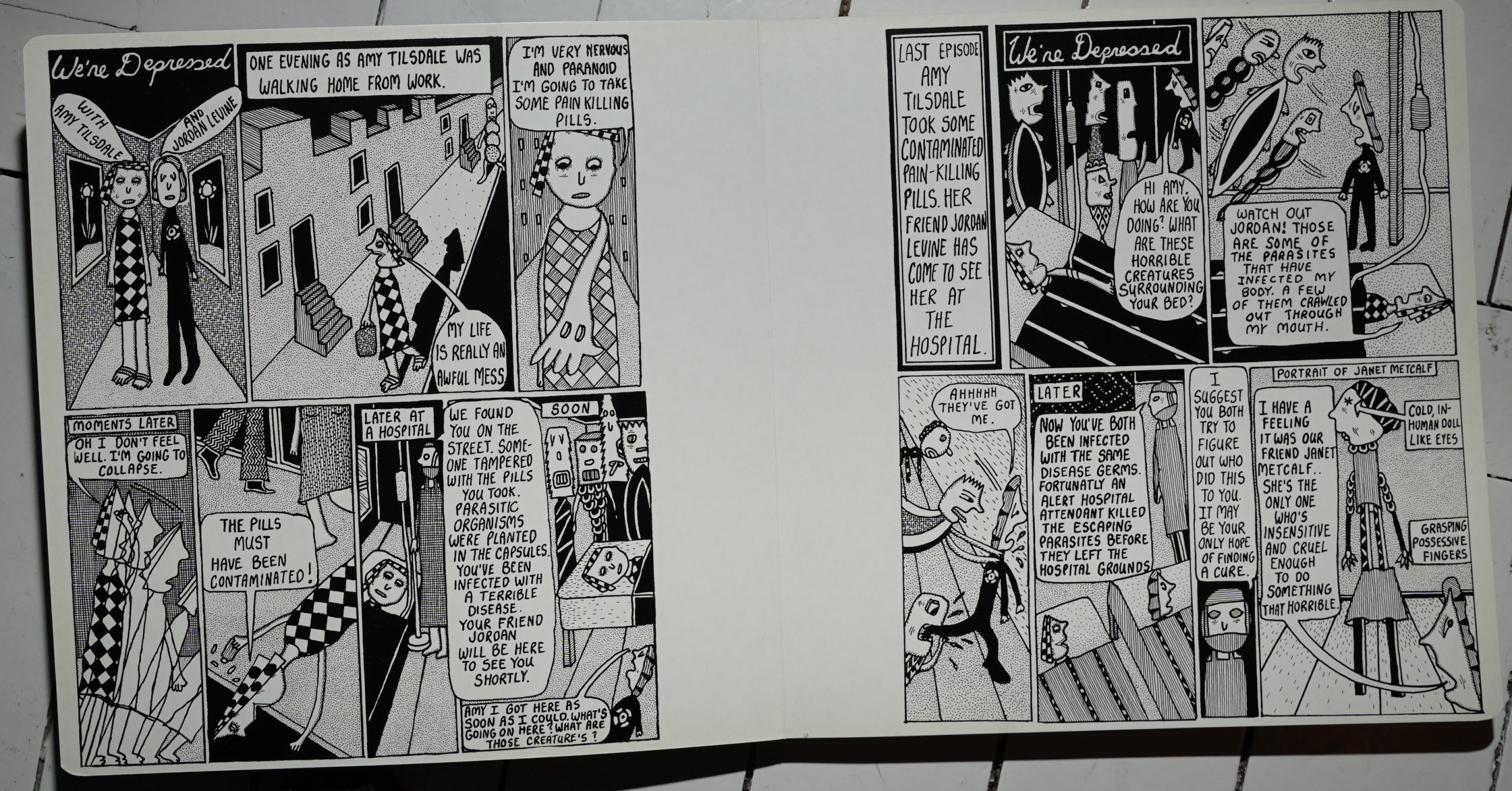 There's one strip per page with these huge margins in the middle. It's very odd, eh? But it kinda makes sense in this context: The printing quality is perfect, and this size makes the strips seem more… well… weighty.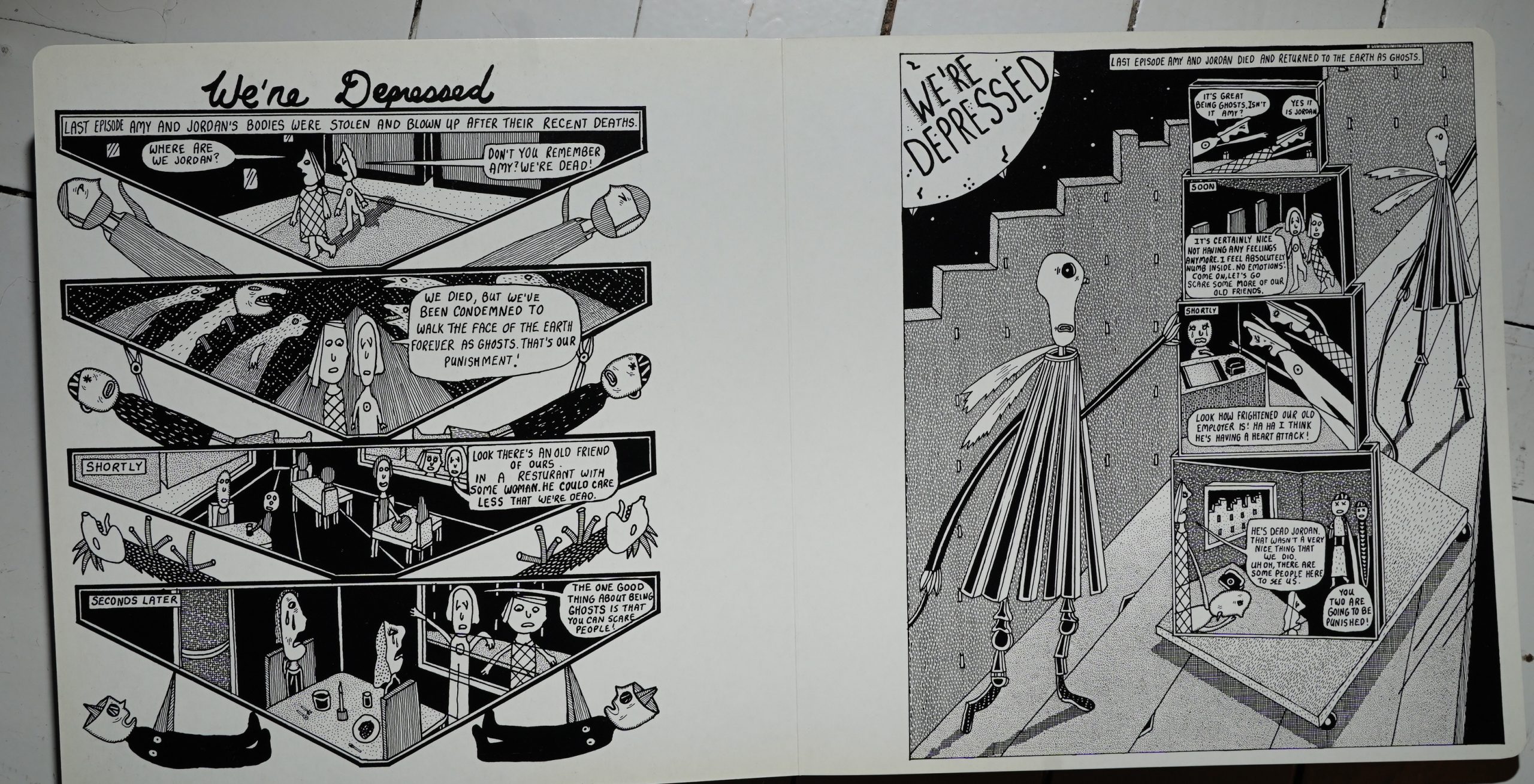 Slightly unusual for Beyer, the narrative here makes sense, sort of. I mean, it ends pretty abruptly, but is a fun/depressing read.
And the artwork is just amazing.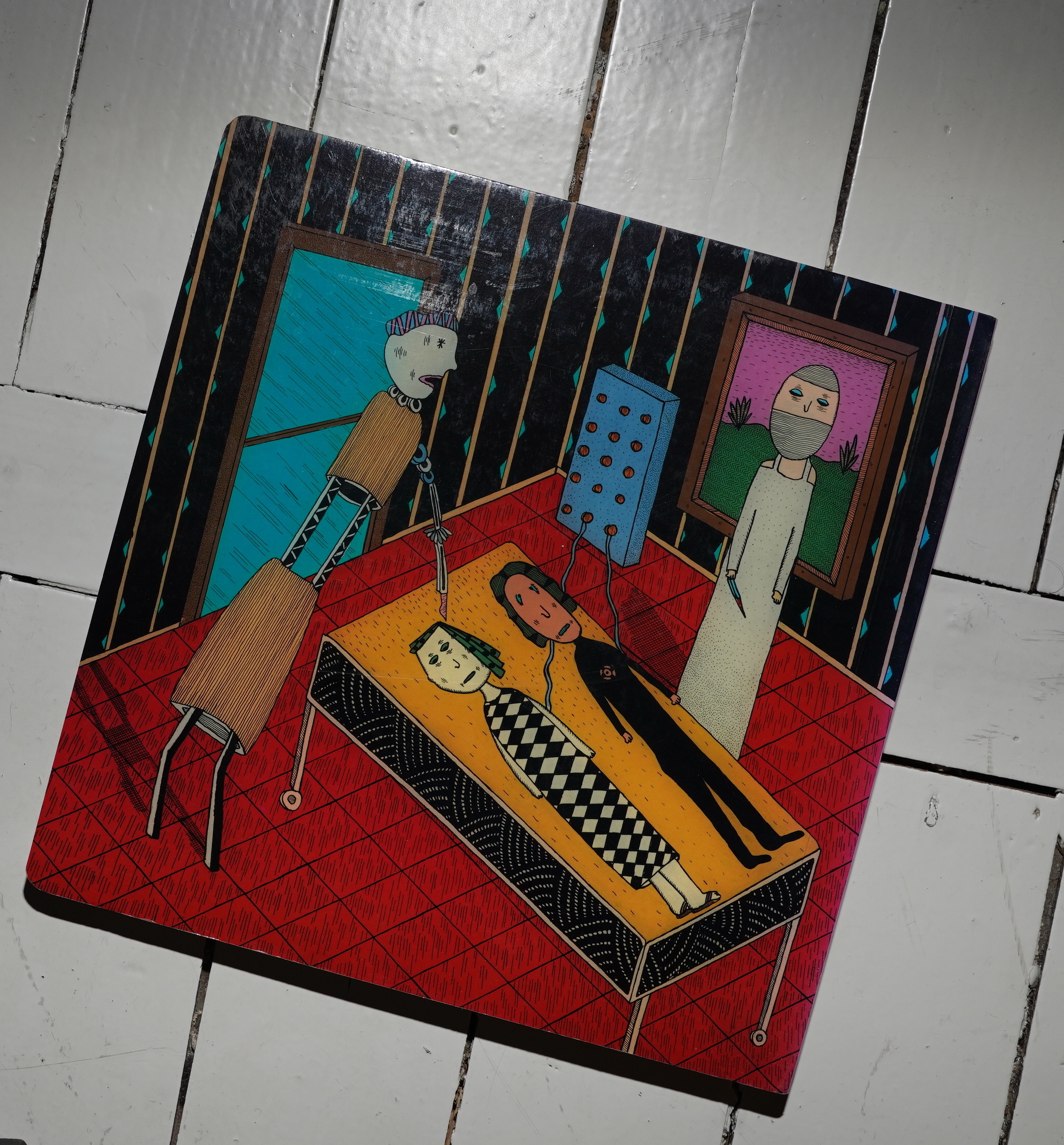 And a nice colour image on the back.
The Comics Journal #144, page 11:
Mark Beyer Art Stolen
RAW contributor and Agony creator Mark Beyer
Often draws stories about people in the throes
of despair. Now, Beyer himself is worried about
the fate of his original art, much of which was
stolen sometime in early June.
Beyer has traveled the world in recent years,
and had entrusted his originals to a storage
locker at Budget Store & Lock Village in Allen-
town, PA. "The robbery took place sometime
between June I and 5," Beyer told the Journal.
"There were several hundred Old drawings
stolen from the period of 1970 to 1975 (not old
comic strips). Also, an old hand-bound chil-
dren's book I did from 1974 called A Green
Nose. Also, a big box of my original comic art,
including quite a few published and unpublished
stories, numerous illustrations, and drawings."
In addition, there were "10 or 12 handmade
dolls, made by me, which were also stolen, in-
cluding an Amy doll, a Jordan doll, Tony Target
and Thomas House" among other characters.
Beyer said he was worried that some of the
art might be sold to collectors. "Basically, the
only person I ever sold comic art to was (New
York-based collector) Alfred Bergdoll. I know
he would never sell those pages. I sold two other
pages to a Chicago man several years ago, and
also two pages to the Library ofCongress. That's
it. So, in other words. if things started turning
up at comic book conventions or anyplace else,
it would be very suspicious."
People with information about the stolen art
can contact Beyer at P.O. Box 2304, Lehigh
valley, PA or call (215) 820-9017.
Here is a partial list Of the stolen material:
• Agony (all the book's art except for the cover)
• The Mistake (8-page Amy and Jordan story)
• Danger in New York (3-page Amy and Jor-
dan story)
• An Afternoon at Fish City Airport (Amy
story)
• Amy Machine (3-page Amy story)
• I Like to Inugh (4-page Tony Target story)
• Amy Tilsdale Visits the Thomas House Rest
Home (3-page Amy and Thomas House story)
• Fine Arts Page (I-page story)
• Tony Target (First Tony story for Arcade)
• Radiator Relationships (I-page story from
I.Æmme Outa Here)
• Derelicts (2-page Amy and Jordan story)
• The Glass Thief (3-page story from RAW)
• Outside Out (6-page story from RAW)
• We're Depressed (12-episode story from
Dead Stories)
• I Like Paris (2-page Tony Target story from
Metal Hurlant)
• I Fell for a Fish (Unfinished, unpublished
3-page story)
Wow. Has the artwork ever been recovered?
Here's another report of the theft:
Artist Mark Beyer told police on Tuesday that thousands of dollars' worth of artworks he has done and memorabilia he has collected over the past 20 years had been stolen from a storage unit he rents in Allentown.

He said the theft occurred sometime during the last few days.
But I can't find anything more.
Well, that sucks.
This blog post is part of the Punk Comix series.