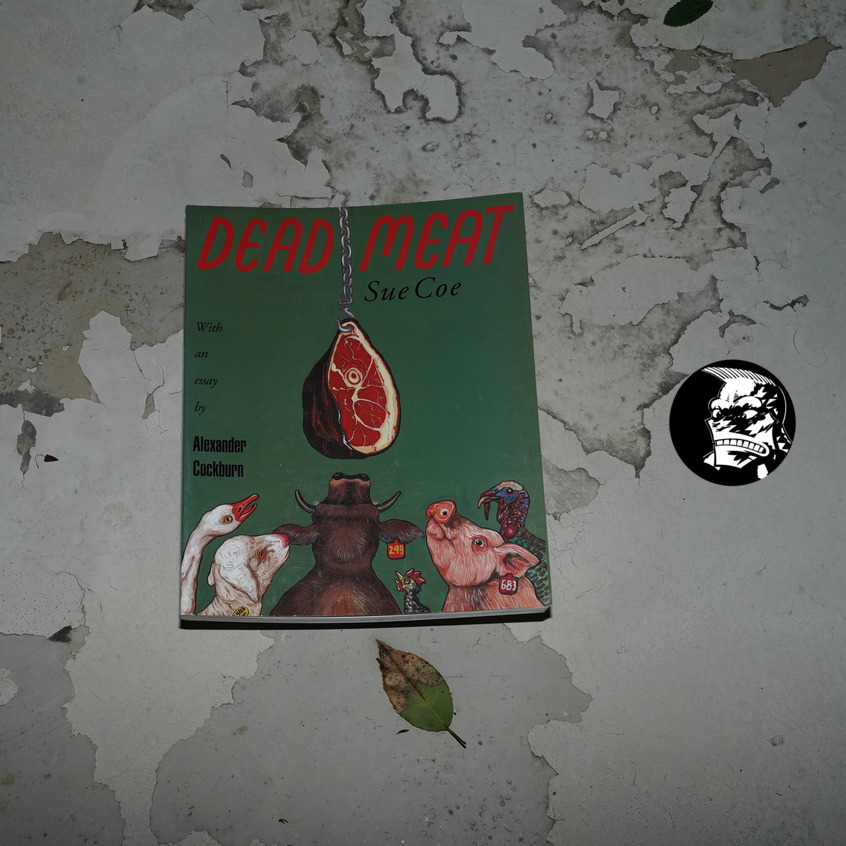 Dead Meat by Sue Coe with Alexander Cockburn (203x256mm)
OK, this is it, for sure this time: This is the final post in this blog series — before the MetaMaus post which is supposed to be the real final post (and was written months ago), and then the extremely final post that sums up the entire thing (also written), and then some index posts.
IT"S THE FINAL ONE I"M WRITING!!!1!
I mean it.
This time.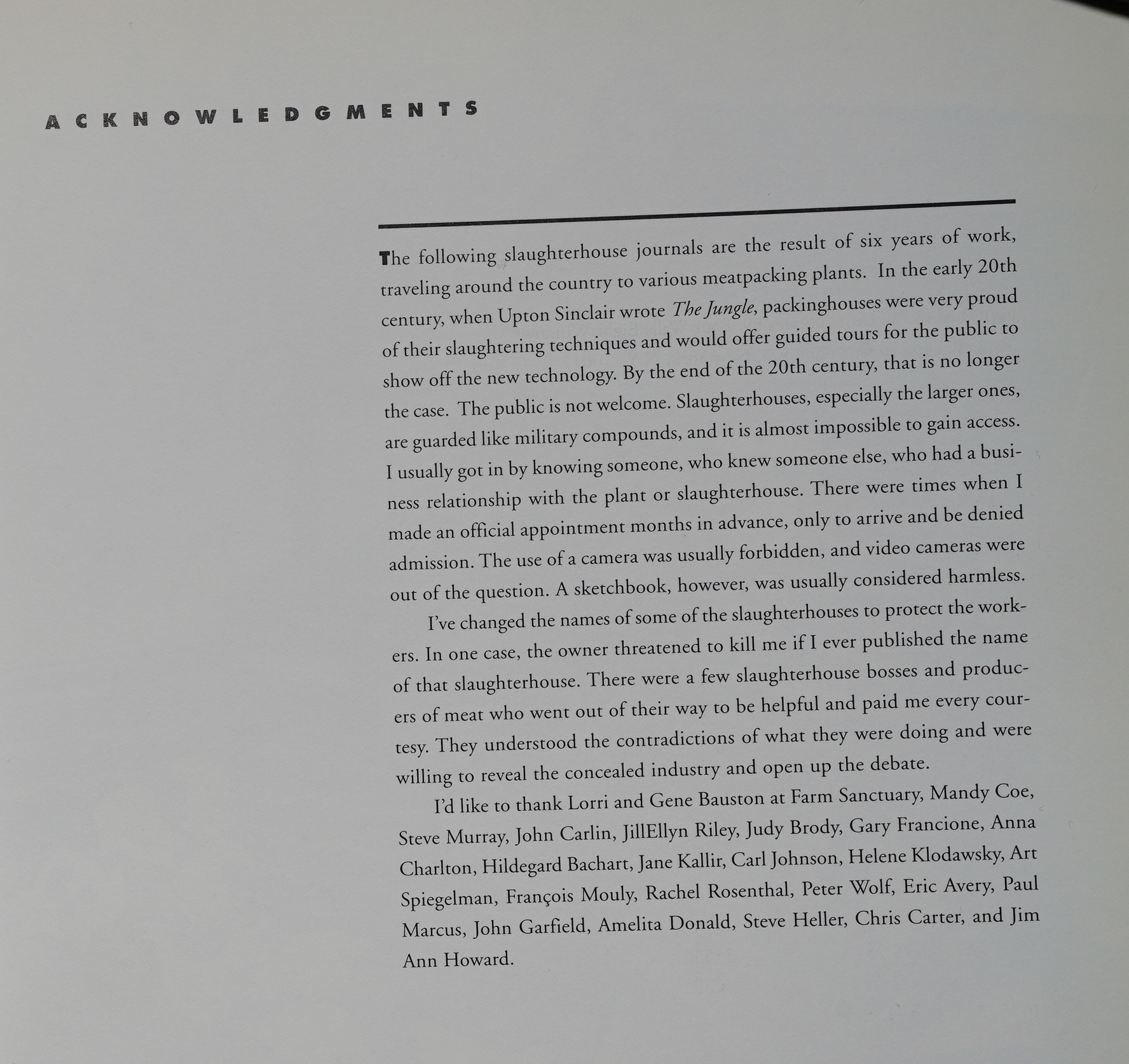 So the concept of this book is that Coe went around er the country and visited a bunch of slaughterhouses and feed lots…
(I've had this book for decades, but I've never actually made myself read it before.)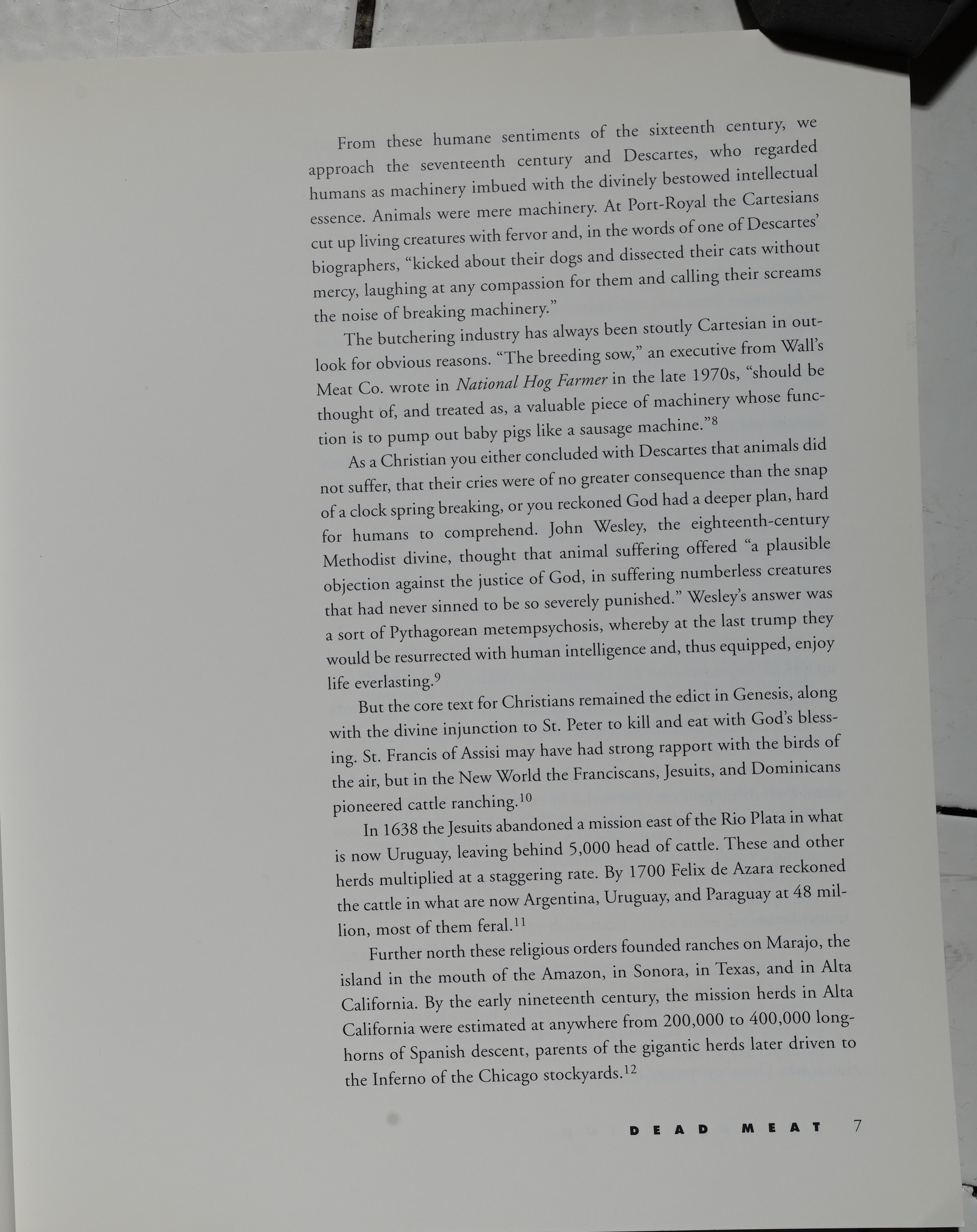 We start with an introduction that's more than thirty pages long (by Cockburn) about the history of meat eating, with an emphasis on Christian values and stuff. Which seems pretty absurd, because… what… I mean, it's not that it's a totally bad essay or anything, but it just seems so out of place. Perhaps it's my general disdain and disinterest in religion that just made me really impatient with it all, and I started skipping.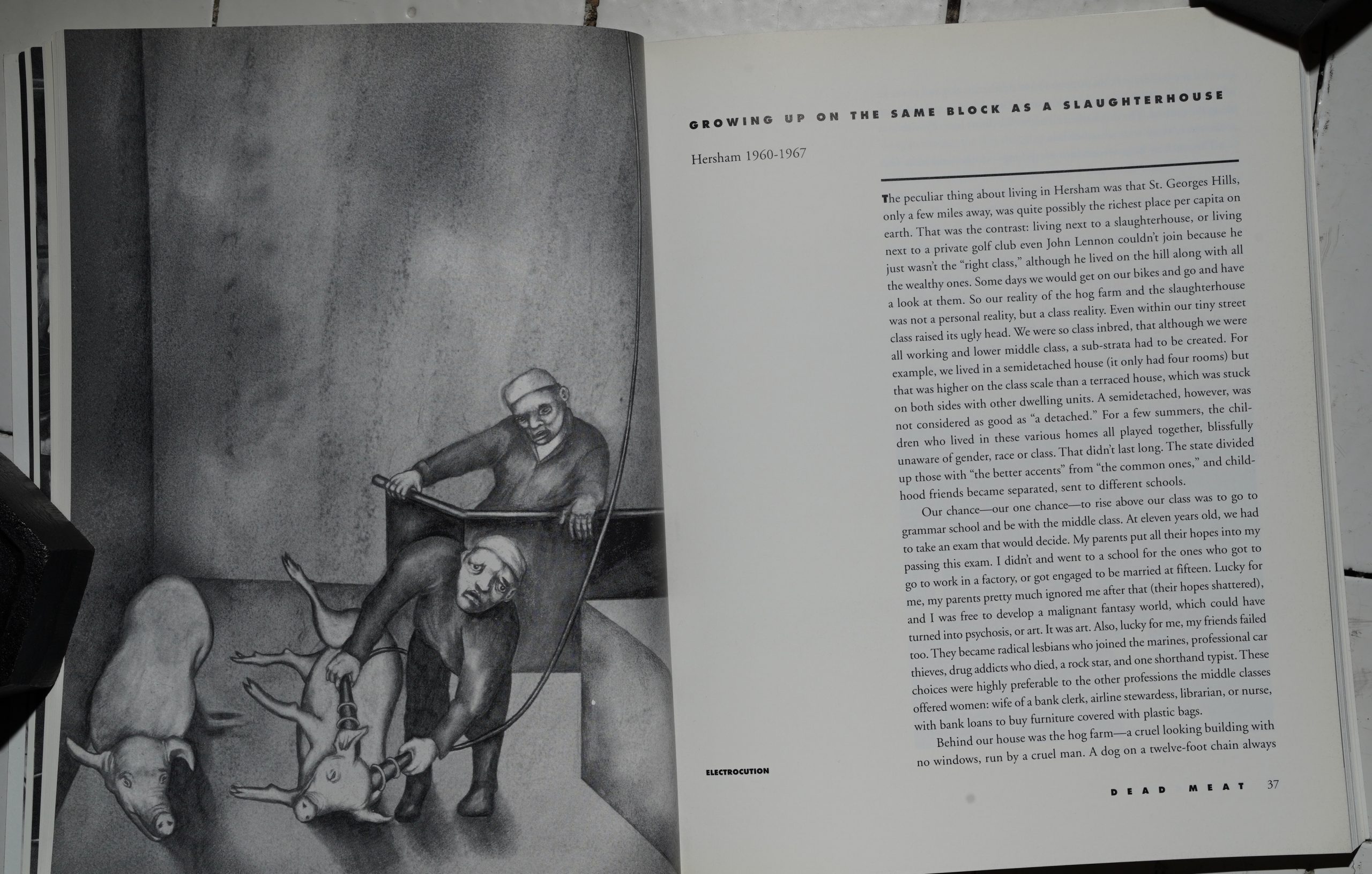 Then it's on to the point of the book: The abattoir visits, but we get another introduction first (it's the third; there was a short introduction by some other person before that Cockburn introduction), and this time around, I think it's finally Sue Coe writing? The book doesn't say, and Coe has usually just done illustrations in her previous books, so I was a bit confused and started flipping back and forth to see whether there was any explanation…
Anyway, in the introduction, she talks about growing up near St. Georges Hill, "possibly the richest place per capita on earth"… and I've never heard of the place, so I googled:
Uhm:
Jump to navigation
Jump to search
"St. George's Hill" redirects here. For the hamlet in Canada, see St. George's Hill, Saskatchewan.

Coordinates: 51.352°N 0.445°W St George's Hill is a 964-acre (3.9 km2) private gated community in Weybridge, Surrey, United Kingdom.
So it's in the UK? I guess?
I'm just belabouring the point here, because the book is really vague about itsy bitsy details like this, as, like, what country she's talking about.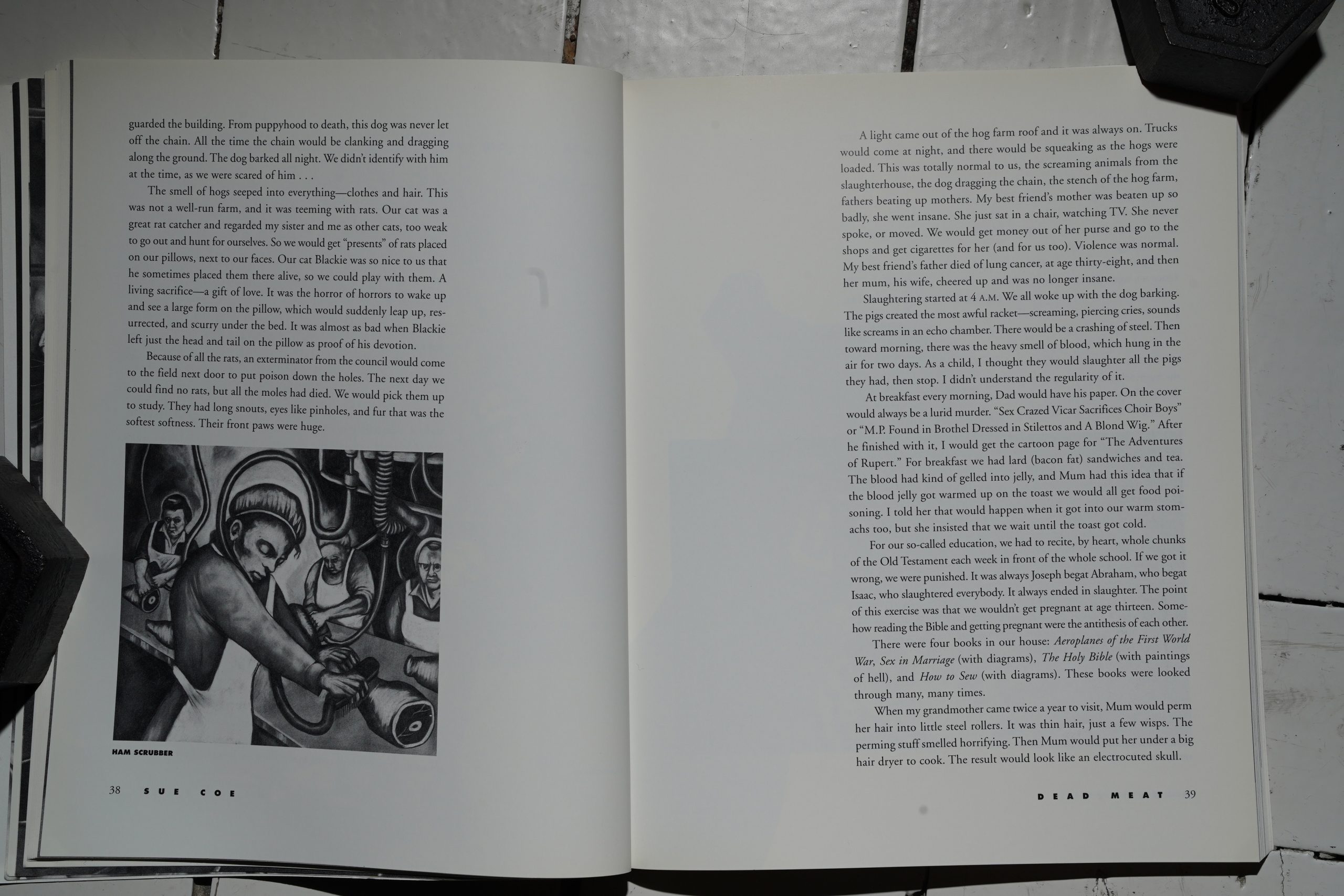 Hersham sounds like a fun place.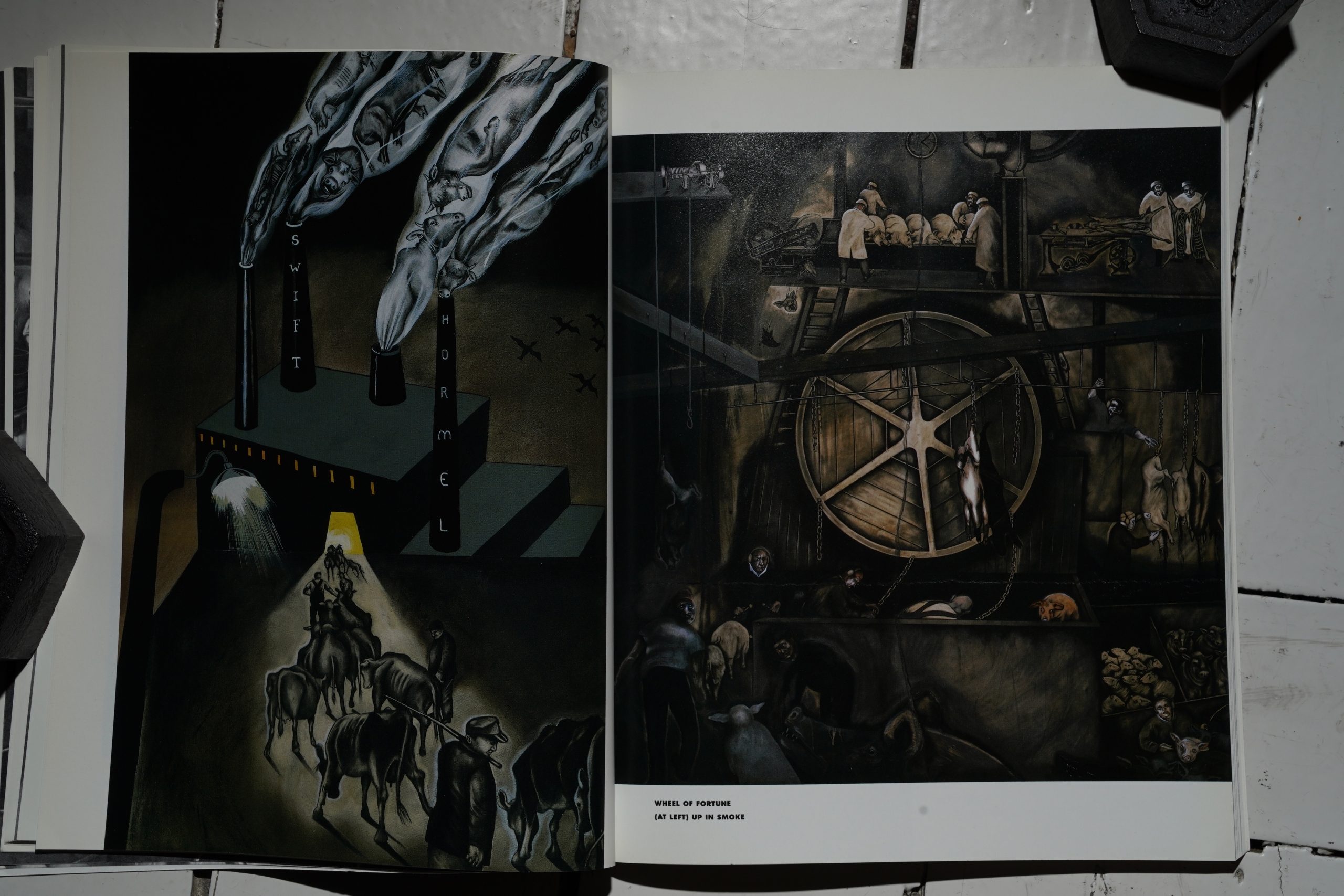 Coe wasn't allowed to take any pictures in the slaughterhouses, but she did sketches, and then we get the resulting paintings reproduced in the book.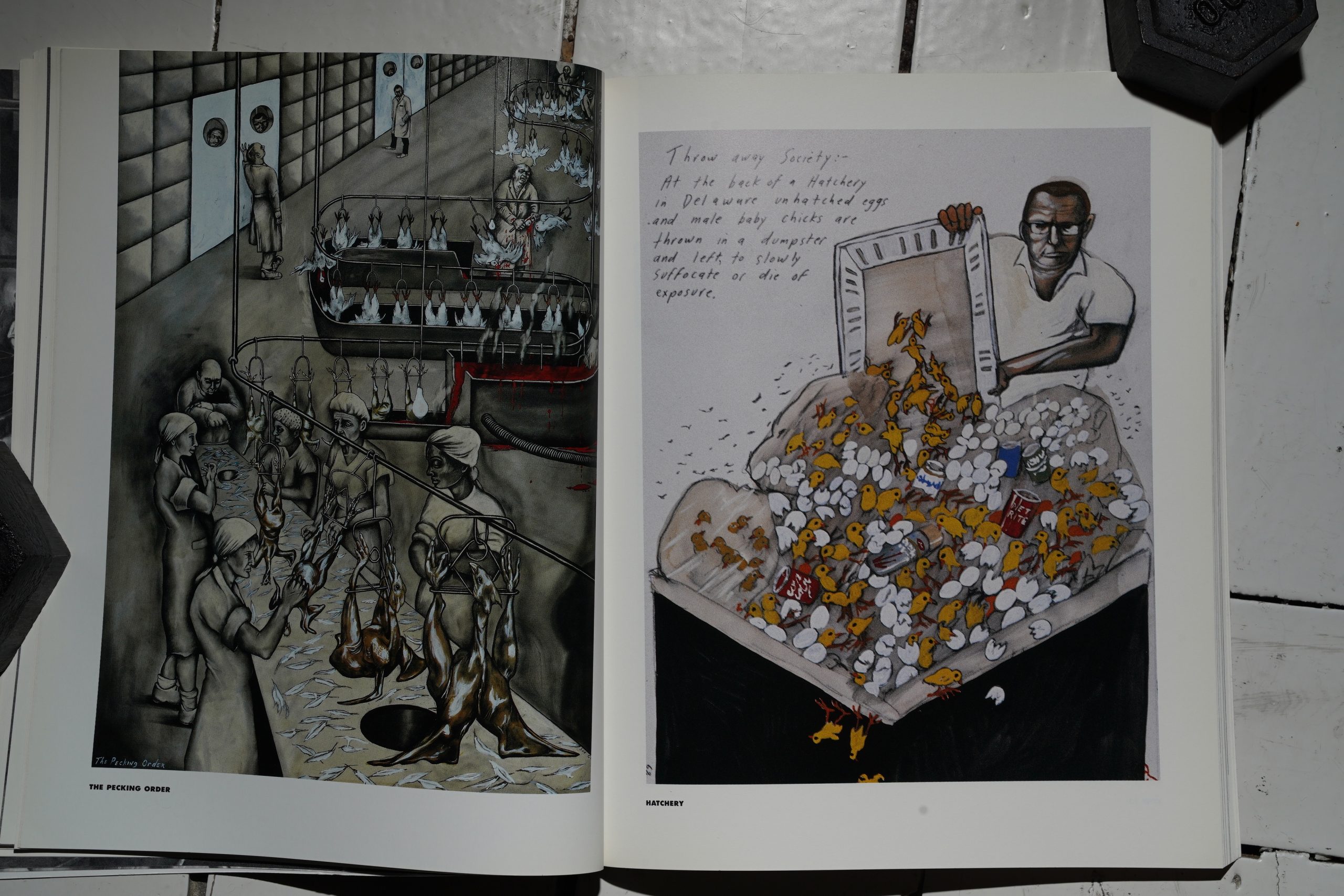 It's pretty nauseating.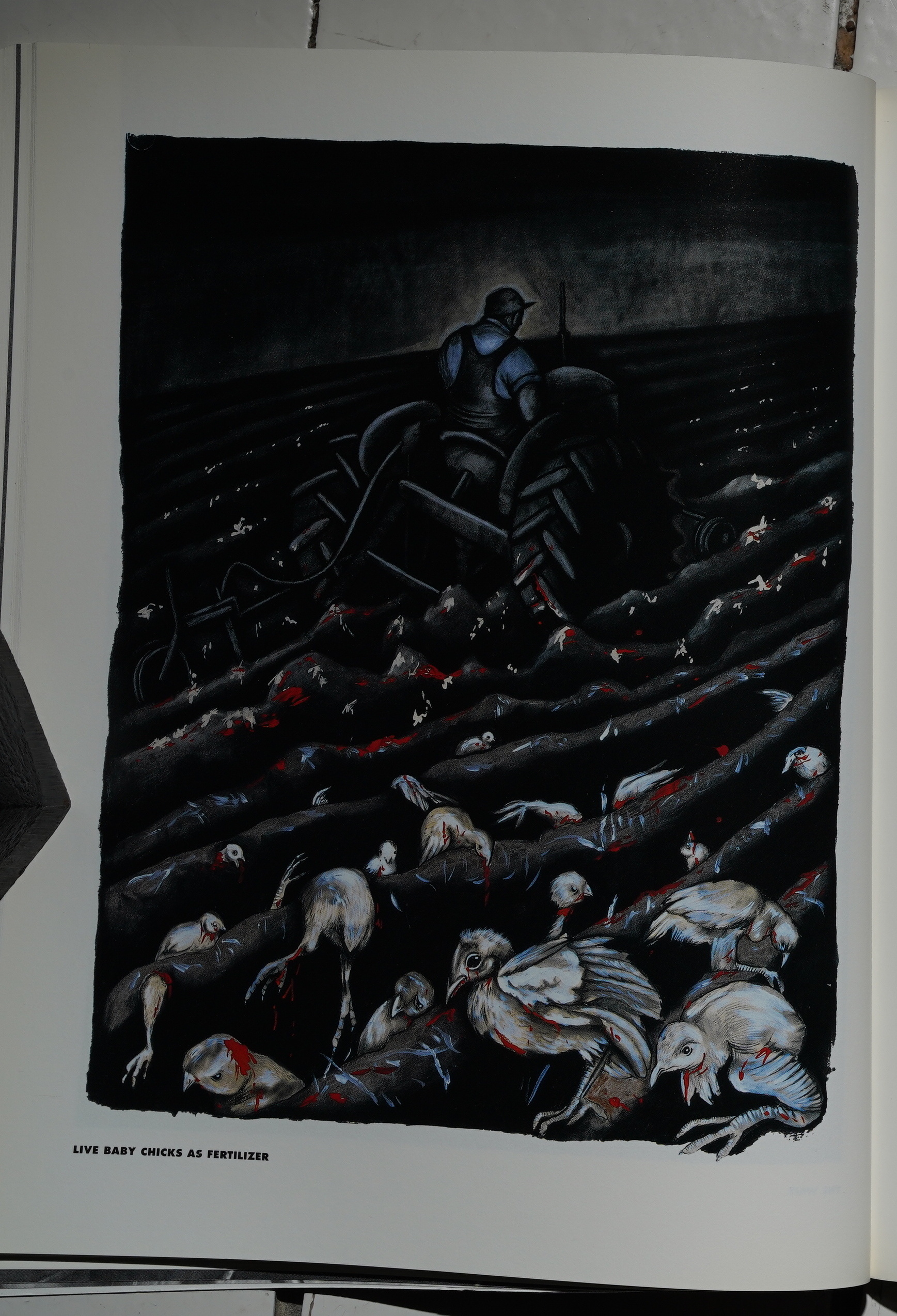 I mean, not pretty.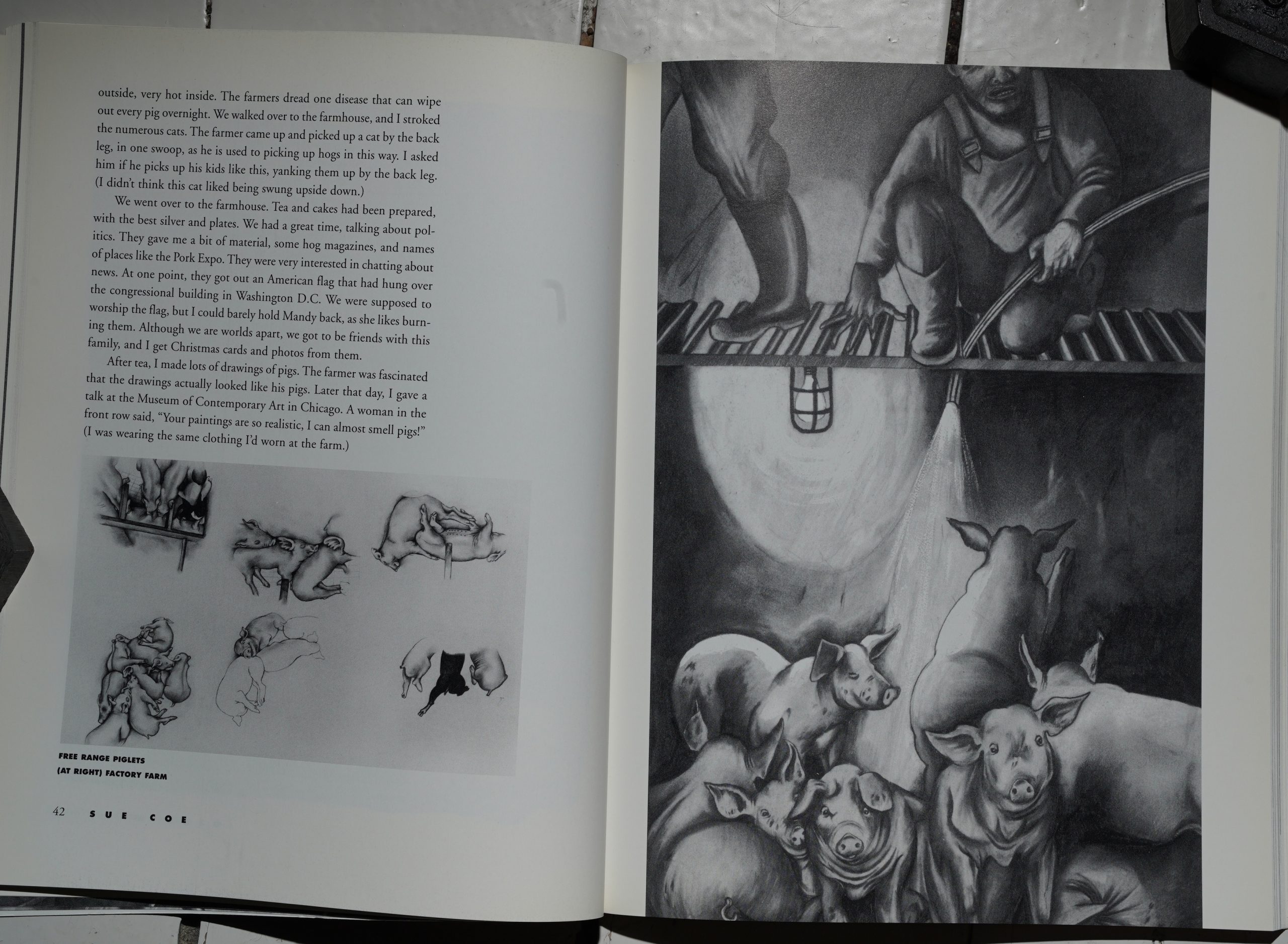 The main section of the book is basically paintings and drawings paired with a very matter-of-fact text where Coe describes her meeting people working at these places, and how the animals were treated.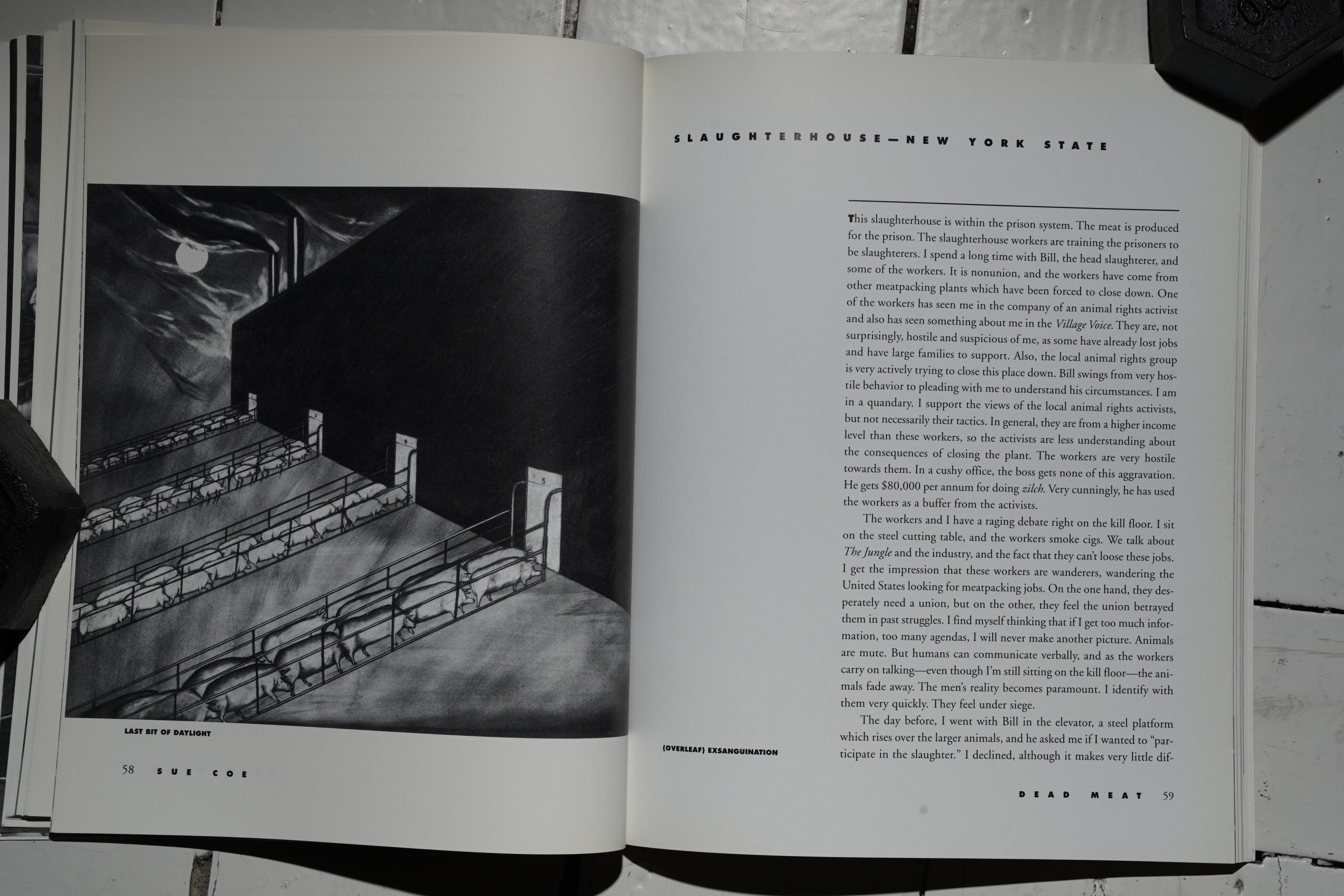 Cor is pretty sympathetic towards the people working in these places.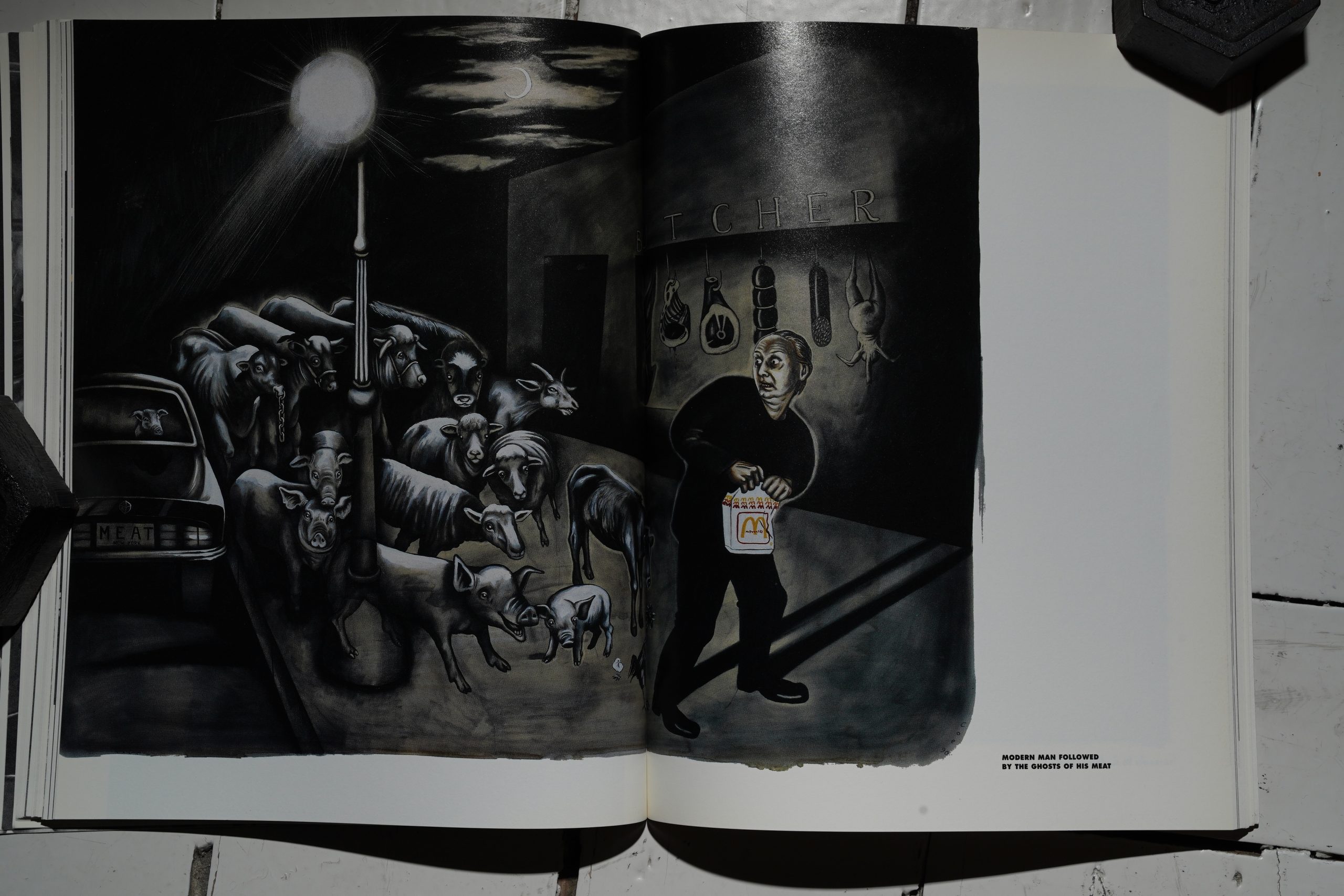 Haunted by the meat you're eaten.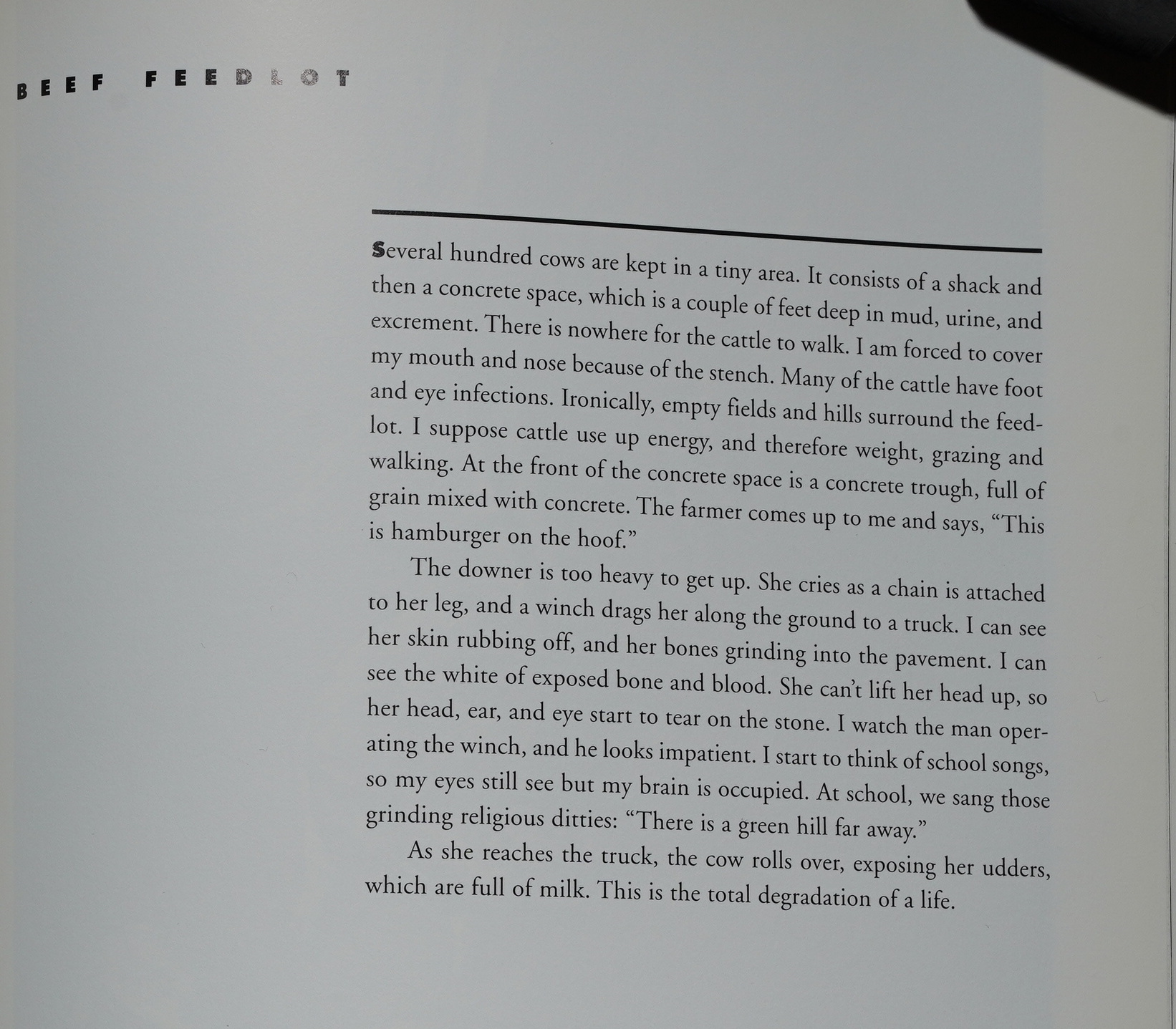 Did I mention that the text is pretty tough to read?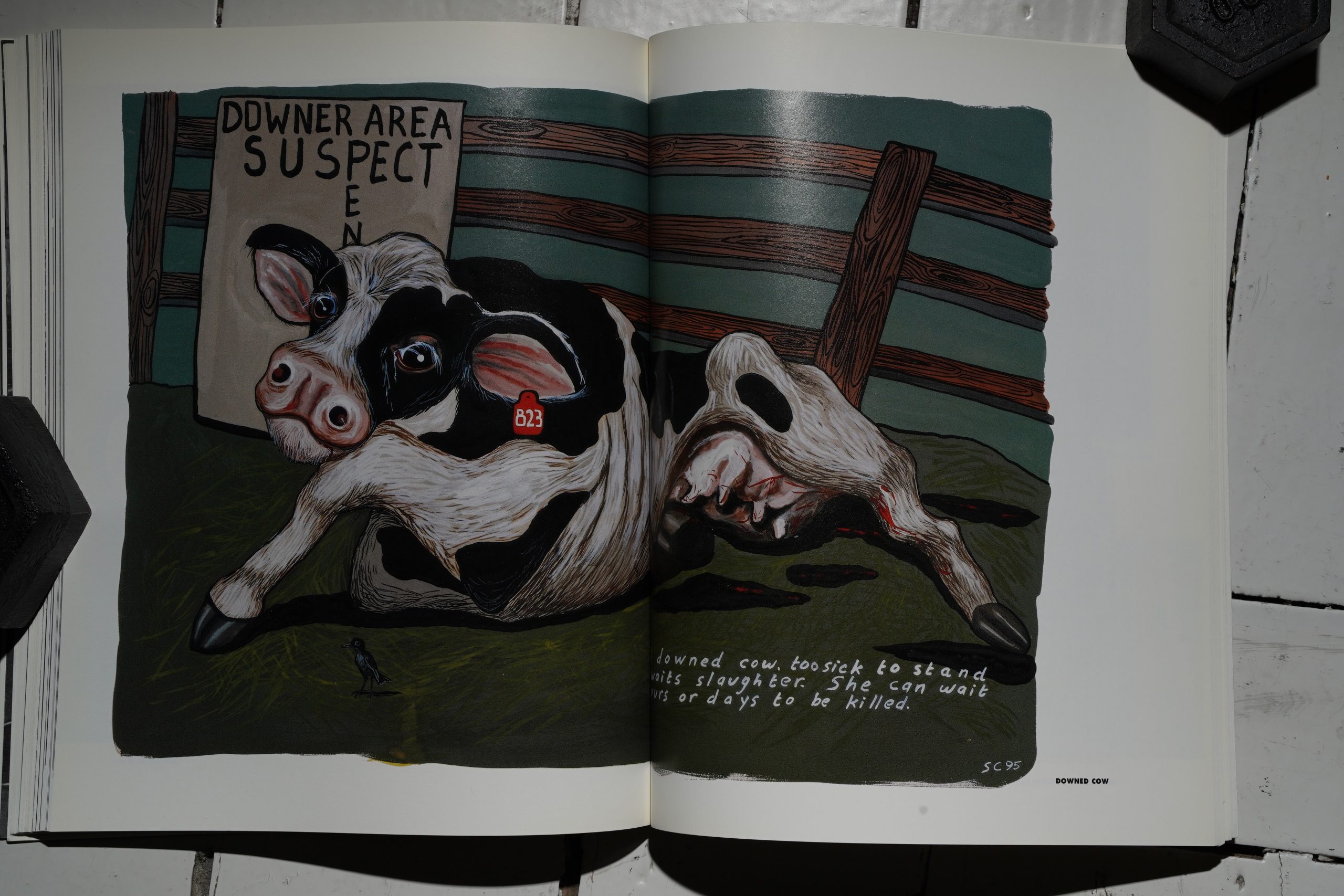 And the artwork's no picnic either.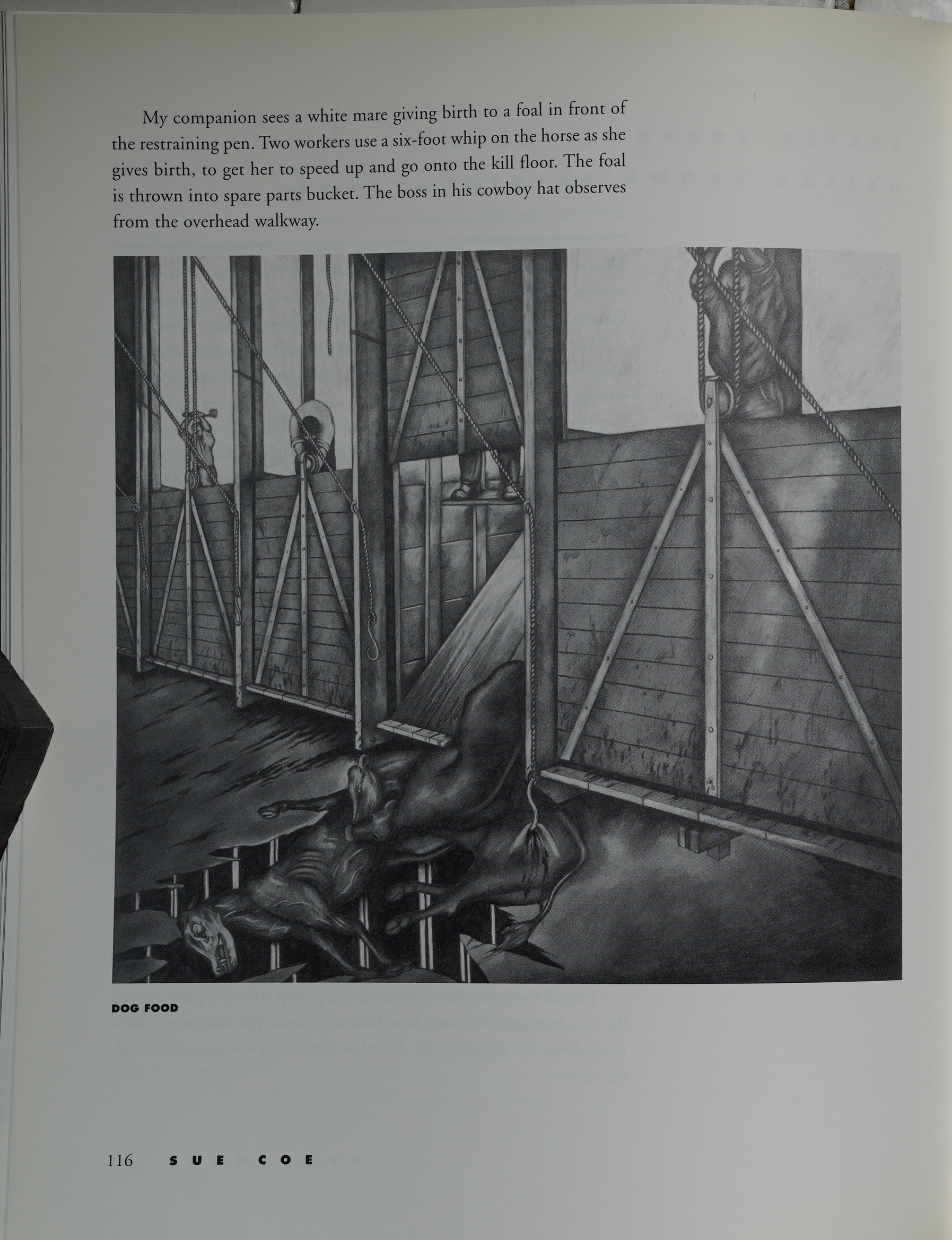 *sigh*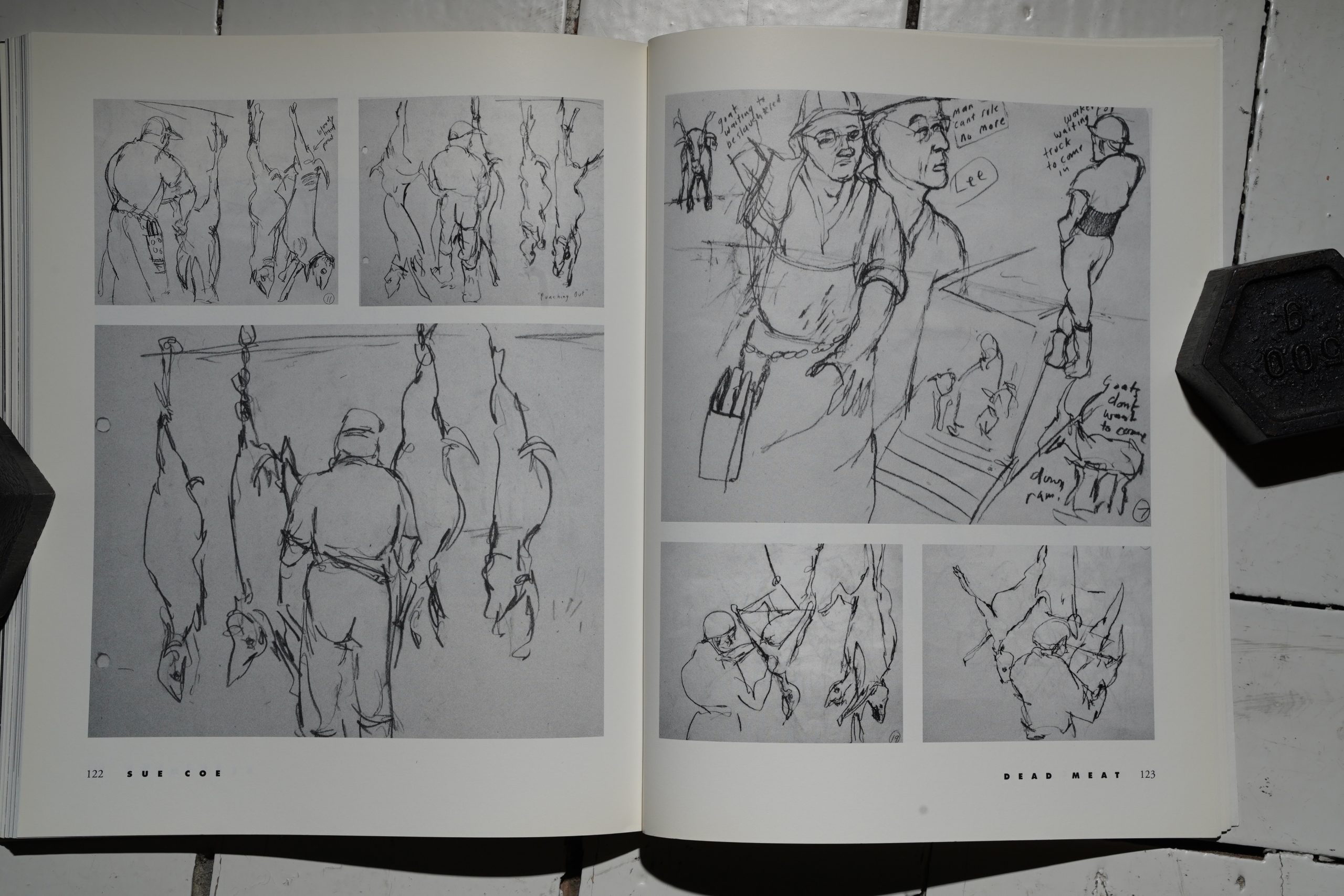 And then the book is rounded out with reproductions of Coe's sketches.
I don't think I'll be eating anything today.
Or ever again.
Oh, was the introduction insightful?
Cockburn's introductory essay traces the history of the meat industry with his customary shrewd sociopolitical insight, but without falling into polemics. Dead Meat will appeal not just to those interested in animal rights, but to anyone who cares about how society functions.
Reviews seem to split basically on political lines:
I recommend Dead Meat as required reading and viewing for vegetarians and meat eaters alike, because it attempts to address very complicated issues.
So there's a few reviews from morons who are all "oh, but she's exaggerating".
This blog post is part of the Punk Comix series.