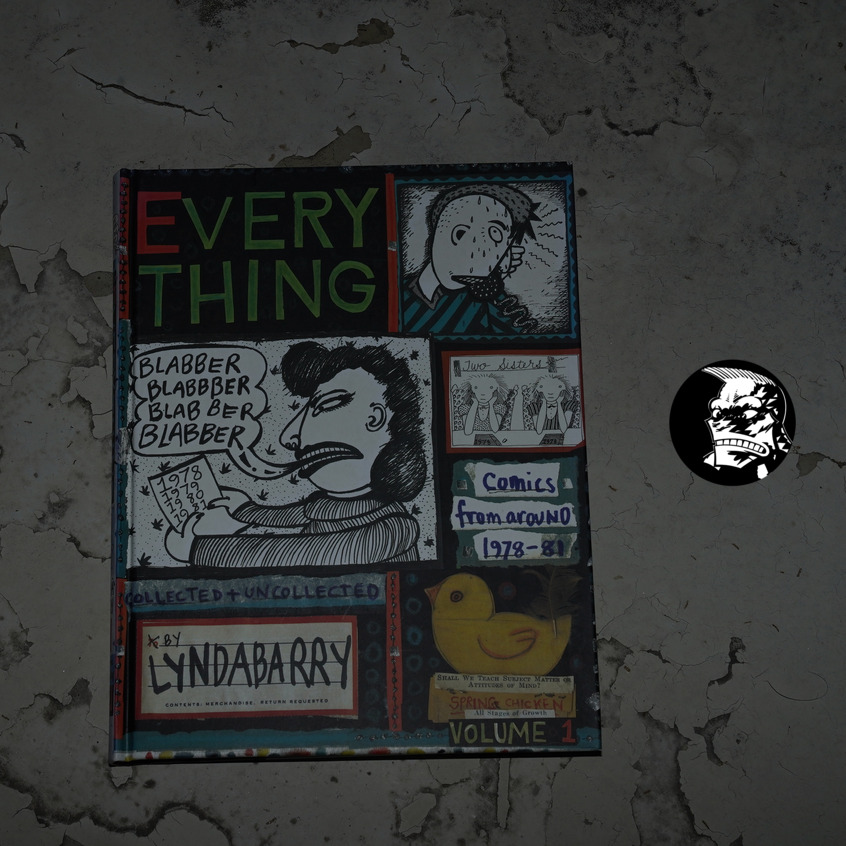 Blabber Blabber Blabber: Volume 1 of Everything by Lynda Barry (220x283mm)
The Lynda Barry Renaissance over the past few decades has been a delight to behold. Drawn & Quarterly deserve major kudos for this, I guess — they've managed to make her books count in a major way: Every book she publishes gets reviewed in All The Magazines. And they're really good, too (from What It Is to Making Comics), but they're quite off-topic for this blog series, so I won't be covering them.
This is a collection of her earliest (un)published works, and is very on topic. And from the name (Everything Volume 1) I assumed that Drawn & Quarterly was going to actually reprint all of the Ernie Pook's Comeek strips (I think the old HarperCollins collections only did selected strips?)… and a second volume was announced in 2014, and then in 2016, and then in 2017, but it keeps not happening.
But let's look at the one collection we've gotten, then.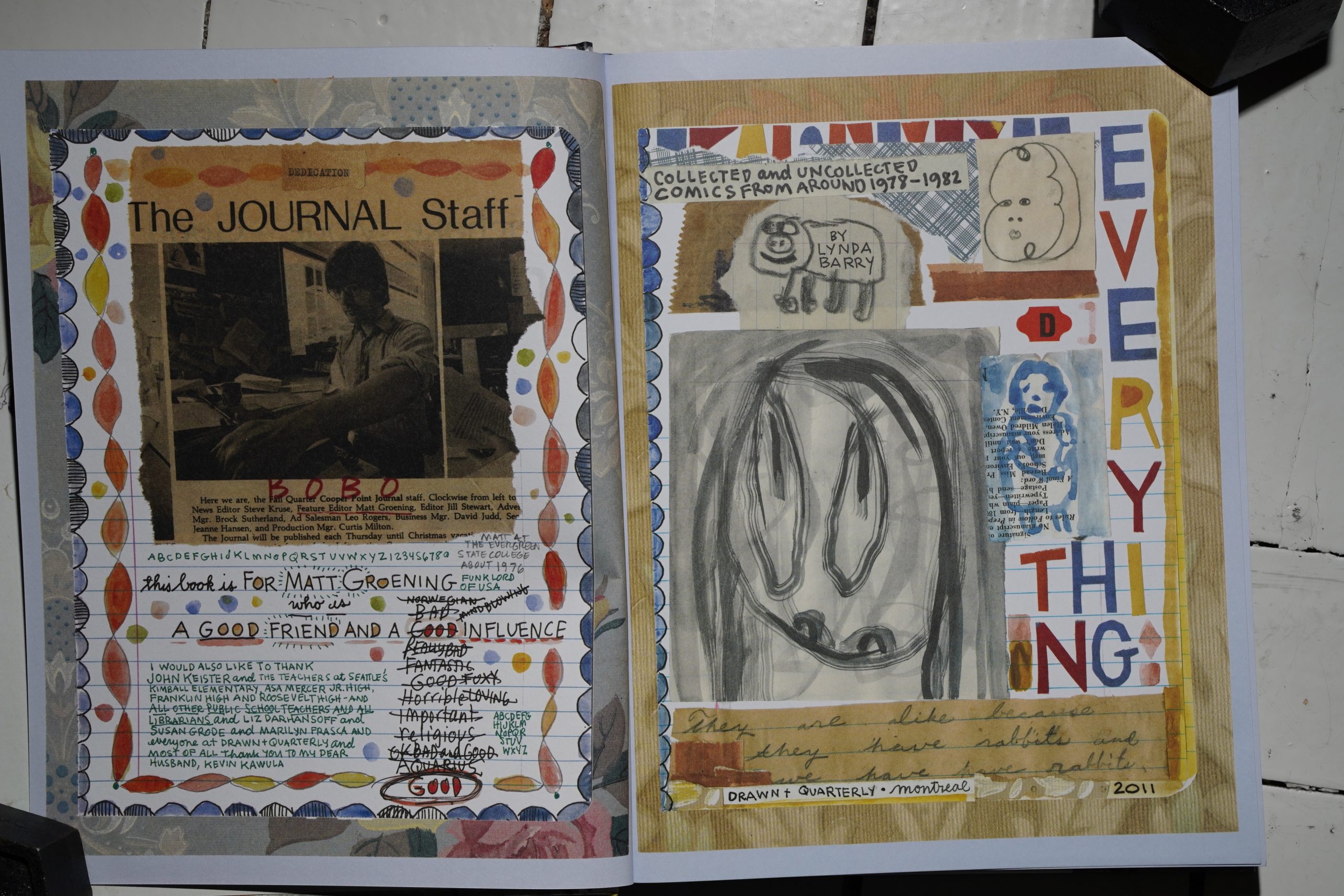 It's in the same physical format as Barry other D&Q books: It's a thick, almost-album sized book with hardback covers, and the design is very collage-ey and chaotic. I guess keeping the same format makes sense — the other books seem to be very successful (commercially and critically), so you want people to be able to put this book on the same shelf?
(Note that Matt Groening is, once again, Funk Lord of USA — I think it's the first time since the mid 90s?)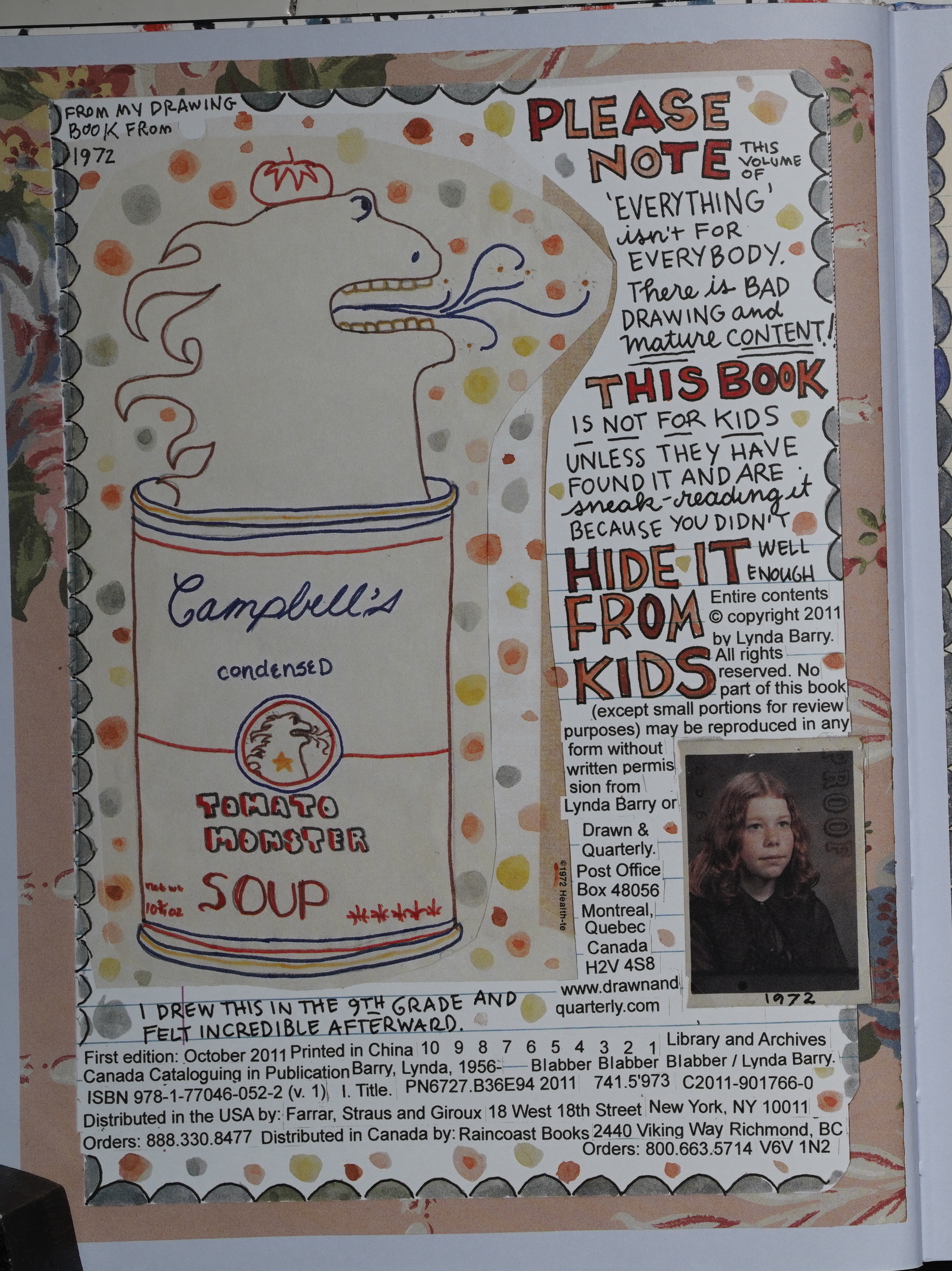 Not for kids!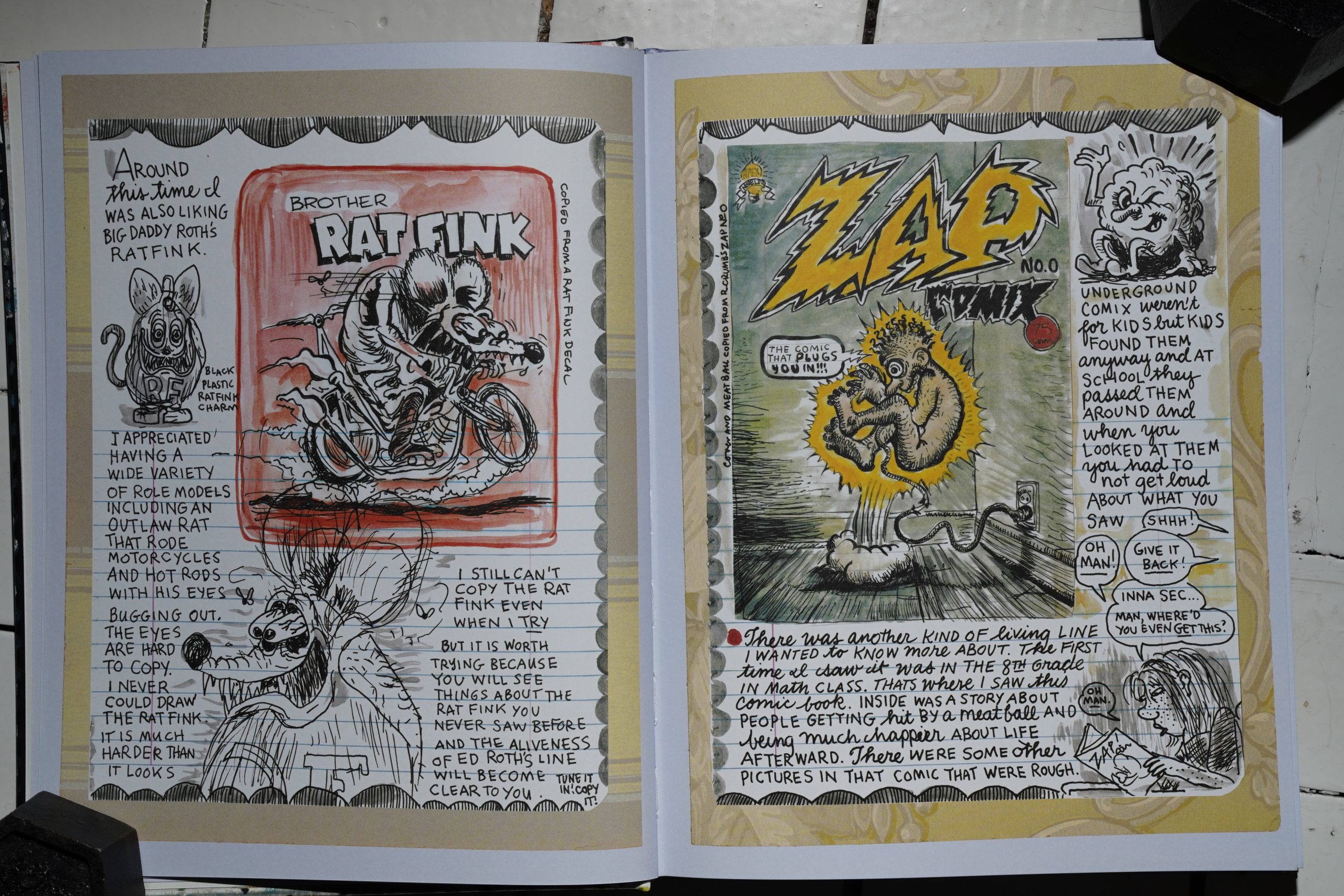 We start off with a ~10-page introduction. These aren't drawings Barry did as a kid, but she's done these now. We don't really get any… in depth… sense of how the comic strip actually happened, though, which is an odd choice.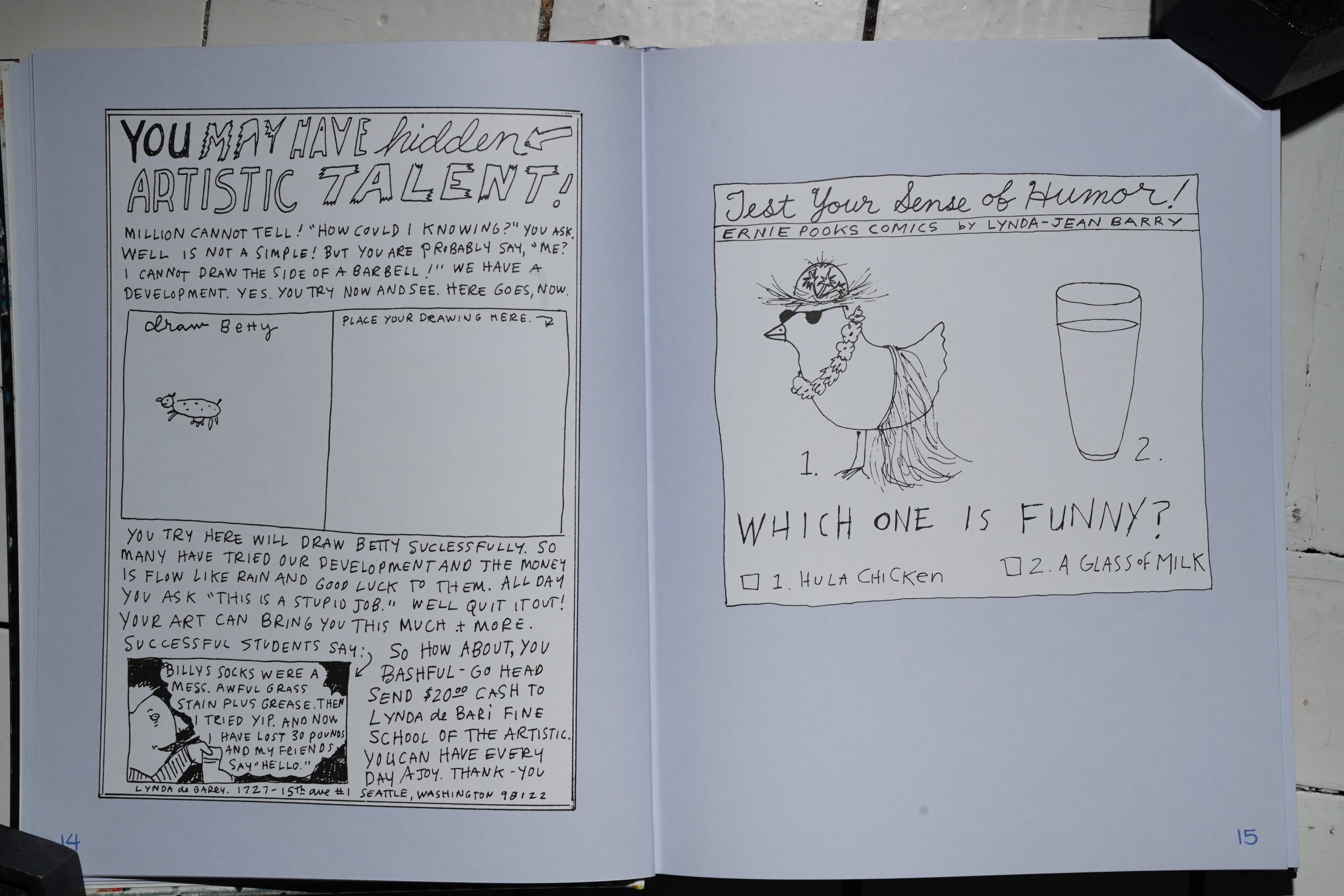 Instead we just dive right into reprinting her oldest published (I think? it's unclear) work.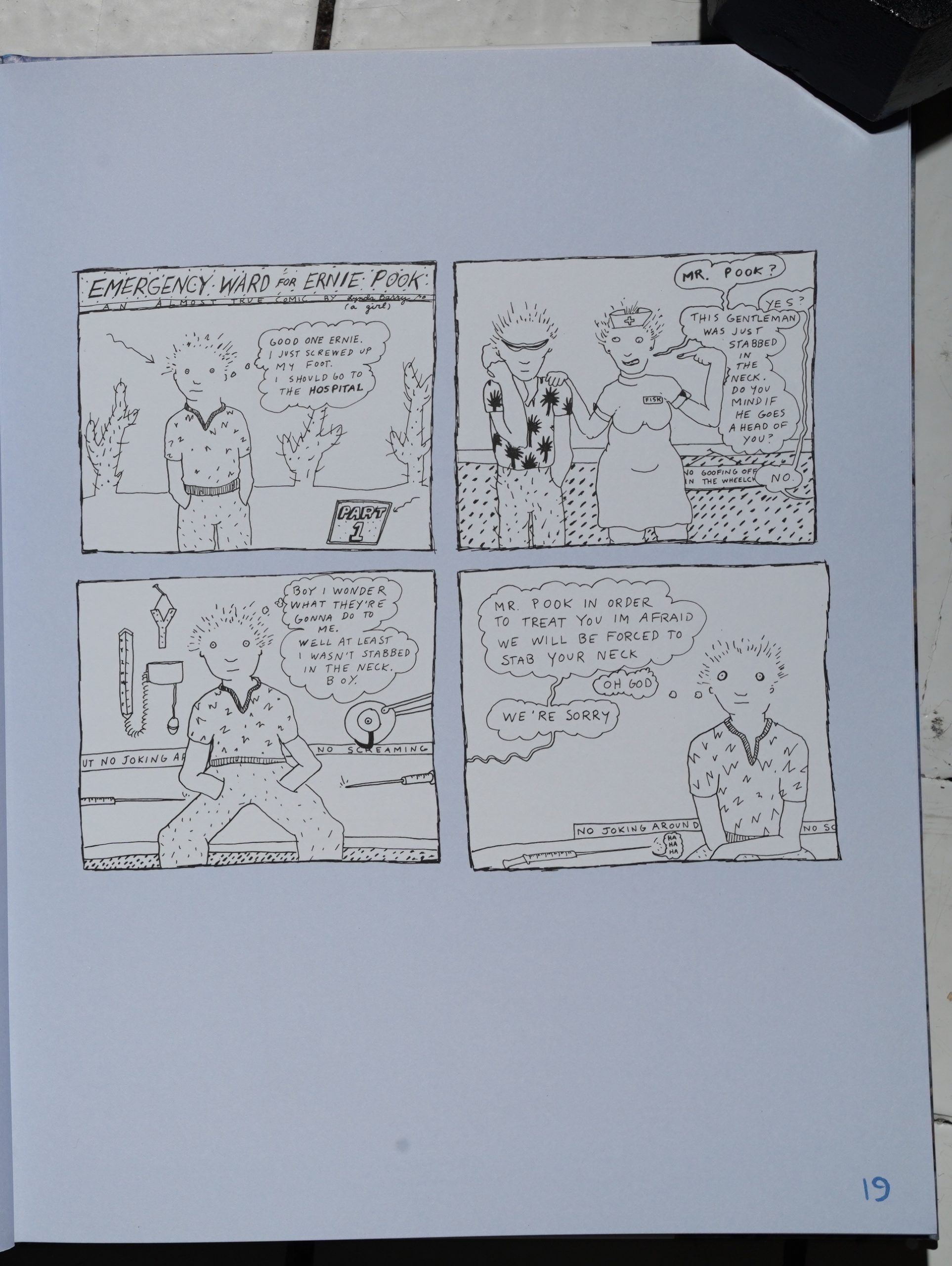 And Ernie Pook was apparently the lead character in the strip back then.
The strips are fine, but… this format for reprinting them is so awkward. Why this pale blue? And it really brings home that the format of the book itself is just sort of unsuited for the task. The strips just float about on these big pages; it doesn't complement the work at all, in my opinion.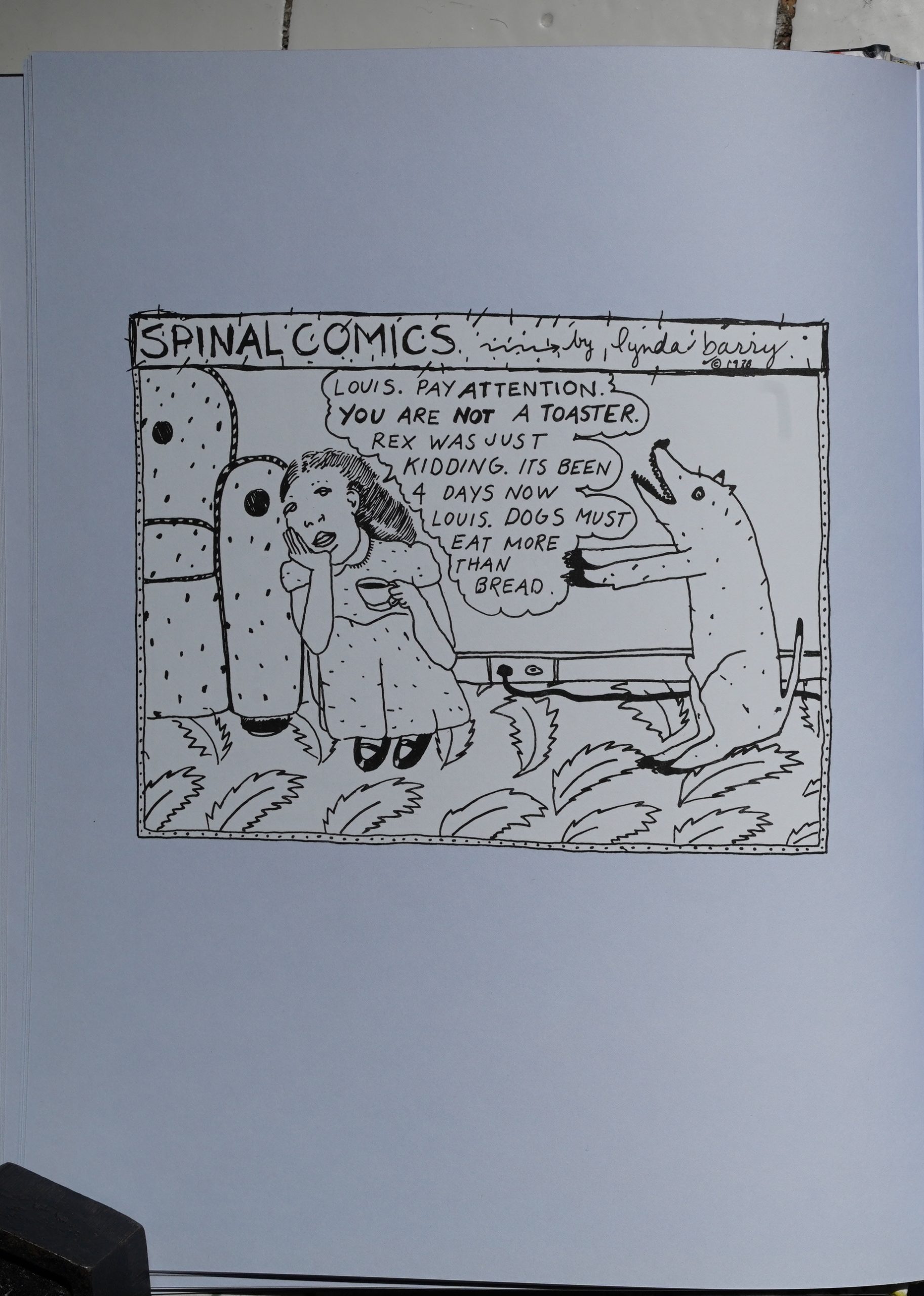 The humour reminds me quite a bit of Nicole Hollander when Hollander's having one of her more abstract moods? It's fun, and it's funny.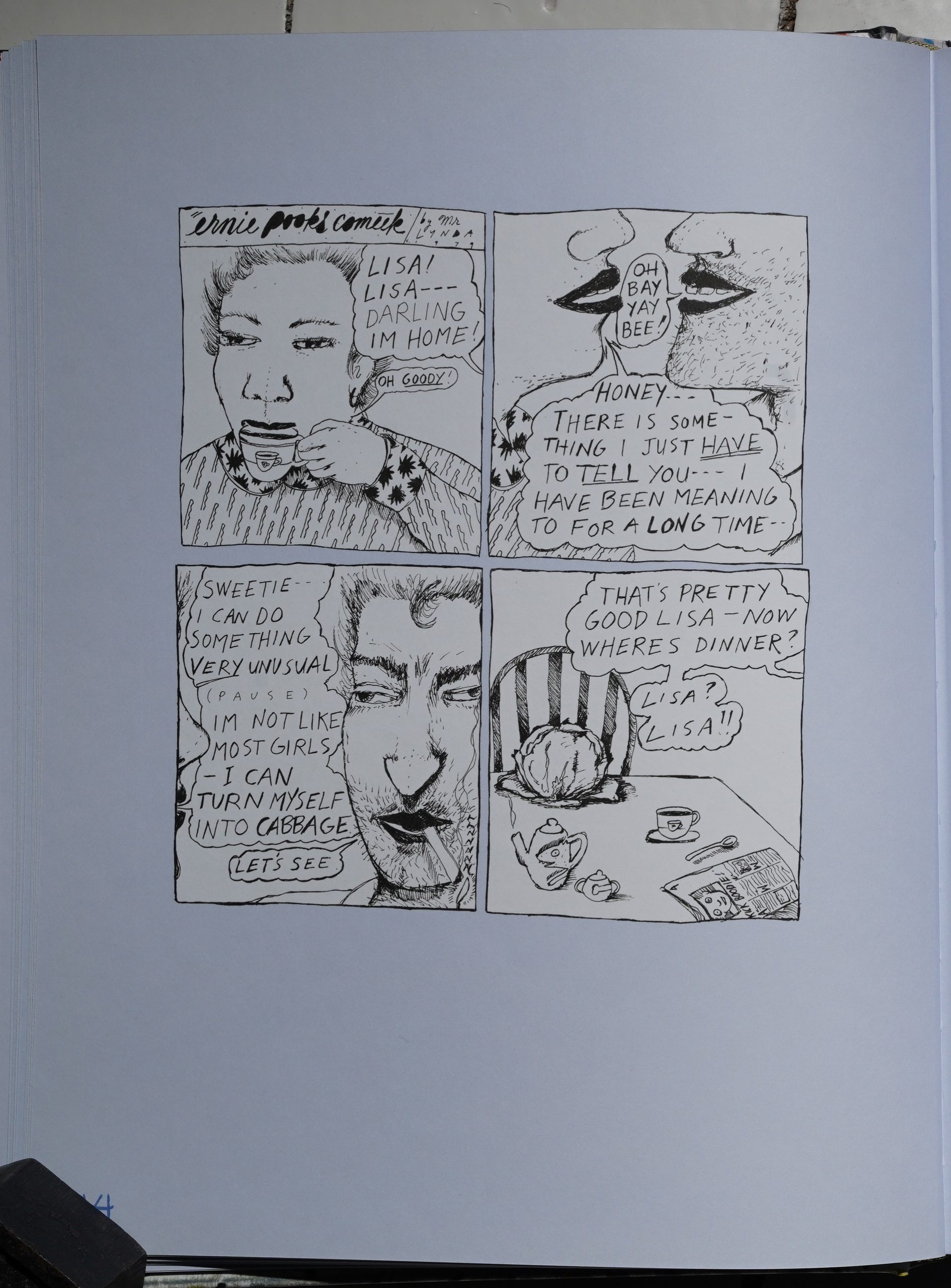 Barry experiments with a lot of different approaches to the artwork, but goes a lot for extreme closeups and oddball framing. It's really cool, I think. (And I laughed out loud at this strip. So weird!)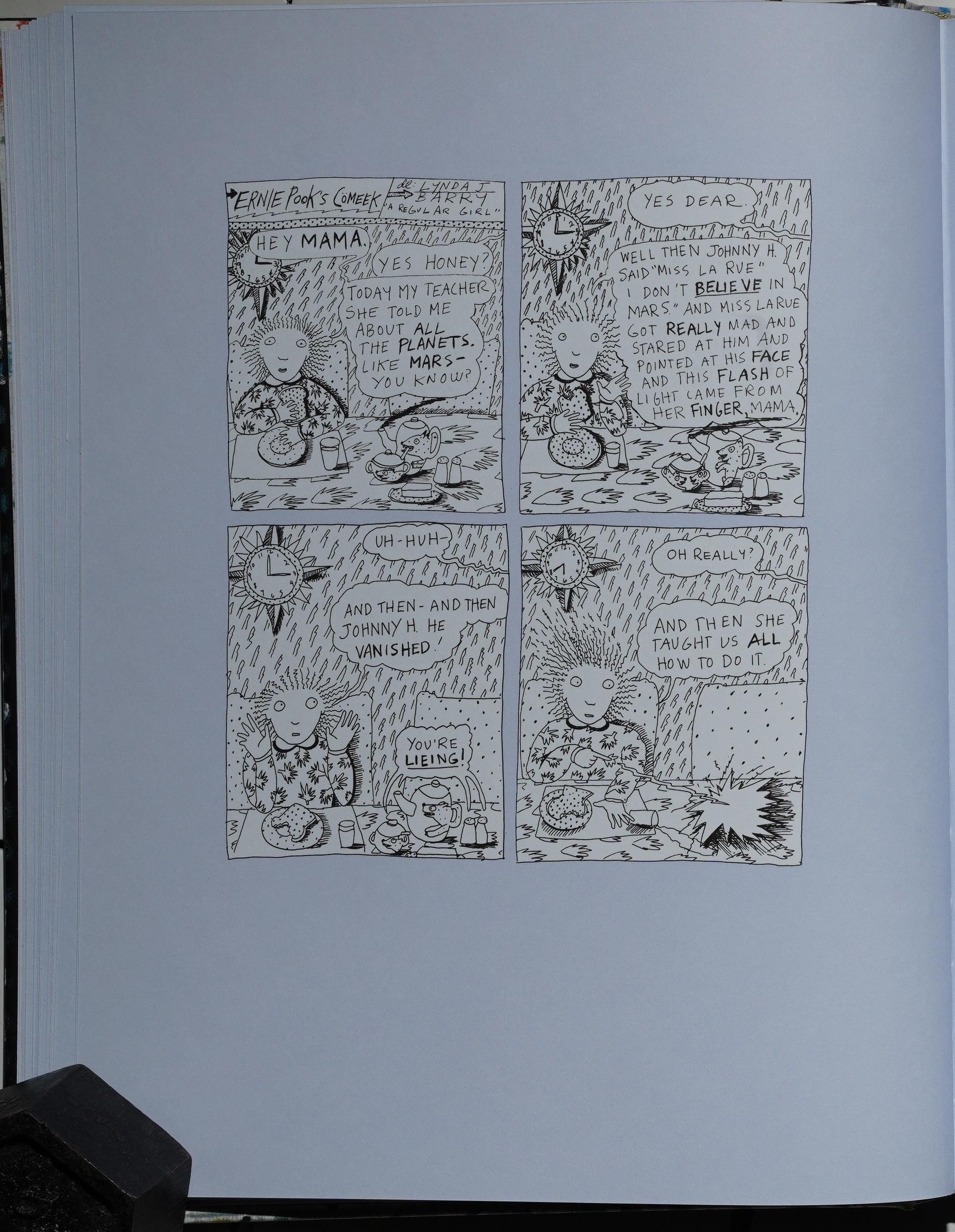 Oooh! I wonder if that also works against anti-vaxxers!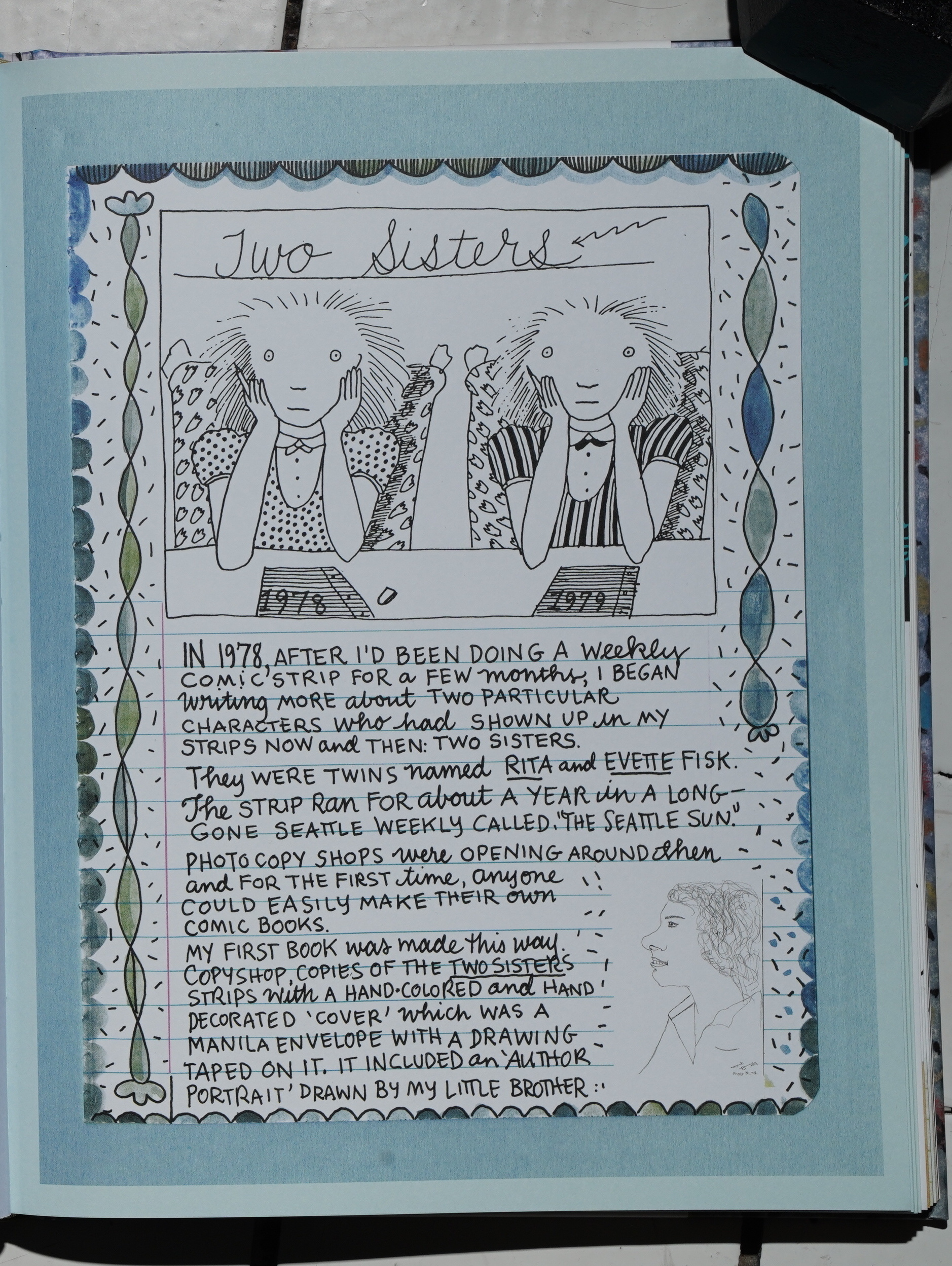 So after that, we're told that the strips had been running in The Seattle Sun, a weekly newspaper…. but we'd not been getting all the strips here in this book, because there's also been reoccurring characters — Two Sisters — and now we're getting those strips.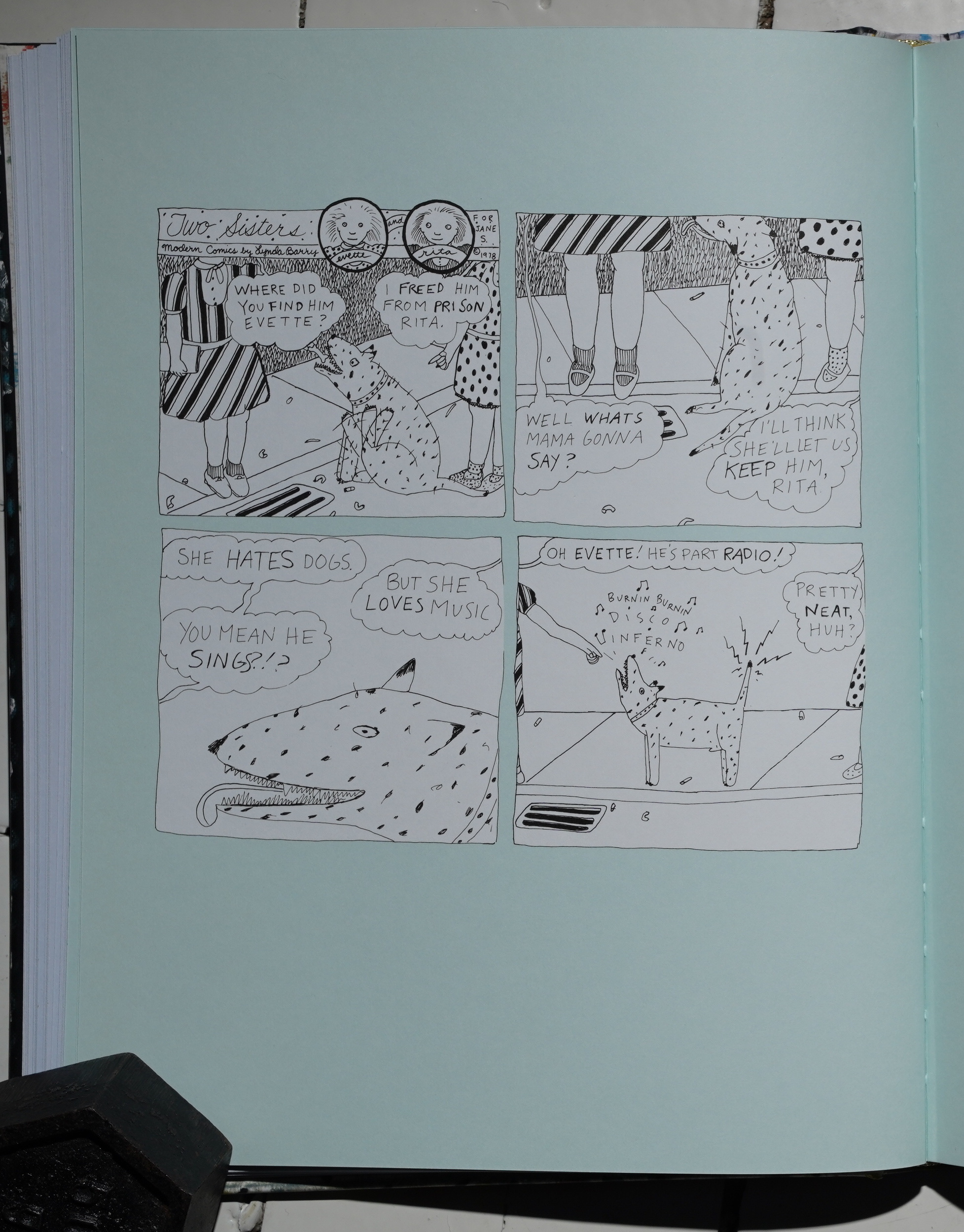 So… whiplash back to Barry's earliest style. And this… horrible… sickly green colour.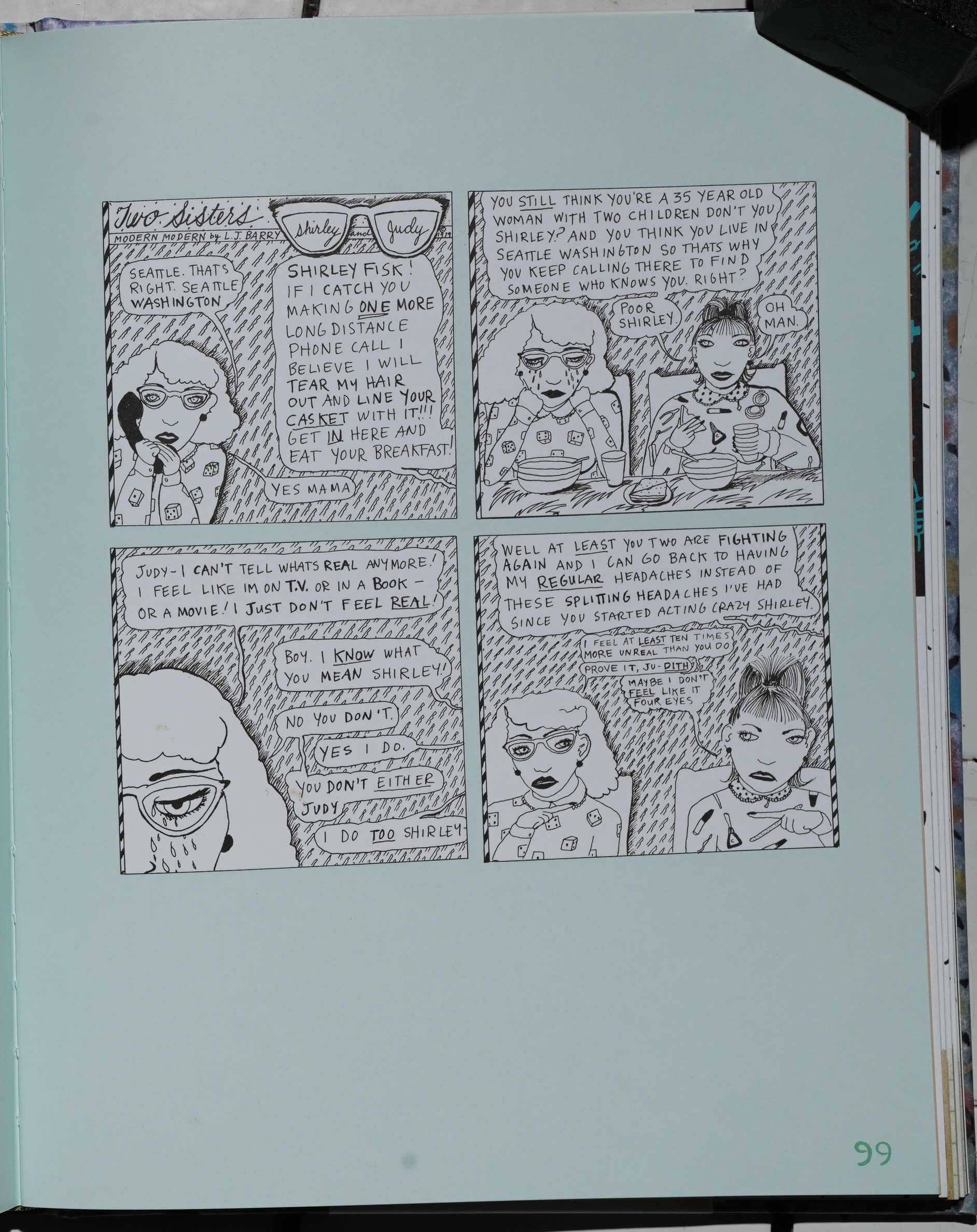 Man, look at that obsessive patterning. Barry's style keeps getting lusher and prettier over these strips (and we apparently swap out the sisters for a different pair).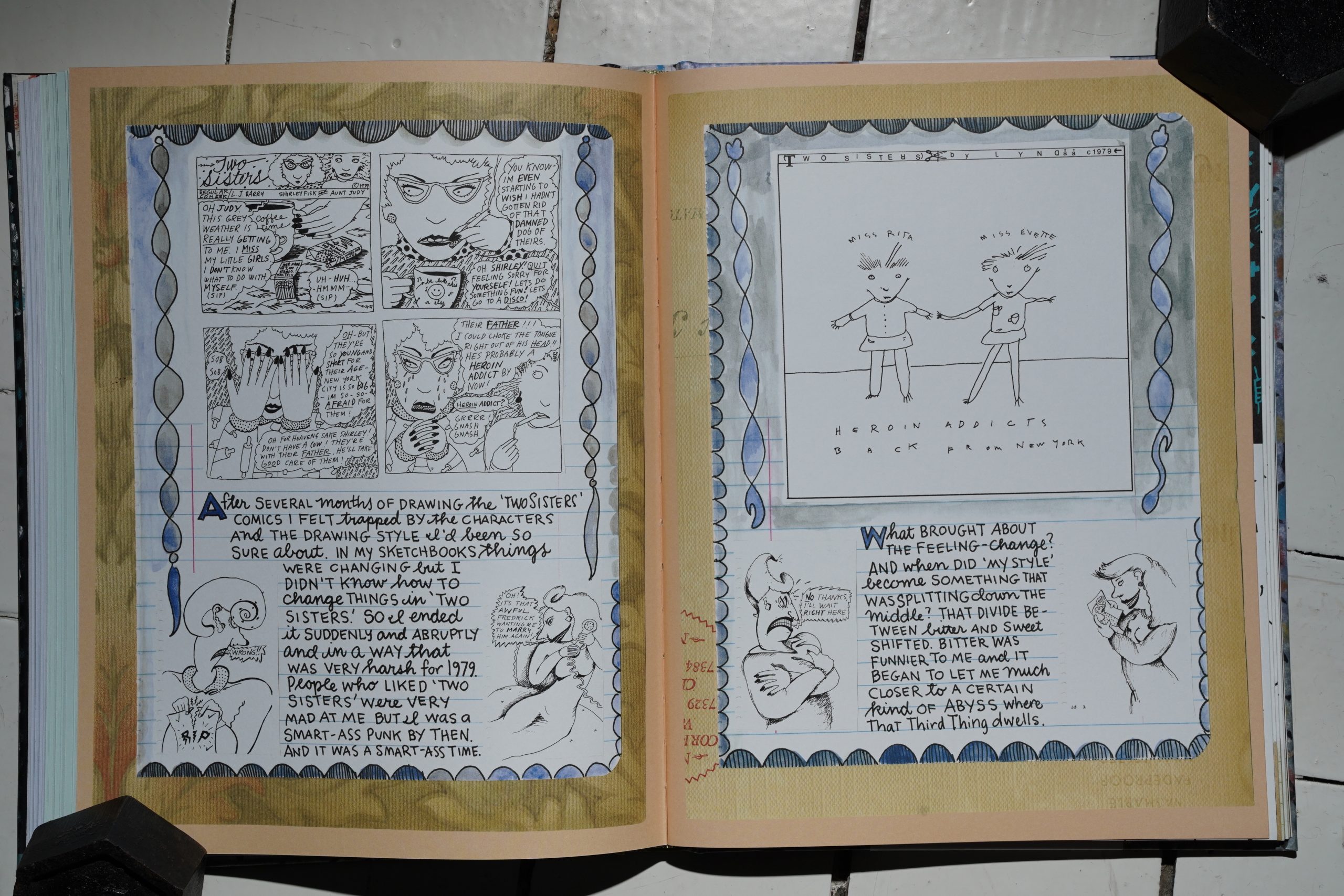 Barry reappears to tell us that she ended the Two Sisters thing abruptly… but I'm not quite sure what she's saying here? Did the sisters become heroin addicts and die or something? She says she ended it in a harsh way… did she leave those harsh strips out of this book? What?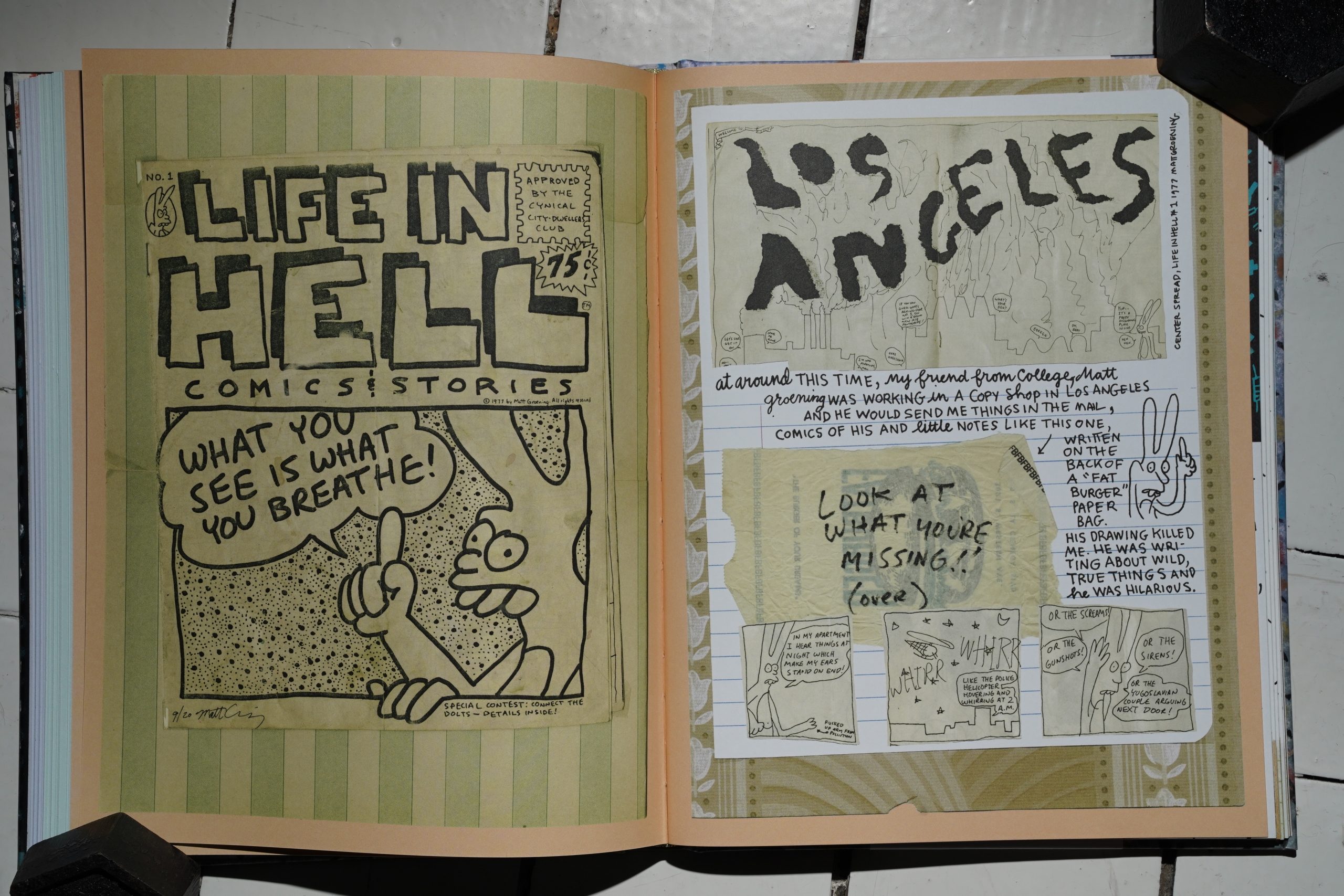 And part of the reason she ended the strip was that she wanted to go in a different direction, both with her artwork and the storylines, and that's partly because she discovered the comics of Matt Groening…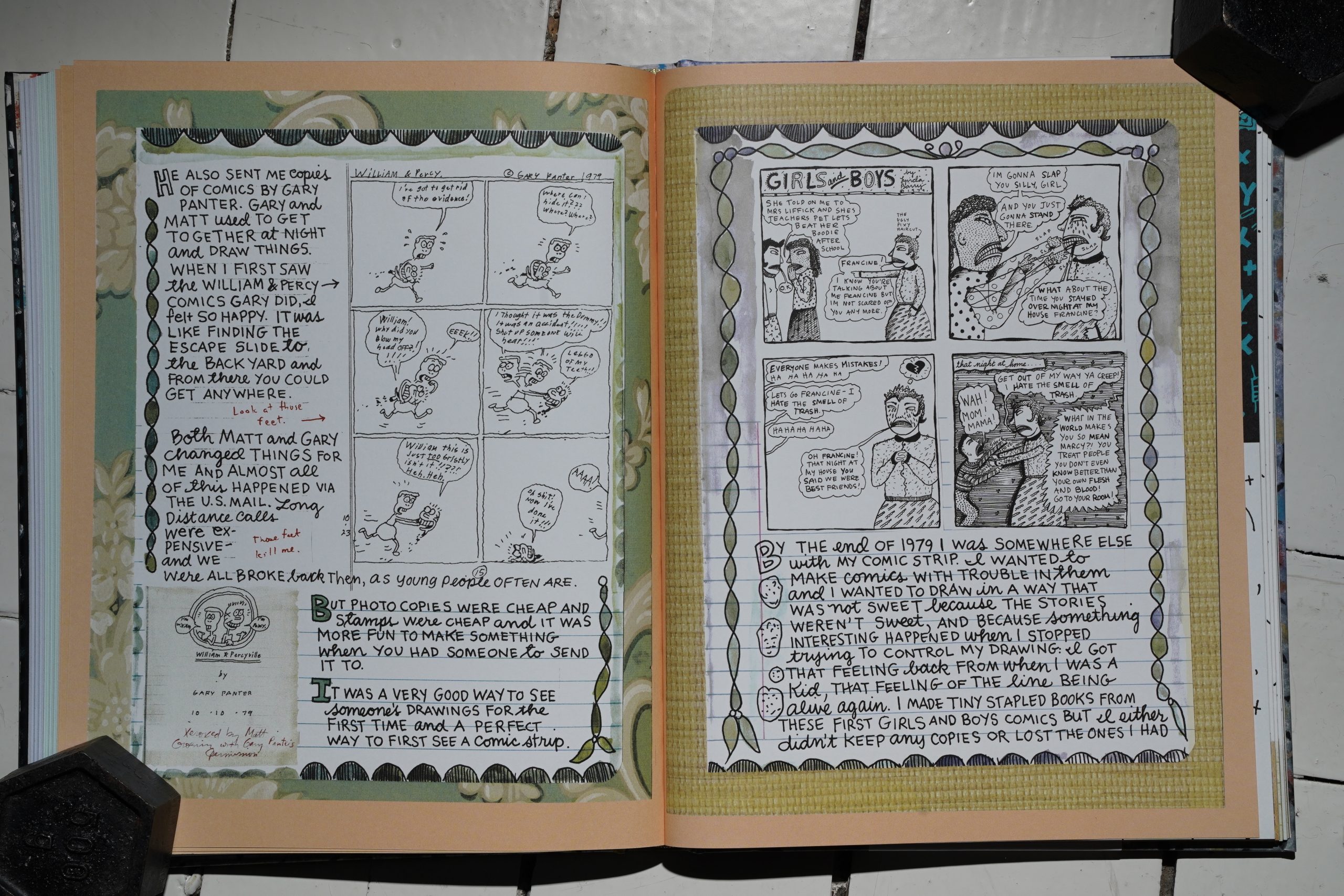 … and Gary Panter. Her first collected edition appeared a year later, collecting the Girl + Boys strips (I wrote about it here).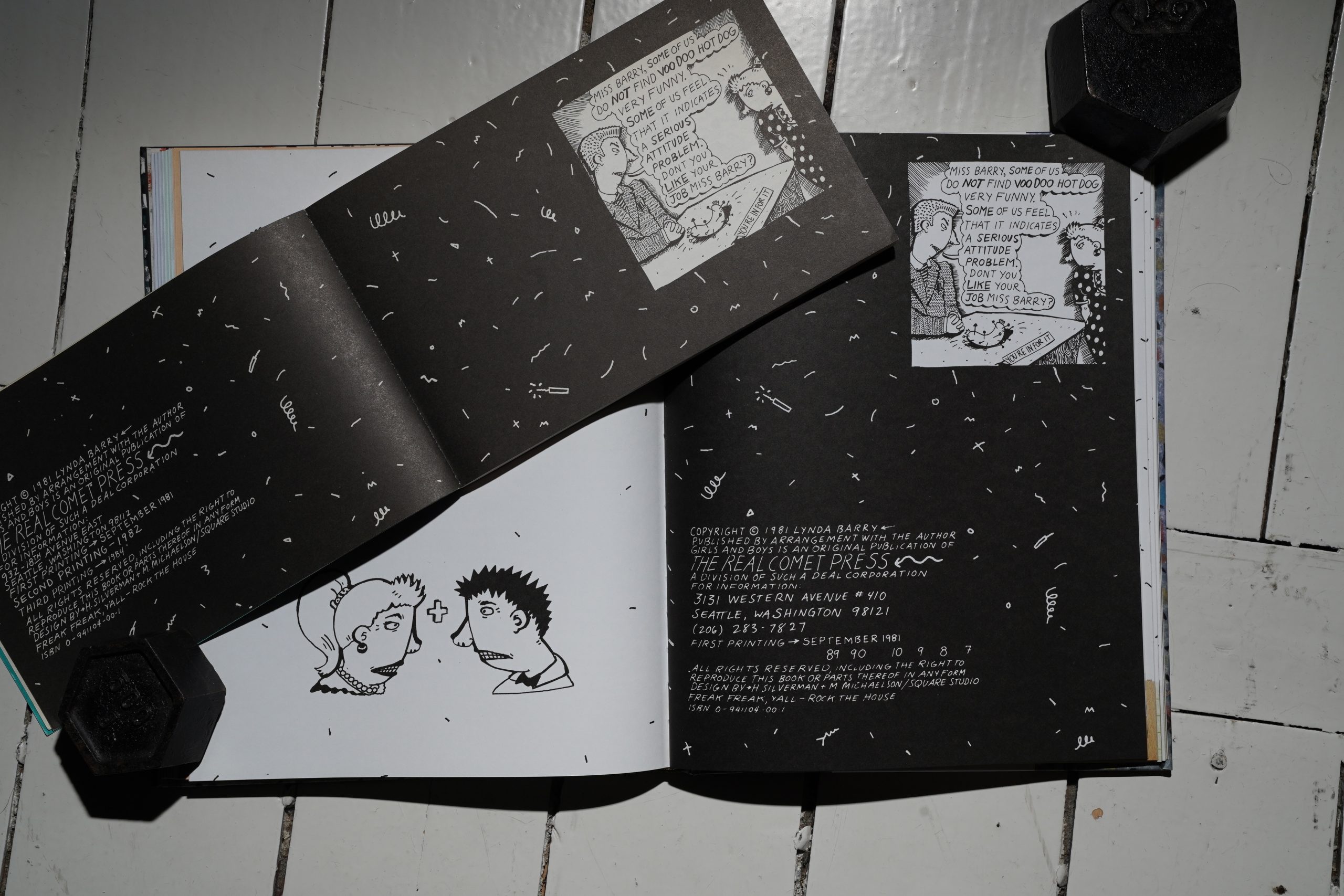 This section of the book is kinda-sorta facsimilish (that's a word), reprinting even the indicia of the first book. But it's a totally different format, of course.
In this new book, we get one strip per page, while the original book had them in this horizontal format. Note how much of the original design has been replicated — including the floating dots in the margins everywhere. But it's gained those reproductions of ephemera at the bottom of every page, which is… a design choice.
At least the horrible pale colours are gone.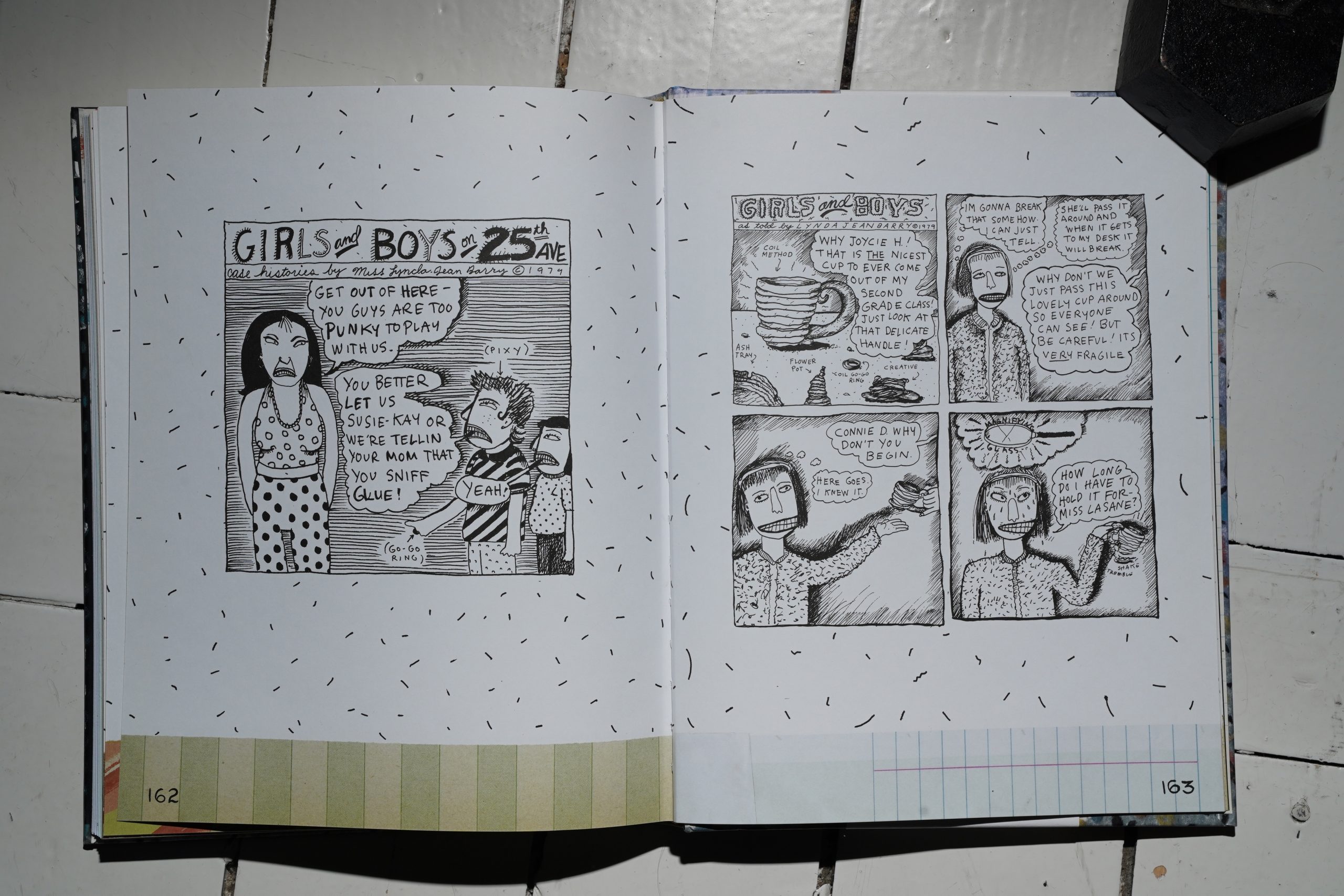 All the strips from the original book are reprinted, but we also get more than a dozen new ones (that Barry hadn't included in the first collection).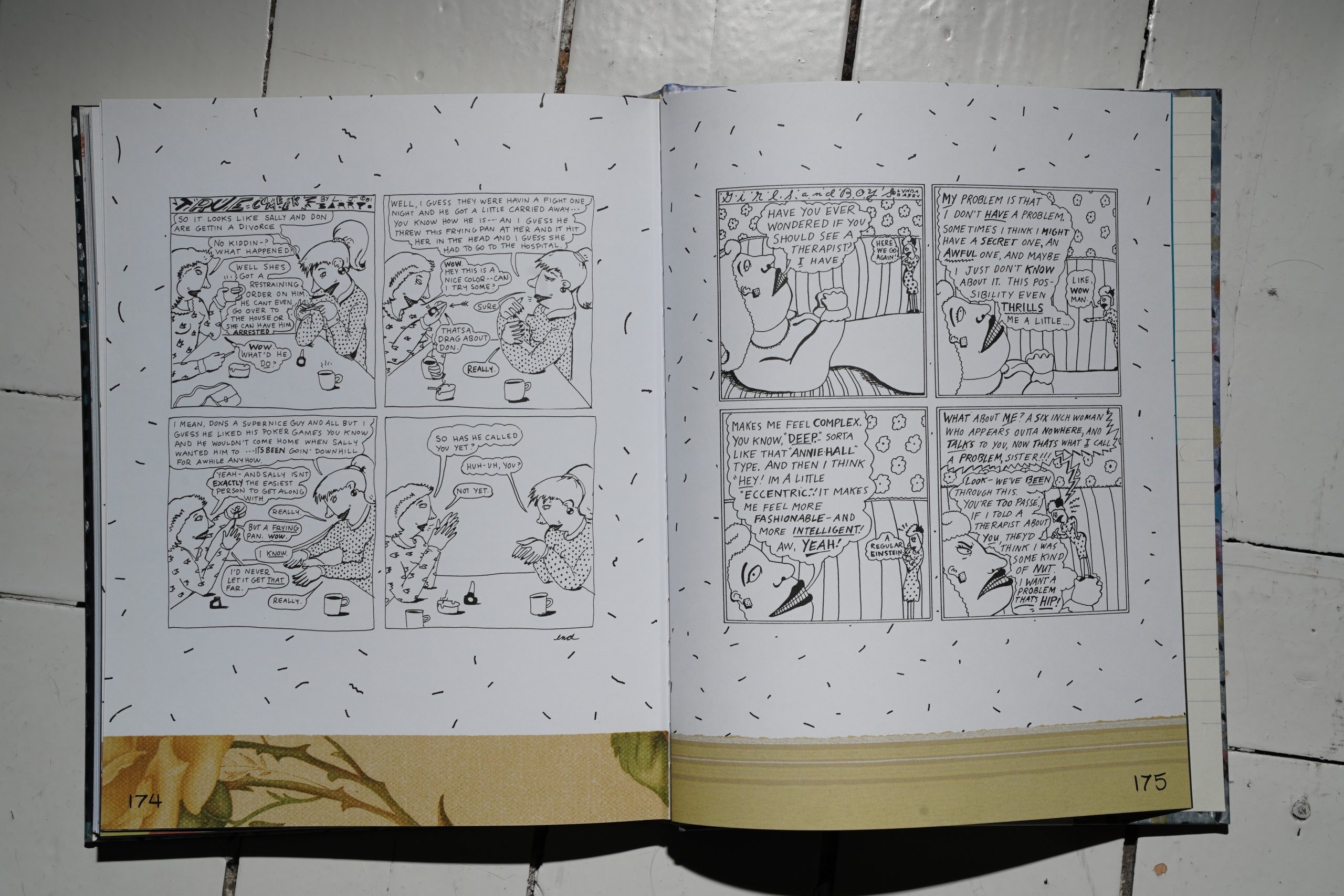 There's a lot of funny ones, so it's unclear to me why they were excluded the first time around. Just space considerations? She didn't like them? What?
This collection is a bit frustrating. Barry does spend a lot of pages introducing the work, but she's pretty vague about things. Perhaps she didn't want to overwhelm the reader or something.
In any case, it's great being able to finally read this work, but the format just feels off. Reading the original Girls + Boys book was thrilling; a sort of illicit weird little punk book. That's not the vibe this staid book gives off.
Doesn't sound like the NYT was that impressed:
The samples of Barry's long-running strip "Ernie Pook's Comeek" collected here are mostly one-off absurdist gags rendered in an arch, brittle new-wave style.
The Portland Mercury were more impressed:
Some of these comics are more than 30 years old, but they still feel as fresh and funny as they must have when they appeared for the first time. Equally as compelling are her new introduction pages, which convey the same insight and generosity of spirit that shone in the Times Magazine piece. If, like me, you haven't read much of Barry's work, this is a great place to start; for fans, this reissue of long out-of-print material is a must have.
And it was a starred review in PW:
Barry's touch as a creator is already established even in this early stage, her talent for creating child characters, penchant for encouraging the reader to engage creatively, and touches of surrealism impelling a creative force that cannot be categorized.
So I'm still wondering why there haven't been any further volumes of Everything in a decade. It looked like Blabber Blabber Blabber was quite work intensive: The introductions newly drawn and collaged etc. If that's the problem, what about just … you know … just reprint the actual comic strip? All of those strips? Without so much surrounding them? And how about doing it in a format that's friendlier to the strips? Perhaps something like the original collections? But more complete?
But perhaps they know what they're doing:
It might have seemed like Lynda Barry became one of comics' most prominent thinker/creators all of a sudden with 2008's What It Is and 2010's Picture This, a pair of extraordinary—and extraordinarily well-received—works that blended aesthetics, how-to and autobiography.

[…]

Barry provides new collage introduction segments, contextualizing and easing the contents into a format that makes Blabber the next integral installment of Drawn and Quarterly's growing Lynda Barry library.
Perhaps this is the format they're able to sell it in?
This blog post is part of the Punk Comix series.