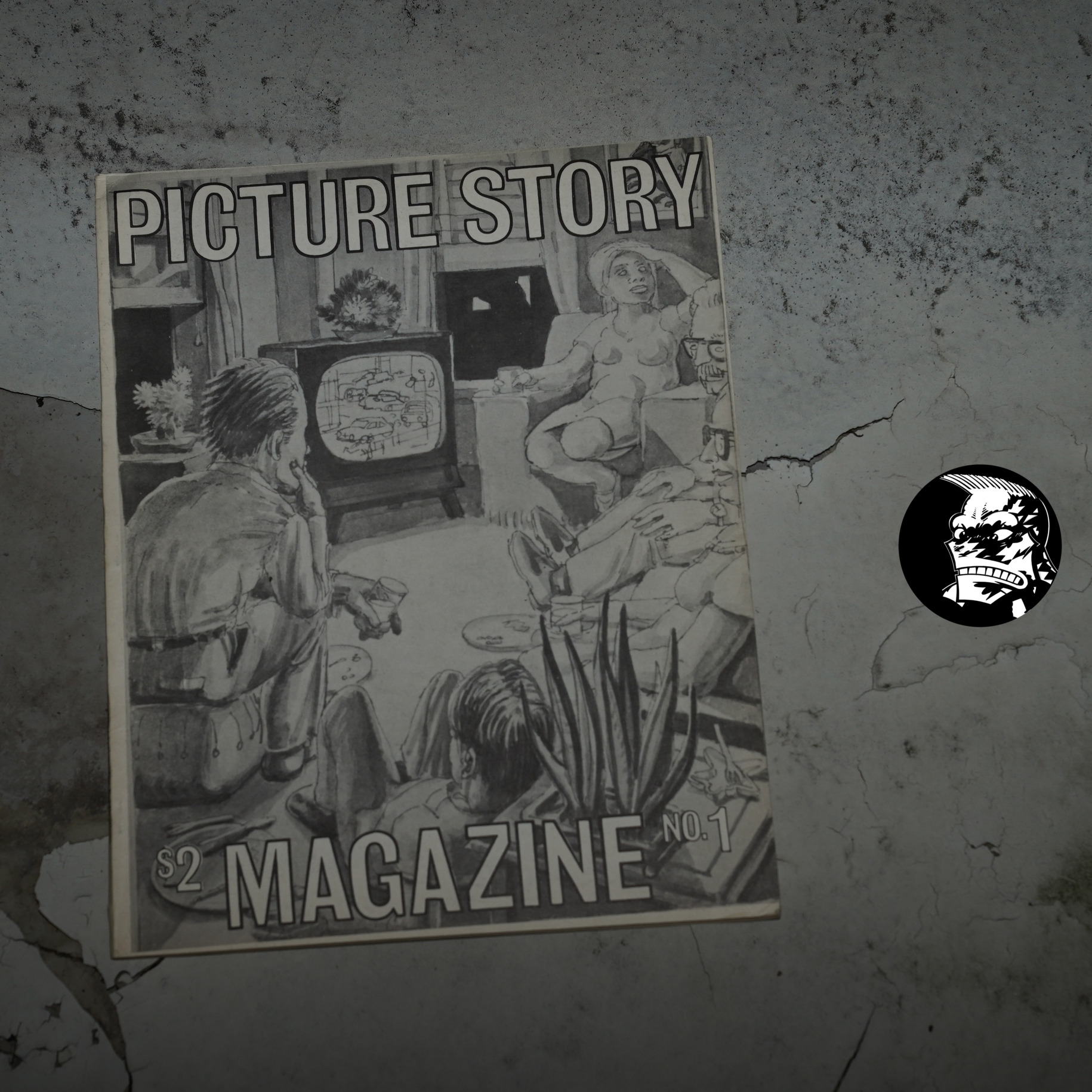 Picture Story Magazine #1 edited by Ben Katchor (215x276mm)
A lot of the comics I'm covering in this blog series I've had since I was a teenager — but more obscure ones, like this book, I've picked up over the last few years while thinking about doing this blog series. (Believe it or not, picking up oddball comics from New York wasn't trivial in the early 80s when you're living way north of the Polar Circle.)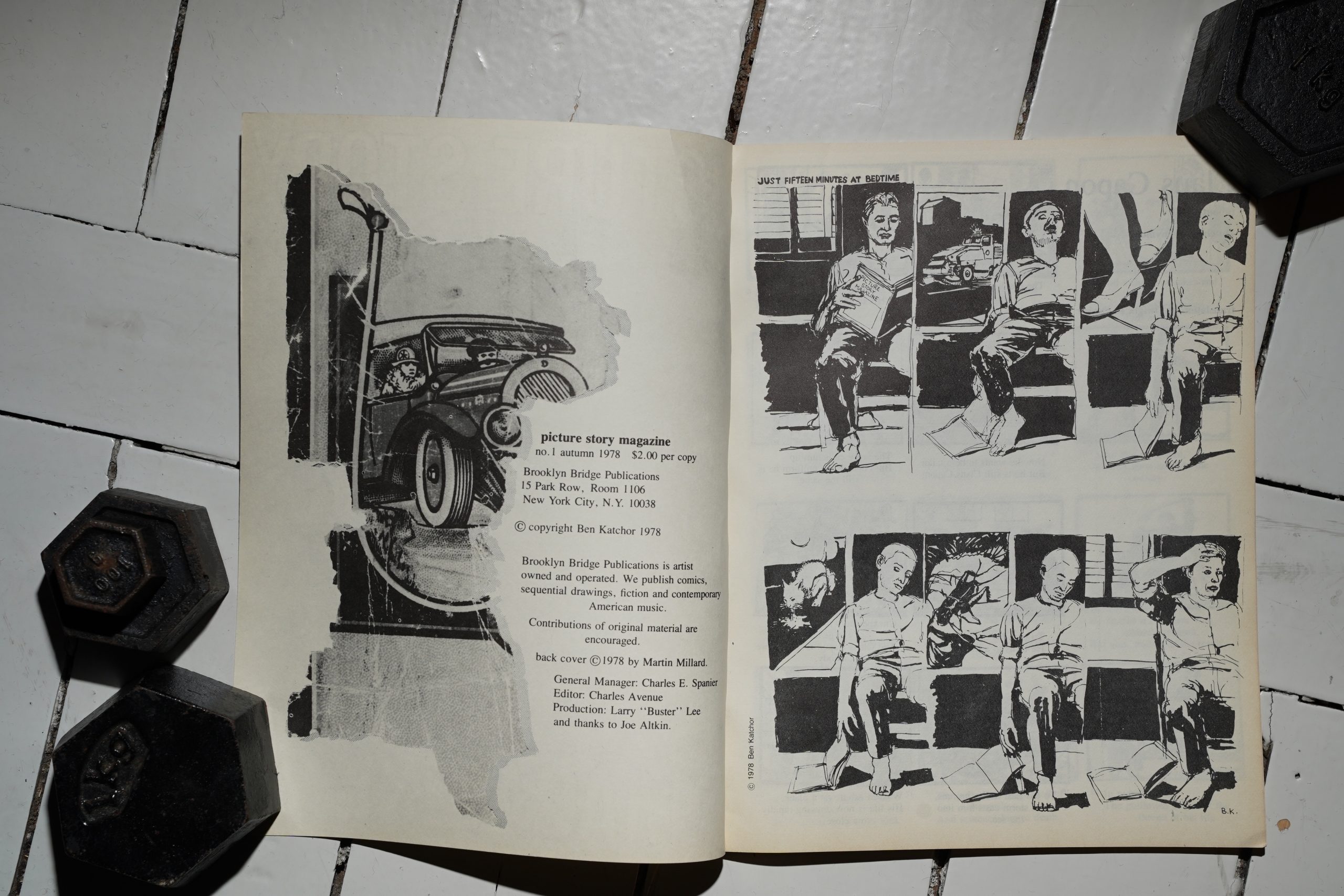 So this is new to me… and it's an early book edited by Ben Katchor, published by Brooklyn Bridge Publication. Which you may perhaps guess is Katchor and friends? I'm unable to find any mentions of the thing, but this says that the first issue of WW3 Illustrated was put together there.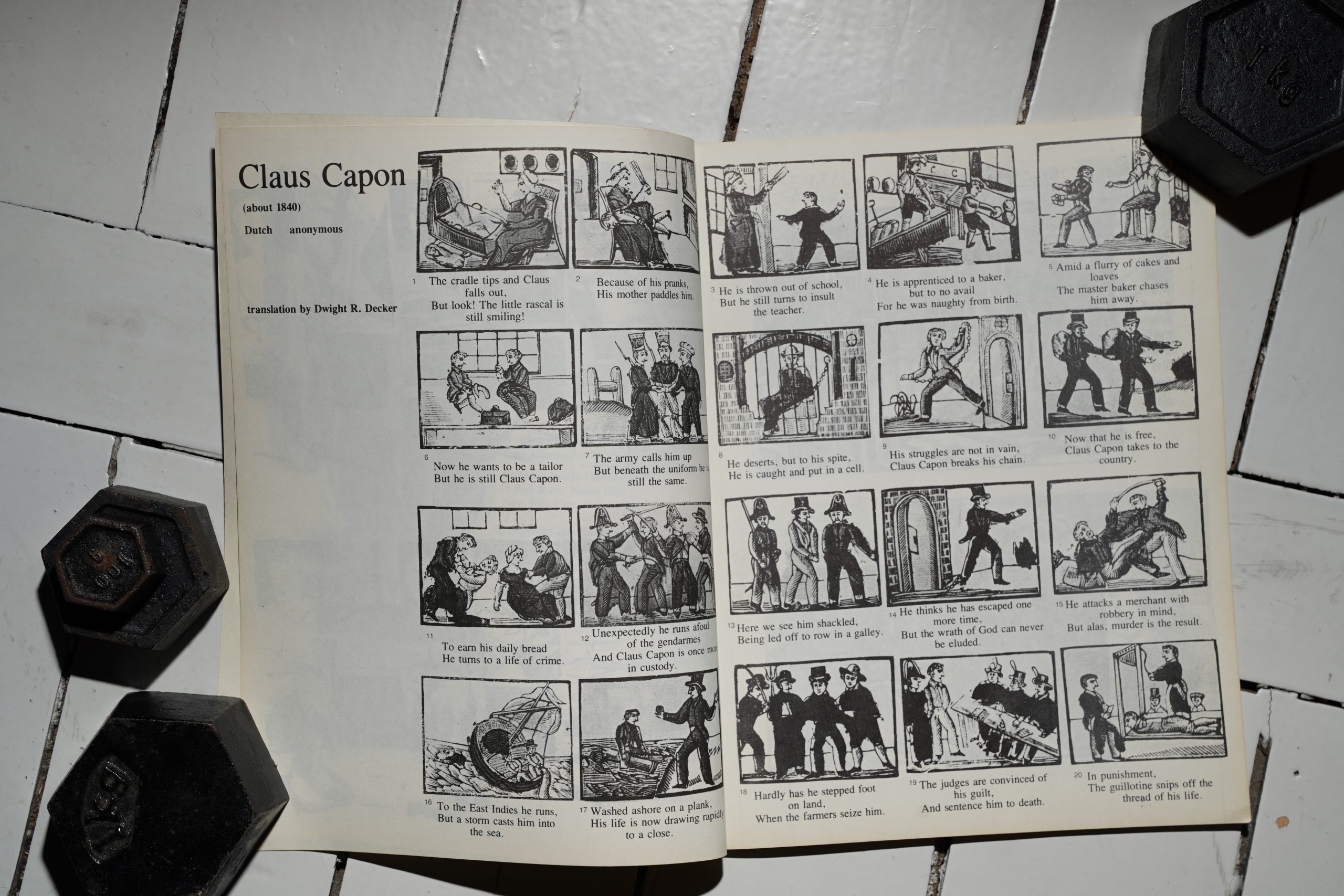 It does share some of the obsessions that Raw would later display — like avoiding the word "comics" (going for the very serious Pictory Story Magazine, while Raw would go for more punny names), and making connections between comics' (pre-)history and contemporary art comics. So here's a Dutch thing from 1840…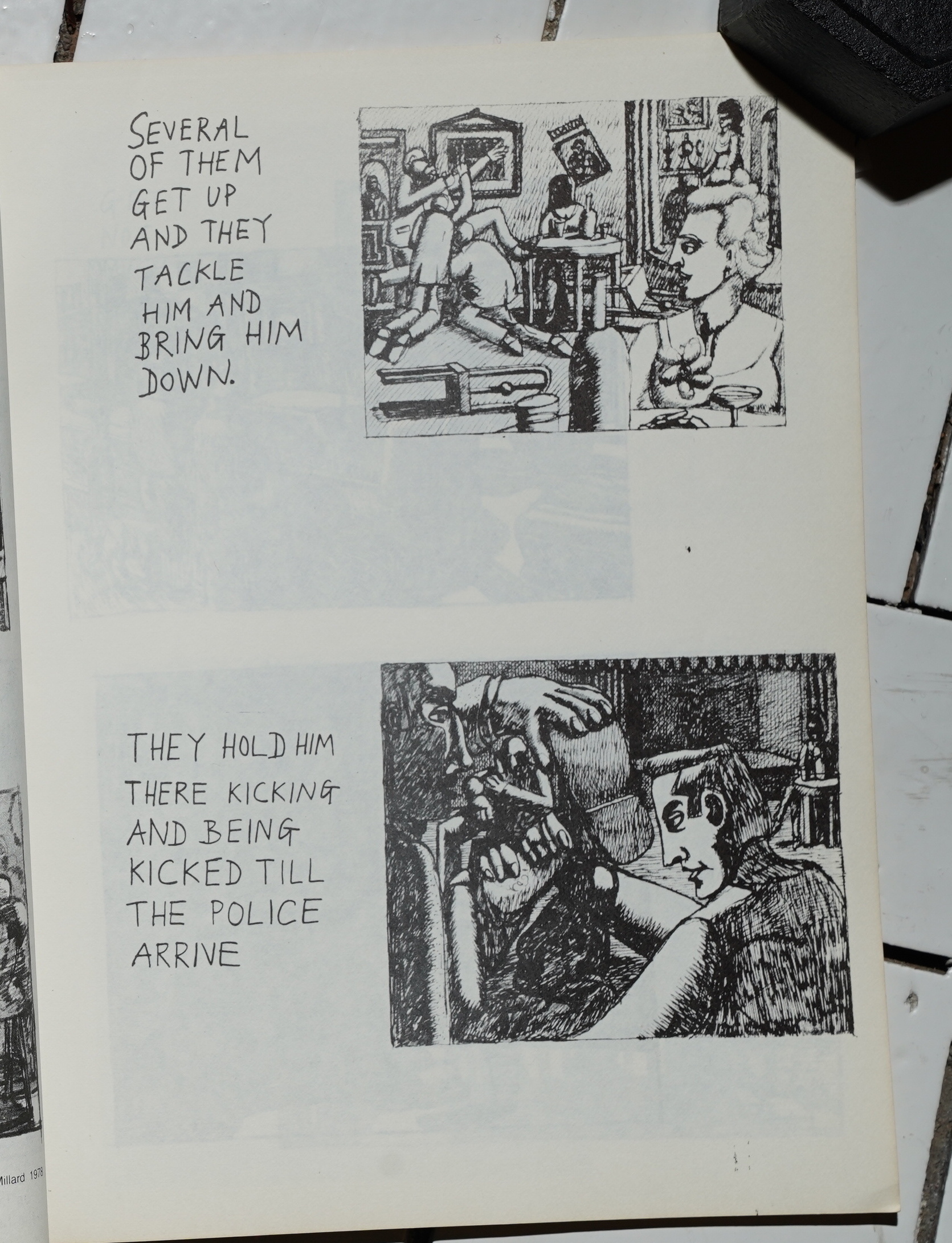 … and then a 20 page story by Martin Millard (possibly; it's hard to make out the name) that kinda has echoes of the Dutch thing.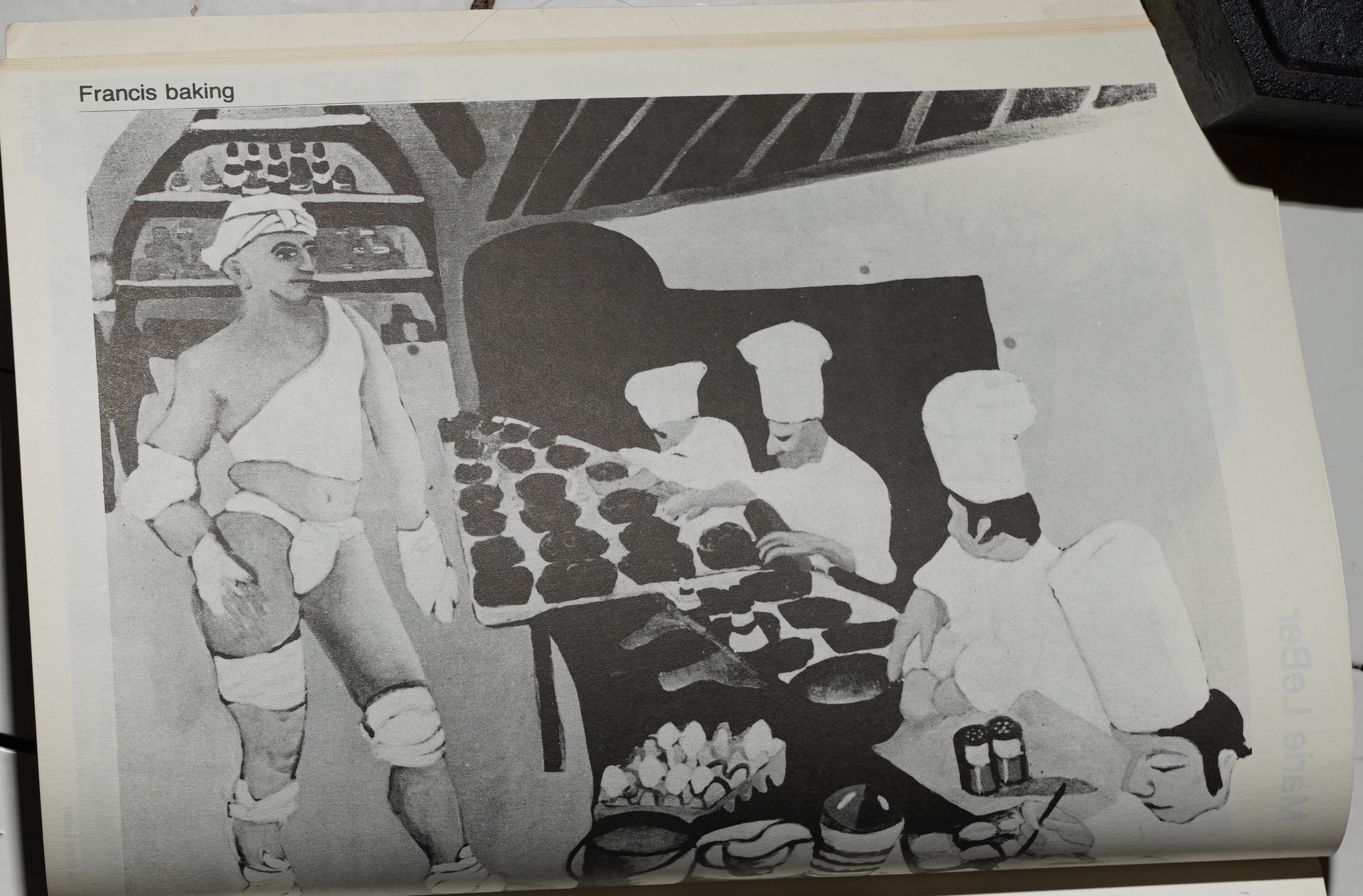 Most of the pieces are pretty long, and are narrative, but there's a few illustrations, too, like this one by Eve Marie LeBer.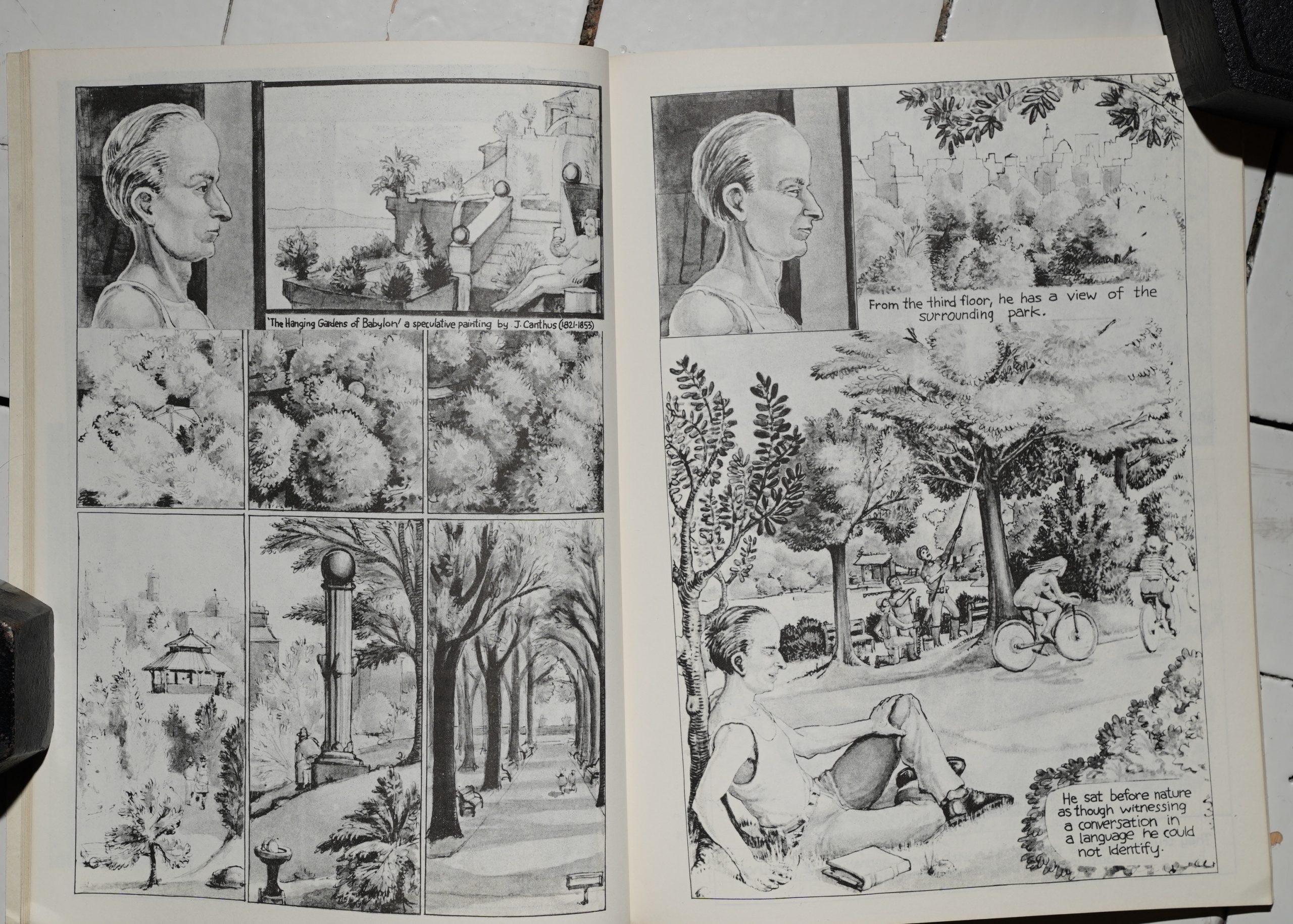 The main interest here, though, is reading two early pieces by Katchor himself. And it's such a surprise to read these, because Katchor's style in Julius Knipl, Real Estate Photographer seems like it's always been like that, and always has to have been like that. Reading a Knipl page is experiencing something that seems so obviously right and correct that it's never occurred to me that Katchor could have been making comics in a different style.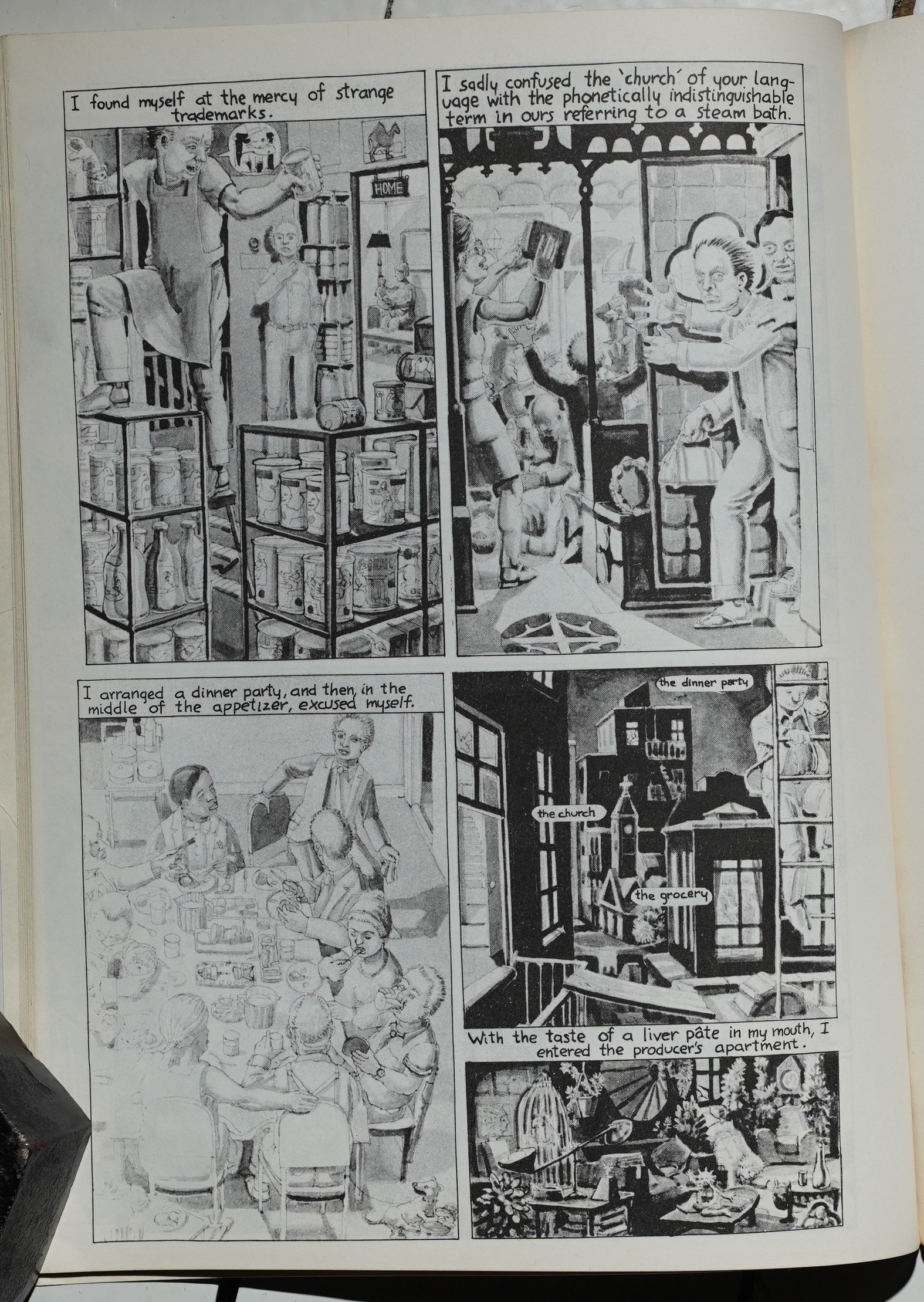 There are some echoes of later Katchor here, though, and the two stories themselves are interesting in themselves. The artwork is more clearly underground-ey than it would later become, but he's got that strange logic working on some of these pages.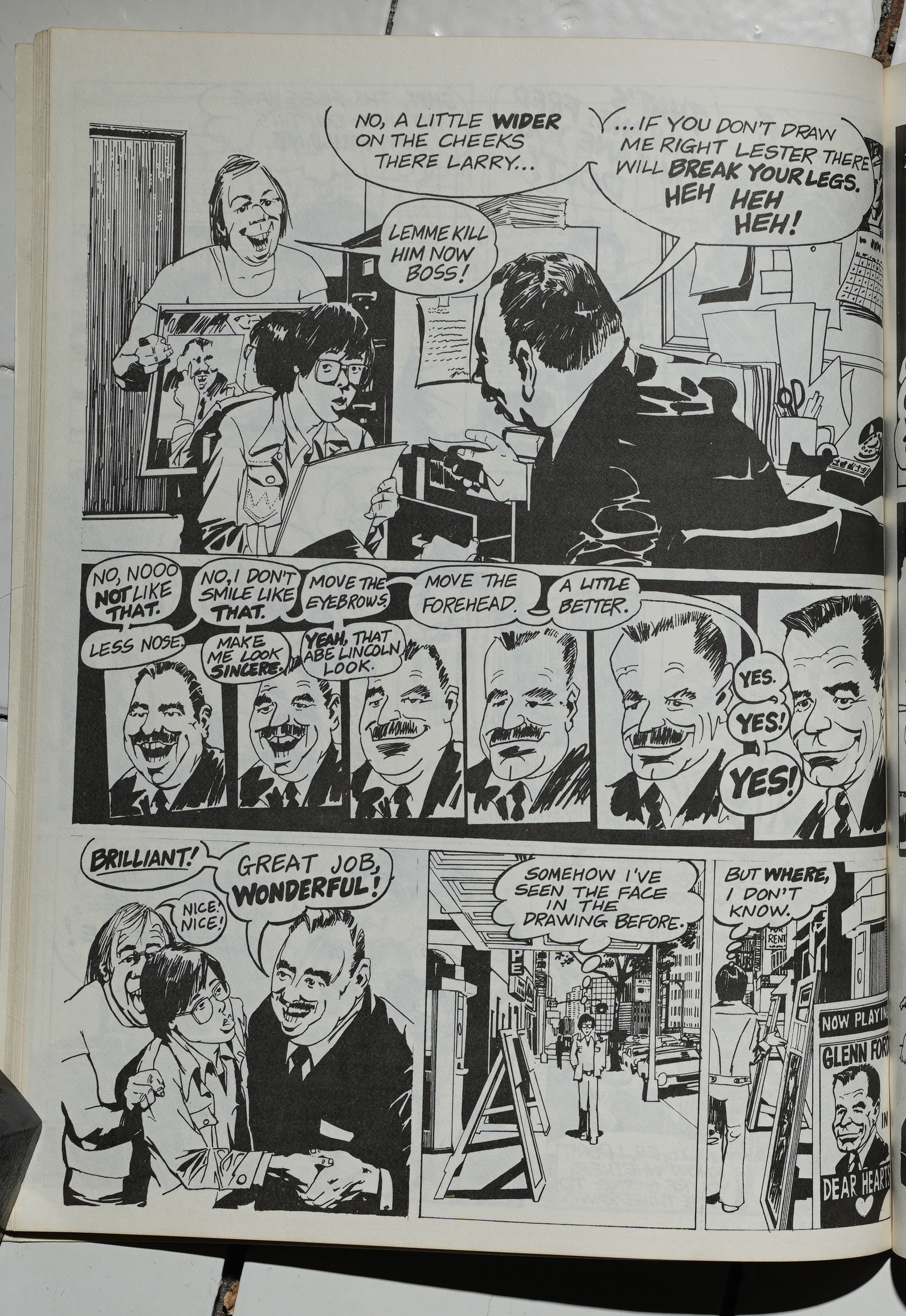 There's one "traditional" story in here (by Larry lee). The artwork's fine, I guess, and the story is amusing, but…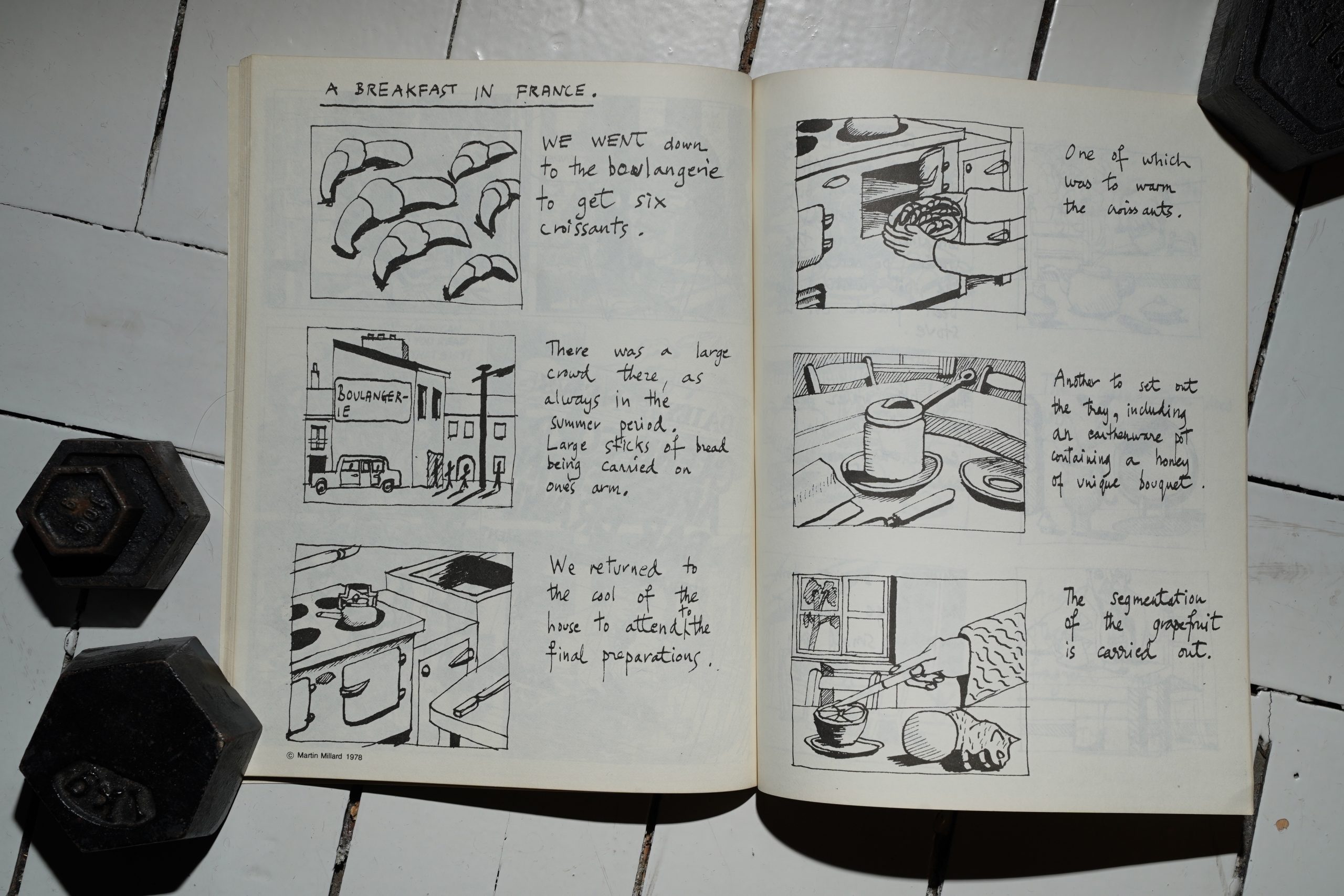 Martin Millard's second (and much shorter) piece is more successful. Reminds me a bit of Rick Geary? But Geary draws more interesting objects.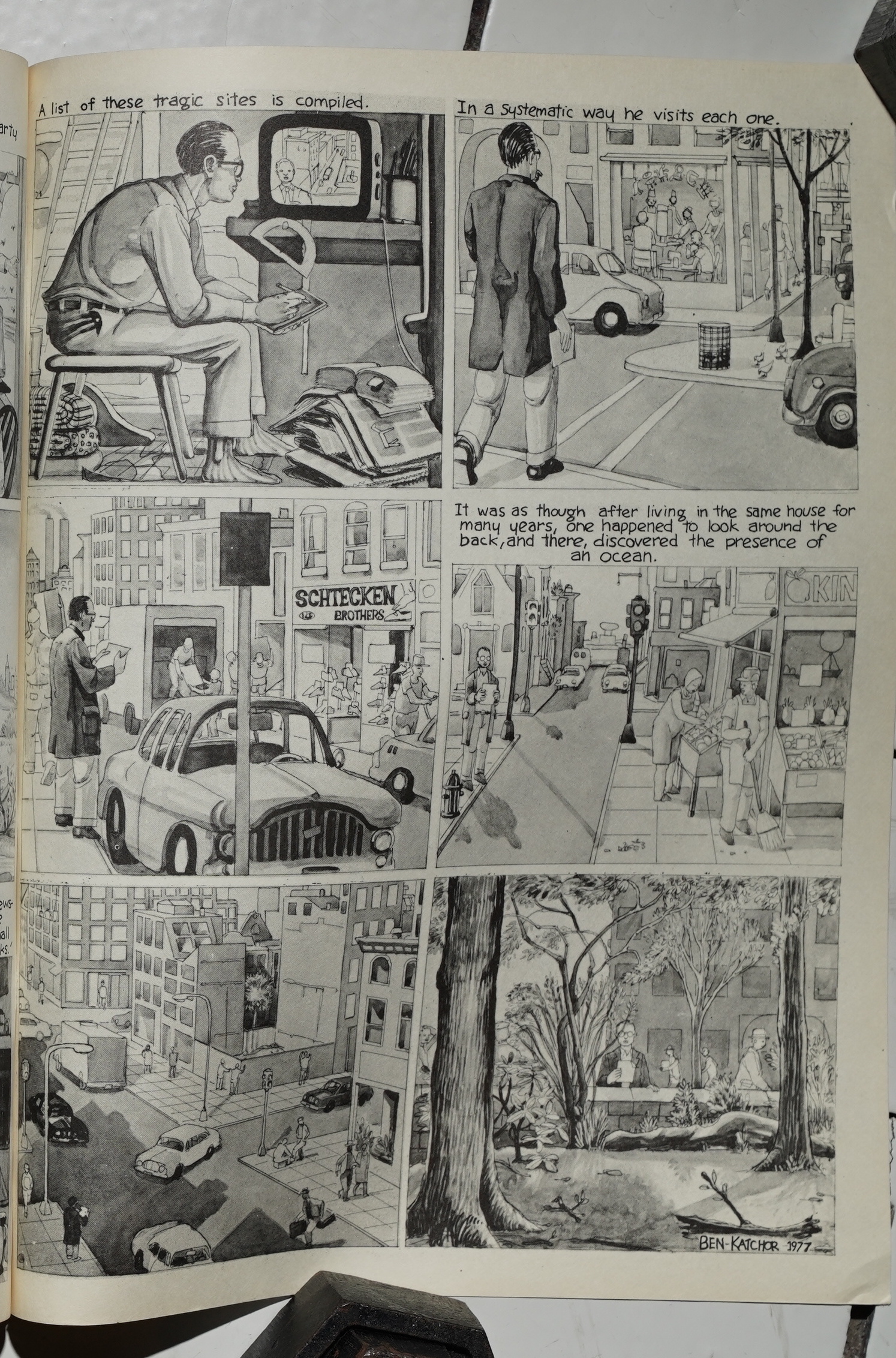 The final Katchor page seems to point towards Julius Knipl, perhaps.
So I'm guessing that this book was put together by the featured artists? It's pretty nicely printed, and it's squarebound, so it's not a throw-away item, either.
Googling a couple of minutes, I'm unable to find anybody talking about this book, but there's an interview with Katchor:
FLA:In 1975, Art Spiegelman's and Bill Griffith's Arcade, The Comics Revuepublished underground comic creators and in 1980 Art Spiegelman with François Mouly published Raw.Both seem to be important moments in the growing of a readership for the kind of work you began publishing.

BK:The models I was looking at were the underground comics andArcade was publishing really interesting work that provided new models for creating text/image stories for adult readers.

By the 1980s I was self-publishing fanzines and later Picture Story Magazine where Art Spiegelman saw my work. There was a store downtown in Soho that carried small circulation zines thattook my work on consignment. By then I was aspiring to create some kind of literary/art comic strip. I wanted to bring together what I thought were the most interesting ideas in figurative art with the most interesting literature that I had been exposed to. I wanted to write serious fiction but in comic-strip form. There was a very small audience for alternative comics at that time and comic shop dealers would look at Picture Story Magazine and wonder what it was. They didn't recognize it as comics, nor would most of their customers.
This blog post is part of the Punk Comix series.