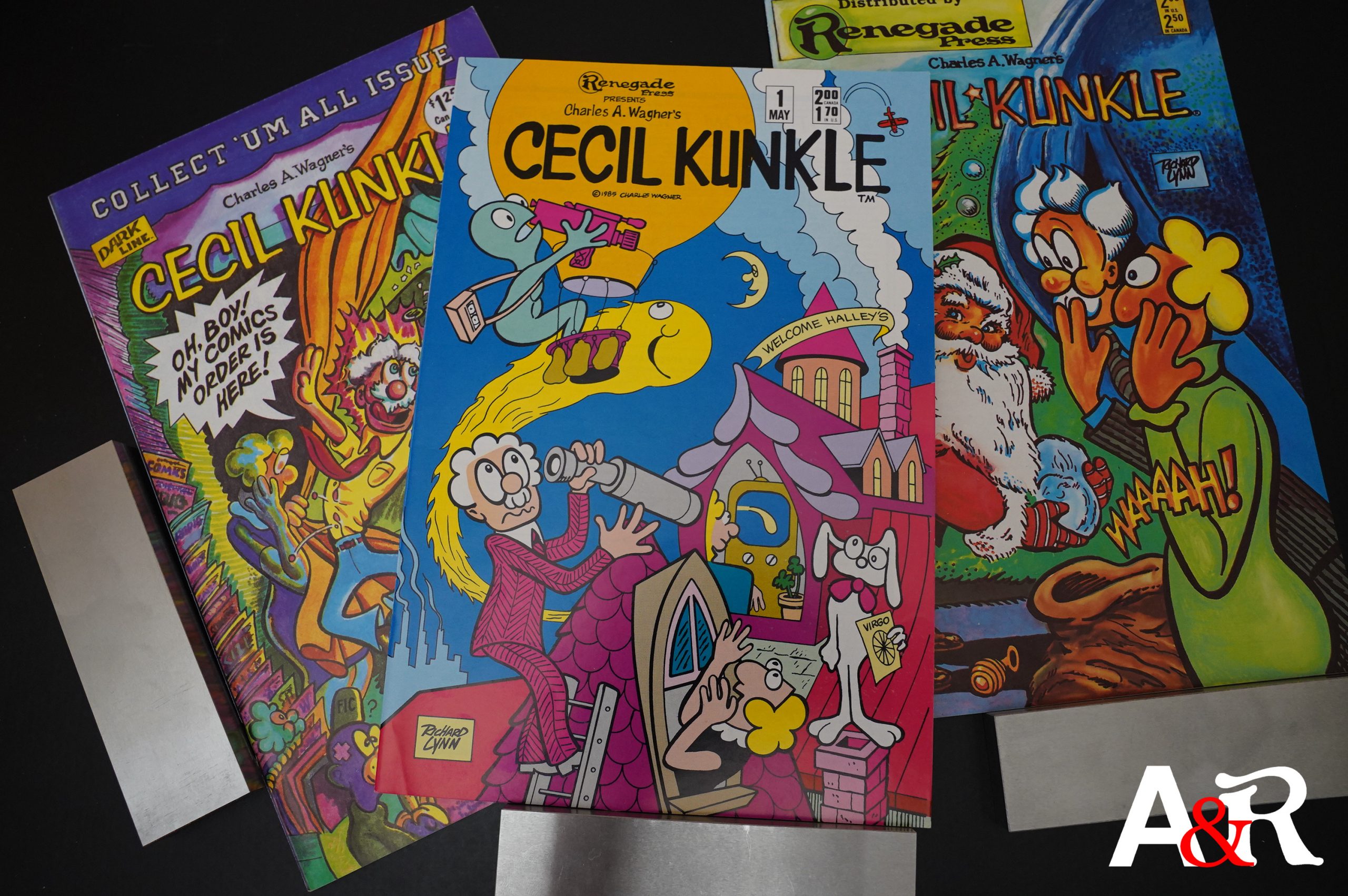 Cecil Kunkle (1986) #1-3 by Charles A. Wagner
I had the first issue of this series as a teenager, but never read it for some reason or other.
But some trepidation, let's read the first three pages together: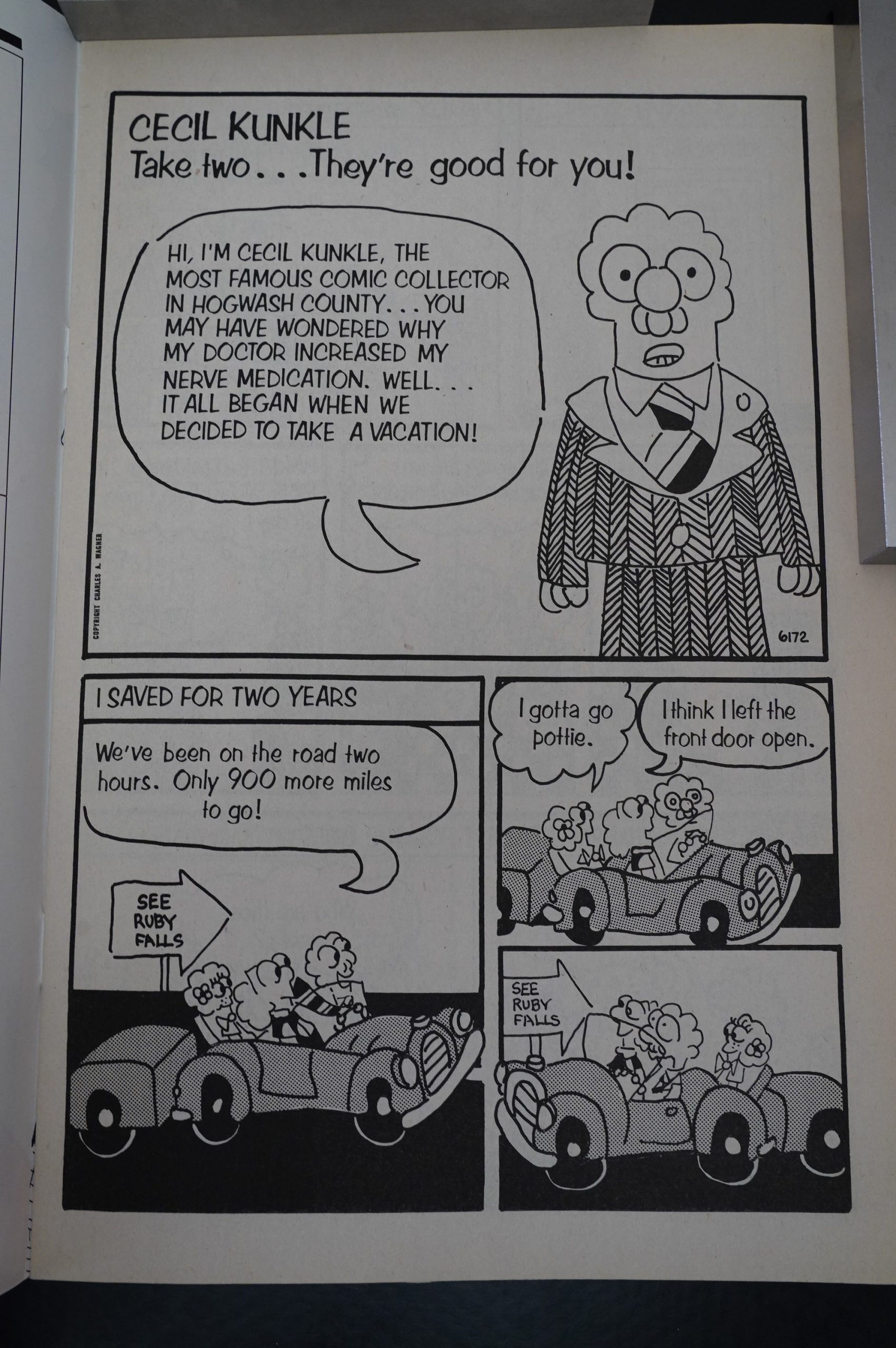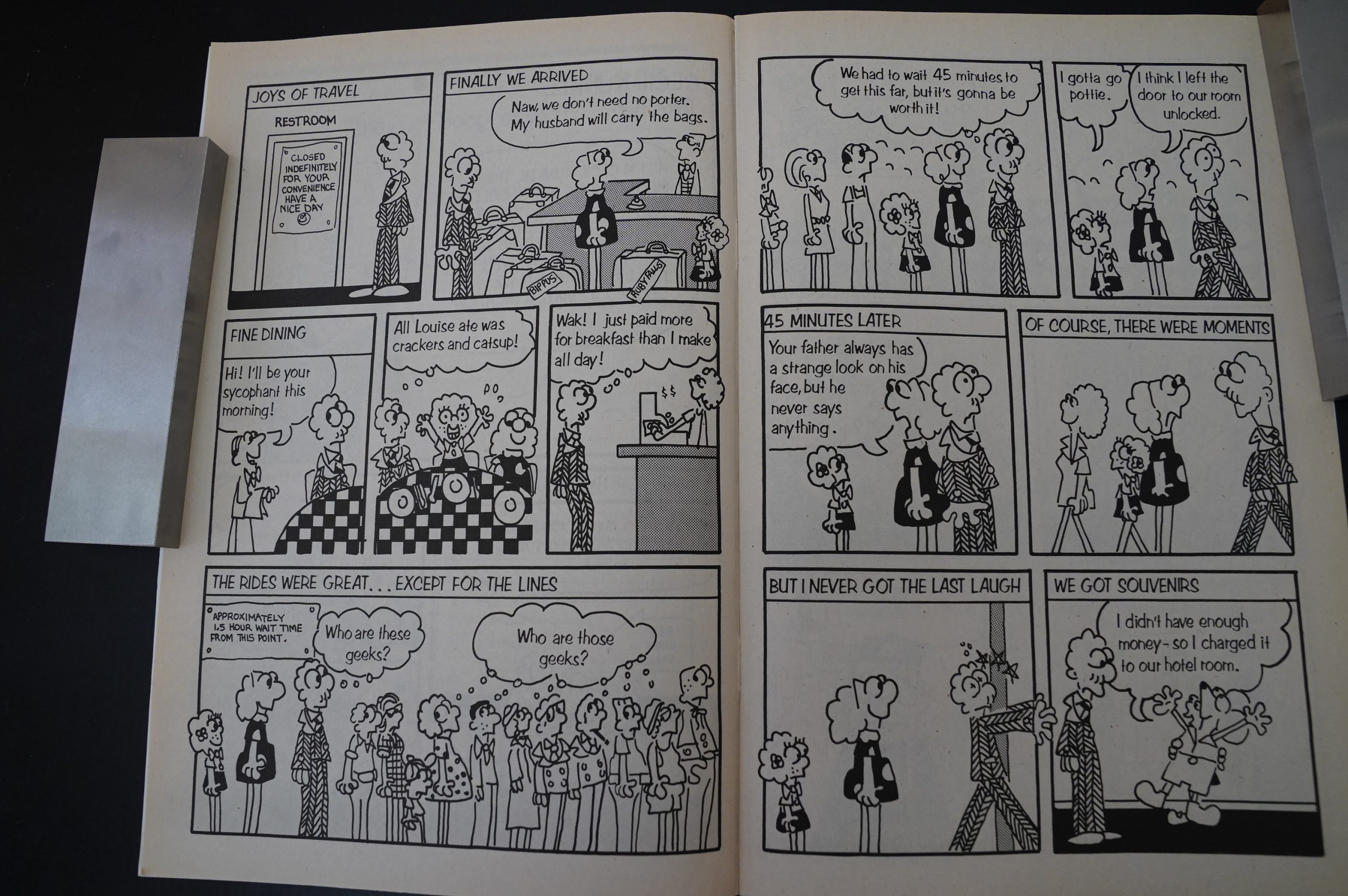 *gulp*
The early desktop publishing lettering (I think that's what it is? Did that exist in 1985?) doesn't really help here.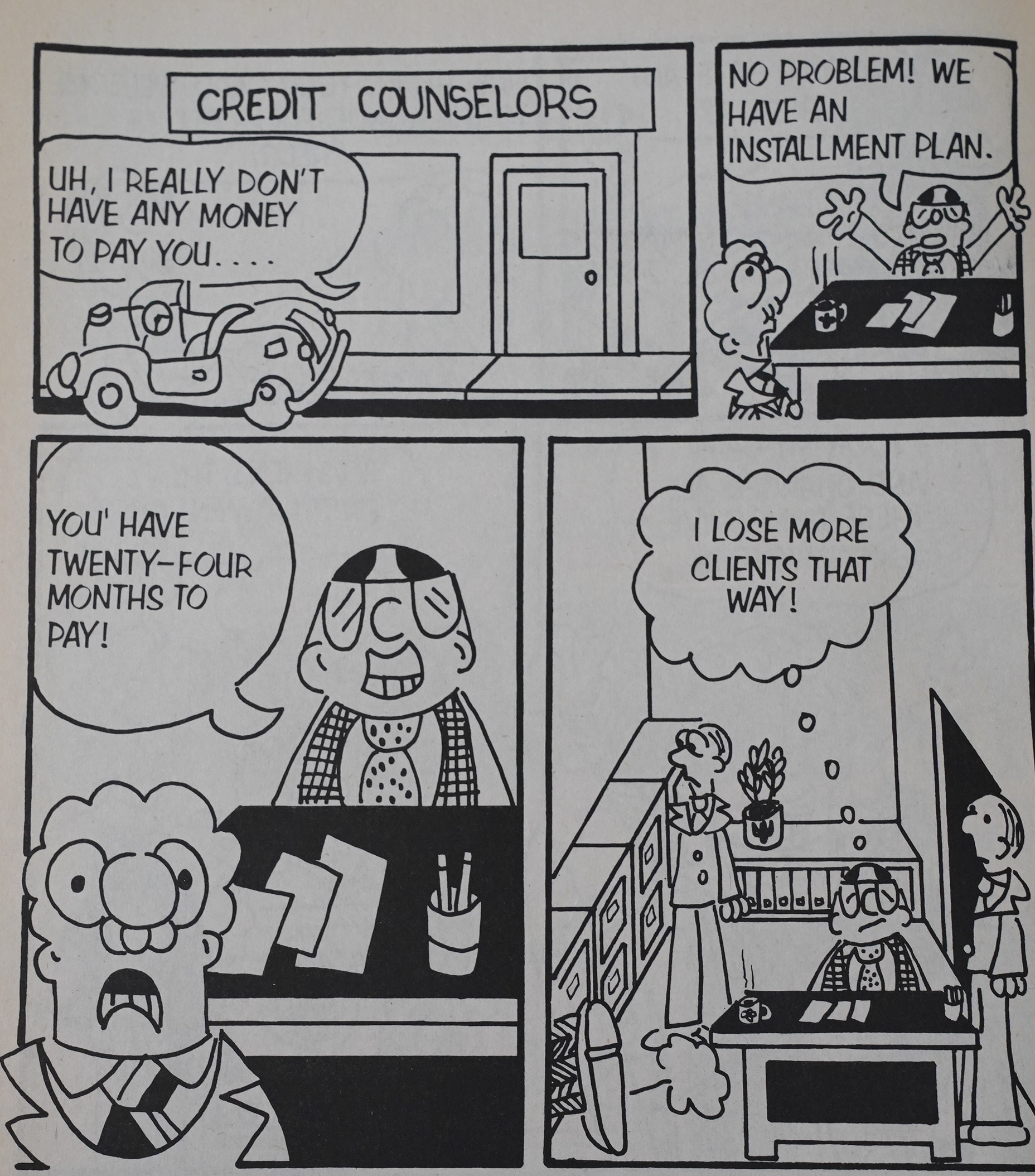 It's mostly just hard to tell what the jokes are supposed to be.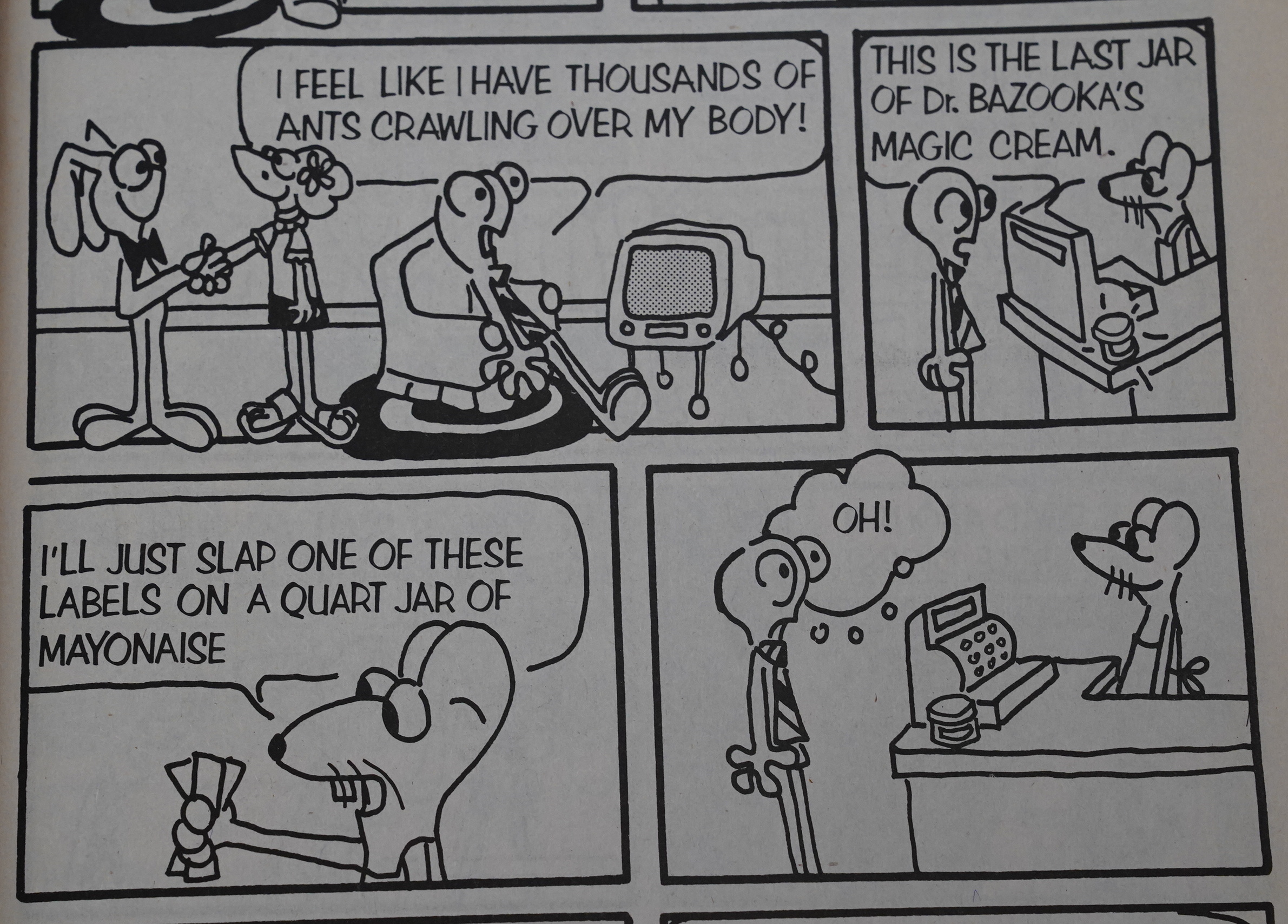 What. How. What.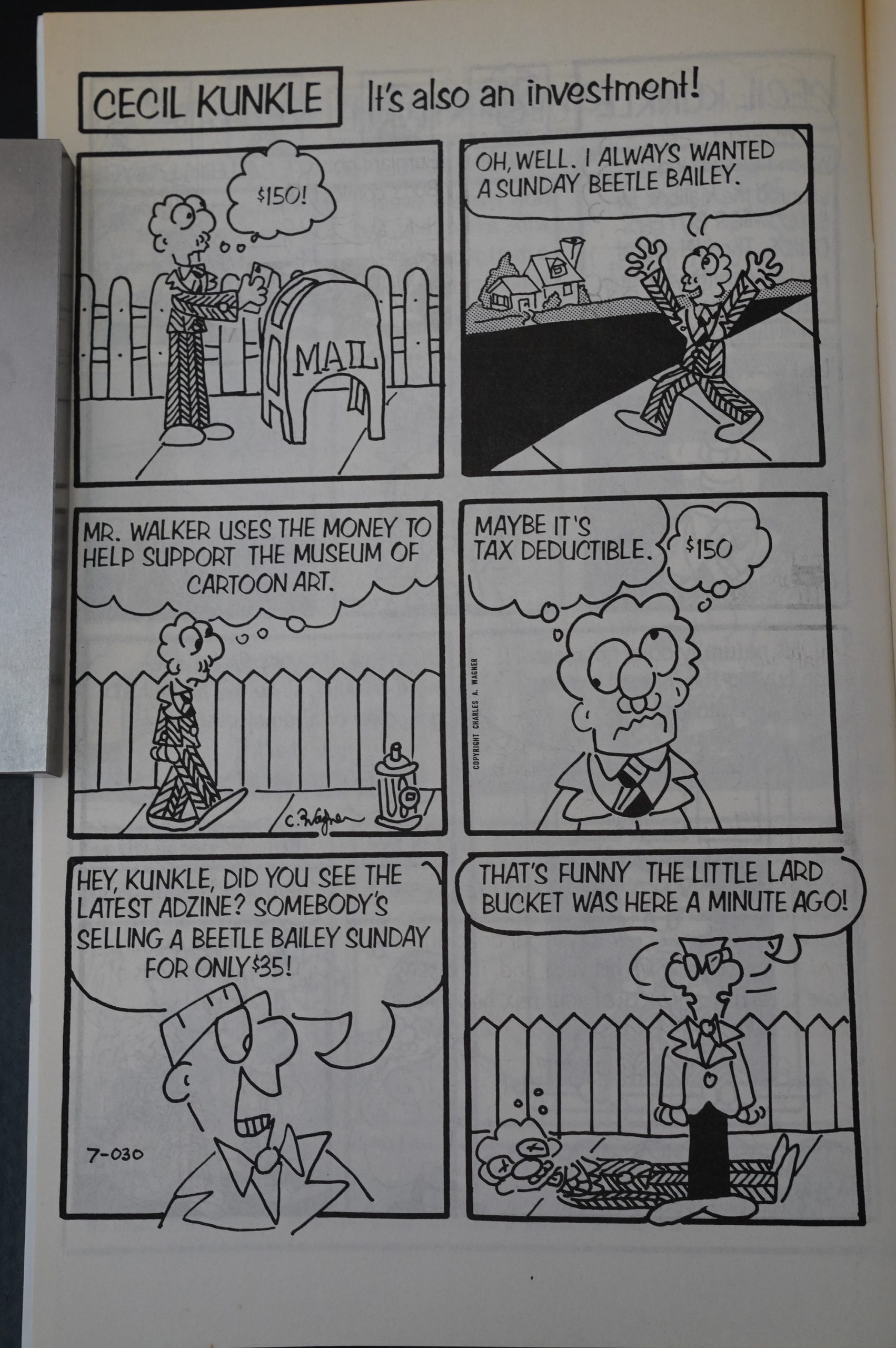 Now, I have to mention that this was published in May 1986; they height of the black and white boom: "Investors" were snapping up all black and white comics that were shovelled into the Direct Sales Market. Renegade didn't really participate that much — they seemed to publish oddball stuff that Deni Loubert liked. But…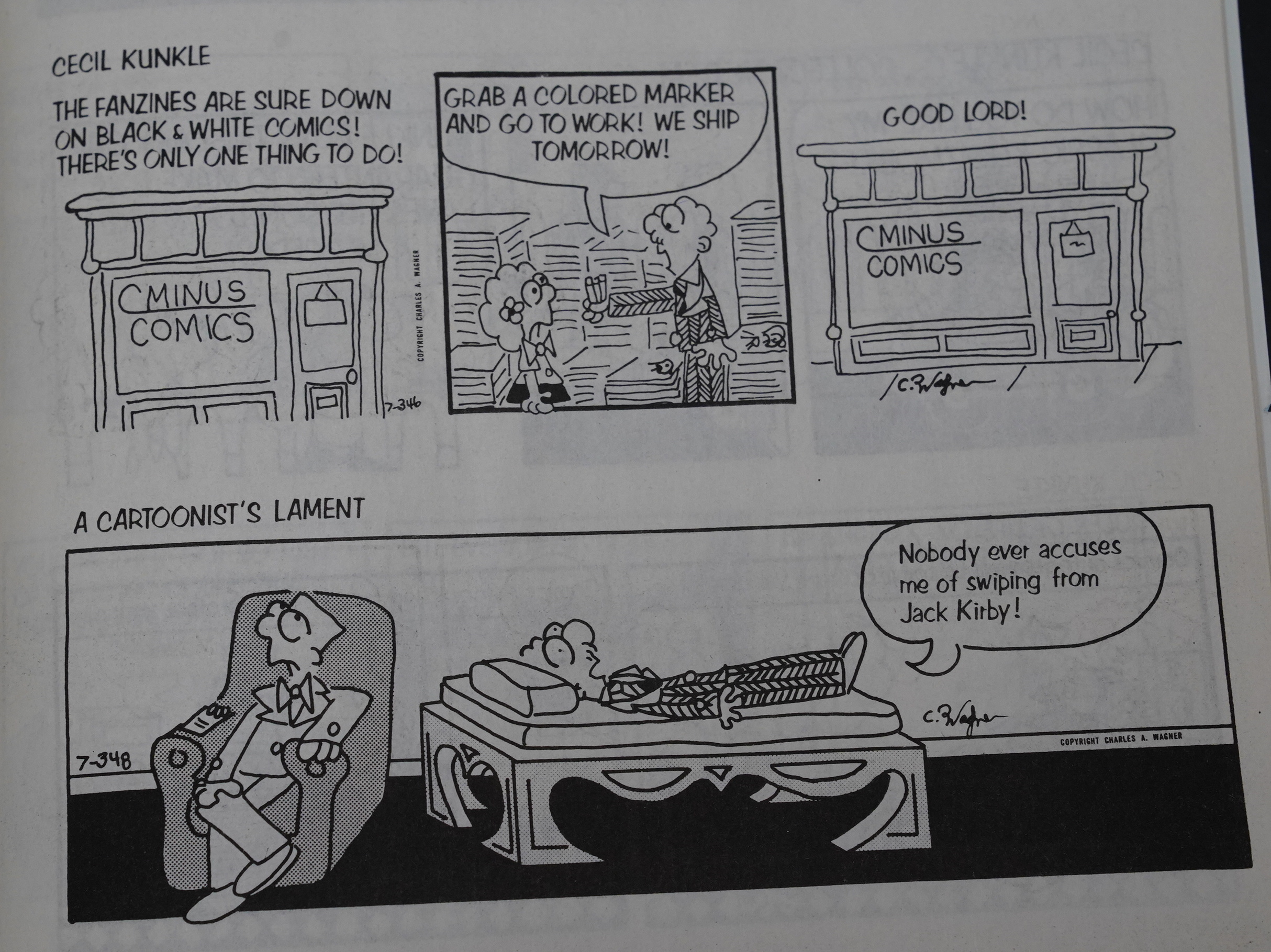 Kunkle comments on both the black and white boom and Wagner's inability to draw, which is nice, I guess.
Renegade only published a single issue of Cecil Kunkle, and then Darkline/C Minus Comics took over. Renegade isn't mentioned at all in the second issue, but…

… the third one does, and has a huge Renegade logo on the cover.
Darkline didn't have a long run. Looks like a black and white bust company? (I.e., started during the boom, but were too late to profit.)
I wish I could say that there was some artistic development over the three issues.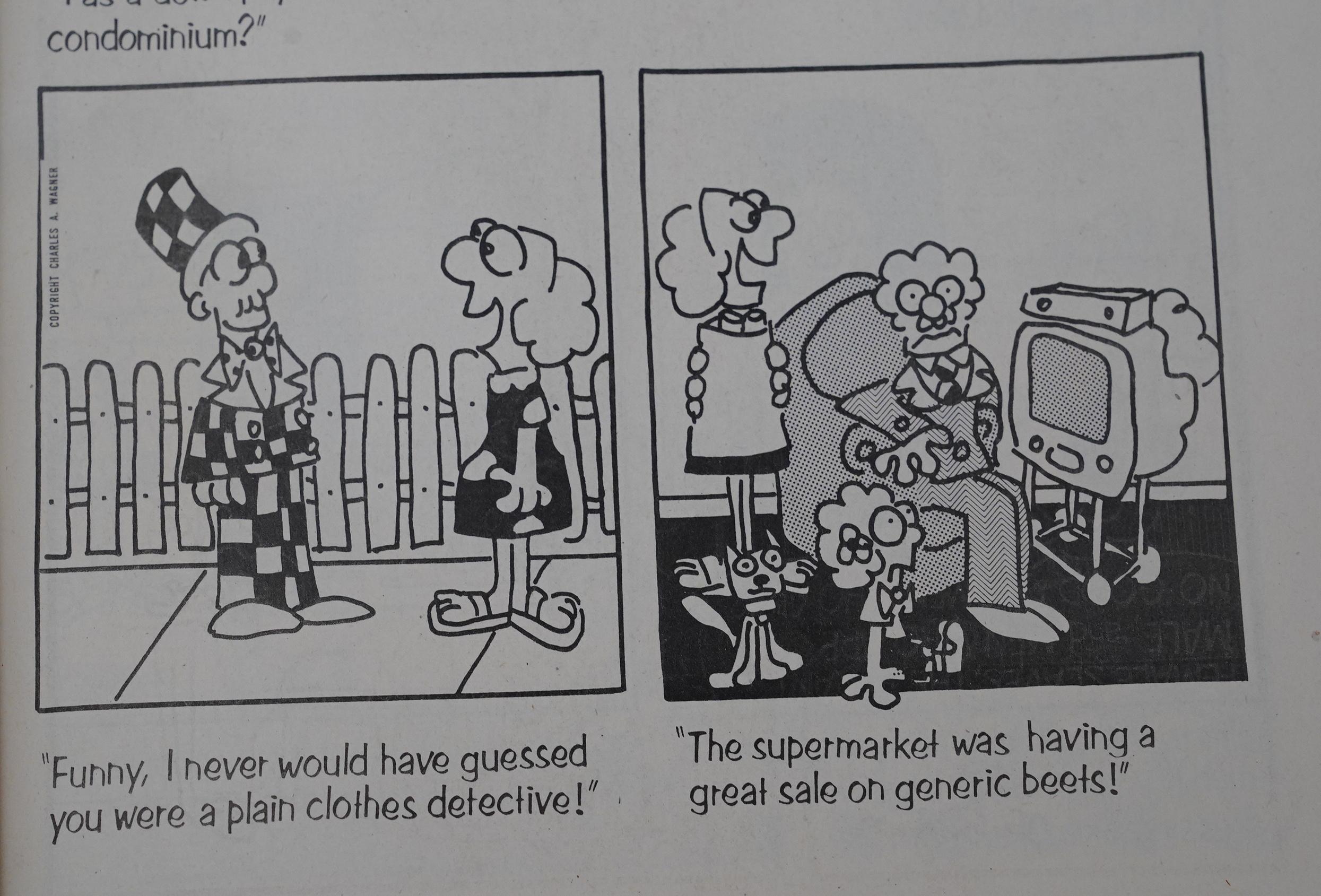 The two best jokes appeared in the final issues, so perhaps he was learning something. I mean, they're not funny, but there's at least something you can actually understand to be a joke here.
Russell Freund writes in The Comics Journal #110, page 59:
Cecil Kunkle, on the other hand, is
funny, in places. Charles A. Wagner can't
touch Joe Sinardi as a cartoonist. His silly
scrawling hardly qualifies as cartooning at
all, but it does its job of setting up his ver-
bal gigs. Cecil Kunkle works much the same
way a newspaper strip like Crock tries to
work: study hall cartooning used to serve
up one-liners and tropes. The difference is
that some of Wagner's jokes actually work.
I liked it when Cecil took a carful of camp-
ing kids into "Slugg Burger," where they
ordered up "Lots of Sluggs," "a slop box with
double cheese," and other delights. Actual
laughs are sparse in Cecil Kunkle but I
can imagaine Wagner's ticklish silliness
erupting into something really inspired one
of these days.
VIrginia Williams-Pennick writes in Amazing Heroes #158, page 83:
CECIL KUNKLE
CHRISTMAS SPECIAL
Written & illustrated by CHARLES A.
WAGNER; cover by RICHARD LYNN. Pub.
lished by RENEGADE PRESS
What does this comic book and a
boxful of joy buzzers, whoopee cush-
ions and plastic vomit have in com-
mon? Nothing, but wasn't that a great
opening line? Actually, there are
similarities. Should you toss both into
a crowded room, chances are some-
body is going to laugh.
Cecil Kunkle, the bug-eyed, hen-
pecked suburbanite, refugee of the
pages of Comics Buyer's Guide, has
his very own Christmas special. Why?
Excuse me, but there doesn't seem to
be enough here to justify a whole
book (and a $2 book at that). While
writer/artist Charles A. Wagner jokes
his little heart out, many of his gags
fall flat. Plus, Chuck has this really
weird fascination for beets, the humor
of which escapes me. Yet, like the
aforementioned box of revolting party
favors, readers will find something to
chuckle at here and there. Like the
Kunkle family's panic-ridden journey
to the hospital where Mrs. K produces
another member of the cast. And how
the newest Kunkle gets his name is
good fun.
Many will identify with Cecil as he
encounters; his mother-in-law, a
demure charmer who must gargle
with battery acid considering the
venom which pours out of her big
mouth. You'll like the antics of funny
animal Terry Turtle. The best is his
stint as a Salvation Army Santa Claus,
with beets as the punchline—again.
The stories are Shon. Just as I began
getting into a yarn, it was over. Never-
theless, if you enjoy a diet of fast food
humor, you'll devour this holiday
offering. And me? It was okay, but I
didn't crave any second helpings. But
then, I was never a beet person. I pre-
fer kumquats. Now there's a hilarious
food!
GRADE: GOOD—
The strips are, at best, really rough — Cecil is the patriarch of a small, dull family, whose adventures sometimes involve the mention of a comic book or two. This is how he gets his foot in the door at CBR, presumably. An interstitial funny animal strip, Terry Turtle, seems to poorly represent both "funny" and "animals." I have to admire, though, the fact that Wagner apparently put his own money behind this second effort to get Cecil Klunke published, for all the good it did him.
But:
Cecil Kunkle ran in the Comic Buyer's Guide for a while, earning itself a Slings&Arrows review which I won't repeat here but which I admit I'll never match for brevity and savagery.
I tried to find it, but:

This blog post is part of the Renegades and Aardvarks series.