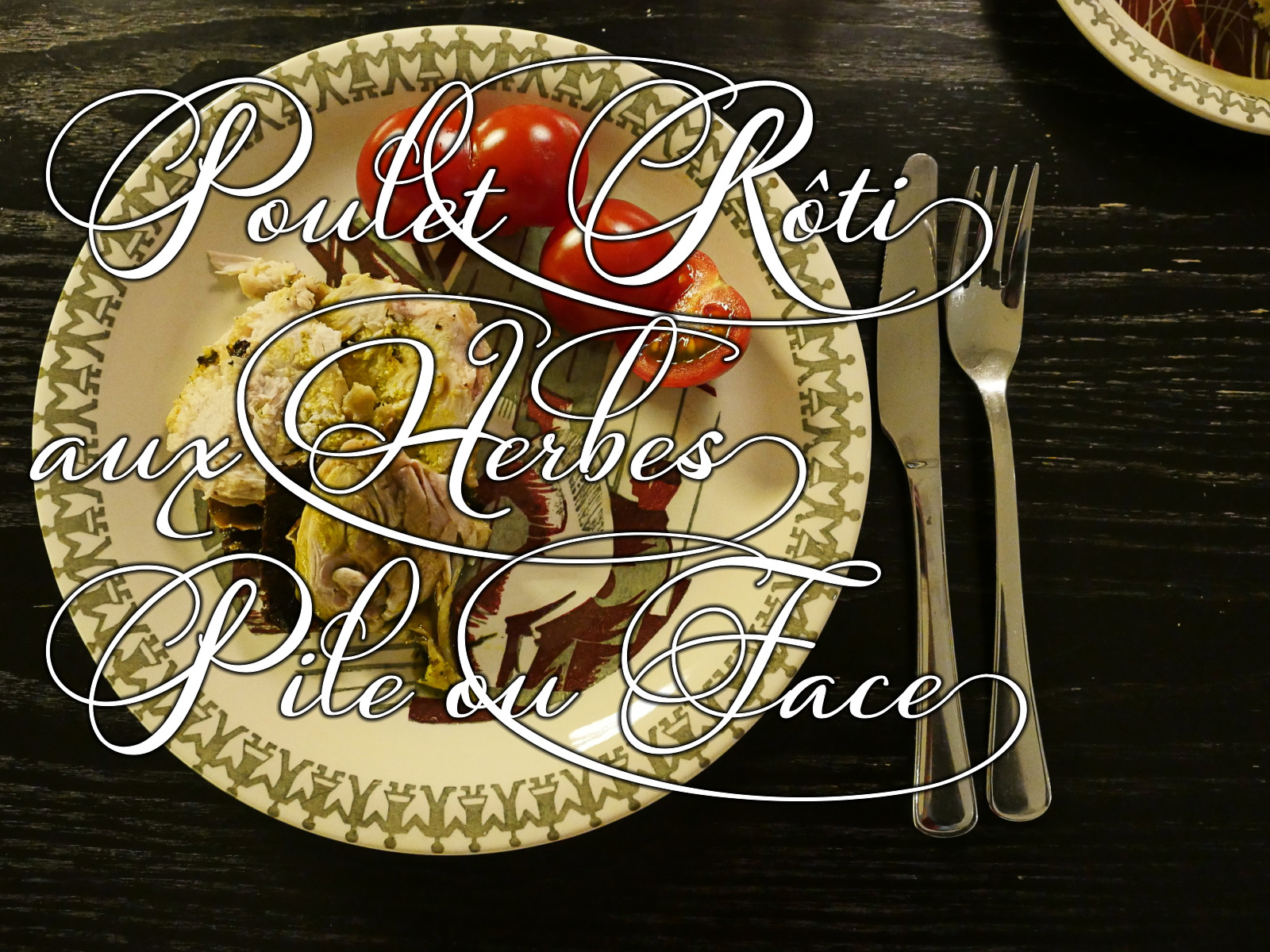 OK; time for more food. The next selections from the Bistro Cooking book in the cheese section is this thing: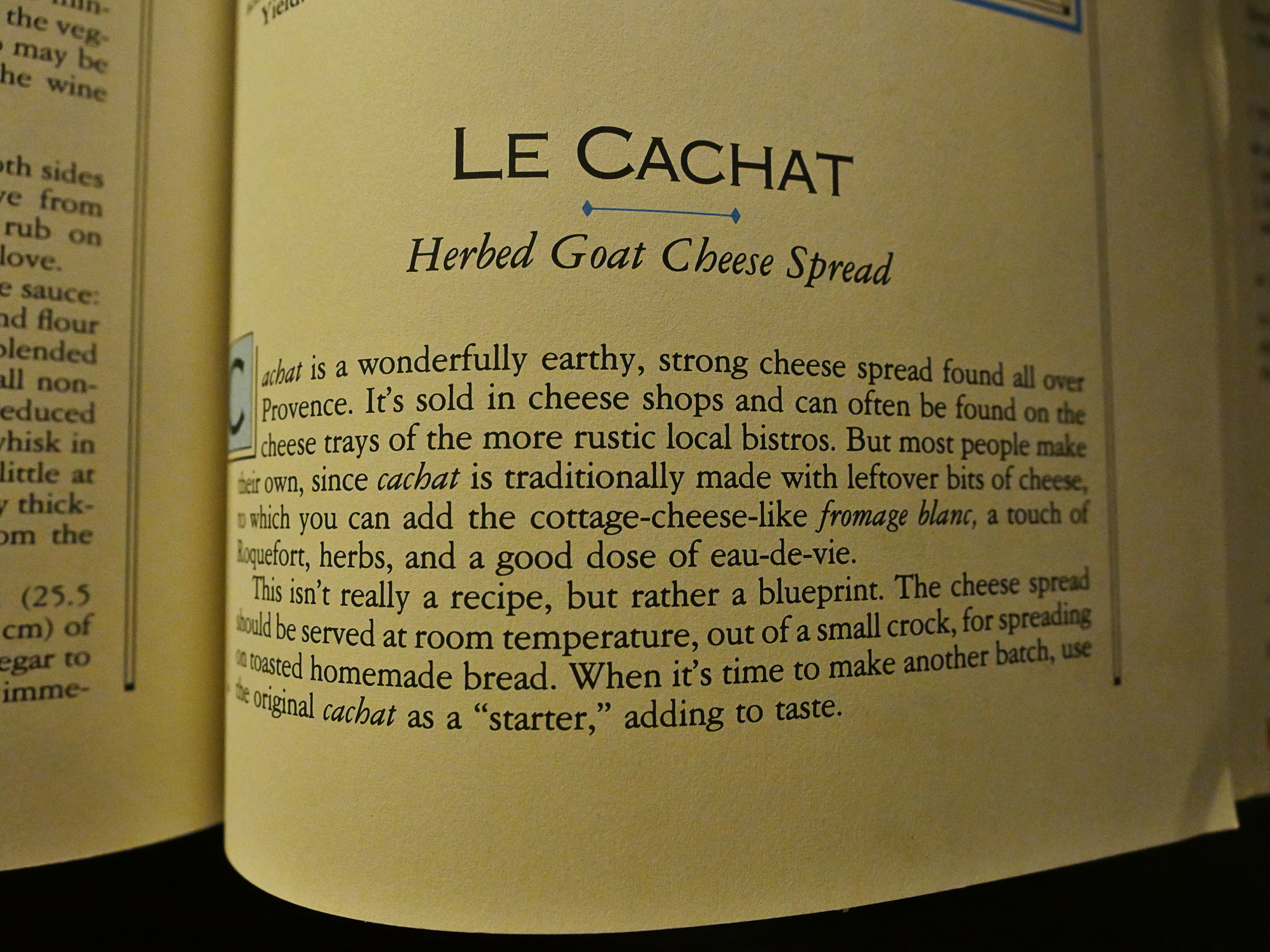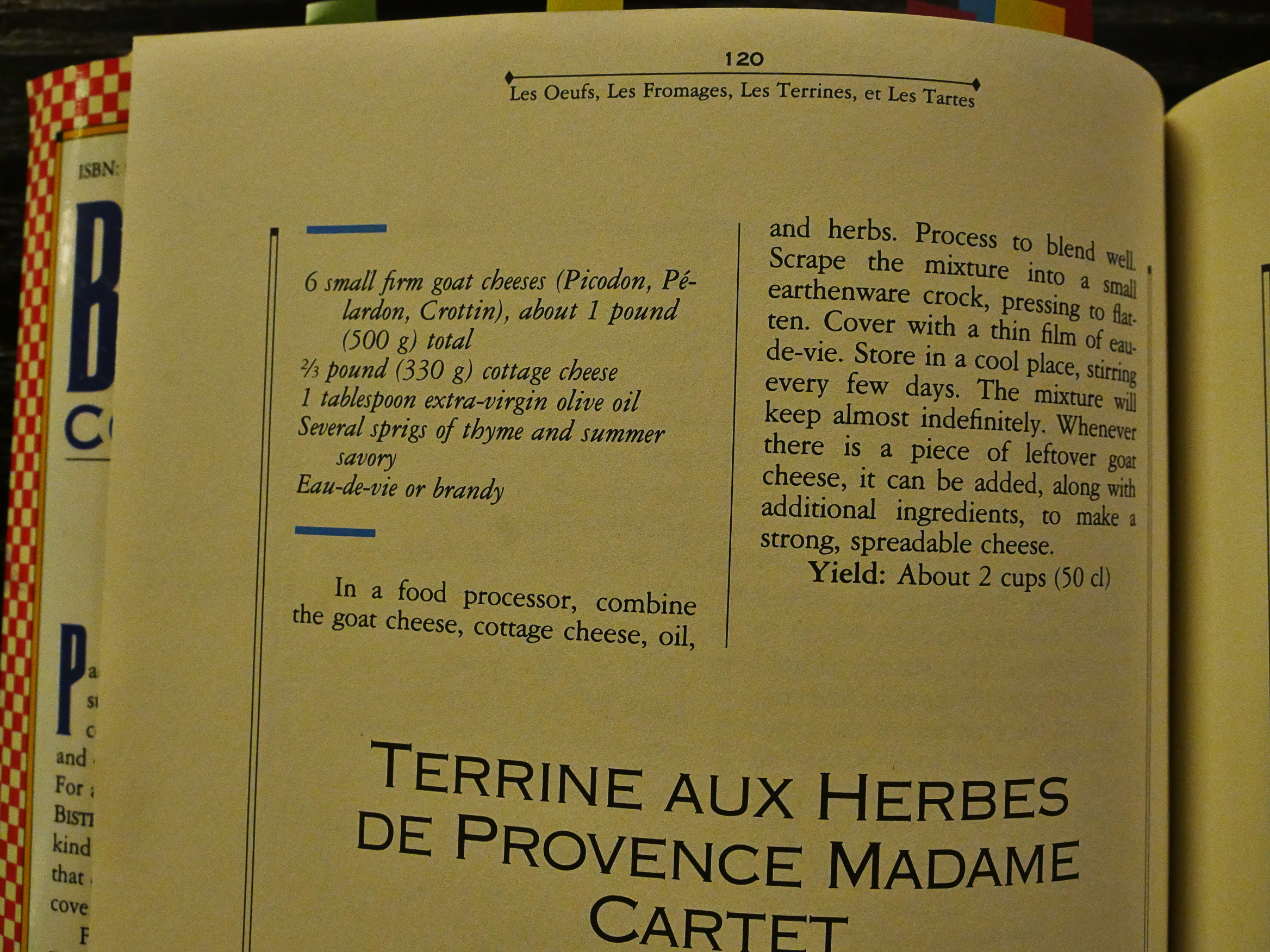 It's… uhm… Simple? It's chevre with cottage cheese and some herbs.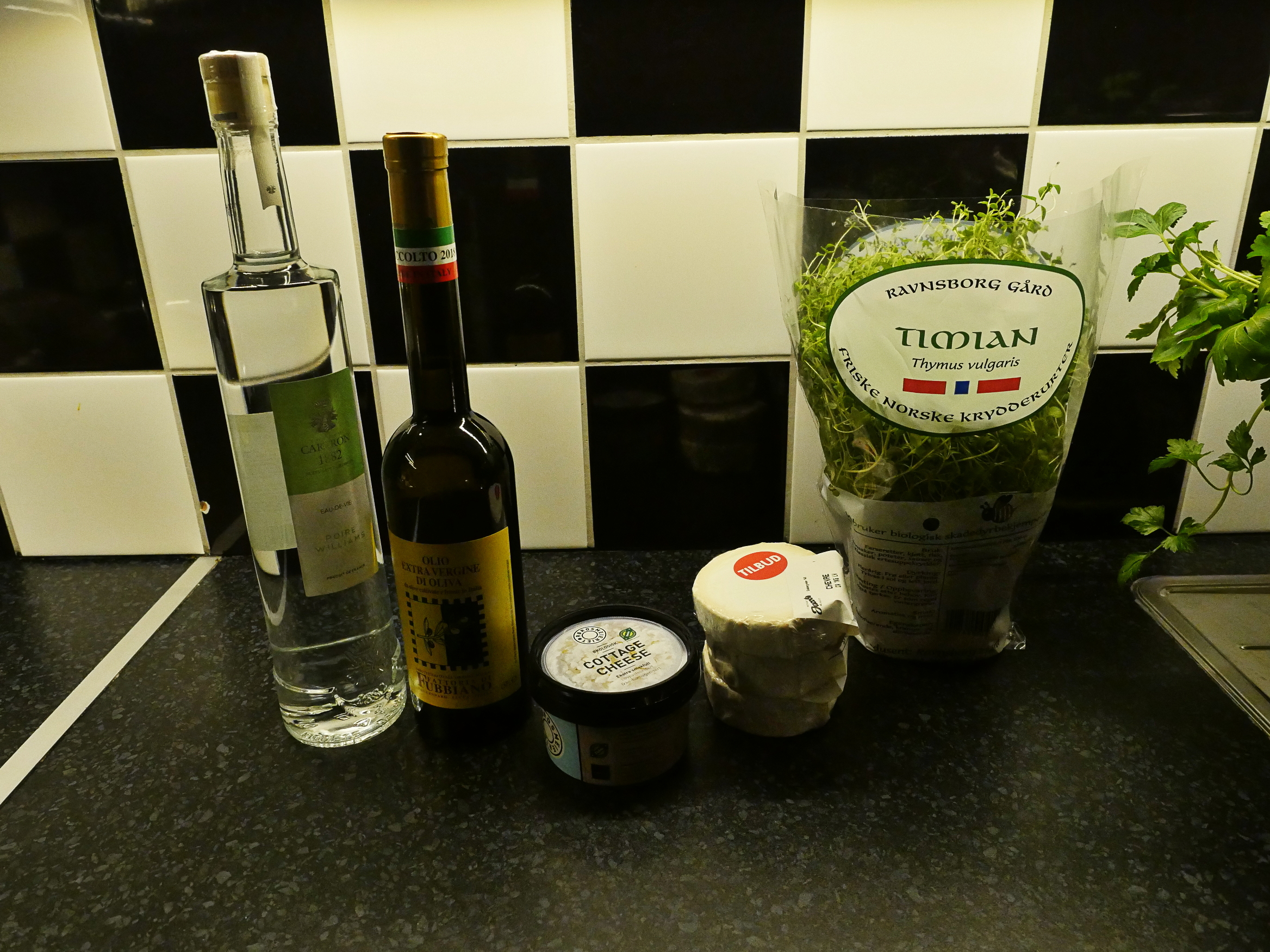 I did not have summer savory (because it's autumn), so I just went with thyme.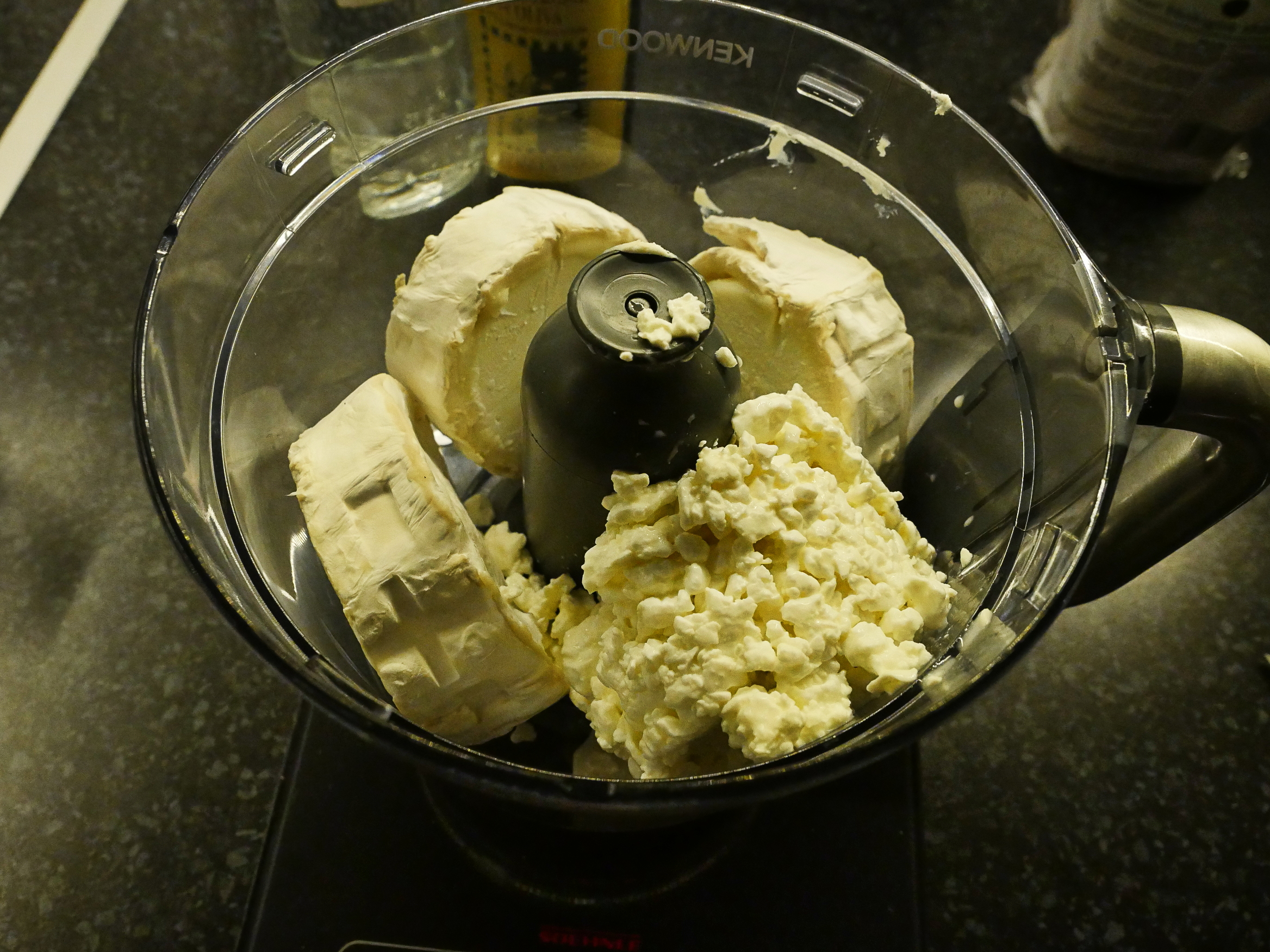 So you dump it all into a food processor and then run it until it's smooth.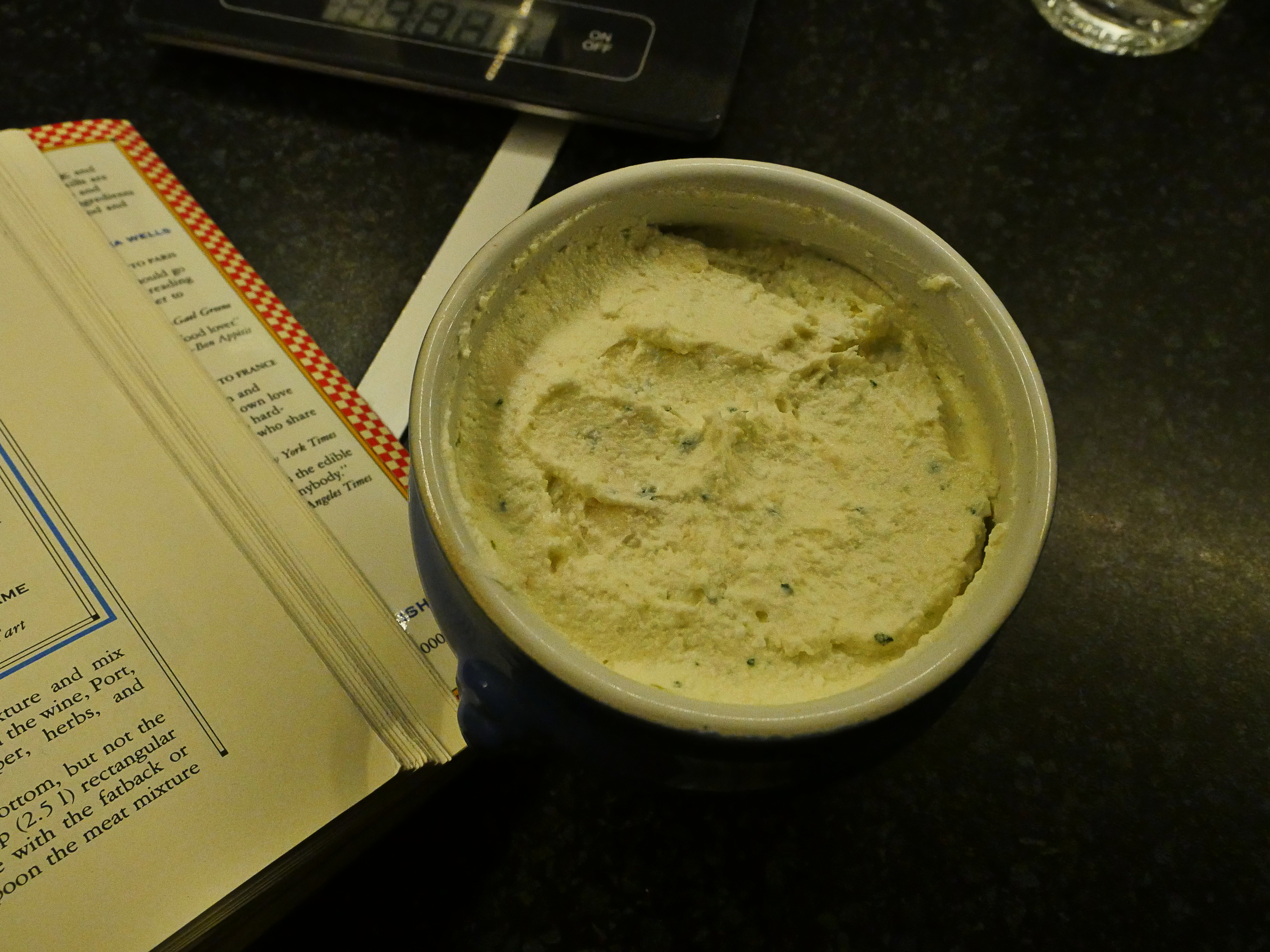 And then pat down into a bowl.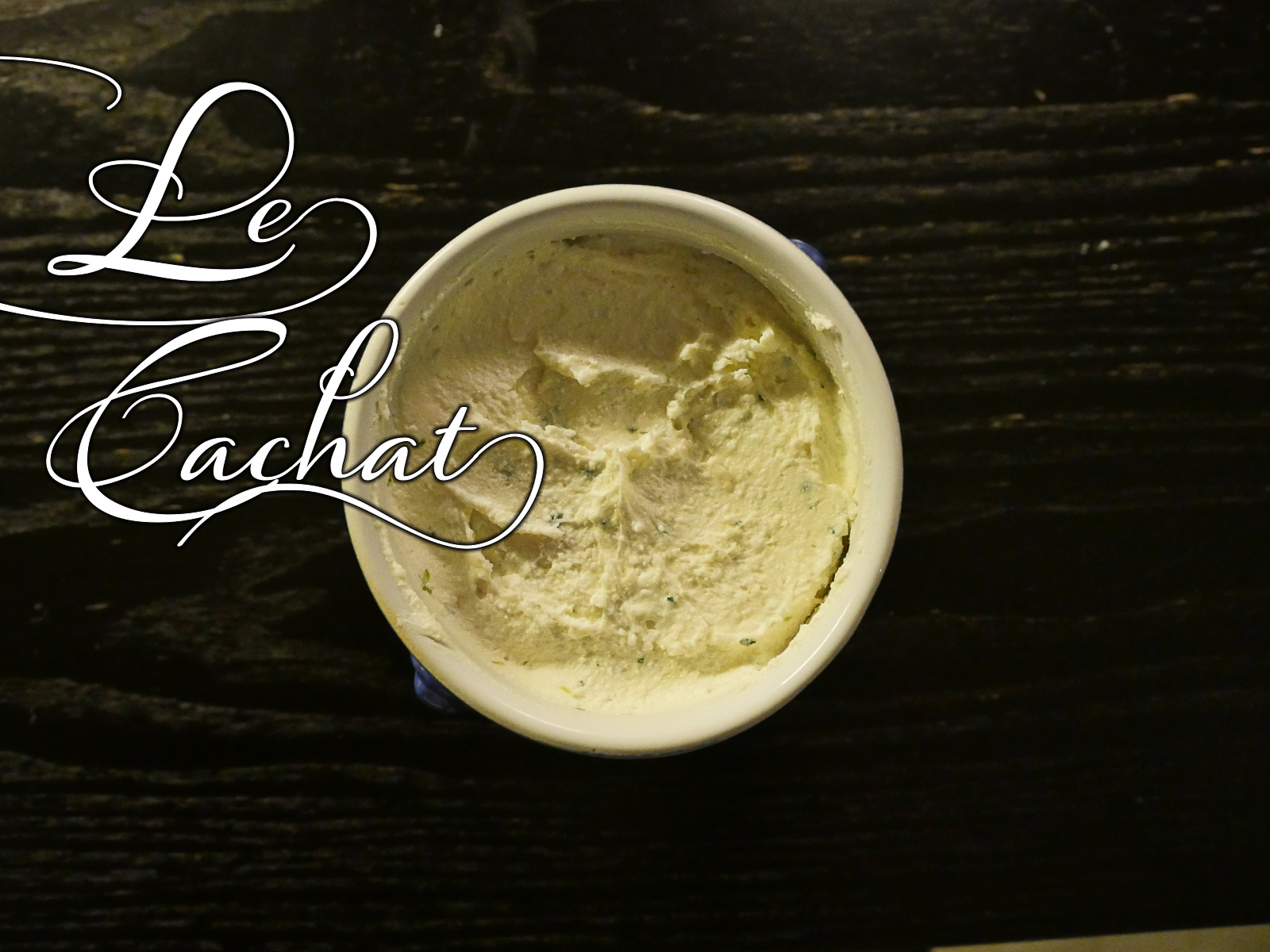 It's… uhm… it tastes like… even blander chevre? I mean, cottage cheese doesn't bring a lot of flavour, and "several sprigs" of thyme didn't really add much, either?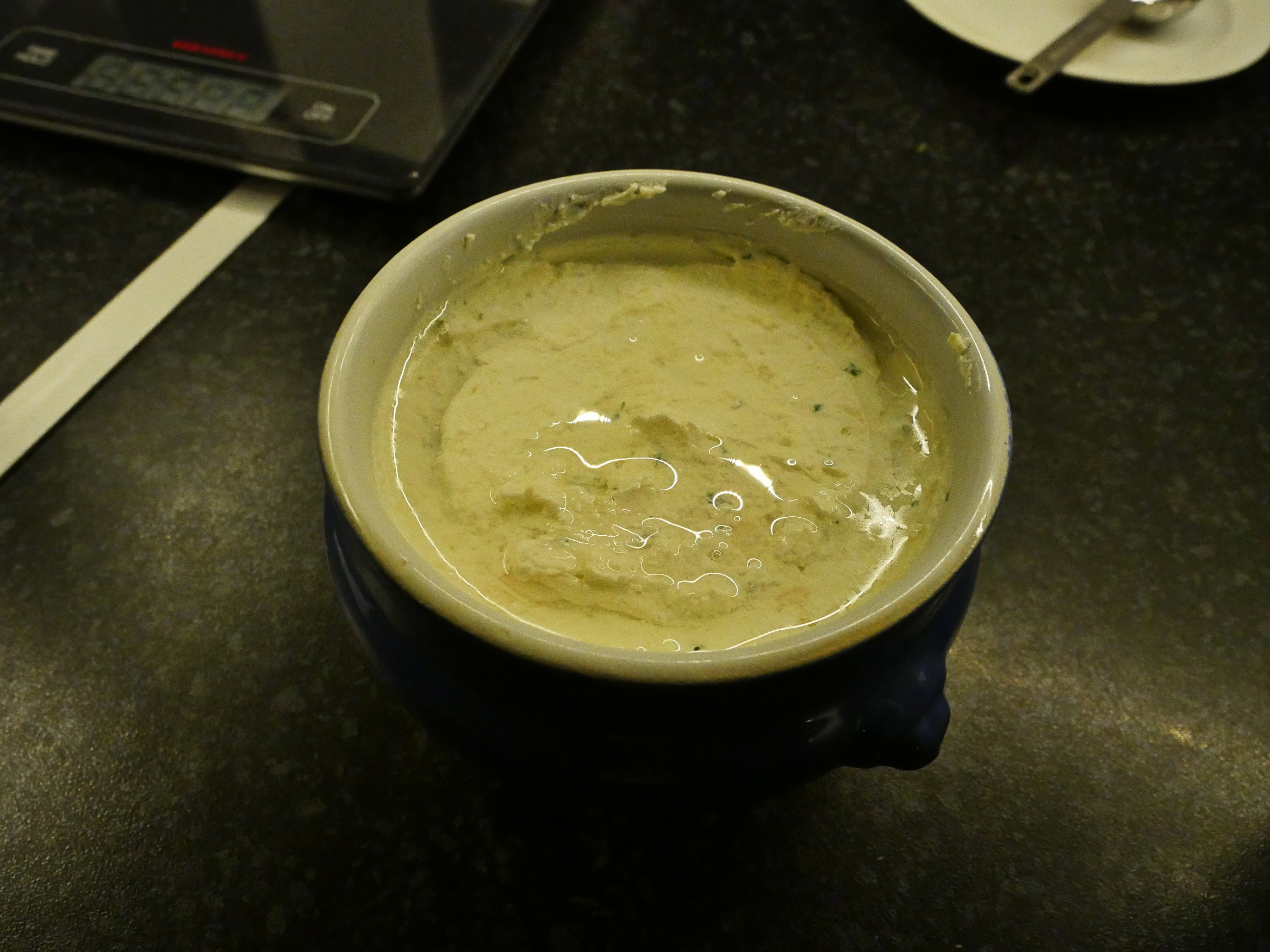 Then it's supposed to be covered by a layer of eau de vie, which is apparently French for "any kind of booze that's not made from grapes", so I went with a pear liqueur. I don't know whether that was a good idea or not…
And then into the fridge. It's supposed to stay there for some days?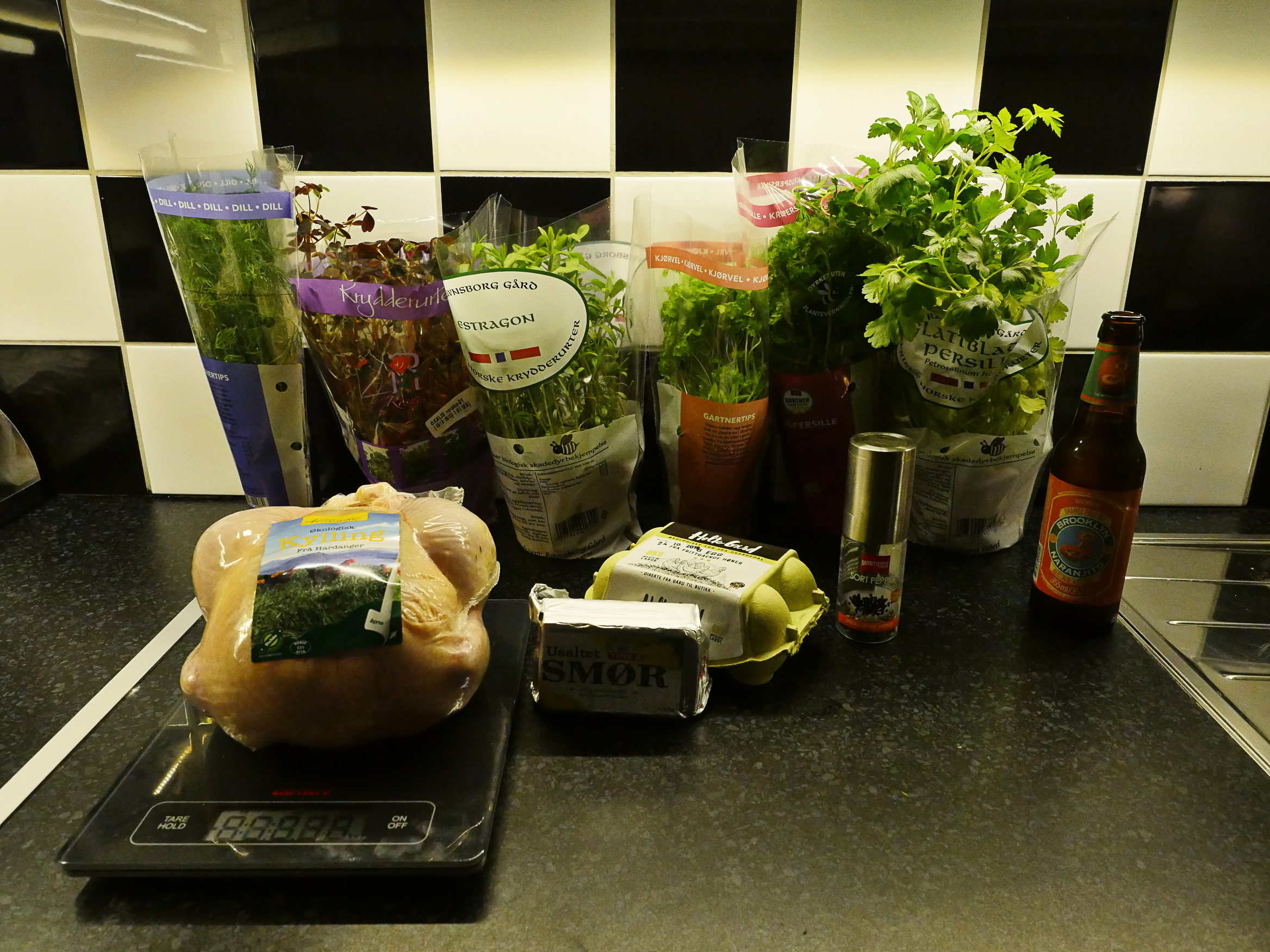 OK, on to the main course, which is a roast chicken with a bizarre amount of greenery: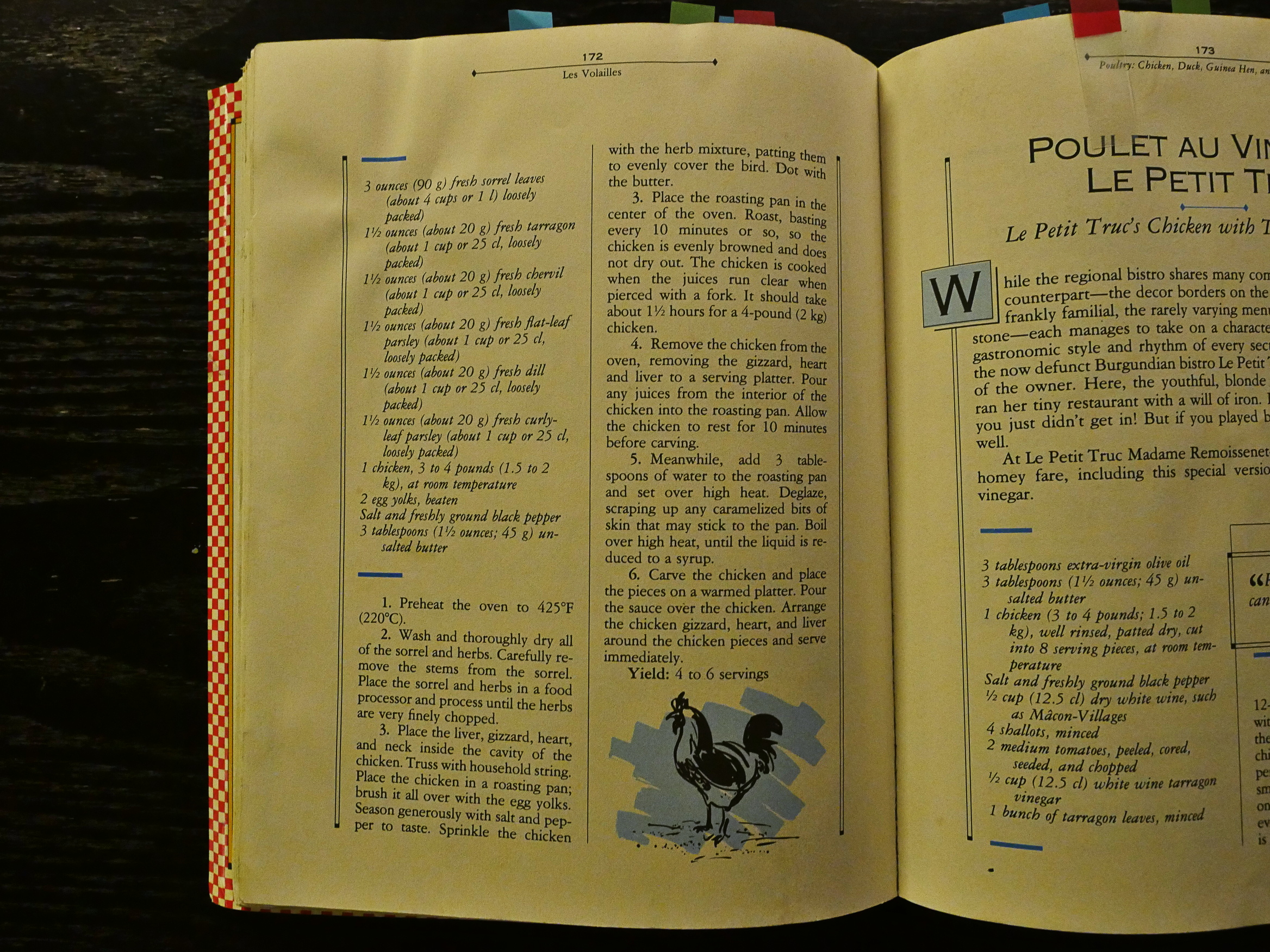 Adding that all up together, that's almost 200g of green stuff to be slathered onto the poor chicken.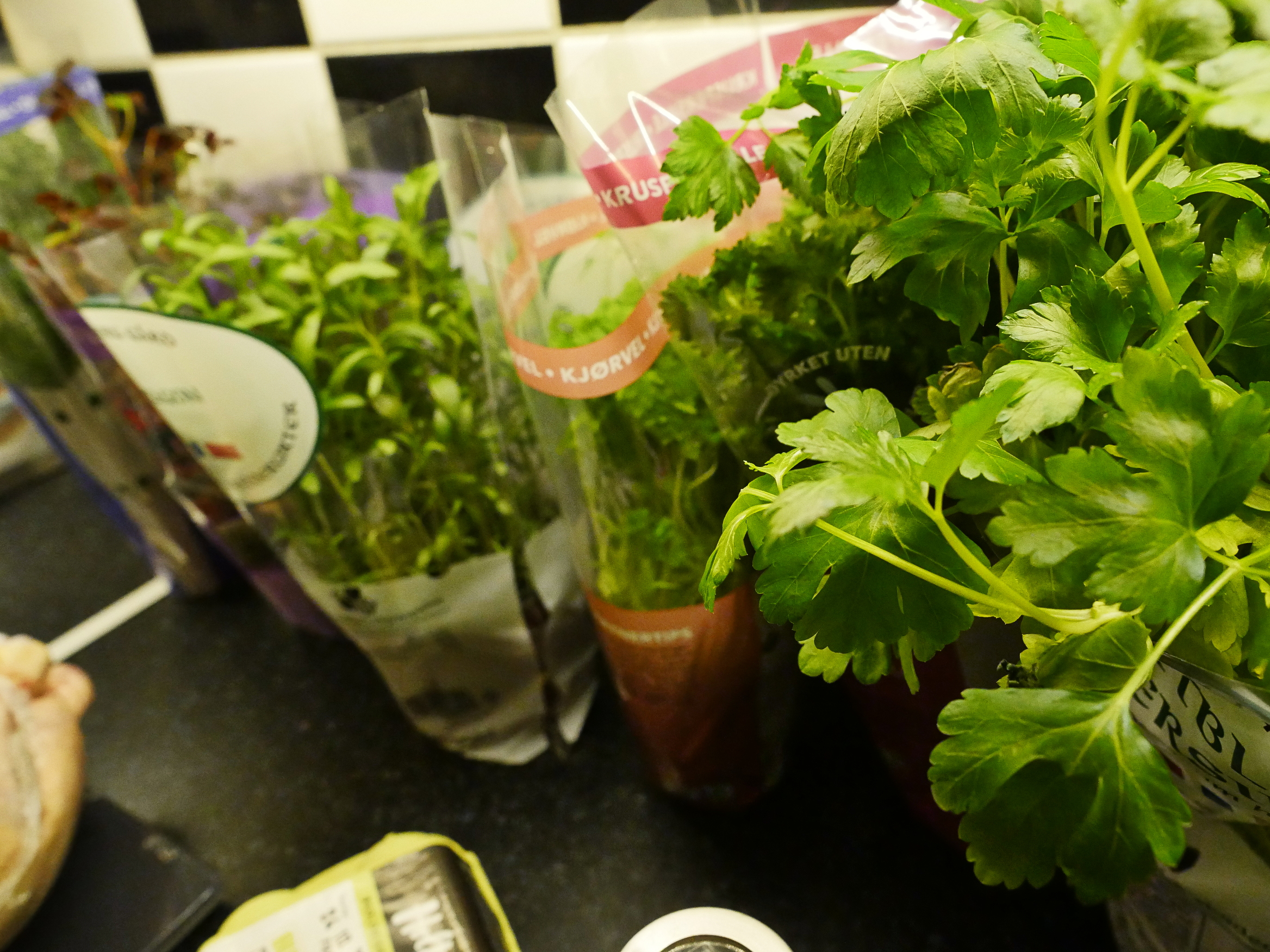 Look!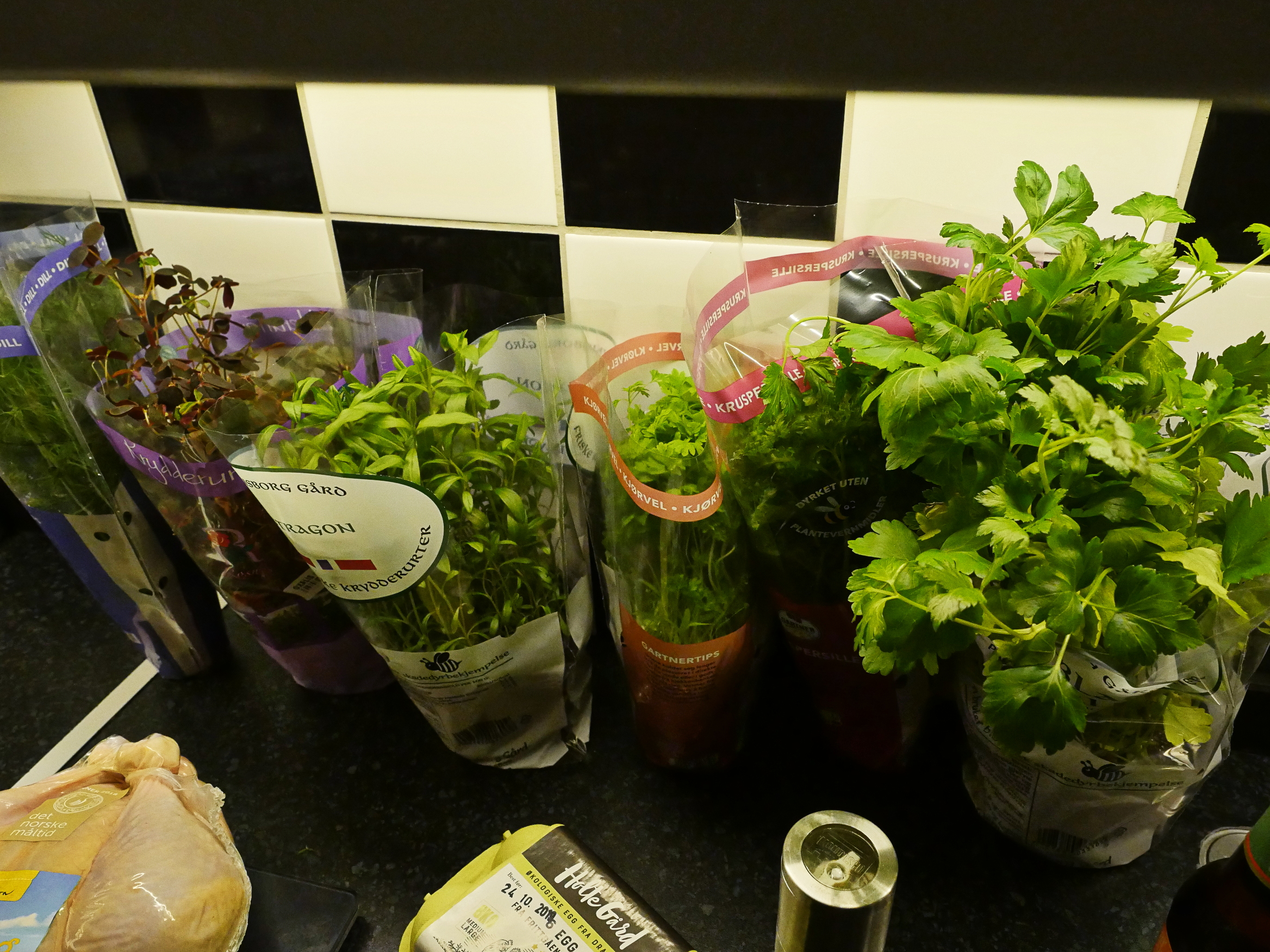 Greens!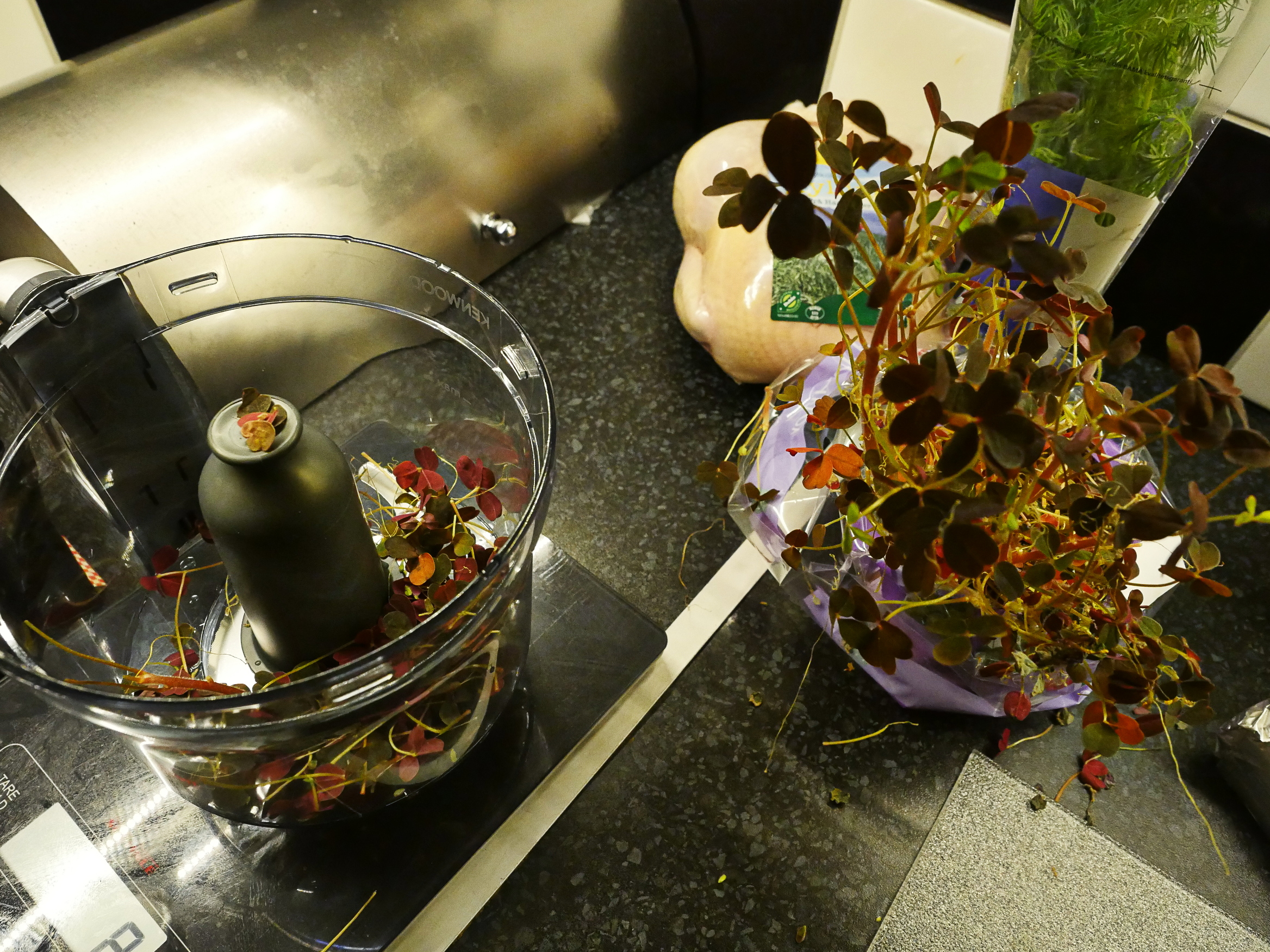 The main greenery was supposed to be sorrel leaves, which are out of season, so I substituted with wood sorrel… but… I should probably have gotten a couple more plants, because it's almost all stems.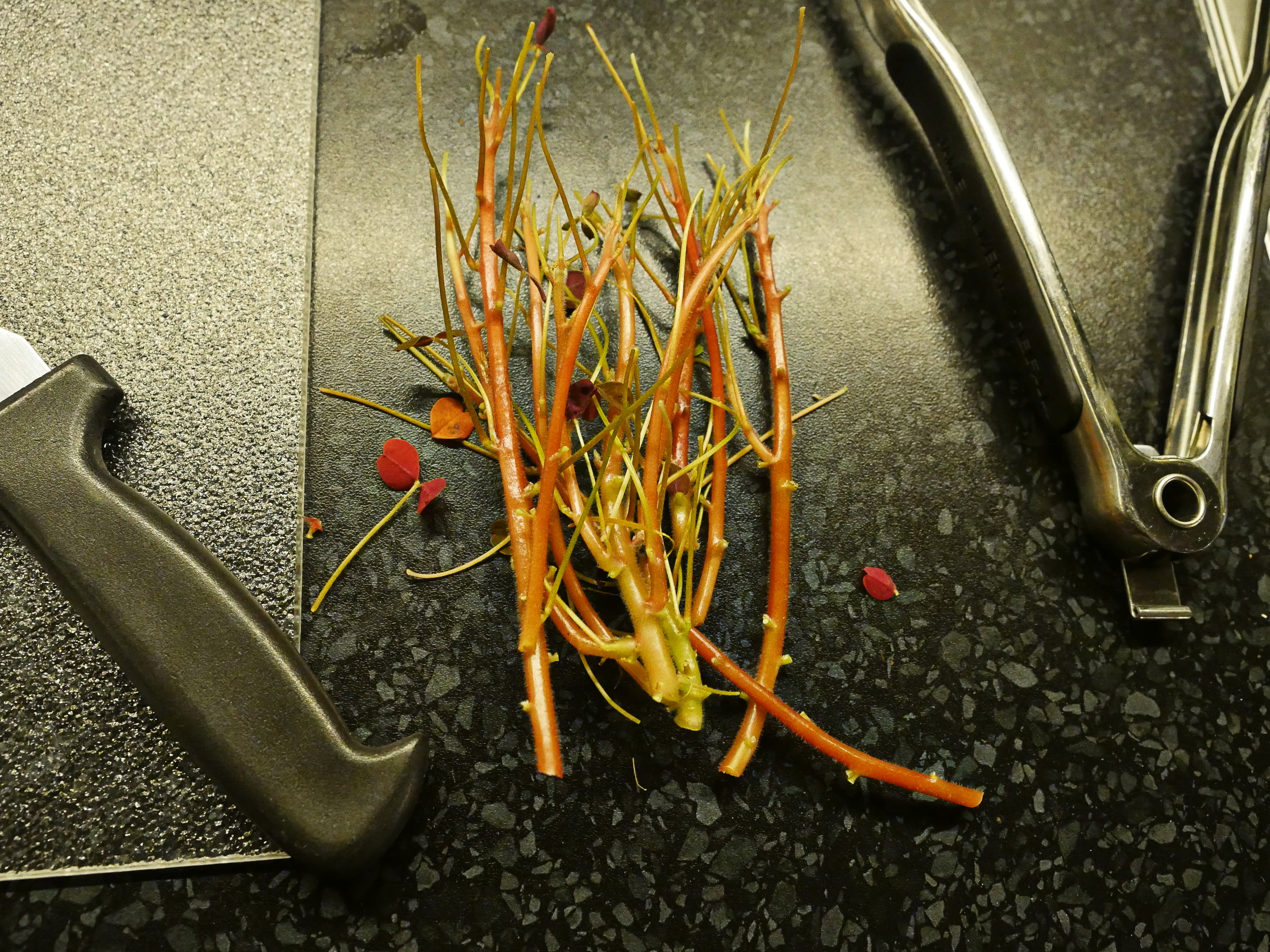 So the final weight of the leaves…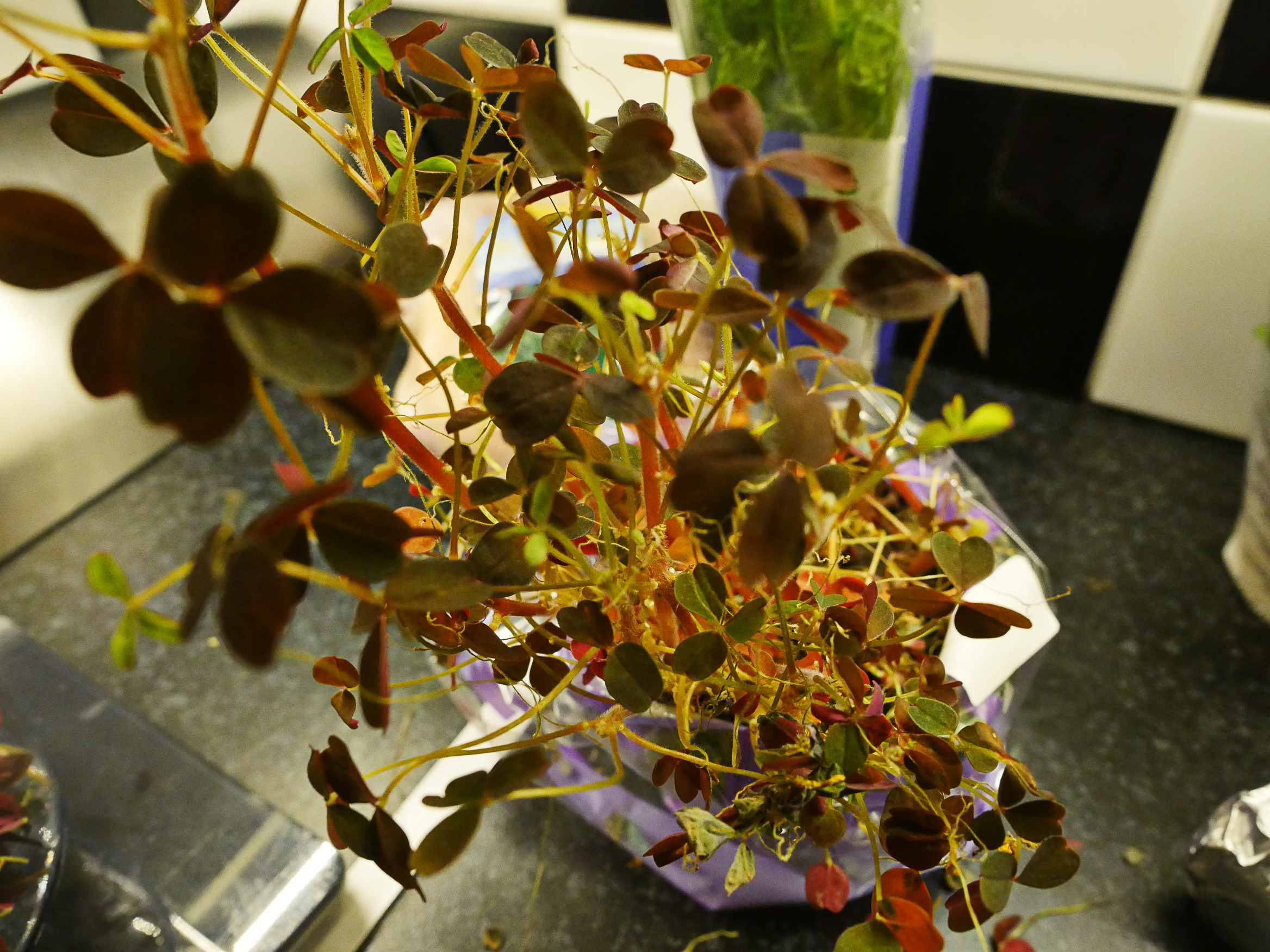 … was less than the recipe called for.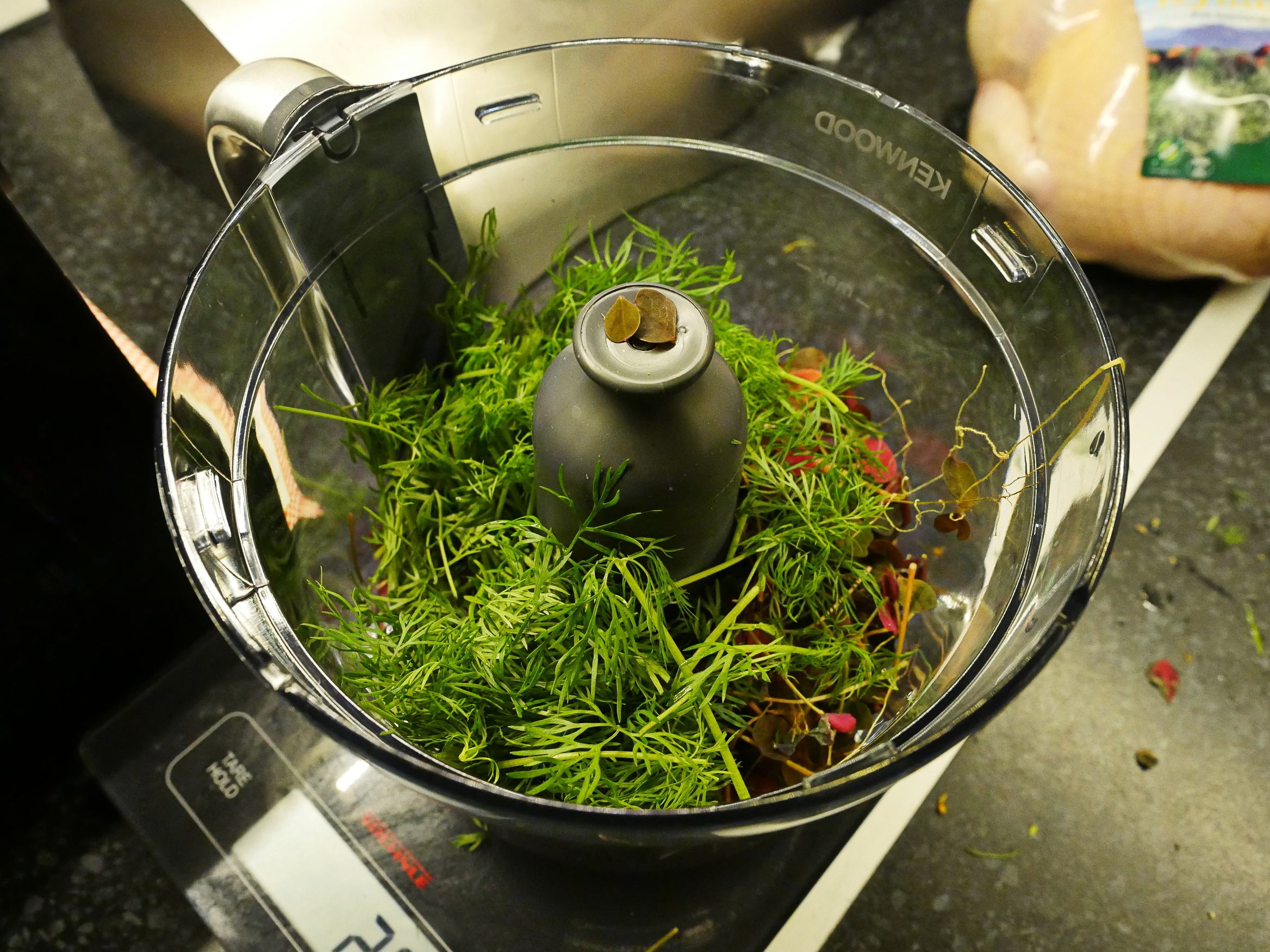 But into the food processor it goes.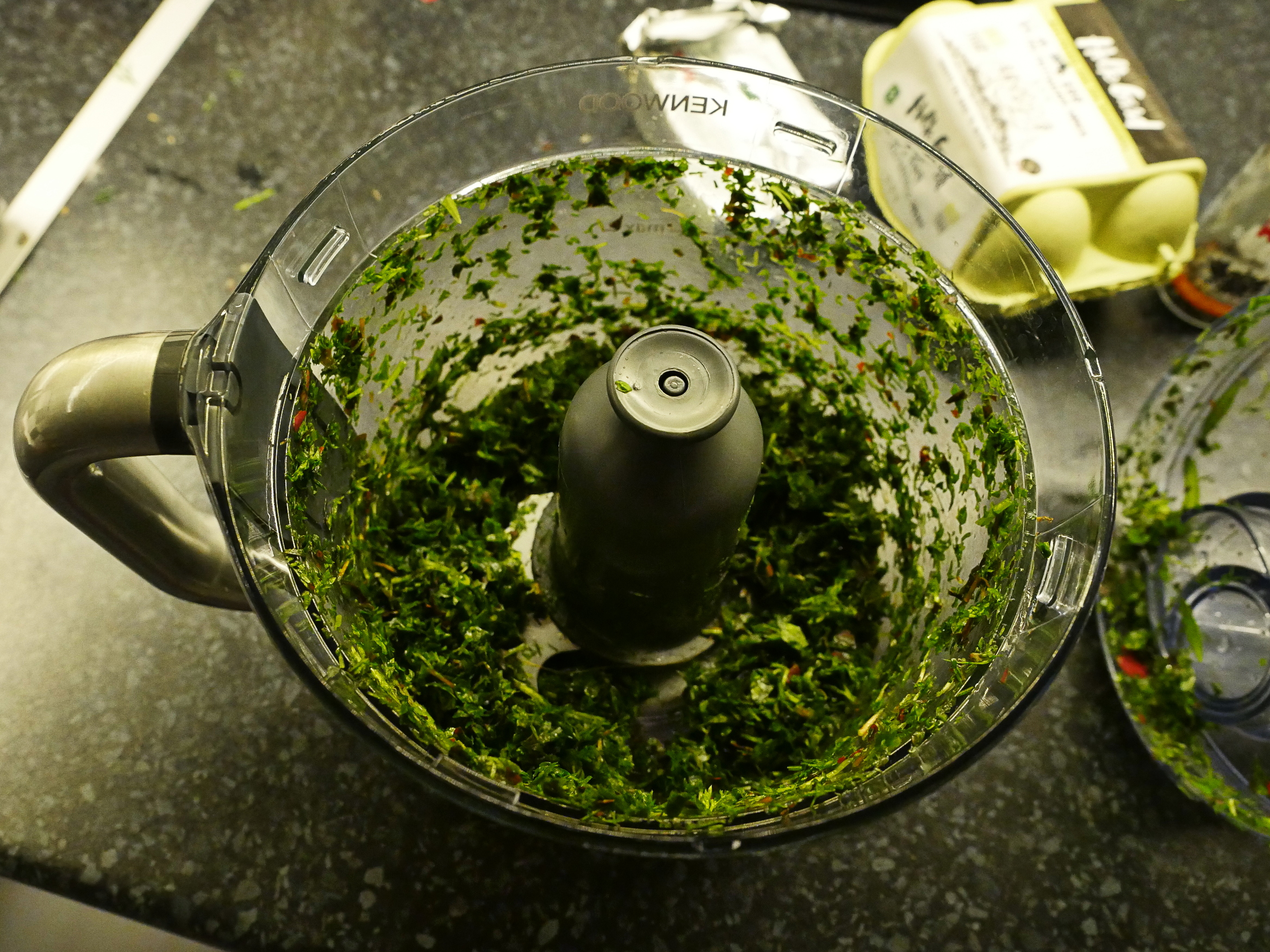 Darn. I forgot to take a pic when the fud professor was all full of herbs, because it was an impressive sight. Once it had been chopped up, it's no longer as exciting.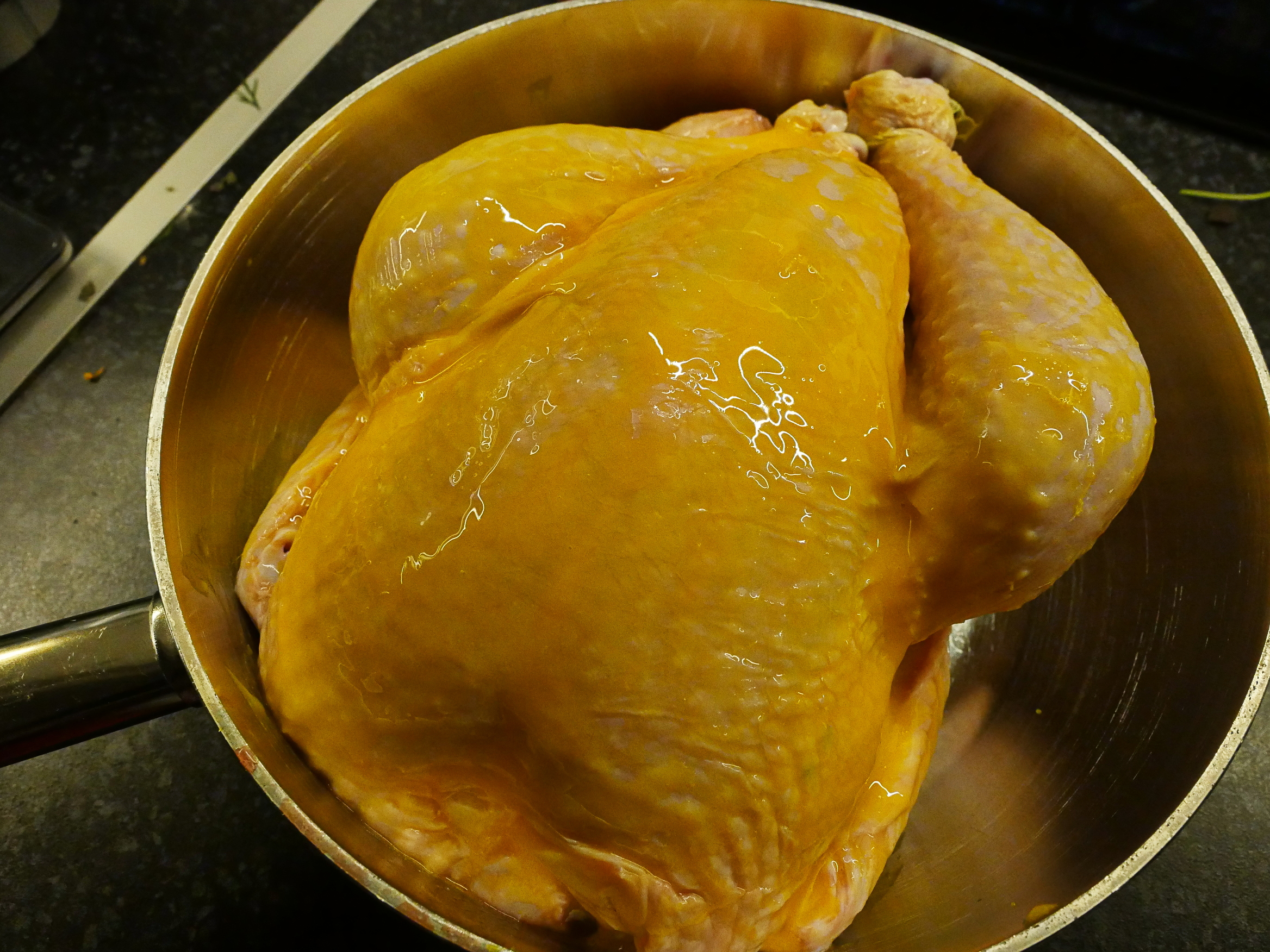 OK, then the chicken is coated with egg yolks (to make the herbs stick)…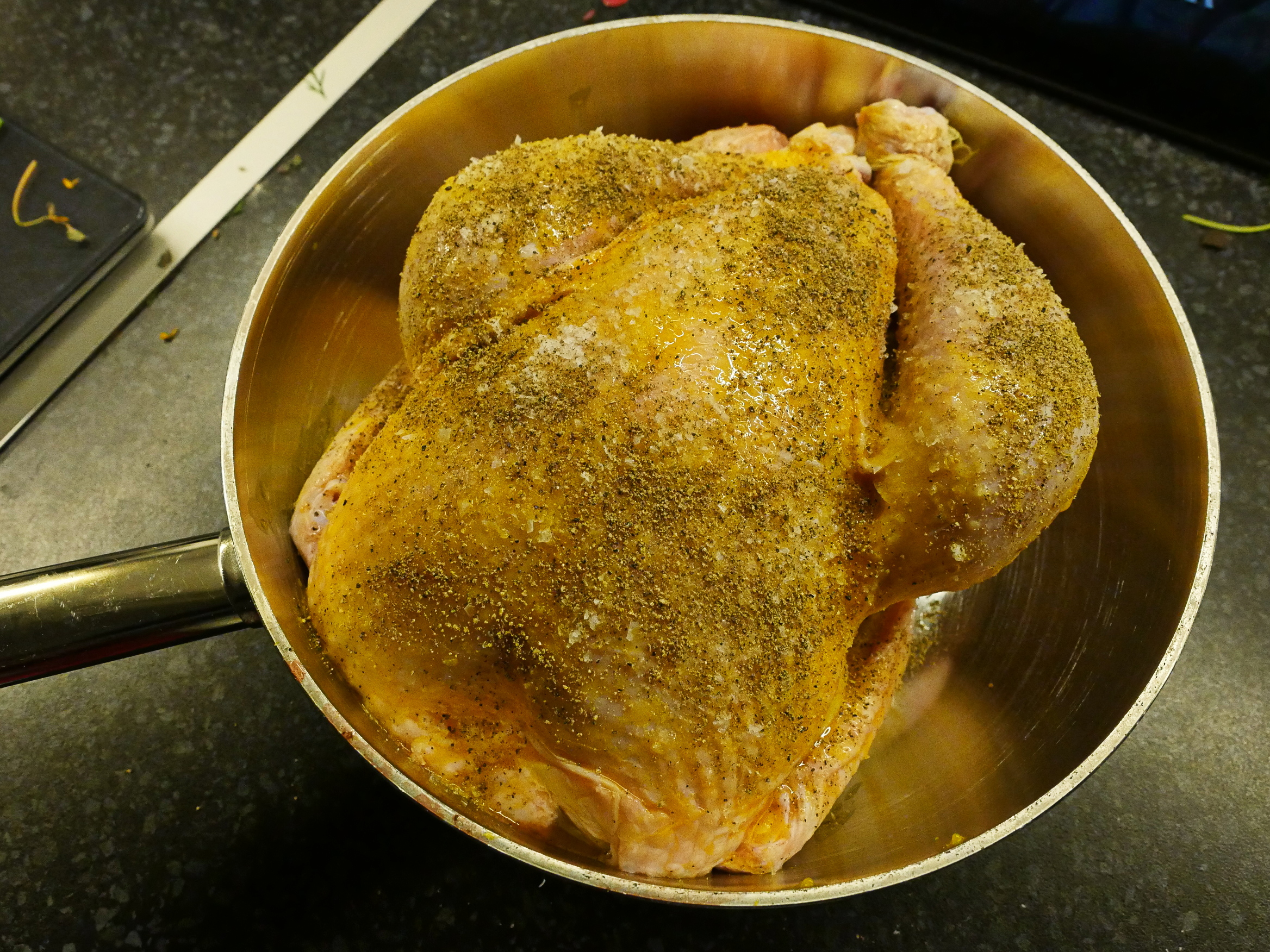 … add salt and pepper …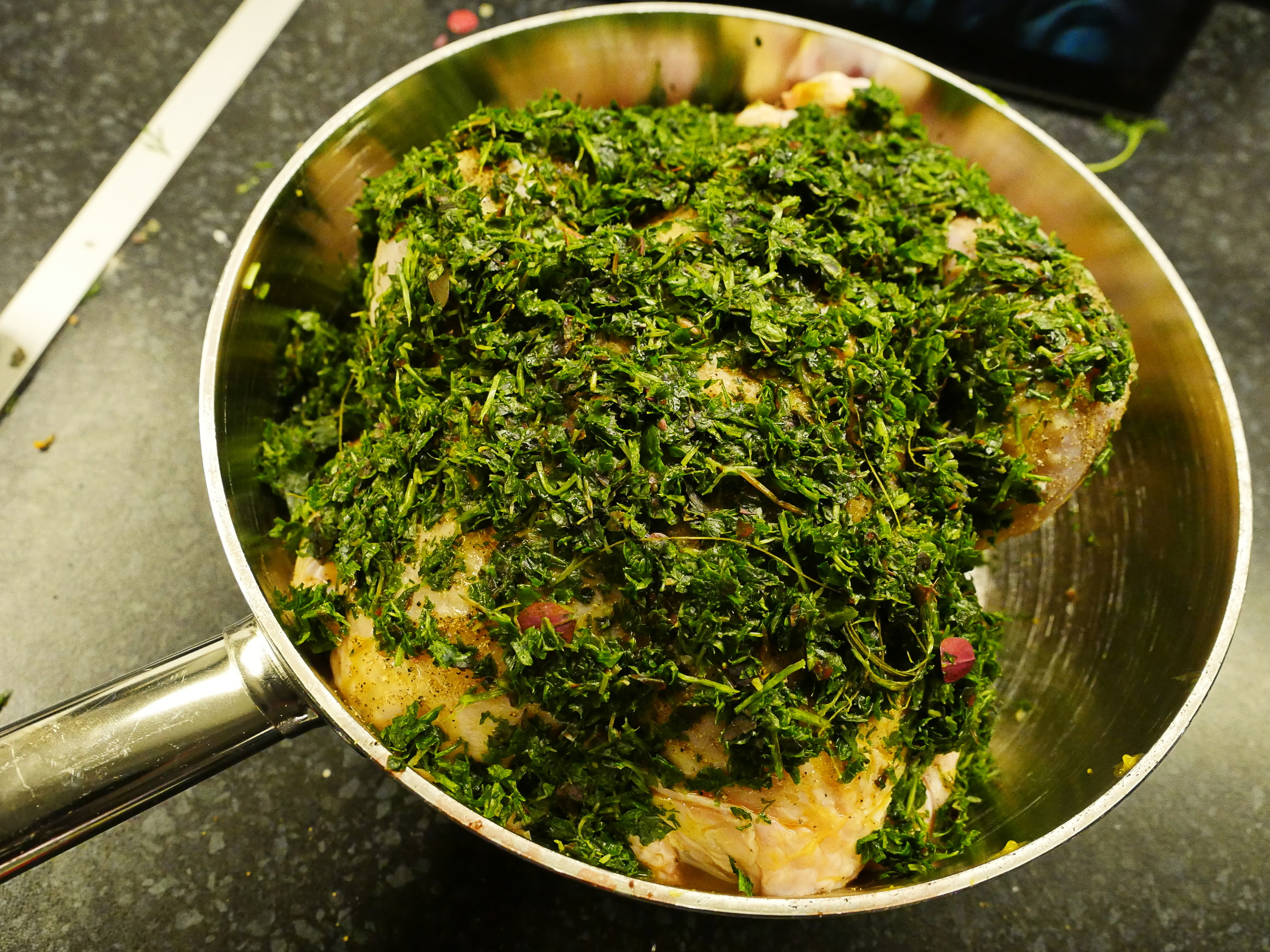 … and all those herbs.
Now that's a herbed chicken.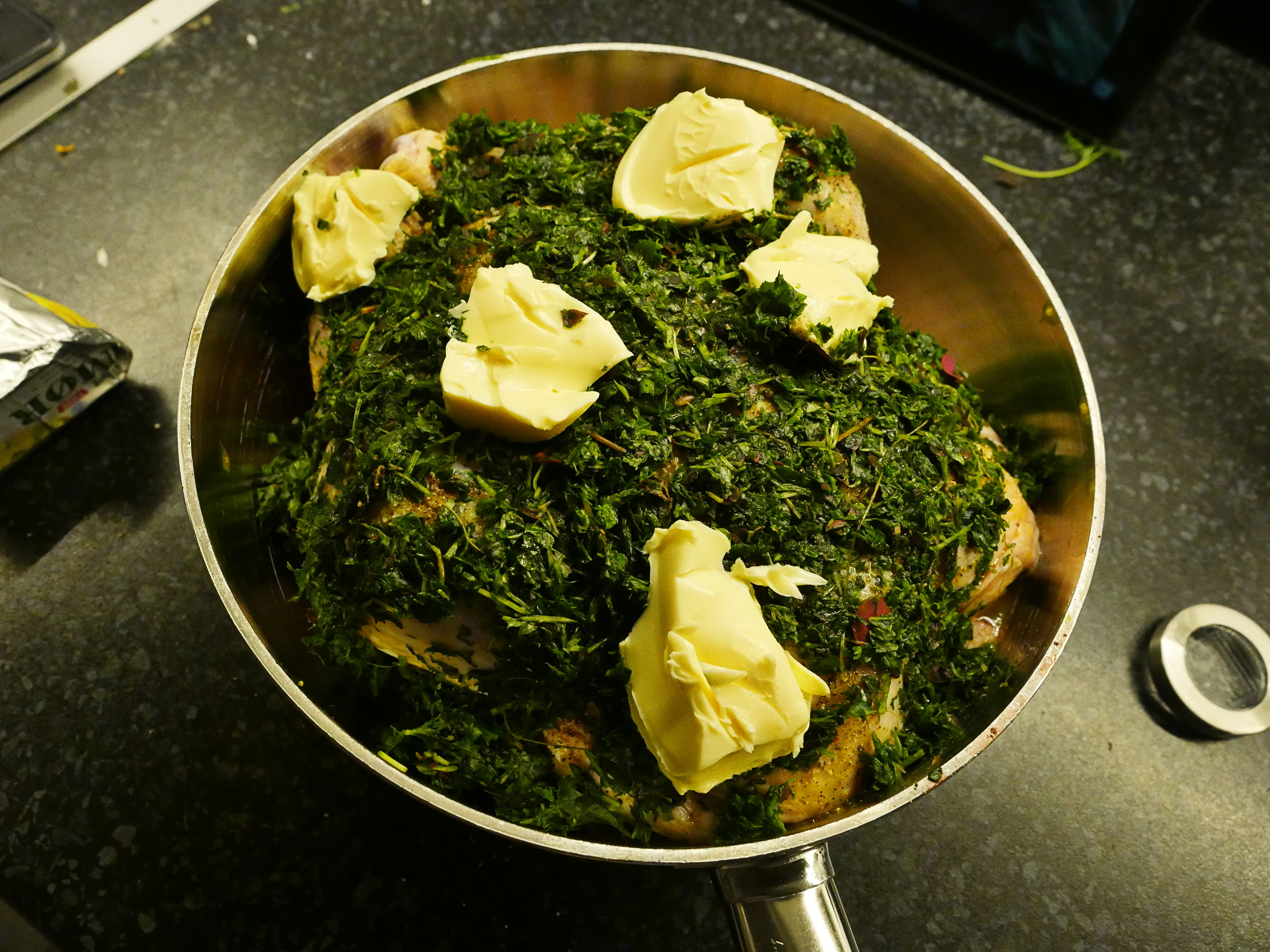 And some butter, of course.
Meanwhile, I baked some bread to go with the dish.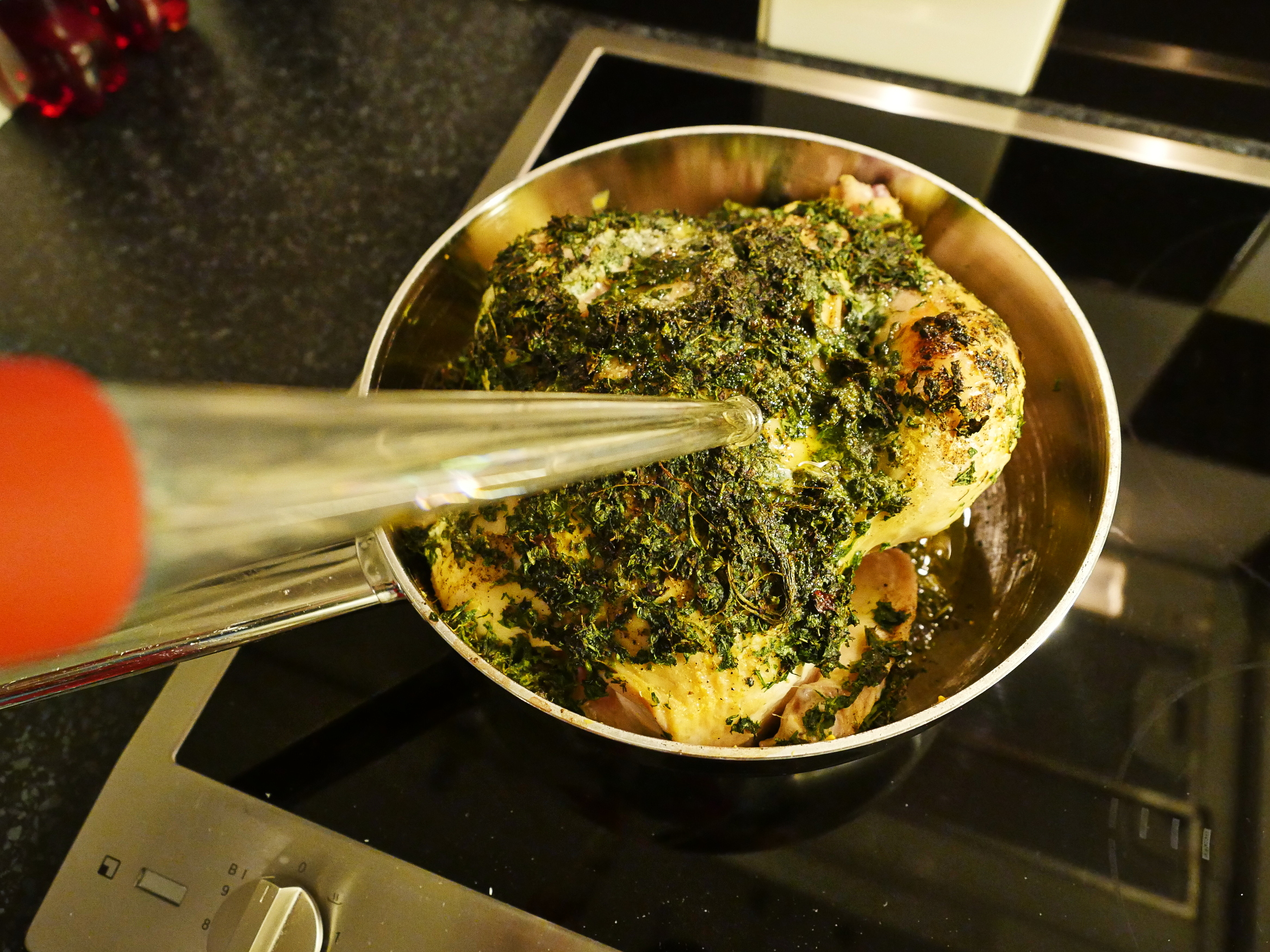 So the chicken went into the oven at 250C, and then baste it ever ten minutes. I've recently gotten a turkey baster, so I got to try it for the first time. It's really effective.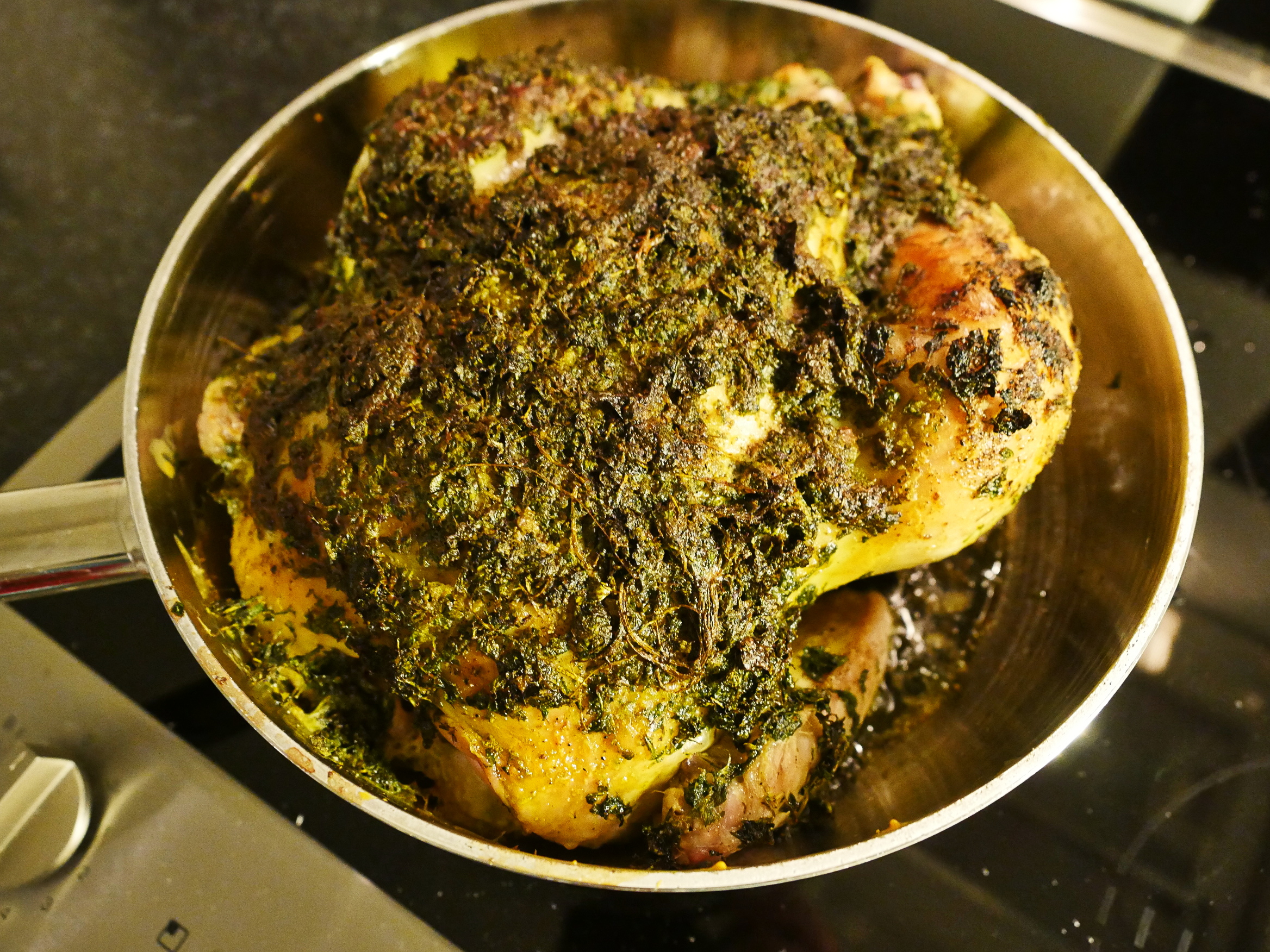 I had kinda expected all the herbs to just turn into ash, but I guess the basting help keep it from burning off. Still, it doesn't look very pretty now, does it?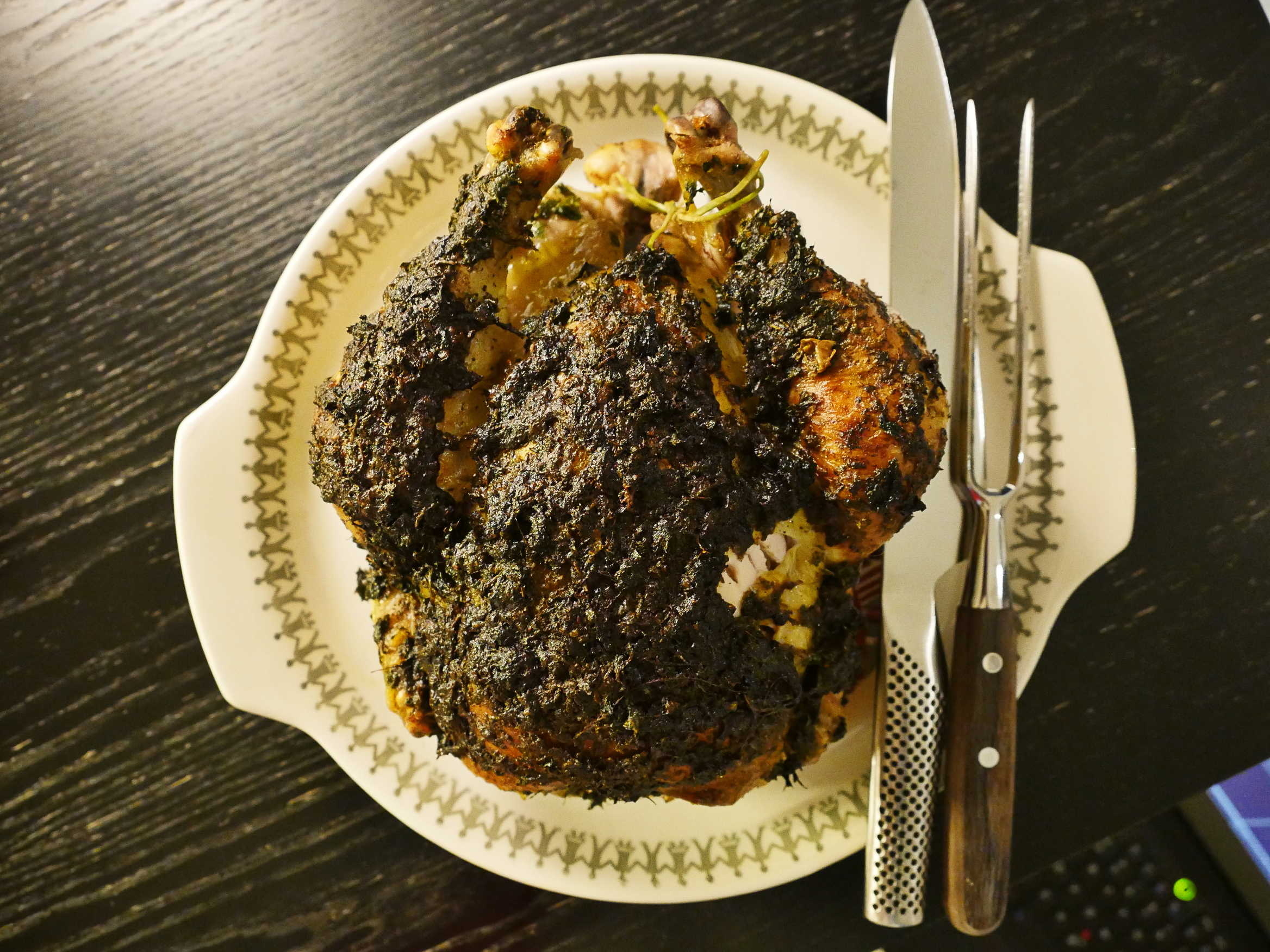 After 90 minutes, out to rest for some minutes before cutting.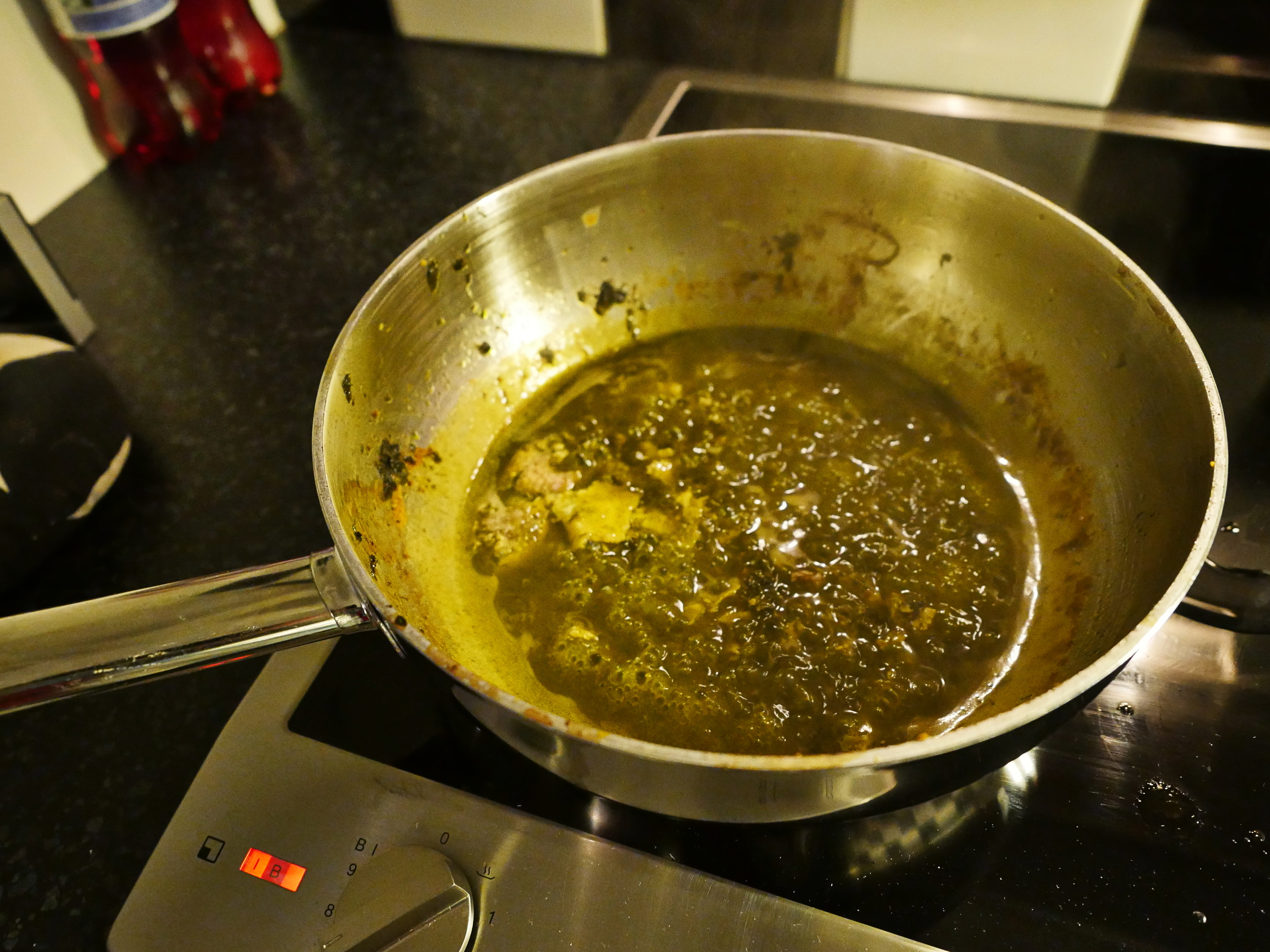 Then the sauce is made from just reducing the liquids from the pan.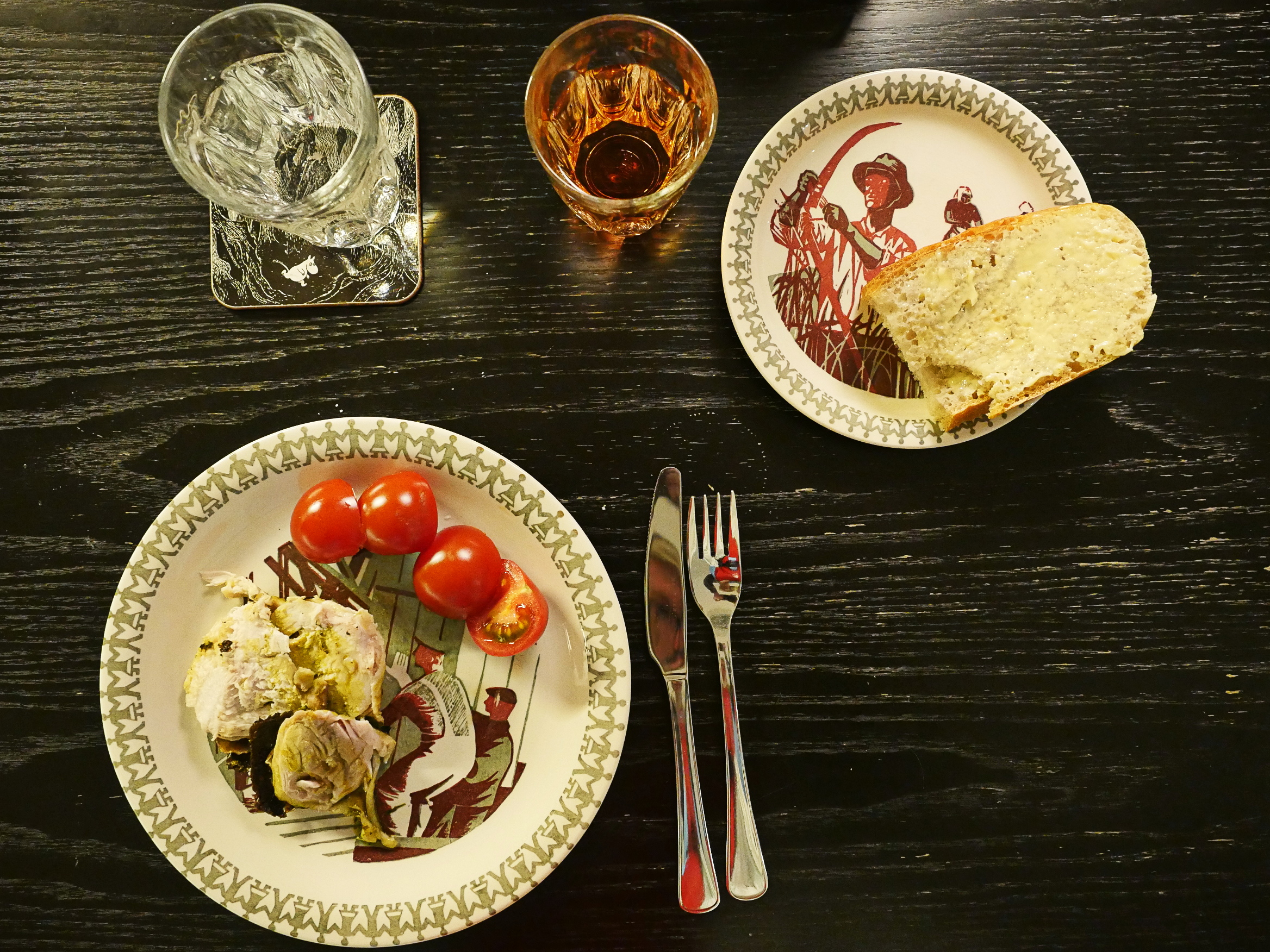 So I naughtily added some tomatoes and bread, and then sliced some bits off the chicken, and there we are.
Oh, but I need something to read!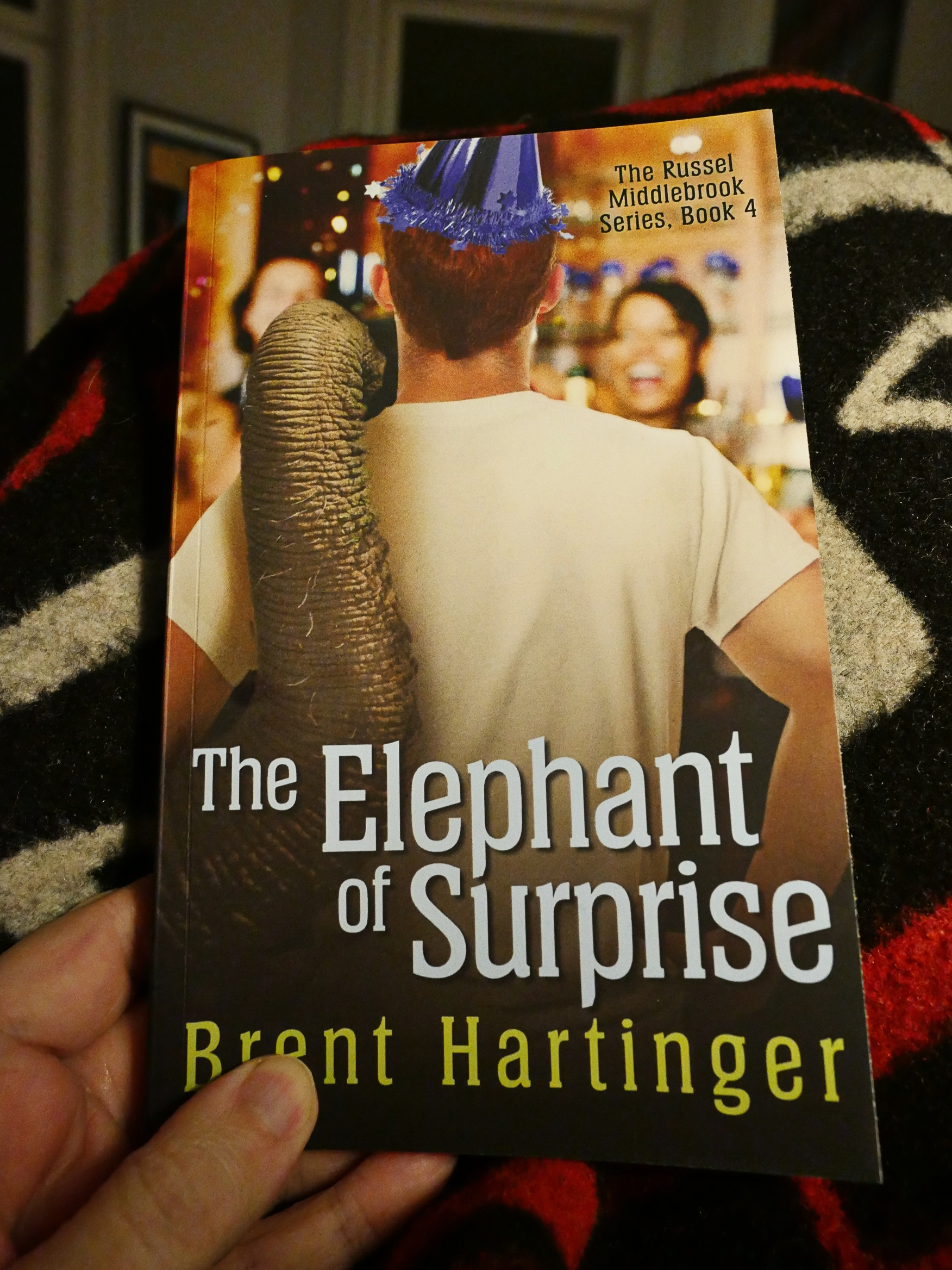 The next book on the shelf is The Elephant of Surprise by Brent Hartinger. Let's read the first two pages: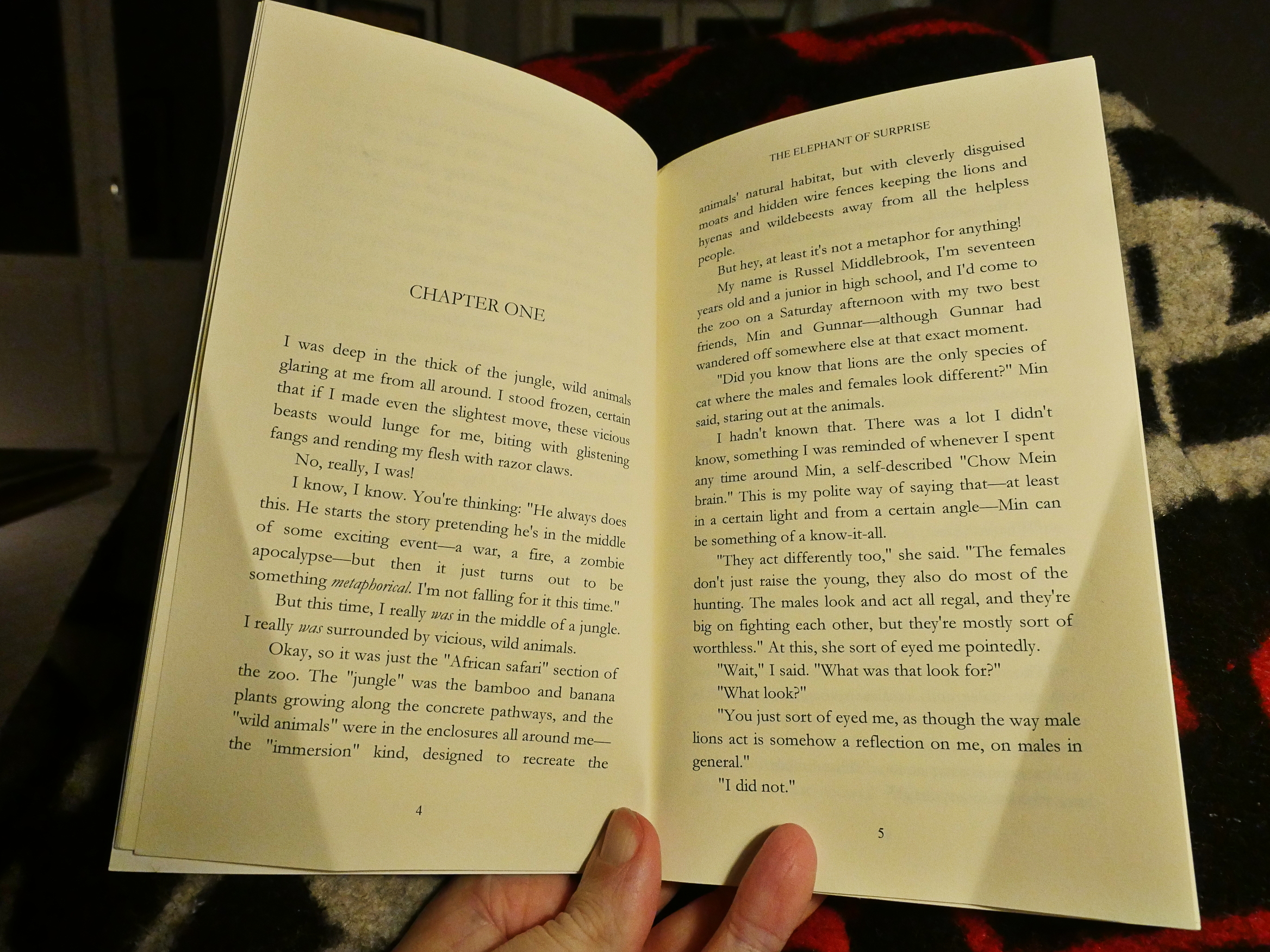 See? It's a very frothy, teenagery kind of book. I think I've read the previous books in this series…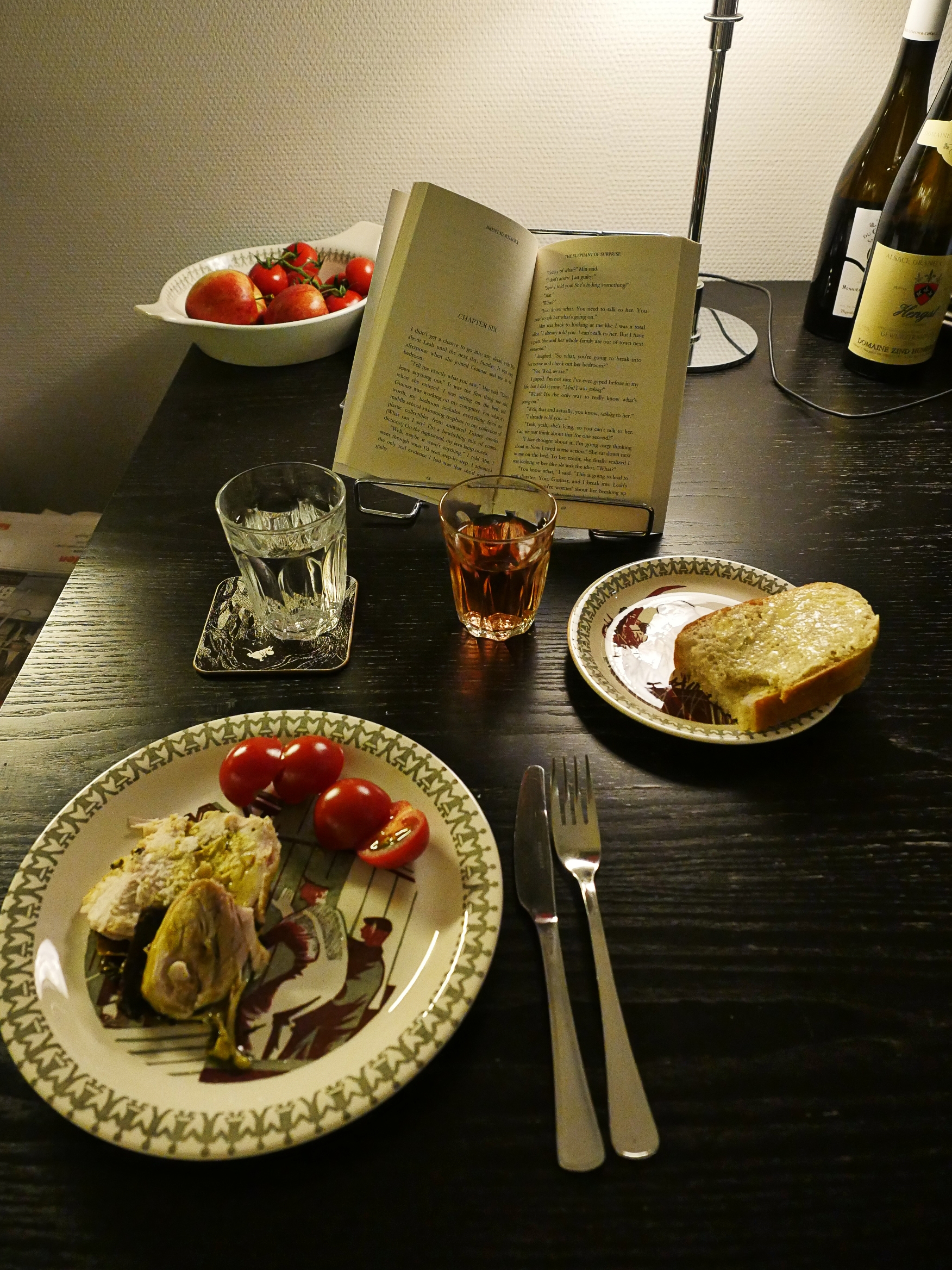 So how's the chicken? It's delish! Sort of! I mean, it's moist and tender and just about perfectly cooked. Goes super well with the ridiculously tasty tomatoes and the freshly baked bread slathered with butter.
But!
Those herb and that sauce… I just don't get it. Despite there being a great variety of herbs used, I basically could just taste parsley. With a hint of tarragon. If I had had the described amount of sorrel it would have been a different thing, but it was just parsley that came through. Couldn't taste the chervil or the dill or the sorrel, just paaaaarsley.
If parsley is your favourite thing in the world, this is the recipe for you.
But I had a solution: I just stopped adding sauce to the chicken, and then it was delicious. I ate until I died. Literally. I literally died.
The book paired well with the chicken: It's also a light, moist and tender treat. Hartinger has a way of writing the way I remember writing as a teenager; full of digressions and bad jokes. But he also does a really weird thing in this book: He goes on these long didactic sections about Freegans, of all things. I know, this book is from 2013 so it was probably a novelty at the time, but now it's just like "er well that's a turn of events".
Hartinger writes the kind of stuff that goes down really easily on a sentence by sentence basis. There's nothing awkward here and there are no snags. If I were 14, I would have absolutely adored this book, and I kinda quite like it quite a bit now.
Oh, yeah… the cachat… two days later is still tastes like slightly herbed chevre with some pear booze on top.
That's not bad, but I think I would have preferred eating the chevre just as it came from the shop.
This blog post is part of the Bistro
Cooking & Books series.