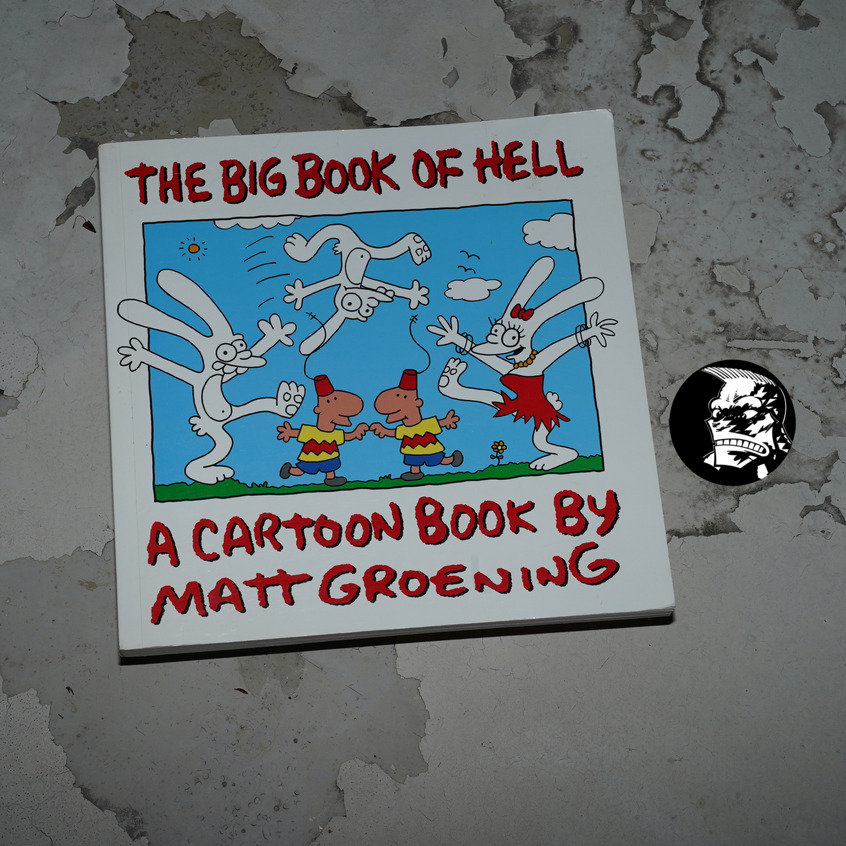 The Big Book of Hell by Matt Groening (271x270mm)
I didn't buy this book at the time — I assumed that this was just a reprint of the smaller books that had already been printed. But… while doing this blog series, I couldn't find any web sites that stated this outright, so curiosity (and a mad wish for more Life in Hell strips that I haven't read) made me buy this book.
First of all, this is a physically bigger book — it's 20% larger in both directions than the original collections. However, it's just 170 pages long, and the original books were 48 pages… so this can't collect all five of the previous books.
Let us see what we shall see…

Right, the indicia mentions the previous five books…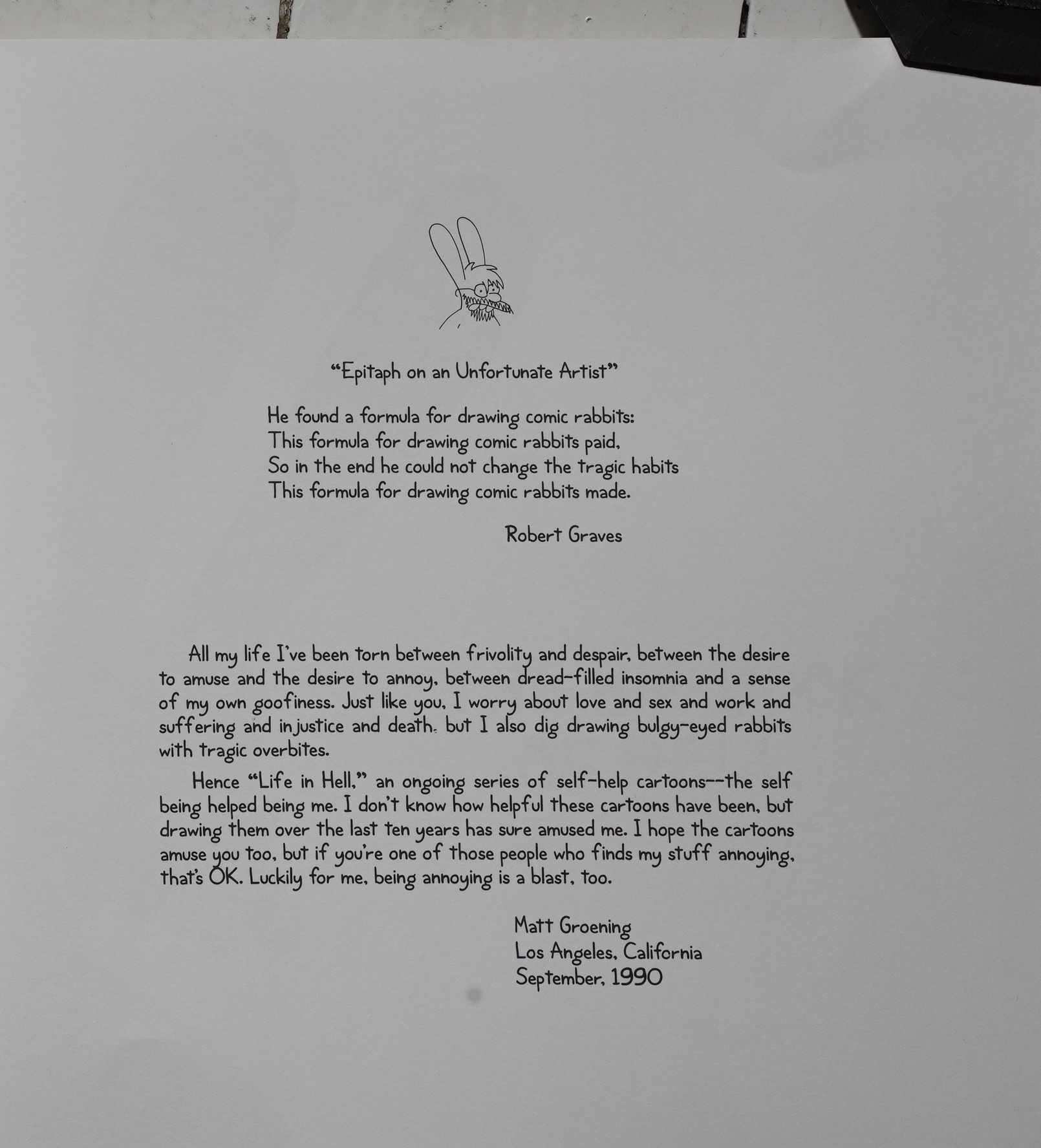 What's with the lame hand lettering-like font? Life in Hell is such a hand-drawn strip that this looks kinda glaringly off.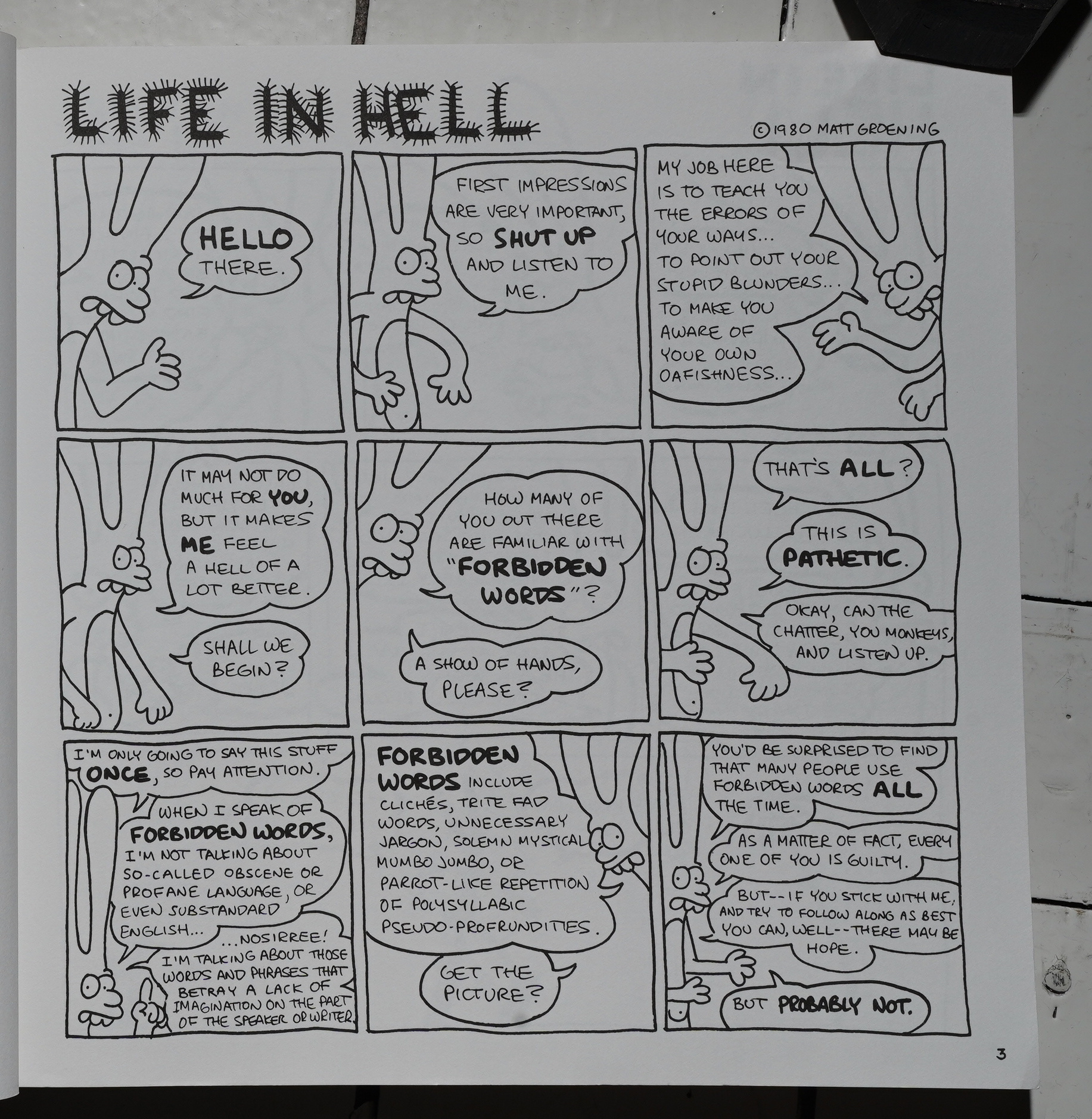 *gasp* I don't think I've seen this strip before? I mean, I could be wrong — this blog series is like a death march that just won't end… but I've read all of the Life in Hell books over the last… er… five? months, and I may just be misremembering, but that doesn't look familiar.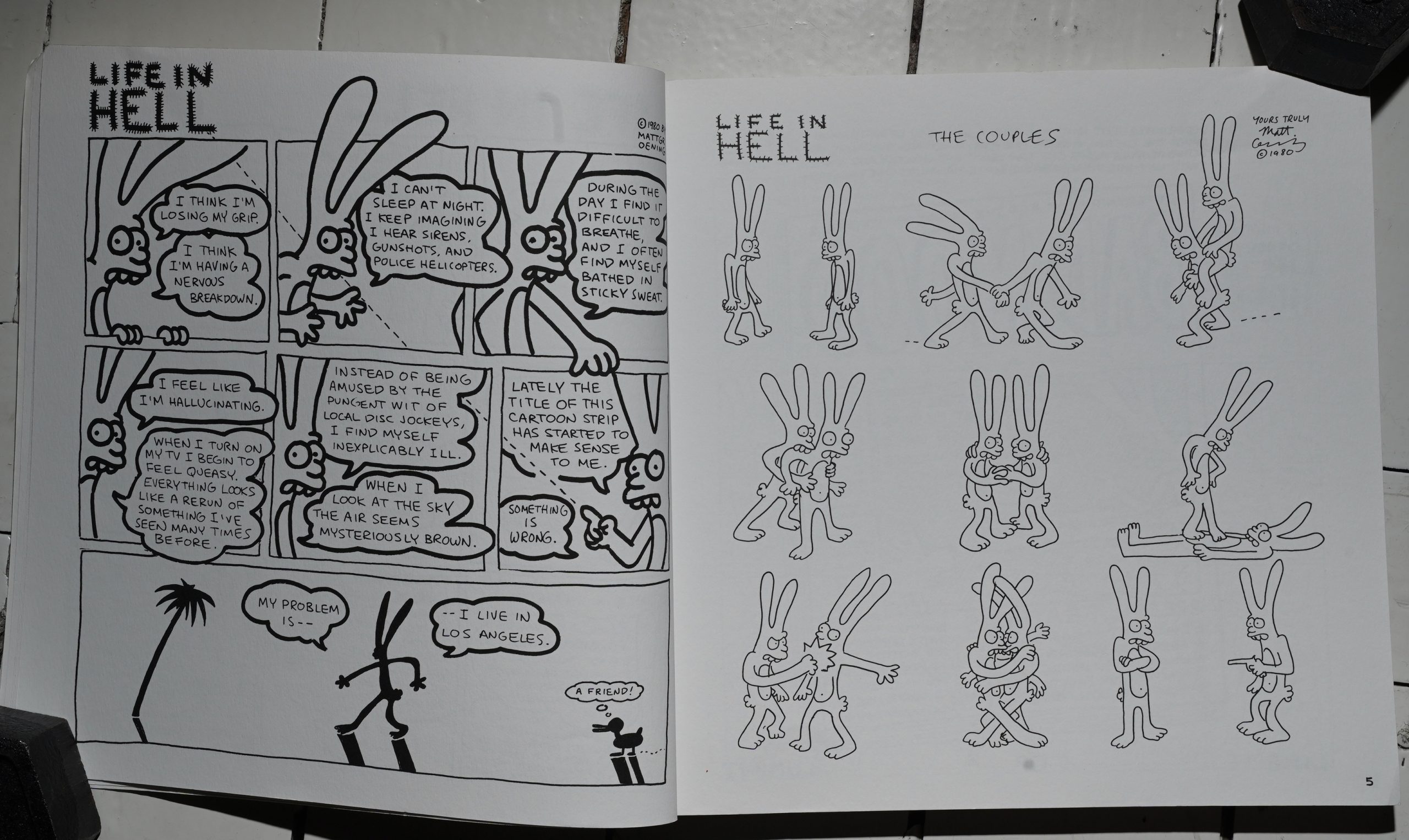 These are definitely new! I mean, to me. Whoho! This book really has strips that haven't been reprinted before.
And it seems like this book is largely chronological, so it opens with strips from 80, and then proceeds from there.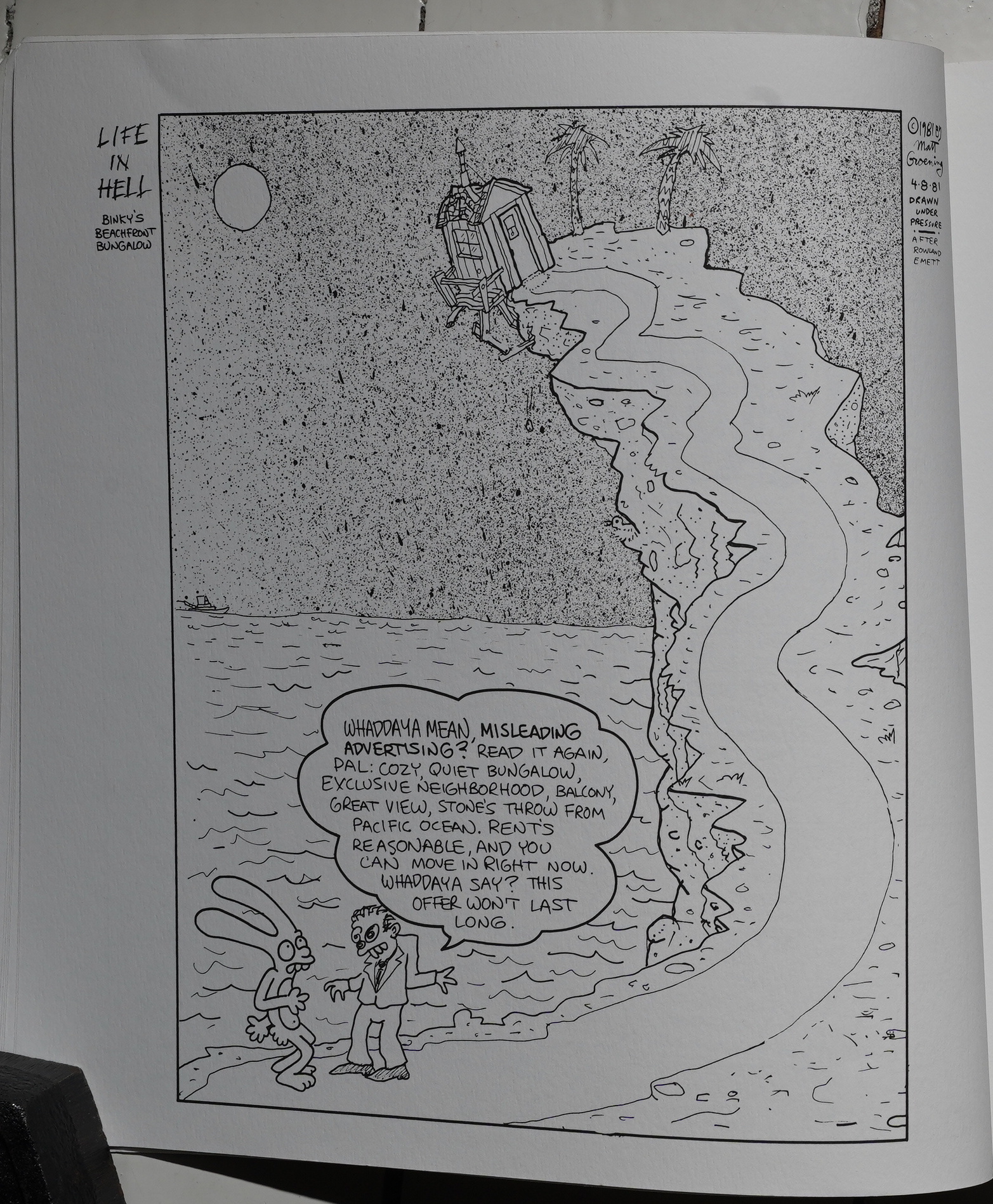 The strip looked somewhat different early on — it's fun to see.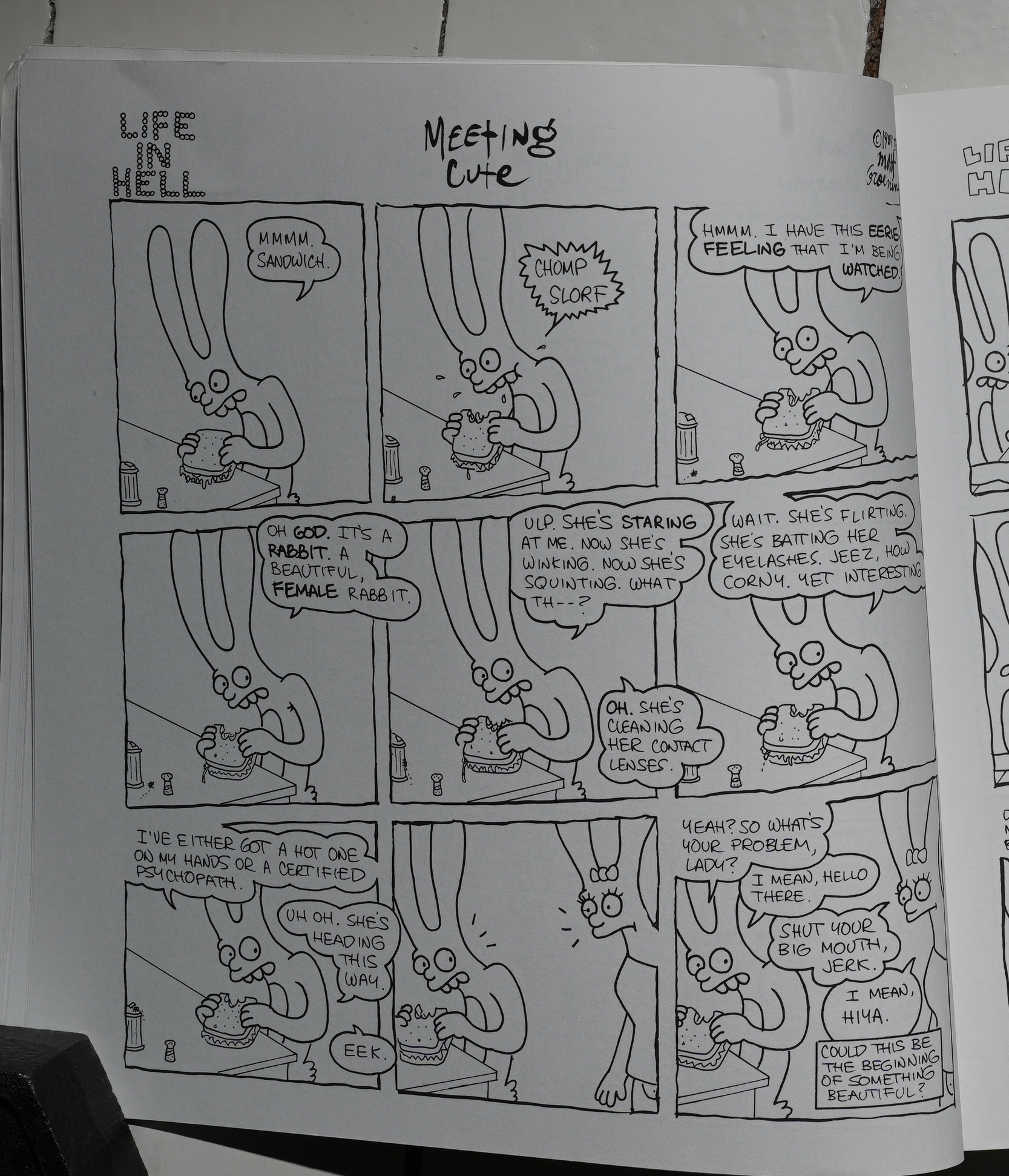 The earlier collections had collected pieces from Life in Hell's history, seemingly at random, but picking mostly from recent years. The first collection was published in 87, by which time the strip had changed somewhat, so I guess Groening didn't want to include any strips like this? I mean, more straightforward comics — Binky meets a woman, and then has an awkward date with her that lasts for half a dozen strips.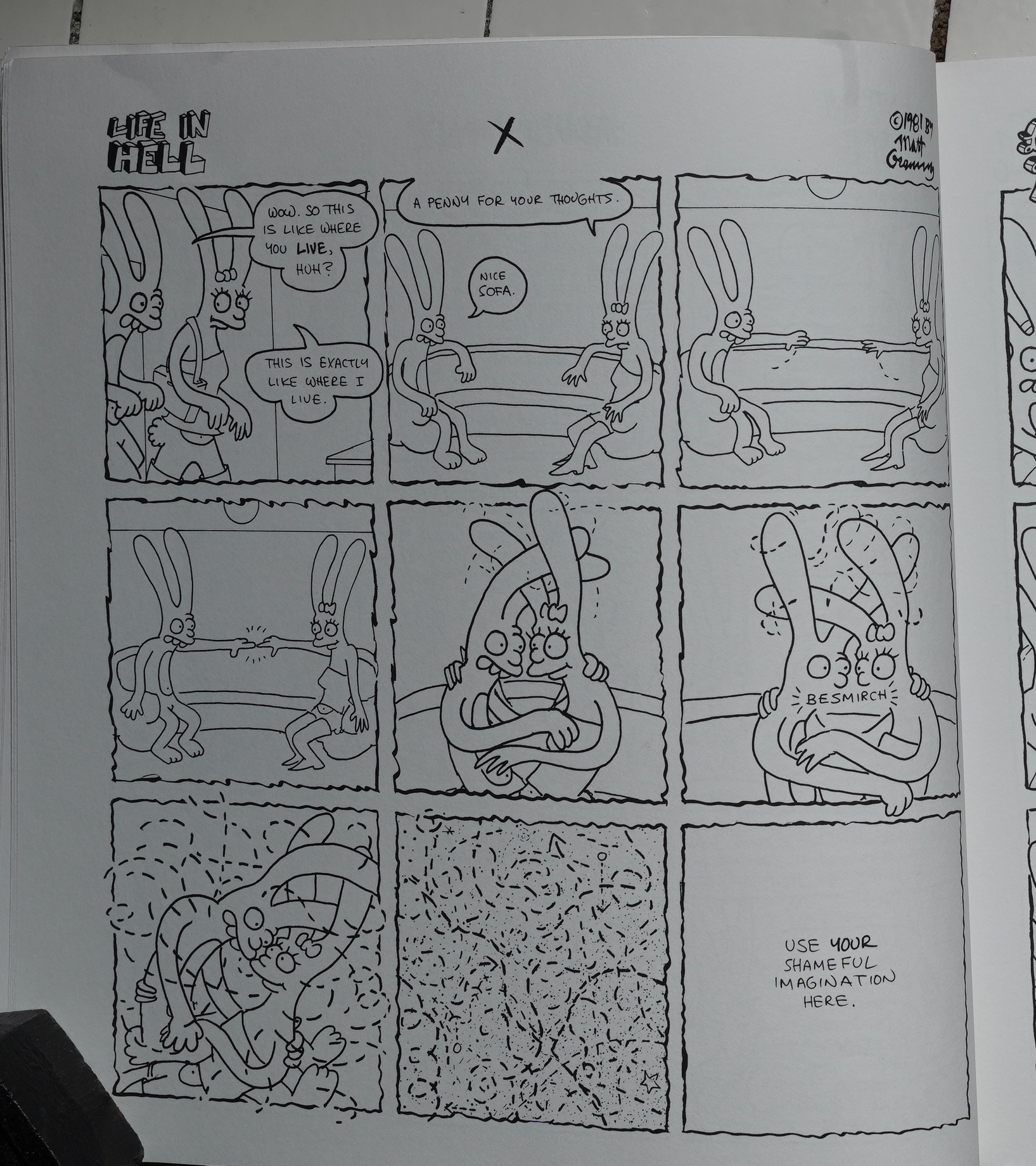 So naughty!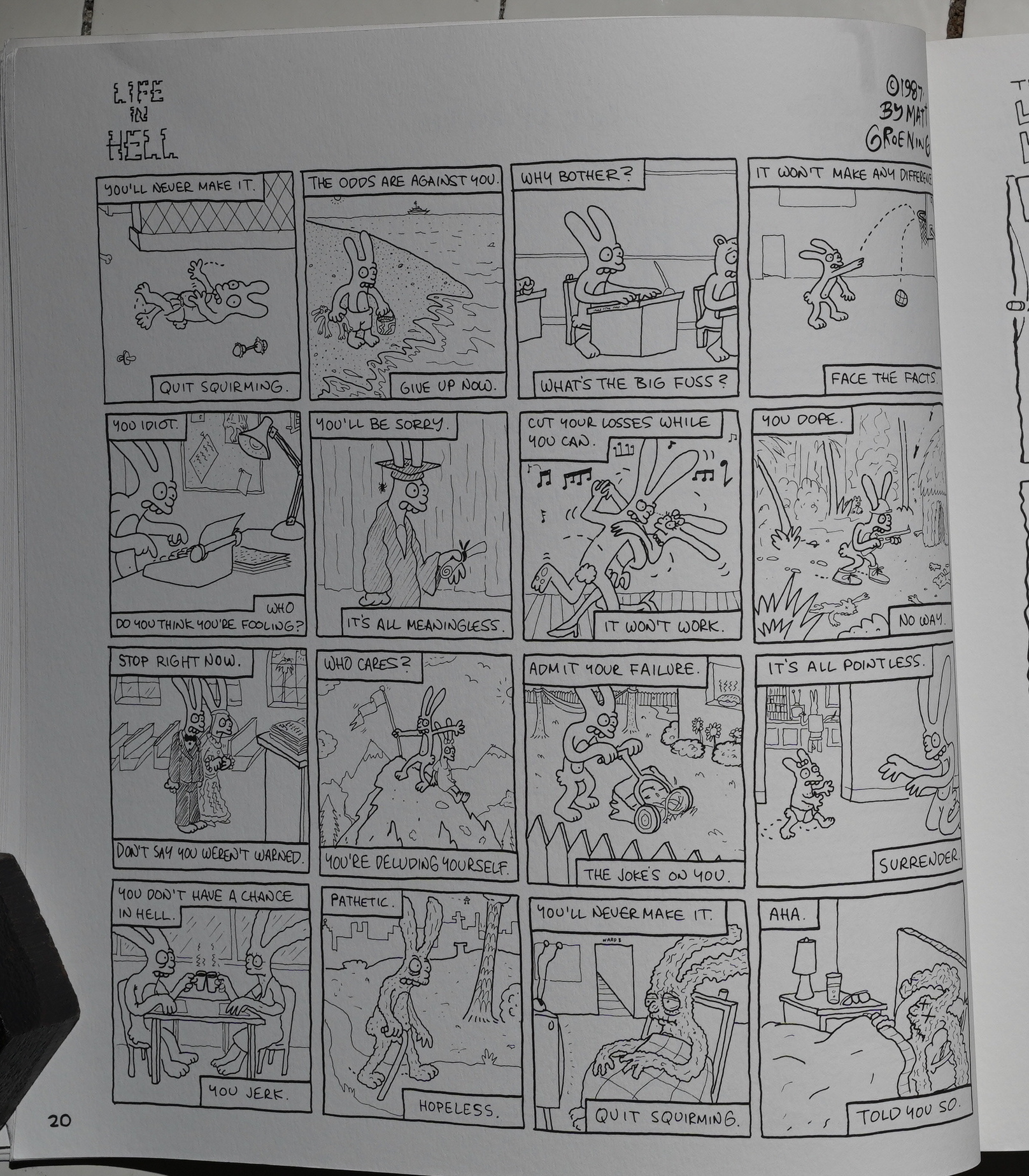 Finally, on page 20, we get the first strip that has been reprinted before. And it's from 87 — dropped into the middle of the unreprinted 81 strips.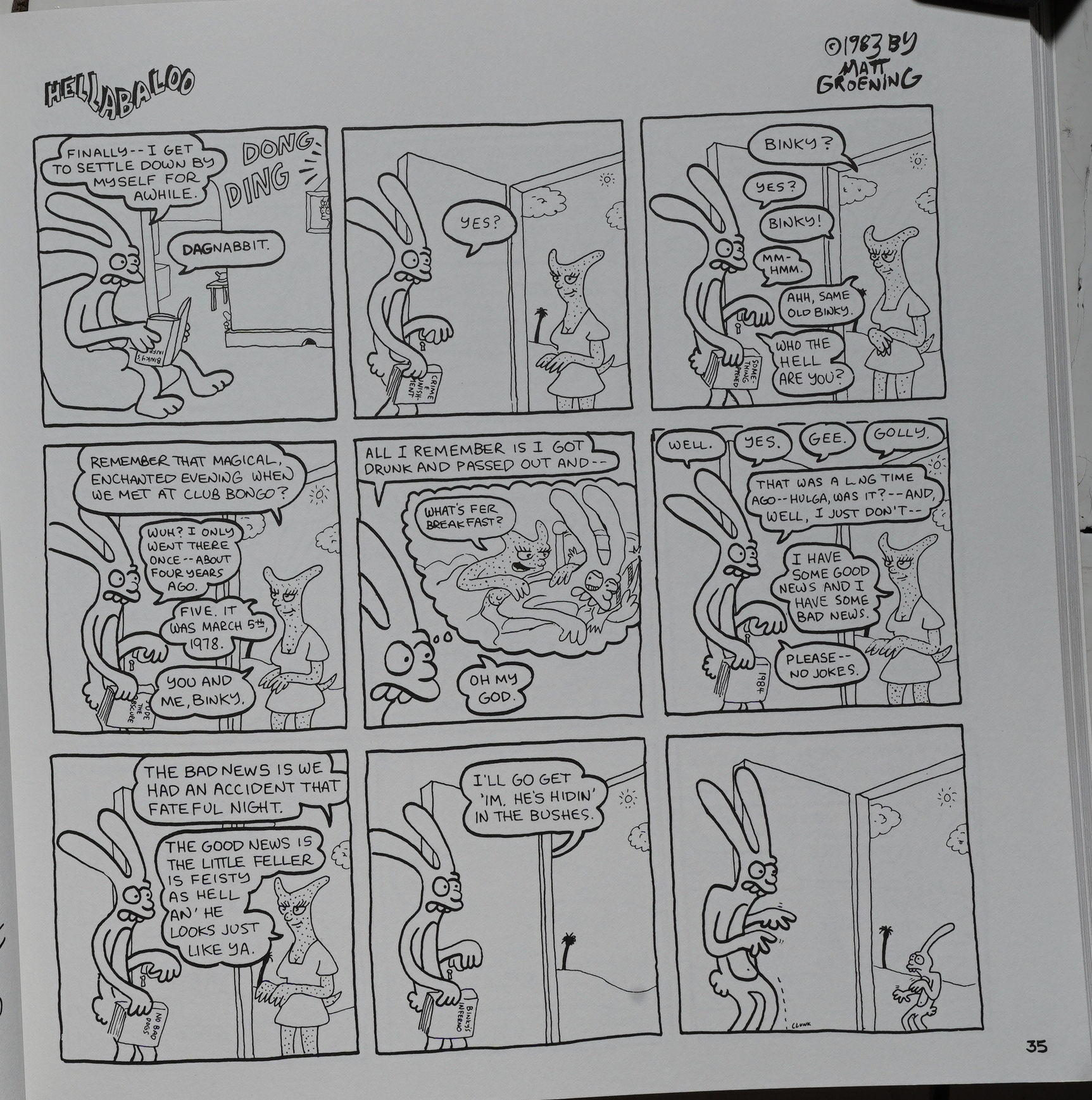 Oh! This is the strip where Binky meets Bongo? Who's his son. I don't think I've seen this before, either? I mean, you'd think I'd remember.
If that's the case — how odd for Groening to skip this altogether when doing the original collections?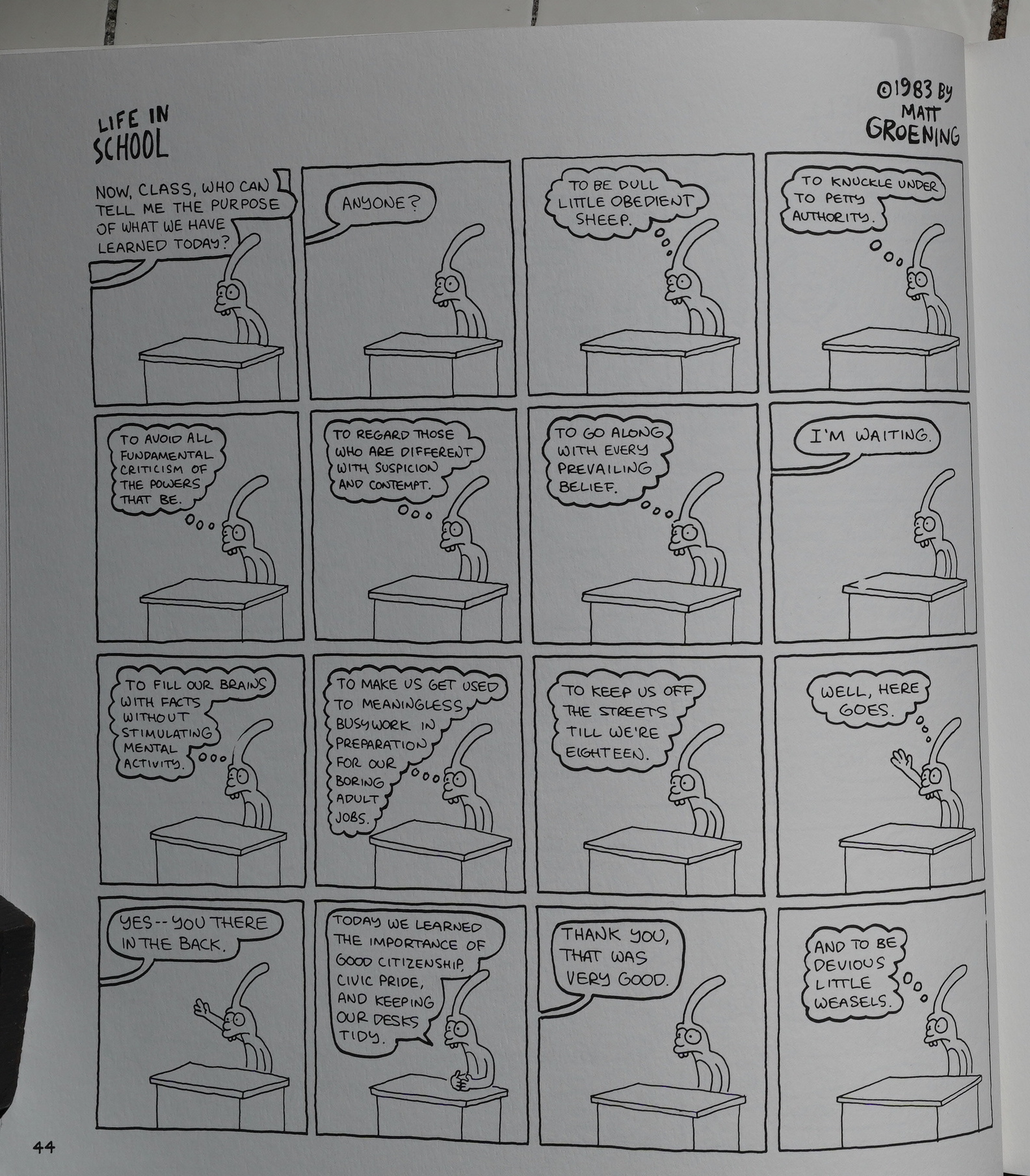 It's hard to remember whether I've seen this before — Groening's done a lot of variations over this theme.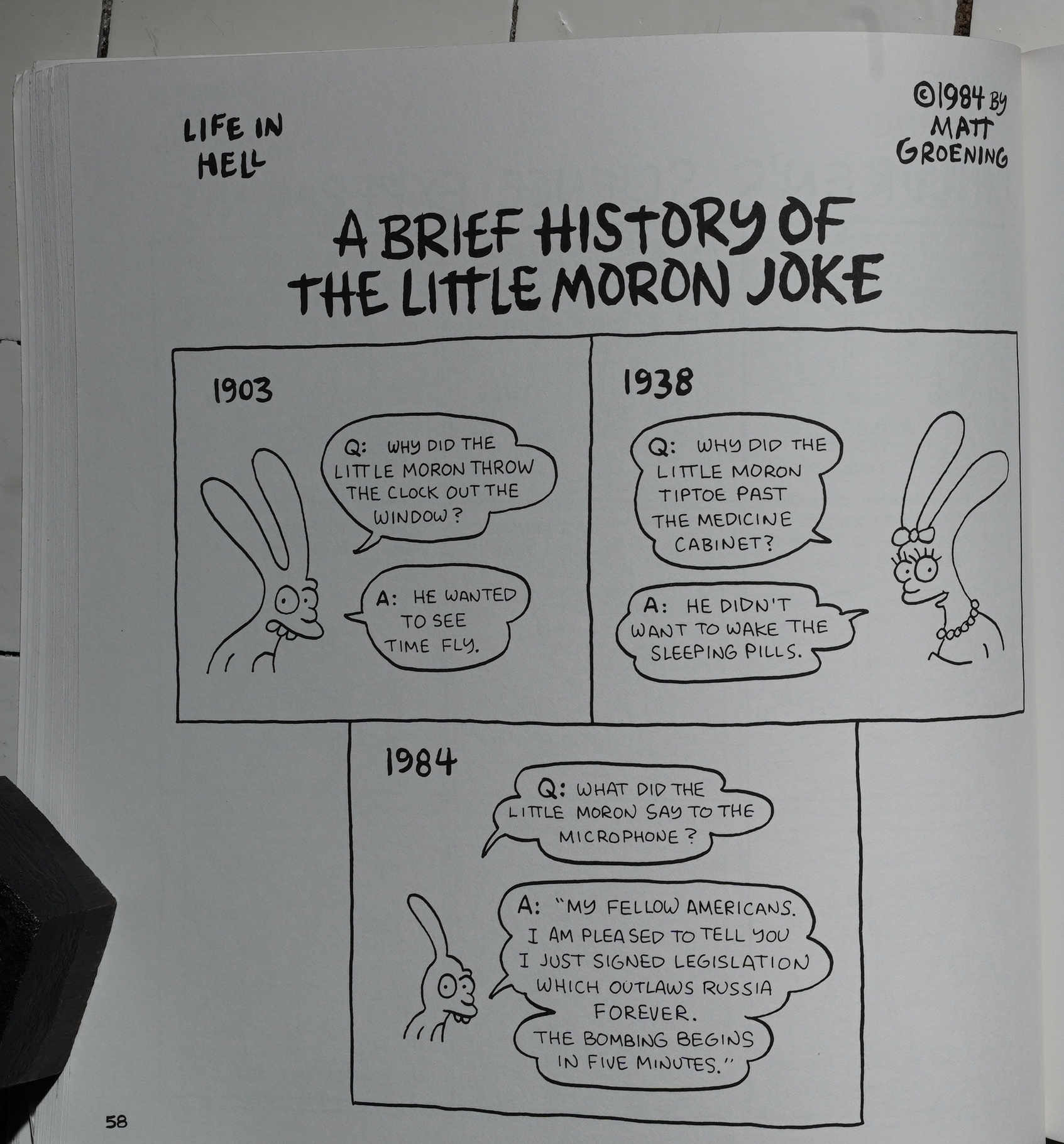 *gasp* So political! (That's a Reagan reference.)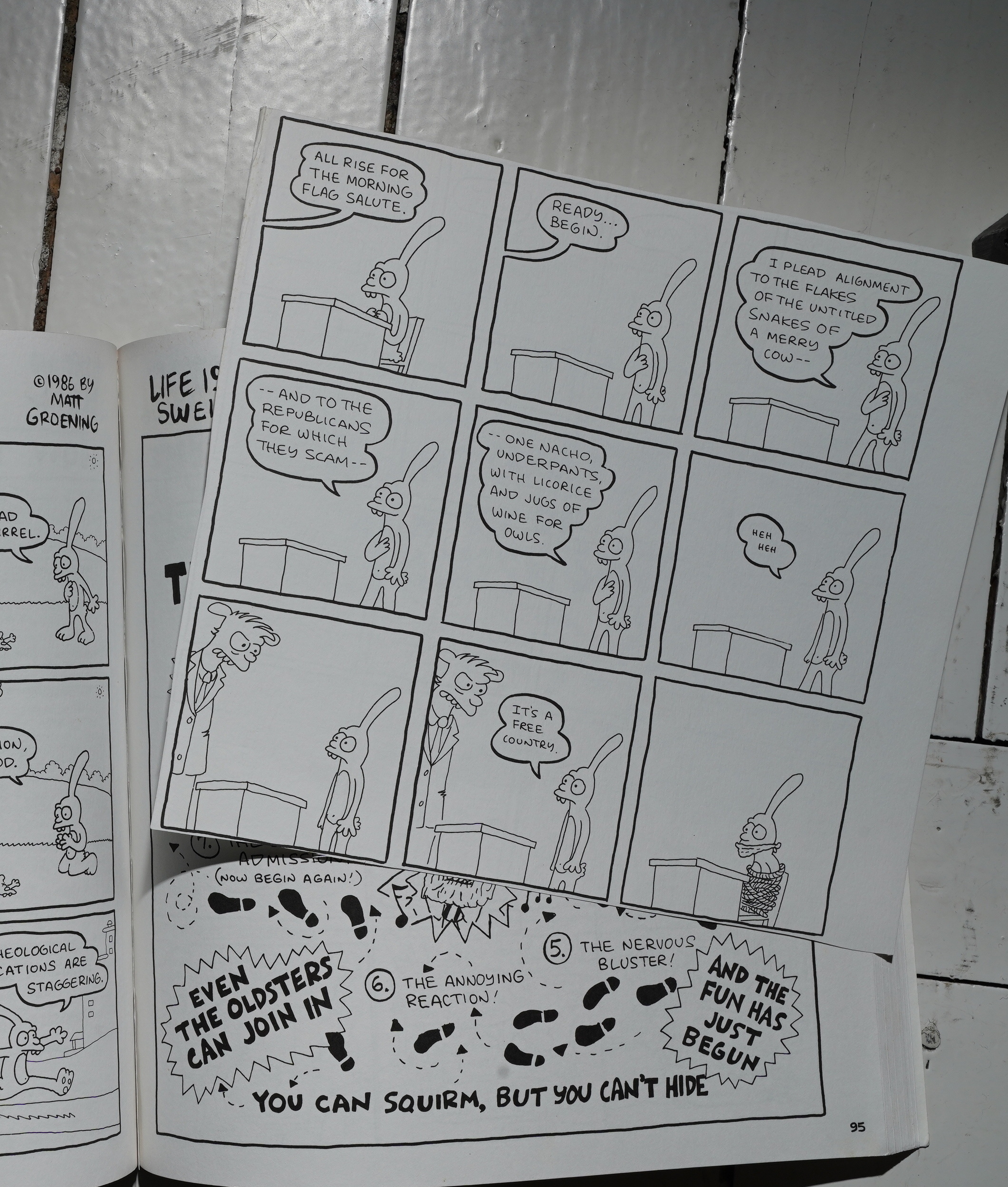 Heh. A previous owner has cut out this page from the book — presumably to hang it on the wall or something? But then put the page back into the book later.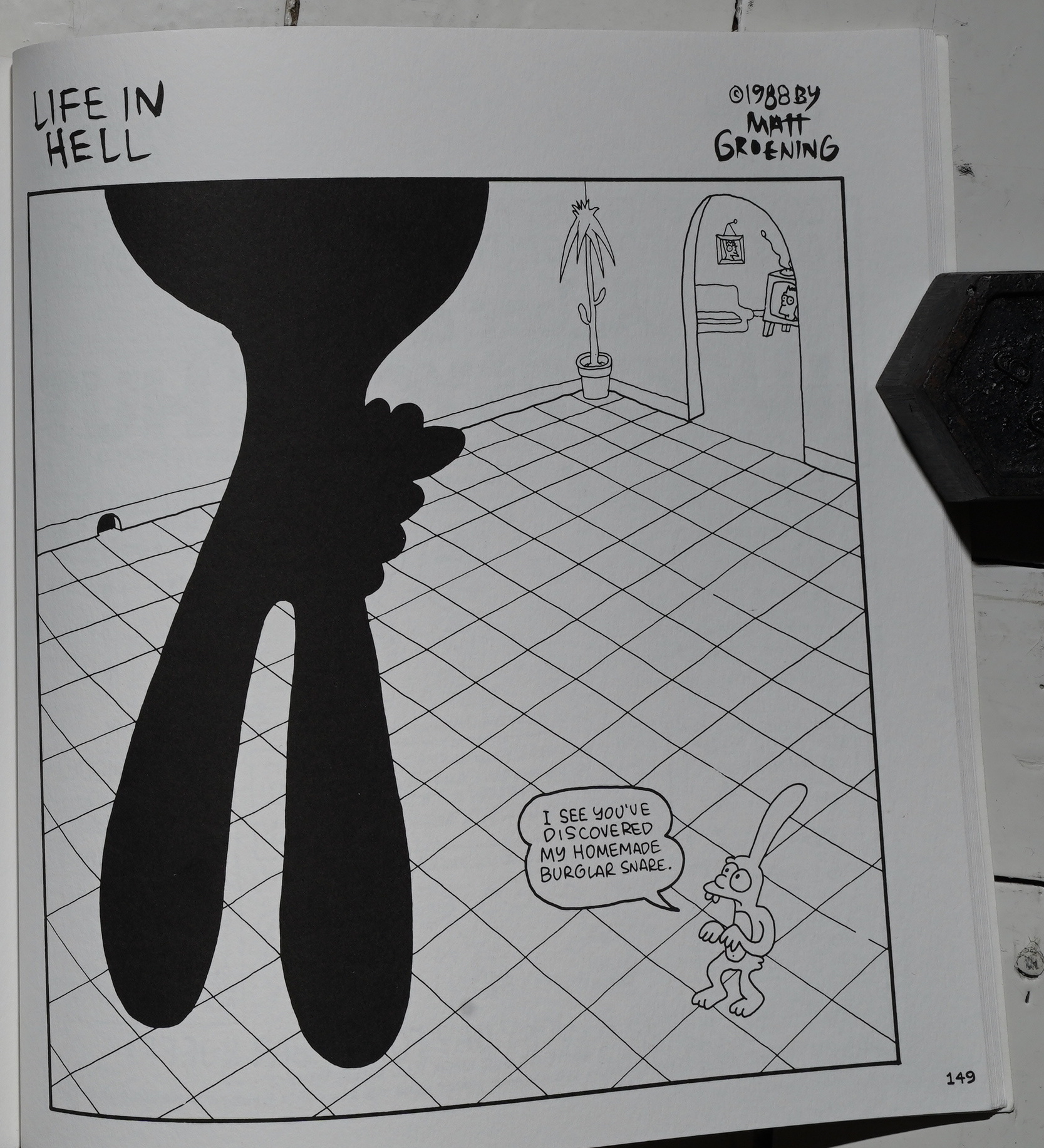 So many variations on this iconic page…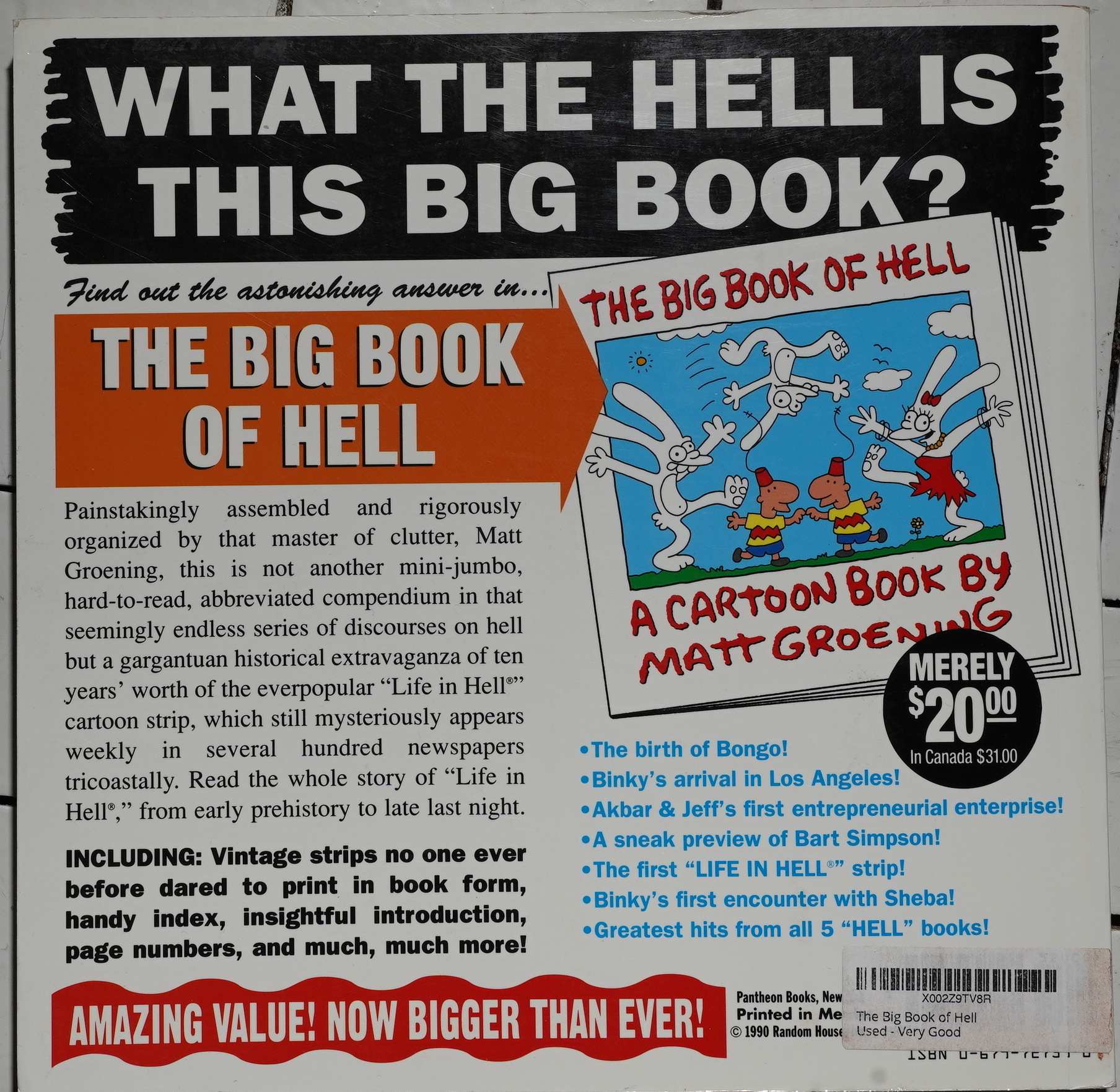 Oh! The back cover explains it all!
So Groening has assembled this book to celebrate the first ten years of Life in Hell? So it's "vintage strips no one ever before dared to print in book form", along with greatest hits from the previous five books.
Well, I'm happy I bought this book — it's fun to read those unreprinted strips. By my guesstimate, there's about… 40? "new" strips in here.
But I do wish that Groening would just do a complete, sequential reprinting of the series instead of this … selective … approach to reprinting.
This blog post is part of the Punk Comix series.