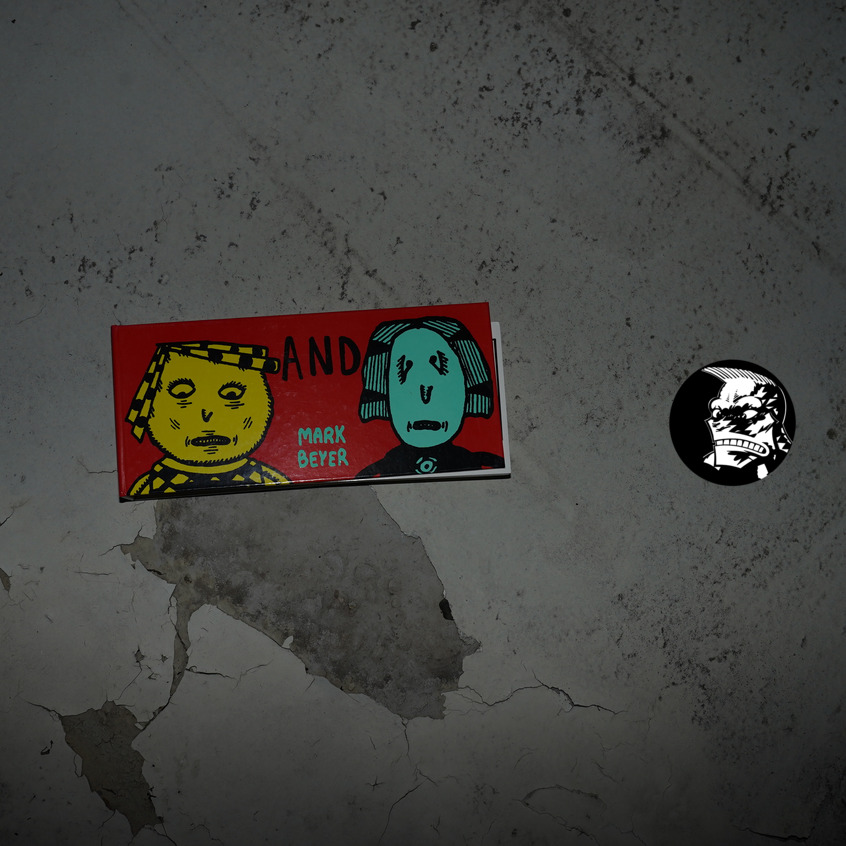 Amy + Jordan by Mark Beyer (286x128mm)
This is a Chip Kidd-designed book. I've heard rumours of him being so popular that people will buy any book if it's designed by him. (This apparently pisses off fans of the artists featured in the books, because they feel that the attention distracts from… er… something…)
Anyway, this is a very handsome object.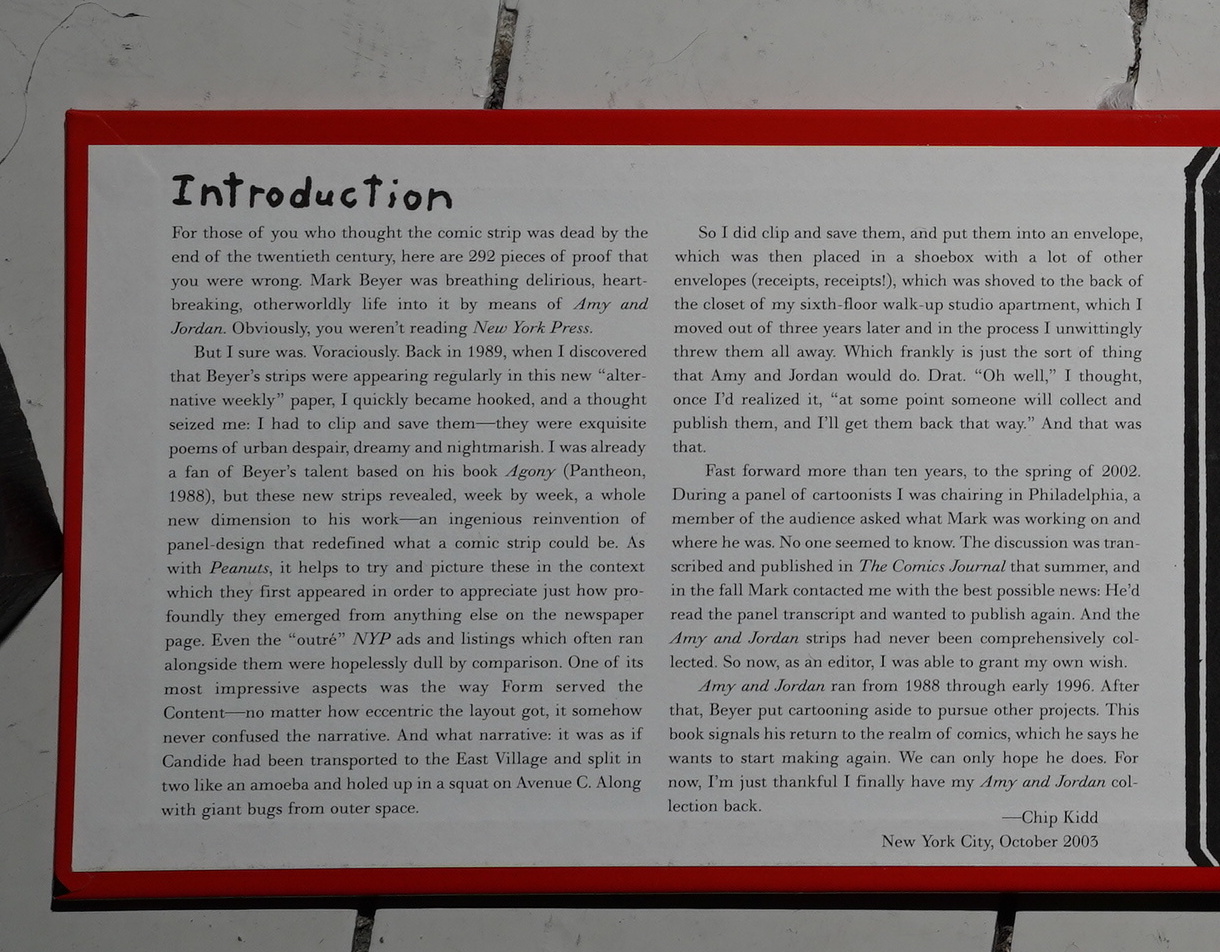 We start with a very matter-of-fact story of how the book came to be — no hard sell. So this is a collection of the 292 strips Beyer made for New York Press in 89 to 96 — it was a weekly strip.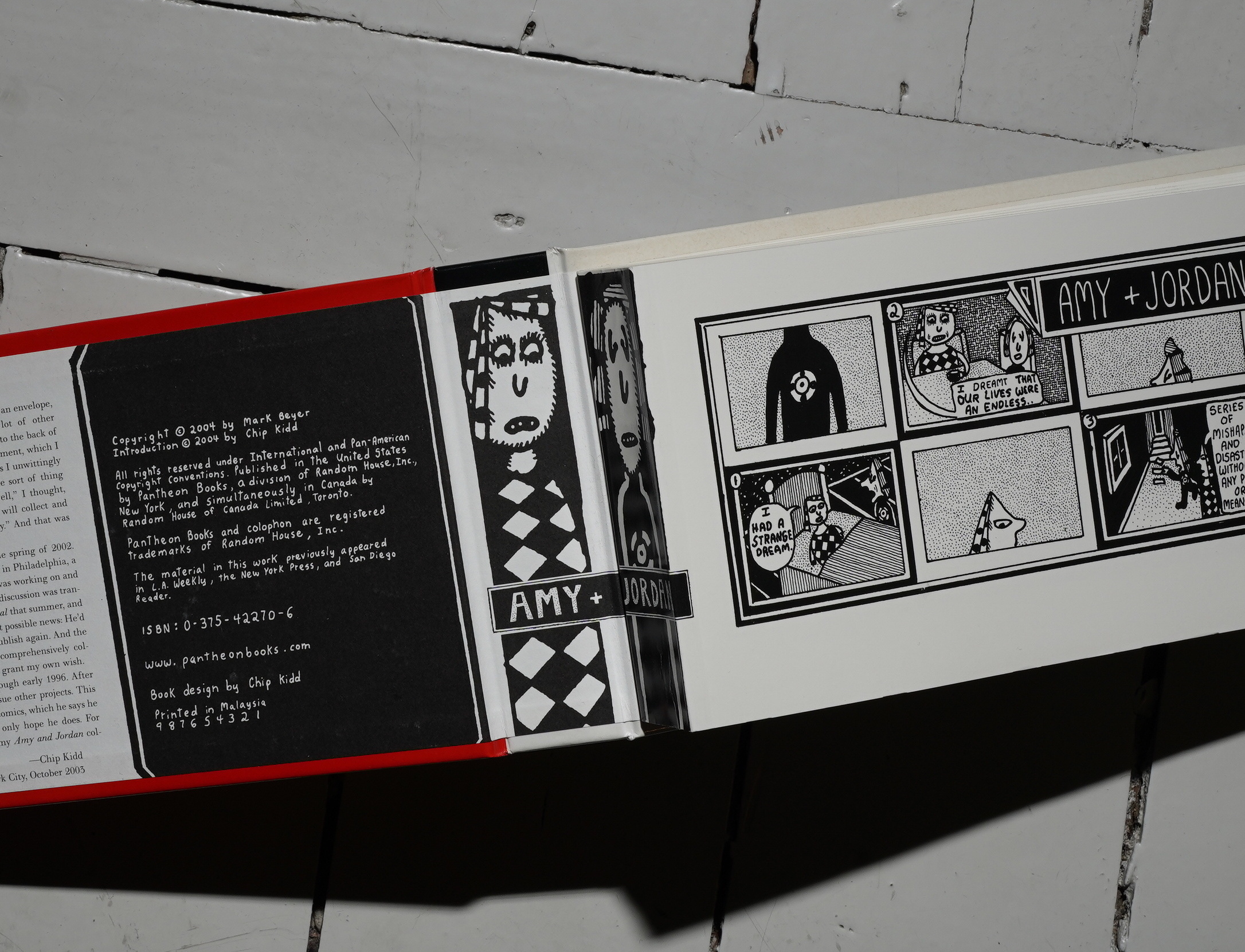 This book has a… er… there's probably a term for it. A detached spine? That in, the inner contents aren't connected to the front cover (only to the back), leaving the spine of the inner er signature exposed. Which Kidd has used for an image of Amy and Jordan… and they're normally crushed together when you close the book.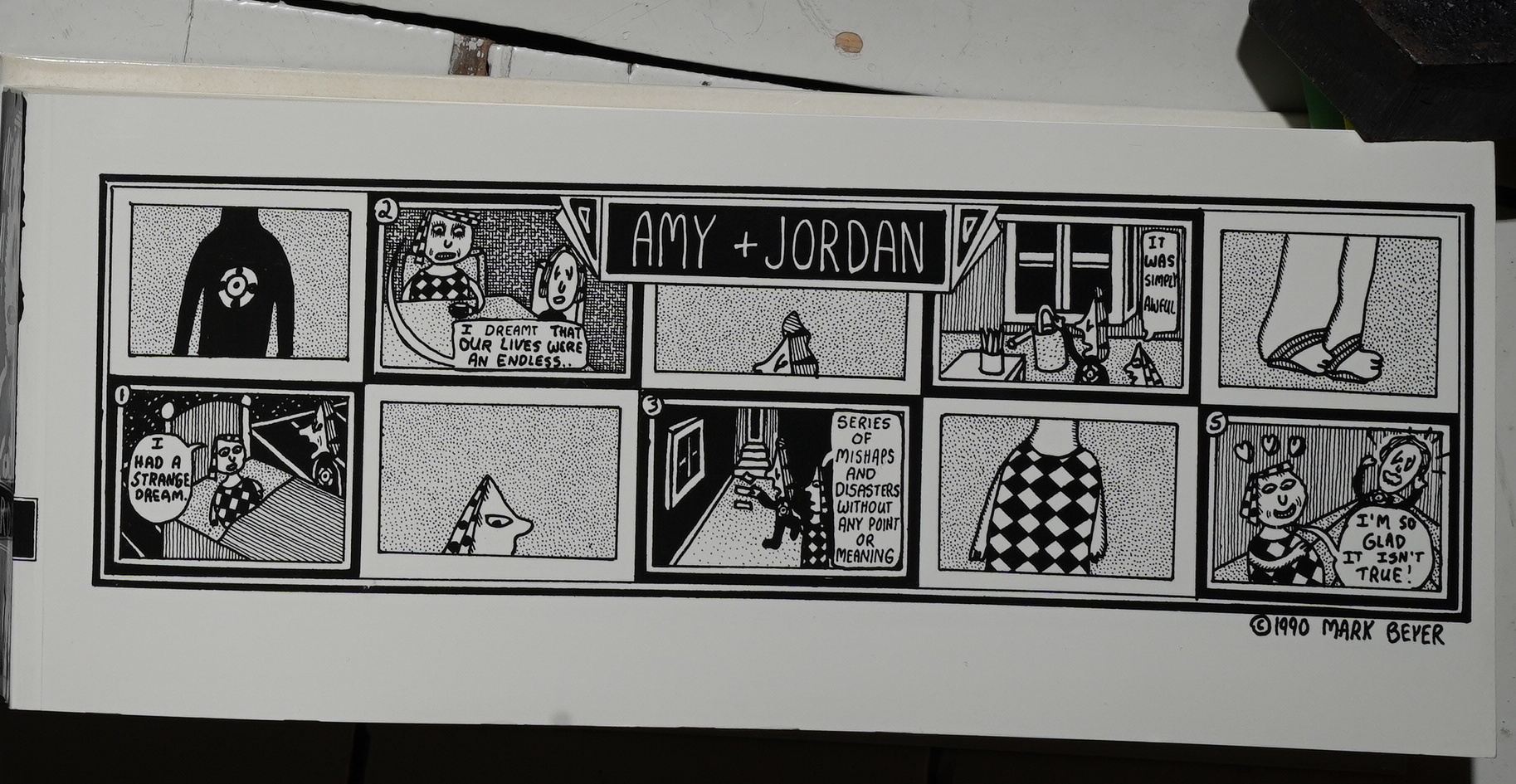 That's really the only design flourish here: After that, we get an unrelenting page after page of Amy + Jordan strips. In no particular order, so we get a strip from 1990 that sets the tone.
Sort of.

One strip per page. It's a pretty wide book, and with the detached spine, it takes some balancing, but it's definitely the most reader-focused of all Beyer's books. So many of the other books seem to use Beyer's artwork as an excuse to do an art object, rendering the strips themselves not ideally reproduced (either too small, chopped up, or just weirdly arranged).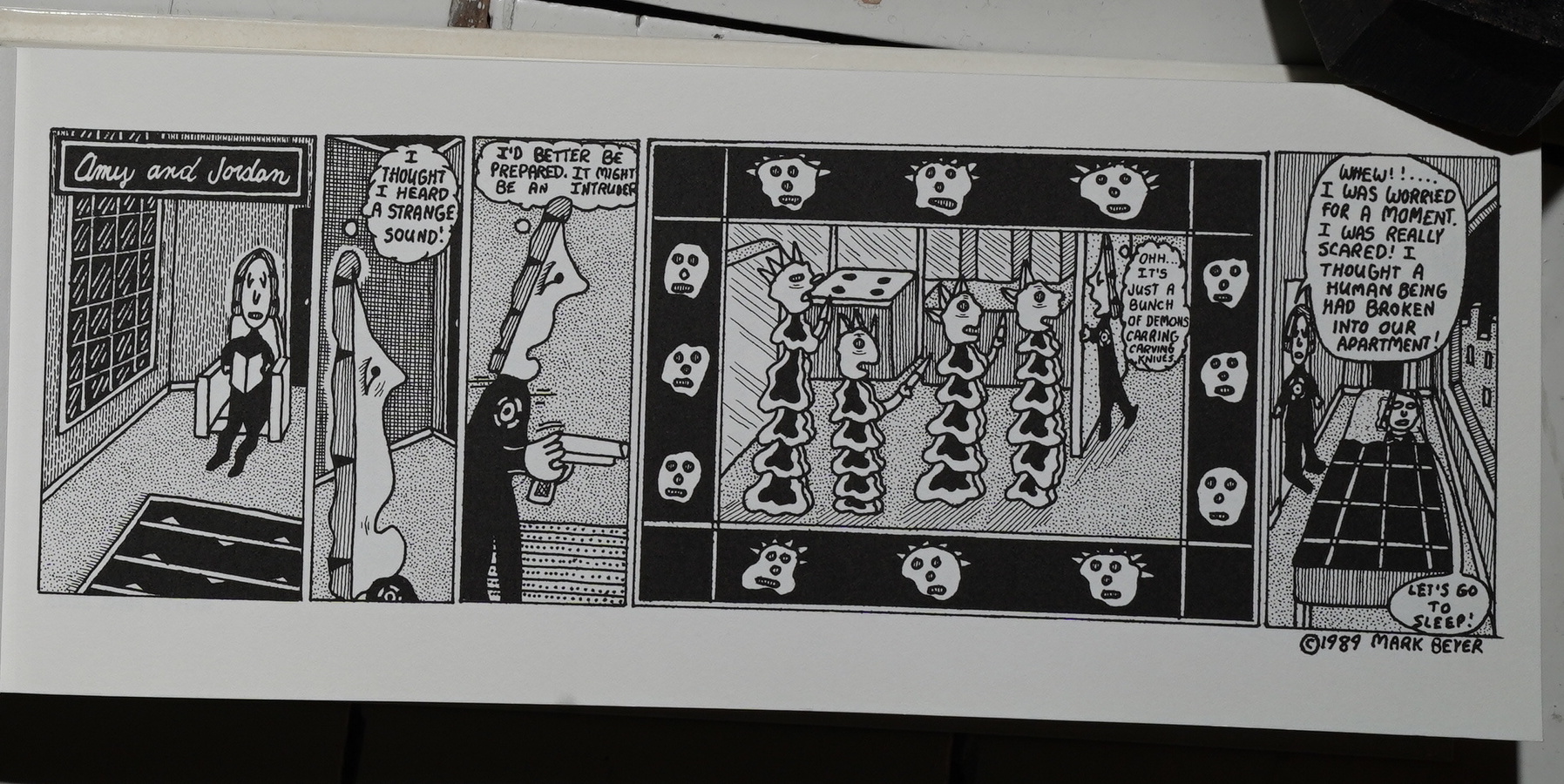 Stumbling across these strips in a weekly newspaper is a very different reading experience than having them collected like this. The humour becomes more apparent — I mean, they'd be funny anyway, but the comedic timing becomes more apparent.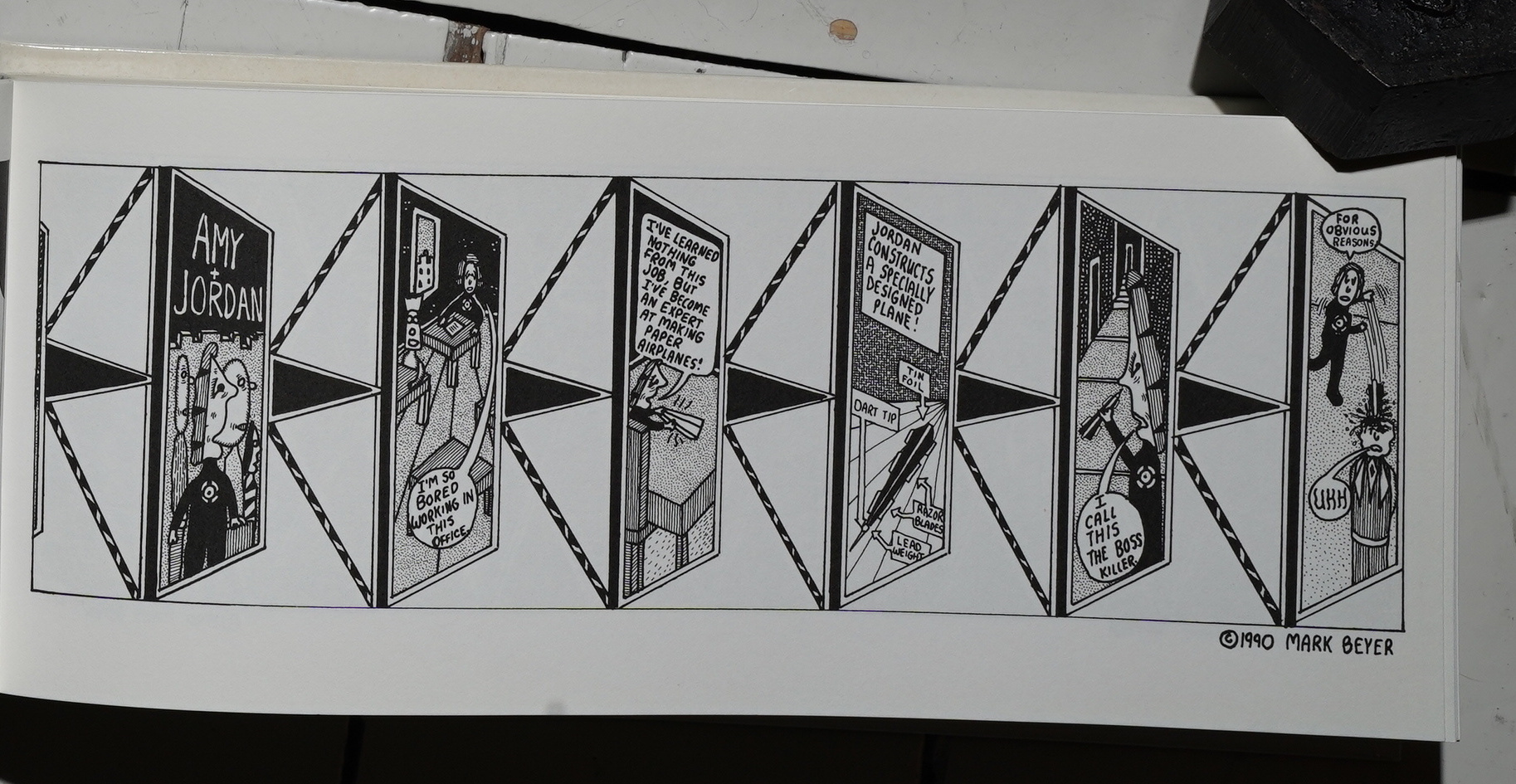 Also the sheer inventiveness in placing the panels in the strip.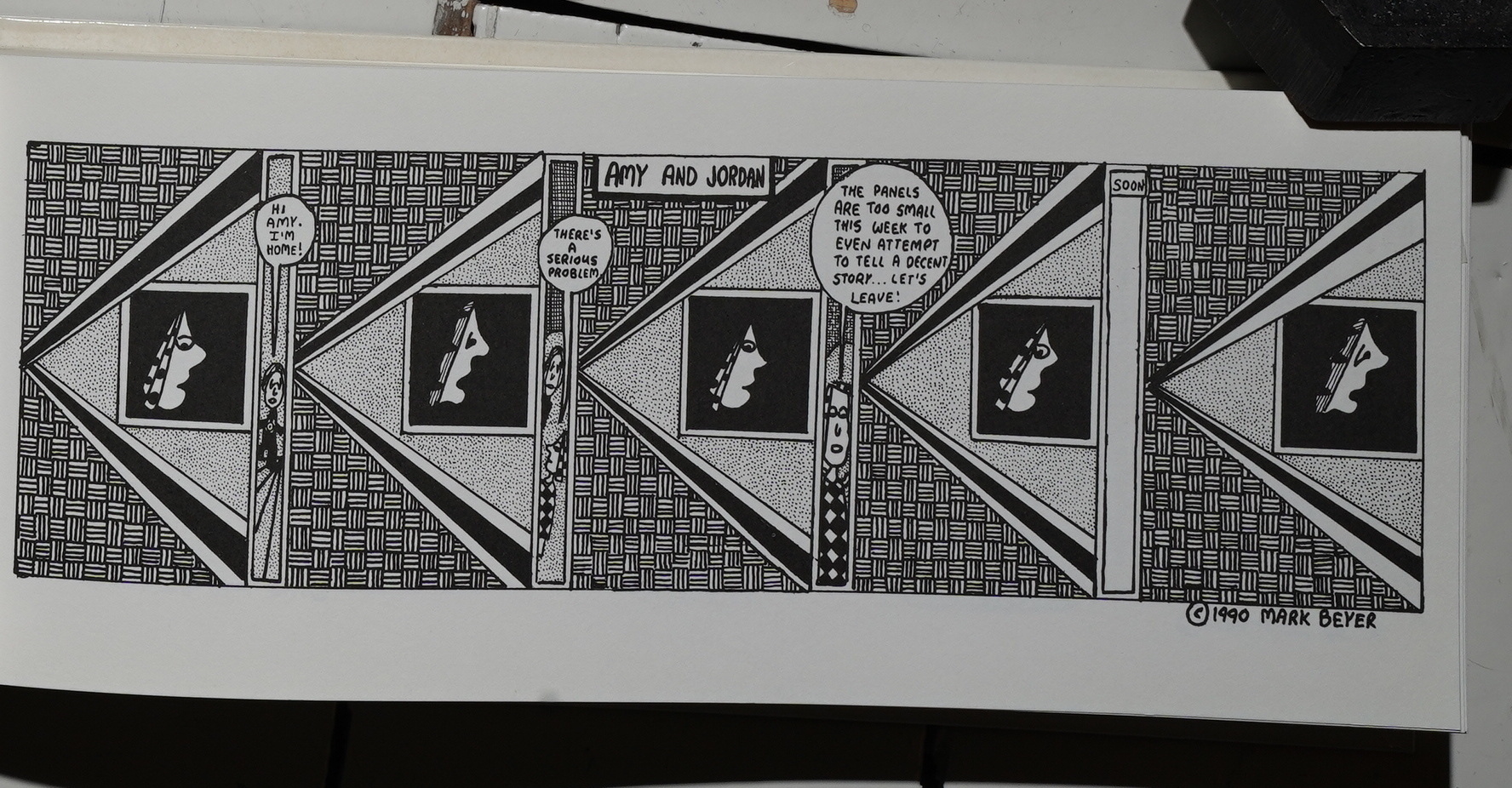 Heh heh.
Beyer's artwork is so gorgeous.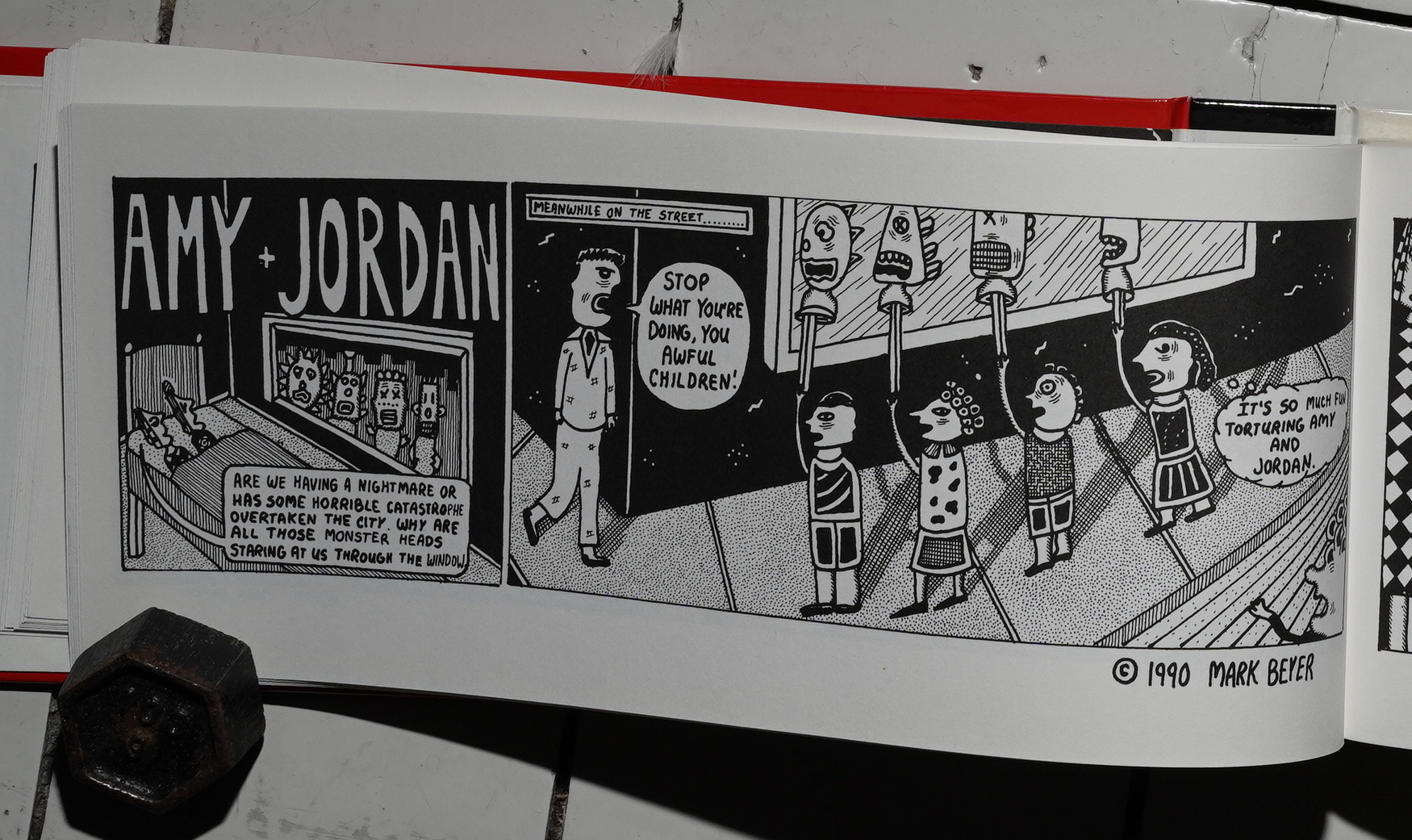 Some of these strips have been reprinted in other collections (I'd say about… a tenth of them.)
The sun "smears my skin with greasy yellow streaks". Greasy sun-shine. That's new.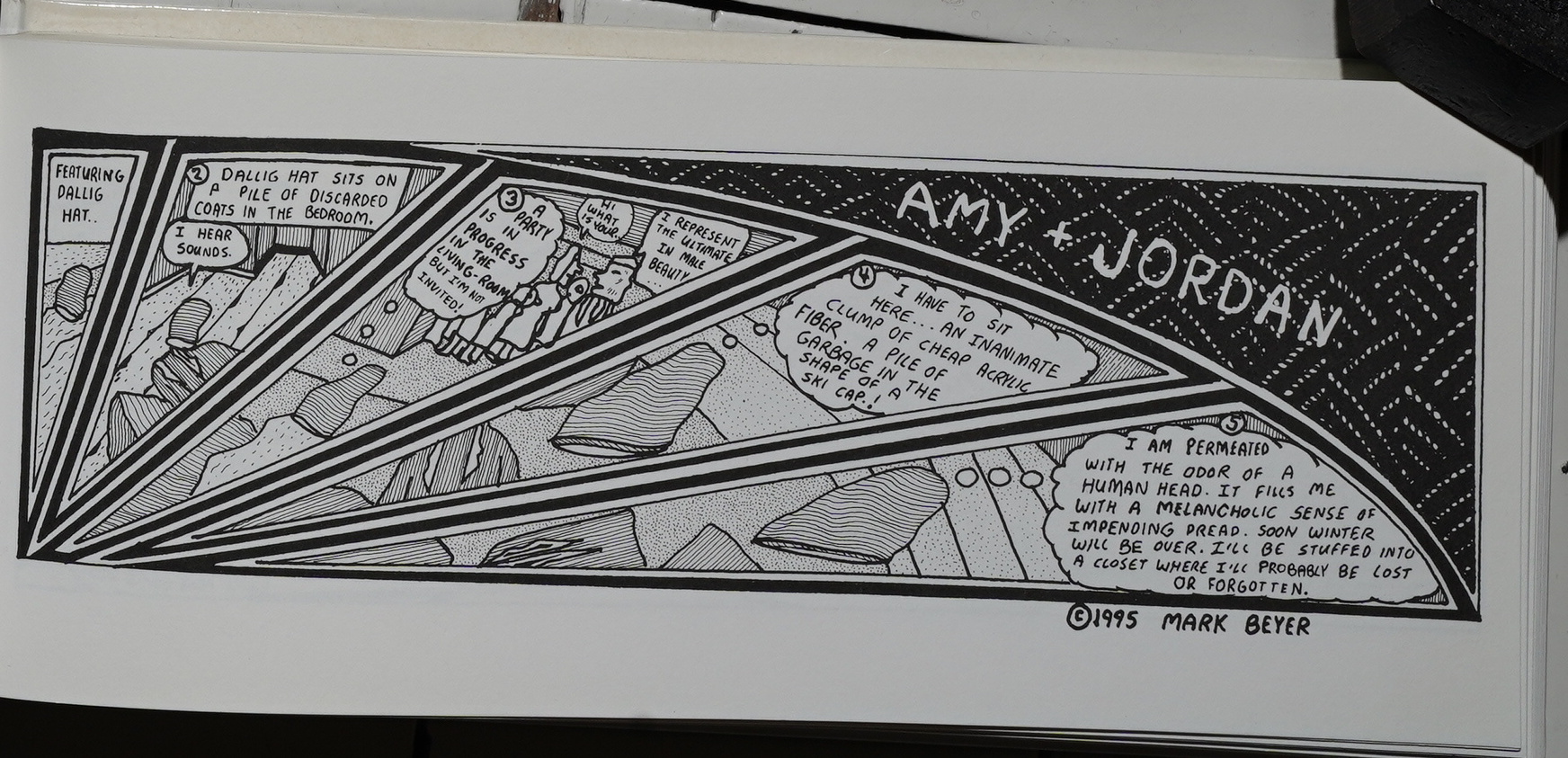 Everything feels existential dread here — even the hats.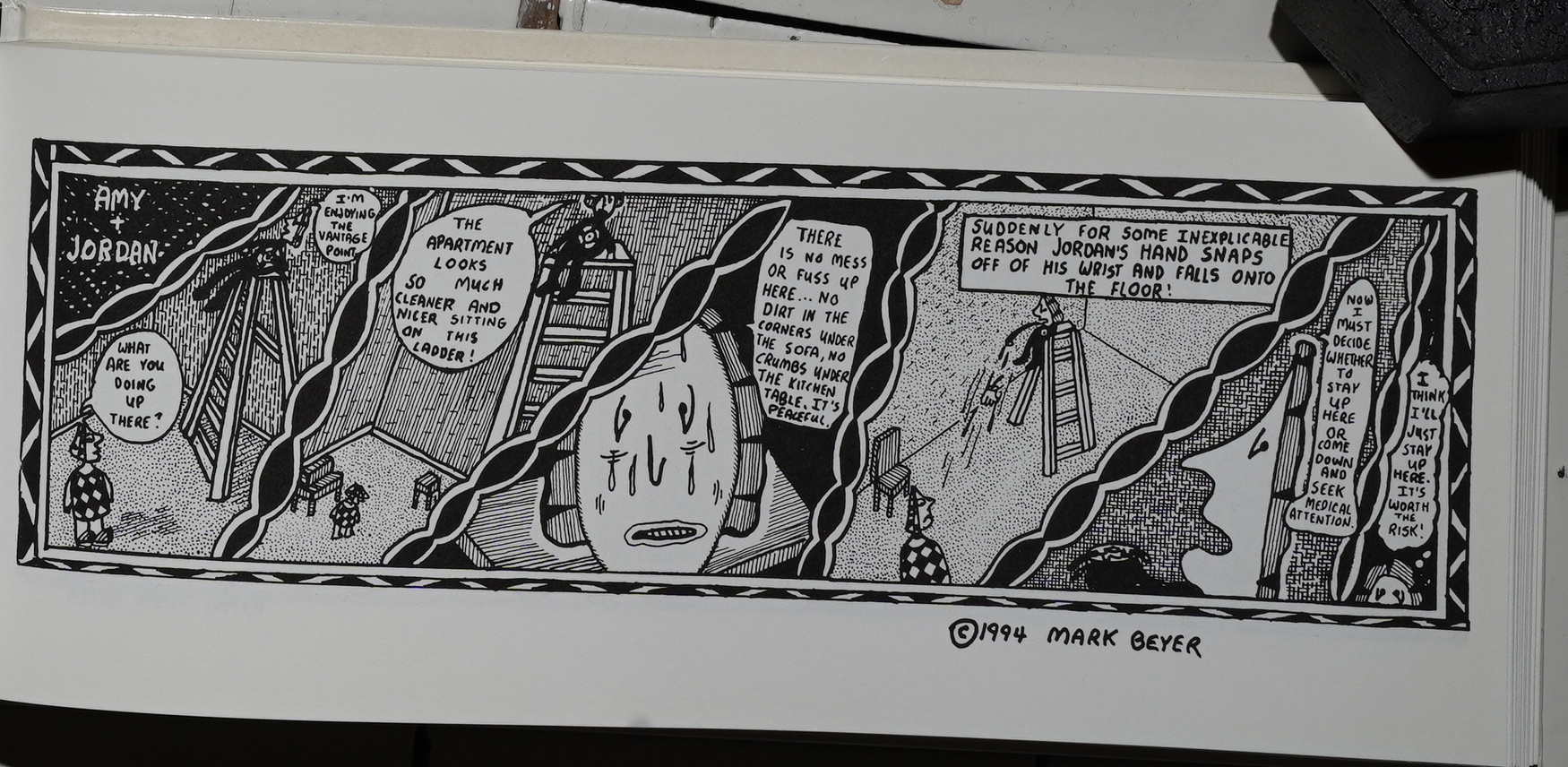 Many of the strips feel improvisational — as if Beyer just draws the characters in some situation he feels is interesting, and then just takes it panel by panel.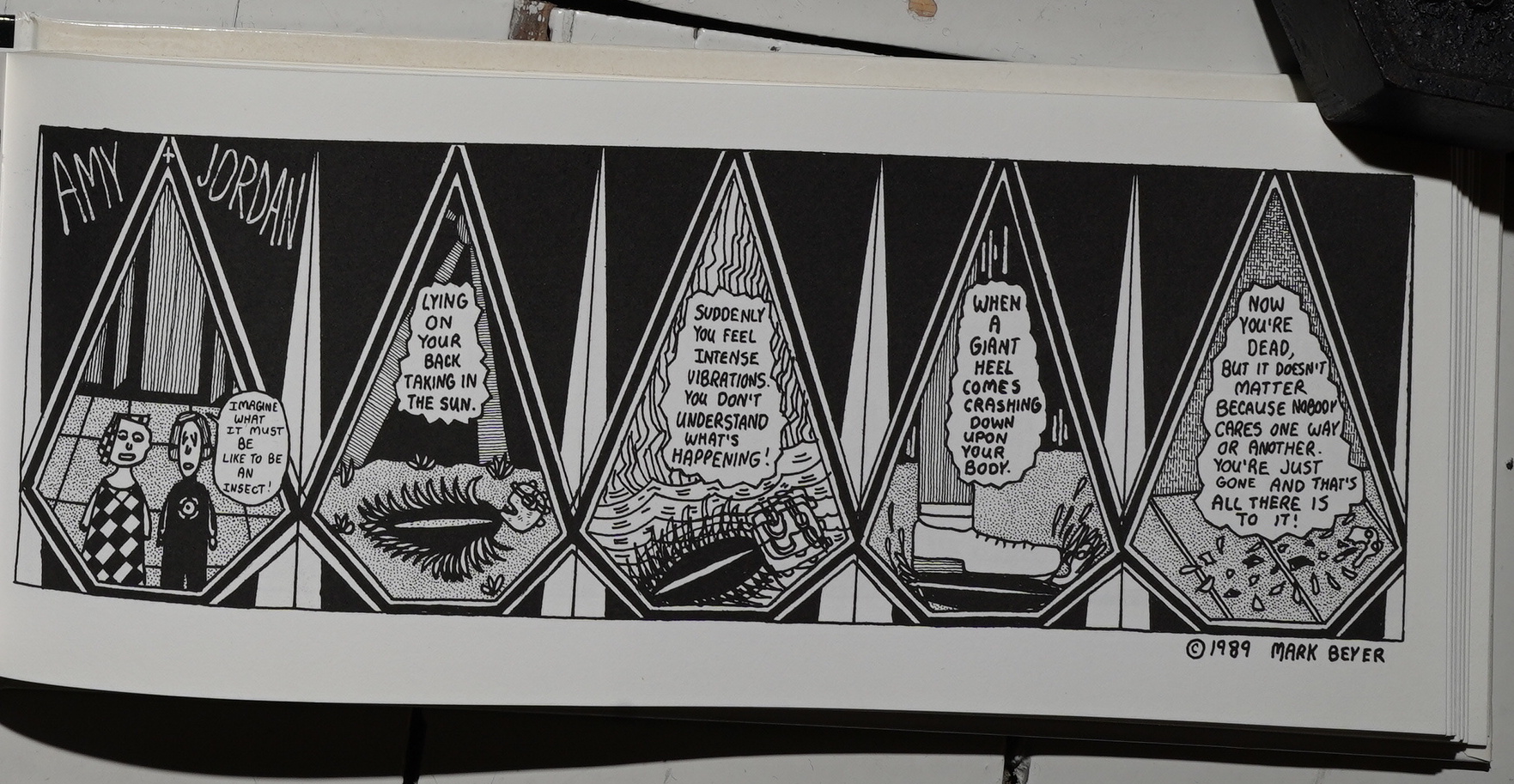 But, yes, it's pretty depressing reading when you're reading three hundred of these in a row. Exhilaratingly depressing? I had to take a nap in the middle of reading this; visions of Amy in my head… it's emotionally draining to read this. Especially the strips where Amy's son Ba Tilsdale gets beat up a lot, and finally dies (and stays dead, which is unusual for this strip).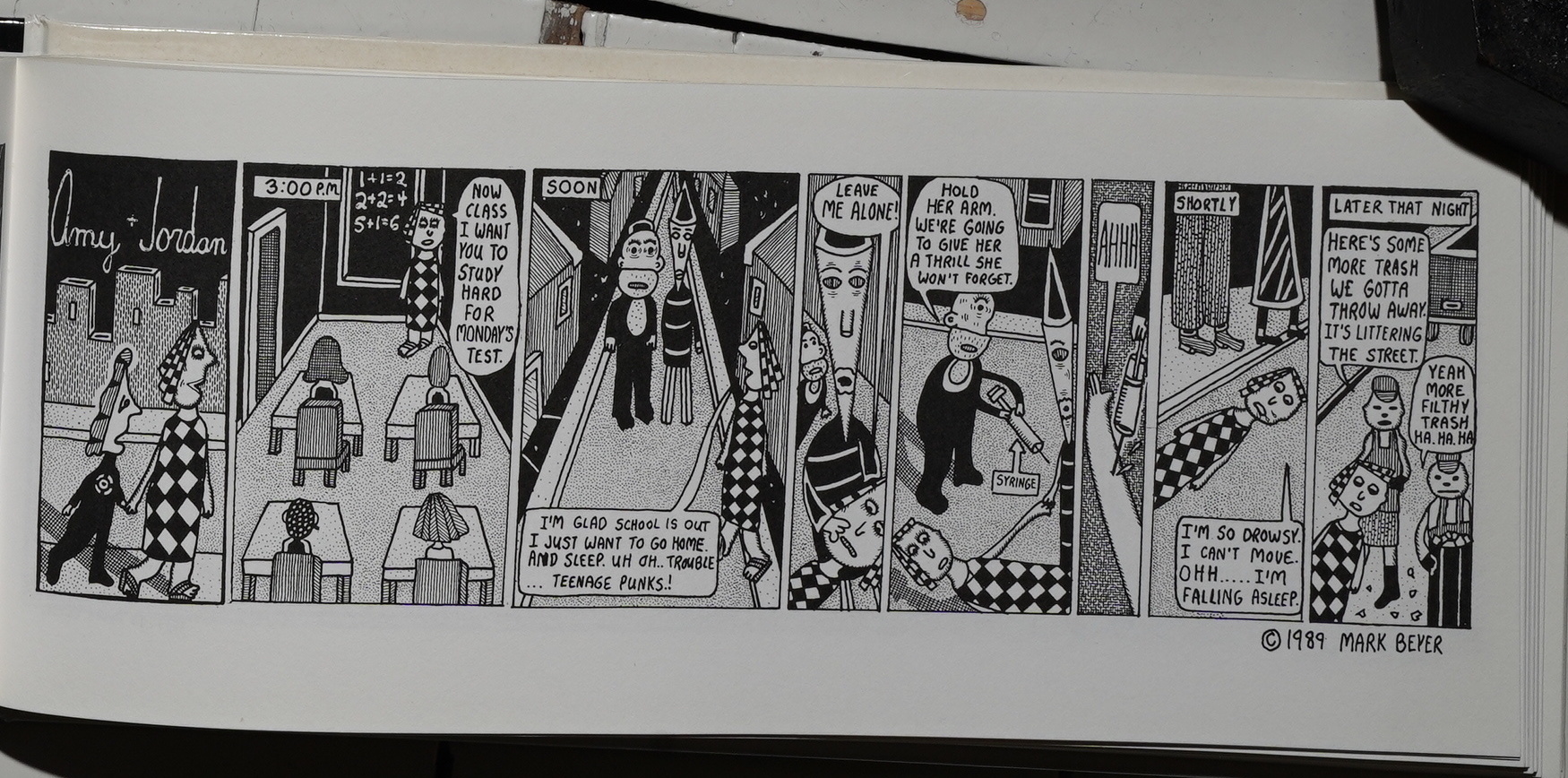 Hm… that strips seems familiar… Oh! It's a repeat of the third strip printed here. Production goof? Or did they just have to repeat a strip to make the number of strips come out right. Because: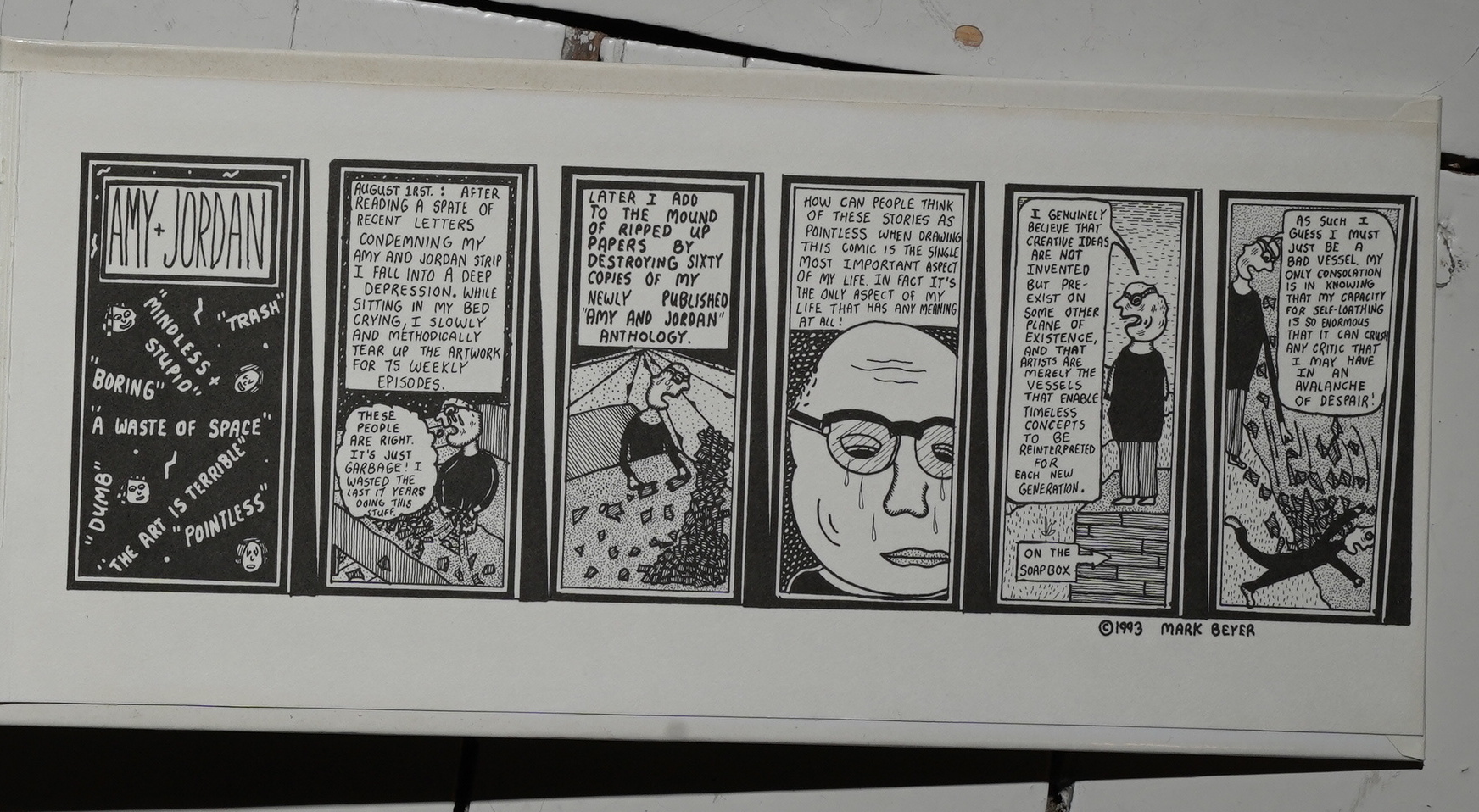 It ends with Beyer getting the final word on the inside back cover.
I was dreading a few essays at the back telling us what a genius Beyer is (that's the industry norm when doing reprints like this), and it almost always detracts from the aesthetic value of the book.
Kidd's smarter than that: After his very brief introduction, there's nothing in this book but Beyer.
Perfect.
Rob Vollmar writes in The Comics Journal #266, page 74:
2004 COMIC STRIP COLLECTIONS OF THE YEAR
AMY AND JORDAN
BY MARK BEYER

Unlike Chip Kidd, who edited, pref-
aced and imaginatively designed
this comprehensive collection Of
Mark Beyer's Amy and Jordan strips, I
was neither reading nor even aware that a
"new alternative weekly" called New York
Press (where the series originally ran from
1988 to 1996) existed. While making no
excuses for the burden Of ignorance that
is the birthright (inherited or otherwise)
of all but the smallest percentage of those
of us who live and choose to remain in
the Midwest, it is no exaggeration to sug-
gest that had Pantheon and Kidd not seen
fit to make this material a•railable again
to a wider audience, Mark Beyer's vital
influence on contemporary avant- garde
cartoonists might have been appreciated
by only those with the fortune of having
been in the right place at the right time.
Even so, it is not hard to imagine Why
Amy and Jordan hasn't been reconsidered
before now. Taken one strip at a time,
the non-adventures of our two hapless
protagonists, devoid of the mechanics
of gag humor, the allure of exaggerated
eroticism, or even the comforts Of con-
tinuity, could have easily been mistaken
for an ugly, pointless waste of space. All
Of the hoops that strips traditionally
jump through in order to both interest
new readers and please long-time ones
are instead set on fire and then placed
around the reader's collective neck, evok-
ing a fight-or-flight response that one
could easily imagine frightening away
all but the most daring (or masochistic)
Of its original audience.
This guy is … I don't even have words. Everybody who saw Beyer's work in the 80s and 90s knew that he was a genius. It didn't take Pantheon to make anybody realise that. It's like he thinks that Beyer is an outsider artist discovered by Kidd, and not an internationally famous artist.
How utterly weird.
Oh! Now I realise what those endless introductions in most of these reprints books are for…
Absorbed as a
completed body Of work, however, Amy
and Jordais deconstruction of the comic
strip form takes on unexpected layers
of meaning that might escape the more
casual reader.

[…]

For all its formalist play, Amy and
Jordan is not without its own specific
narrative agenda. Whether due to Beyer's
dislike or mistrust of continuity, there is
hardly any supporting cast, leaving our
attention focused squarely on Amy and
Jordan's relationship, both with each
Other and With the world around them.
Er… there's literally (in a figurative sense) a dozen different characters…
Bereft, then, Of any supporting cast,
the claustrophobic quality Of their rela-
tionship forces them into complementary
if antagonistic roles. Every strip is like a
battle-royale cage match between Amy
and Jordan with the winner gaining the
smallest measure Of the reader's disdain
at the expense of being consumed by rats
while the loser stands by disinterested
due to crippling self-involvement. Rather
than being a vehicle for better under-
standing the players, the dialogue is em-
ployed for misdirection, evoking apathy
from the reader to the titular characters'
travails by either emphasizing their shal-
low and directionless qualities, or just as
Often, by being impenetrable.

[…]

As fascinating at it is, I'm not sure
that I could honestly describe the experi-
ence of reading this comprehensive col-
lection of Amy and Jordan as an enjoyable
one. Given Beyer's themes and agendas
employed throughout, am sure that
joy was rarely his goal and is, thus, little
reflection on the success of the startling
imaginative and technical achievements
met and surpassed regularly in the strip's
eight-year run. While reading it now af-
ter the fact and en masse feels a little like
going to school, this collection and the
body Of work it represents is overdue and
makes for a hefty, challenging read.
Wat.
Other reviews make more sense:
Brilliantly cynical with a deceptively crude drawing style which seems elementary at first glance, but as you read you'll start to notice that Amy and Jordan has amazingly intricate and seemly endless variations on panel layout. Probably the most creative panels I've ever come across. An inspiration to anyone in the alternative comics world and a must-read for anyone living in a cramped dirty apartment in NY…which is pretty much all of us. Also major kudos to Pantheon for a fantastic book design as well.
This blog post is part of the Punk Comix series.