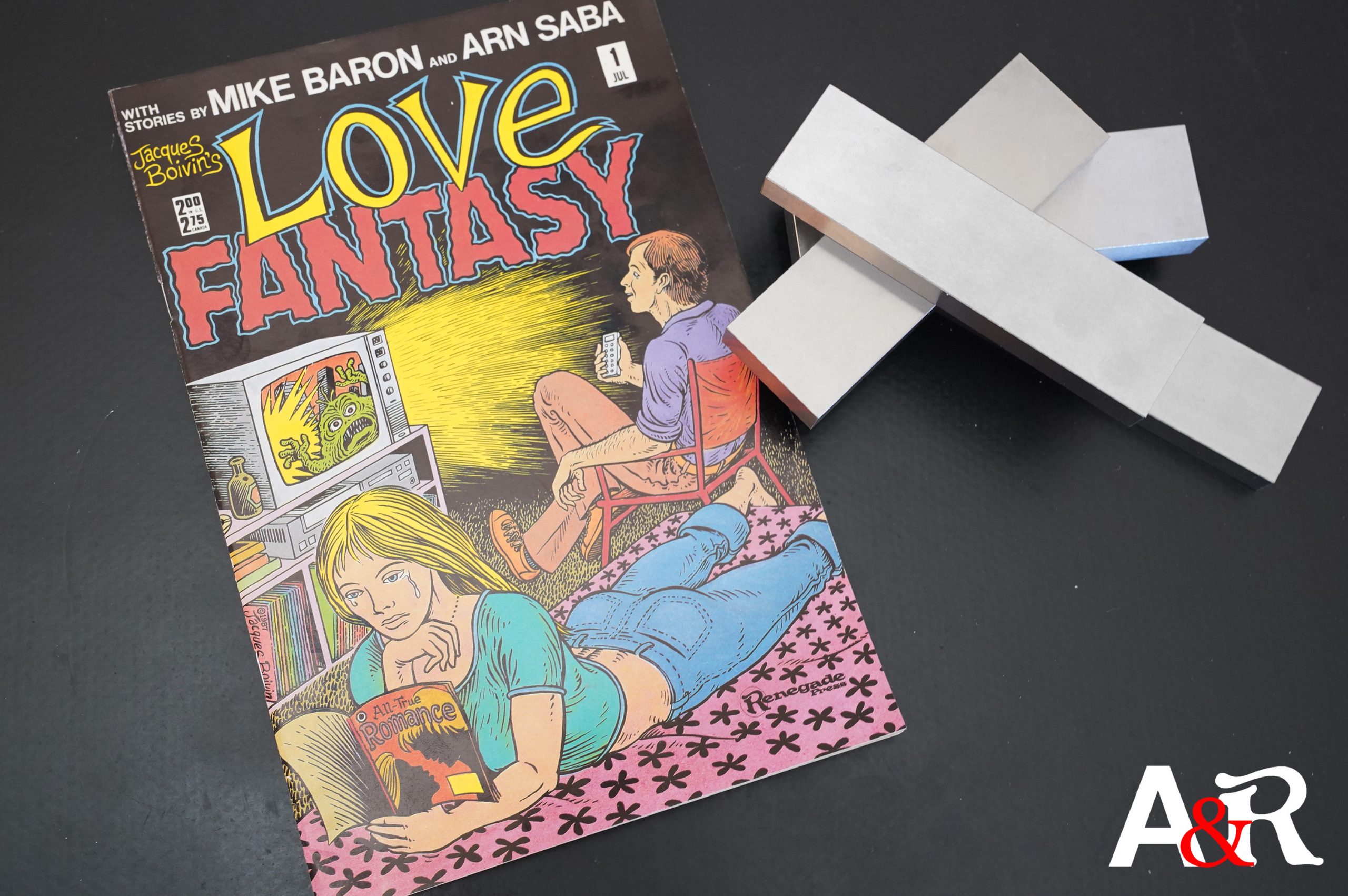 Jacques Boivin's Love Fantasy (1987) #1 by Jacques Boivin and others
This comic has three short stories, all with artwork by Boivin, but with different writers, which is a somewhat unusual approach.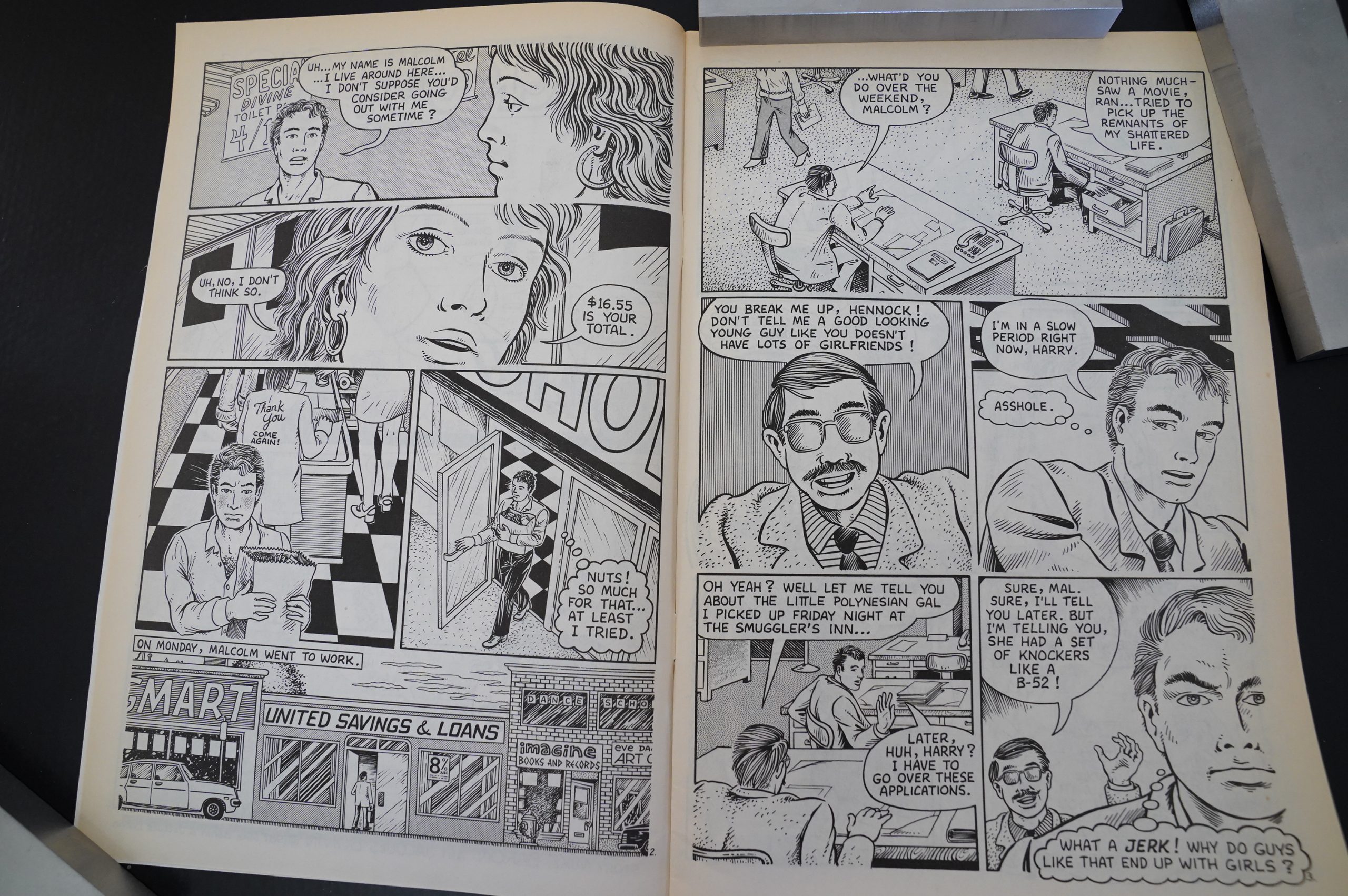 The first one is written by Mike Baron (of Nexus fame, presumably). It's a vignette about a guy without any particular qualities (except being a "nice guy")…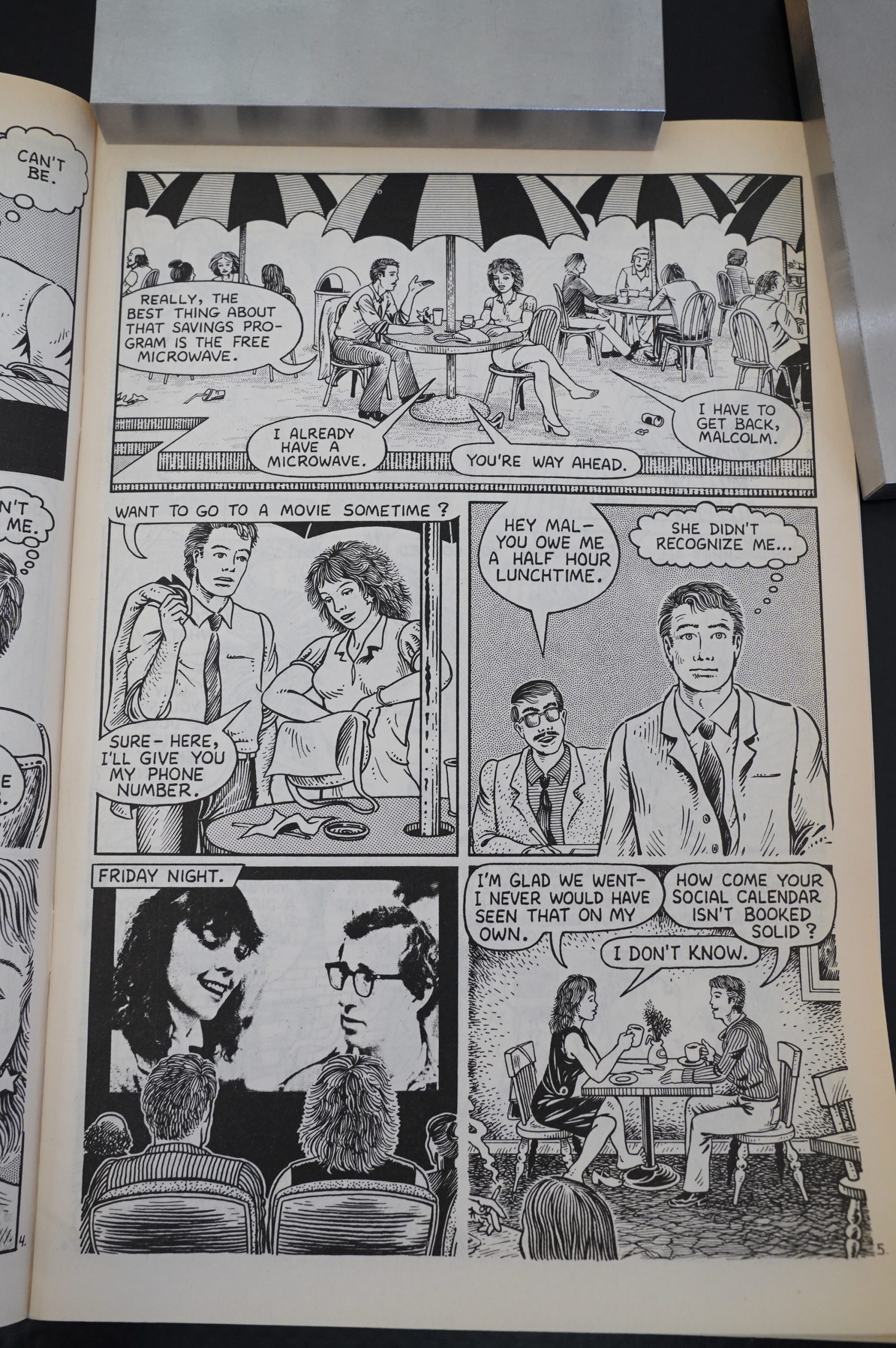 … who creeps on a cashier, but then (by sheer coinkidink) meets her in a different context, and Woody Allen movies (and fucking) ensues. It's a very slight, somewhat creepy story.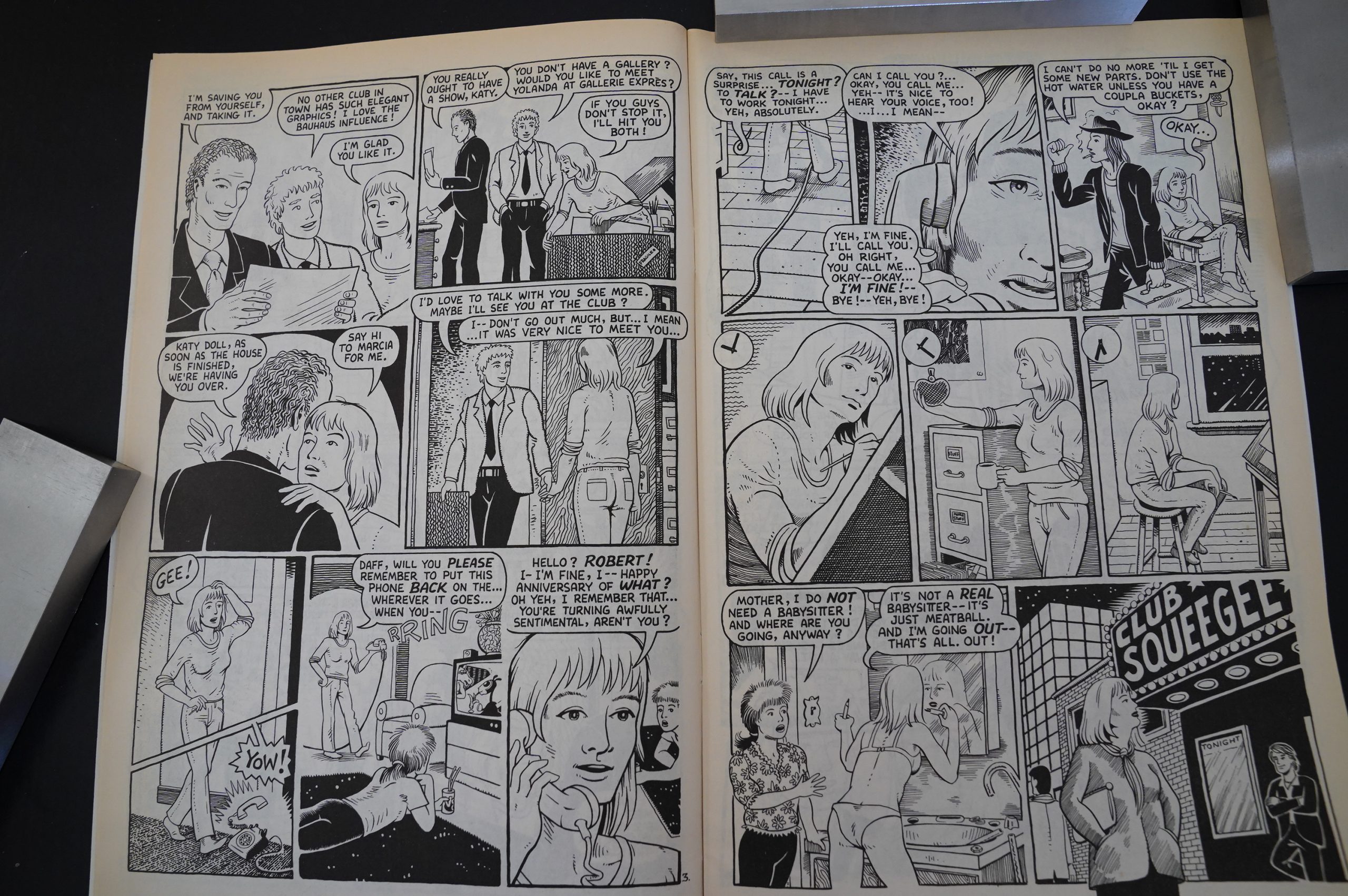 The second story is written by Arn Saba (of Neil the Horse fame) and is inked by Bernie Mireault (of The Jam fame). It's an actual story! It's part of the general Eureka Street story Saba had dabbled with before, and the characters have some depth. Saba manages to squeeze a lot of stuff into these pages, and it's a fun, brisk read.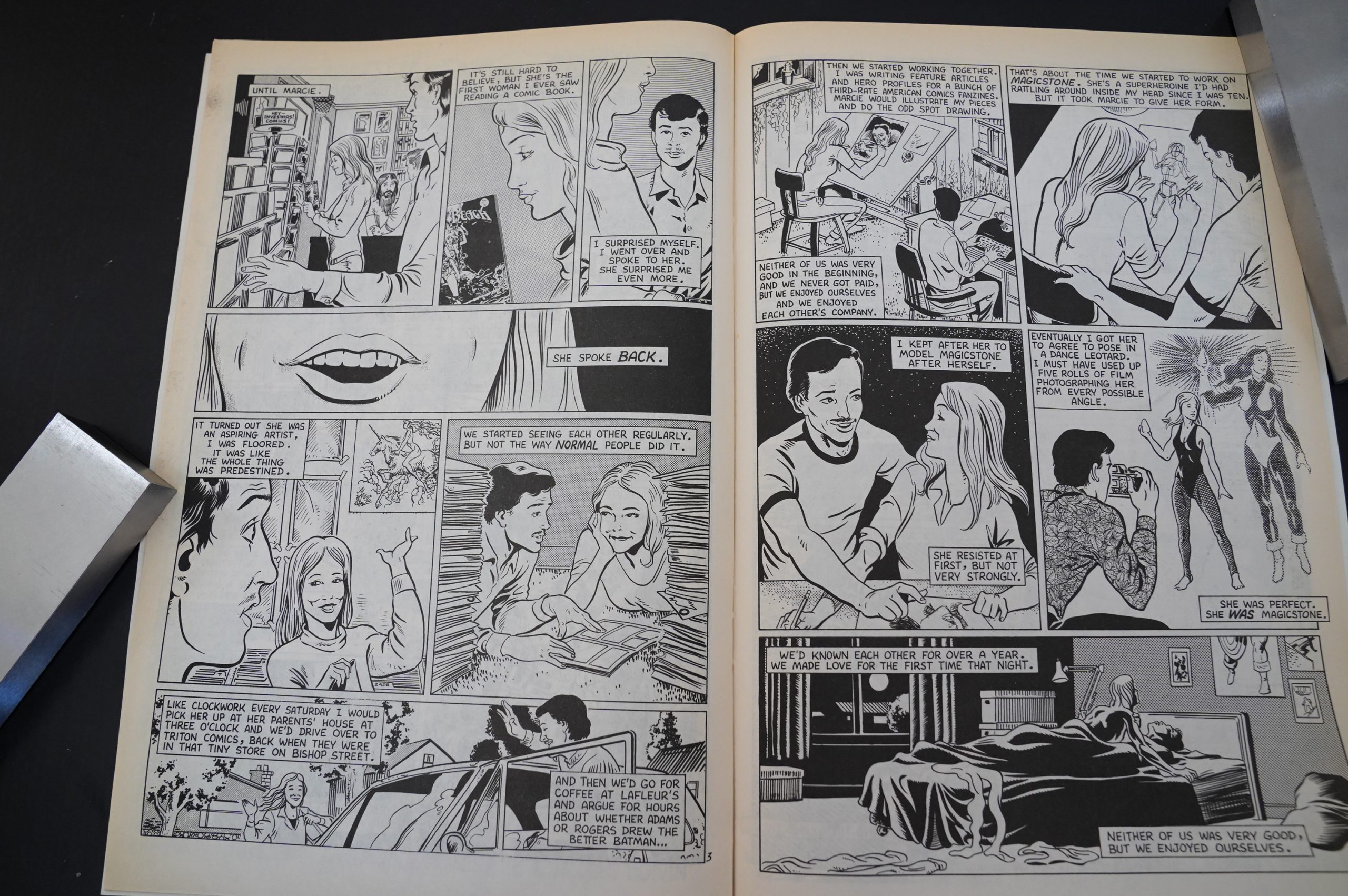 The final story is written by Mark Shainblum (of… er… fame?), with artwork by Boivin and Gabriel Morrisette (of mainstream fame), and it's a very nerdy fantasy story.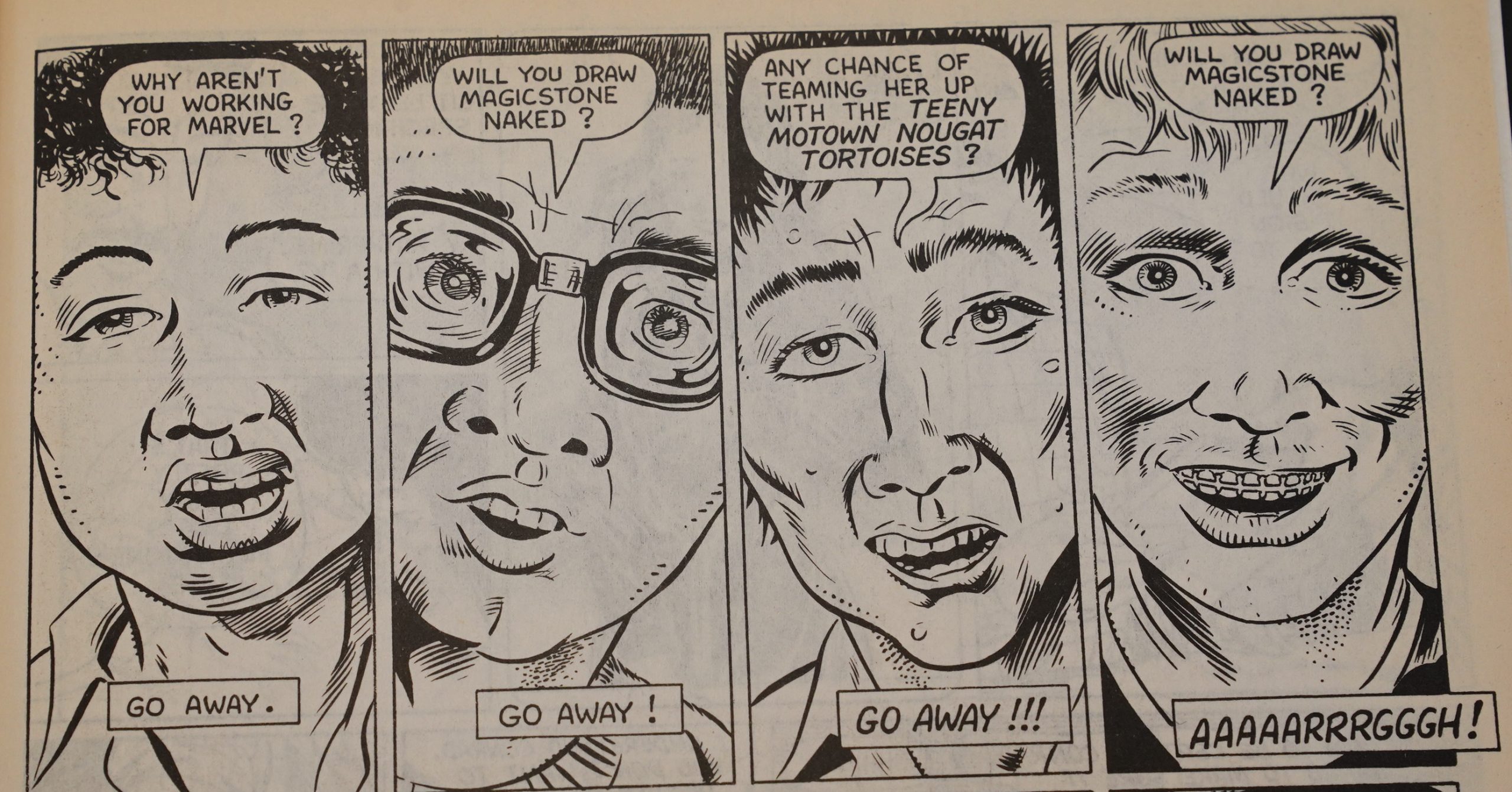 The depiction of comics fans at a convention seems very accurate, though!
Boivin would go on to illustrate Melody:
Jacques Boivin is the artist of the erotic comic 'Mélody', that appeared at Kitchen Sink Press from 1988. The comic was created three years earlier, when exotic dancer Sylvie Rancourt created a comics alter-ego for herself. The Boivin version of the comic was a big hit.
I remember liking Melody a lot, but it's probably mostly forgotten these days — Sylvie Rancourt's own version of her story was reprinted by Drawn & Quarterly, and it's excellent. And very different.
Romance is back. Tentatively, in-
deed. Not in the same forms we
knew it before, but isn't that always
the way? But, with this and the
forthcoming Renegade Romance
(and with California Girls in a
slightly different genre), romance
has unquestionably found its way
back to comics. And, to borrow a
phrase, "It's about damn time."

[…]

Love Famasy isn't what it might
have been. but it's a good start. The
highlight of the issue is "The Perfect
Guy,"
written by Saba, with
Mireault inking Boivin. It's just a
funny. bittersweet little story about
a female artist nearing her "middle
years" who become infatuated with
a charming young guy who proves
to be a bigger and bigger jerk as the
story progresses. It sparkles with
little details of humor and humanity,
as the artist's agents, punky
neighbor, teenaged daughter. and an
old hippie named Meatball who's
fixing the plumbing troop through
the house tossing out different
perspectives on the woman, her
man. and her predicament. The
team of Boivin and Mireault bring
it to life with a pleasant mixture of
everyday reality and cartoon clarity.
The story written by Baron,
"Check-Out Girl," disappointed me.
The concept had promise: A man
finds that a 'Aoman who turns down
his advances in one context is much
more receptive in another, and
wonders why; he tries to interpret
the situation in tertns of power and
prestige, while she puts it on an
interpersonal, emotional footing.
The trouble is. the plot feels like just
an exposition of that concept, as the
characters talk out their perceptions
in a singularly undramatic resolu-
tion. This seems like just the kind
of trap that "relationship comics"
are going to have to sidestep.
And then there's "Royal Con
Interlude (Introducing Magic-
stone)," written by Mark Shainblum
and drawn by Morrissette and
Boivin. It's a nicely turned little tale,
a fantasy with some super-heroish
elements, set in the milieu of a
comic book convention. I can't say.
though, whether I like it or not,
because my reactions to the work
itself are colored by my disappoint-
ment at finding a story in this comic,
of all comics, which relies on fan-
nish references and seems to require
of its readers some familiarity with
the super-hero scene. But I may be
overreacting. Maybe stories like this
can be useful bridges between the
realm of super-heroes and that of
"off genre" comics. Maybe this will
draw people into romance stories
who might otherwise have ignored
them.
Whatever its drawbacks, Love
Fantasy is good enough to show that
love stories can-be made to work in
modern comic books with an adult
orientation. I hope this is only the
beginning.
Hey! I agree with everything there, which doesn't happen a lot.
This book has never been reprinted, but it's easily available.
This blog post is part of the Renegades and Aardvarks series.