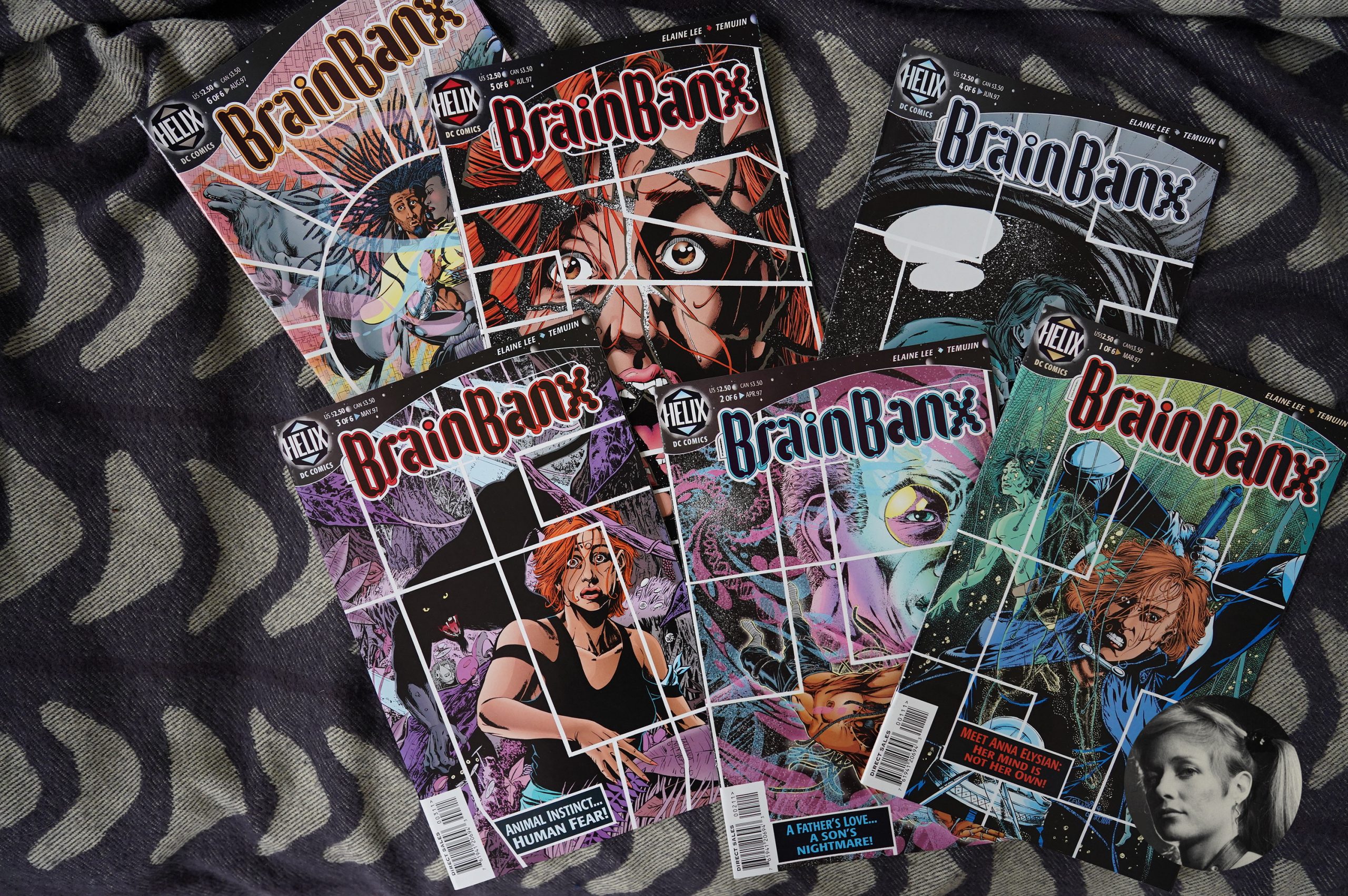 BrainBanx #1-6 by Elaine Lee, Temujin and others, published by DC/Helix.
After a couple of less than totally thrilling series, I'm having high hopes for this series: The best Lee comics I've read have been science fiction, and this is science fiction… so there!
(Oh, Here's an explanation of what this blog series is.)
I've switched to a new camera (a Sony), so I'm not sure whether these shots of the comics will be totally out of focus or blurro or just plain bad… Let's read the first three pages and find out.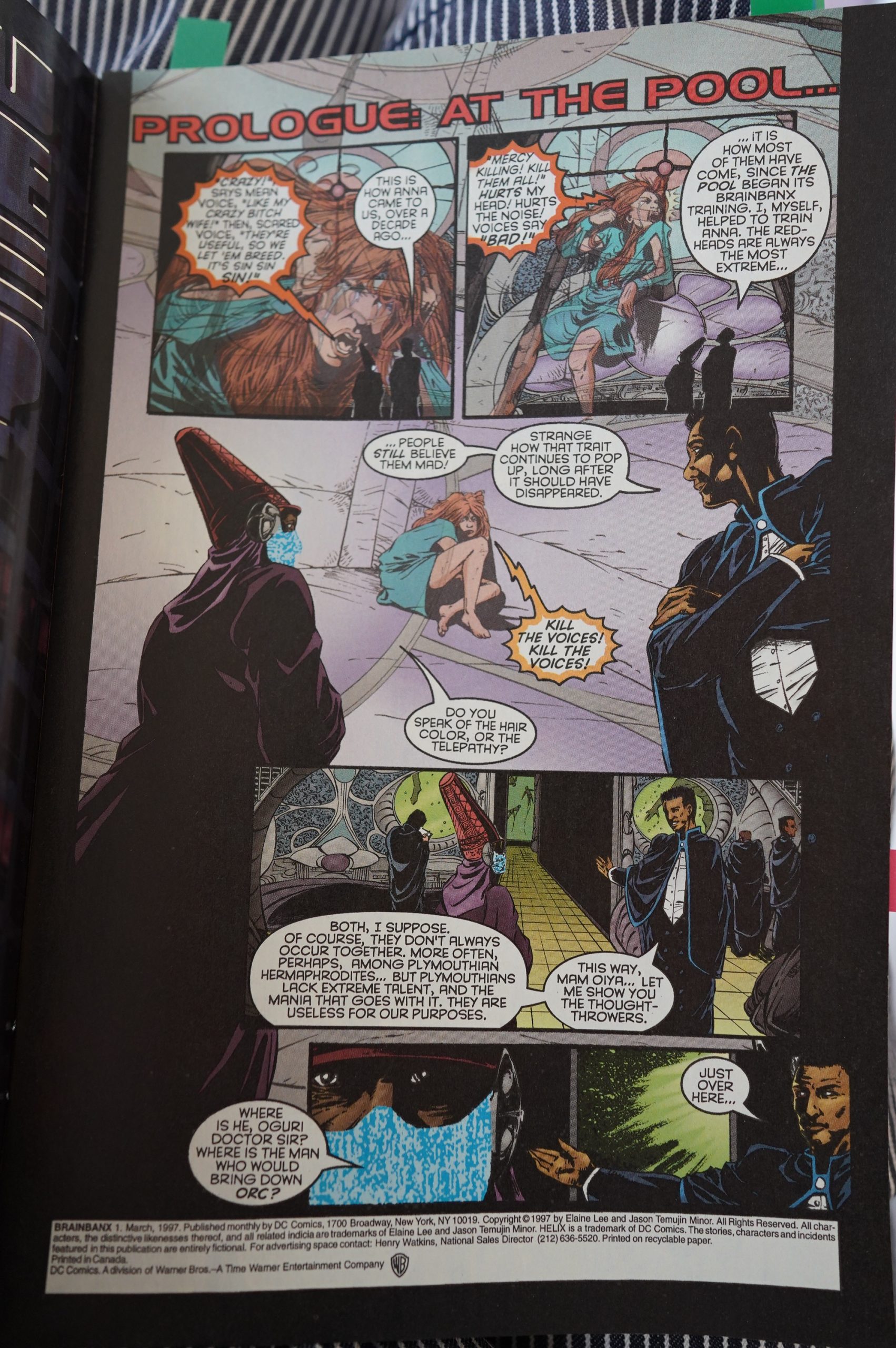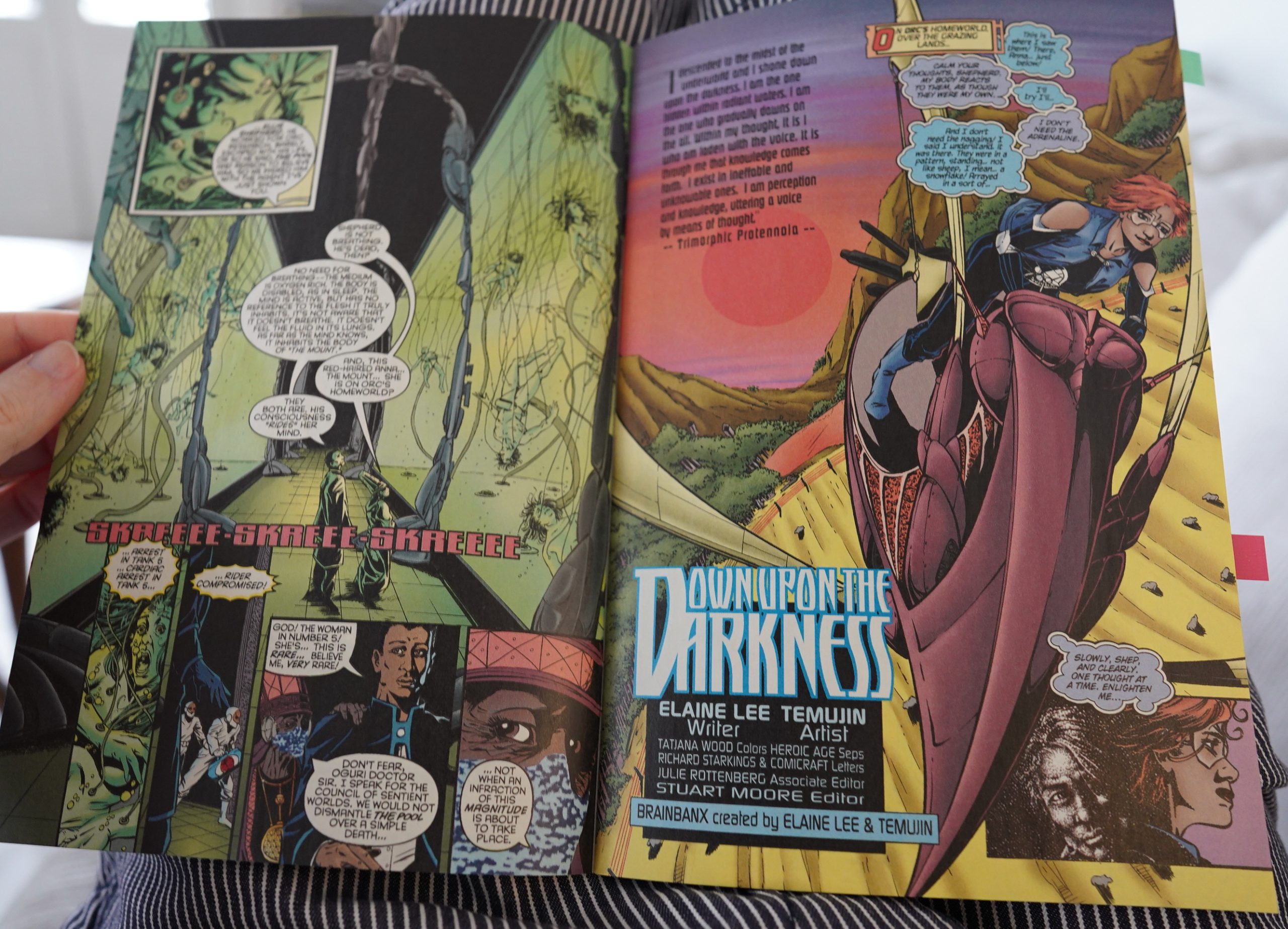 Uhm… it's partly out of focus? Hm… perhaps I should up the f? Anyway, as you may not be able to tell from the slightly blurry speech bubbles, this is… a lot! We start of with an infodump about a guy telepathically existing in that red-headed woman's brain, because she's a secret agent and… he's her… er… uhm… inside guy? So I guess that's, like, er, better than him just talking via a walkie-talkie or something? Probably?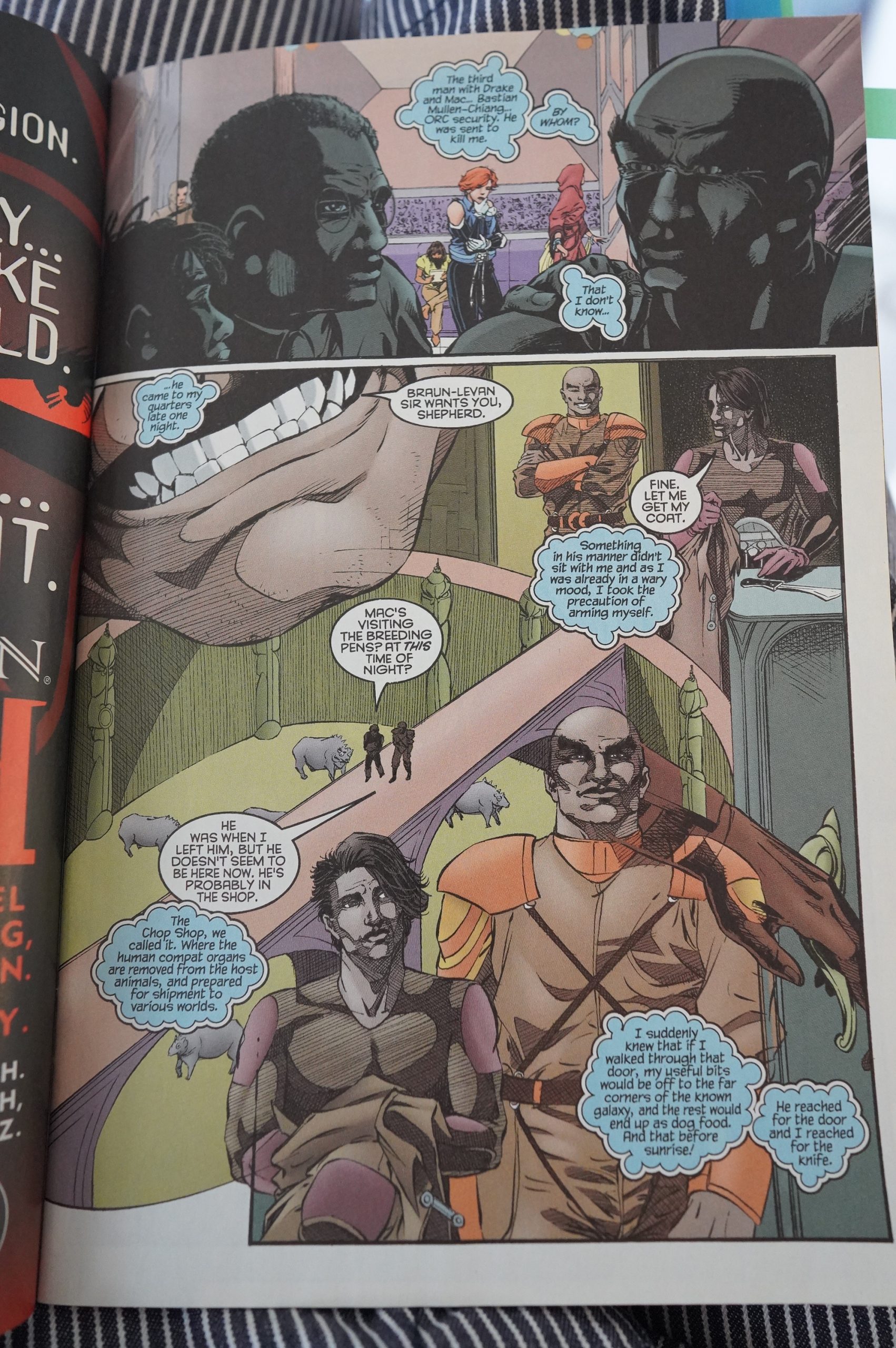 Temujin's artwork is quite something. I'm not sure whether it's totally out of control or pure genius. These layouts are so out there. I mean — that guy's chin up there? That shouldn't work, and yet it totally does when reading this page. (We're being dropped into a flashback, or perhaps really the-guy-in-her-head showing her what had happened… So the dreamy loss of orientation is a part of the story.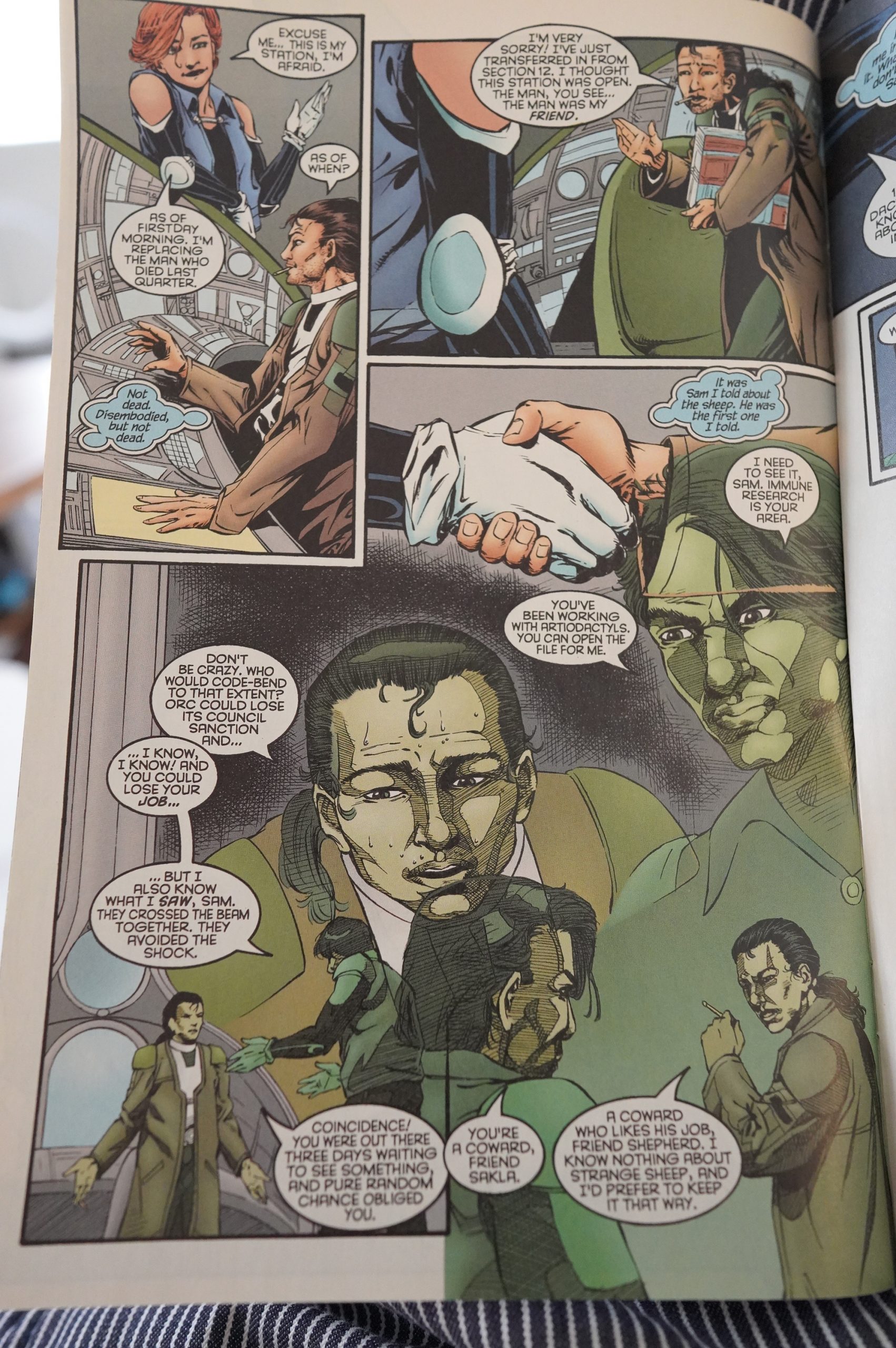 Here's another example — she's talking to that (possibly) skeezy guy, and being shown a previous encounter more or less at the same time. I love it! It's such a condensed way of showing the reader all they need to know without hitting them over the head with it.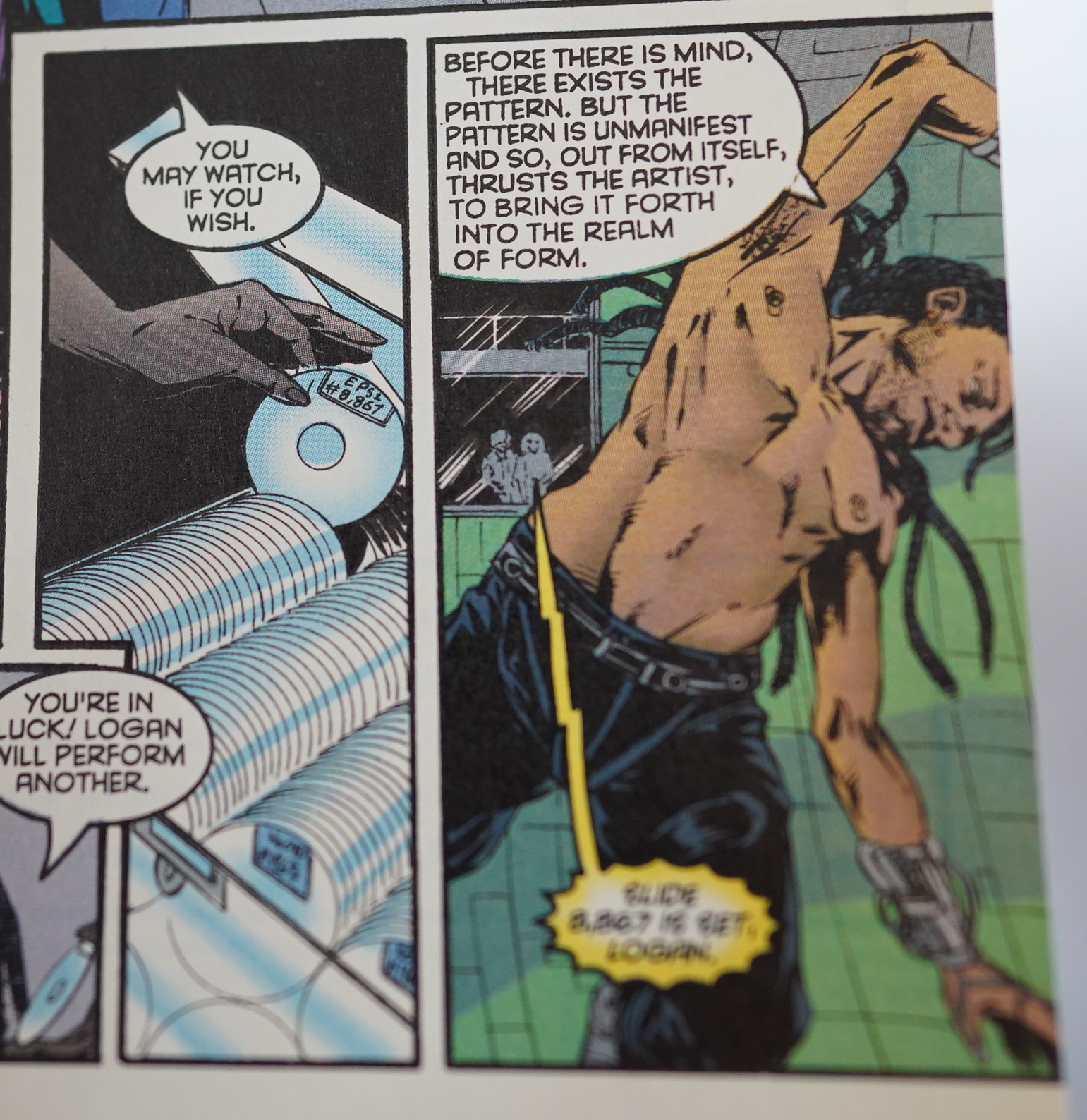 It's also a bit exhausting, especially since there's some characters that are insane, and some that are telepathic…
Oh, I should definitely decrease the aperture size and just rely on the stabiliser in this camera, I think. Sorree!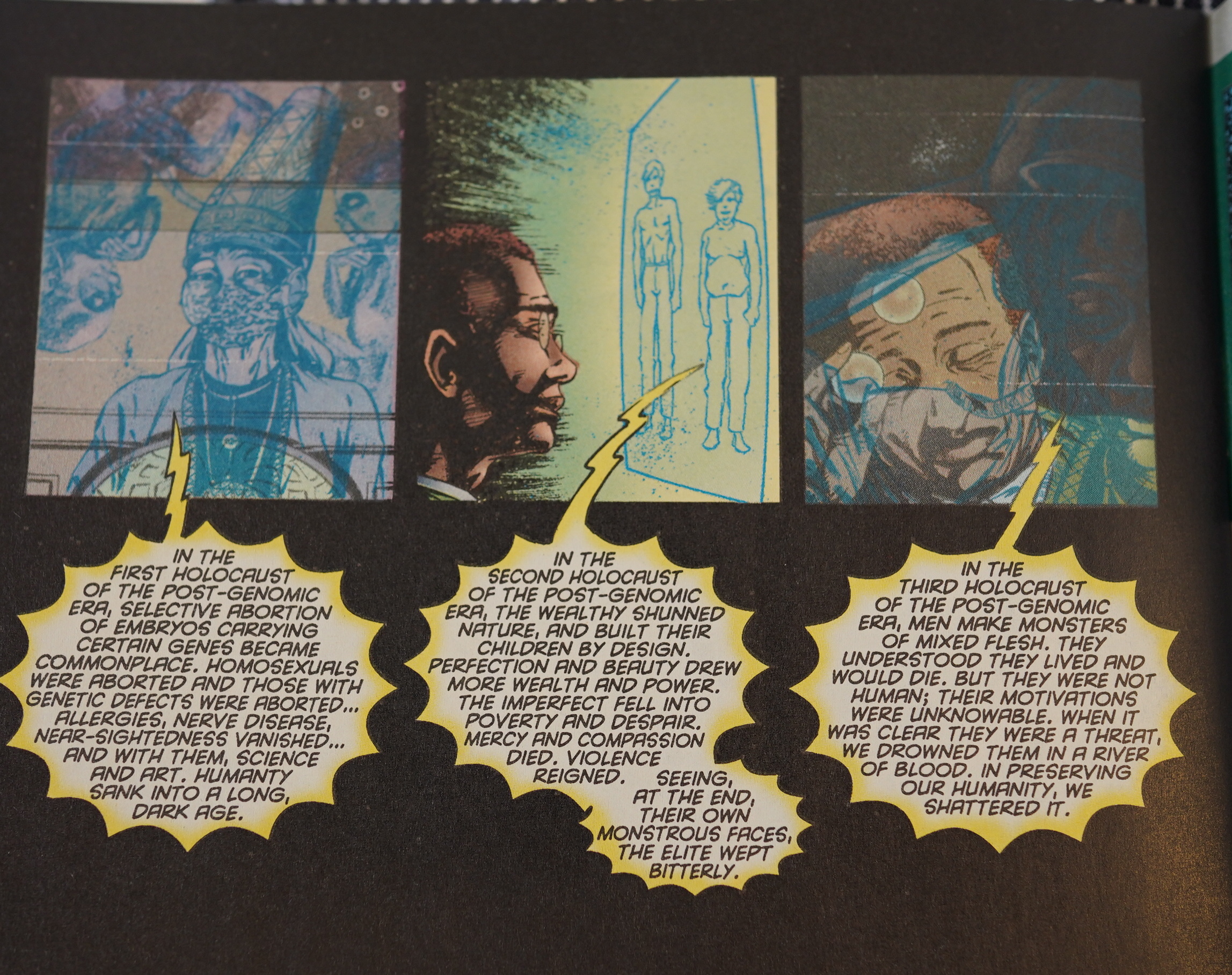 Oh, what's the story about? I… don't even want to try to start explaining that much, because it's such a rich world, and while it may seem from the above that we get a lot of information dumped on us, it's always interesting. Basically, it's about a secret agent that's investigating a genetic research laboratory. Well, that sounds straightforward enough.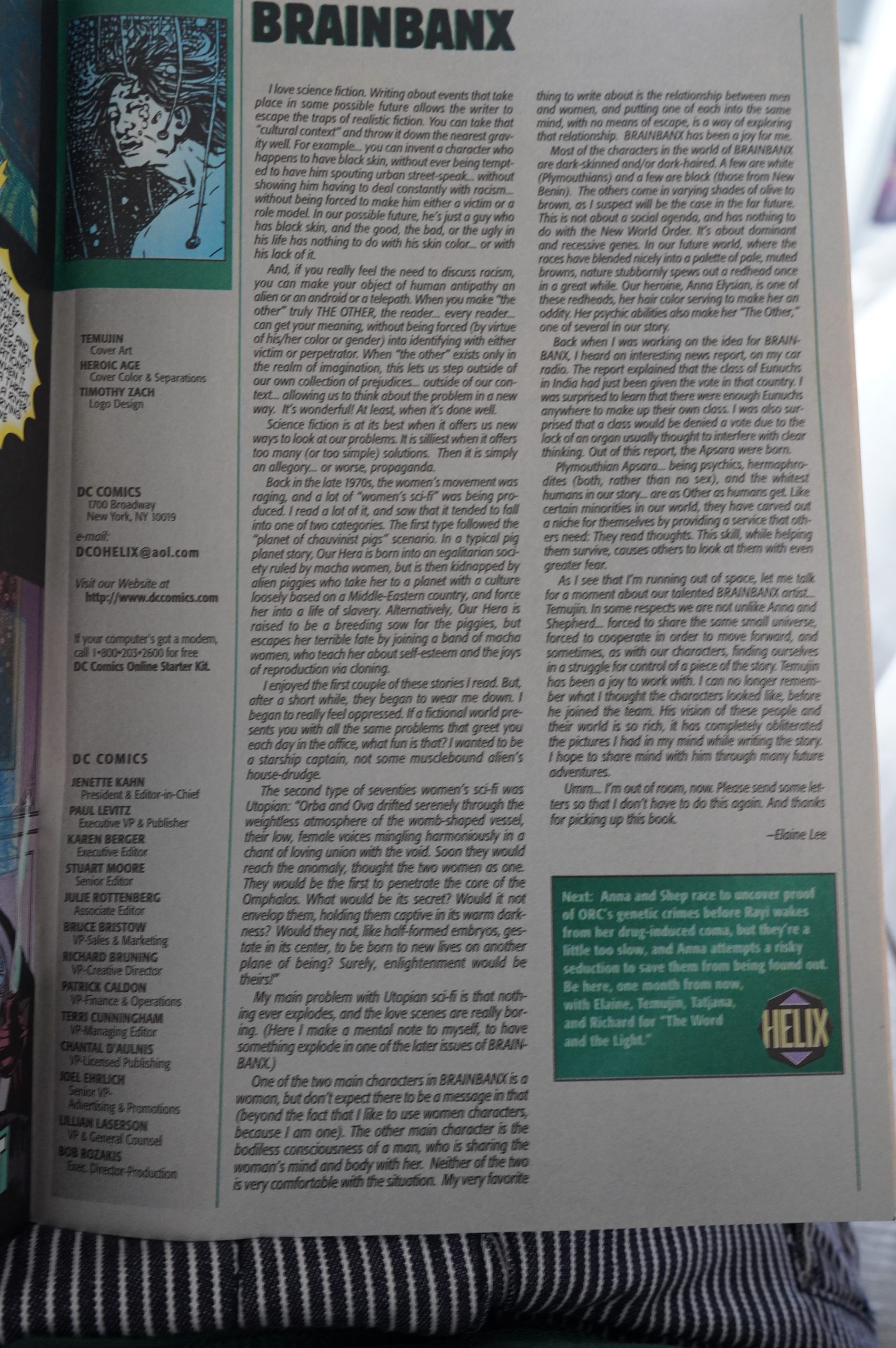 In Starstruck, Lee has these extensive (and very entertaining) text pieces, so I was wondering whether she'd do the same here. But this is all we get, where she talks, in a very straightforward manner, and the world of BrainBanx. Laid out like that, it does remove some of the mystery, I think.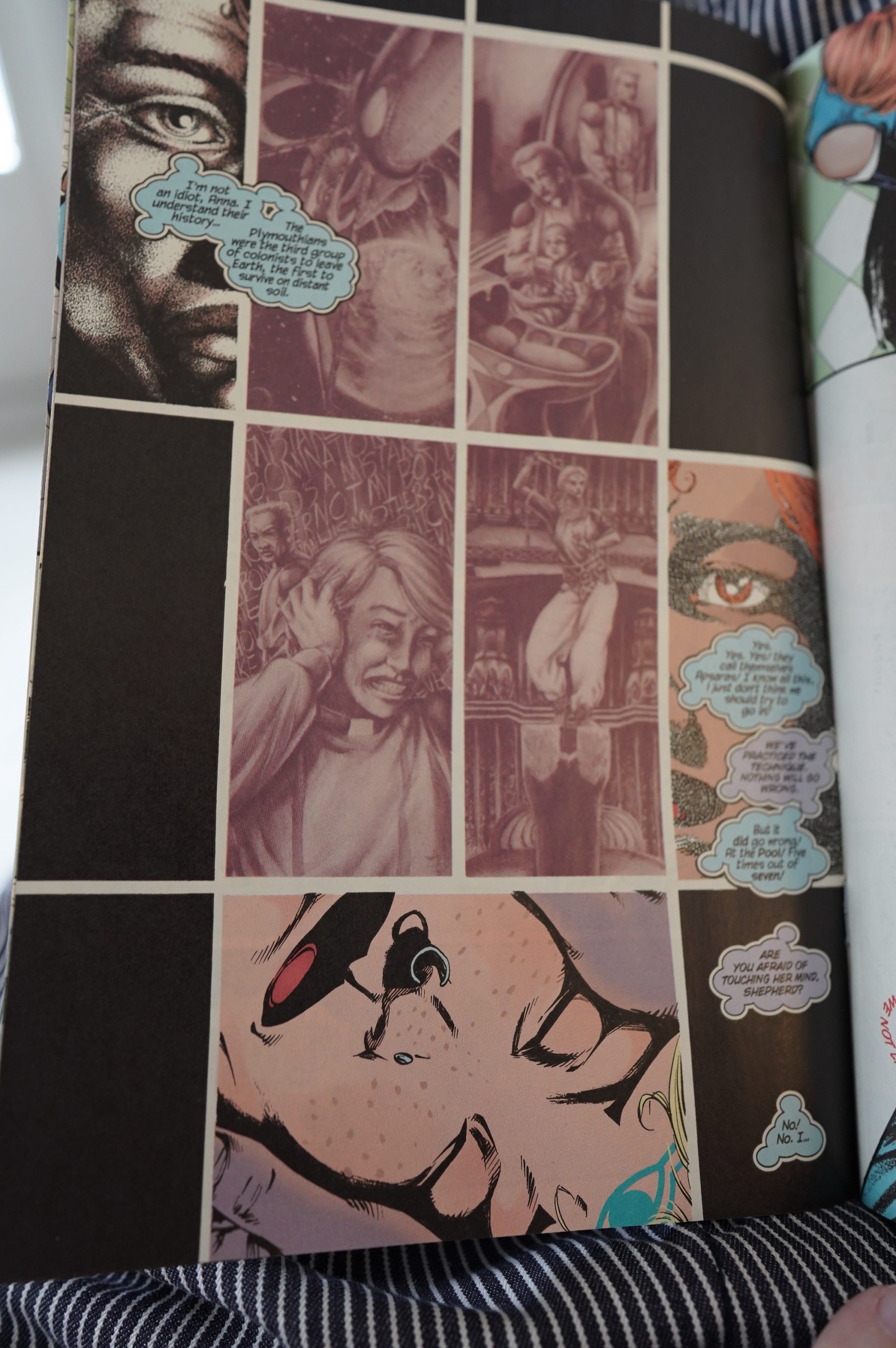 Temujin experiments with a bunch of different rendering styles, which makes perfect sense for a book like this.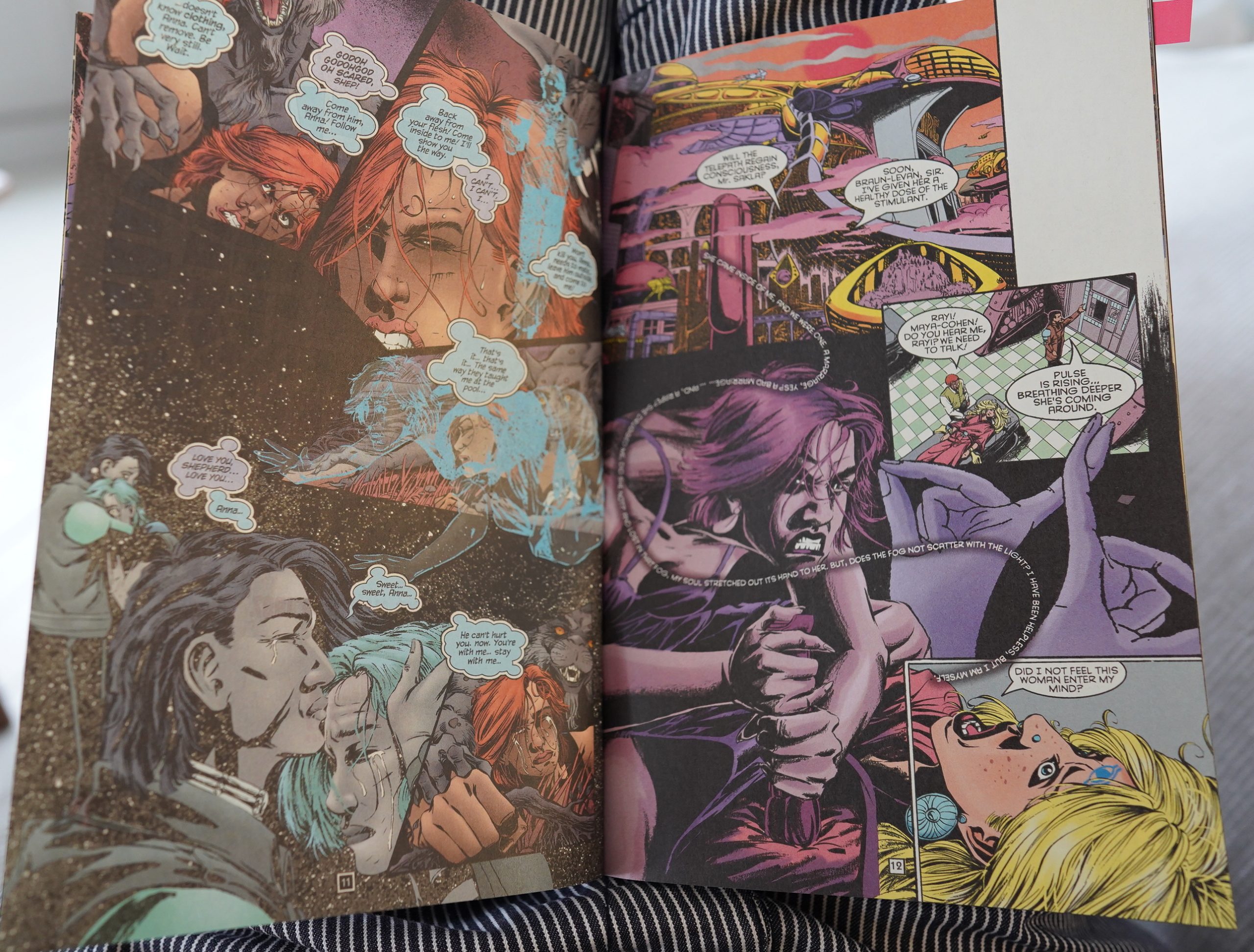 Hm. Well, on this two-page spread, on the left we have our heroine being (semi-)raped by a cat-man. Like, every heroine has to undergo sexual assault? It's a cliché I didn't expect from this book. But um the right-hand page we have our heroine invading the mind of that blonde woman, which is also a violation (read the snakey text for an explanation).
The juxtaposition is very knowing.

Lee explains that some speech balloons were left off a page, and says that there's a lot of overlays. And, yeah, it does look like a very complex job — so many colour holds (drawings in colour only) that sometimes intersect with the black lines and sometimes now.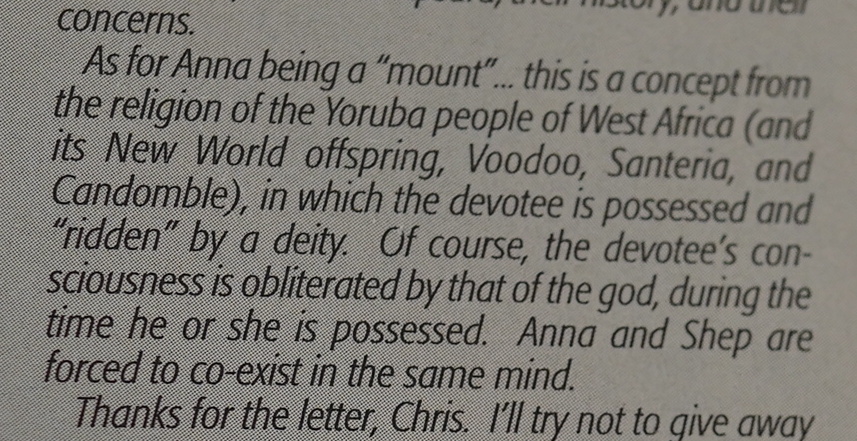 Oh, right, Lee had researched voodoo for that Ragman series for DC. Never waste research.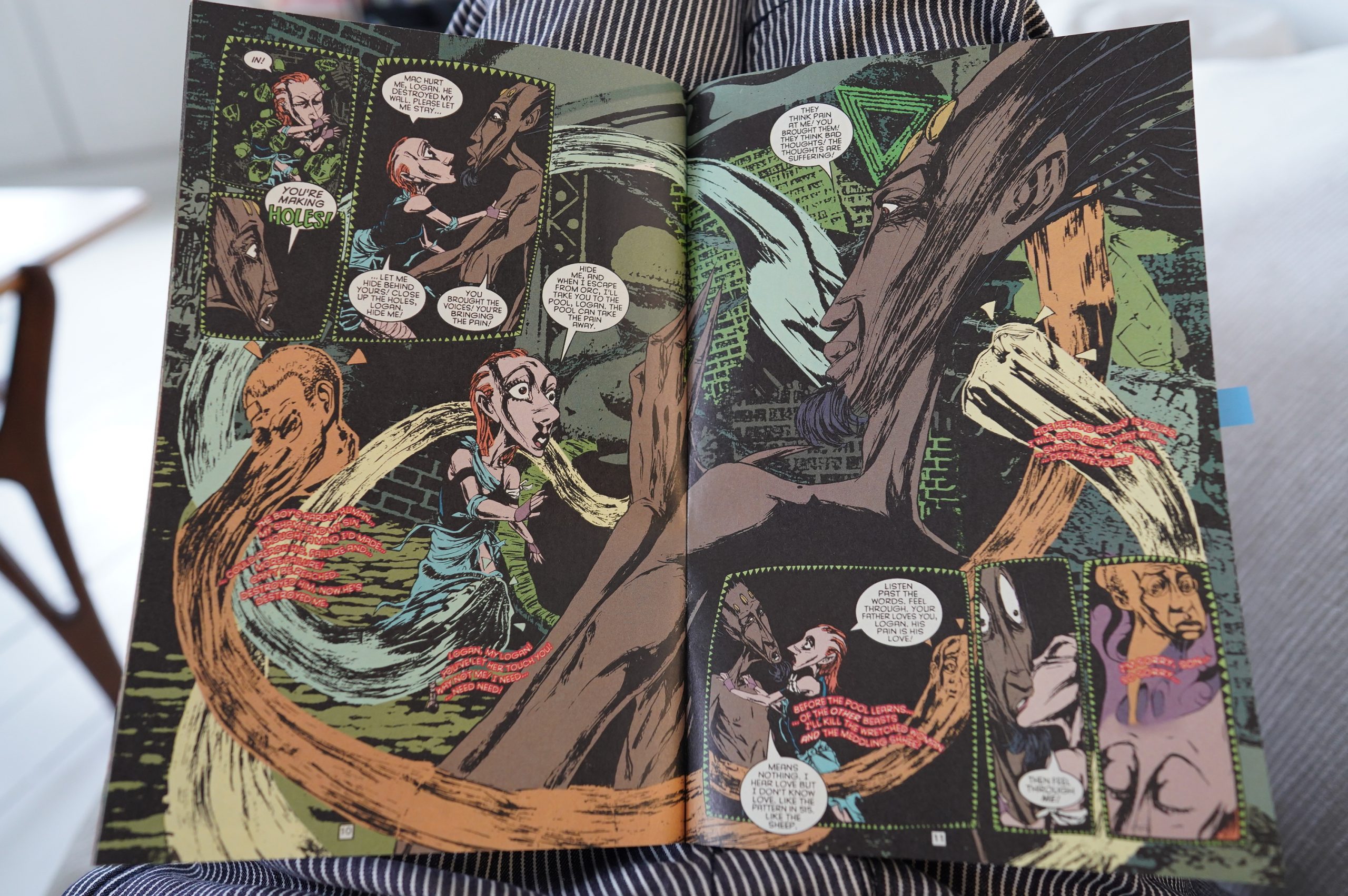 I love the style Temujin uses inside that guy's head.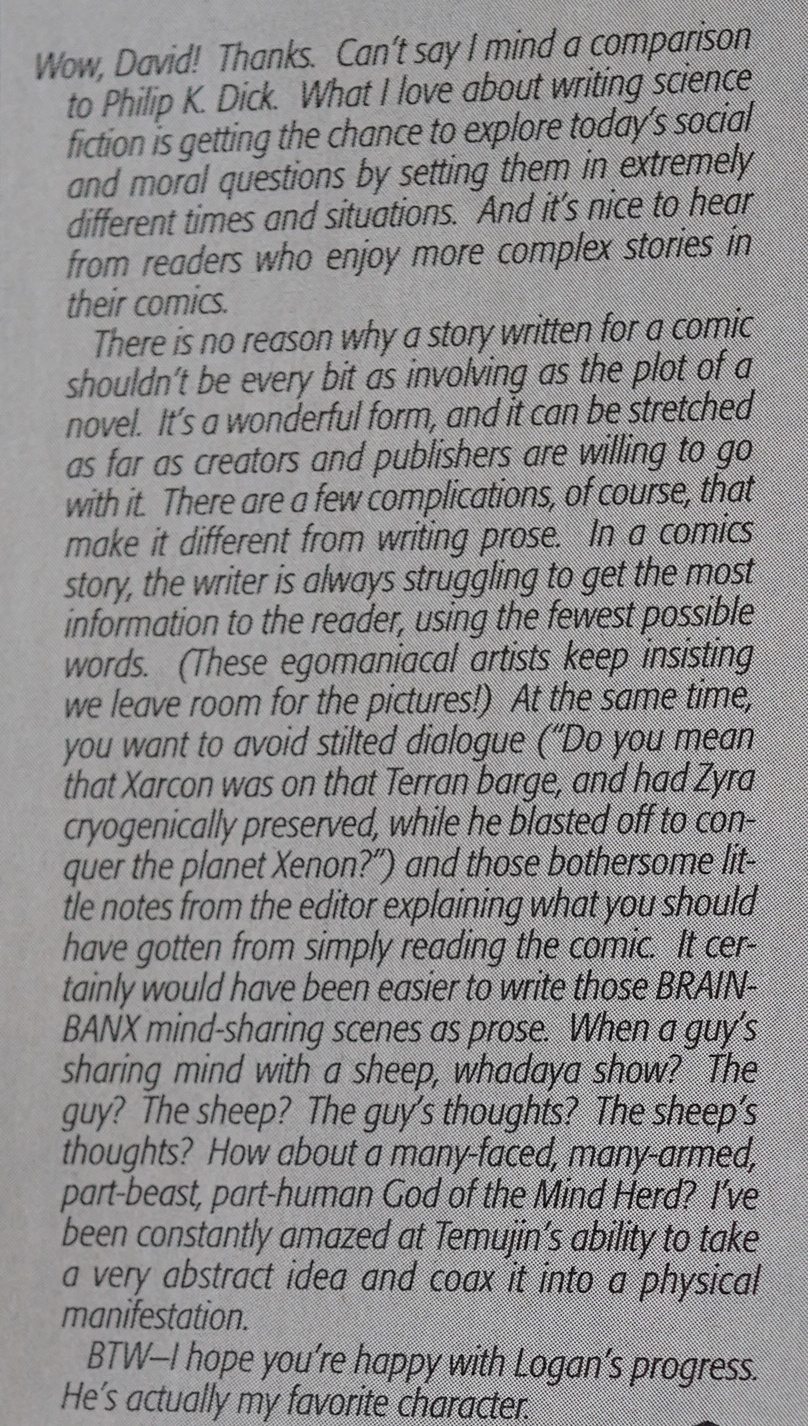 Lee explains that she doesn't like "as you know, Bob" dialogue.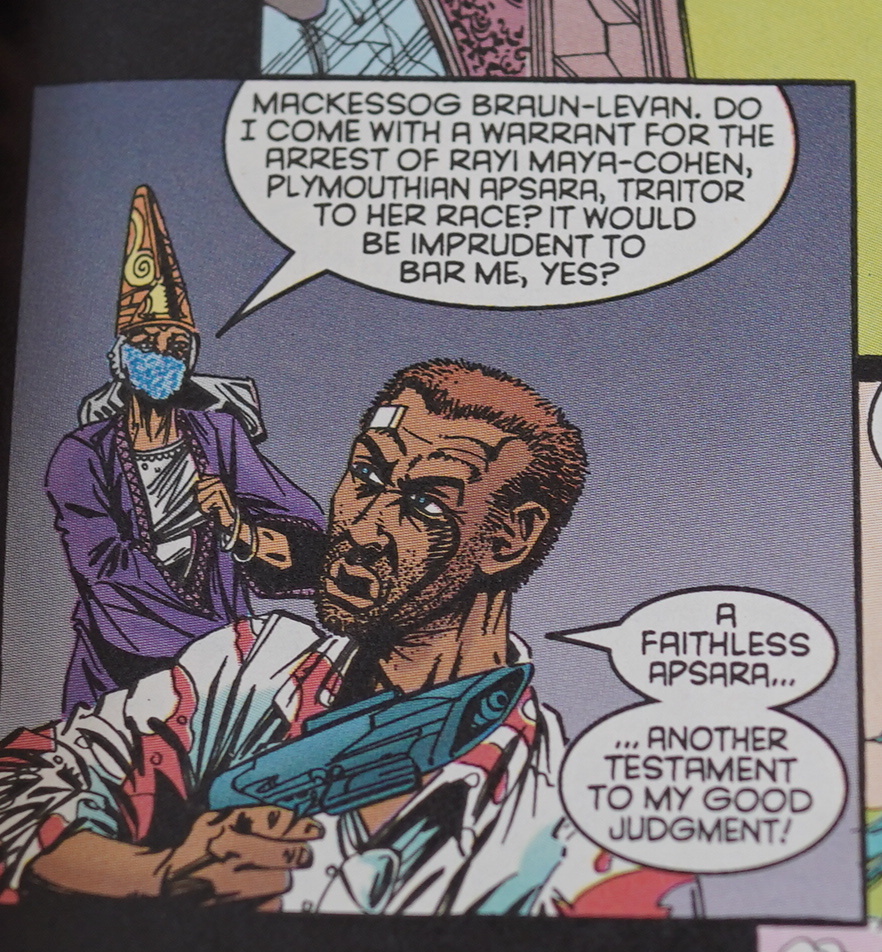 Mark Pennington does the inks on (most of the pages of) the final issue. It's not a good fit — he makes the faces look very odd and amateurish.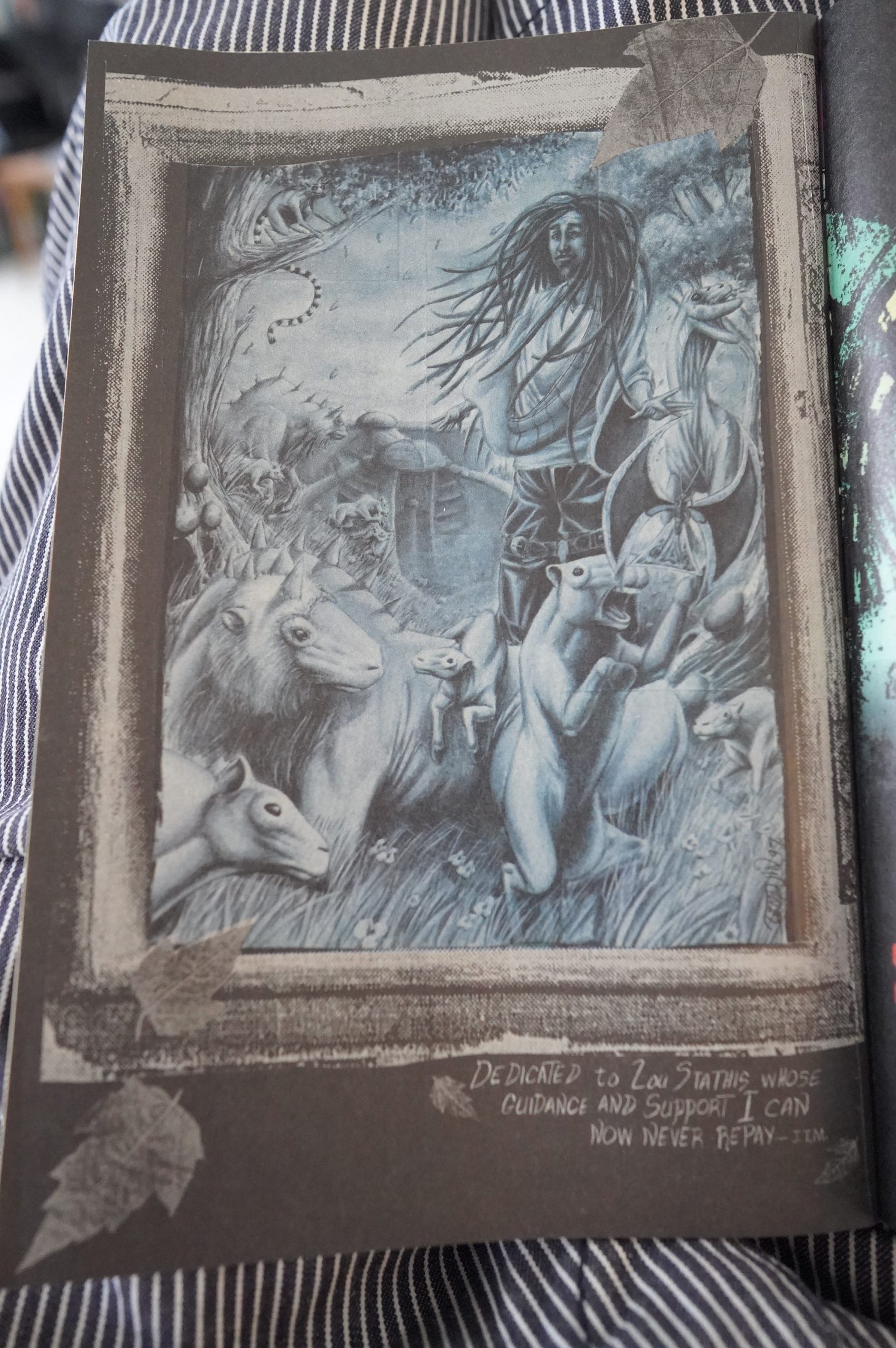 And we end with a drawing dedicated to Lou Stathis, probably most known for editing Heavy Metal in the early 80s, I think? Oh, right, he'd just died, and he worked for DC at the time.
Well, anyway, I really loved reading this book. There's such a lot going on — a bewildering number of characters and different intrigues, but somehow they're all distinct. The rendering helps a lot. The only two people I (sometimes) had difficulty with keeping apart were the two people in the agent's head, which seems oddly appropriate.
It's a slightly exhausting read, but hugely entertaining and quite interesting.
The series has, unfortunately, never been reprinted or collected. But you can pick up the issues very, very cheaply:
Which I guess means that it wasn't a very popular series. I'm not able to find a single review of the series on teh internets either.
Now that's unpopular.