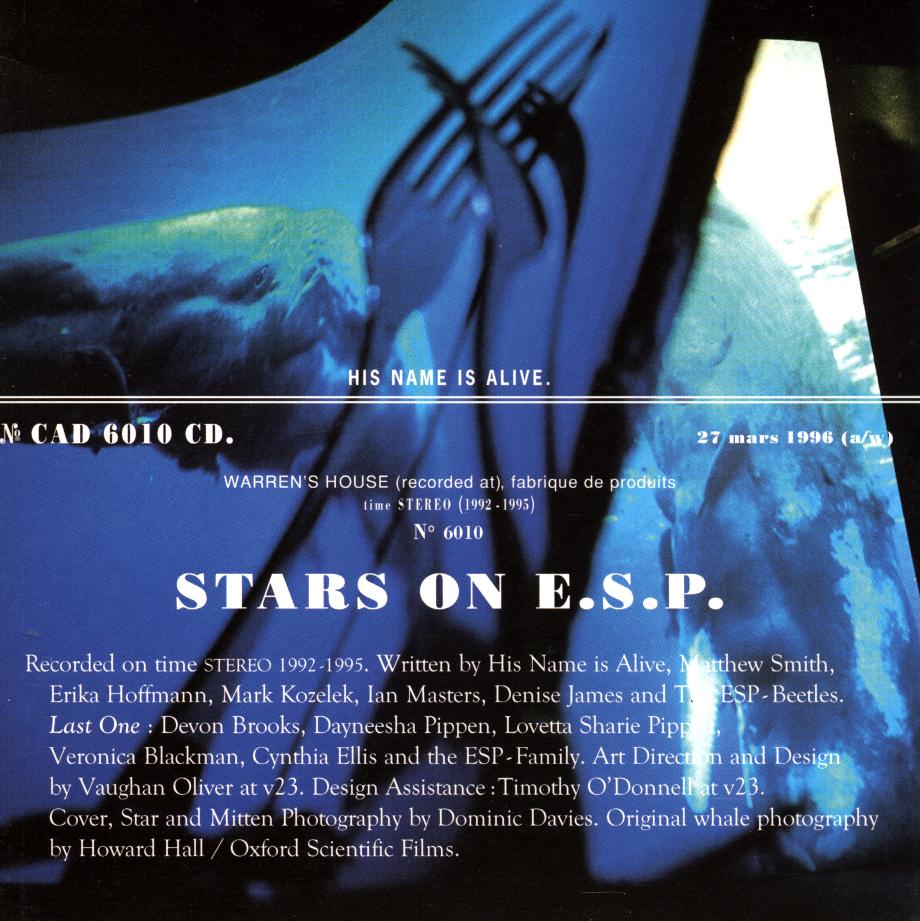 Listen to 4AD 1996 on Spotify.
Let's focus on the positives: Dead Can Dance returned with Spiritchaser, and that's a quite good album. Throwing Muses continued the streak begun with University and released another excellent album. His Name Is Alive went in a new direction: They discovered the Beach Boys. Heidi Berry released her final, and her most fabulous album, Miracle. And Lisa Germano released another really spiffy album.
So that's all pretty good, right?
But the year is pretty much dominated by 4AD trying to make Lush the great new Britpop sensation, and I think they were successful? It did mean that they shed everything that was great about them, and I don't think there's anything from their six (!) EPs or the album they released this year that I enjoyed.
The other "big thing" 4AD tried to make happen was Icelanders Gus Gus, which wasn't as successful commercially, I think. I kinda liked the music at the time, but I haven't listened to any of afterwards. I seem to recall it being very mid-90s?
And then there's the Paladins album, which I think a lot of people interpreted as a practical joke upon the listeners.
I'm still not sure that's not correct, but I don't want to hazard listening to the album again to make sure. You may feel a certain compulsion to start skipping when you get to that part of the playlist.
BAD CD6001
Lush — Single Girl

Single Girl, Tinkerbell, Outside World, Cul de Sac

BAD D CD6001
Lush — Single Girl

Single Girl, Pudding, Demystification, Shut Up

BAD CD6002
Lush — Ladykillers

Ladykillers, Matador, Ex, Dear Me (Miki's 8-track home demo)

BAD D CD6002
Lush — Ladykillers

Ladykillers, Heavenly, Carmen, Plums and Oranges (Neil Simons)

BAD 6003 CD
Scheer — Shéa

Shéa, My World, Demon (acoustic), Nemesis

CAD6004
Lush — Lovelife

Ladykillers, Heavenly Nobodies, 500, I've Been Here Before, Single Girl, Ciao!, Tralala, Last Night (Steve Orborne), Runaway, The Childcatcher (rerecorded), Olympia

AD6005
Scheer — Wish You Were Dead

Wish You Were Dead, Hanging on the Telephone

CAD6006
Scheer — Infliction

Shéa, Howling Boy, Wish You Were Dead, In Your Head, Demon, Baby Sized, Sad Loved Girl, I Started Something, Screaming, Goodbye

BAD CD6007
His Name Is Alive — Universal Frequencies

Universal Frequencies, Up Your Legs Forever, Summer of E. S. P., Your Word Against Mine, Untitled

BAD CD6016
Throwing Muses — Shark

Shark, Tar Moochers (rerecorded), Serene Swing (rerecorded), Limbobo (rerecorded)

DAD6008
Dead Can Dance — Spiritchaser

Nierika, Song of the Stars, Indus, Song of the Disposessed, Dedicace Outo, The Snake and the Moon, Song of the Nile, Devorzhum

BAD6009
Lush — 500 (Shake Baby Shake)

500 (Shake Baby Shake) (Mike Drake), I Have The Moon, Piledriver, Olympia (acoustic version)

BAD D CD6009
Lush — 500 (Shake Baby Shake)

500 (Shake Baby Shake), I'd Like to Walk Around in Your Mind, Kiss Chase (acoustic version), Last Night (hexadeciman dub mix)

CAD6010
His Name Is Alive — Stars On ESP

Dub Love Letter, This World is not My Home, Bad Luck Girl, What Are You Wearing Tomorrow, The Bees, What Else Is New List, Wall of Speed, Universal Frequencies, The Sand That Holds the Lakes in Place, I Can't Live in this World Anymore, Answer to Rainbow at Midnight, Famous Goodbye King, Across The Street, Movie, Last One

CAD6011
Heidi Berry — Miracle

The Mountain, Time, Holy Grail, Darkness Darkness, Miracle, The Californian, Queen, Only Human, Northern Country

CAD6012
Lisa Germano — Excerpts from the Love Circus

Baby on the Plane, a Beautiful Schizophrenic, "where's Miamo-Tutti?" by Dorothy, Bruises, I Love a Snot, Forget it it's a Mystery, Victoria's Secret, "just a bad dream by Miamo-Tutti", Small Heads, We Suck, Lovesick, Singing to the Birds, Messages from Sophia, "there's more kitties in the world than just Miamo-Tutti"
by Lisa and Dorothy, Big Big World

BAD CD6013
Gus Gus — Polyesterday

Polyester Day*, Cold Breath '79 (Crystalized)*, Polyesterday (Late)*, Polydistortion*

CAD6014
Throwing Muses — Limbo

Buzz, Ruthie's Knocking, Freeloader, The Field, Limbo, Tar Kissers, Tango, Serene, Mr. Bones, Night Driving, Cowbirds, Shark, White Bikini Sand

CAD6015
The Paladins — Million Mile Club
TAD6017
Throwing Muses — Ruthie's Knocking
BAD CD6018
Tanya Donelly — Sliding & Diving

Bum, Restless, Human, Swoon

BAD CD6019
Lisa Germano — Small Heads

Small Heads, Fun Fun For Everyone (Acoustic), Tom, Dick And Harry, Messages From Sophia (Instrumental)
This post is part of the chronological look at all 4AD releases, year by year.
*) Missing from Spotify.