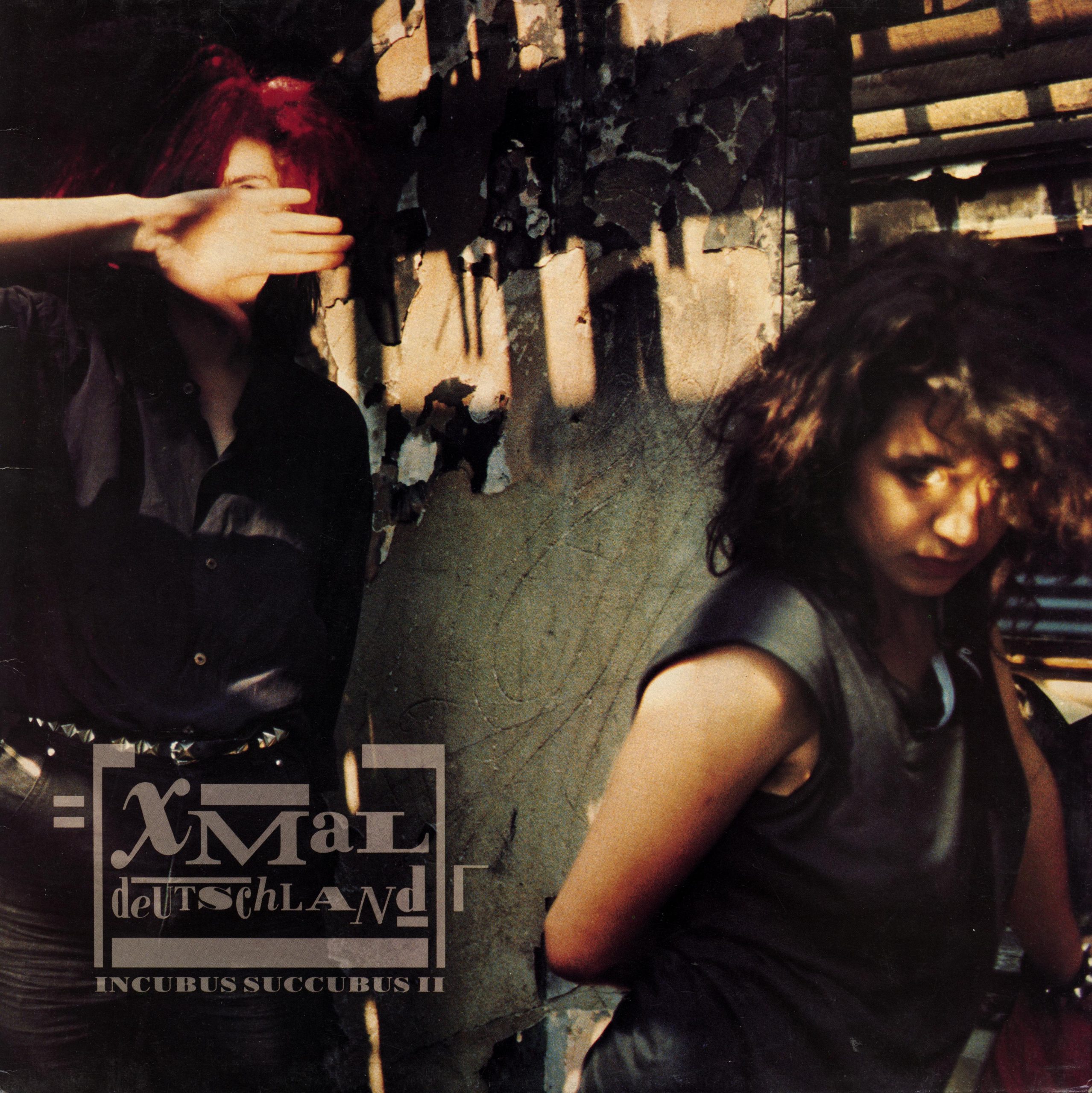 1983 is the watershed year for 4AD, when they transition fully from a post-punk label into something much stranger and something that people will still obsess about decades later.
Most important commercially (and musically, for that matter) are the Cocteau Twins releases. The Peppermint Pig single was a major step away from their Garlands sound, and with the Head Over Heels album and the Sunburst and Snowblind EP later that year, everybody started paying attention. Like seriously.
Perhaps symbolically, 4AD releases two five song compilation EPs, saying a final goodbye to Bauhaus and The Birthday Party (and everybody involved with those bands), as well as a five song compilation EP from Modern English, who would leave them the next year.
And look at those covers. Vaughan Oliver/23 Envelope is getting in full swing with those gorgeous typographical covers to the Xmal Deutschland releases, and those vague Cocteau Twins covers, and, erm, the "horses fucking" Colourbox EP, which is, of course, everybody's favourite.
Most puzzling release of the year: The second version of Breakdown/Tarantula. I wonder what the story behind that was… were Colourbox just really dissatisfied with the first version which was released half a year earlier?
[Edit: I've been notified that the first four tracks (by The Birthday Party) aren't available in some regions. Rights issues? (Some of the tracks on the full version are licensed from Mute Records.) Blocked because of the Swastikas on the cover artwork? I don't know.]
BAD301
The Birthday Party — The Bad Seed

Sonnys Burning, Wild World, Fears Of The Gun, Deep In The Woods

CAD302
Xmal Deutschland — Fetisch

Qual, Geheimnis, Young Man, In Der Nacht, Orient, Hand In Hand, Kaempfen, Danthem, Boomerang, Stummes Kind

AD303
Cocteau Twins — Peppermint Pig

Peppermint Pig, Laughlines, Hazel

AD304
Colourbox — Breakdown

Breakdown, Tarantula

BAD305
Xmal Deutschland — Qual

Qual, Zeit, Sehnsucht

BAD306
Modern English — Gathering Dust

Smiles And Laughter, Mesh & Lace, Gathering Dust, Swans On Glass, Home

BAD307
The Birthday Party — The Friend Catcher

The Friend Catcher, Release The Bats, Blast Off, Mr. Clarinet, Happy Birthday

CAD308
The Wolfgang Press — The Burden Of Mules

Lisa (The Passion), Prostitute I, The Burden Of Mules, Compleate And Utter, Prostitute II, Slow As A Child, Journalists, Give It Back, On The Hill

AD309
Modern English — Someone's Calling

Someone's Calling, Life In The Gladhouse

BAD310
This Mortal Coil — Sixteen Days – Gathering Dust

Sixteen Days – Gathering Dust, Song to the Siren, Sixteen Days Reprise

AD311
Xmal Deutschland — Incubus Succubus II

Incubus Succubus II, Vito

BAD312
Bauhaus — 4.A.D

Dark Enties, Untitled, Terror Couple Kill Colonel, Scopes, Rosegarden Funeral of Sores

CAD313
Cocteau Twins — Head over Heels

When Mama Was Moth, Five Ten Fiftyfold, Sugar Hiccup, In Our Angelhood, Glass Candle Grenades, In The Gold Dust Rush, The Tinderbox (Of A Heart), Multifoiled, My Love Parmour, Musette And Drums

BAD314
Cocteau Twins — Sunburst And Snowblind

Sugar Hiccup, Flagstones, Hitherto, Because Of The Whirl-Jack

MAD315
Colourbox — Colourbox

Shotgun, Keep On Pushing, Nation, Justice
This post is part of the chronological look at all 4AD releases, year by year.