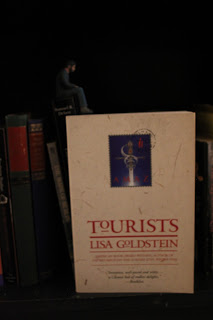 I do remember why I haven't read this one.  I thought it was a short story collection.
I hate short story collections.
No, that's not quite true.  I love short stories.  It's just that they take more energy than novels.  They're so compressed.  You have to start caring about these characters in a couple of pages, and then ten pages later, they're gone.  And then you start on the next one.
It's less than relaxing.
So I thought this was a short story collection for some reason or other, but it isn't.  Instead it's an sf/magic realism mash-up.  Sort of.
It's quite original and fun, but it didn't really make me want to run out and buy ten more books by Lisa Goldstein.  It's quite good.  Quite.  Kinda.  Yes.
Rating: Ambivalific!