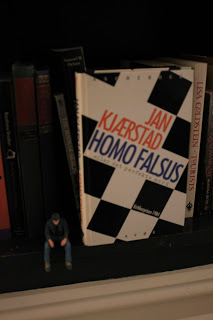 Do you remember back in the mid-80s where all books dealt with writers who were writing the book you were reading, or were they?
The post-modernity of this book is pretty staggering.  And perhaps not in a good way.  But that's just what virtually all literature was like in 1984.
This one has not just one author, but two, and one or both of them is writing the book.  So freaky!  Yowza!  Zzzzzz!
Oh, I guess it was fun at the time.
And reading the in-depth descriptions of Oslo in 1984 was amusing.
And look at that book design!  Zing!  1984!  Nothing says 1984 more than that book design.
Rating: Shruggerific