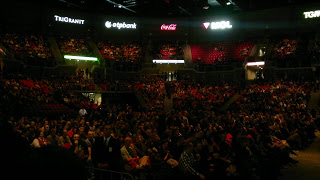 Who knew that Dead Can Dance had so many fans in Hungary that they had to play a sports arena?
I thought the sound was gonna be pretty iffy, but it was the last place in Europe that had tickets available.
The sound wasn't iffy — it was horrible.
As Concert Goer Guy would say: Worst.  Echo.  Ever.
It was still ridiculously beautiful.  It's Dead Can fucking Dance, innit?