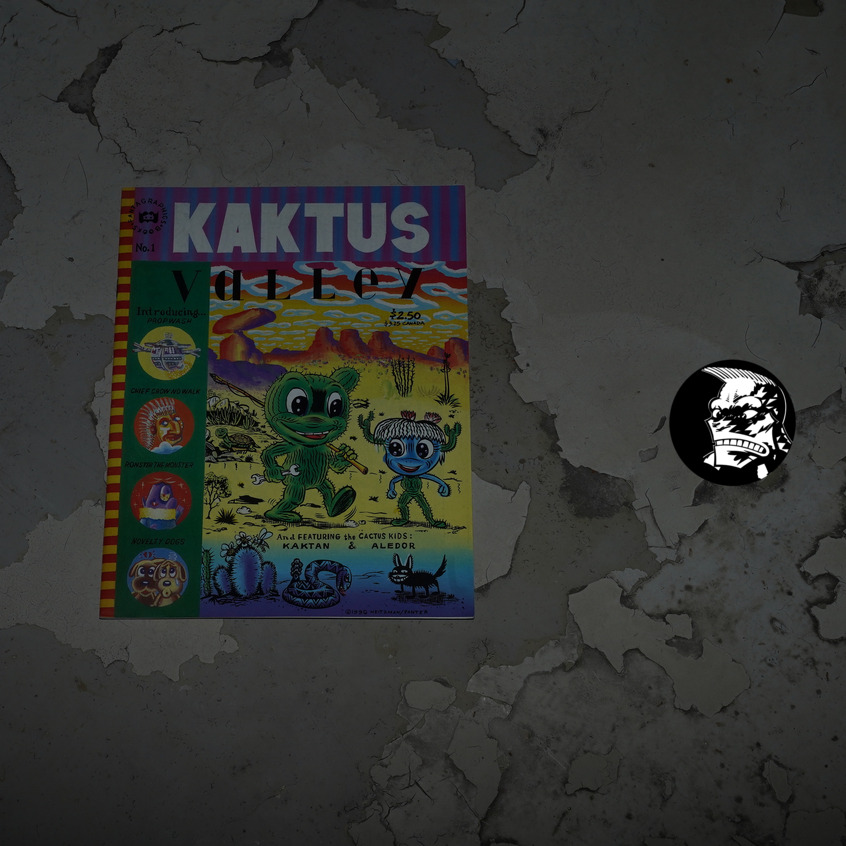 Kaktus Valley #1 by edited by Gary Panter and John Carlin (213x273mm)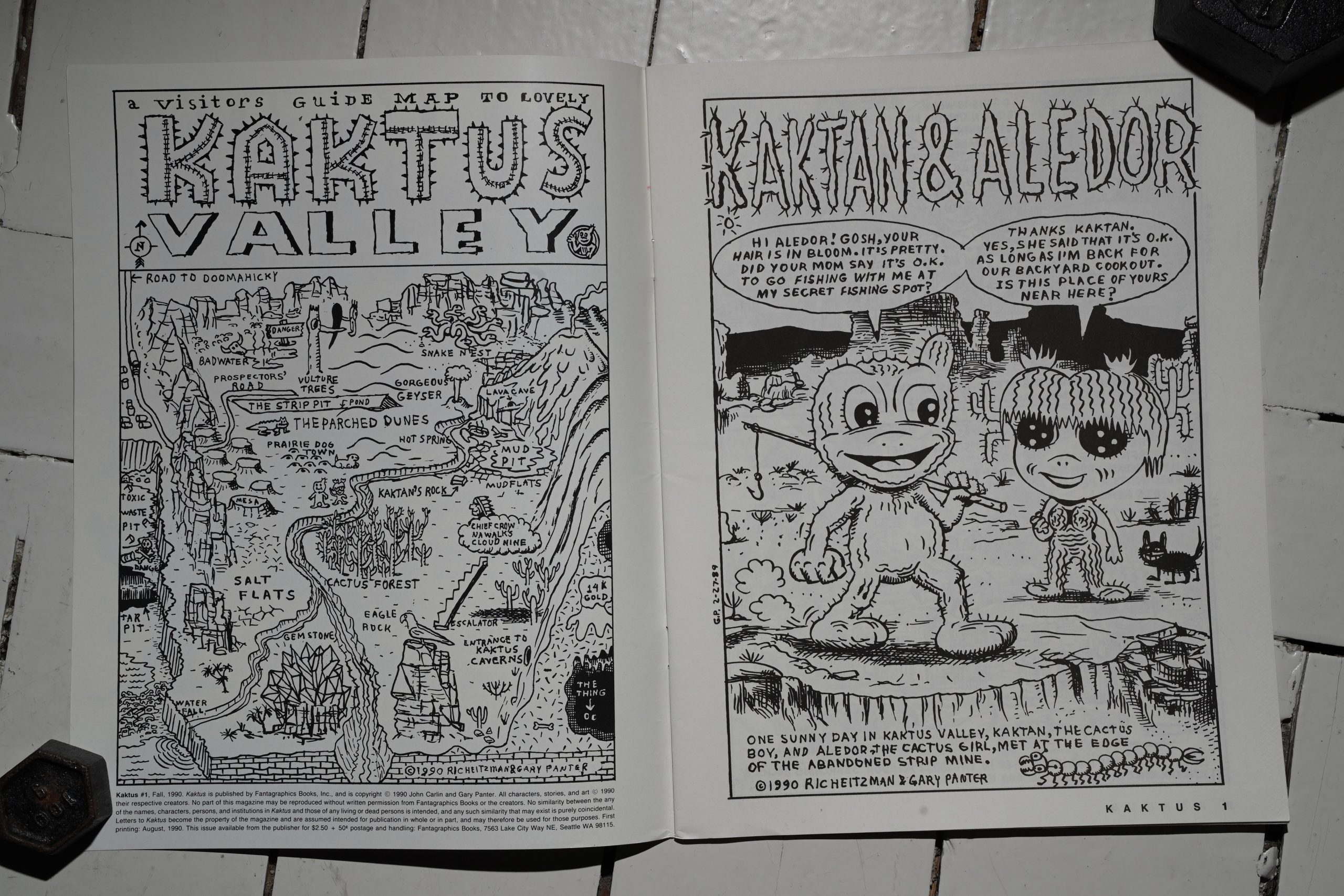 There was a period where alternative comics types were trying to do kids for comics, but… kinda half-hearted? Like… it'd seem really odd to imagine any kids actually reading these comics? This is one of those.
The main story (which is only ten pages long) is about these two characters, Kaktan & Aledor, who are cacti, I guess, and it's by Ric Heitzman and Gary Panter.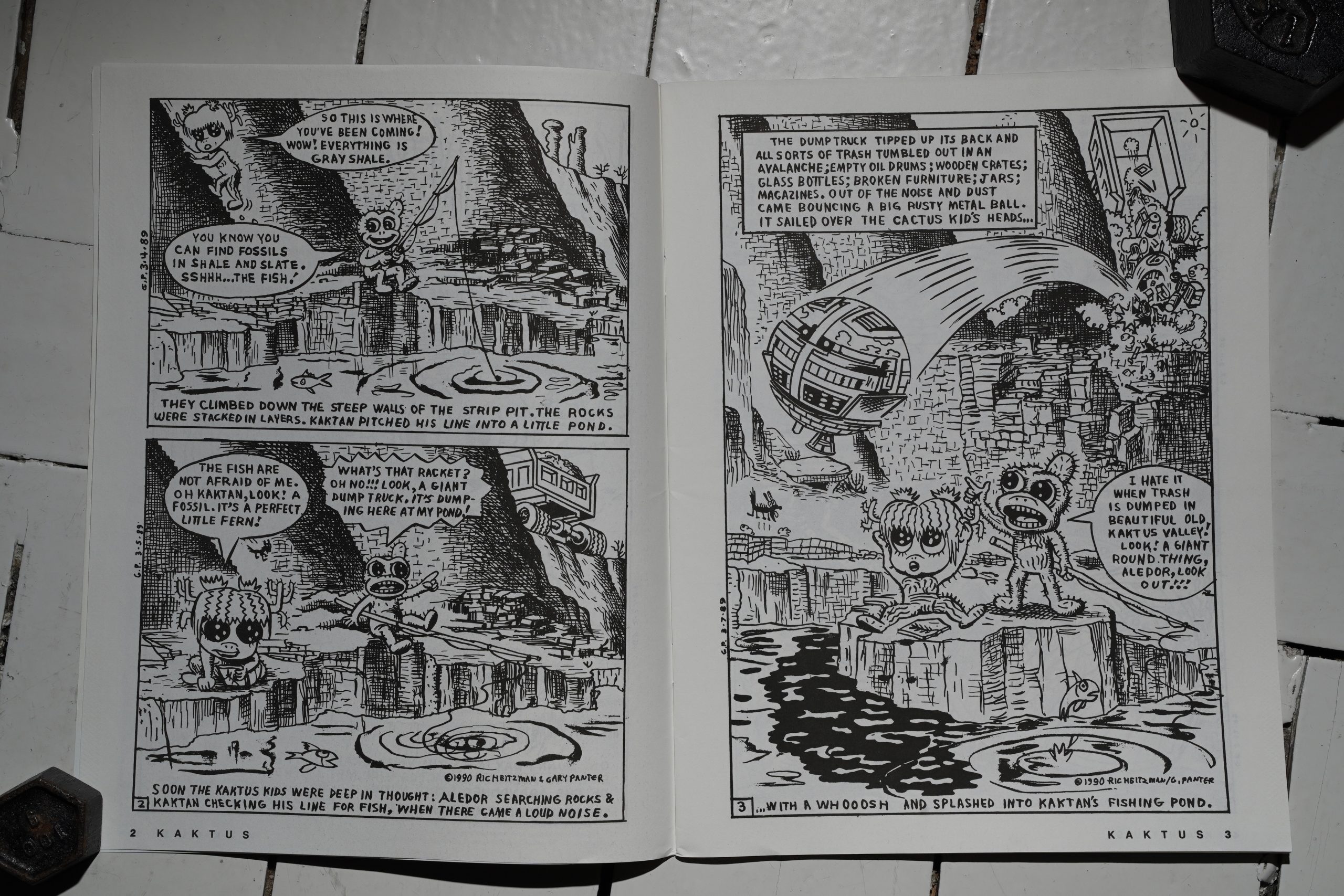 I wonder whether this was done as a pitch for a cartoon or something? You can almost see it working — they get a friend from outer space, and they can fight pollution or something.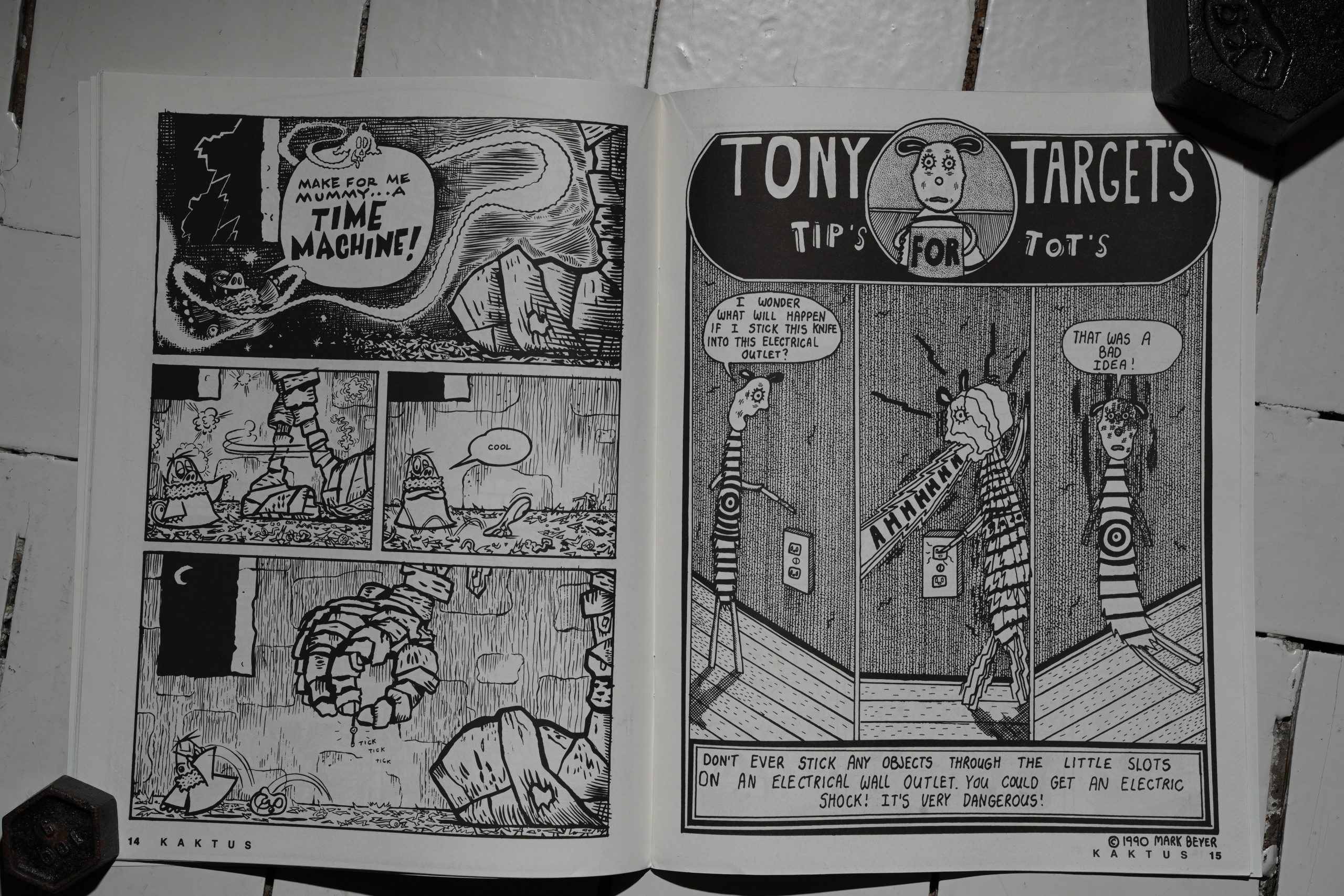 The rest of the book is totally random. Wayne White does a couple pages, and Mark Beyer does a very, very helpful and kid friendly page.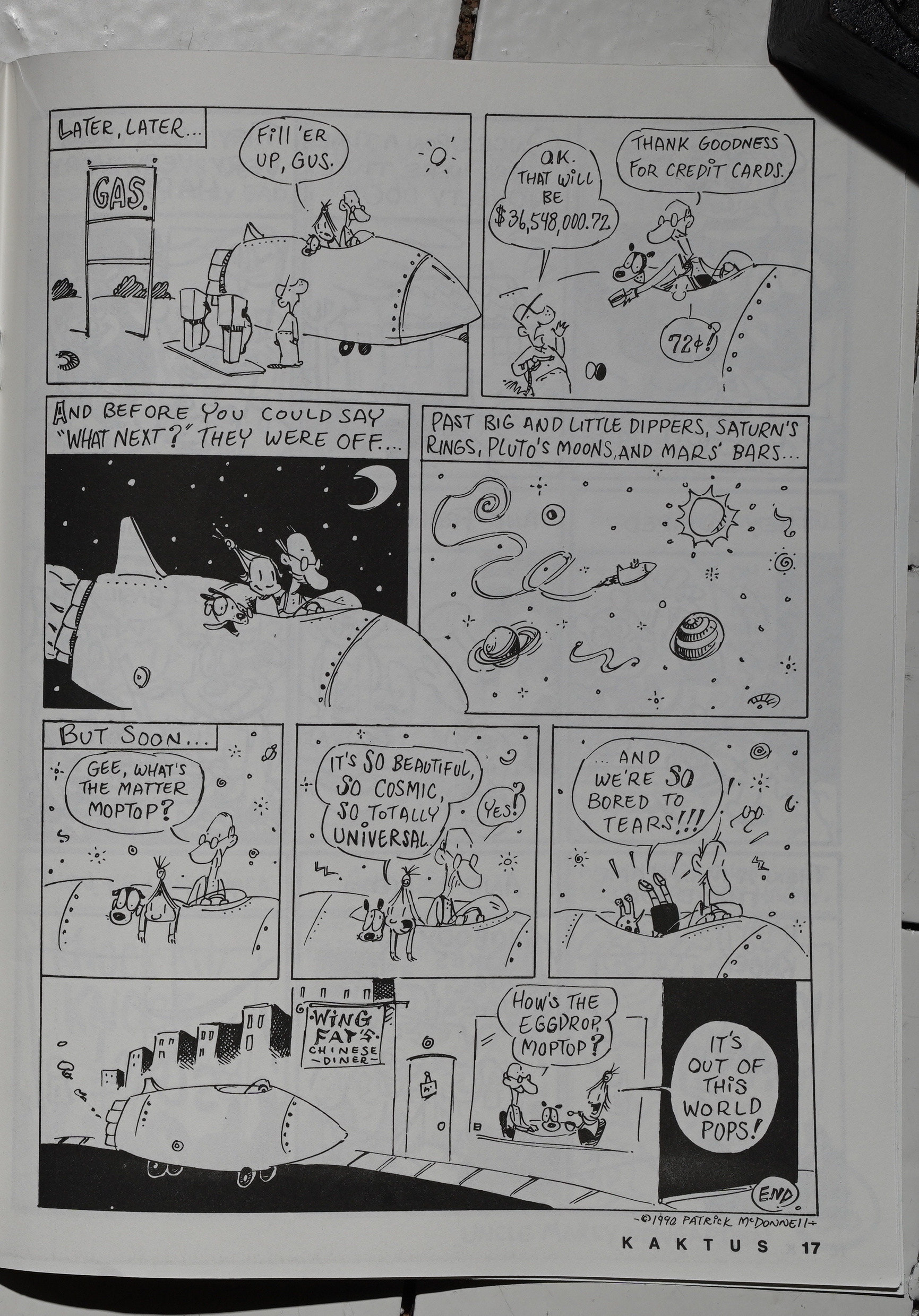 Patrick McDonnell does a couple of pretty pages…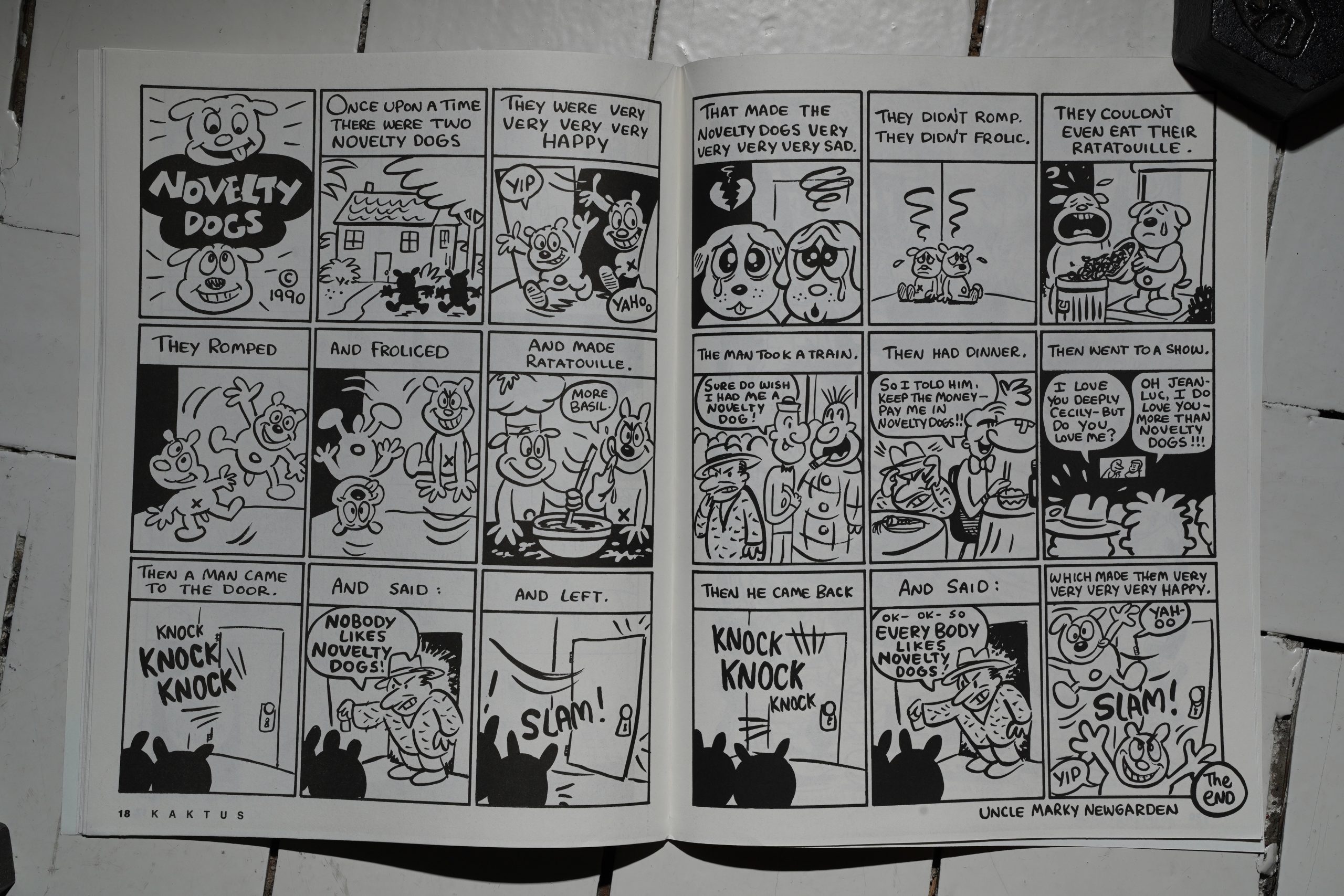 Mark Newgarden critiques the entire concept (I think)?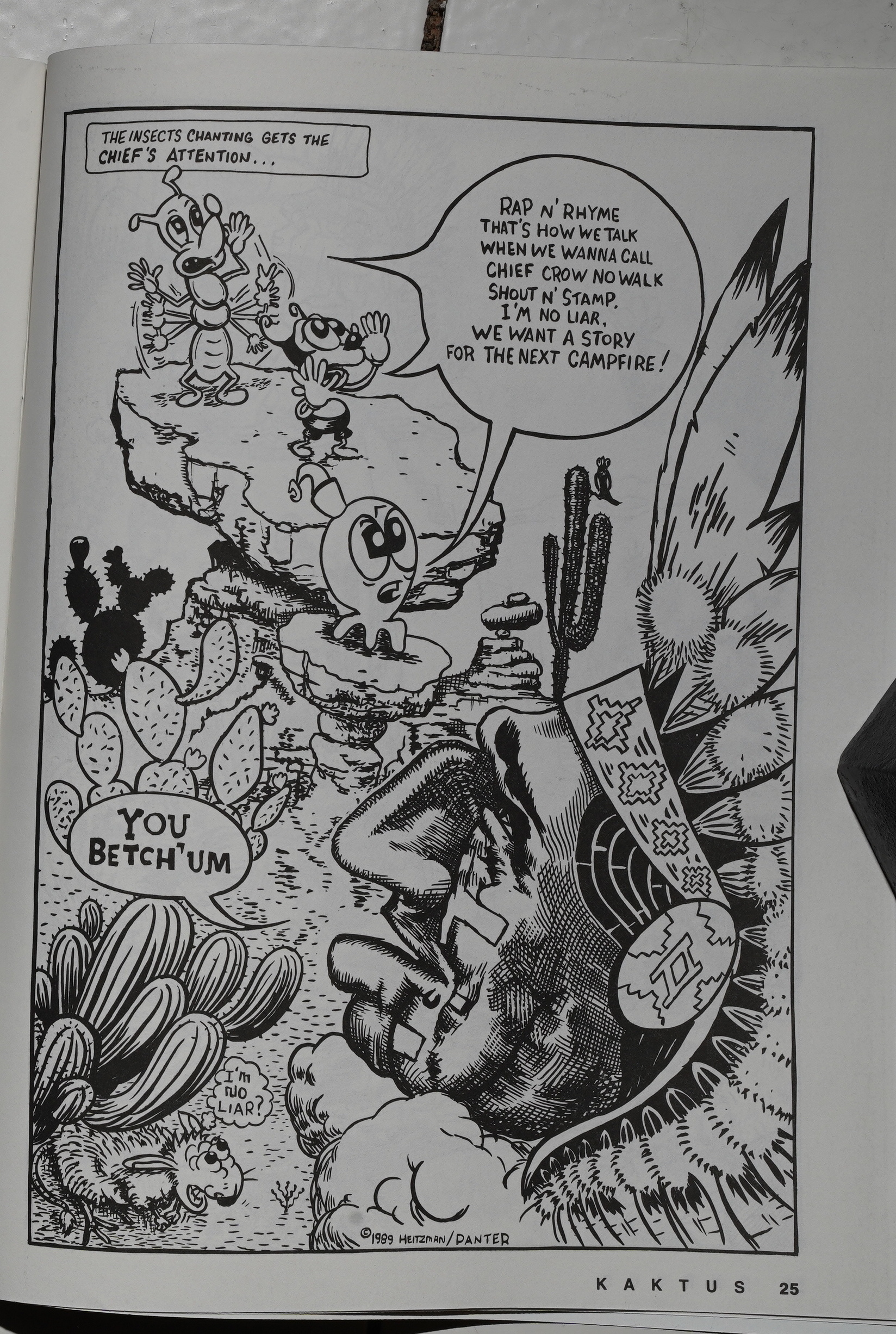 And then we get a slight return to the desert.
This is one of those oddball comics that would suddenly appear in the late 80s/early 90s — and then sink without a trace, with no explanation.
But now we have the intertubes. Let's see if anybody knows what this was all about.
Amazing Heroes Preview Special #11, page 65:
KAKTUS
Written ard illustrated by VARIOUS; edited by
GARY PANIER
32 pages; $225; FANTAGRAPHCS
BOOKS
For kids who are tired of ducks and mice and
little dots and friendly ghosts comes Kaktust
the postmodern kid's comic for postmodern
kids. As brainstormed by John Cartin and
Gary Panter, with artwork by (among others)
Pantert Ric Heitzmann, and Mark Beyer,
Kaktus combines the sensibility of &æwee's
Playhouse (for which, as you will certainly
remember, Panter created the Emmy Award-
winning set designs) with that of RAW
magazine. The gentle inhabitants of Kaktus
Valley are but some of the magical and
peculiar characters appearing in this comic,
which will appeal to lovers of outre graphics
and tiny tots alike!
Robert Rowe writes in Amazing Heroes #184, page 115:
KAKTUS #1
Written and illustrated by VARIOUS; edited
by GARY PANTER & RICK HEITZMAN. Pub.
lished by FANTAGRAPHICS
The talent involved in Kaktus includes
Gary Panter, Mark Beyer, Mark New-
garden, Wayne White, Patrick Mc-
Donnell, and David Sandlin.
The objective of this comic is, I
guess, to create entertaining and in-
formative comics for kids. 'I'he con-
tributors have all succeeded. The art
in all the stories is very good, and the
writing is imaginative and concise, a
rare combination in comics these days.
The comic is called Kaktus because
some of the stories are set in a fantasy
desert called Kaktus Valley.
I'm not a kid, but I enjoyed reading
this comic very much. Parents should
buy this for their children because of
its wholesome, easy-to-read approach.
If you like the idea of new comics
targeted for a young audience but also
capable of holding an older reader's
attention, then Kaktus is your comic.
This was apparently indeed a proposed animated series:
Although proposals for animated series, such as Kaktus Valley or Pee Wee himself, never quite made it, his Pink Donkey And The Fly took off as a cult hit on The Cartoon Network's website.
So I'm guessing the reason this book ended up being published was because they'd already done the first story?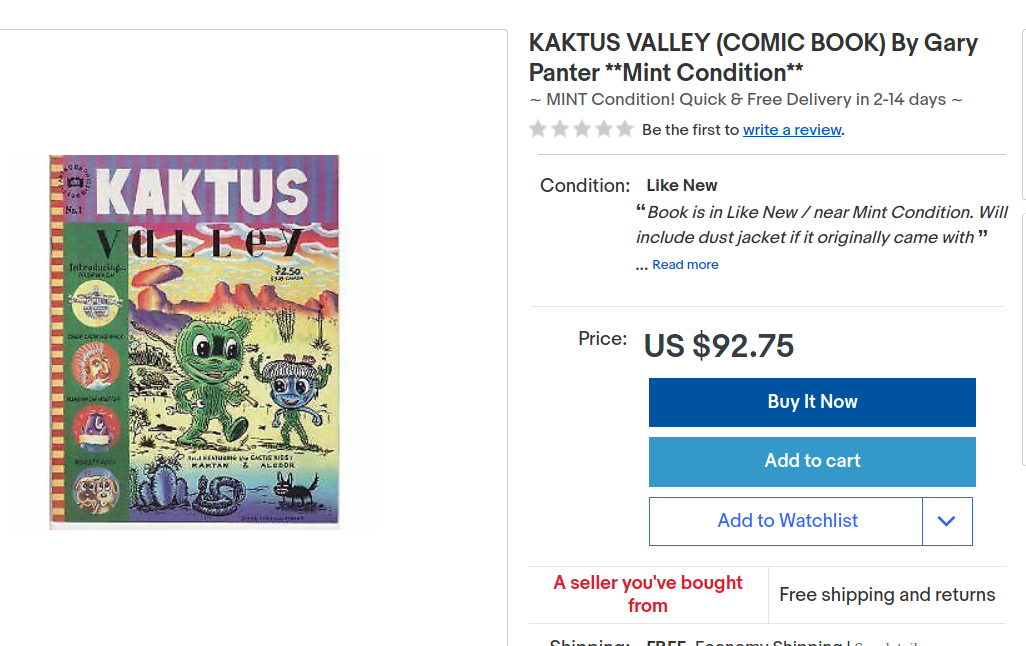 And as usual with Panter stuff, I sure saved a lot of money buying it as the time. I'm so frugal. Without realising it.
This blog post is part of the Punk Comix series.