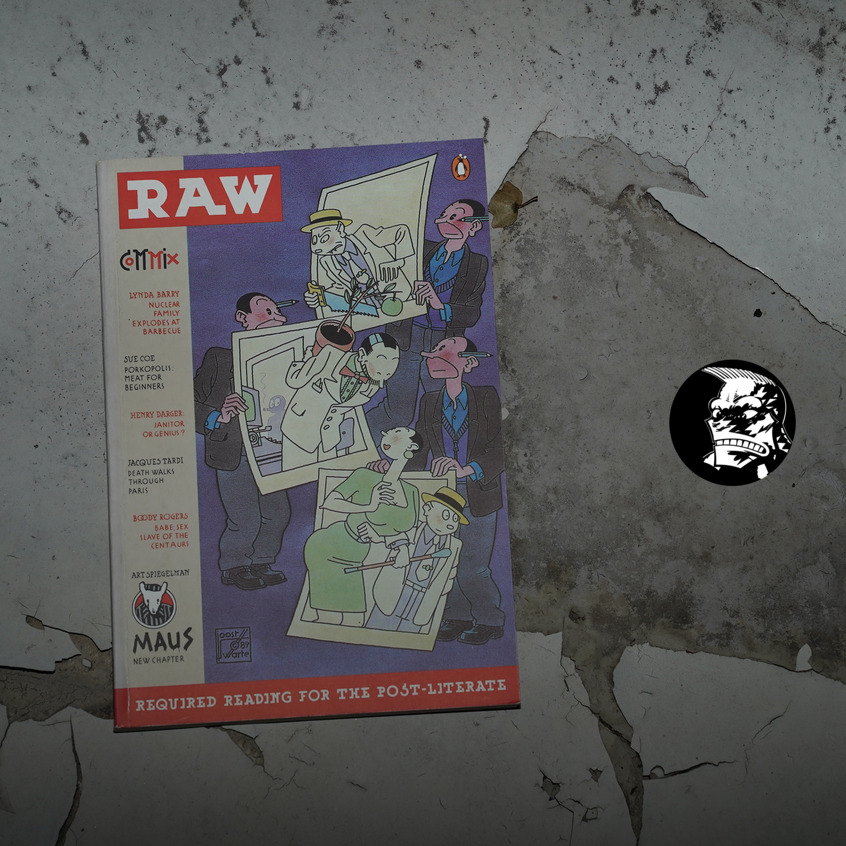 Raw Vol 2 #2: Required Reading for the Post-Literate edited by Françoise Mouly and Art Spiegelman (153x223mm)
The first issue of the Penguin version of Raw was generally thought of as pretty disappointing — even by the editors themselves. They were looking for new, exciting talent working in the idiom loosely defined by Raw, and couldn't really find a lot, so the first issue was dominated by short pieces by people who'd already done stuff for Raw.
It's not that the pieces themselves were bad, but there was definitely less excitement to be had.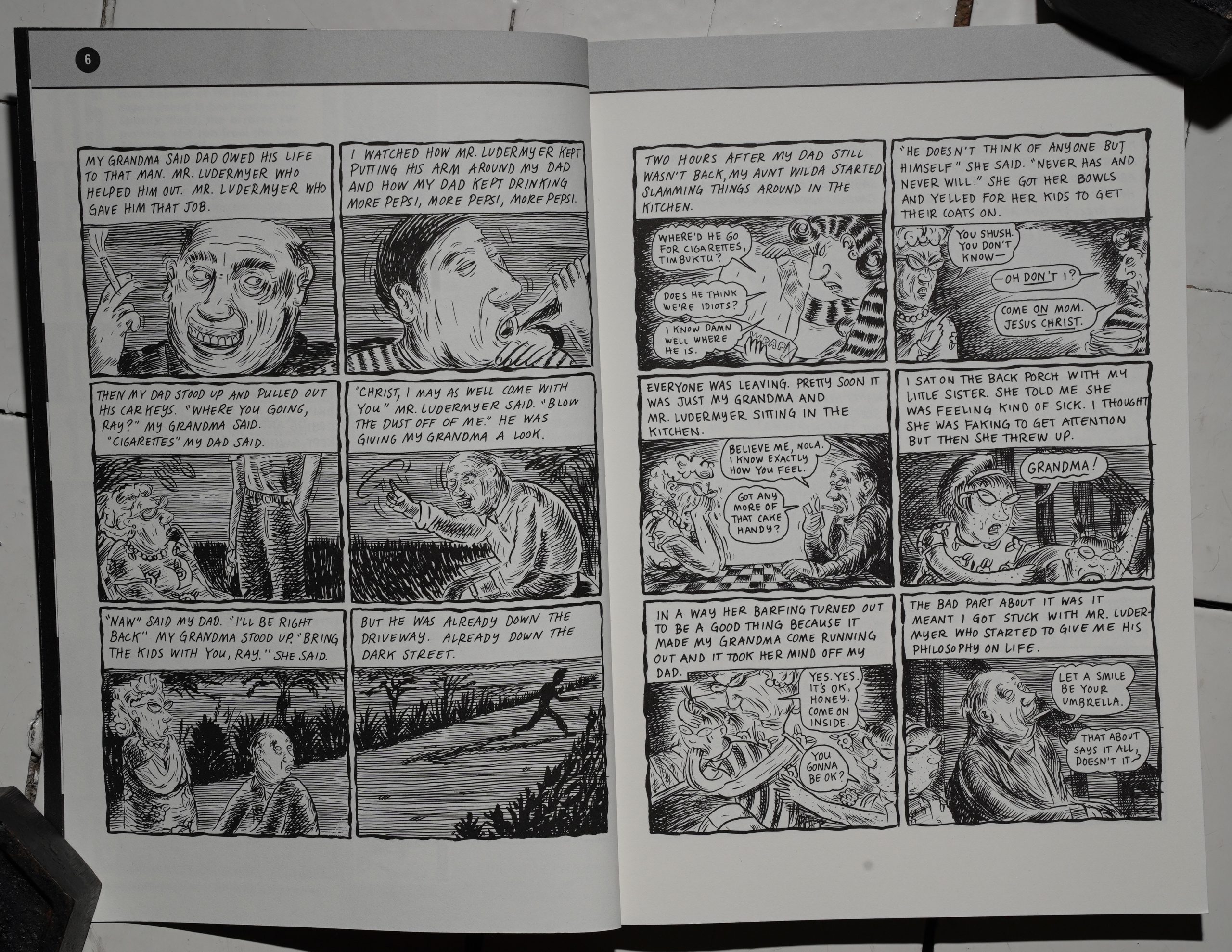 This issue is a stronger reading experience. It's got longer pieces, and not many of them are as slight as in the first issue. Lynda Barry opens the show with a story about a girl and her father. It's great! It's not all that far from her strips, really, but it does make you wish she'd had more offers to do extended stories around this time.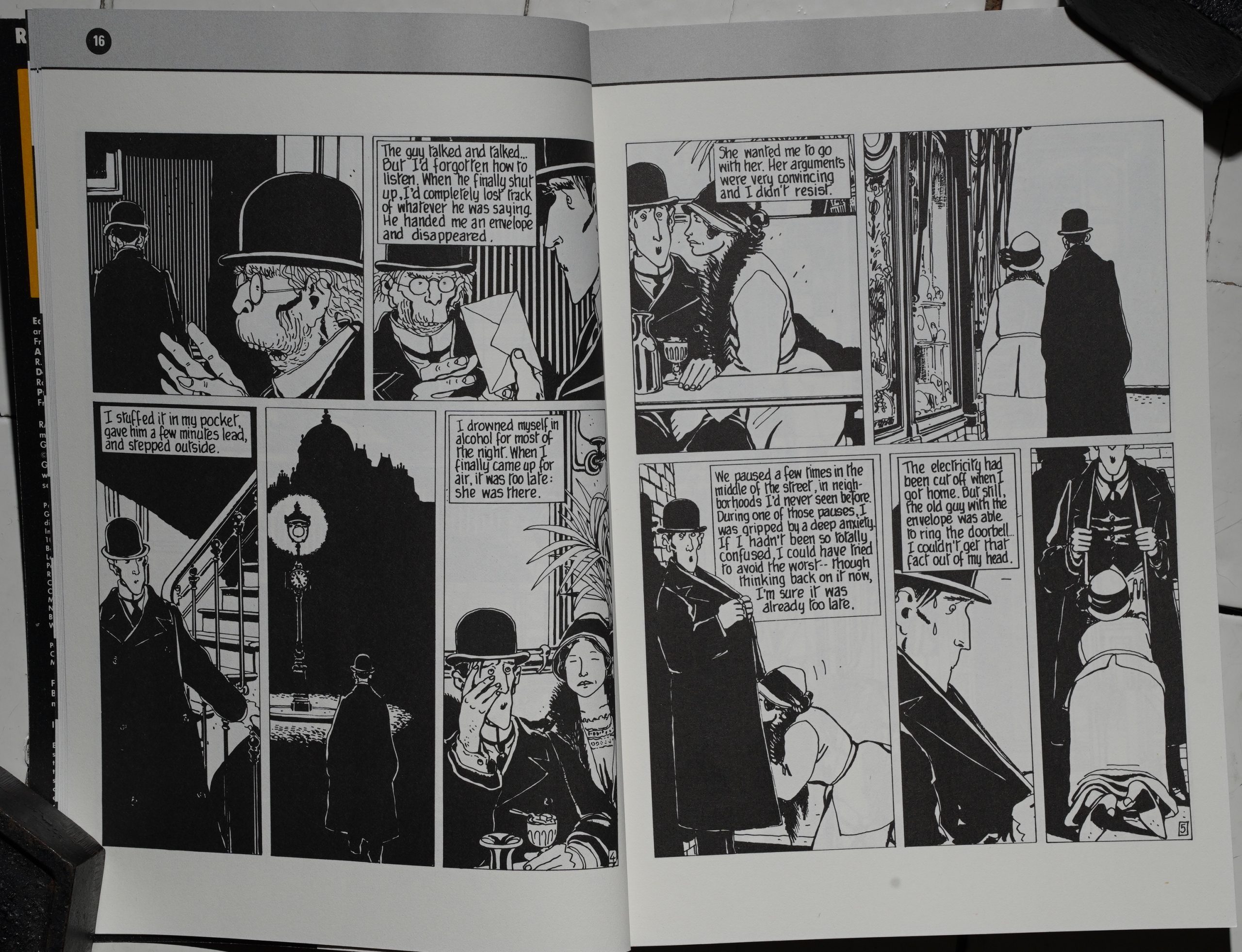 Tardi had been in a lot of Raw issues, and here's he's represented by a dream/nightmare kind of thing from the late 70s. I'm not quite sure where it fits into the chronology established by the early Adele albums (or if it does at all). At one point in the early 80s, Tardi seemed to tie a whole bunch of his stories together… and then he summarily killed off virtually all the characters in one big massacre. (I interpreted that as him being fed up with the entire thing.)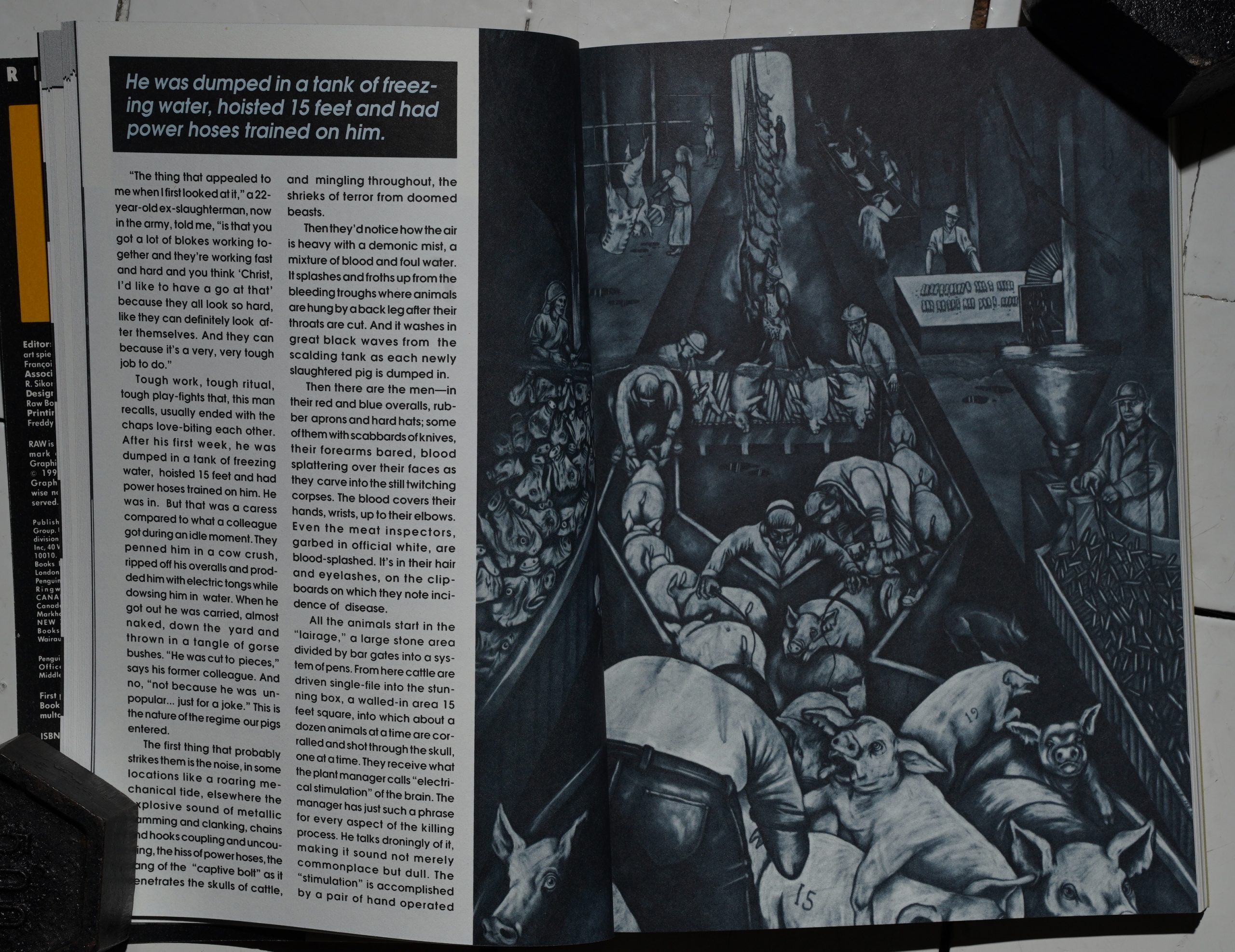 Andrew Tyler writes a piece about how people who work in abattoirs are total assholes, and Sue Coe illustrates it.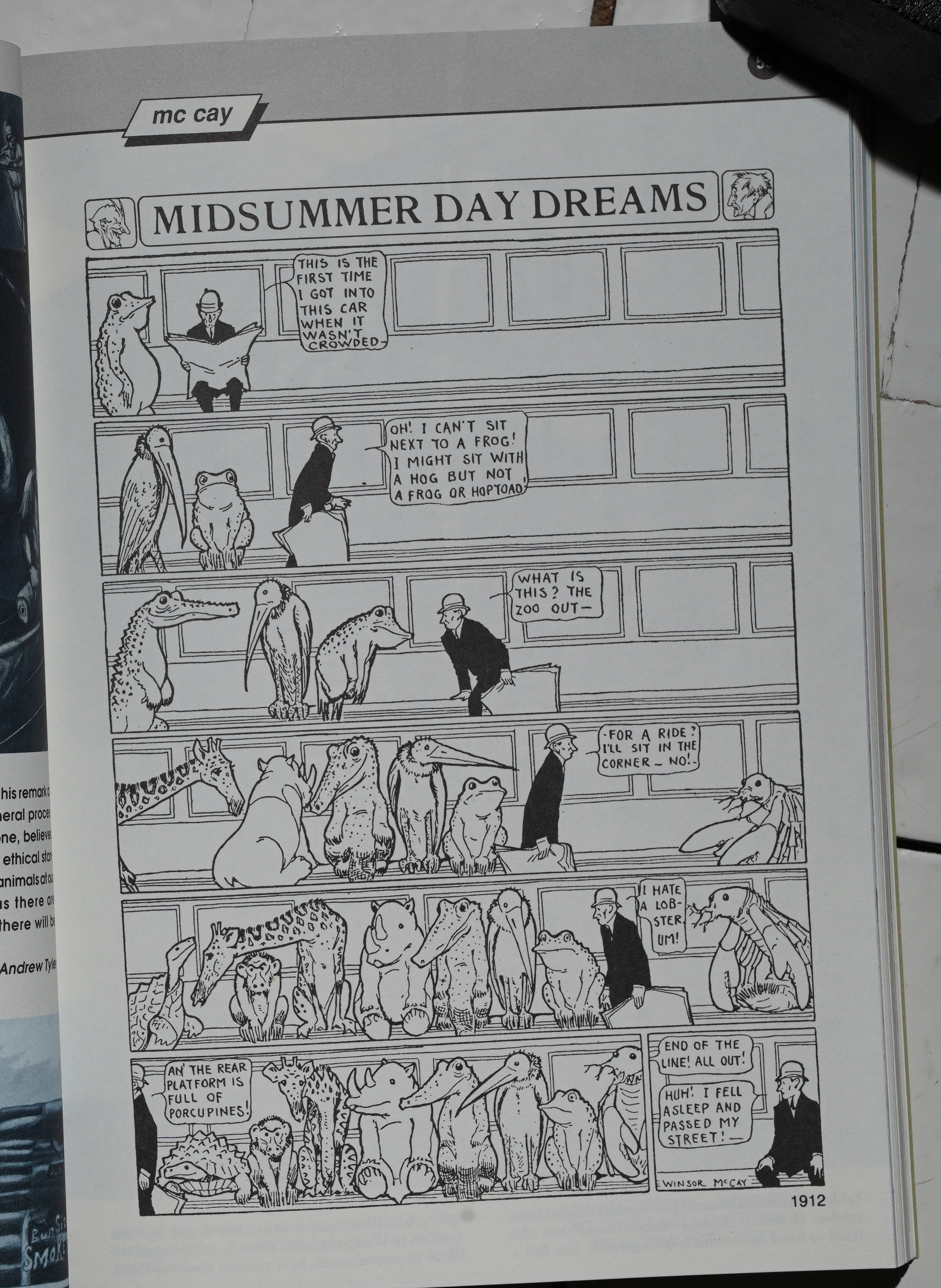 A random Windsor McCay page fits in here very neatly.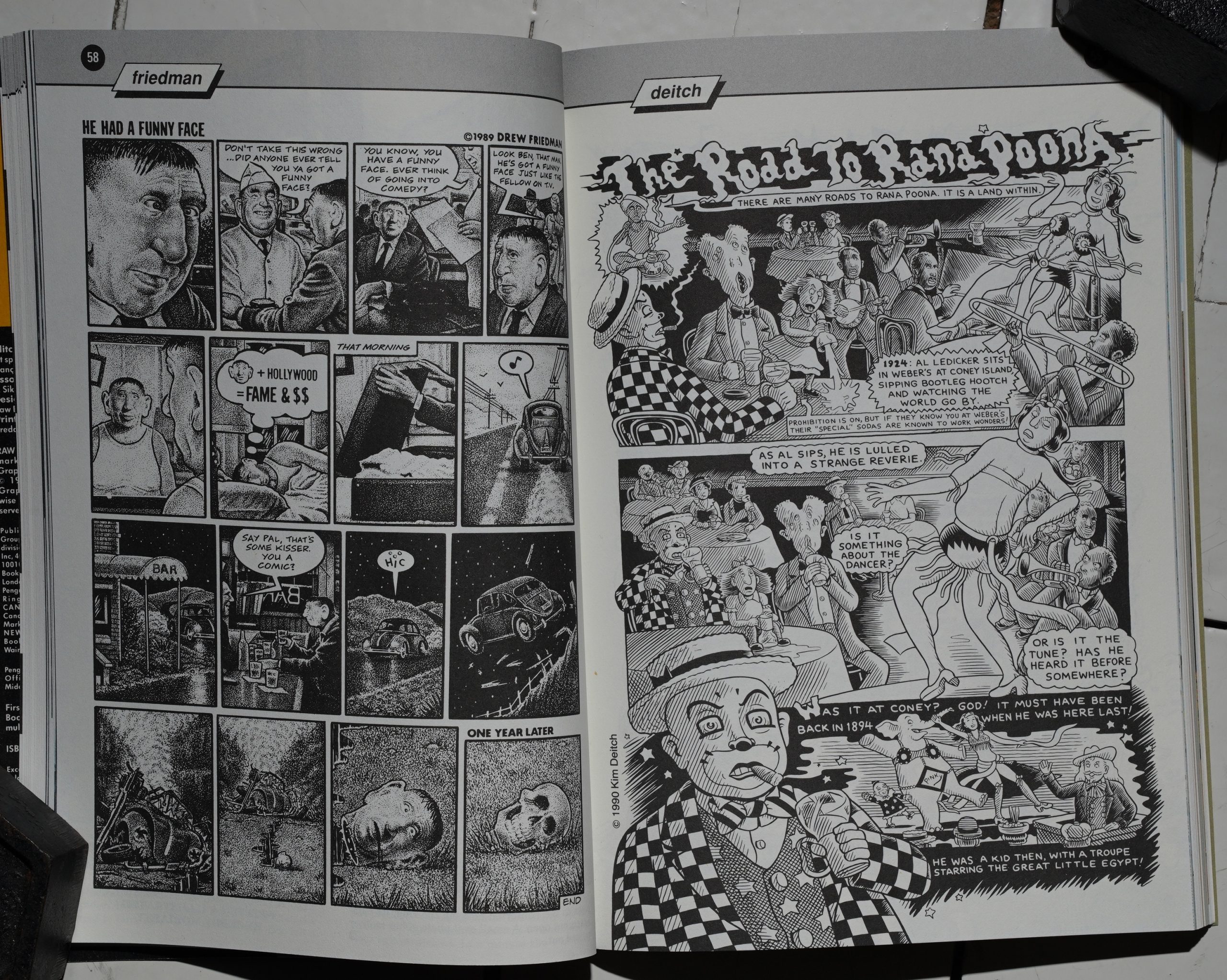 This Drew Friedman ditty is fun, but the Kim Deitch story is a total let-down. I love Deitch, but when he's spinning his wheels, he's really spinning his wheels.
So not many new and exciting artists here — this book is also dominated by familiar faces.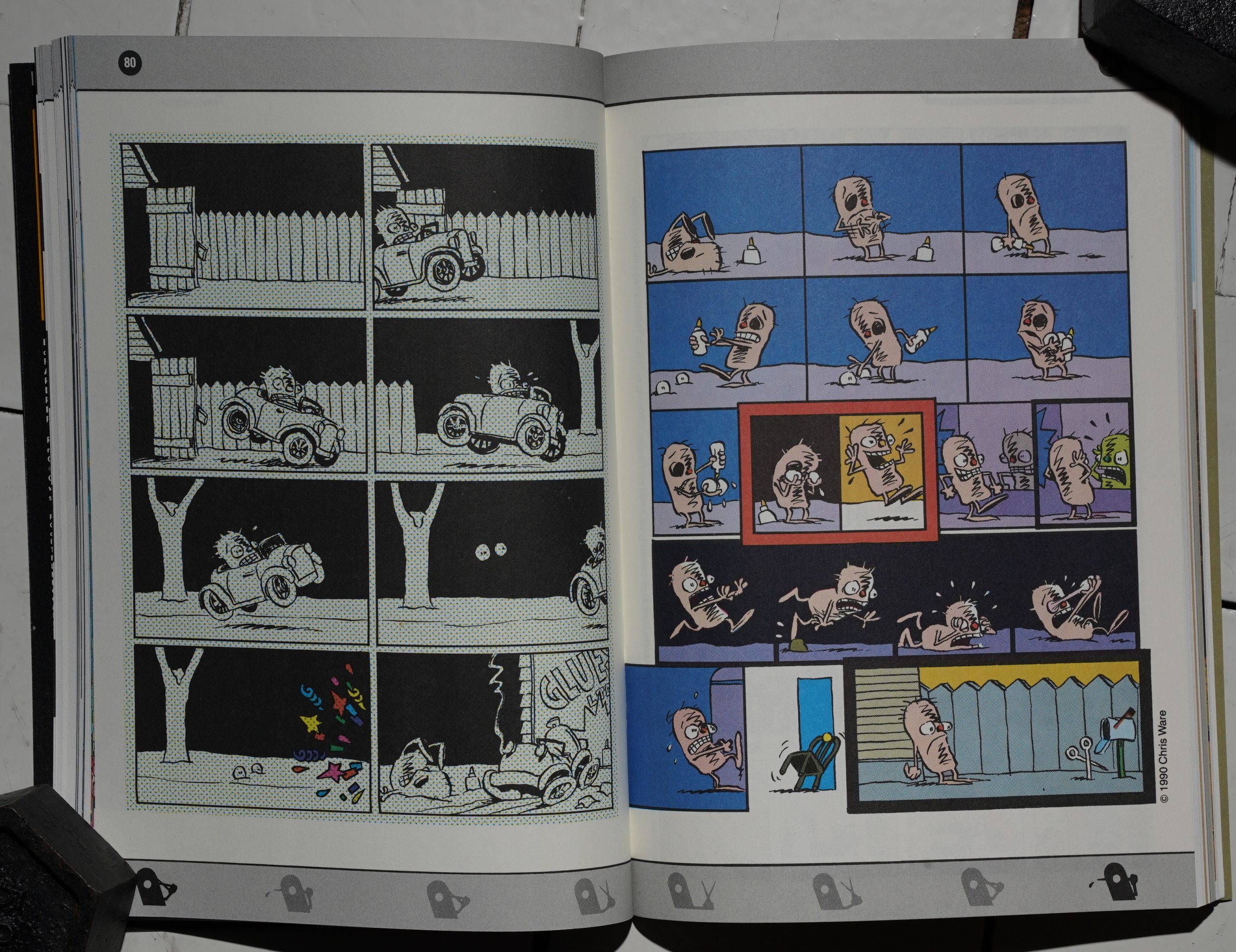 But! Suddenly Chris Ware!
It's a cool little piece.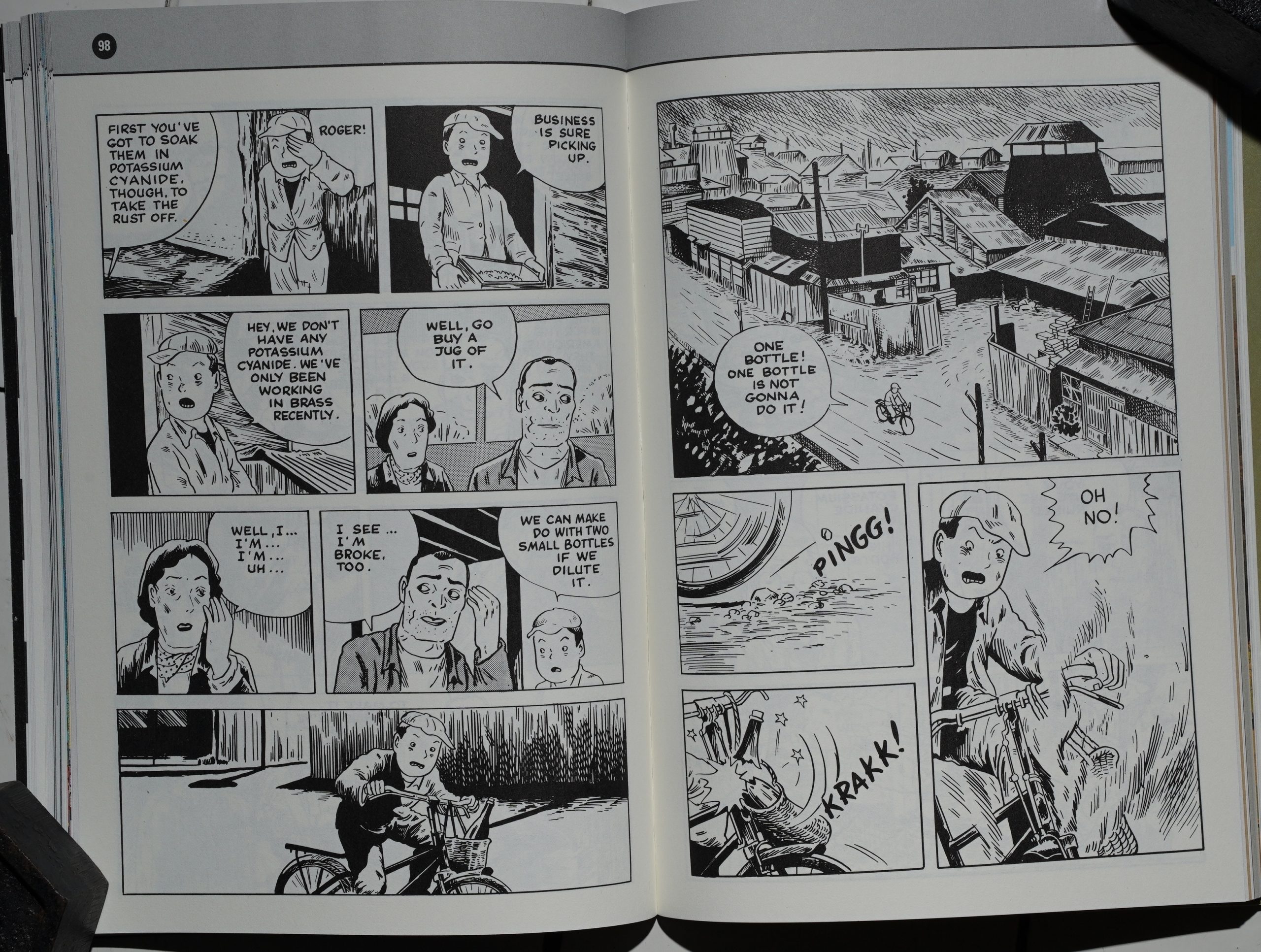 Yoshiharu Tsuge does one of his little stories where things start of bad, and then end up tragic. But poignantly.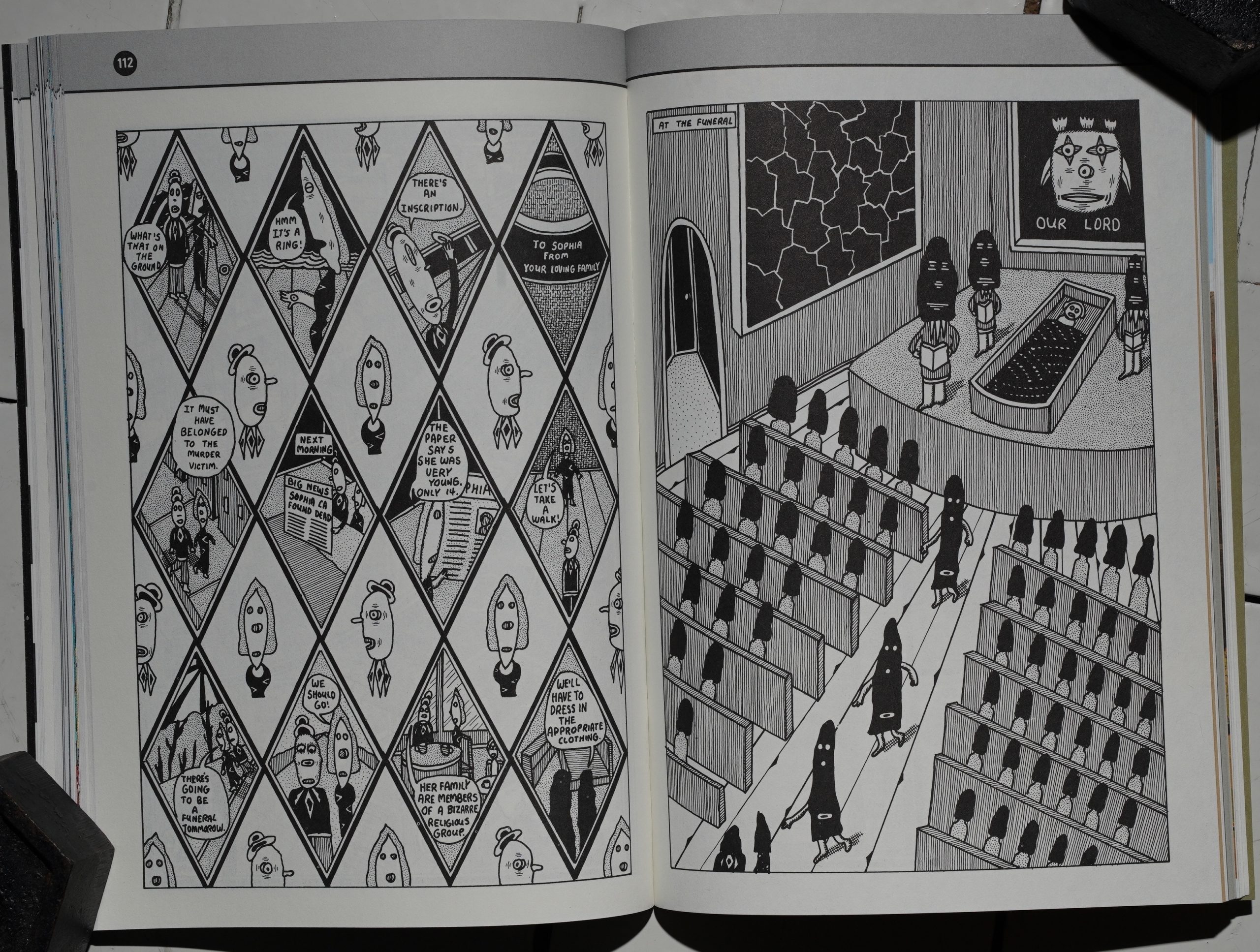 Can't have Raw without Mark Beyer, and for once he doesn't do Amy + Jordan. It's an interesting story.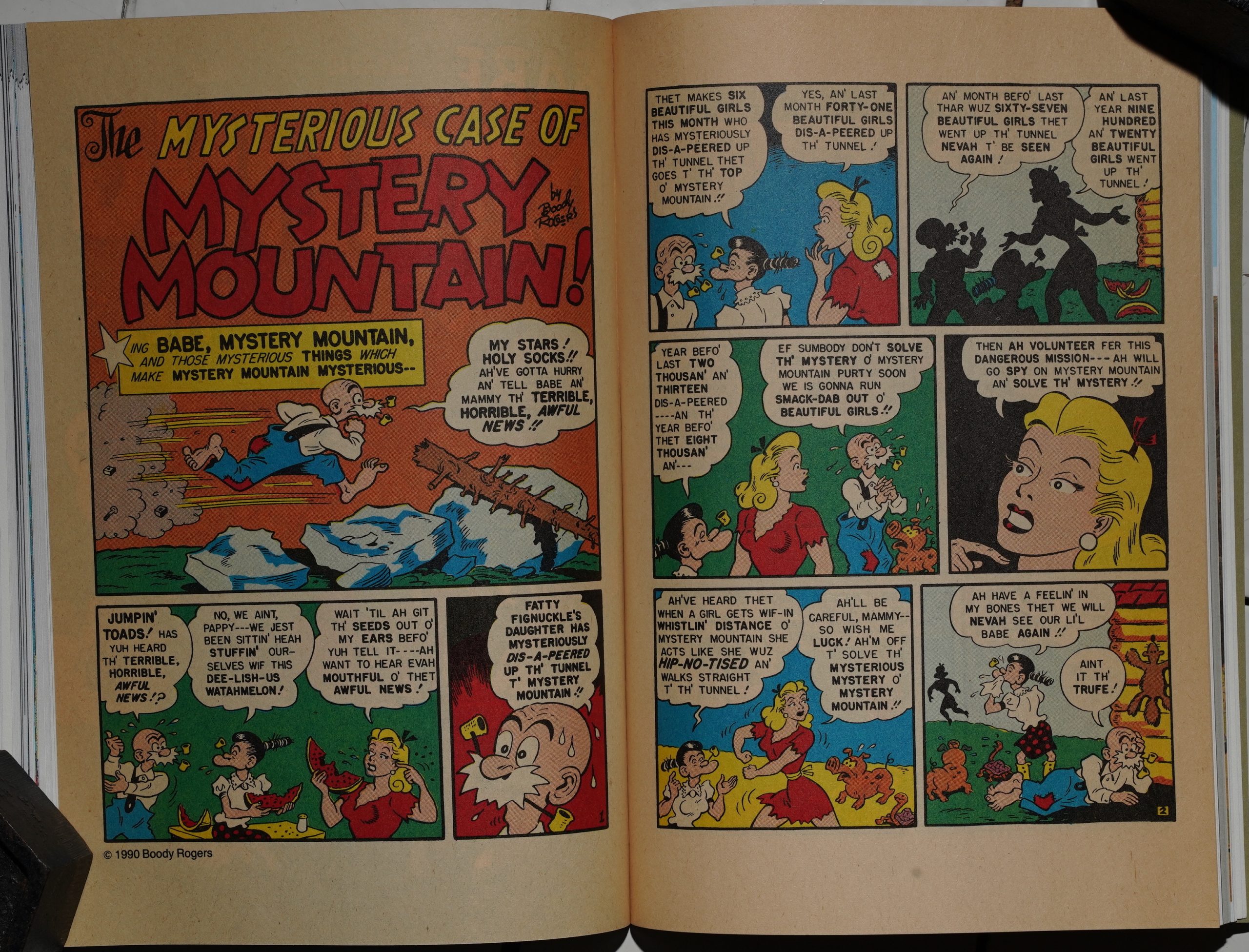 It's a favourite pastime for people working in Avant Garde comics to try to establish a proud (if hidden) comics history — looking for rough gems hidden in old comics published for children. (Sometimes they even manage to find stuff.) Here it's Boody Rogers, and things start off very funny indeed.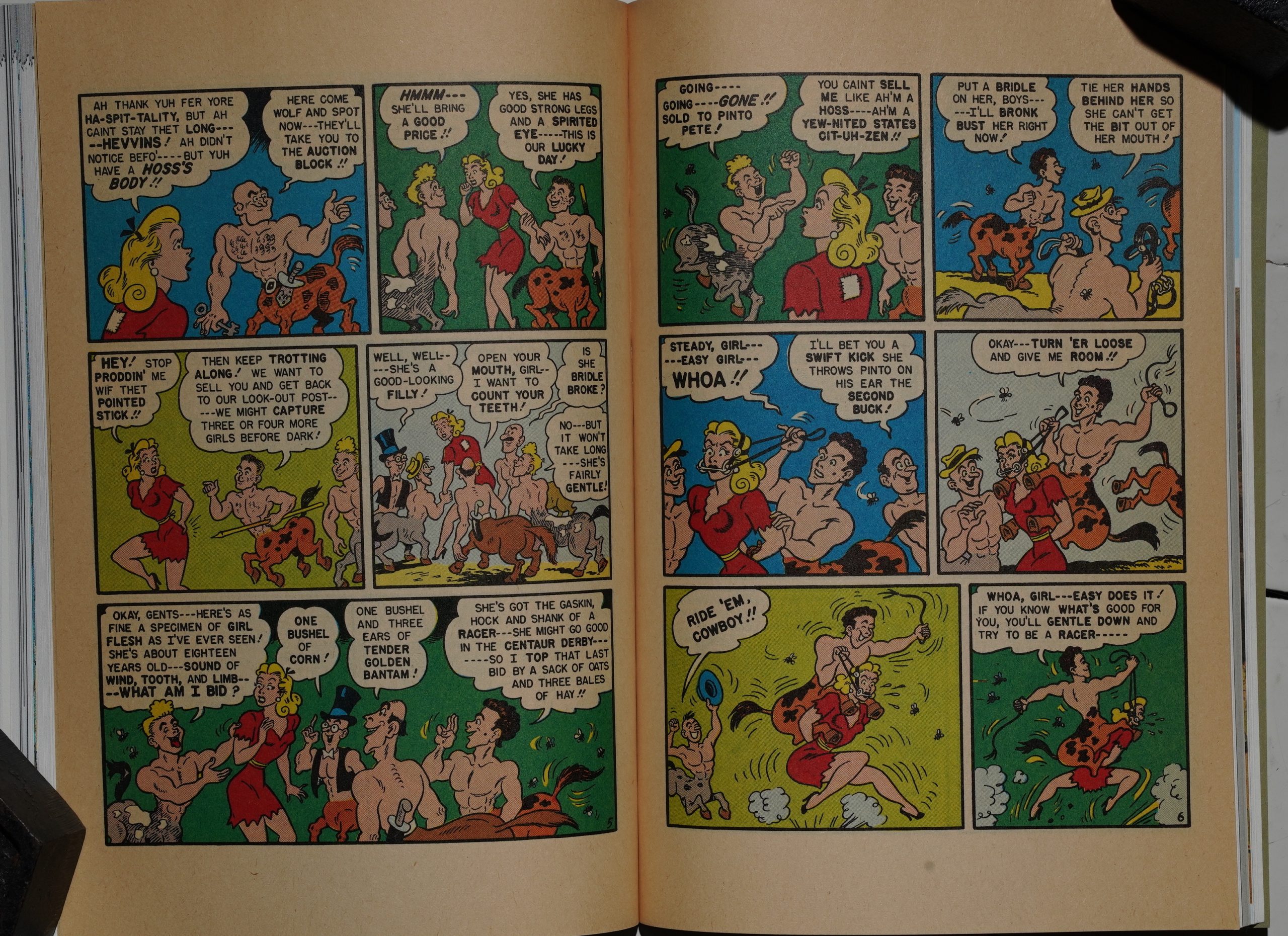 But then it all turns into some pervy sex/misogyny thing, I think? (A lot of the women here are killed off as the story progresses.) I'm guessing this was really why it was included here — not because of the funny bits in the opening scene.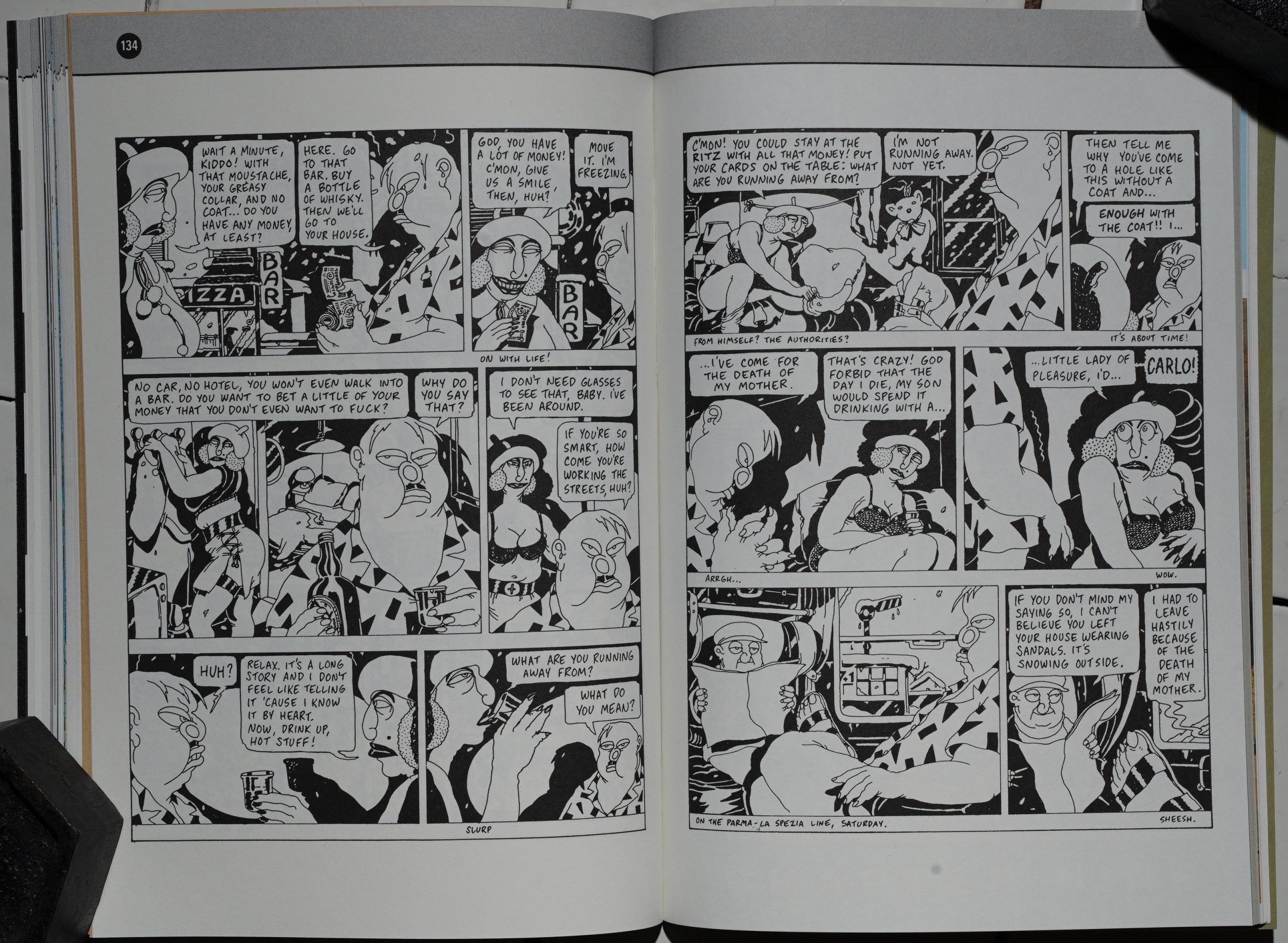 It seems like the theme continues with Altan's thing about a guy killing his mother (who's a sex worker)…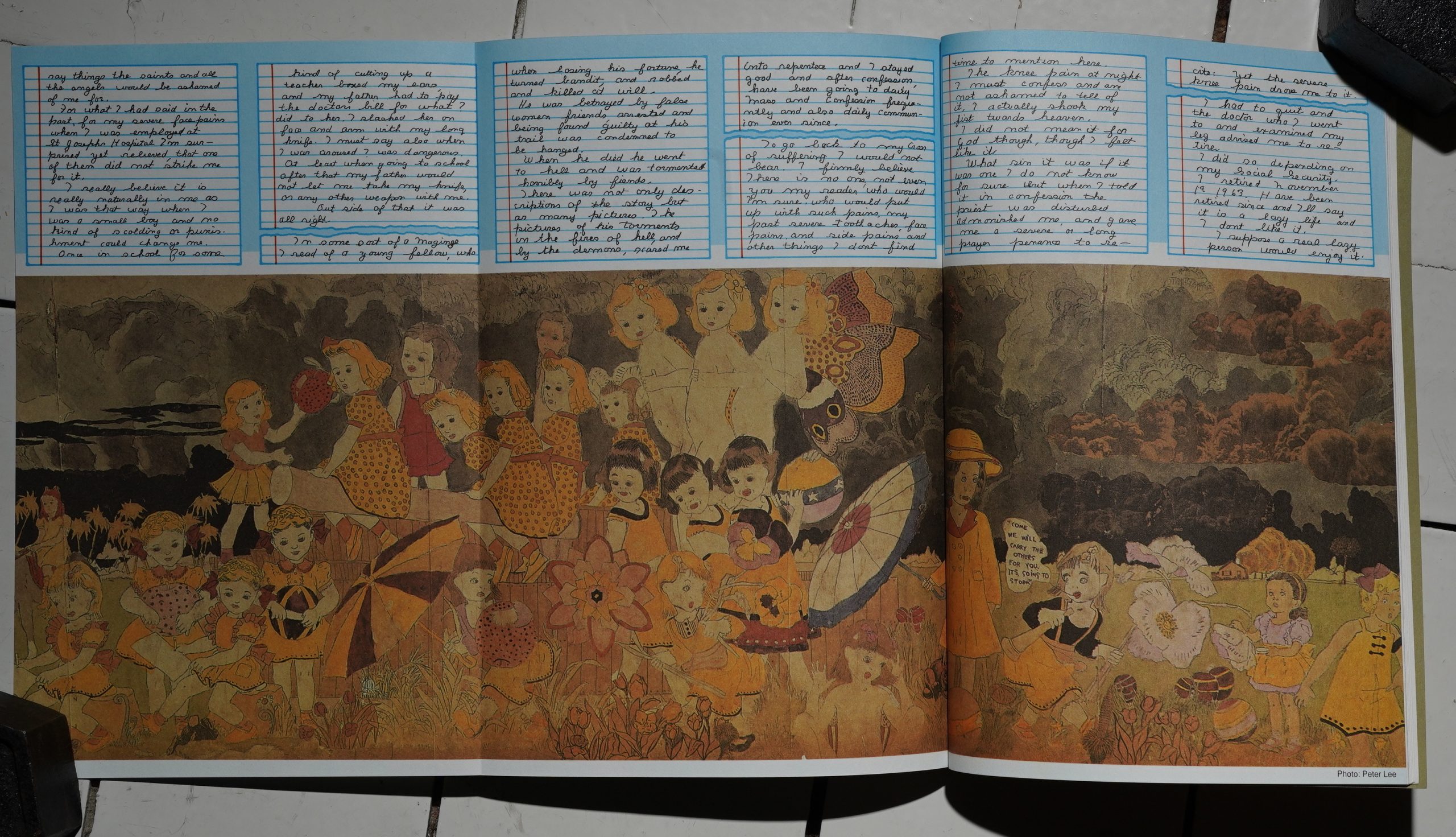 … and then the outsider artist par excellence, Henry Darger, who's all about drawing naked girls being tortured.
But they're having fun with the printing, at least — the Boody Rogers thing is printed on faux-vintage paper, and Darger's thing is done on fold-out pages.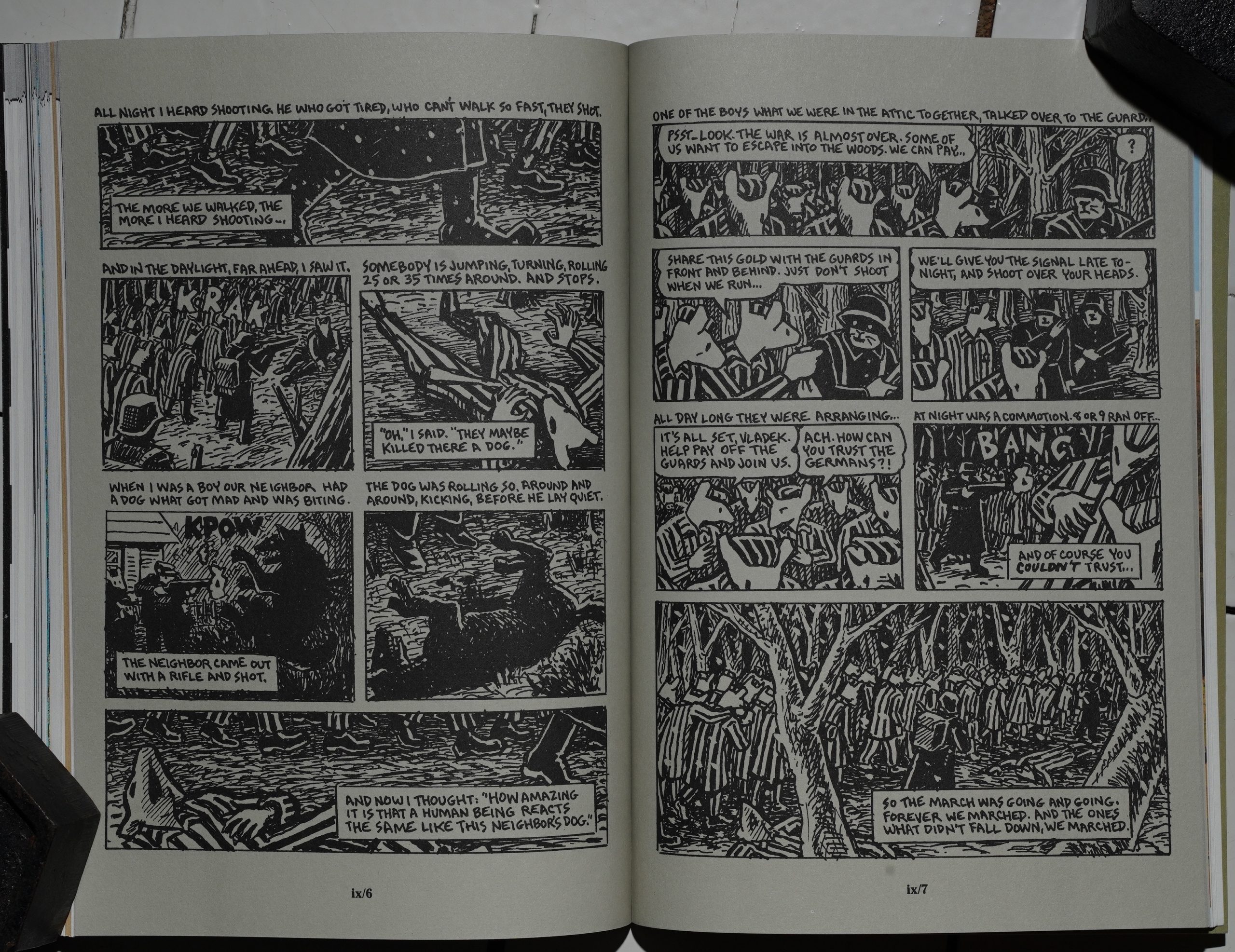 And we can't have Raw without Maus, so we get another chapter — printed on this very dark, grey paper. Which is pretty odd — none of the other chapters got this treatment.
(The chapter is, as usual, a fifty fifty mix of Vladek's story of horror, and of Art and Françoise having to deal with Vladek's current peculiarities.)
Finally, Richard McGuire does a fun page about thinking, and Charles Burns seem to sum up the following decade's worth of work he'd be doing on Black Hole.
Amazing Heroes Preview Special #10, page 98:
The next volume of Raw (Vol. 2, #2) will be
focusing a little more on longer pieces. In
addition to the usual lengthy chapter of Maus
(in which Vladek faces death when he comes
down with typhus in Dachau), there are two
23-page stories: "Basket Case," a Jacques
Tardi story set in turn-of-the-century Paris,
and "Oba's Electro-Plate Factory" by
Japanese manga artist Yoshiharu Tsuga.
There will also be a 16-page story from the
'40s by one of the earliest comics artist,
Boody Rogers: "The Mysterious Case of
Mystery Mountain"; this will be printed in full
c0101 Sue Coe turns in an 18-page duotone
story called "This Little Piggy Went to
Market," all about the realities of meat
production, and there's a 12•page full-color
insert (with gatefolds) spotlighting the work
of Henry Darger, a janitor in Chicago's
hospitals who spent his life writing and
drawing "The Child Slave Rebellion" and
documenting the weather.
Also included is work by the usual gang
of suspects: Kim Deitch, Mark Beyer, Drew
Friedman, Jerry Moriarty, Justin Green, Jayr
Pulga, Richard McGuire, Charles Burns, and
Ben Katchor, and a rarely-seen Winsor,
McCay Midsummer Daydream page.
New to RAW are Lynda Barry (with an
eight-page story featuring Maybonne, Martys,
and the other characters from her weekly
strip Emie Comeek), French cartoon-
ists Kamagurka and Altan, Marti (creator of
The Cabbie), David Sandlin, and Chris
Ware.
This blog post is part of the Punk Comix series.