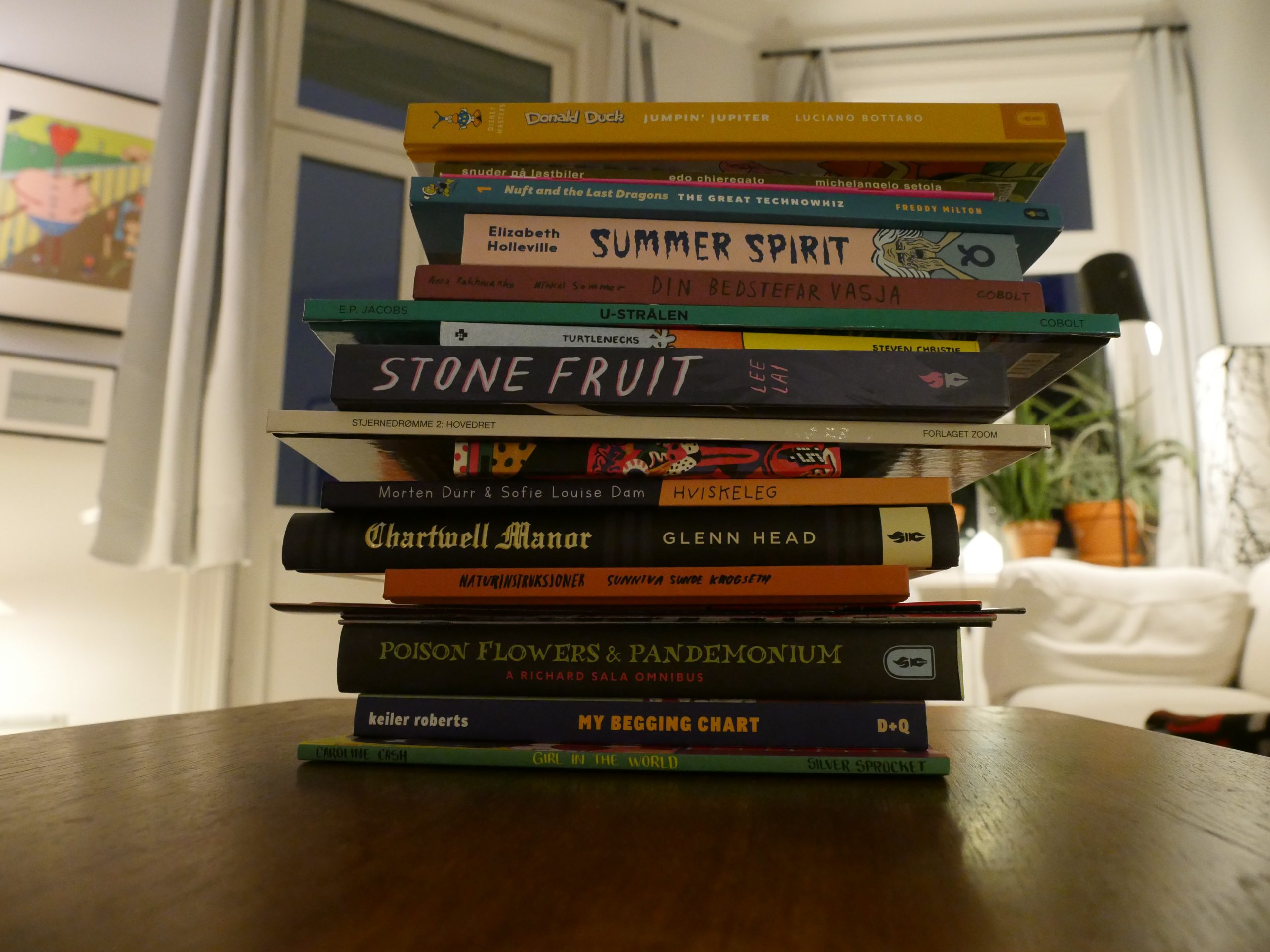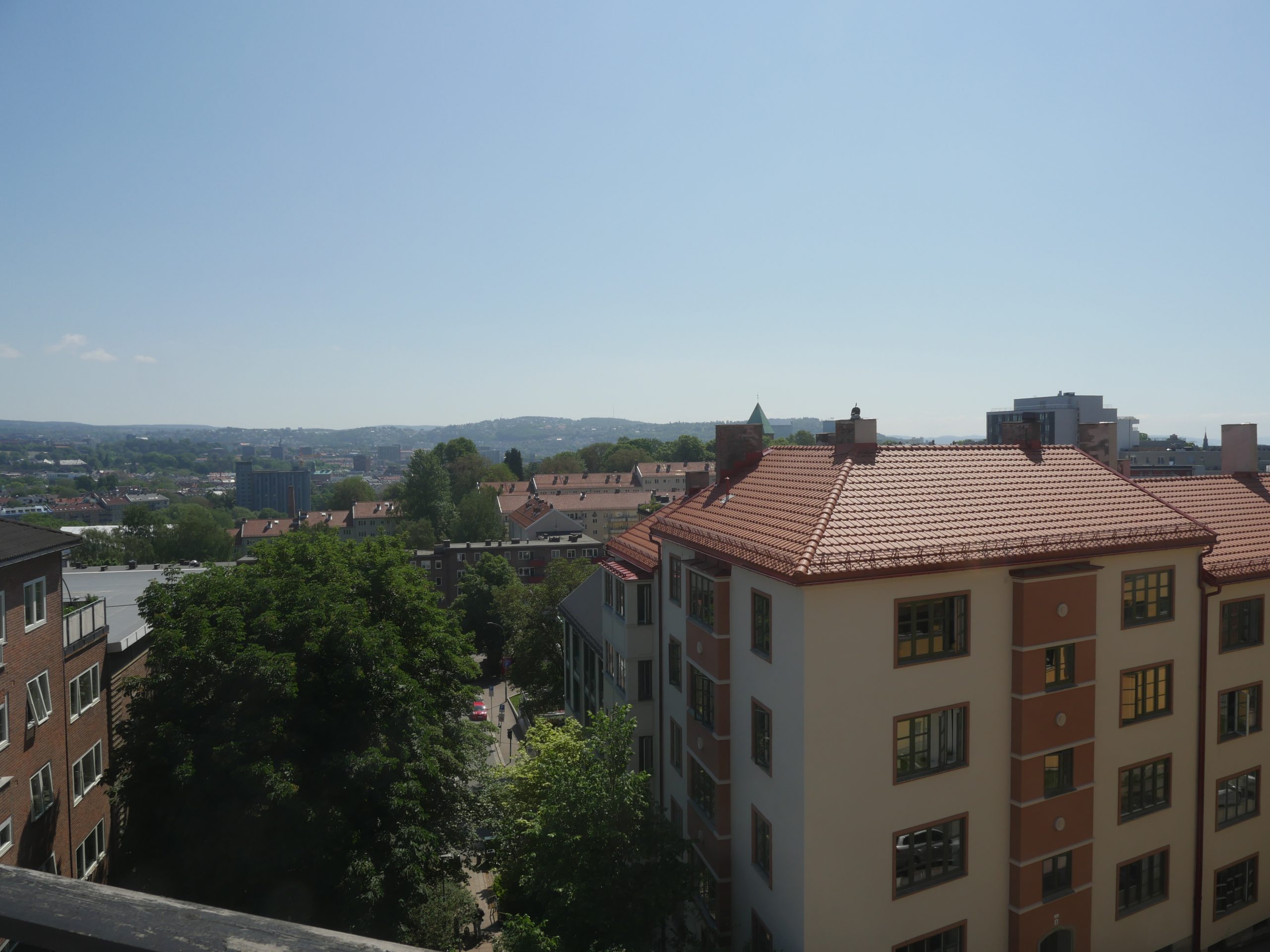 It's a beautiful day… a beautiful day to say on the couch and do nothing but read comics.
| | |
| --- | --- |
| 13 & God: Own Your Ghost | |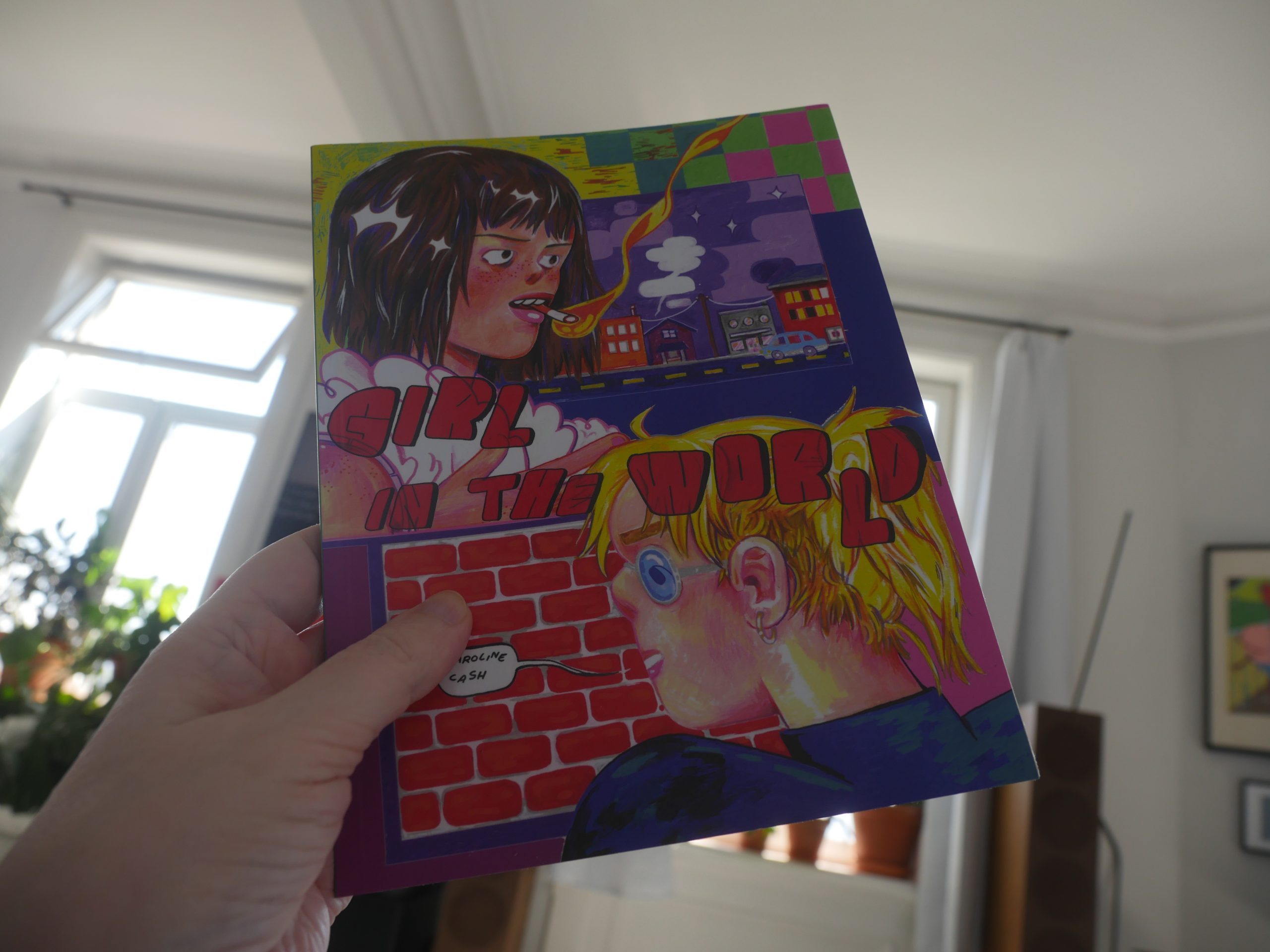 12:45: Girl in the World by Caroline Cash (Silver Sprocket)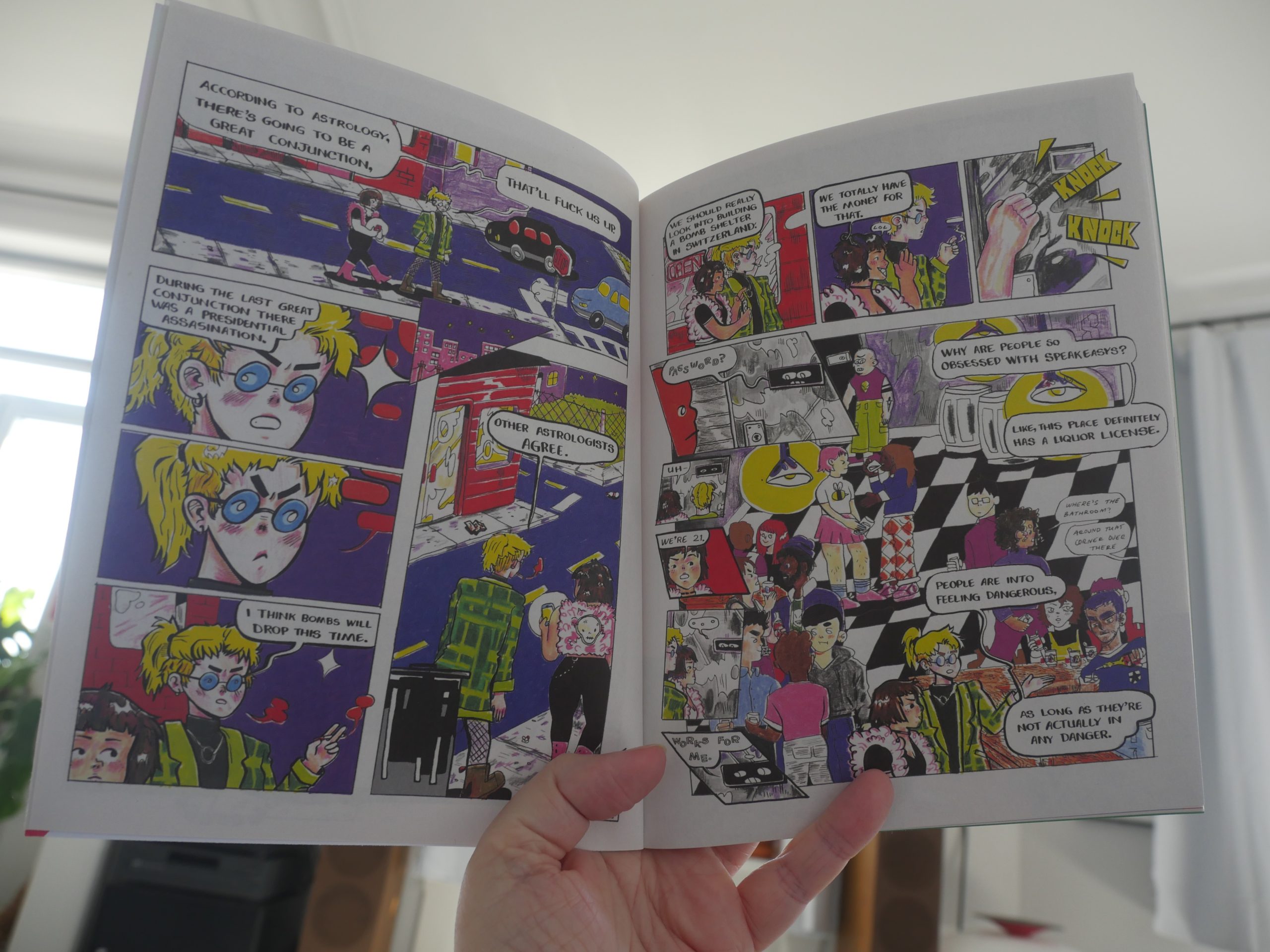 Silver Sprocket publishes a lot of good stuff, but they're kinda variable?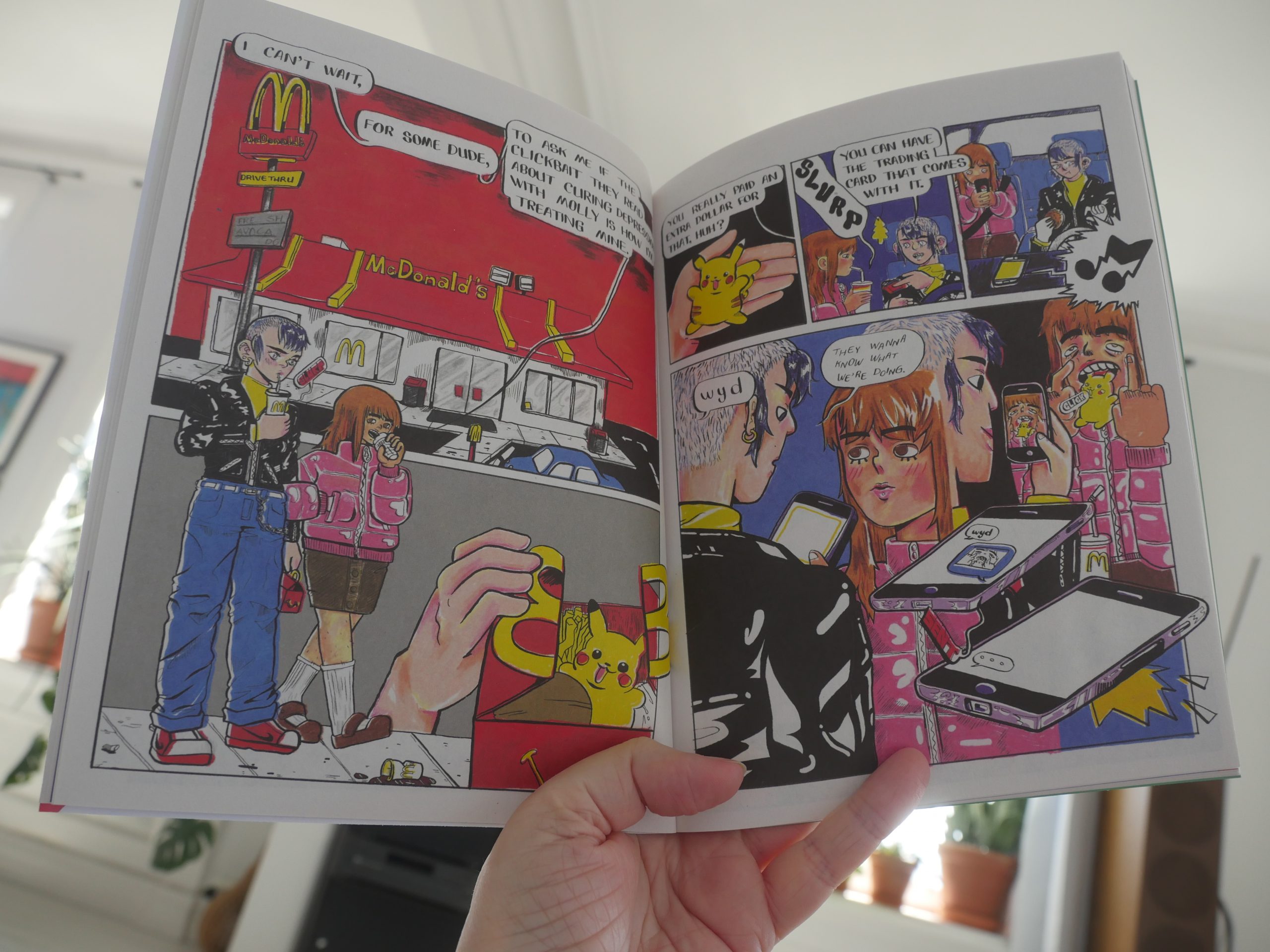 This one is brilliant, though — it's got such an easy offhand flow. It's very funny, and ends up being rather poignant.
And I love the colours.
| | |
| --- | --- |
| Scout Niblett: Uptown Top Ranking | |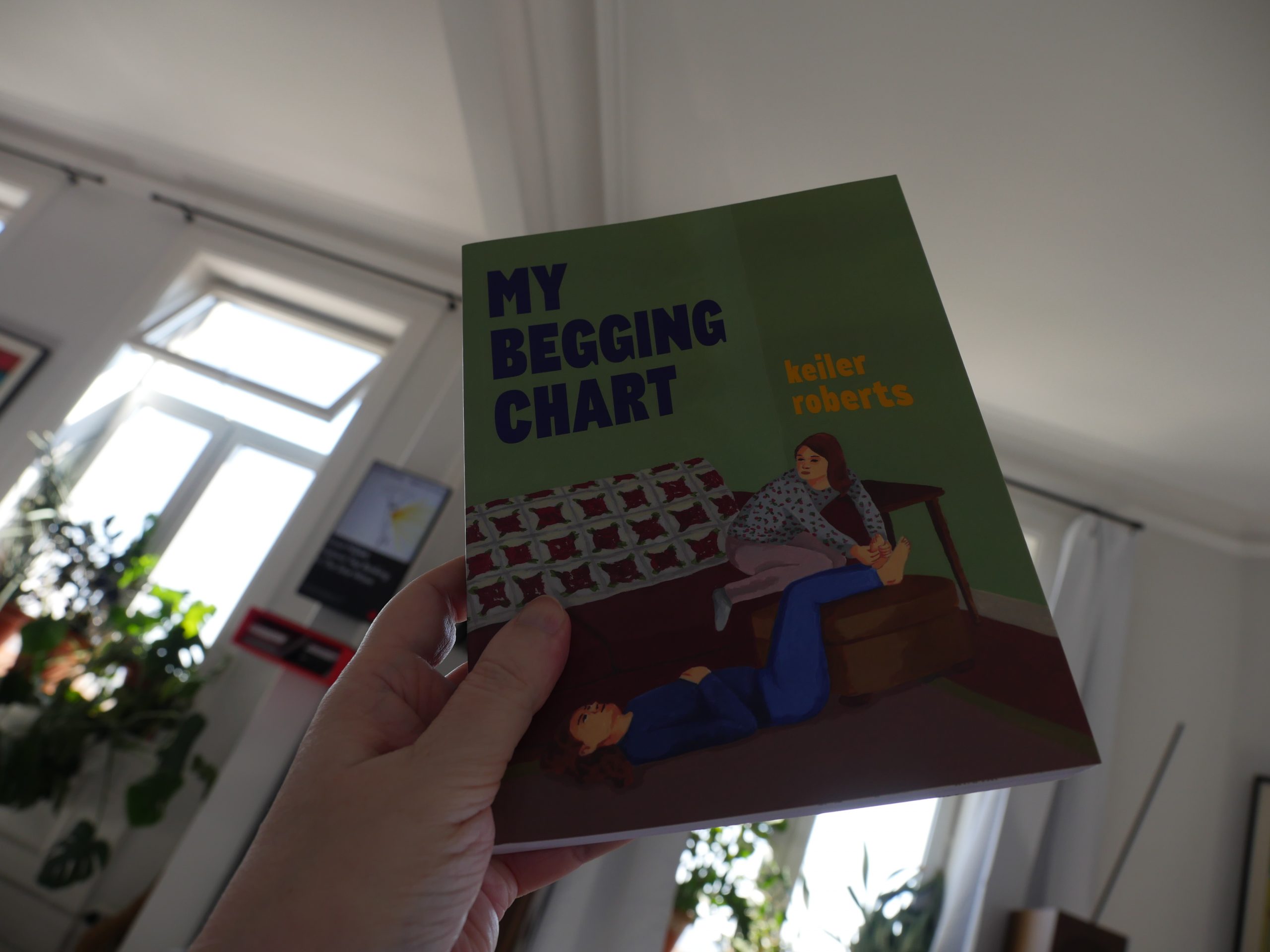 13:02: My Begging Chart by Kieler Roberts (Drawn & Quarterly)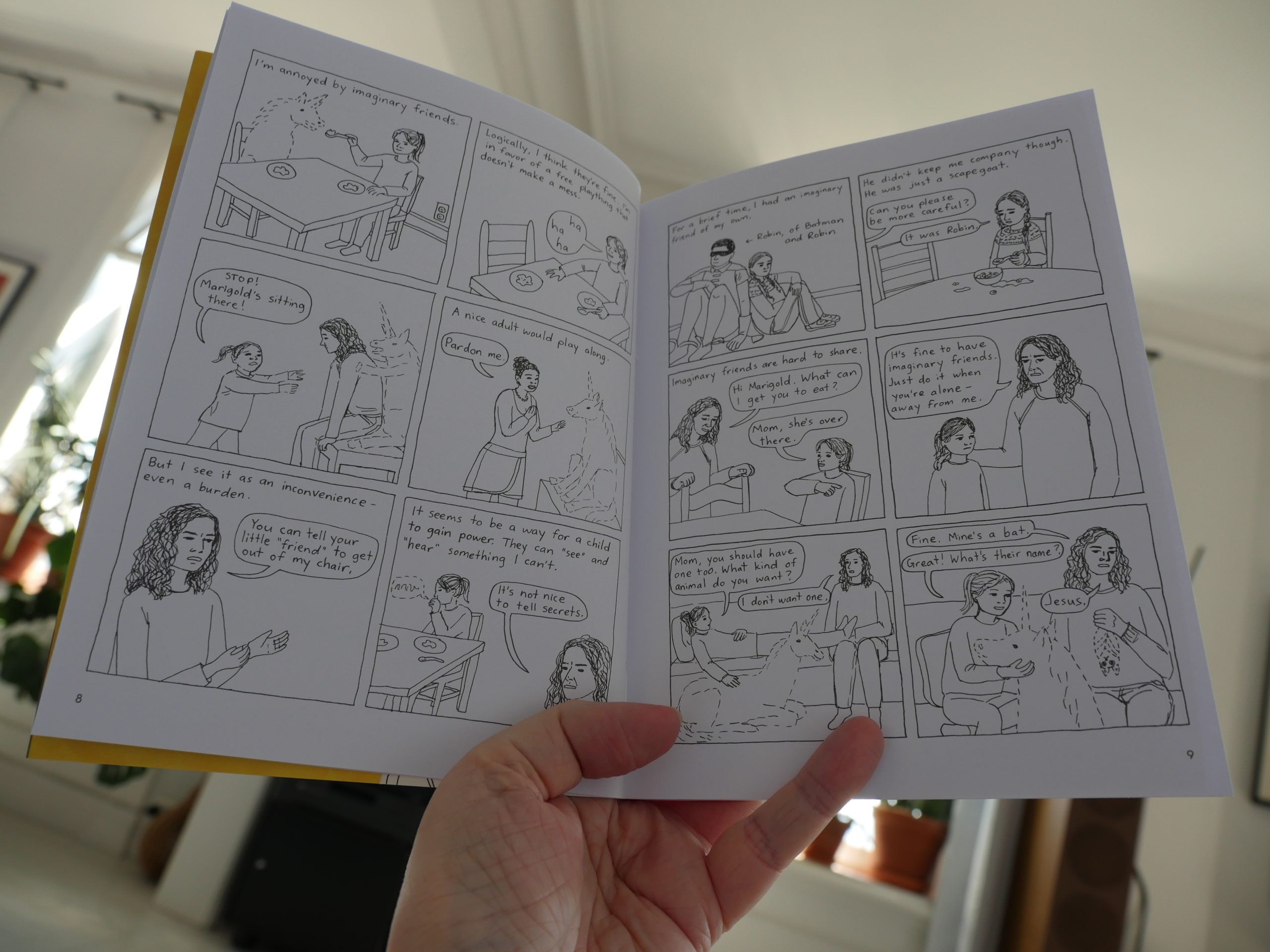 I've always loved Robert's comics, but this time around, it took me a while to get into it. Perhaps it's the presentation? It's her heftiest book, I think…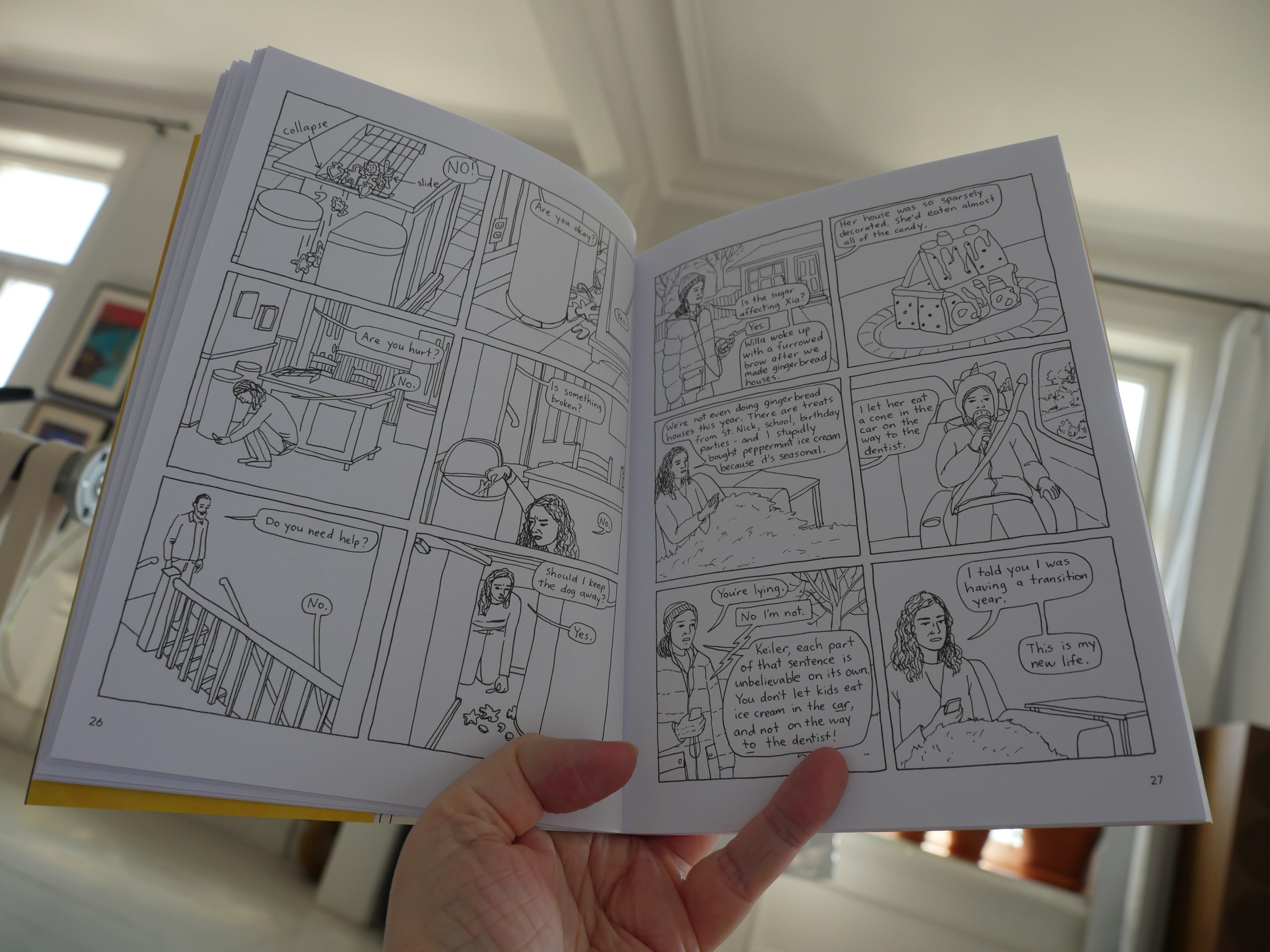 These are mostly one-page storylets, but some of them go on for a couple of pages, and that just made it difficult to get into the rhythm of things? It's weird — it just felt… like… the book was stumbling around?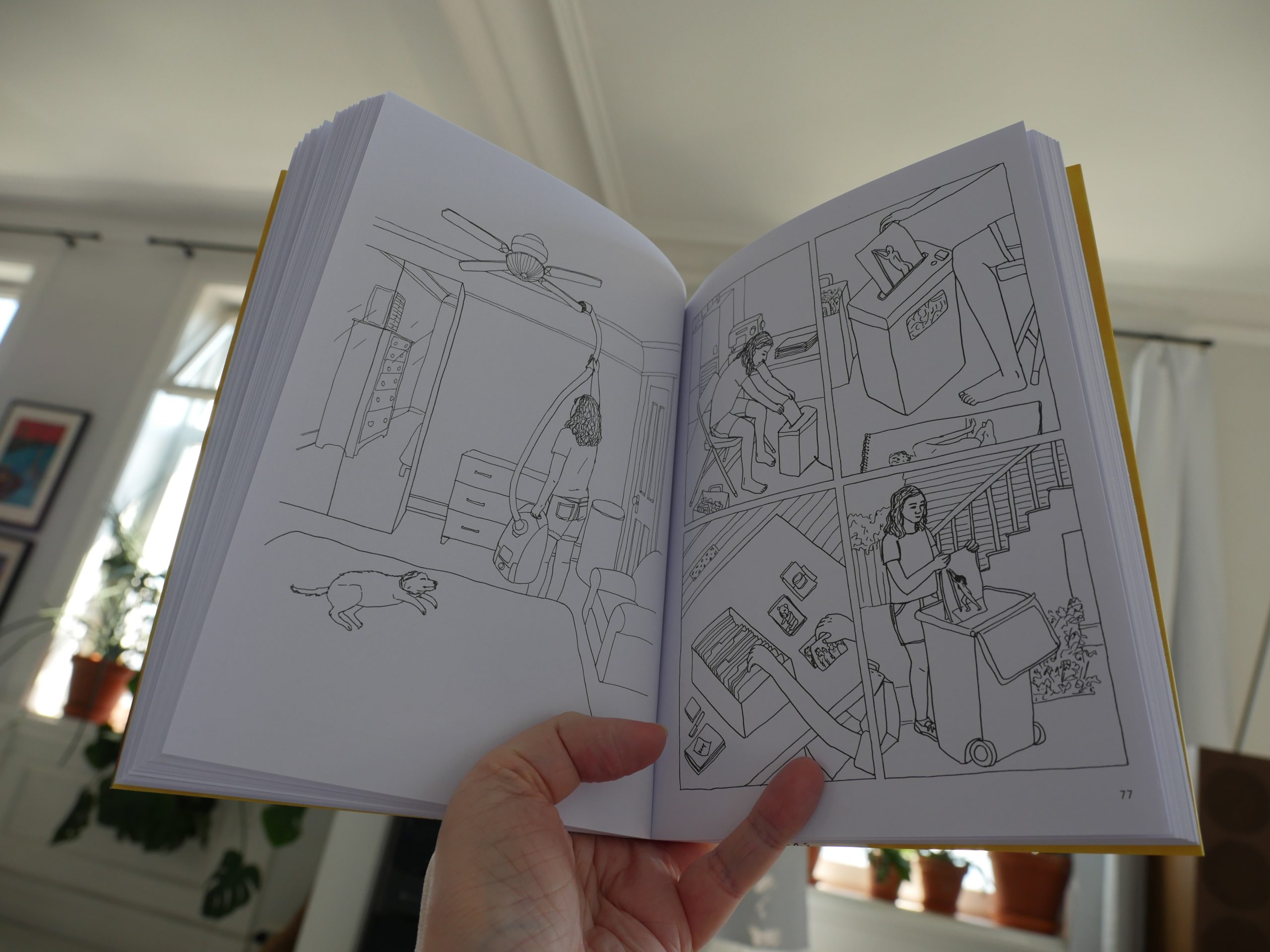 The page to the left here is one of the few direct callbacks to a previous strip, and it's amazing how significant that felt in this context. (There's also the Robin thing, which is more like a motif.) And it was about at this point this book started making sense to me, and it started connecting to me as a reader.
It's a very good book.
| | |
| --- | --- |
| Fairport Convention: Come All Ye | |
13:47: Poison Flowers & Pandemonium by Richard Sala (Fantagraphics)
Sala died last year, and this 300 page book collects four apparently complete, new, unpublished stories. So it'd be nice if these were really good.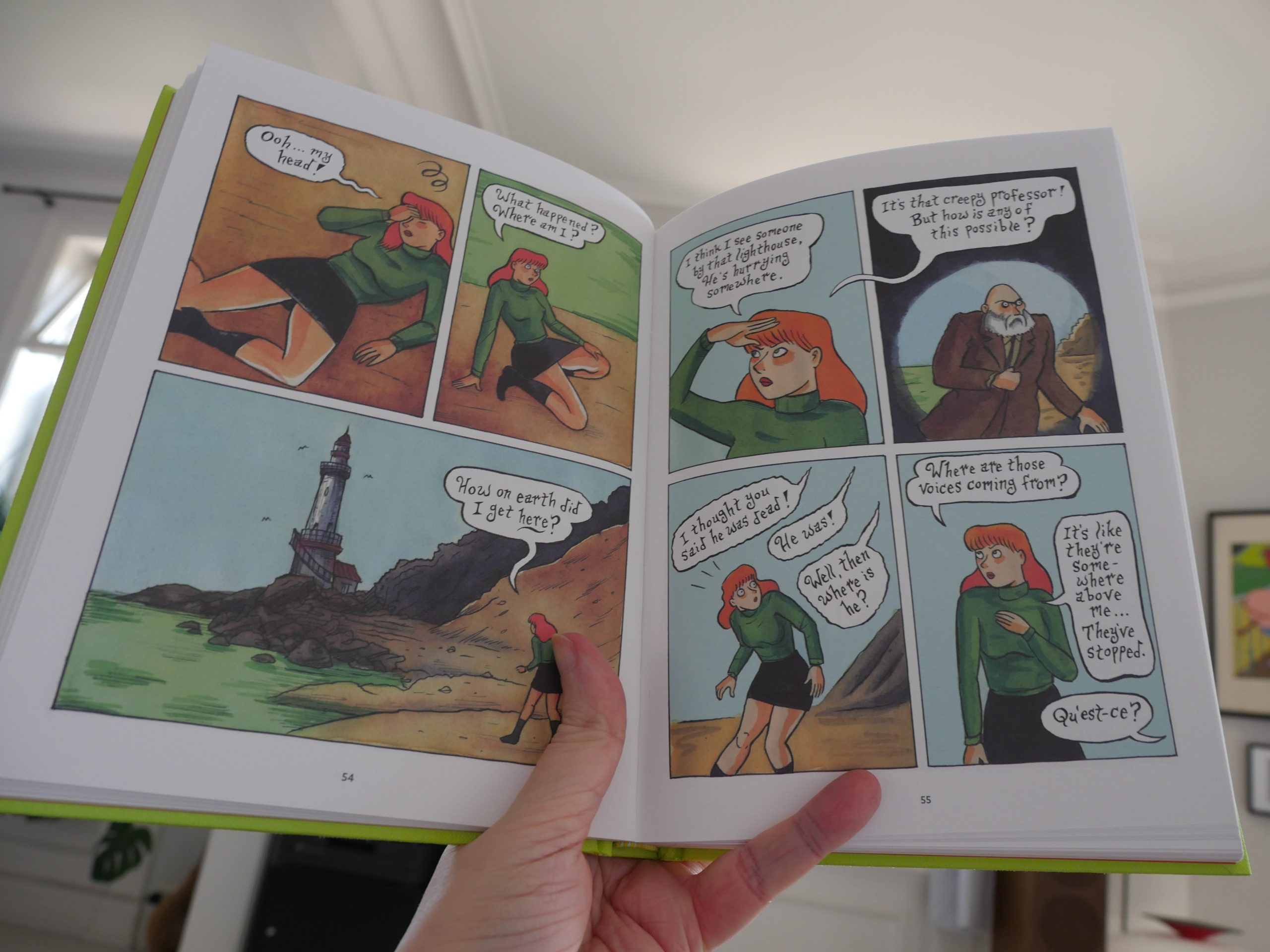 The first (and longest) pieces is a continuation of the Red Cardinal book that was published in 2017. I love Sala's linework, his unique sense of colour, and even his lettering, and sometimes his stories manage to cohere and become quite gripping and nightmarish, but this one is basically summed up by the page to the left there.
The second thing is just a collection of drawings of monsters and cute women.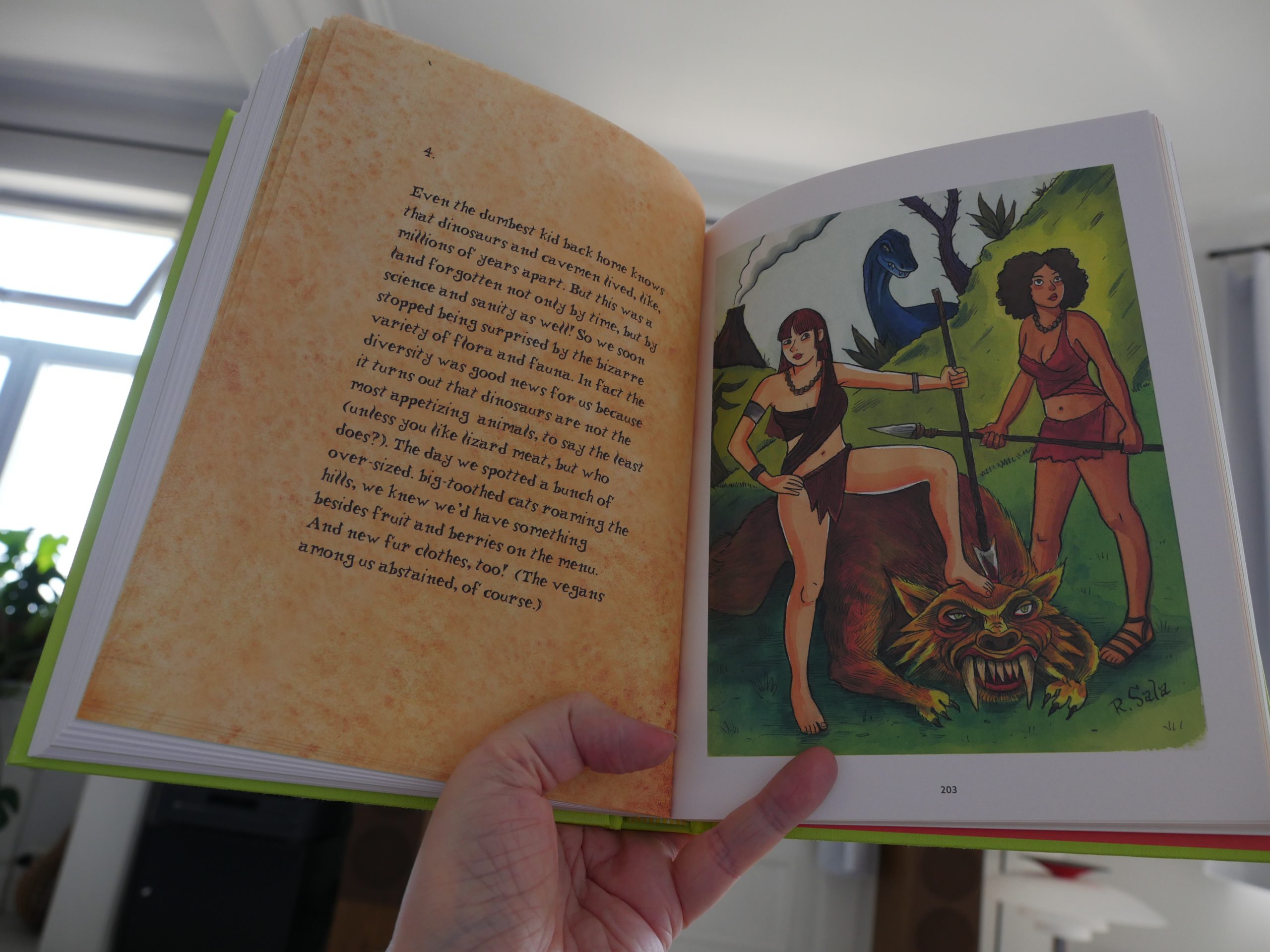 The third is a collection of drawing of dinosaurs and cute women, but is accompanied by a text that a character in the framing story says reads like it's written by a thirteen-year-old who's really into dinosaurs and cute women. So it's fun to see Sala poke fun at his own obsessions, but it's still not actually… good?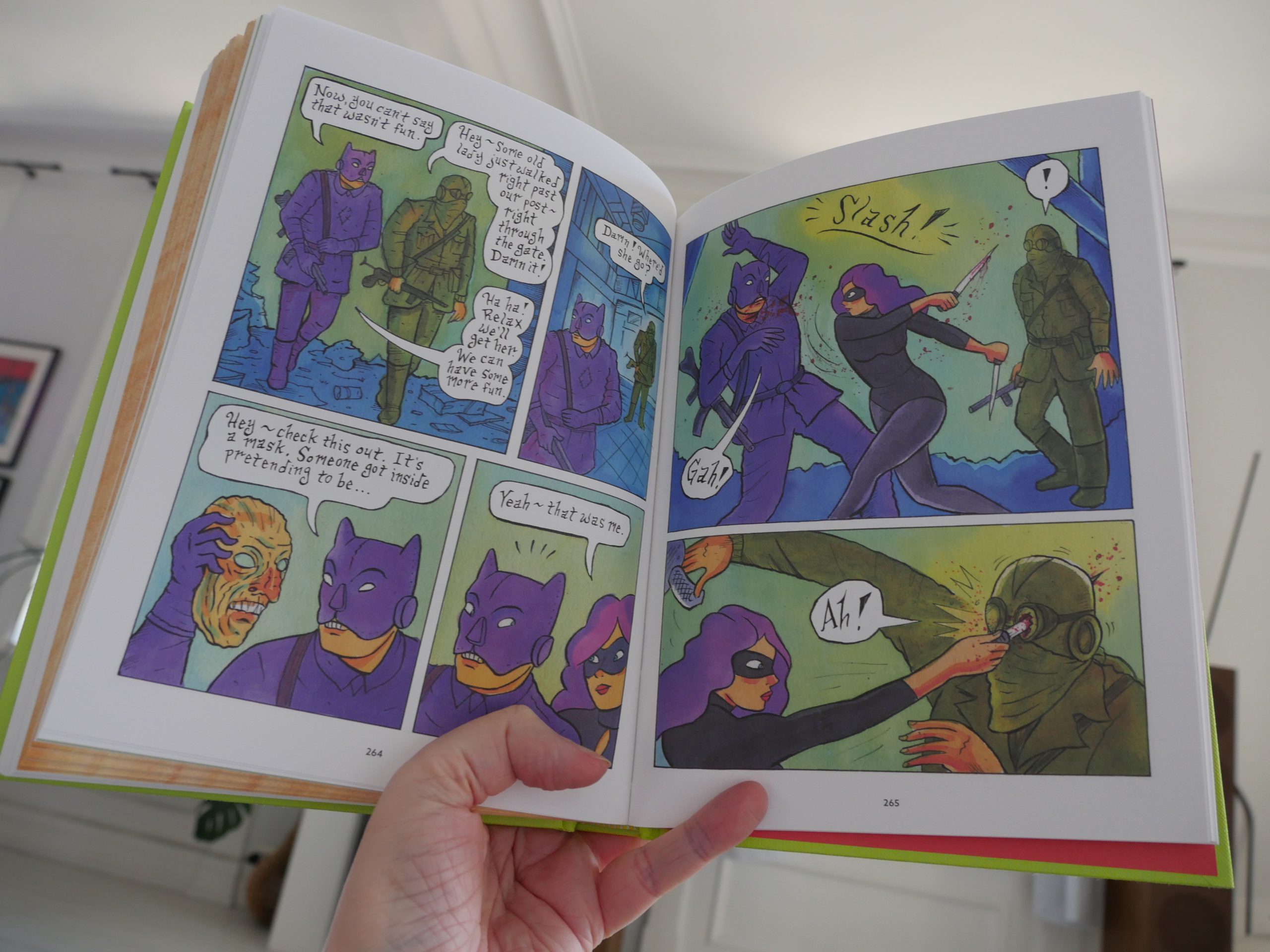 The final thing (again, with gorgeous artwork) is basically just this woman killing people for fifty pages, and then there's an ironic ending.
So that was a bit of a disappointment.
| | |
| --- | --- |
| New Order: Live At Alexandra Palace (1) | |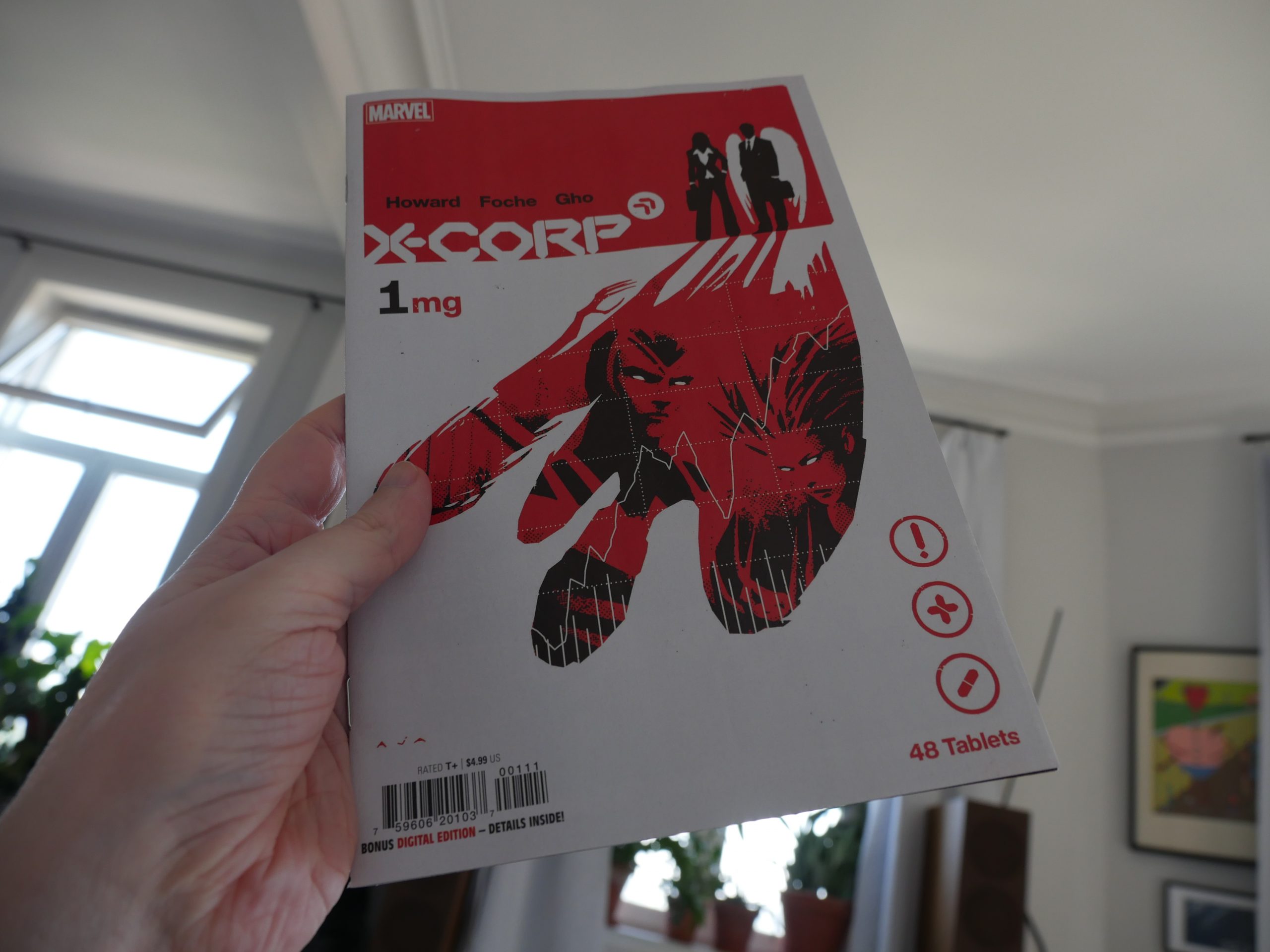 15:00: X-Corp by Howard/Foche/Gho (Marvel)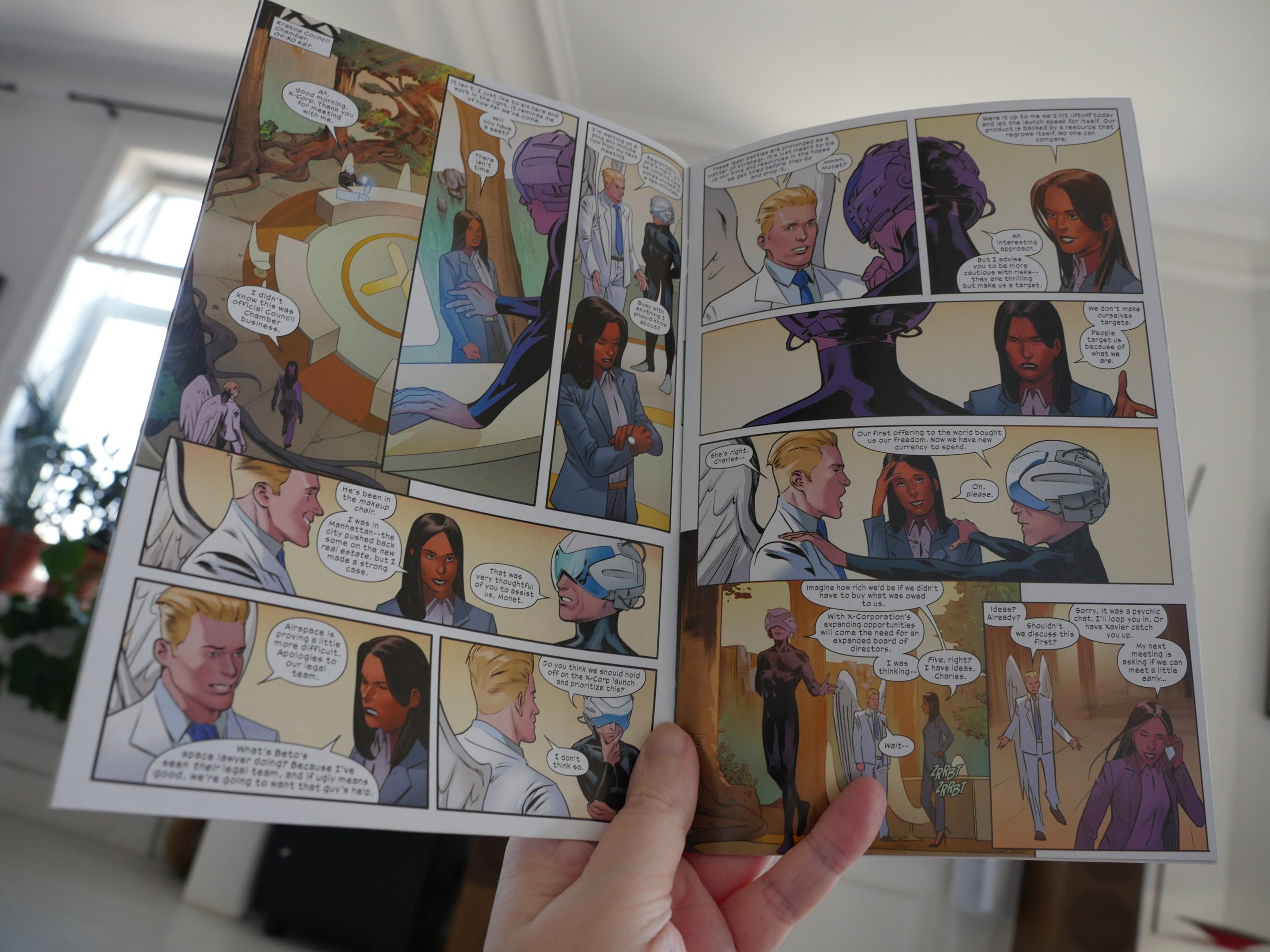 I have absolutely no idea what's going on here. The book was almost fascinating in its inscrutability.
| | |
| --- | --- |
| Pet Shop Boys: Cricket Wife | |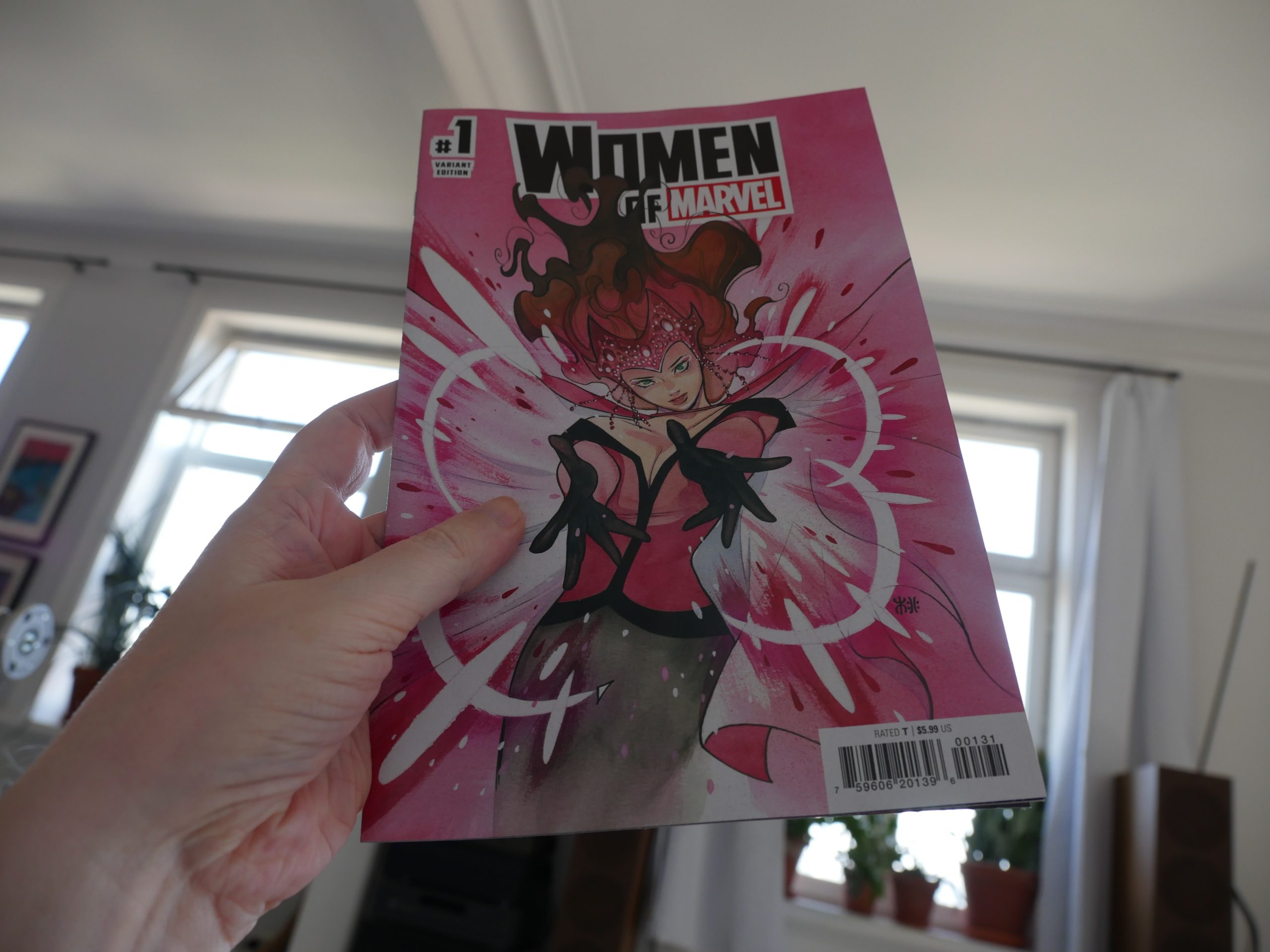 15:18: Women of Marvel by A Bunch Of People (Marvel)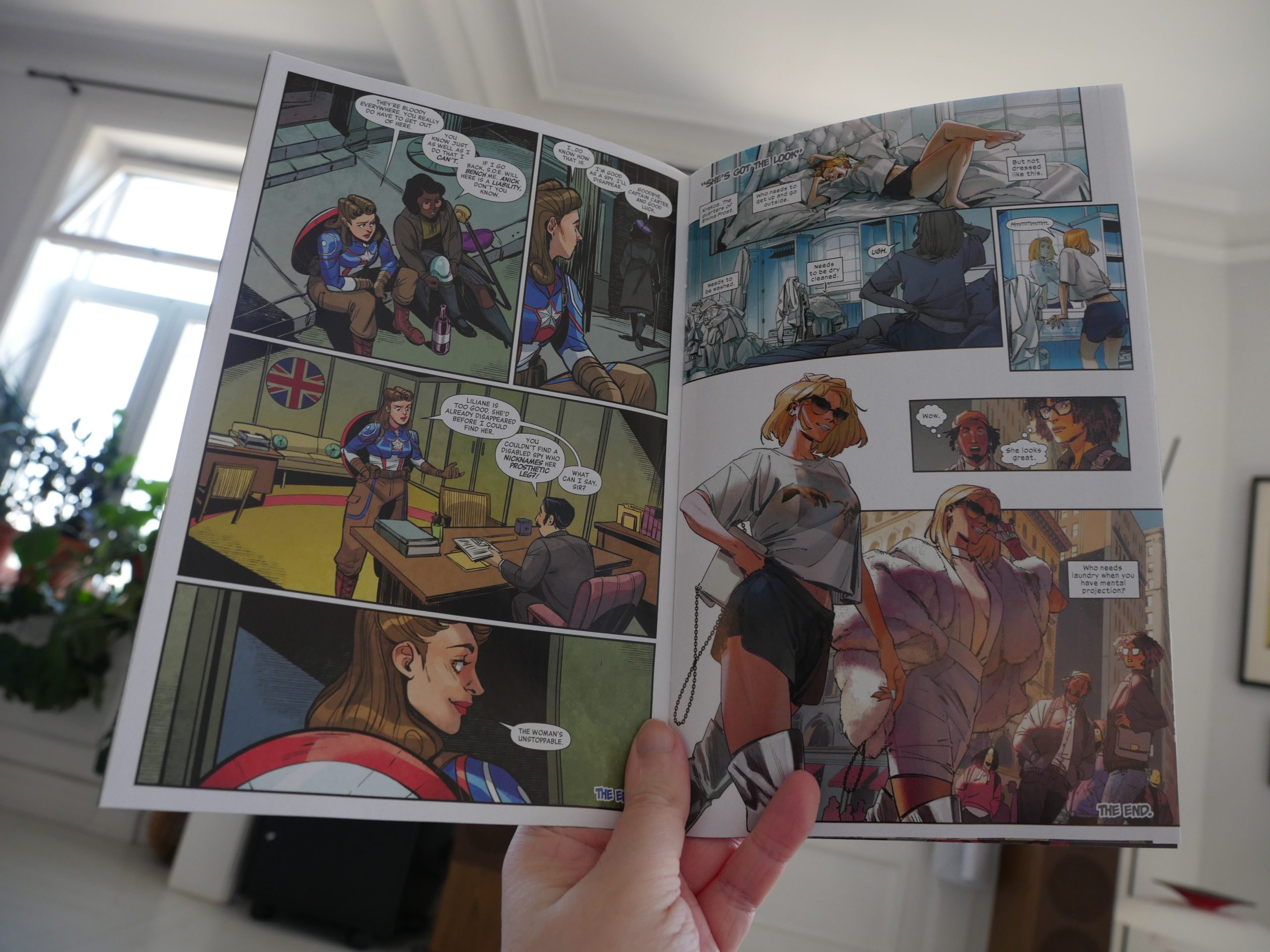 This is a collection of vignettes, mostly humorous (which is a good thing to aim for when you've only got a couple pages).
It's quite entertaining.
| | |
| --- | --- |
| New Order: Live At Alexandra Palace (2) | |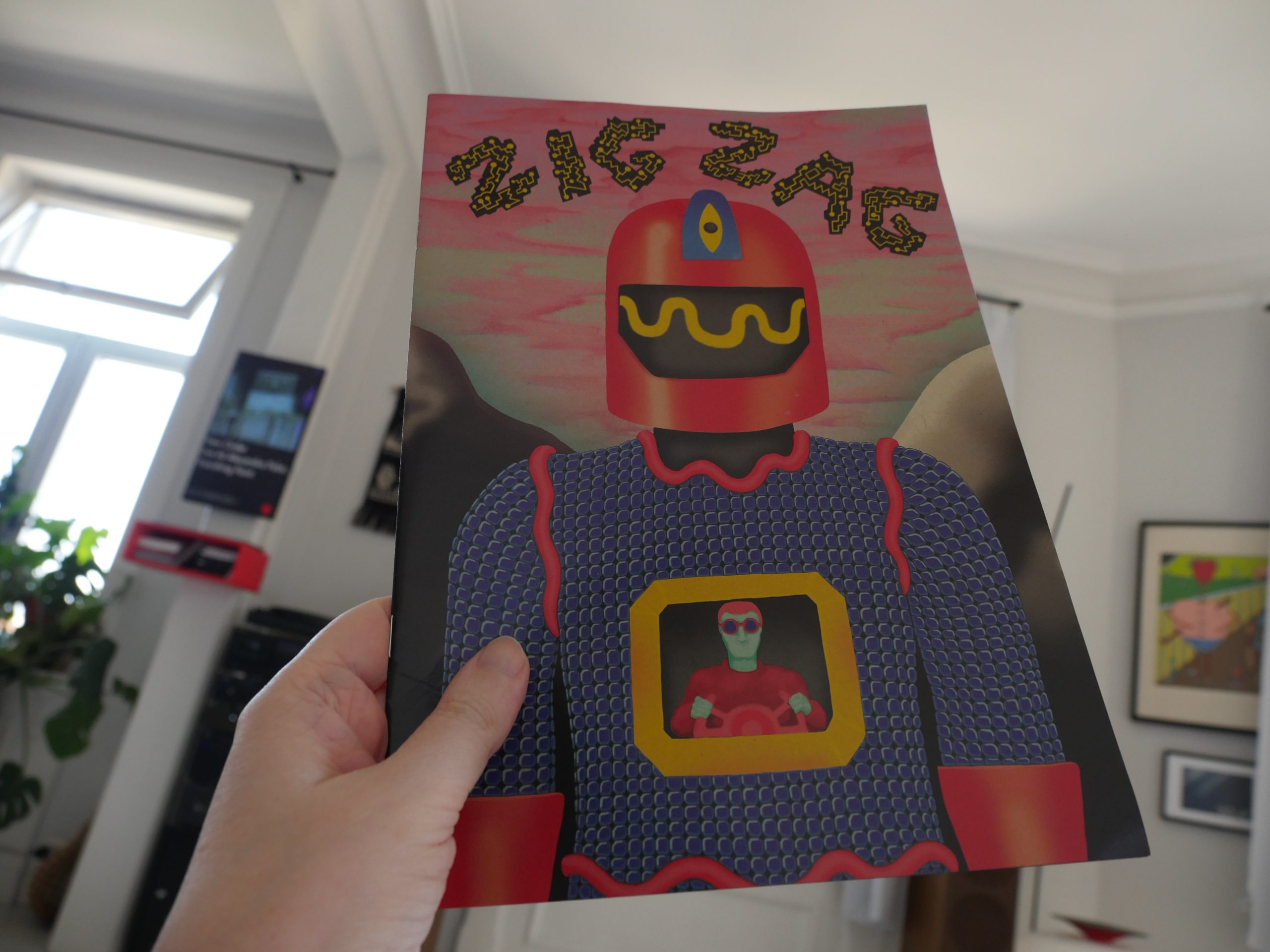 15:37: Zig Zag by Will Sweeney (Fantagraphics)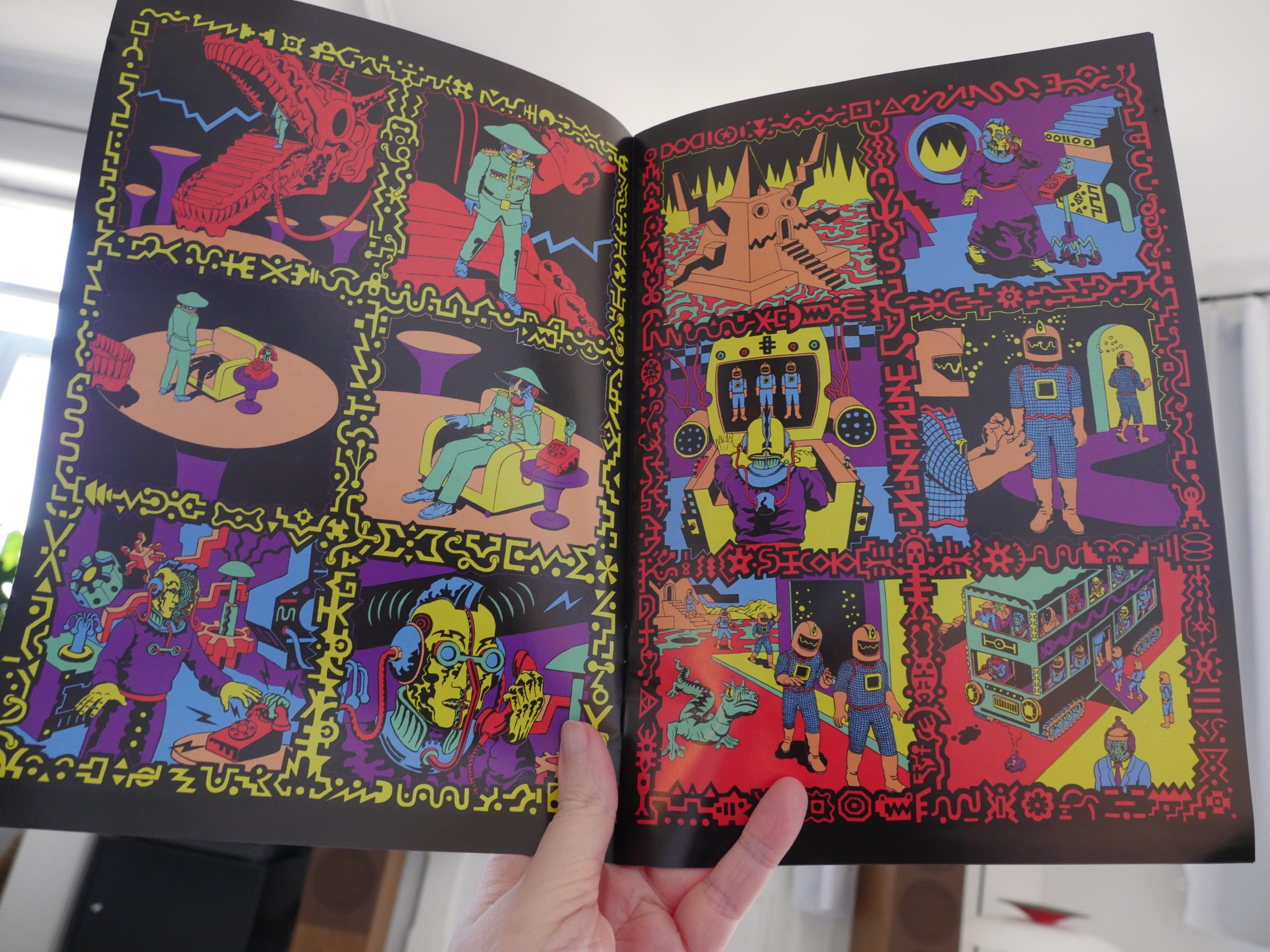 Very unusual format… it's larger than magazine size, 24 pages (including the covers), shiny, and very floppy.
I'm guessing it's video game influenced?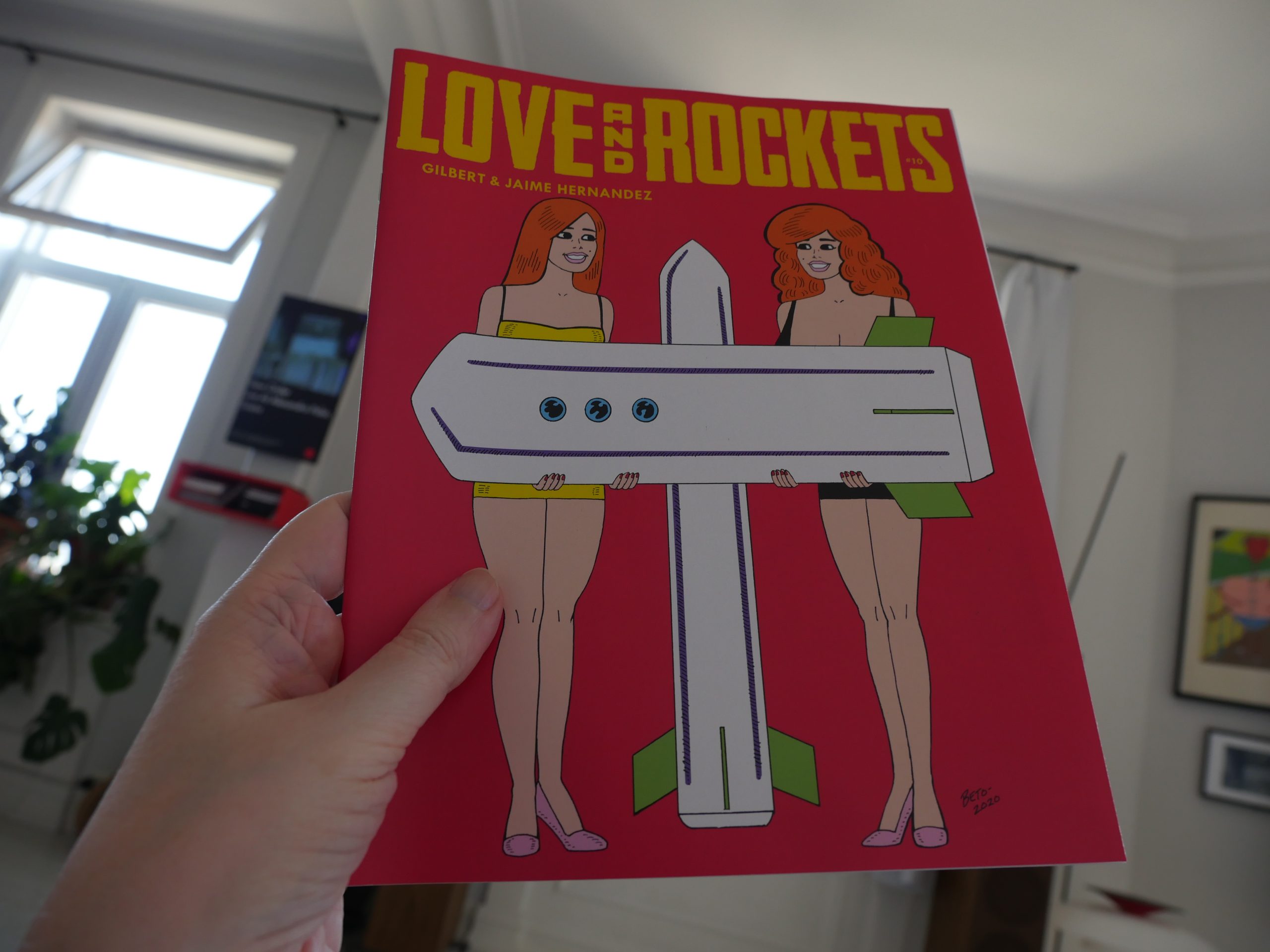 15:44: Love and Rockets #10 by Los Bros Hernandez (Fantagraphics)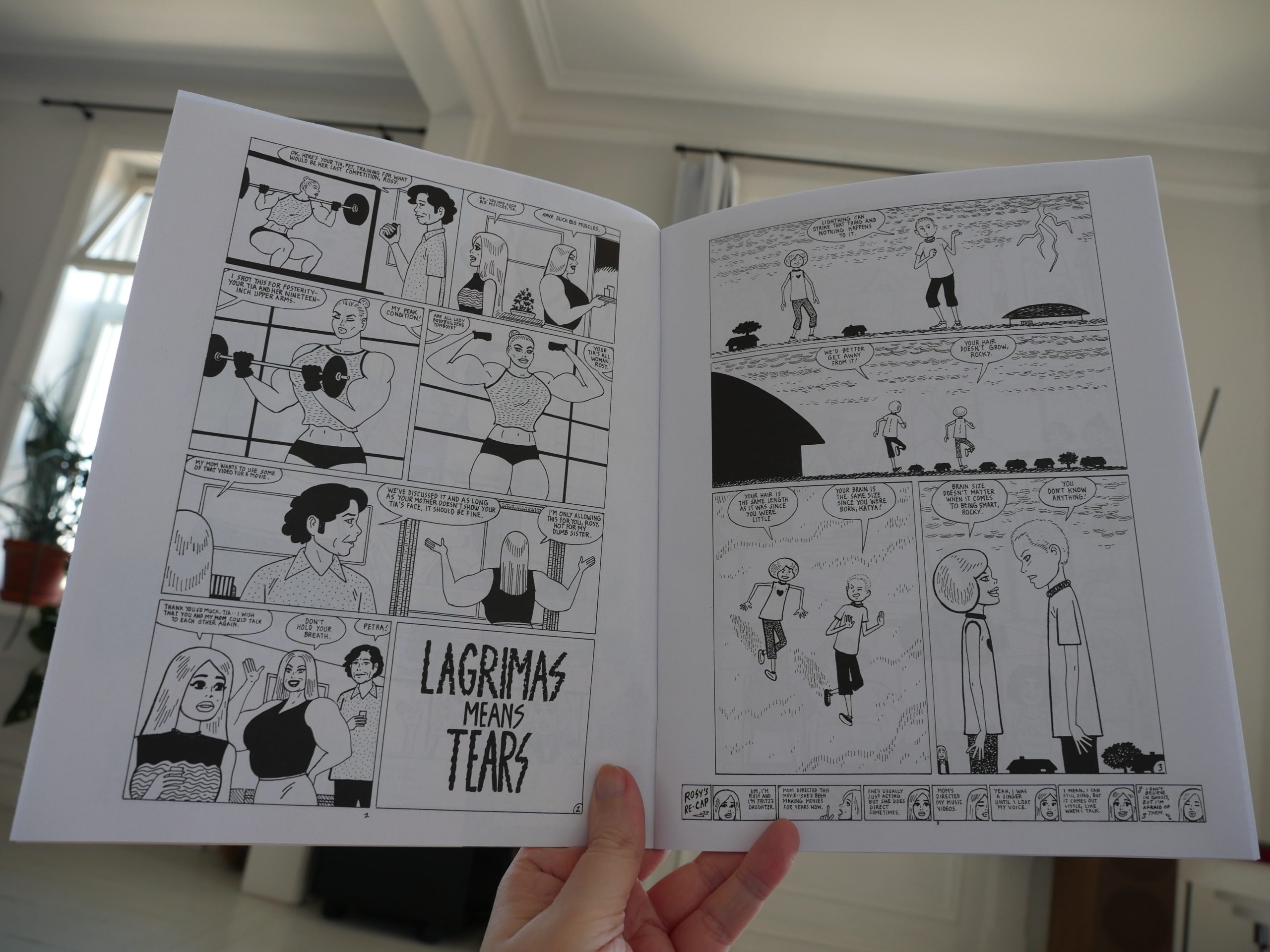 Beto is doing something new here with Rosy commenting on the "movie" we're watching I mean reading above it. It makes for a pretty dense reading experience… it feels like he's trying to put a lot of story in here.
And it works.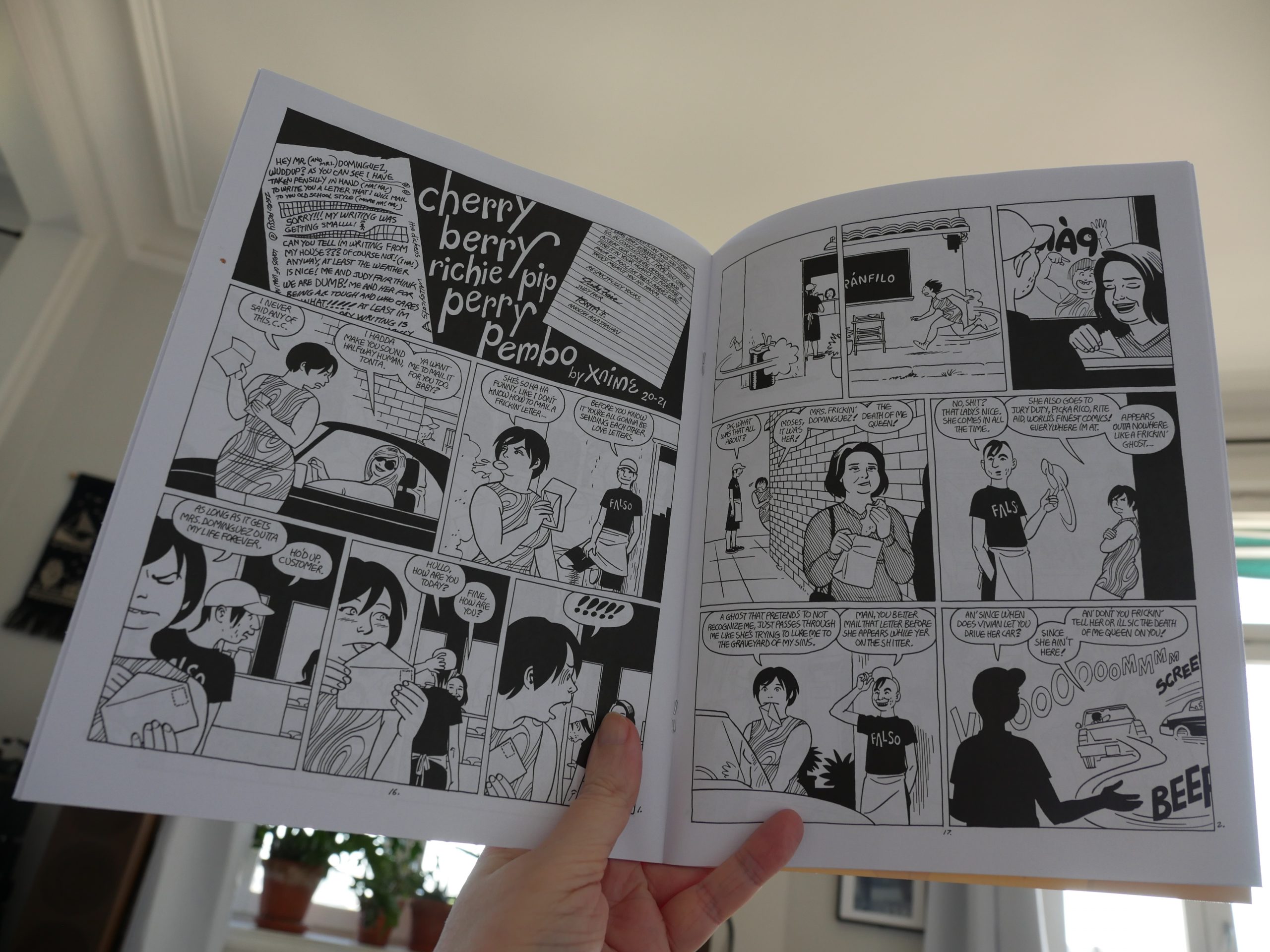 Jaime isn't putting a lot of story into his half of the book… and that works, too.
Perfectly balanced.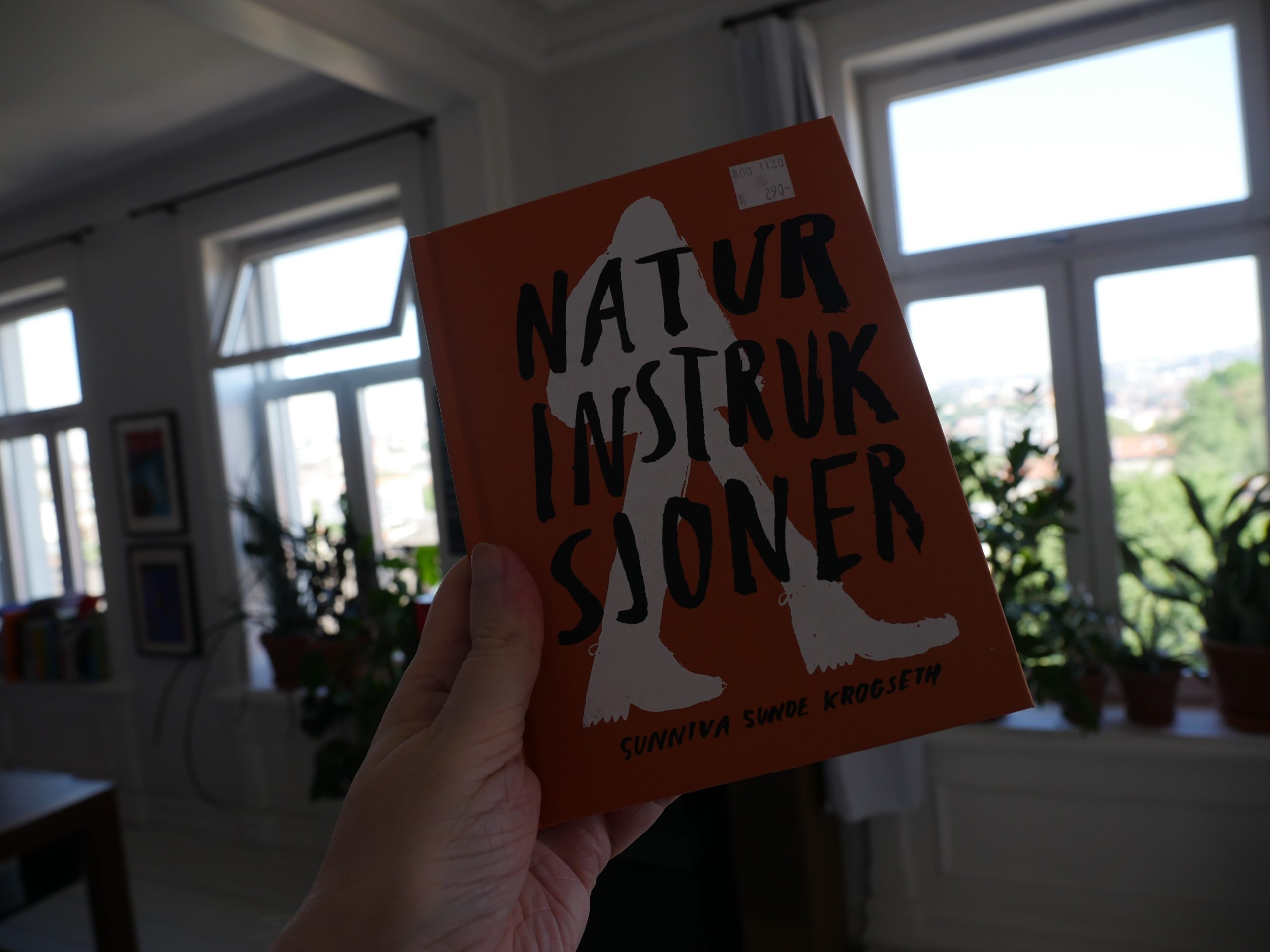 16:13: Naturinstruksjoner by Sunniva Sunde Krogseth (Blokk)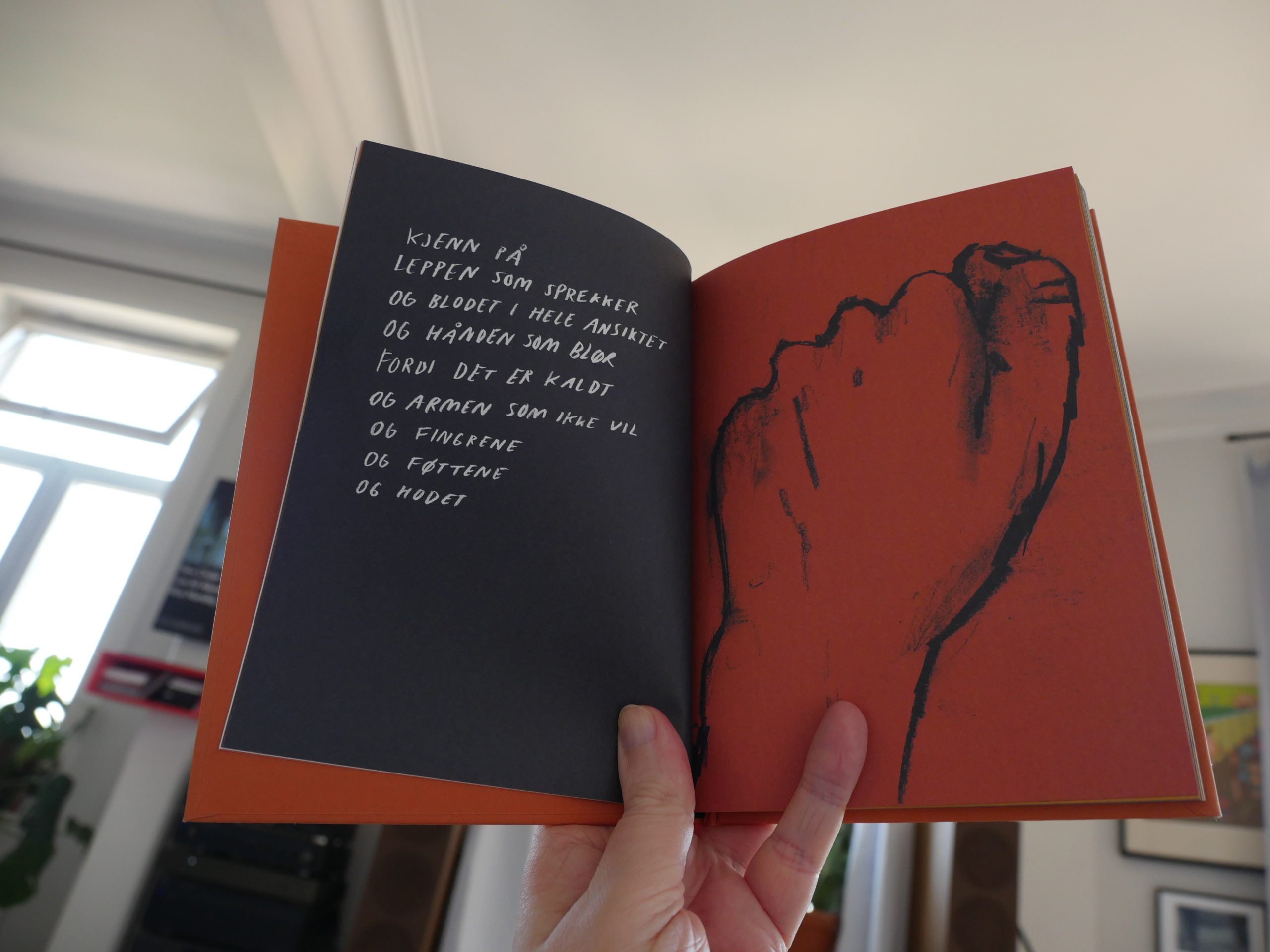 This Norwegian book is a mixture of texts and artwork…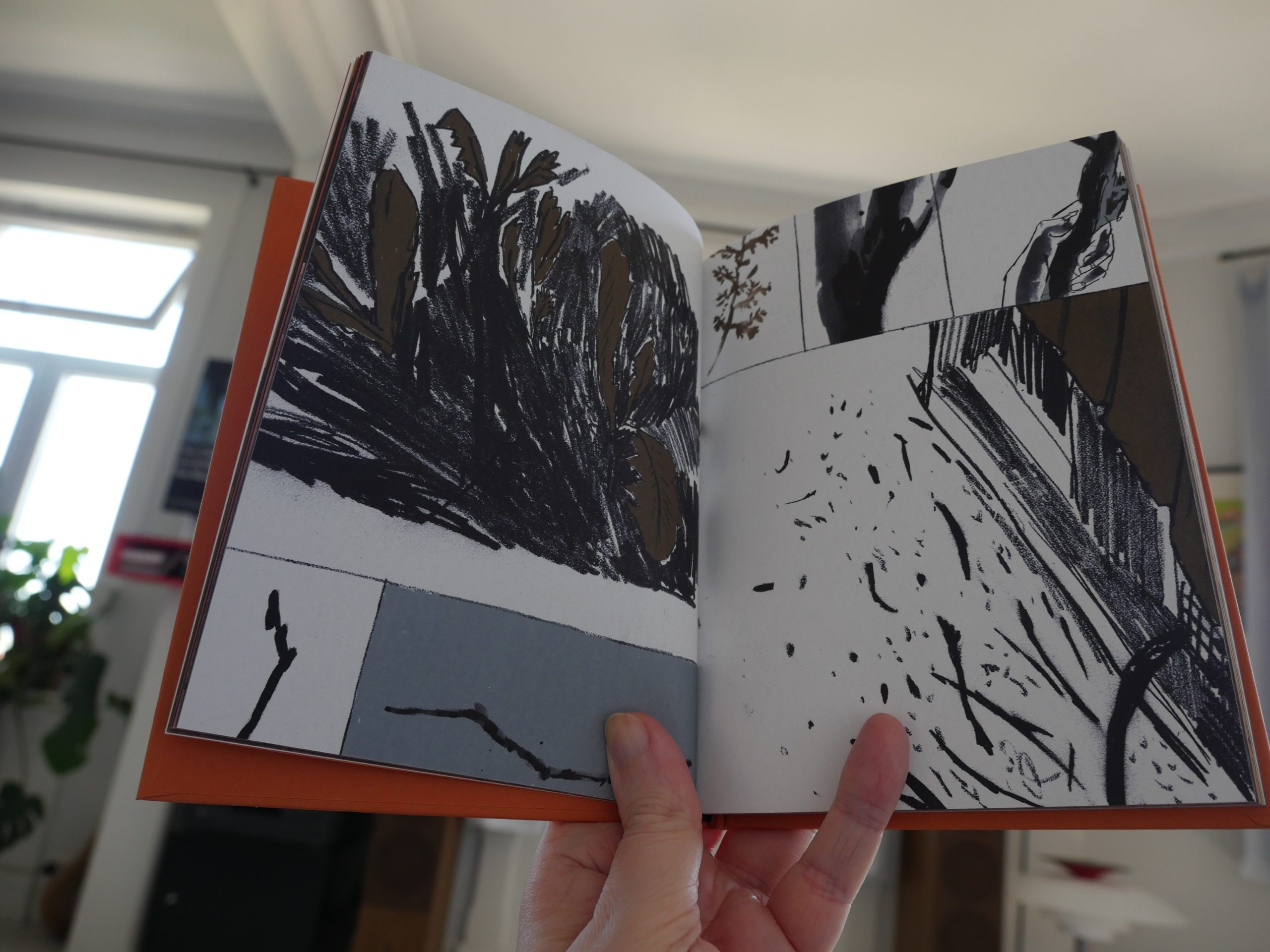 It's fabulous!
| | |
| --- | --- |
| Lisa Gerrard & Jules Maxwell: Burn | |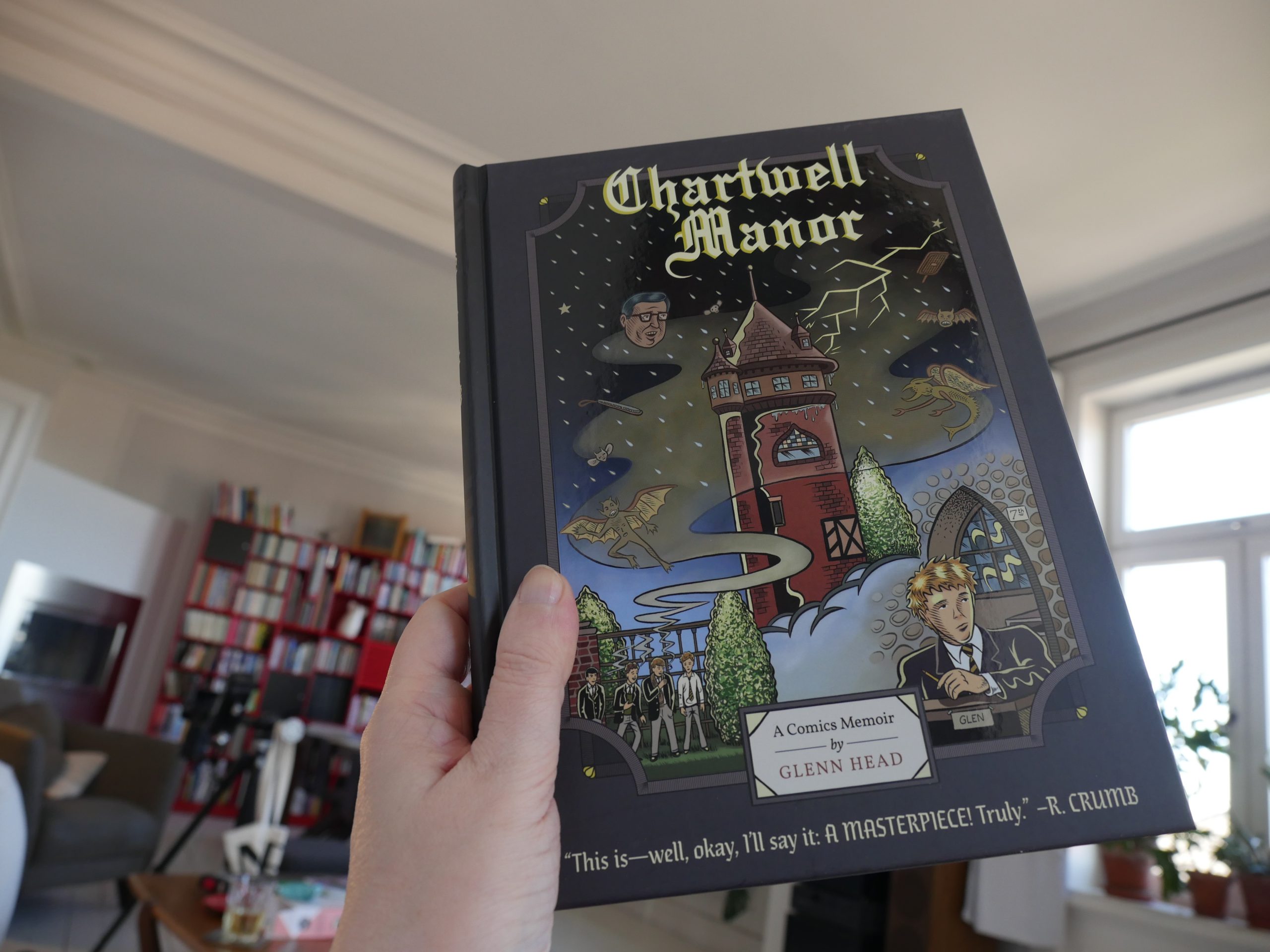 16:21: Chartwell Manor by Glenn Head (Fantagraphics)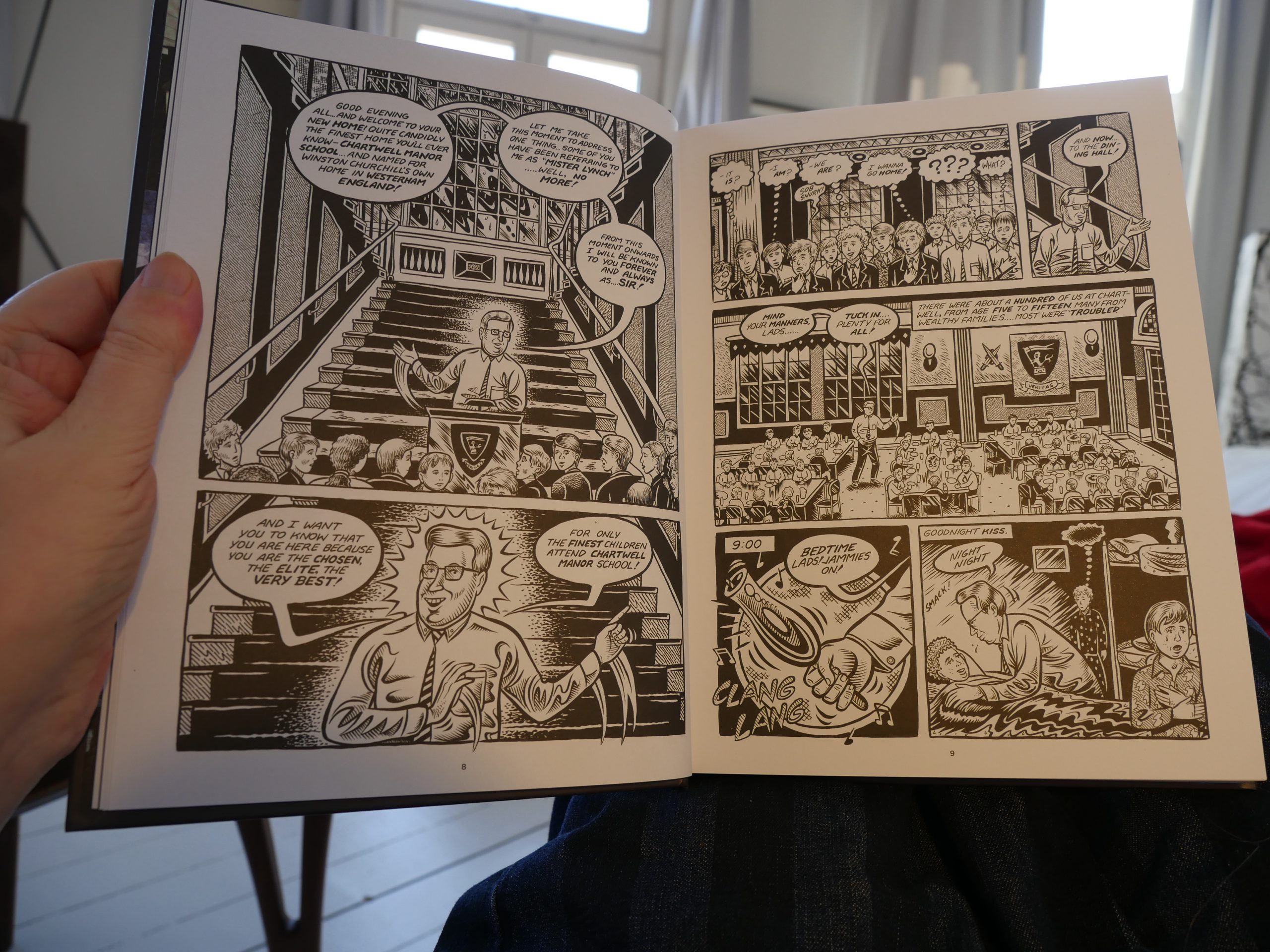 I think I've read most of Head's books… He's working in that underground vaguely fictionalised auto-bio genre, and… usually overselling how dramatic whatever he's writing about was? At least that's how it reads.
But this time around, it really is horrifying — it's all about childhood sexual and physical abuse…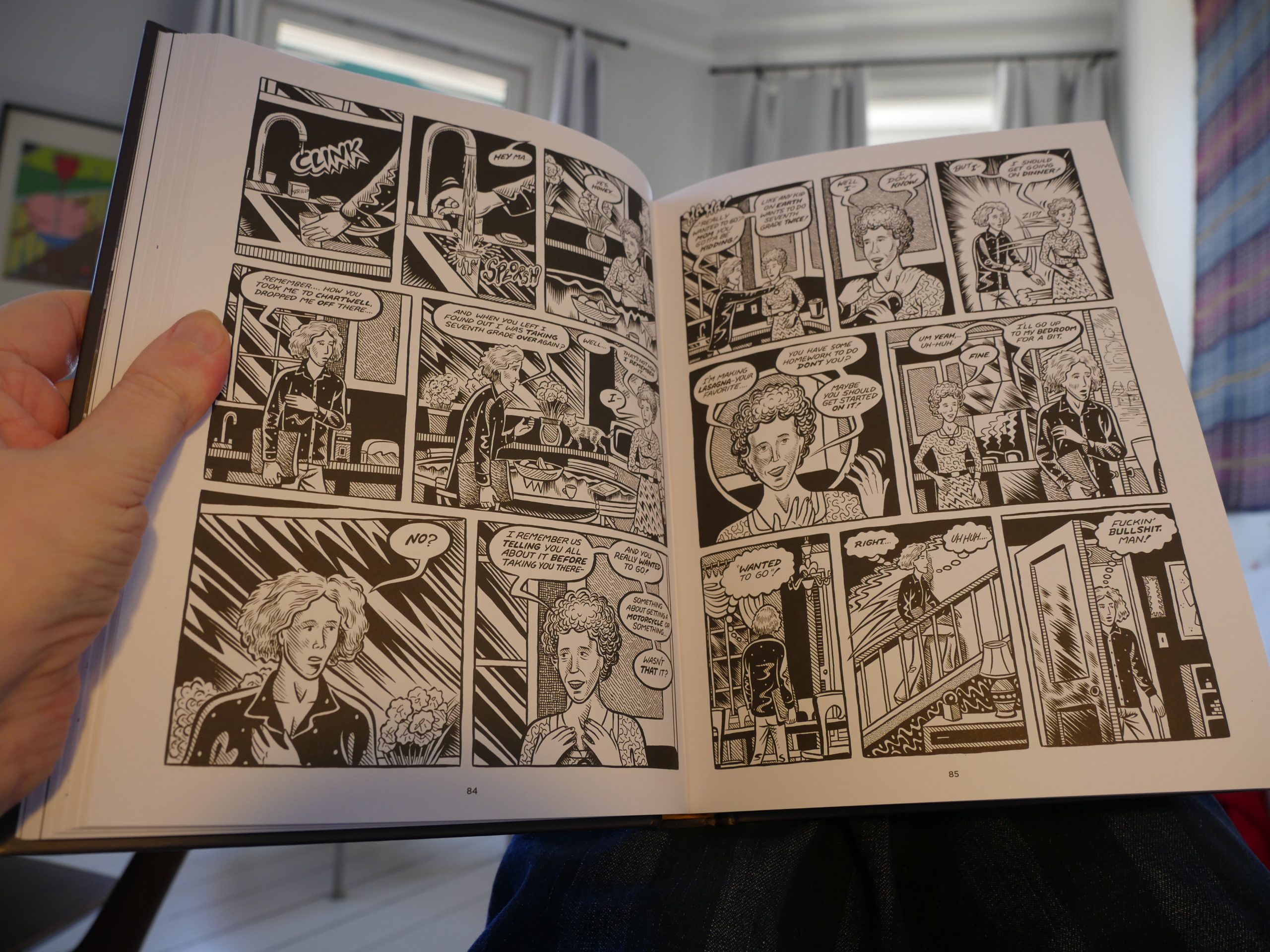 … and the repercussions thereof.
Head's artwork gotten a lot less scratchy over the years — he's now more in a Kim Deitch kinda mode? Hm… well, or Spain, perhaps.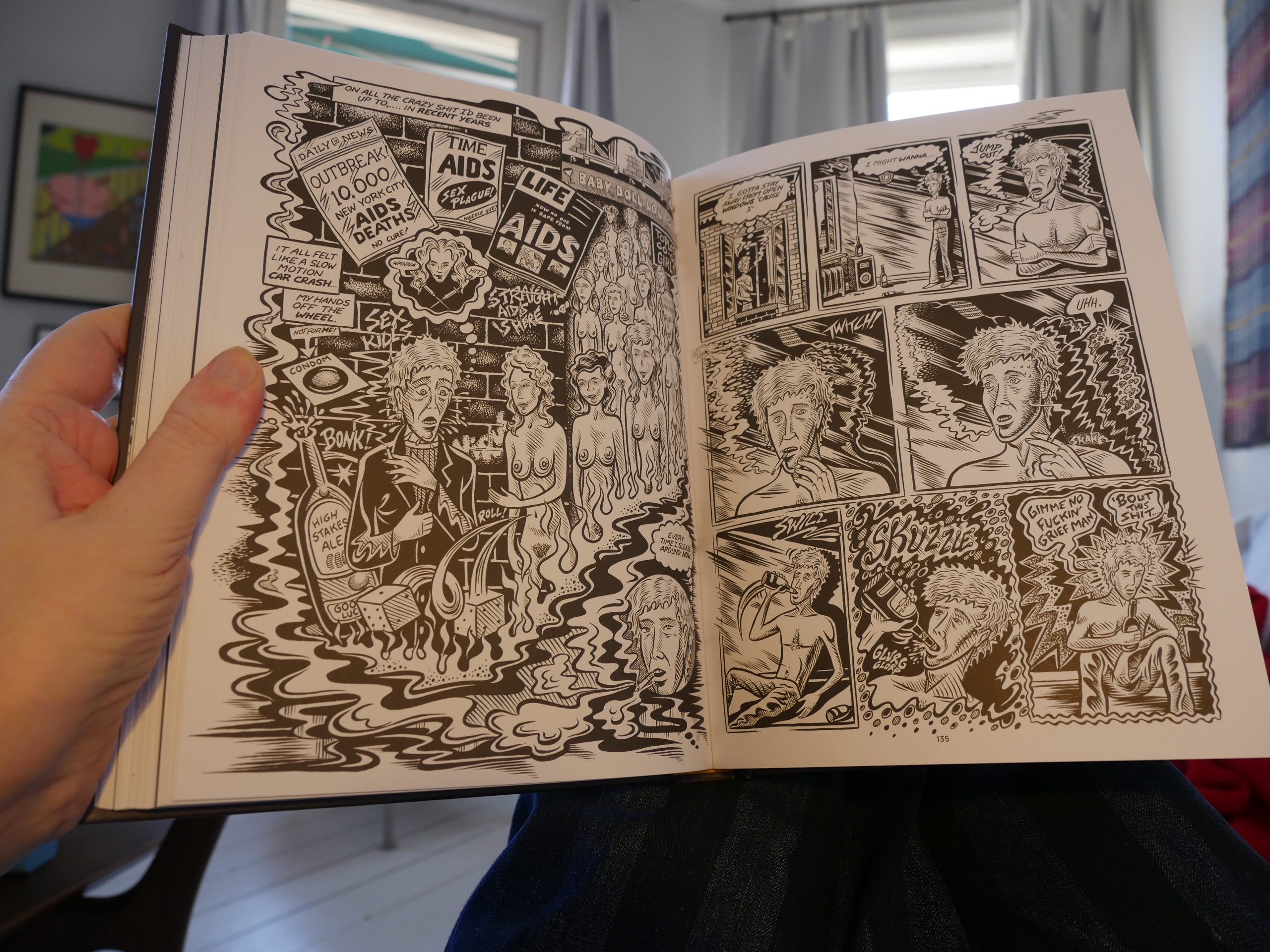 Uhm… it's pretty good? It's a bit oddly structured, and Head seems to skip over some things, and repeat other things, which makes it seem a bit sloppy? And the A.A. stuff wasn't scintillating? Head has worked through all the stuff here thoroughly, which makes some of the… epiphanies… seem a bit pat.
But it's pretty good.
| | |
| --- | --- |
| Nils Frahm: Tripping with Nils Frahm | |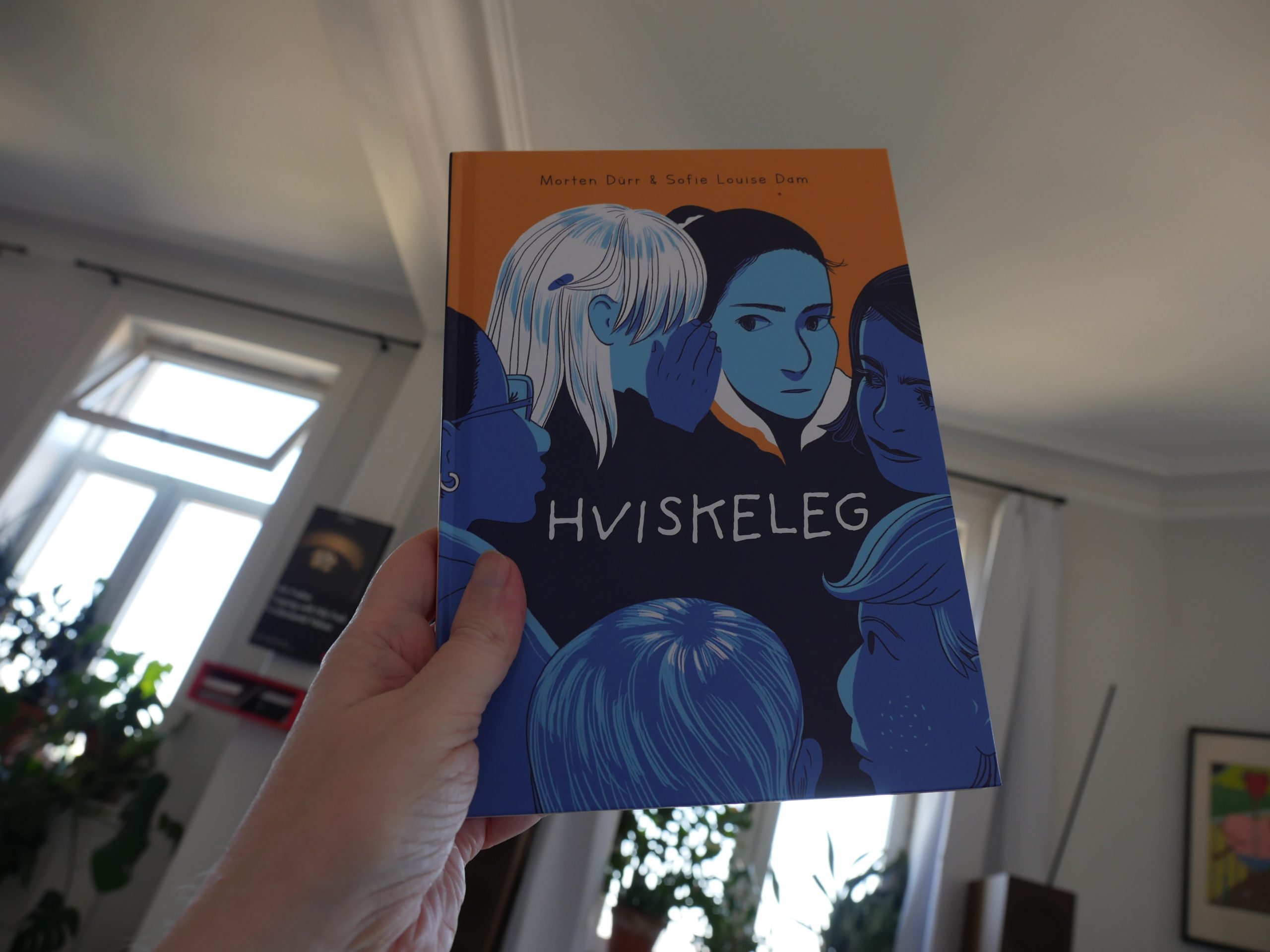 17:37: Hviskeleg by Morten Dürr & Sofie Louise Damm (Plot)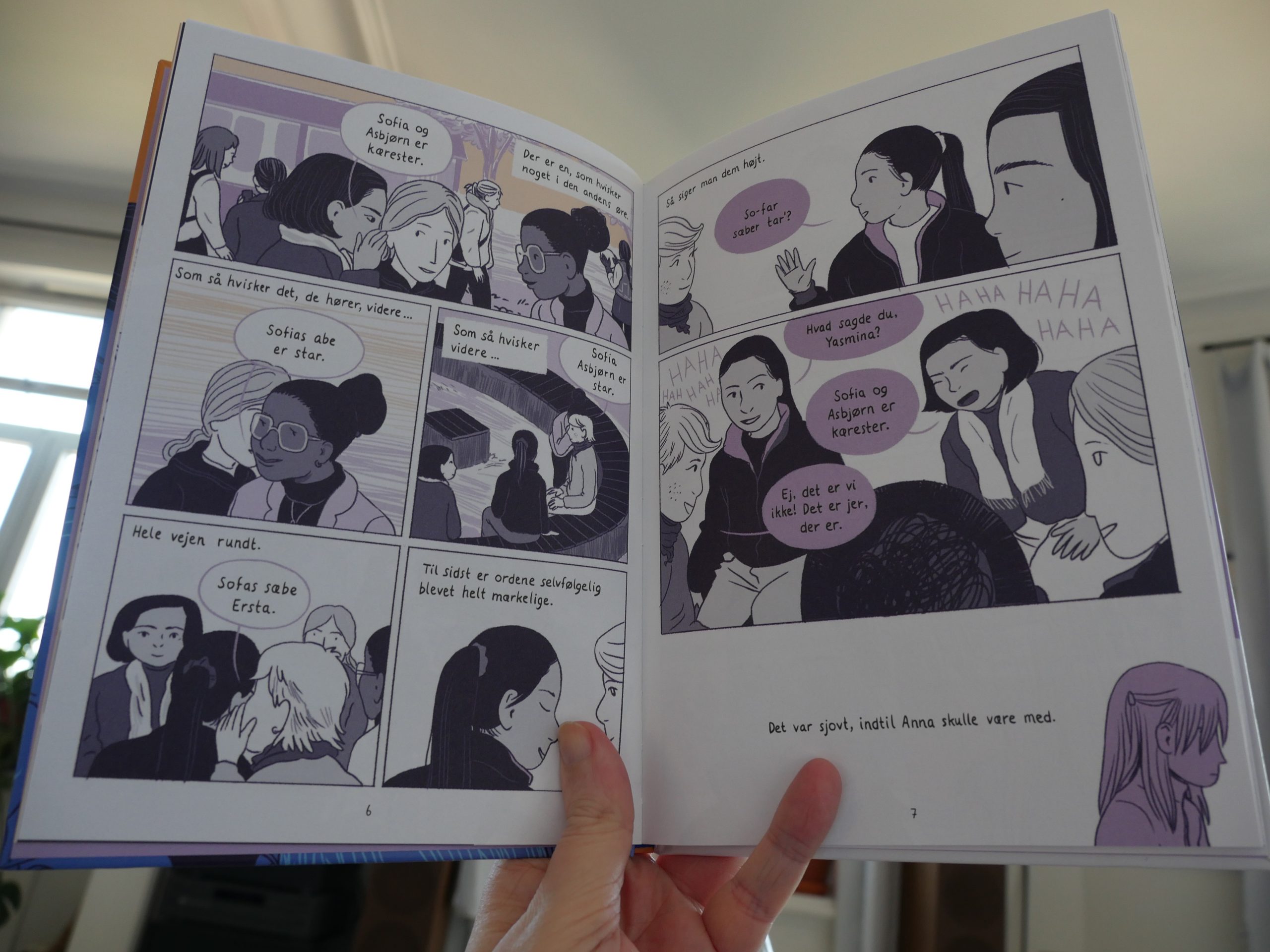 This is a Danish book… about a kid that's being abused at home. Sheesh! Two in a row! Ish!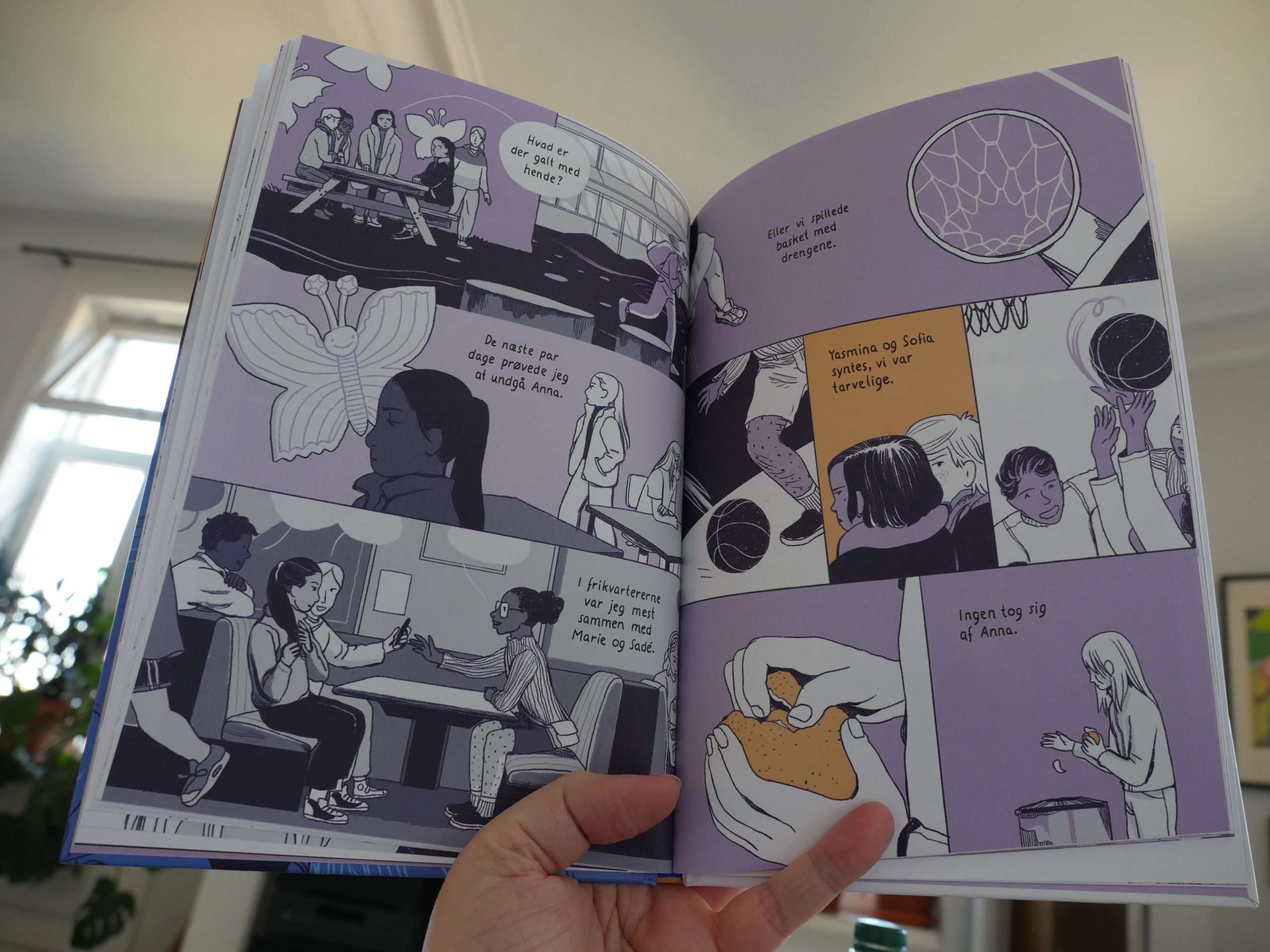 This is a comic for kids, and it's really efficiently told. It's quite subtle in many ways, but it's very, very touching. *sniffle*
Most excellent.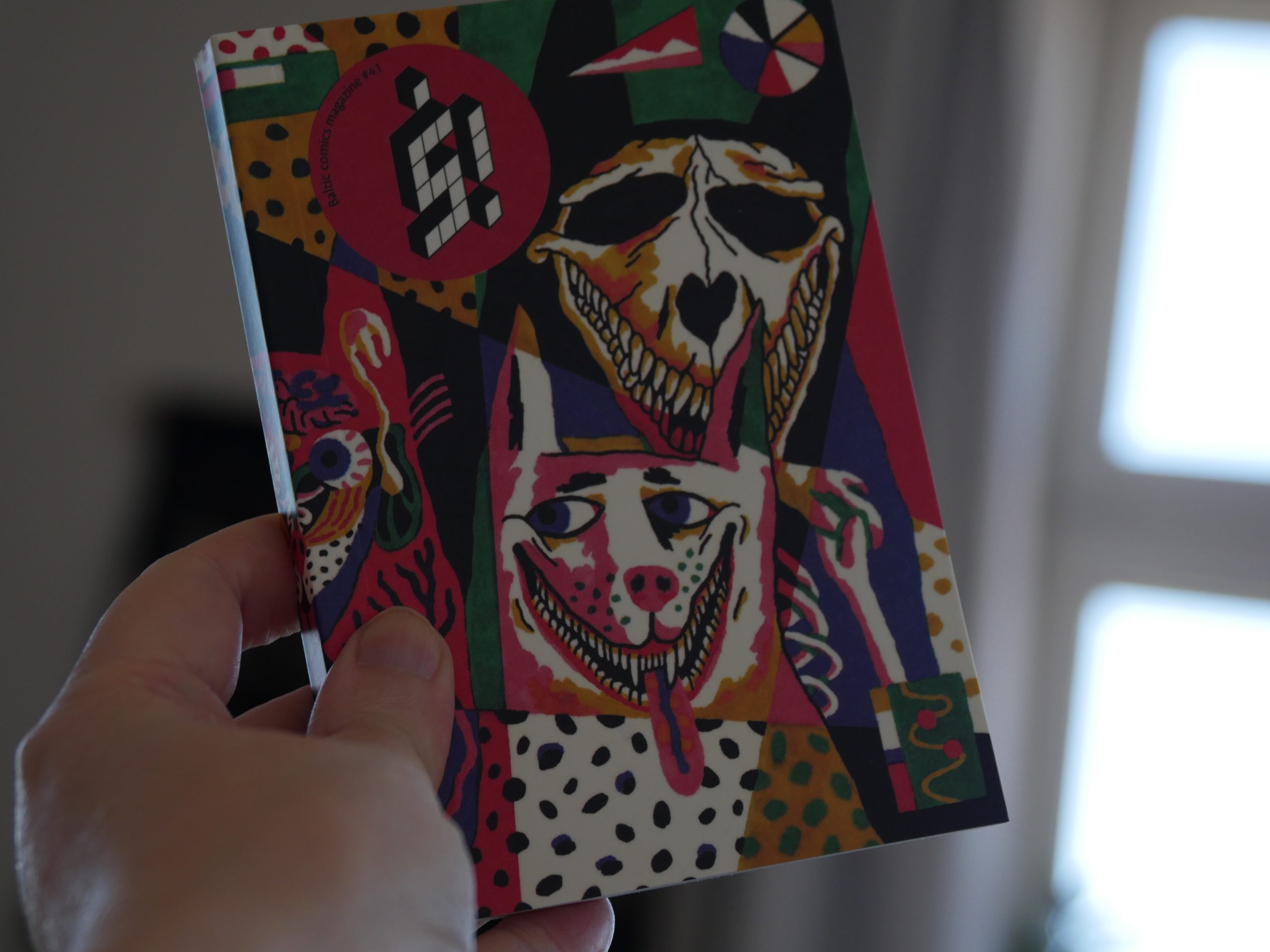 17:53: Š! #41 (Kuš)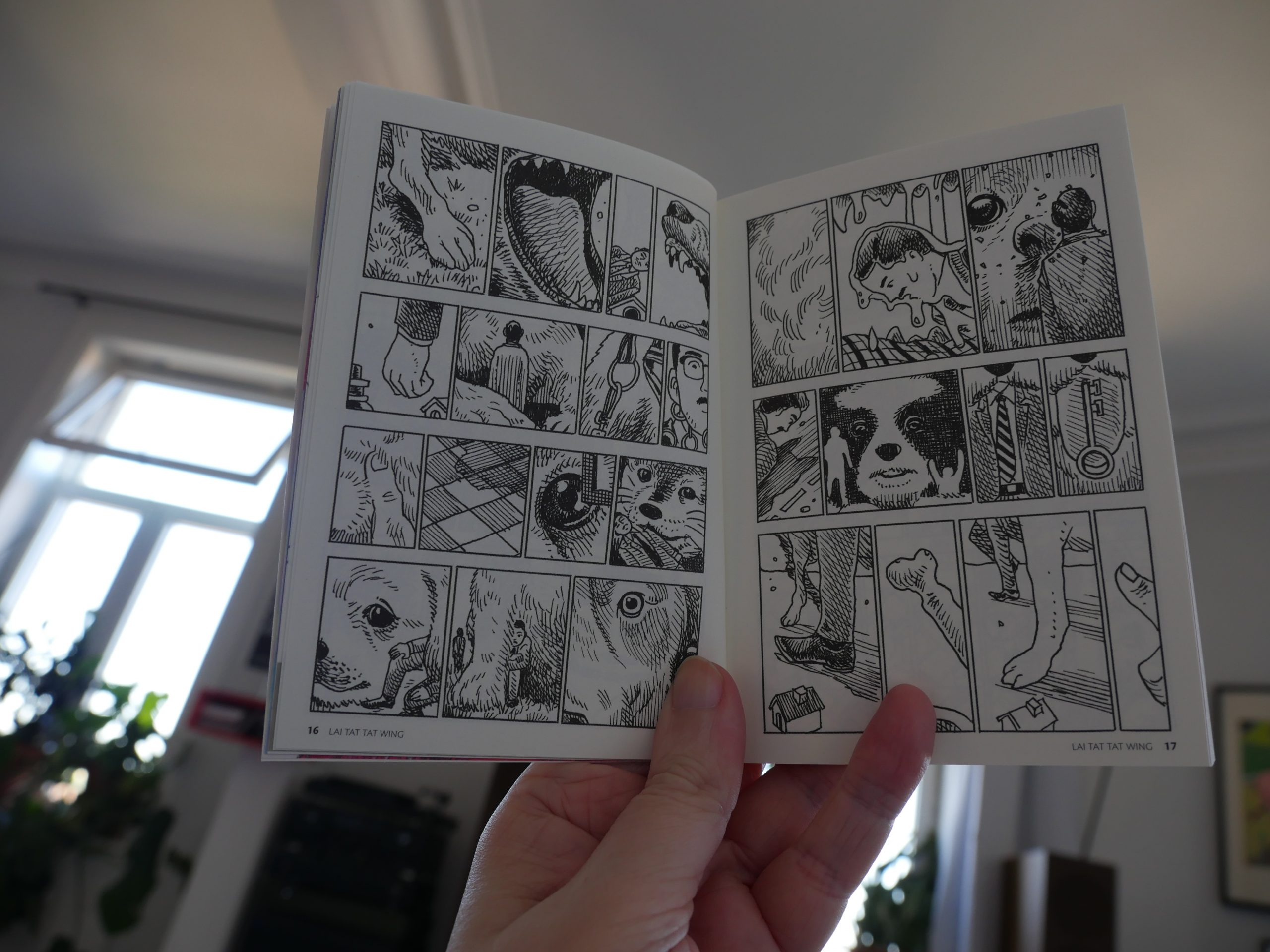 This time the theme is dogs.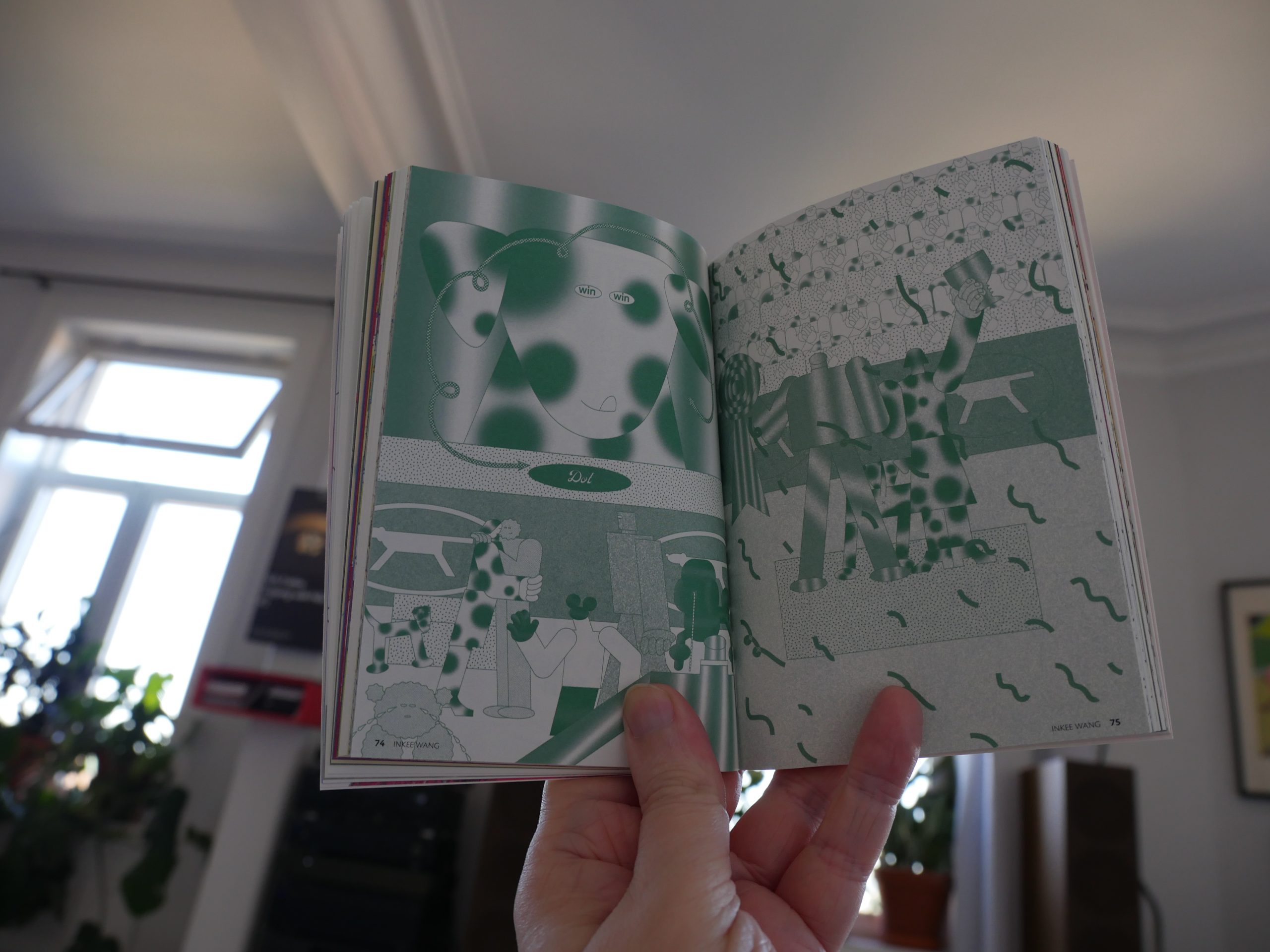 As usual, there's a wide variety of approaches…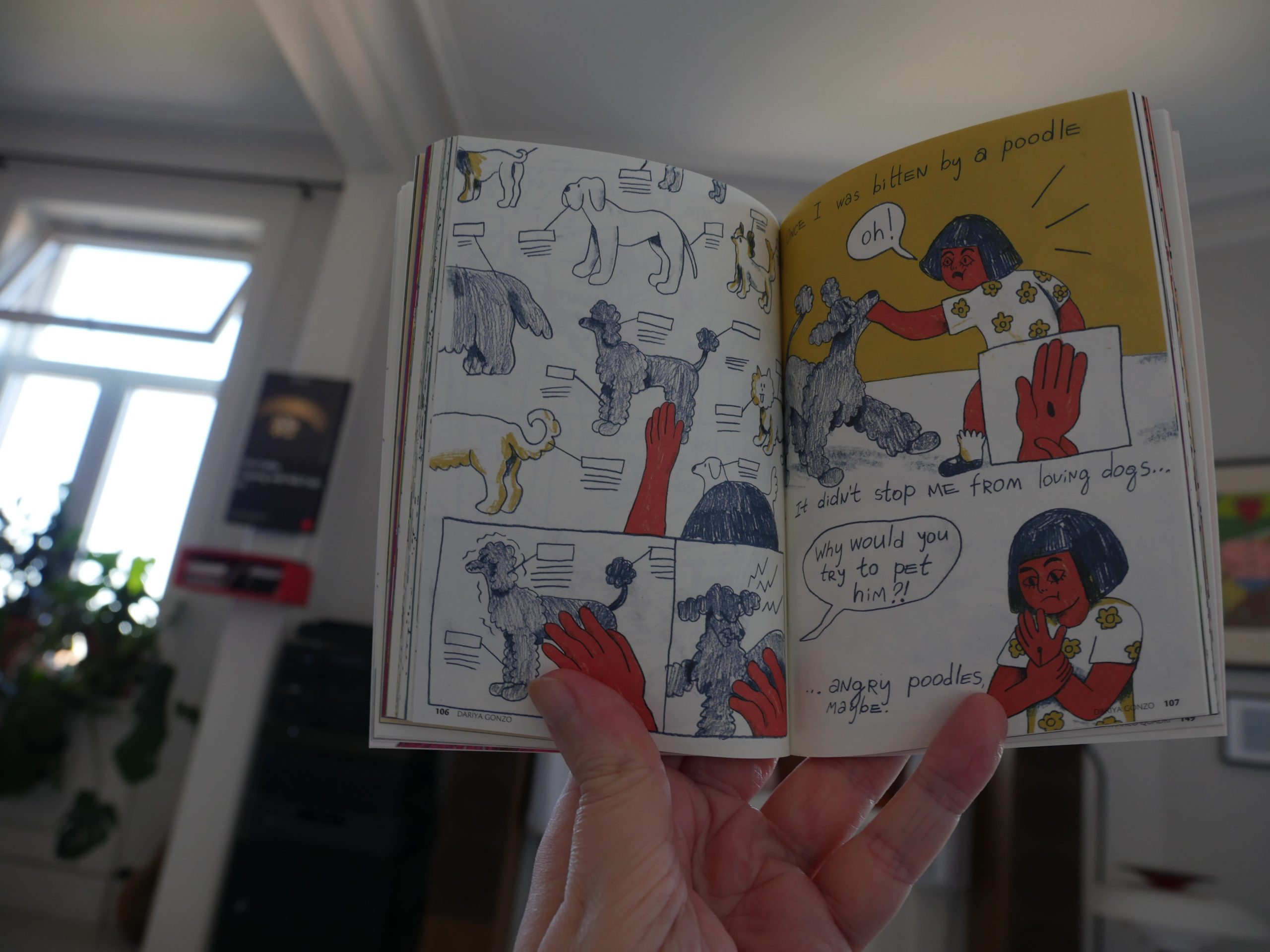 … it's yet another good little anthology.
| | |
| --- | --- |
| Rival Consoles: Odyssey, Sonne | |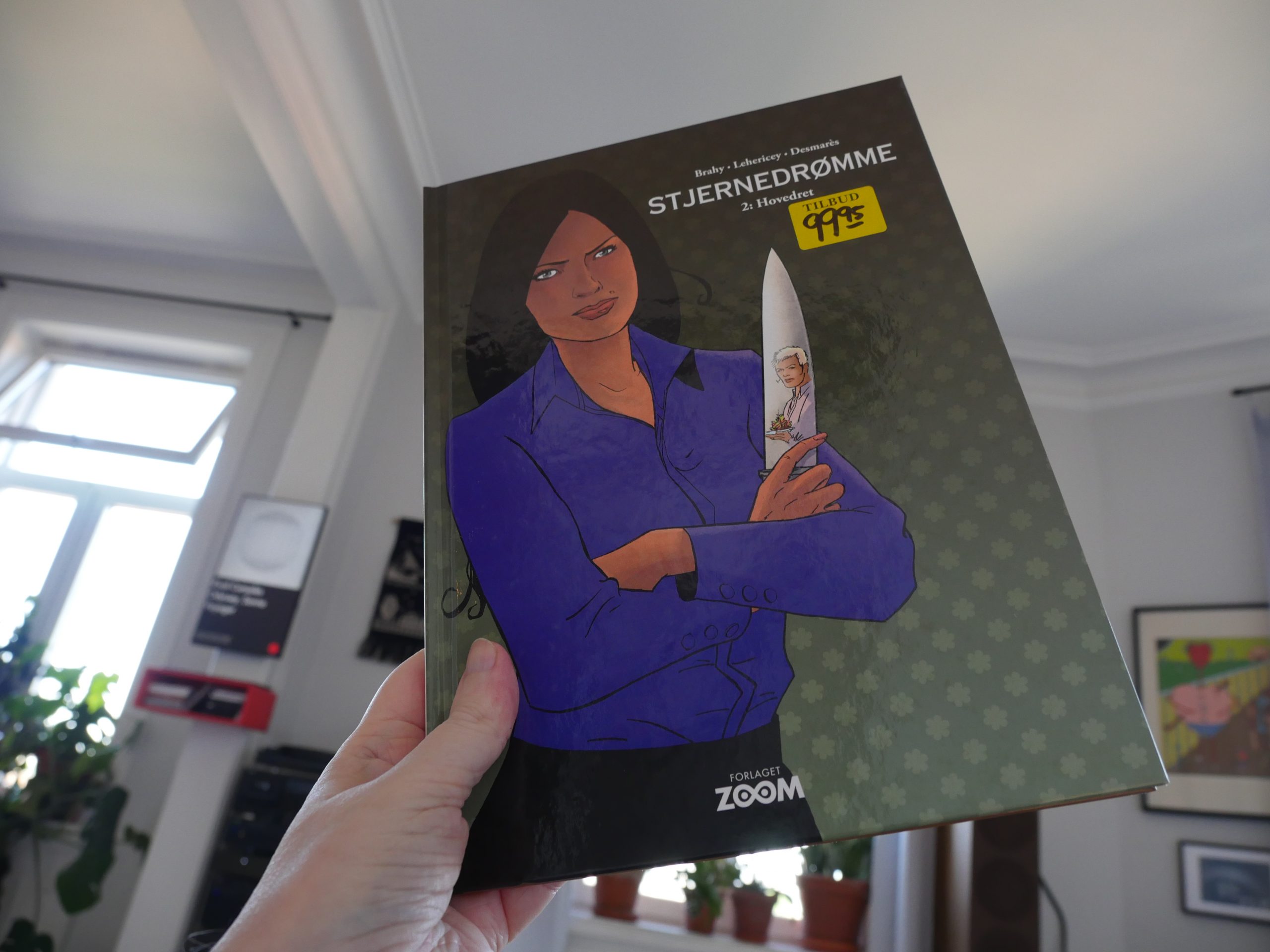 18:44: Étoile 2: Plat de résistence by Brahy/Lehericey/Desmarès (Zoom)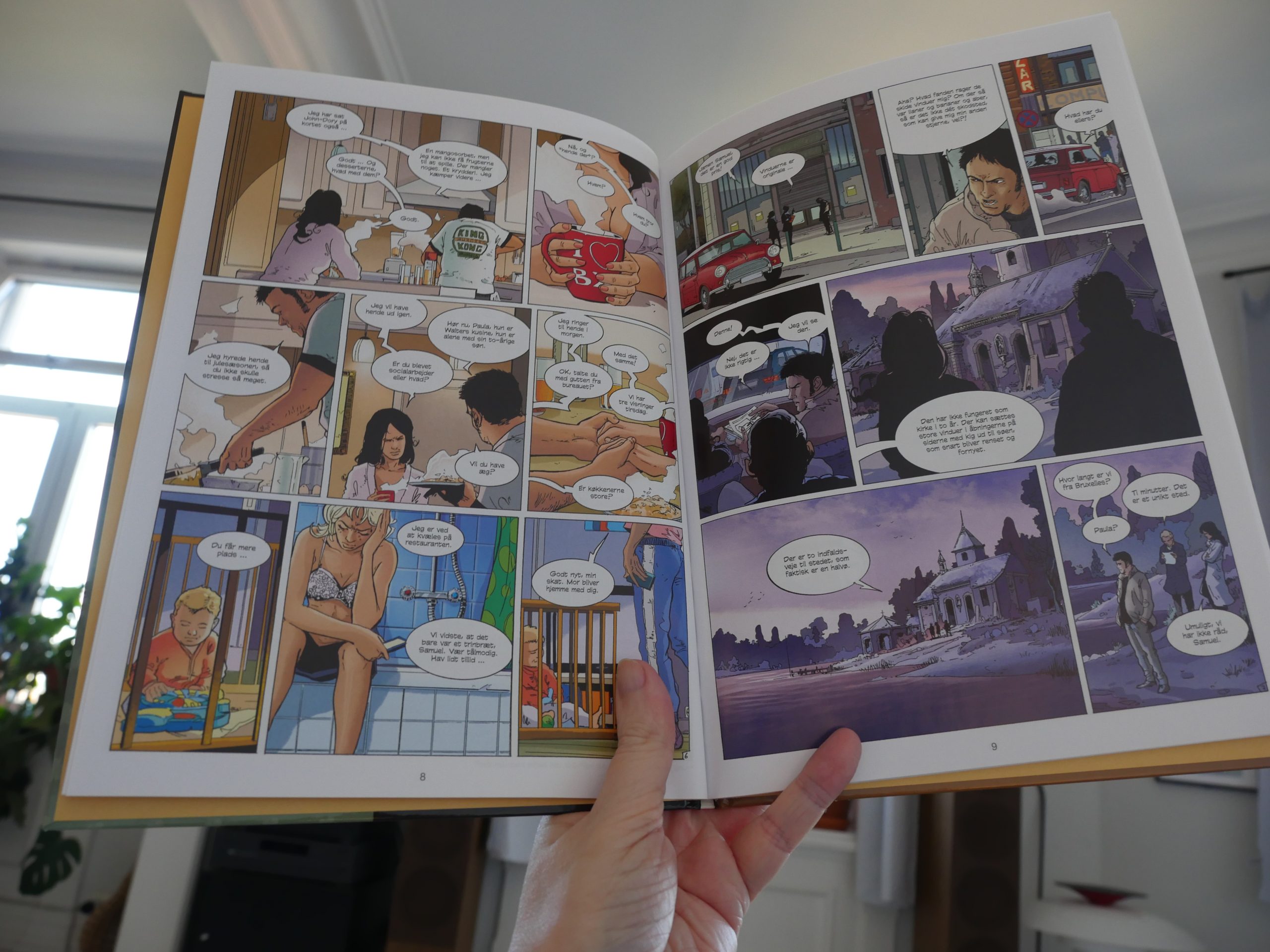 This is just so very very odd. I mean, not the storyline, but the storytelling. It's like reading a recap of a TV series.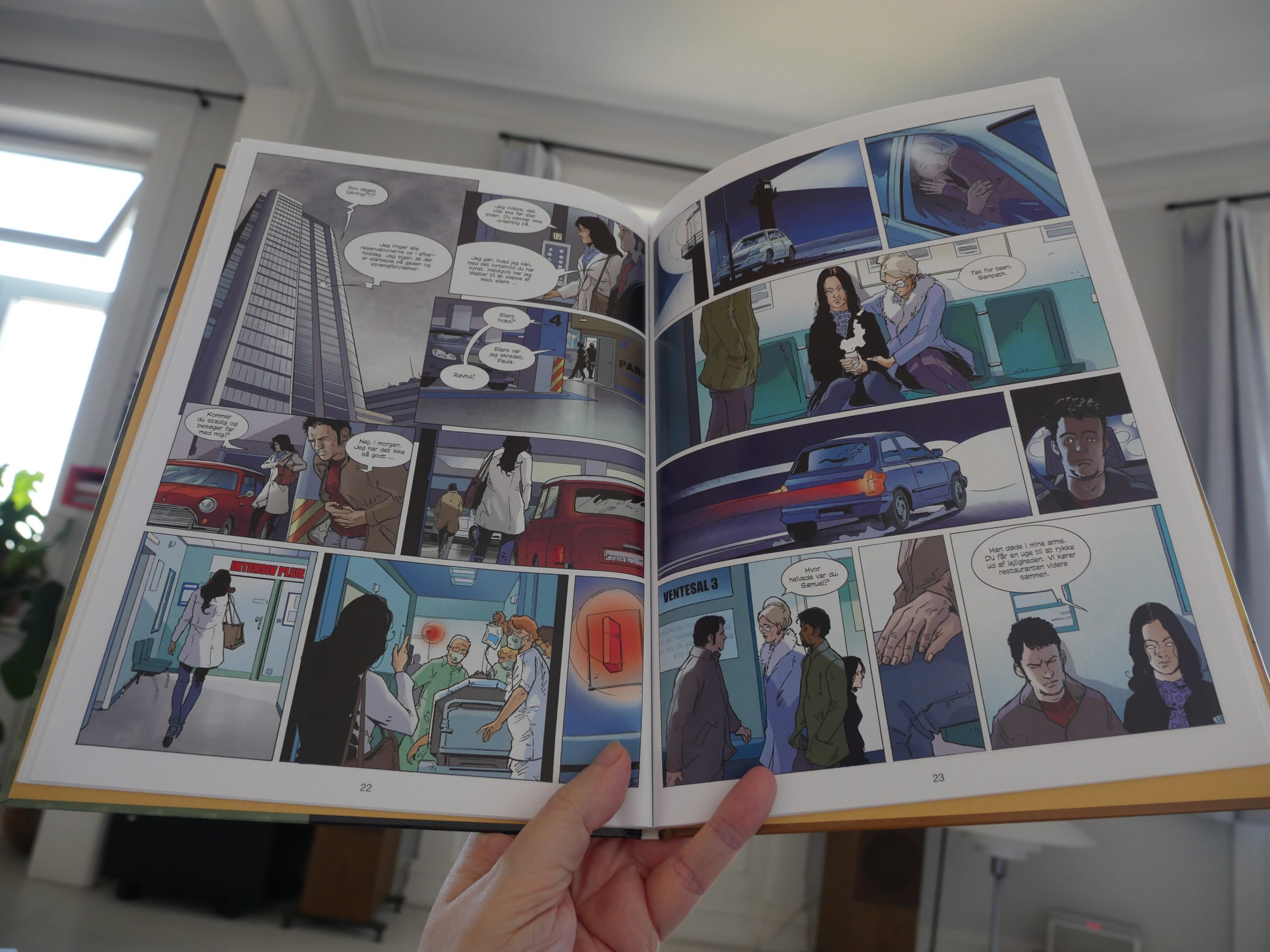 And since they use words sparingly, it's like everything is telegraphed. Here the guy is lying to his wife about not being able to visit her father, has an affair, the father dies, and then they get a divorce. In two pages! And it's all like this! It's totally bonkers!
But it's kinda entertaining?
Hm… I mean, it shouldn't work, but it is really entertaining. With a lesser artist it'd have been a disaster, but all the people (and there's like two dozen of them) are distinct and have, like, character.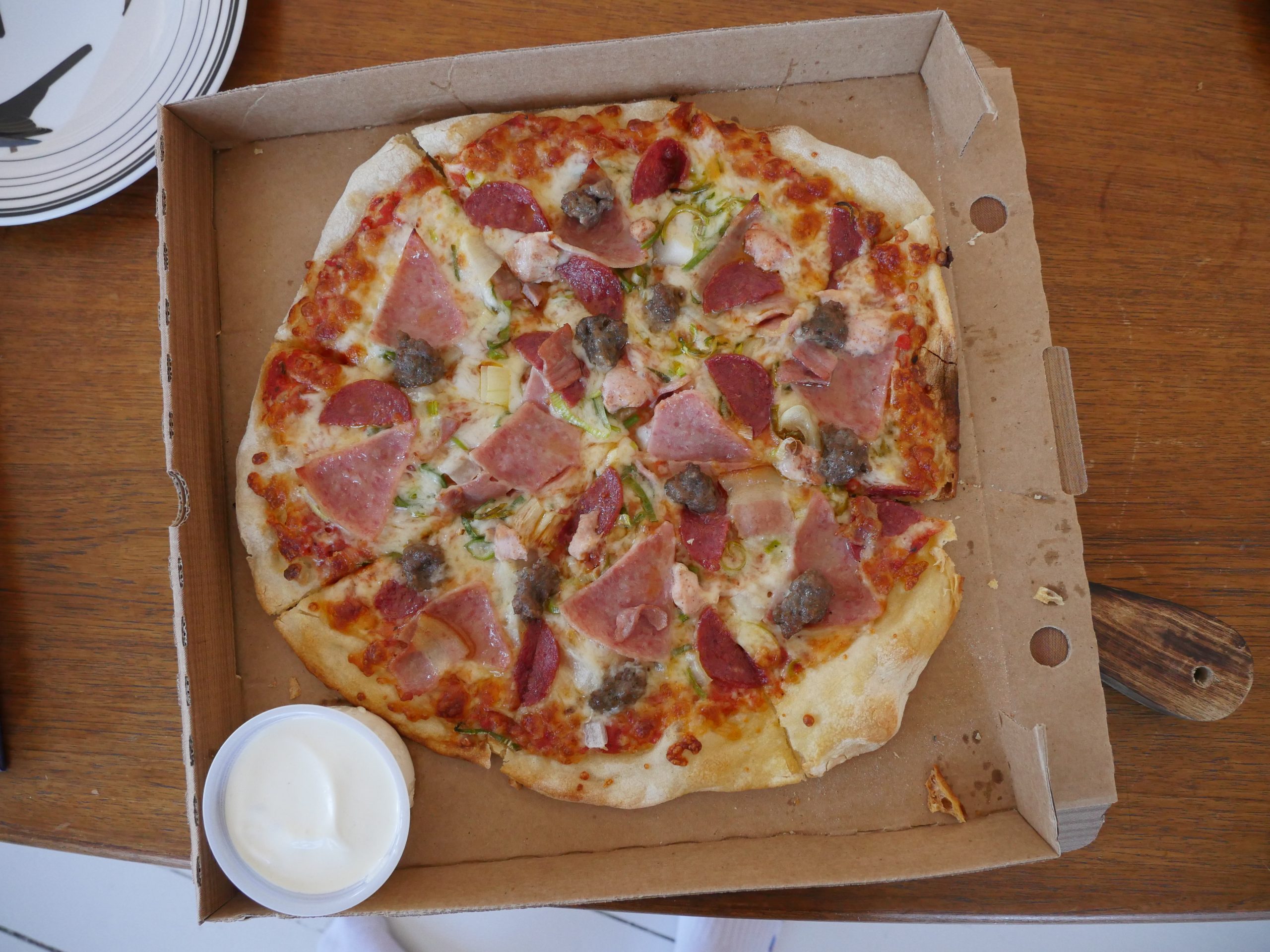 18:49: Pizza
Ain't got time to cook when I'm reading comics.
| | |
| --- | --- |
| Rival Consoles: Odyssey, Sonne | |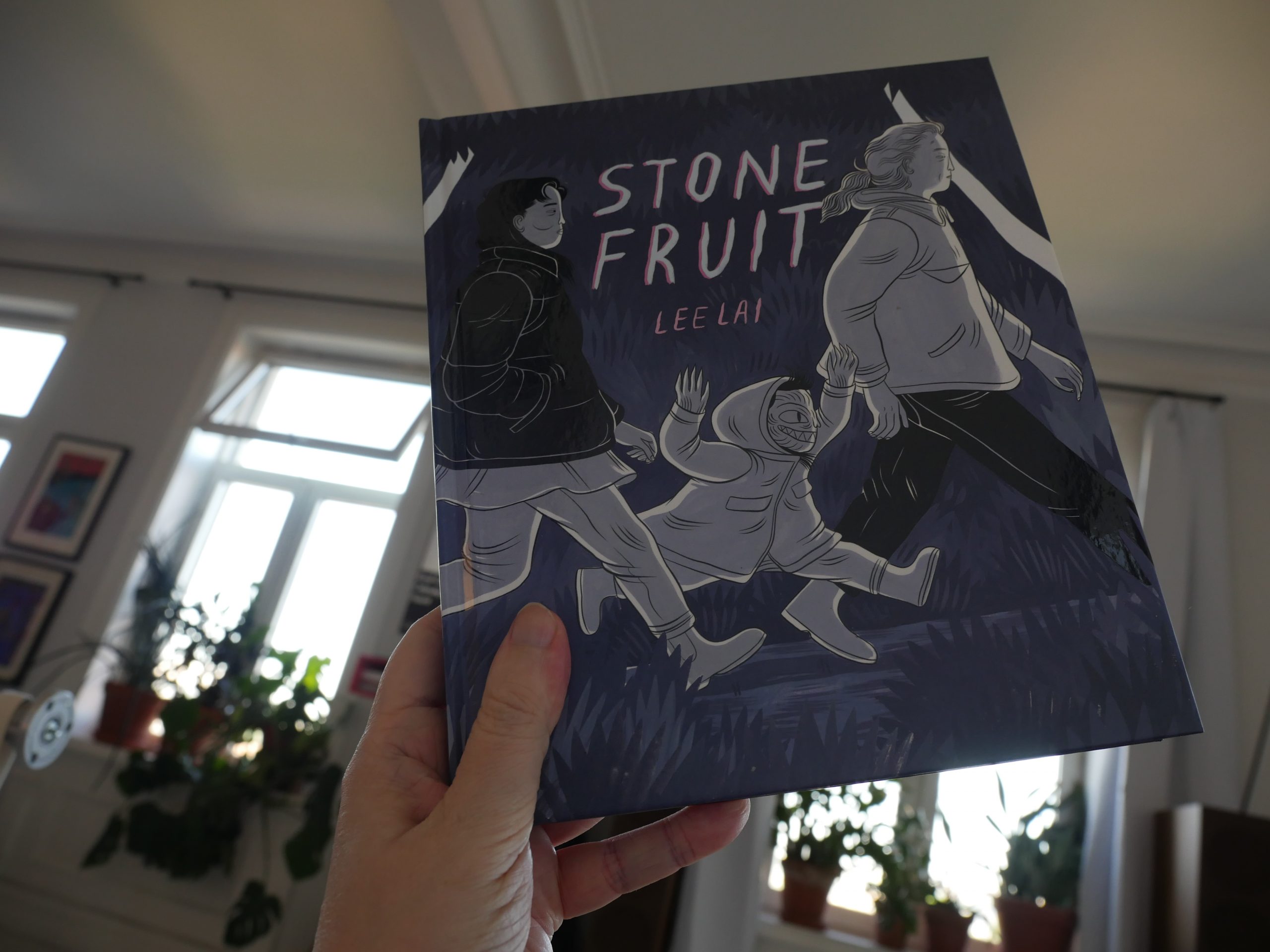 19:07: Stone Fruit by Lee Lai (Fantagraphics)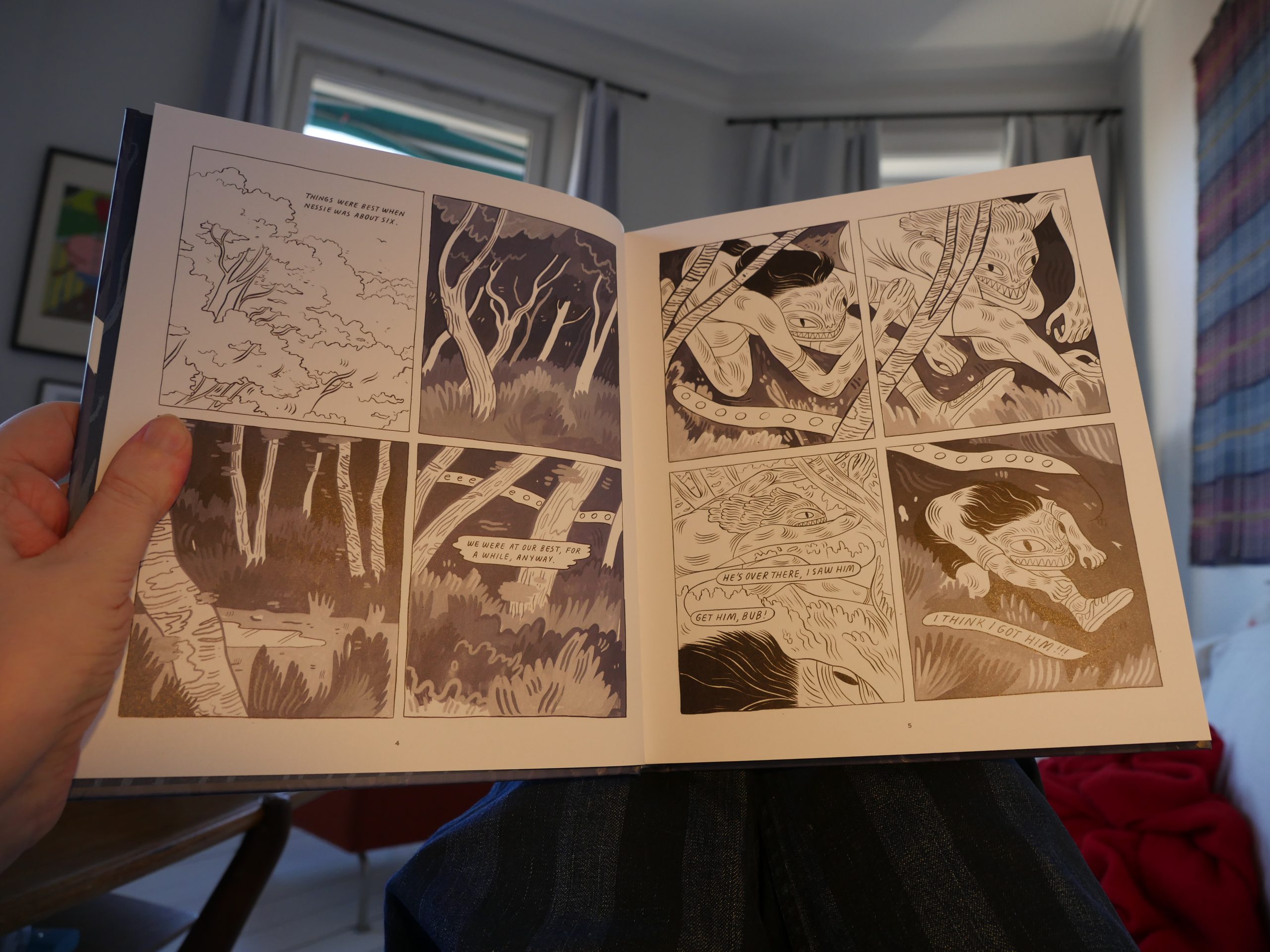 This starts off fantastic — pure comics, with the animalistic wildness depicted as reality and stuff.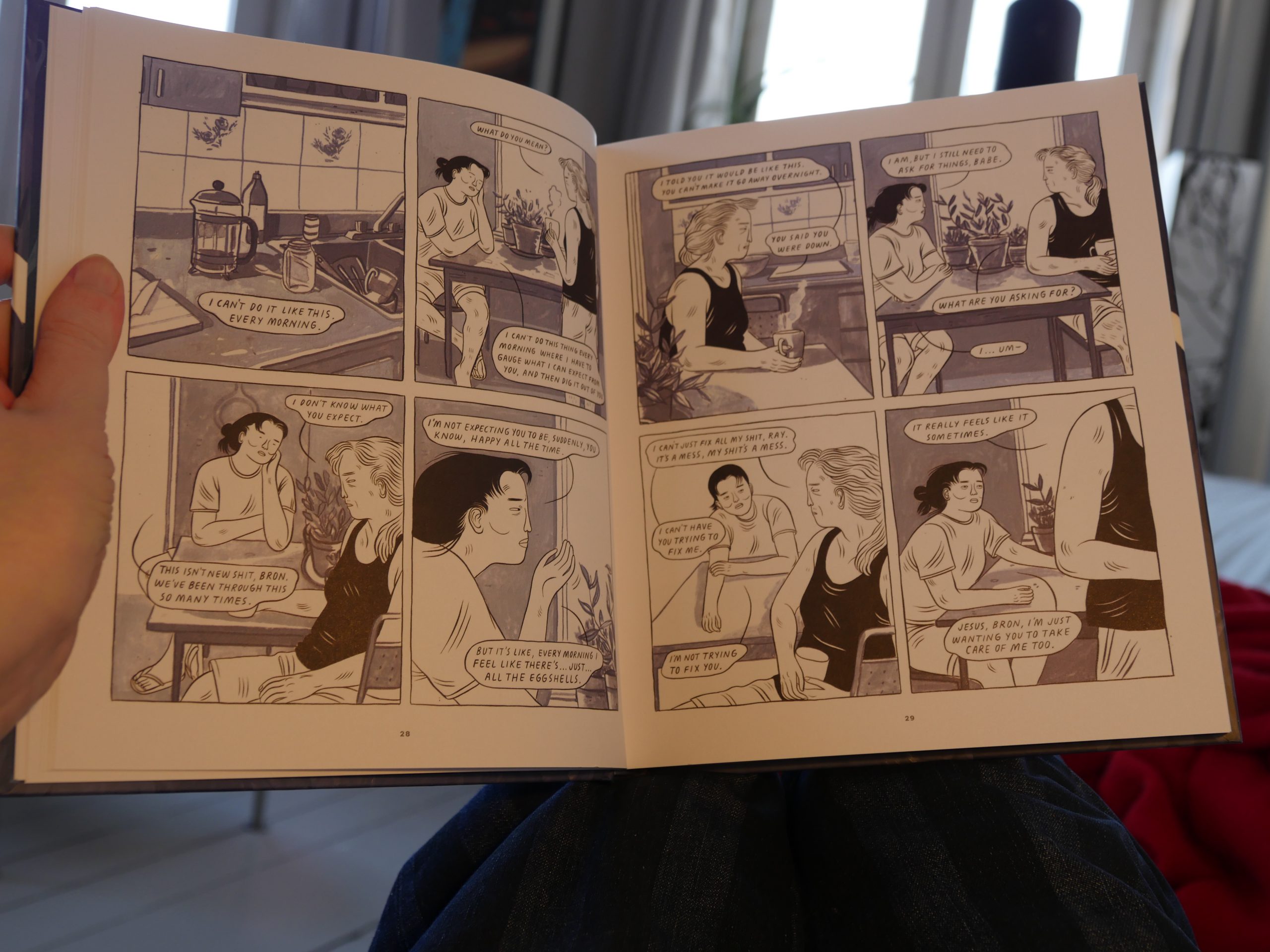 And then it turns into a slog of talking heads for what seems like 600 pages, where every dialogue seems like it's taken from a generic indie movie about relationships. It's also really hard to tell the characters apart, which makes things even more awkward.
(And was there supposed to be a reveal? I feel like there was, but it was so obvious from the start what the Big Deal was that I started flipping back to see whether Lee Lai had spelled everything out at the start, because it just seemed so bizarre to have that part be a reveal thing… And then it was just done offhandedly, which made me second-think my second-thinking. Anyway, it didn't work.)
| | |
| --- | --- |
| Rival Consoles: Kid Velo | |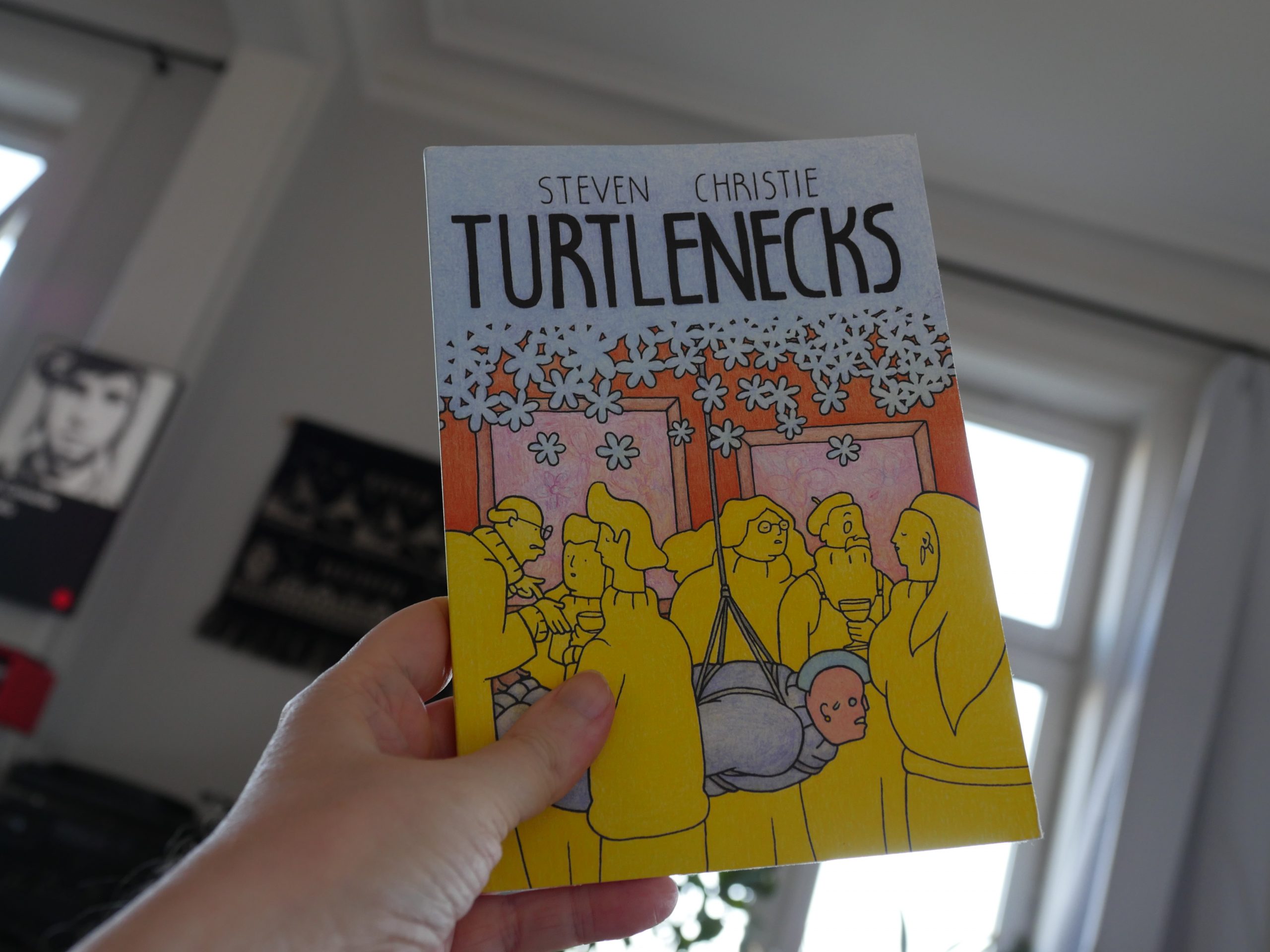 19:57: Turtlenecks by Steven Christie (Adhouse)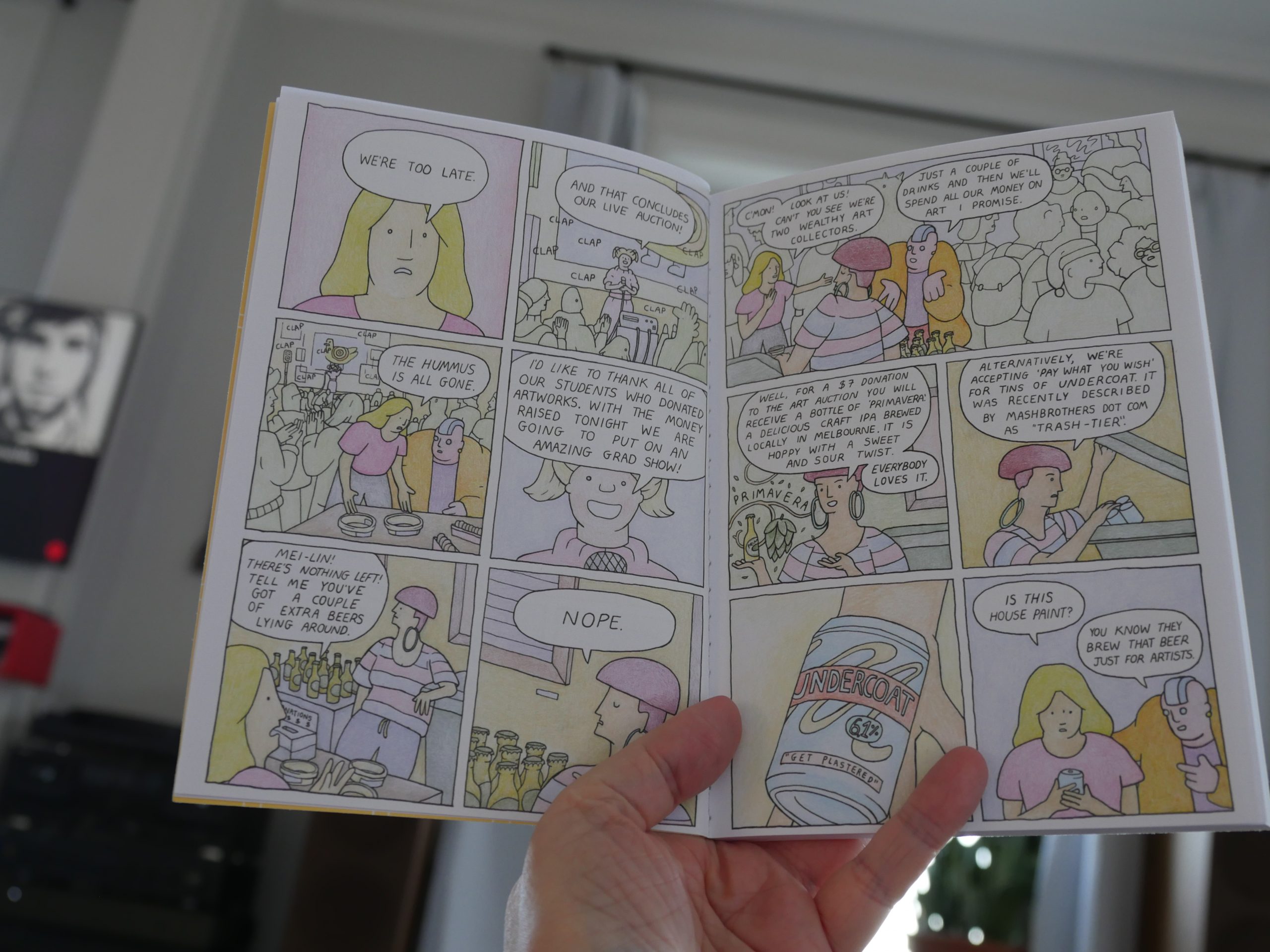 This is very funny, and I like the character design. Is the colouring done with crayons or something? Looks really cool.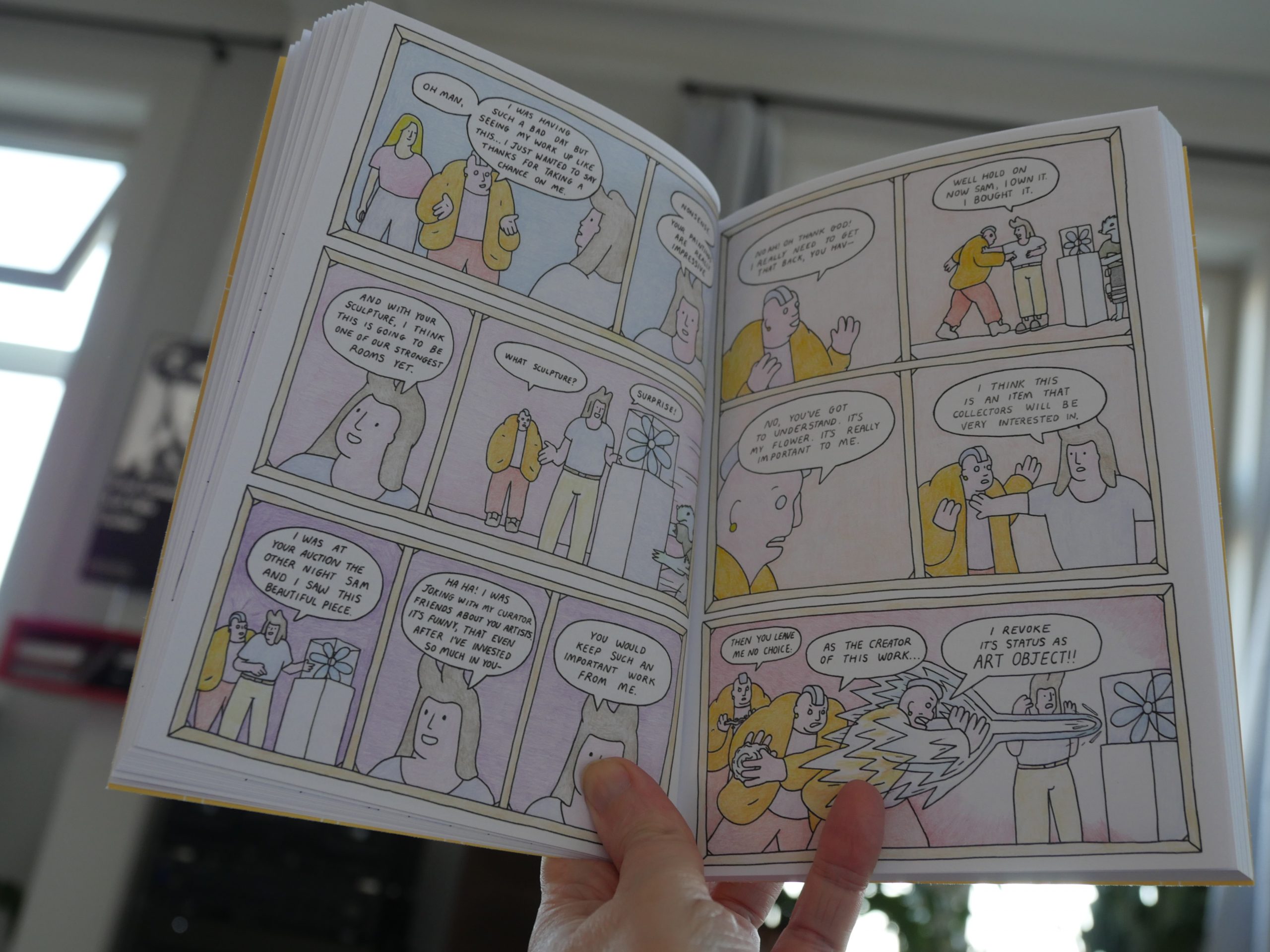 Did I mention that it's funny? However, it feels like it could have been edited down a bit — I was getting somewhat impatient with the concept around two thirds in. I'm not quite sure why… it's got a solidly silly plot, but I was still getting a bit annoyed towards the end.
| | |
| --- | --- |
| Boris: Documentary of Akuma no Uta | |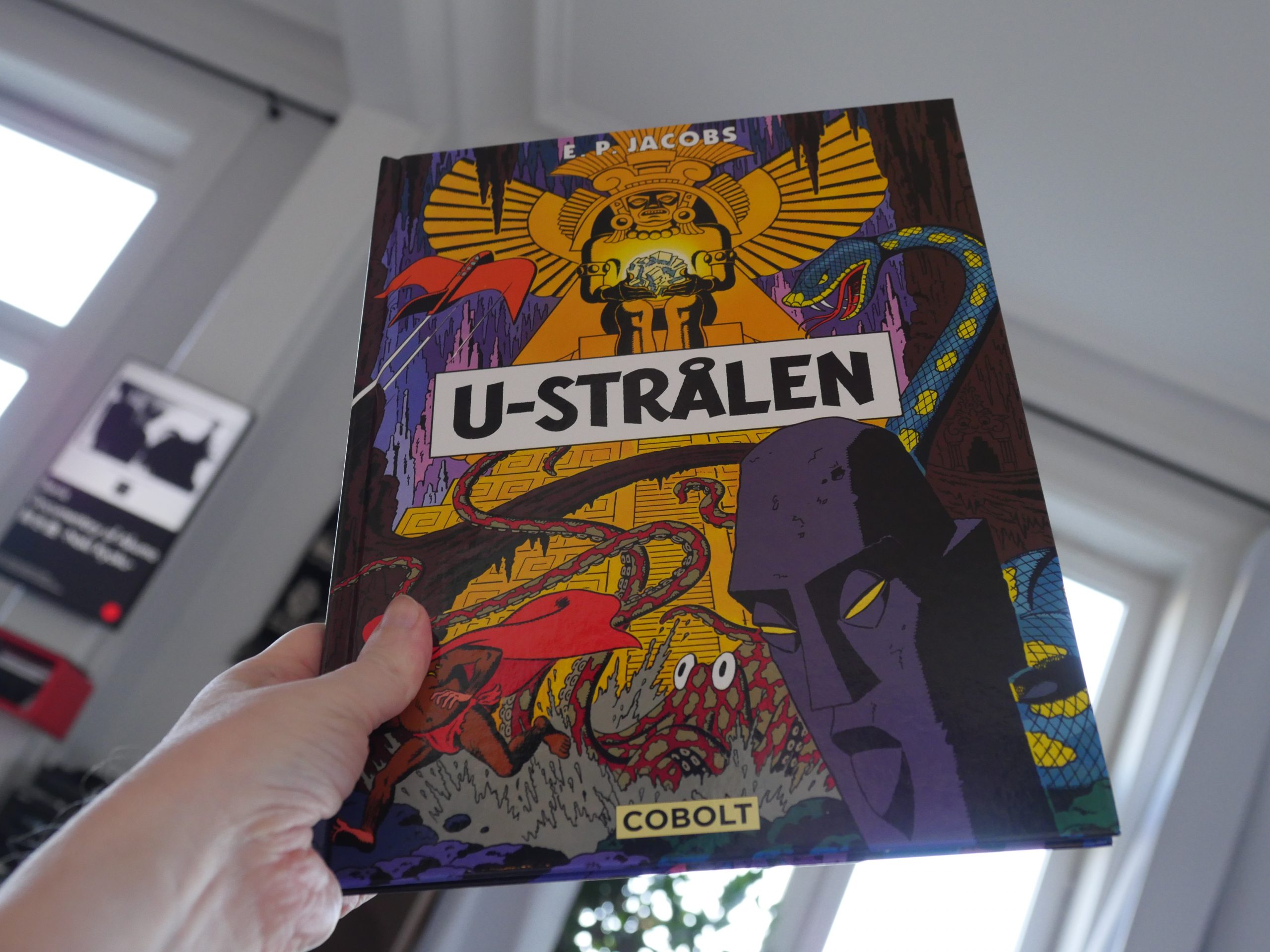 20:34: Le rayon U by Edgar P. Jacobs (Cobolt)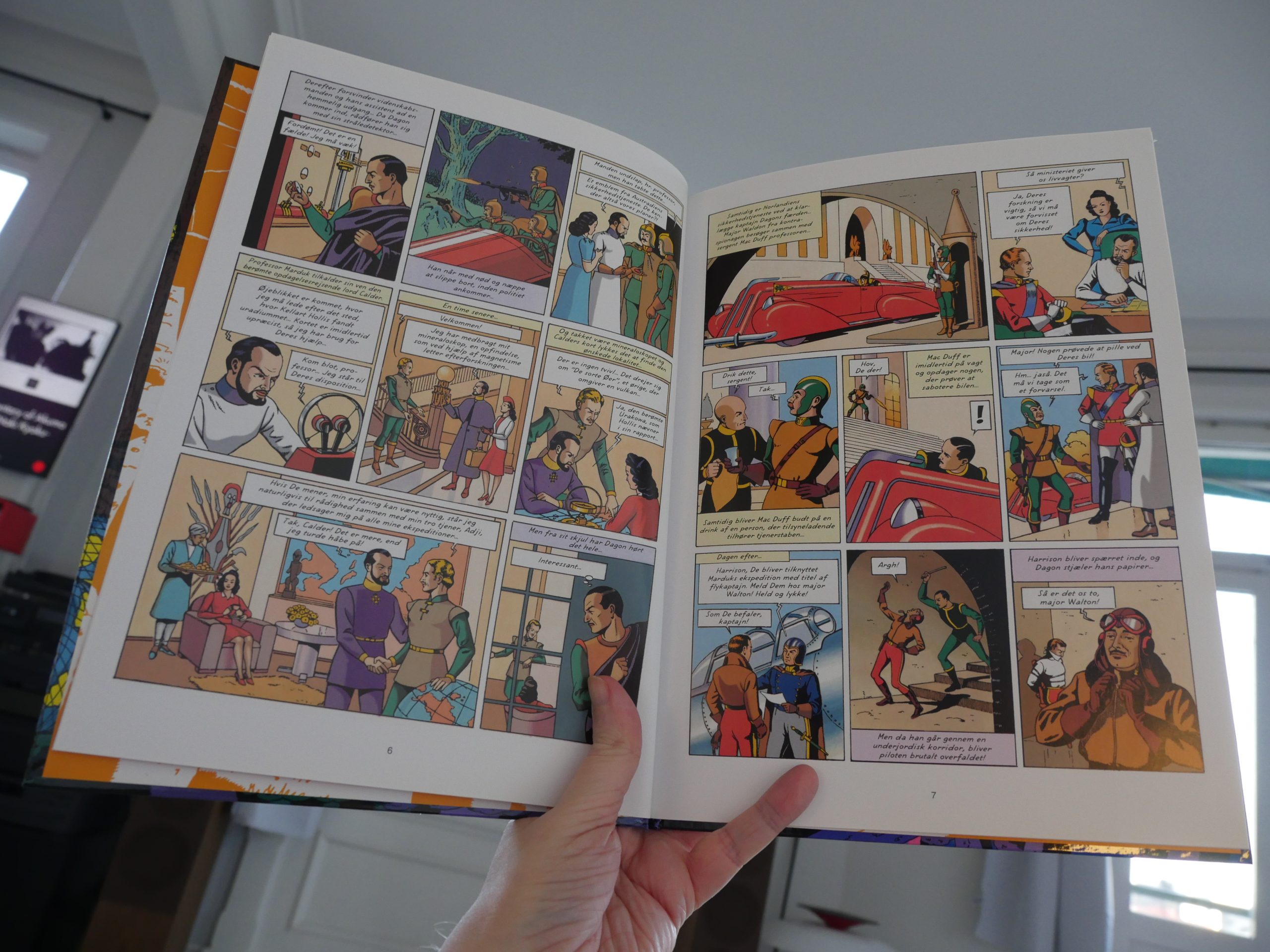 I'm not a Jacobs fan, but I wondered what his pre-Blake and Edwards stuff looked like. It's basically a kind of un-licensed Flash Gordon riff from WWII (when you couldn't import Flash Gordon into Belgium any more).
It's… pretty dire? I abandoned it after ten pages.
| | |
| --- | --- |
| Boris: Documentary of Akuma no Uta | |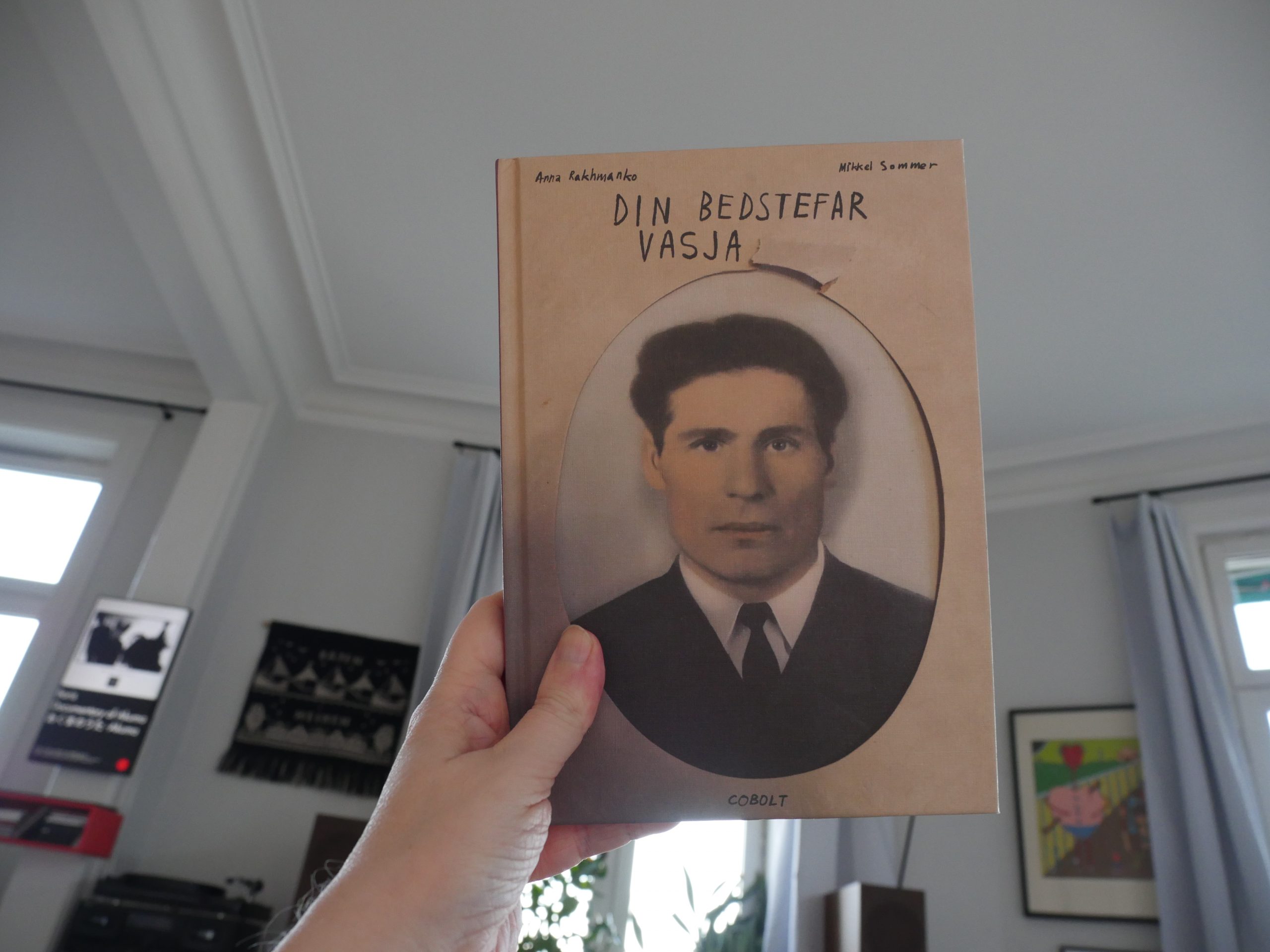 20:48: Din bedstefar Vasja by Anna Rahkmanko & Mikkel Sommer (Cobolt)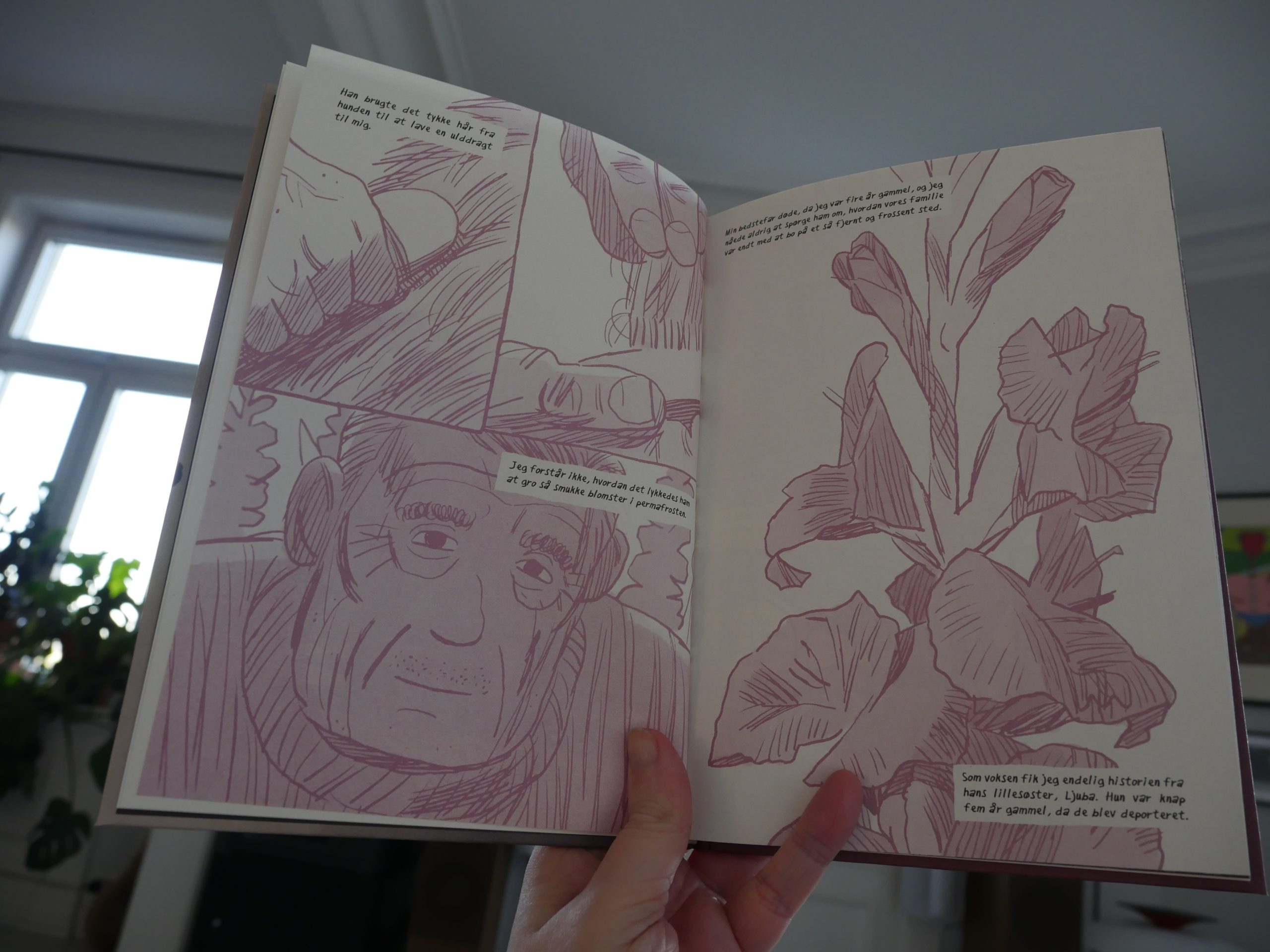 This is the story about Rahkmanko's grandfather (and his siblings and parents) — they were living in the parts of Roumania that were taken over by the CCCP in the pact with Hitler, and were deported to northern Sibiria.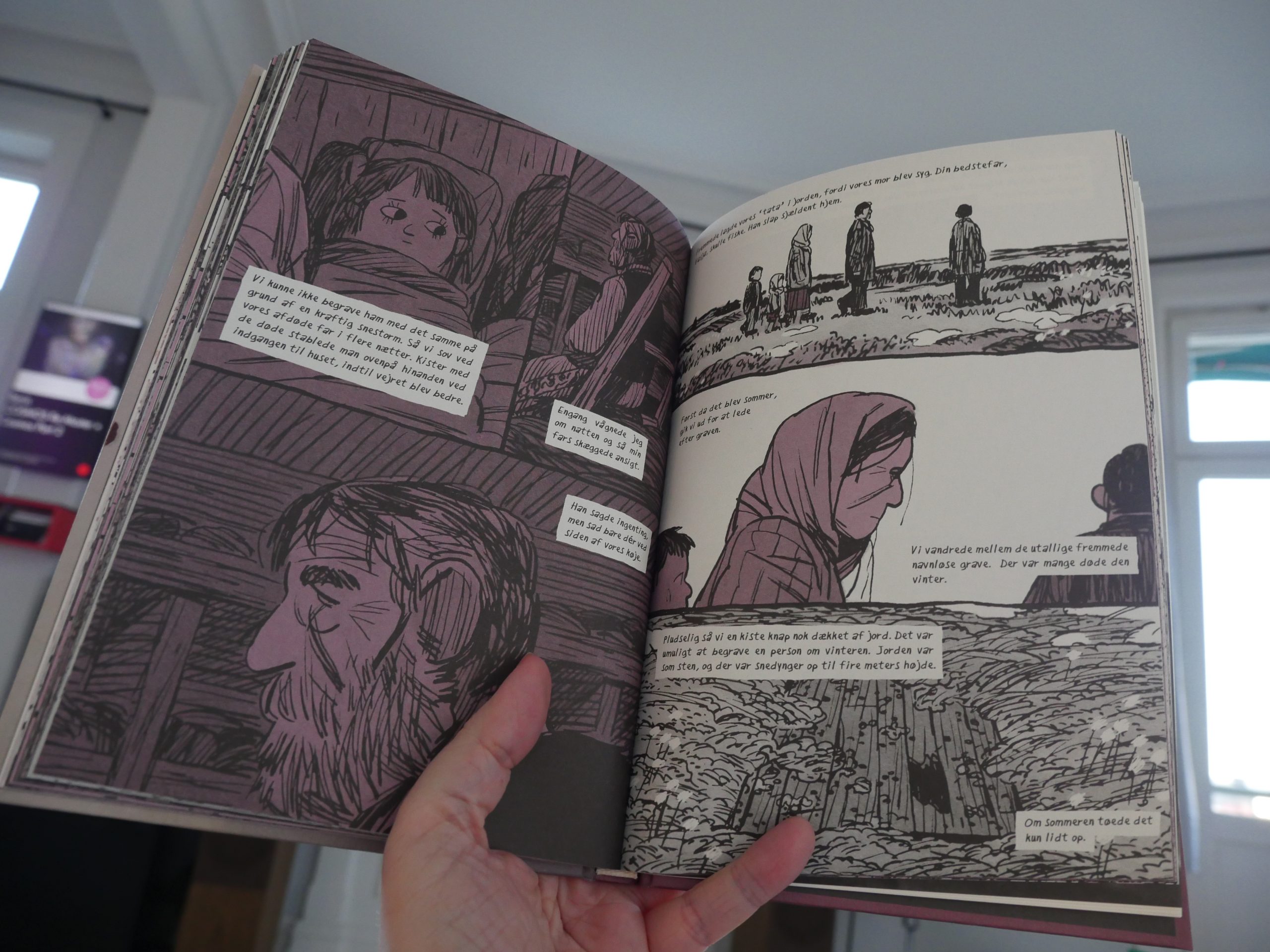 It's a heartbreaking story told very unsentimentally.
I assume Sommer is the illustrator here, and he does a great job. My only quibble is with the cartoony-child eyes of that kid up there, which just go ZOINKS and pulls me out of the book.
| | |
| --- | --- |
| Various: Subterranean Modern | |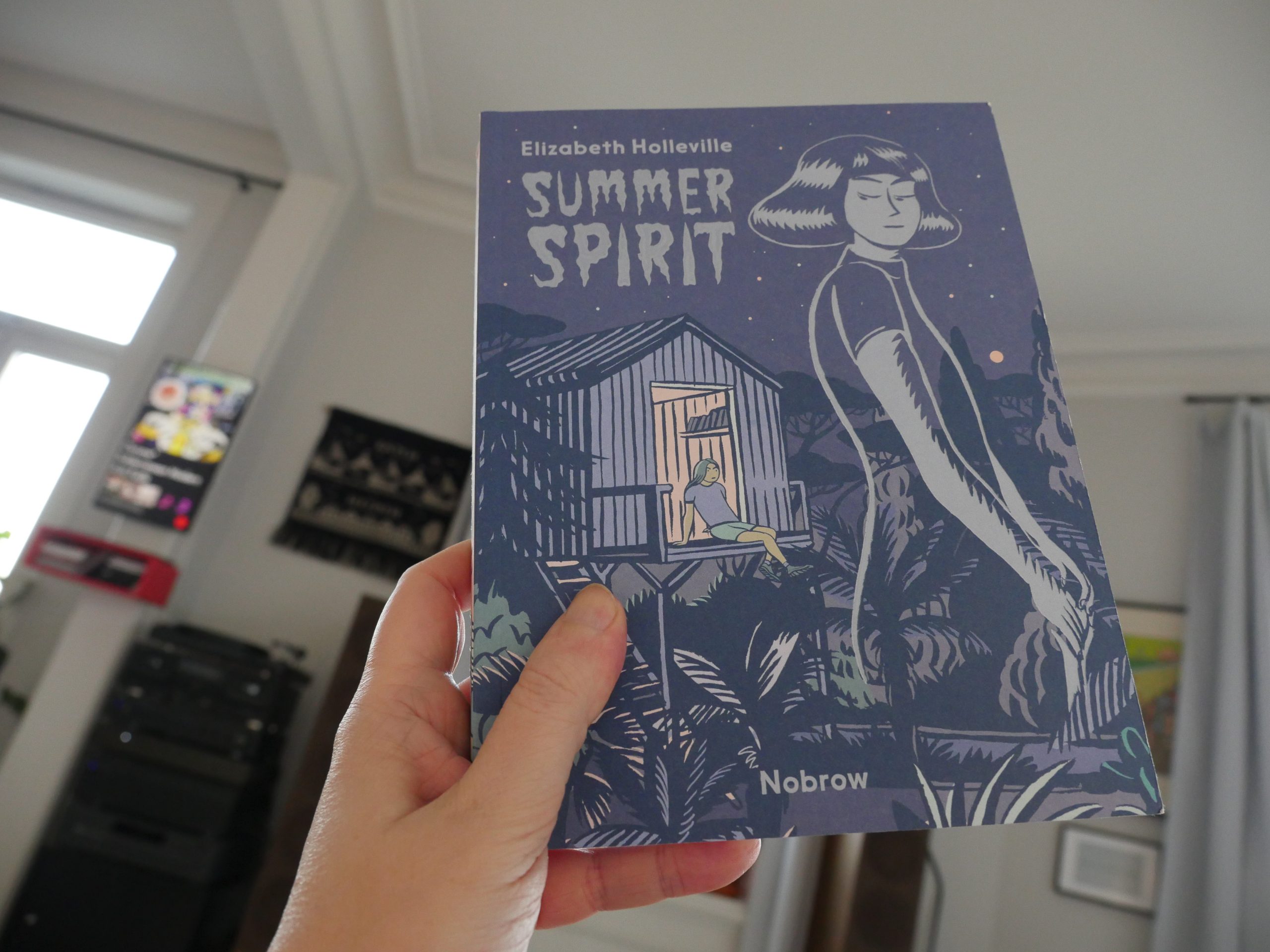 21:10: L'été fantôme by Elizabeth Holleville (Nobrow)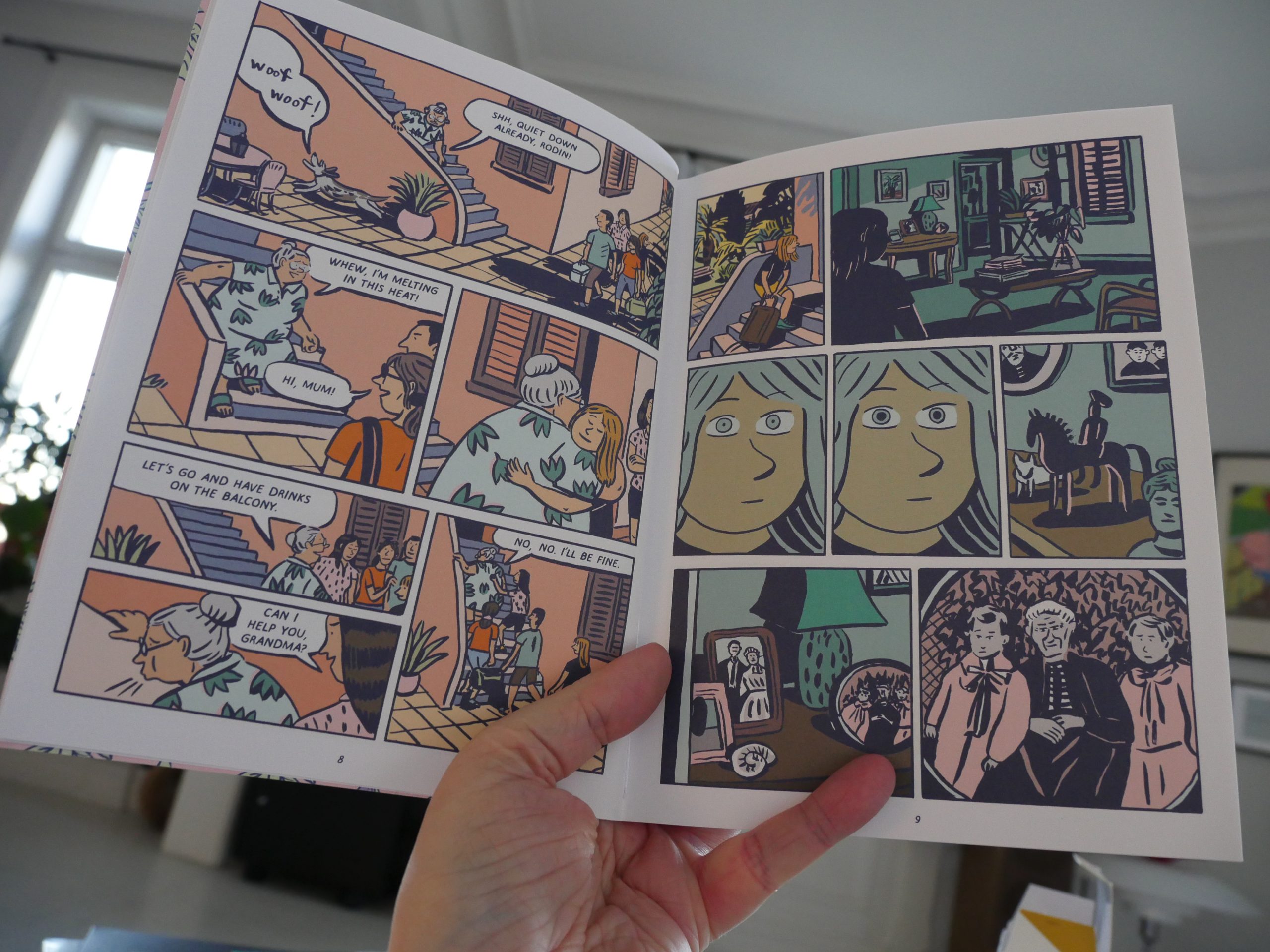 This is one of those wistful summer-at-grandma-at-the-beach kinda books, and I love that they've reflected that in the printing choices — this is printed without black ink? Did they use a very dark blue ink for that, or did they just print all the other colours overlapping to get to "blackish"? Anyway, it gives it a very peculiar, nostalgic-looking palette…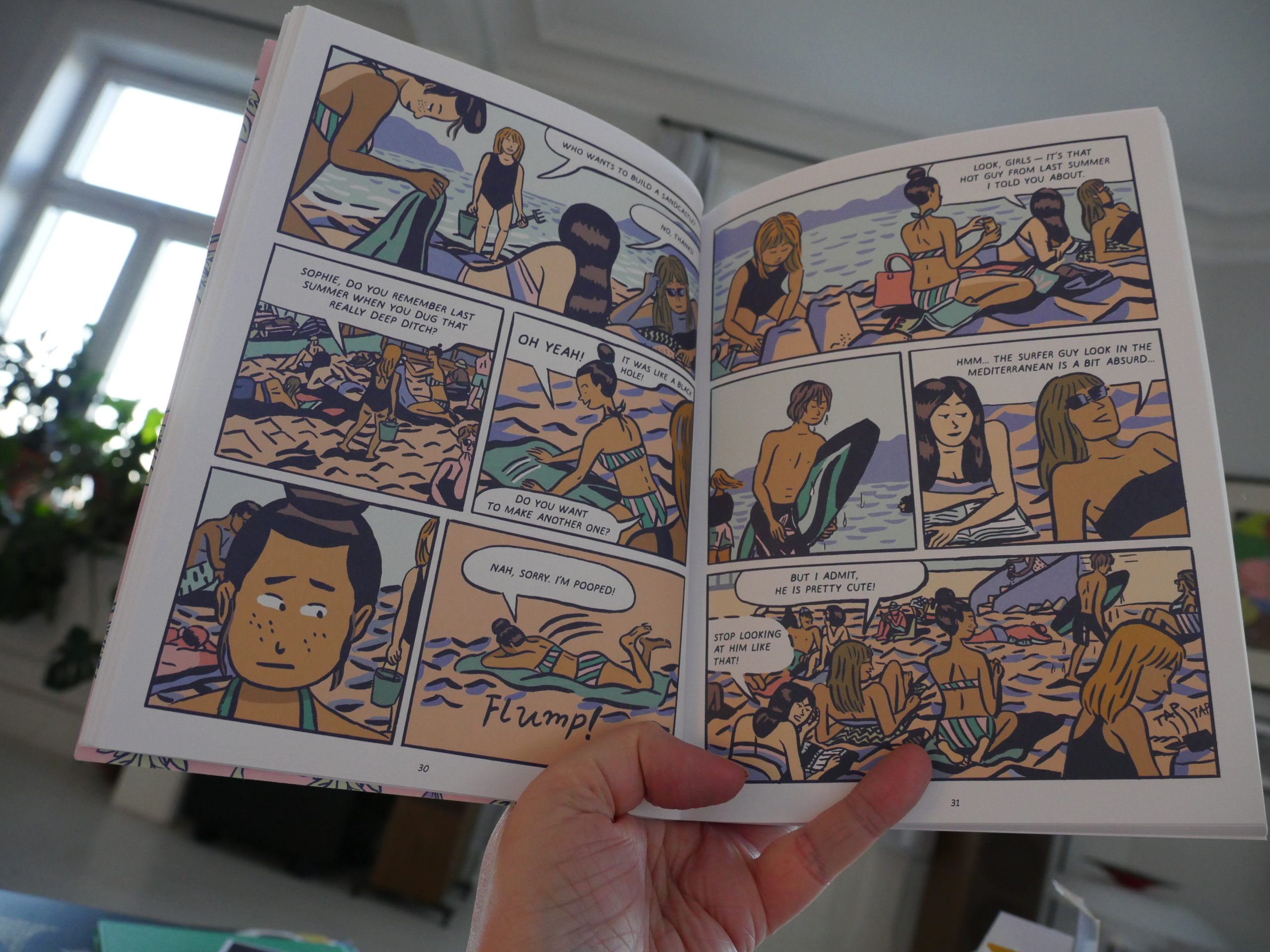 And the story totally didn't go where I was thinking — it avoids all the clichés of death/renewal. I mean, there is death and there are mysteries, but it's not what you'd think.
It's a clever and very successful book.
| | |
| --- | --- |
| Burial: Chemz | |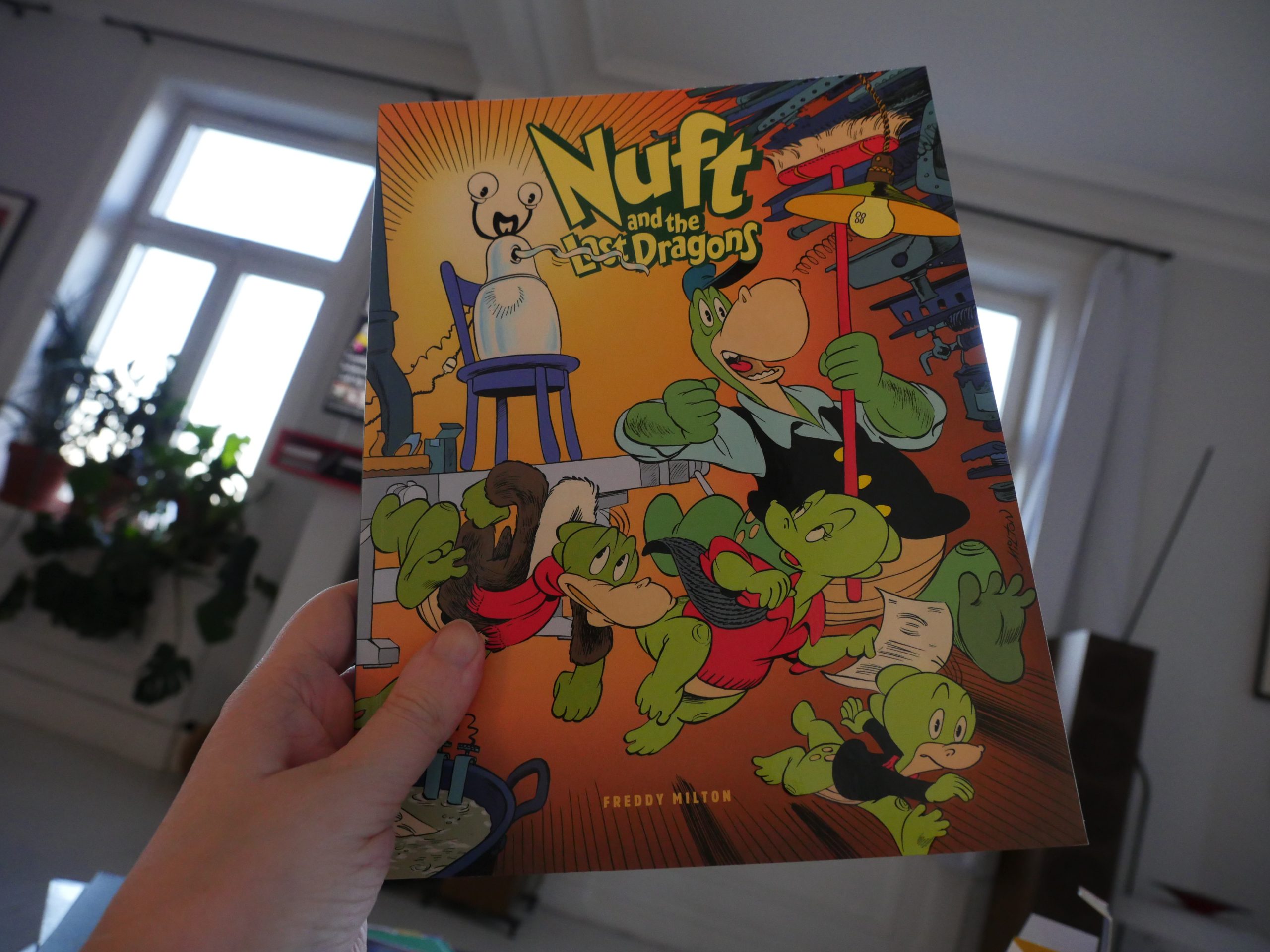 21:42: Nuft and the Last Dragons by Freddy Milton (Fantagraphics)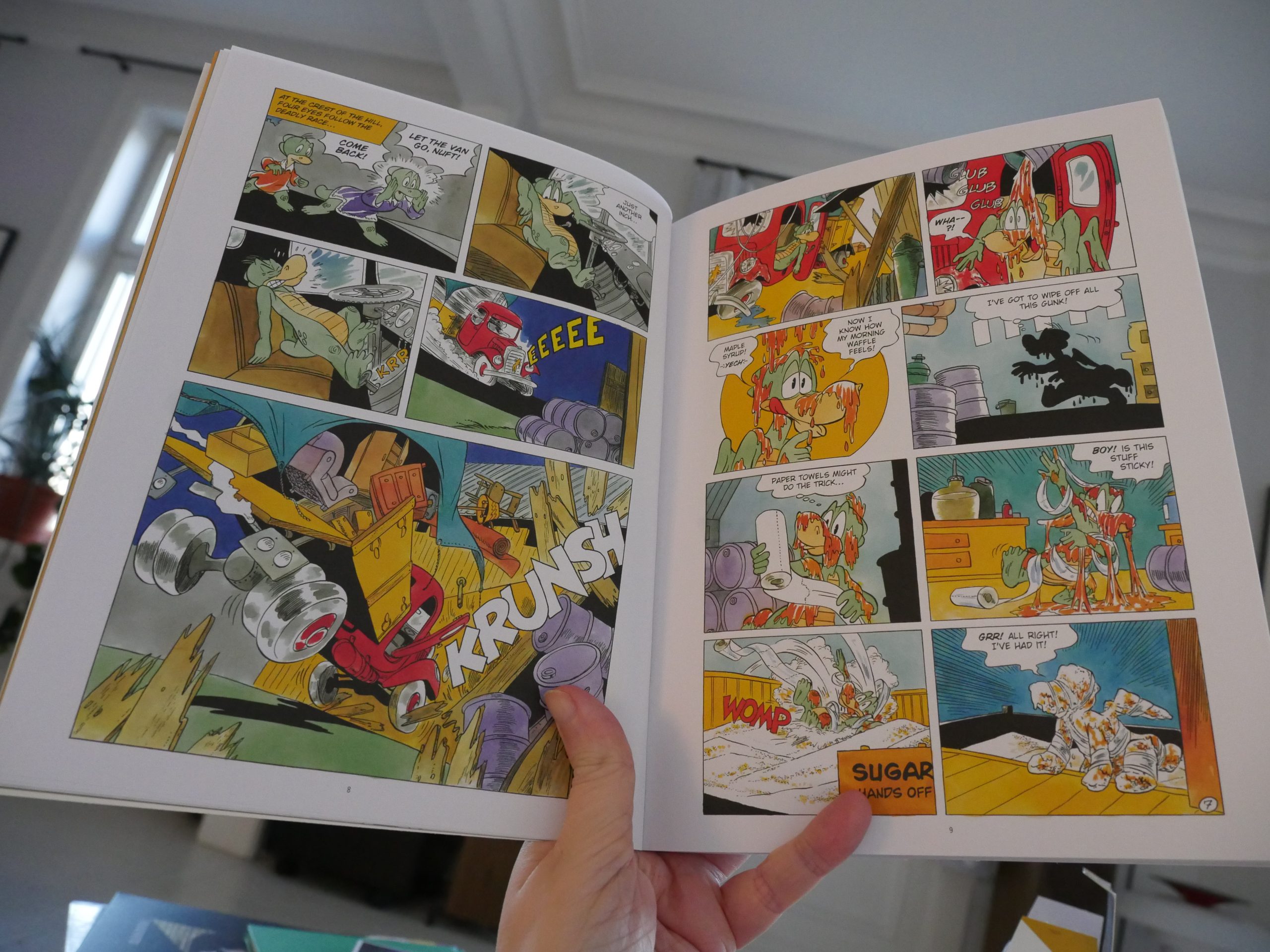 The first story here I've read before — it was serialised in the first few issues of Critters back in the 80s. It's great fun.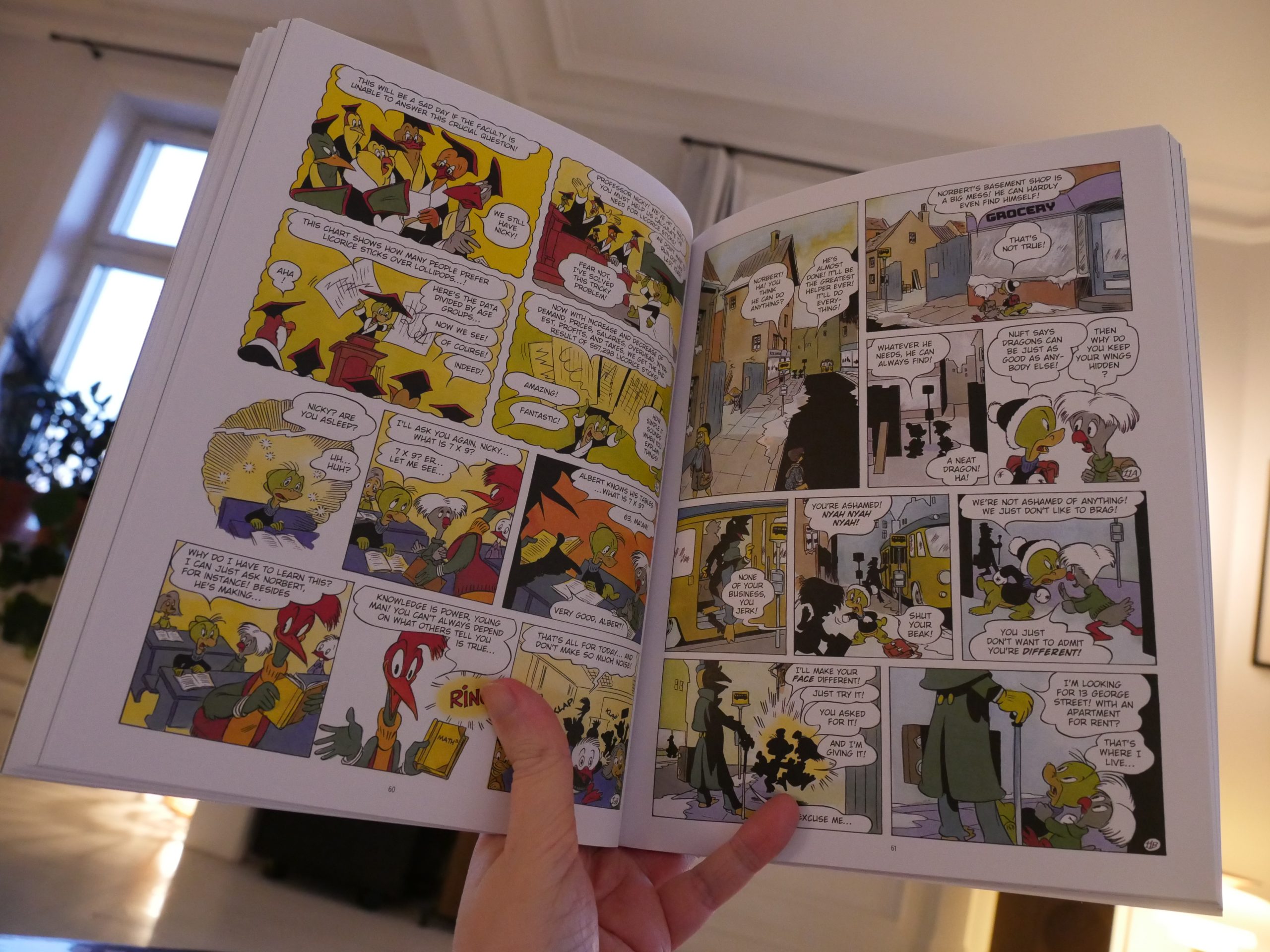 This volume reprints three Gnuff albums, and the other two are less successful. Milton tries being all political and stuff. The first one is about how bureaucracy is annoying, and the second is about machine learning, and… I mean, they're both fine, but… They don't have the zing of the first album.
I think Kim Thompson skipped those two when printing Gnuff in Critters?
| | |
| --- | --- |
| Masonna: Like A Vagina | |
23:14: My Dog Jojo by Gabrielle Bell (Uncivilized)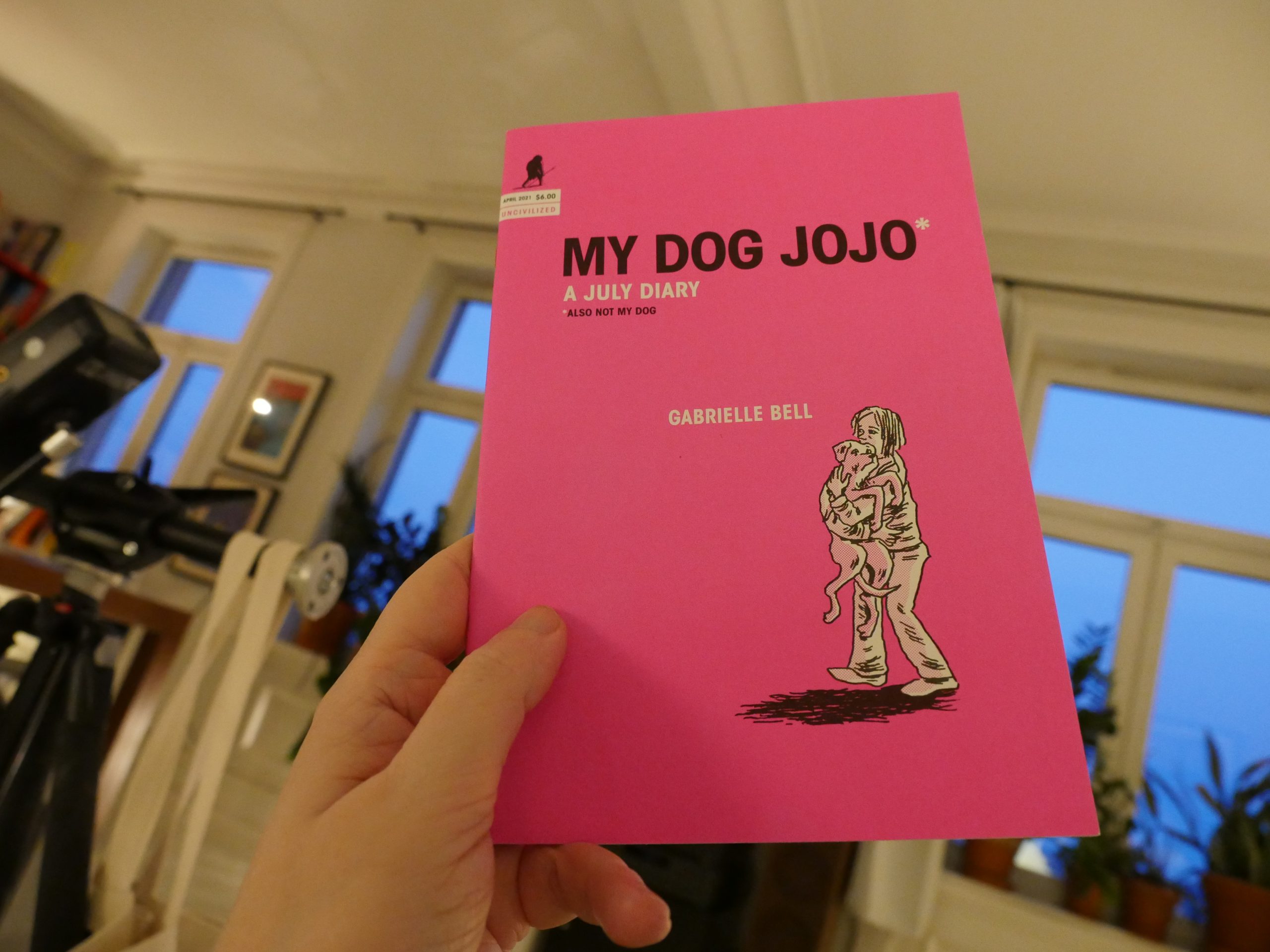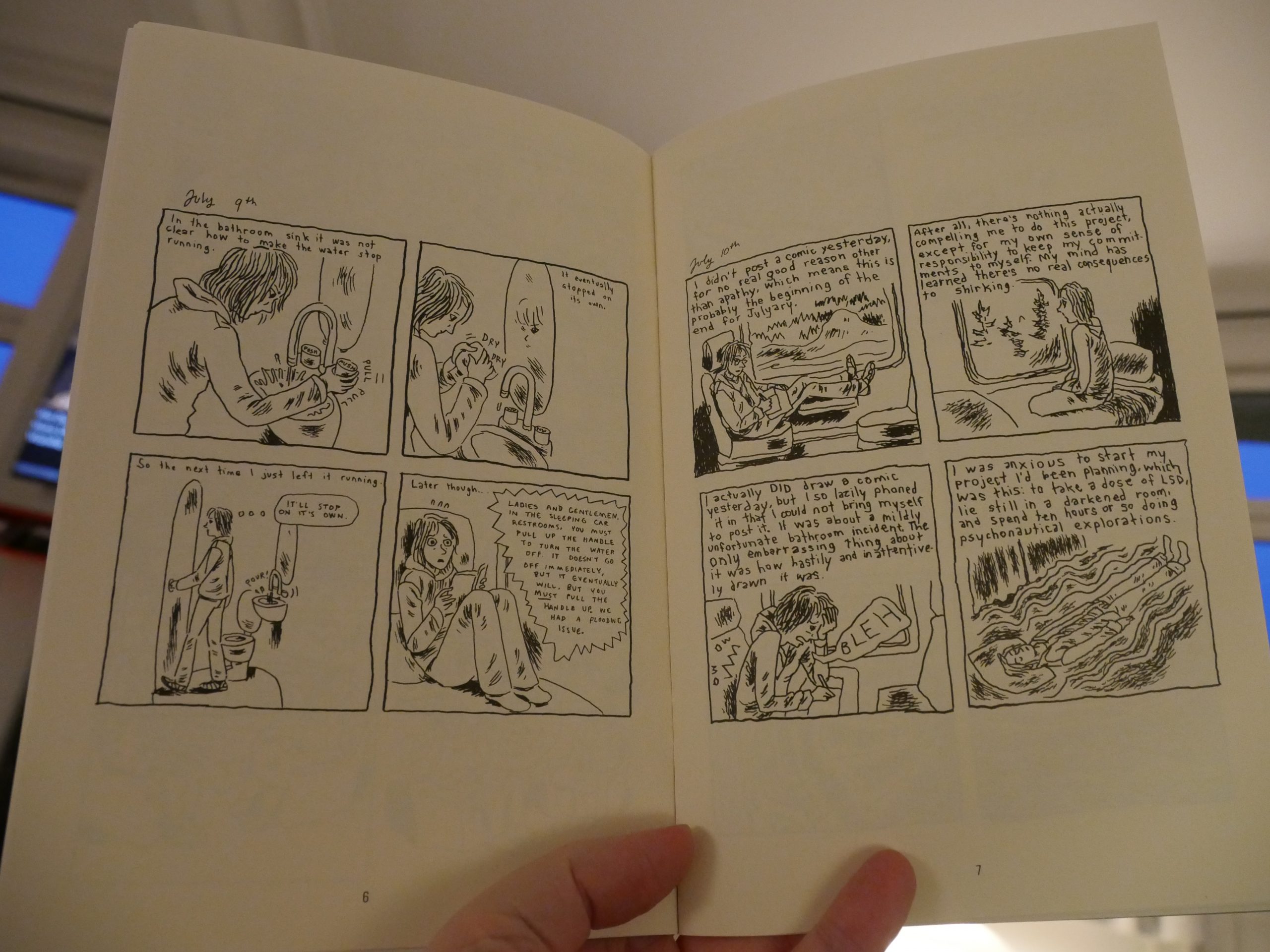 Brilliant faucet design.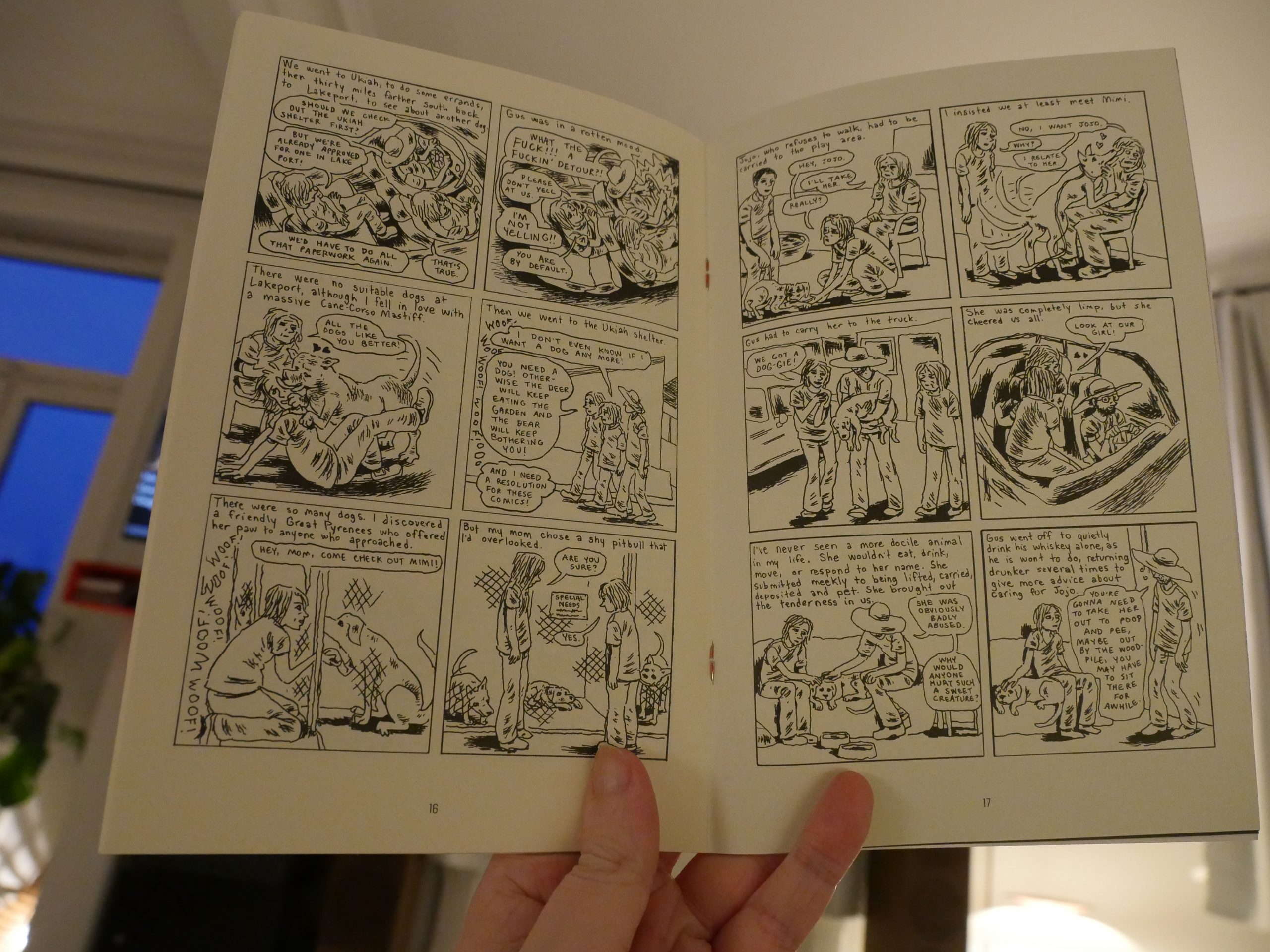 Anyway, this is very funny, and the mixture of shorter things at the start and then a longer epic at the end (with a coda) is just perfect. Such a lovely little book.
| | |
| --- | --- |
| Mia Doi Todd: Music Life | |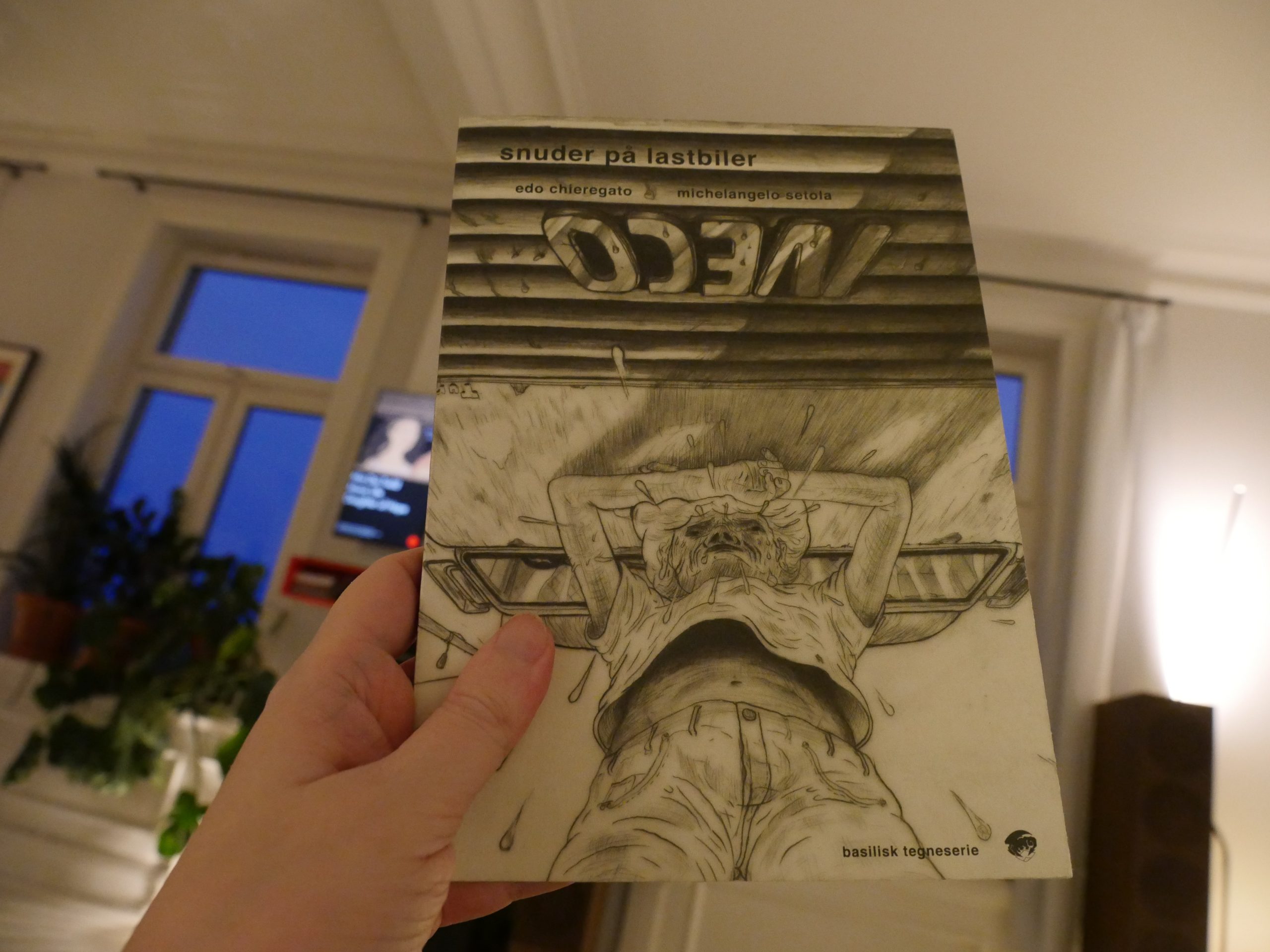 23:34: Musi di cameon by Edo Chieregato & Michelangelo Setola (Basilisk)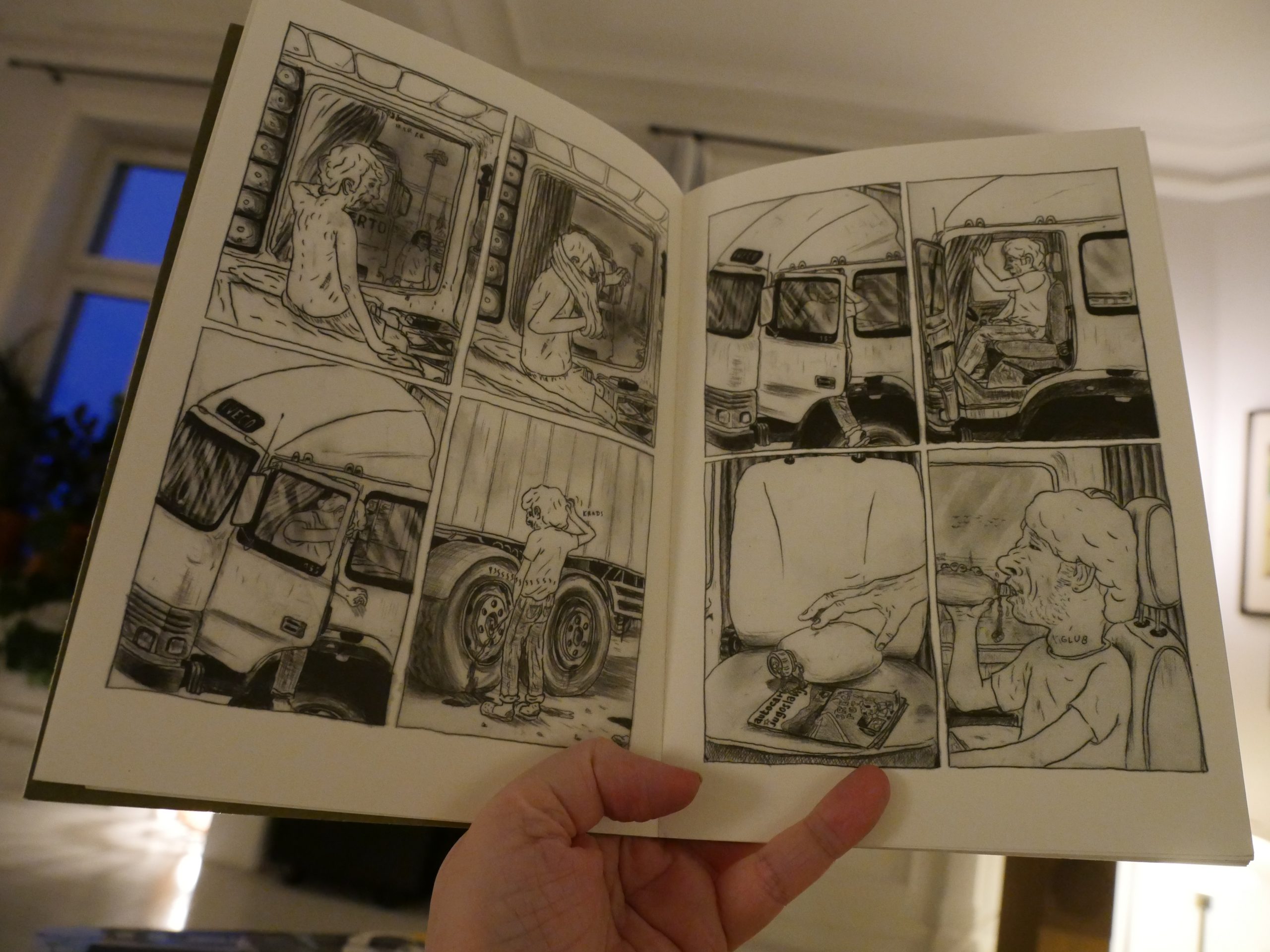 I like this pencil-drenched artwork.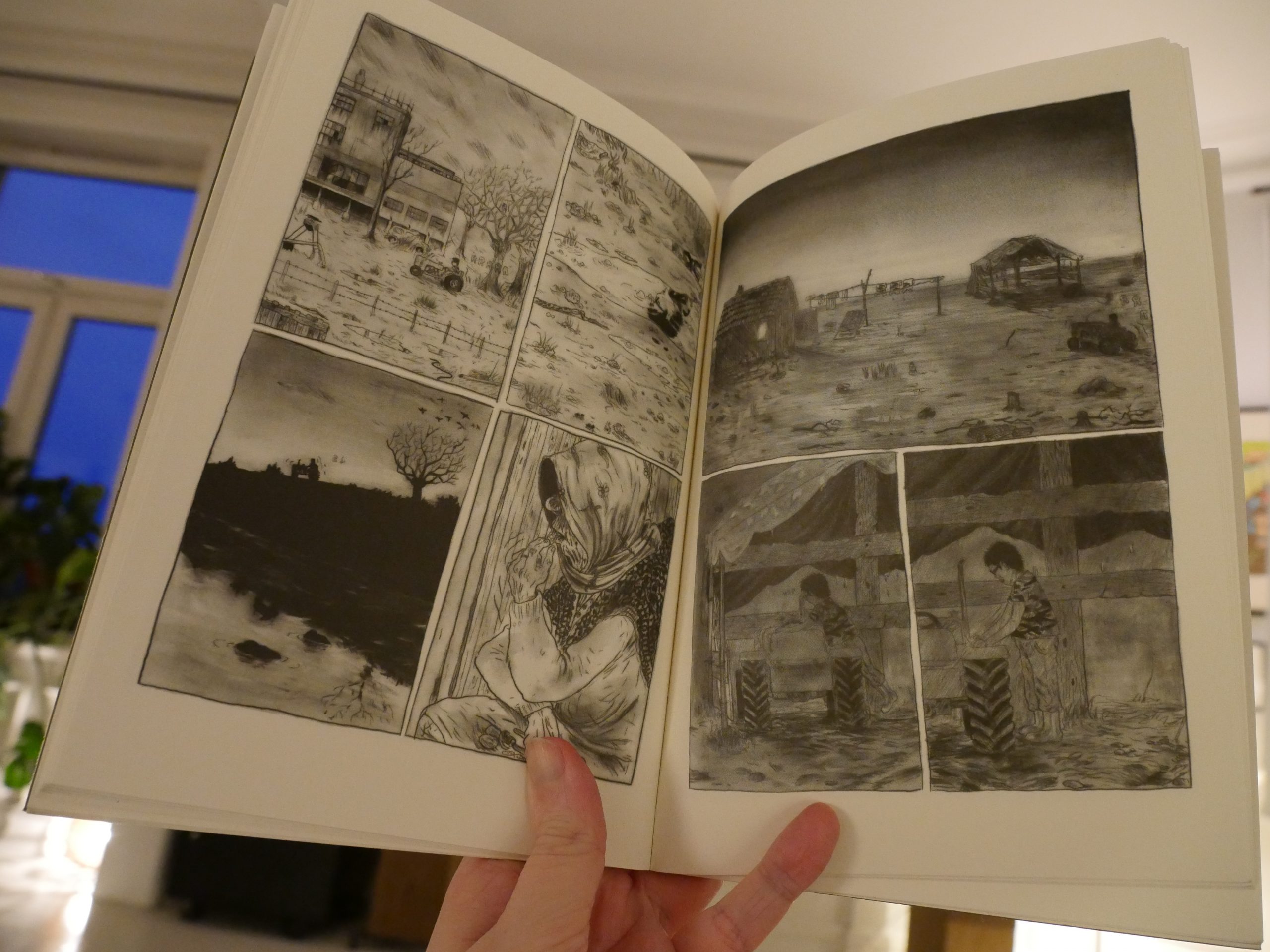 And the story's properly unnerving, too — and takes some very unexpected turns. I mean, it's not a twist ending or anything, but it seems to point you in one direction and then swerves.
An impressive little story.
| | |
| --- | --- |
| Various: Make More Noise | |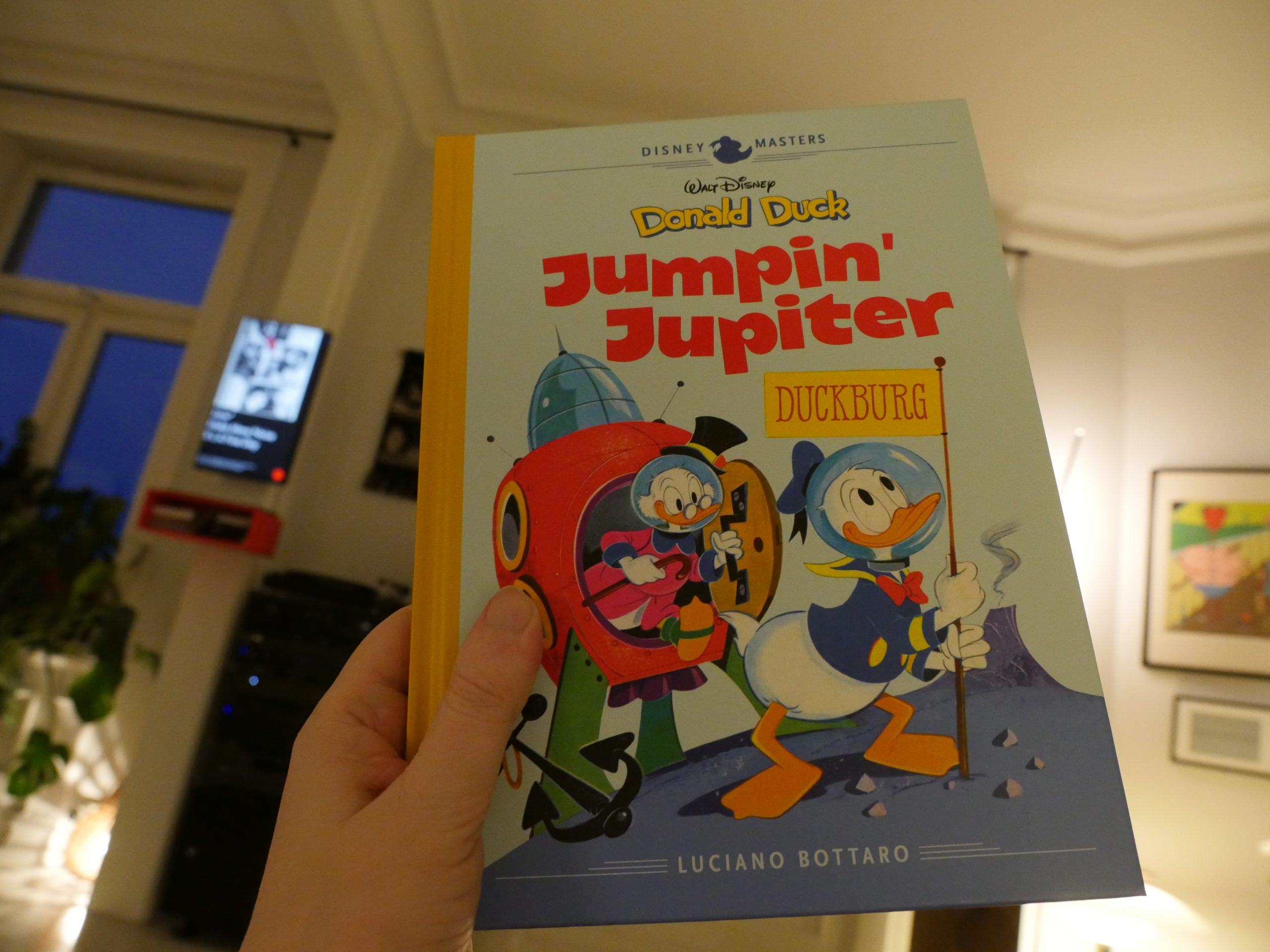 23:43: Donald Duck: Jumpin' Jupiter by Luciano Rottaro (Fantagraphics)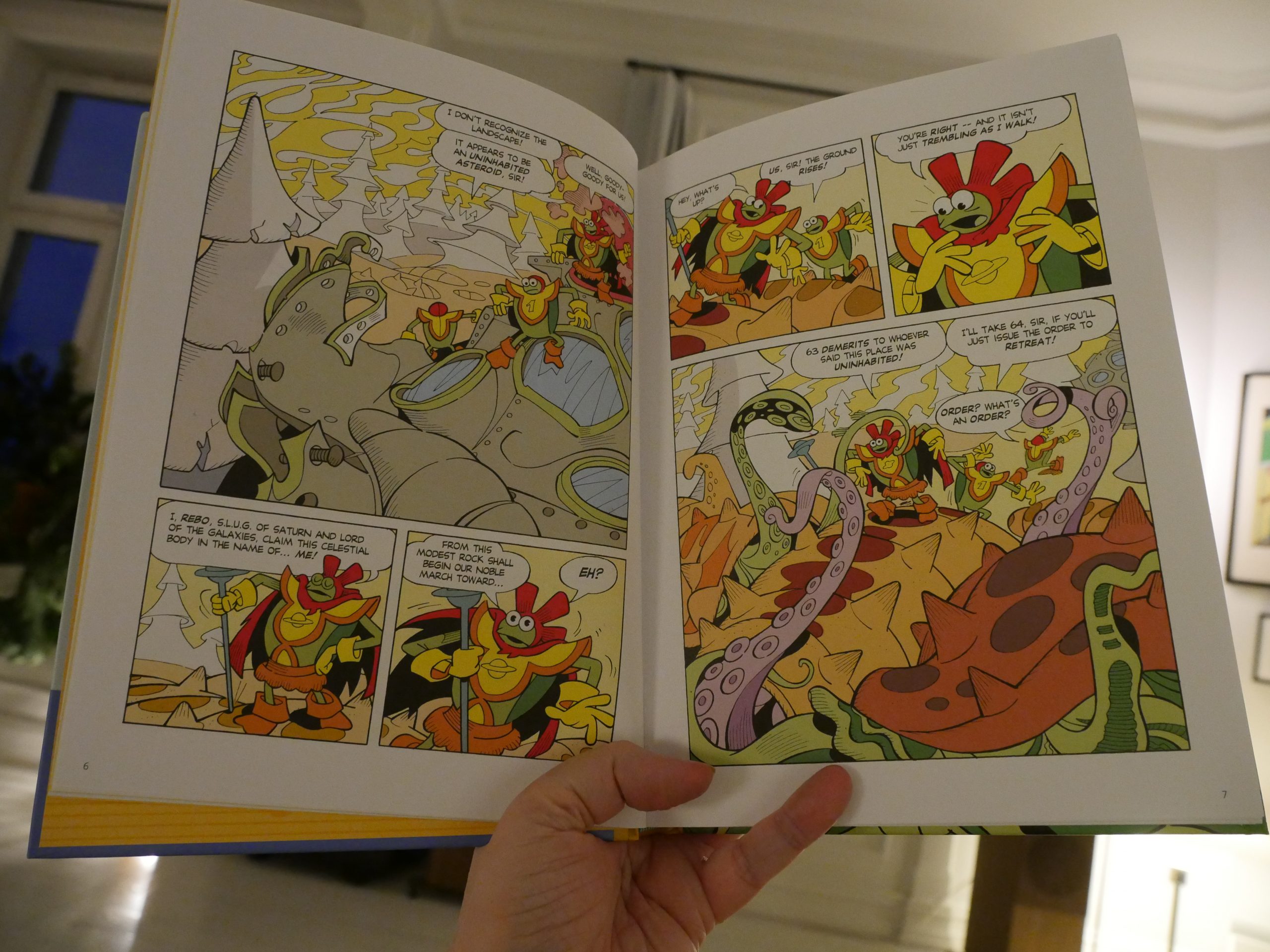 I did read Italian Donald Duck as a child, but even then I was pretty sceptical — it's pretty chaotic and intensely silly. Not that that's bad in itself, but it's…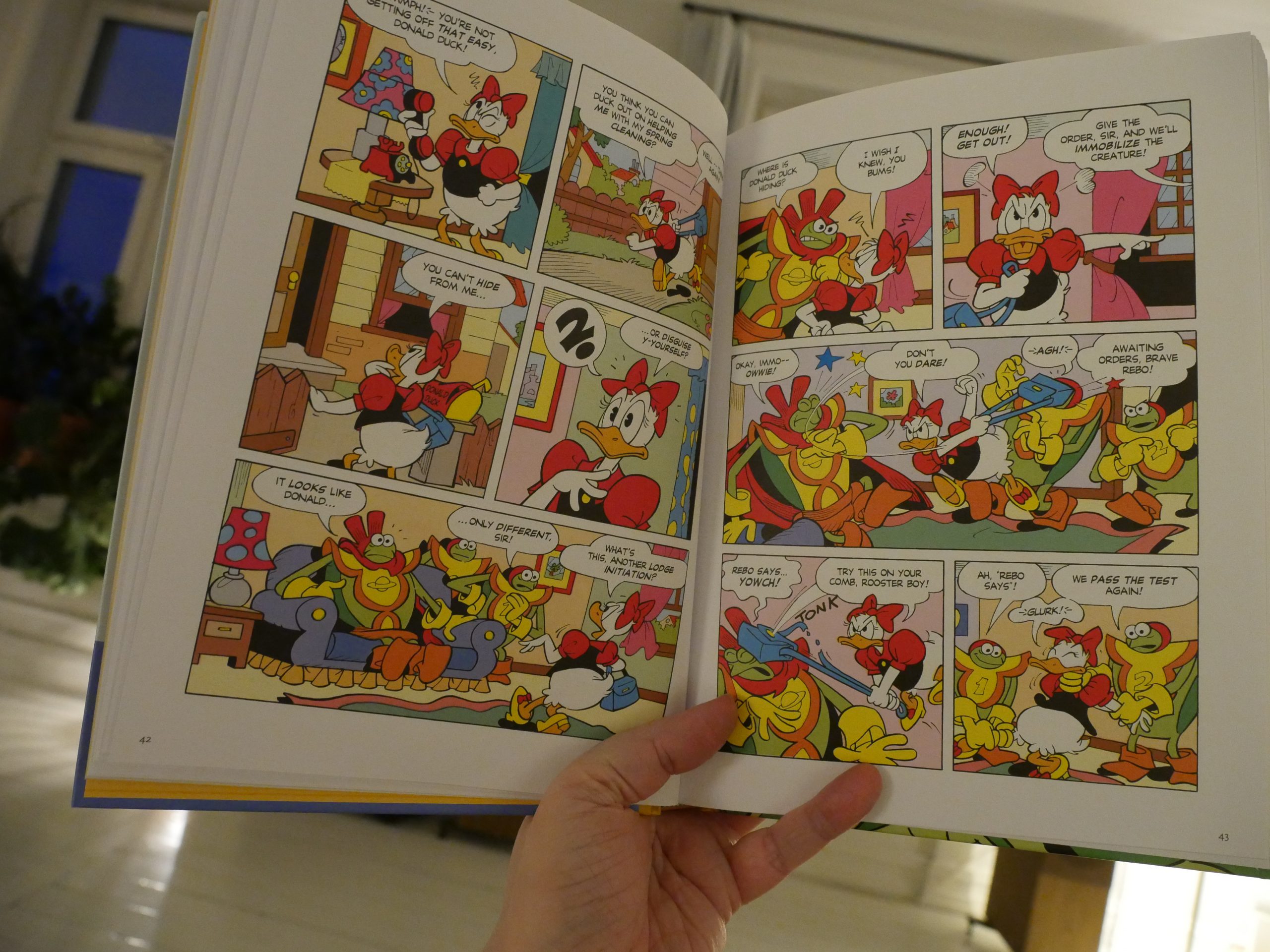 So I really should stop buying these "Disney Masters" books. I stopped reading this one at about 100 pages in.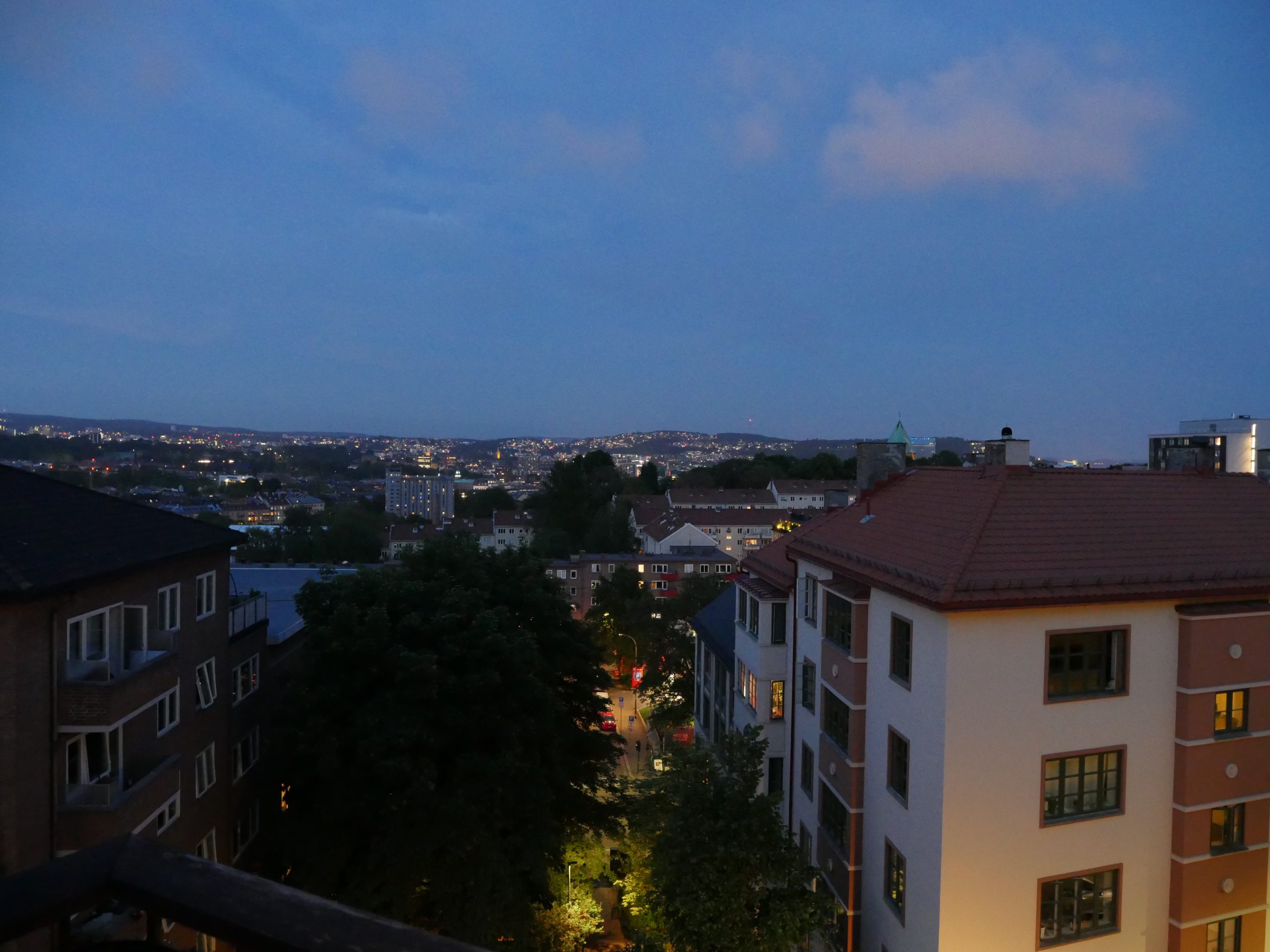 00:18: Nighty night
And now it's time to sleep, perchance.