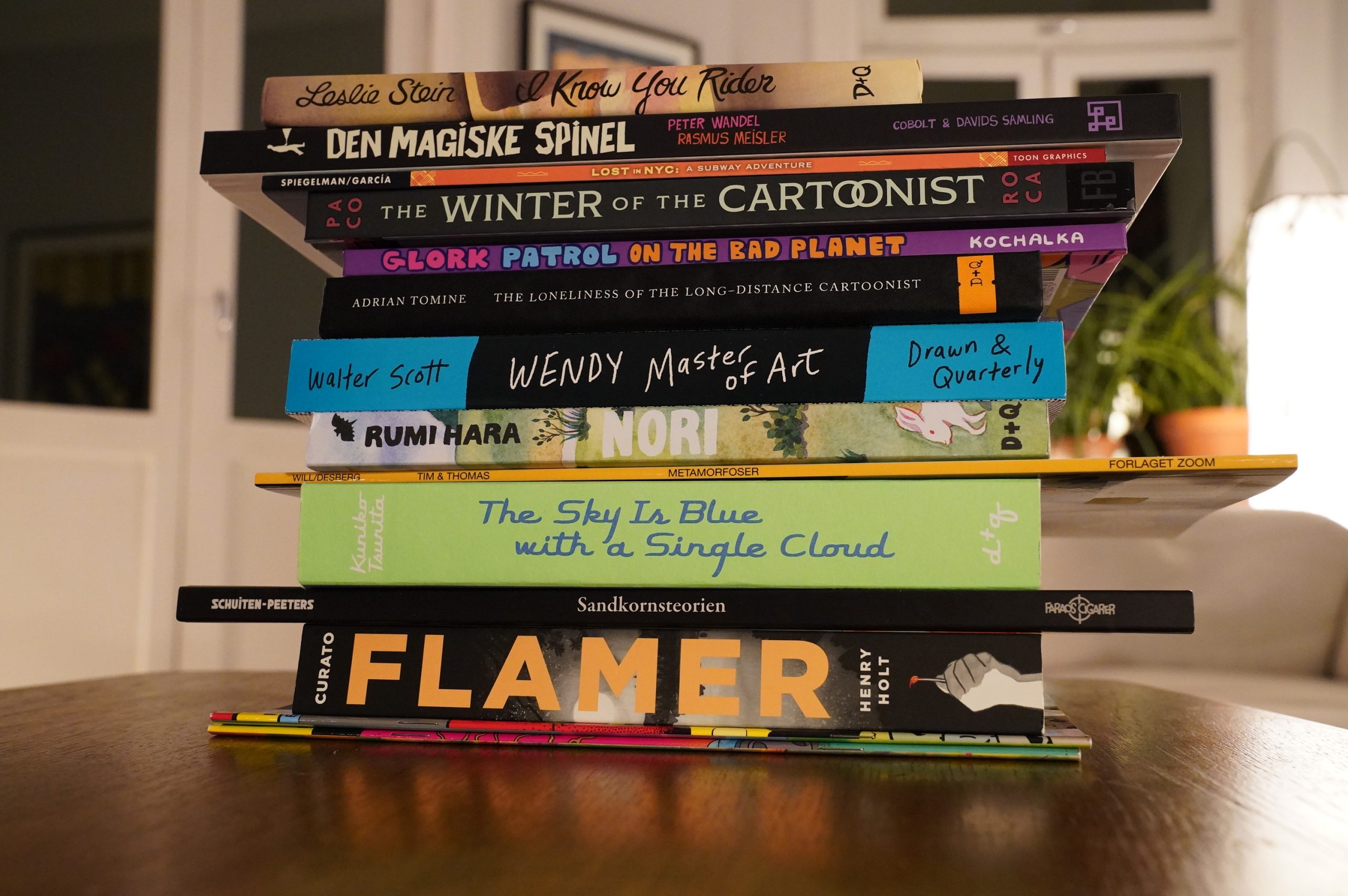 Man, I've totally screwed up my sleeping schedule again… getting up at two in the morning wasn't really my plan.
But, OK, what better way to spend the night than reading comics, eh? Eh?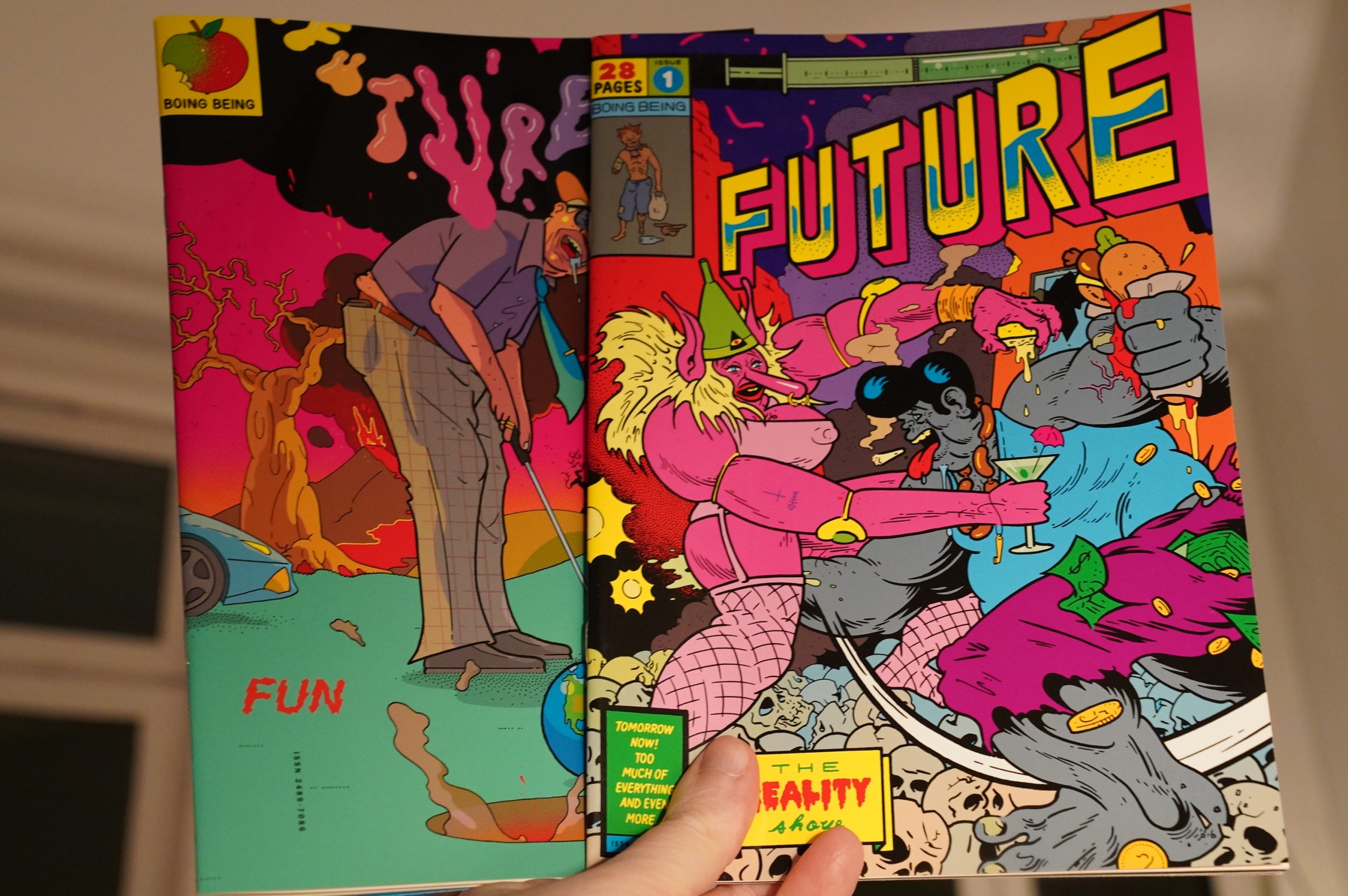 04:00: Future #1-2 by Tommi Musturi (Boing Being)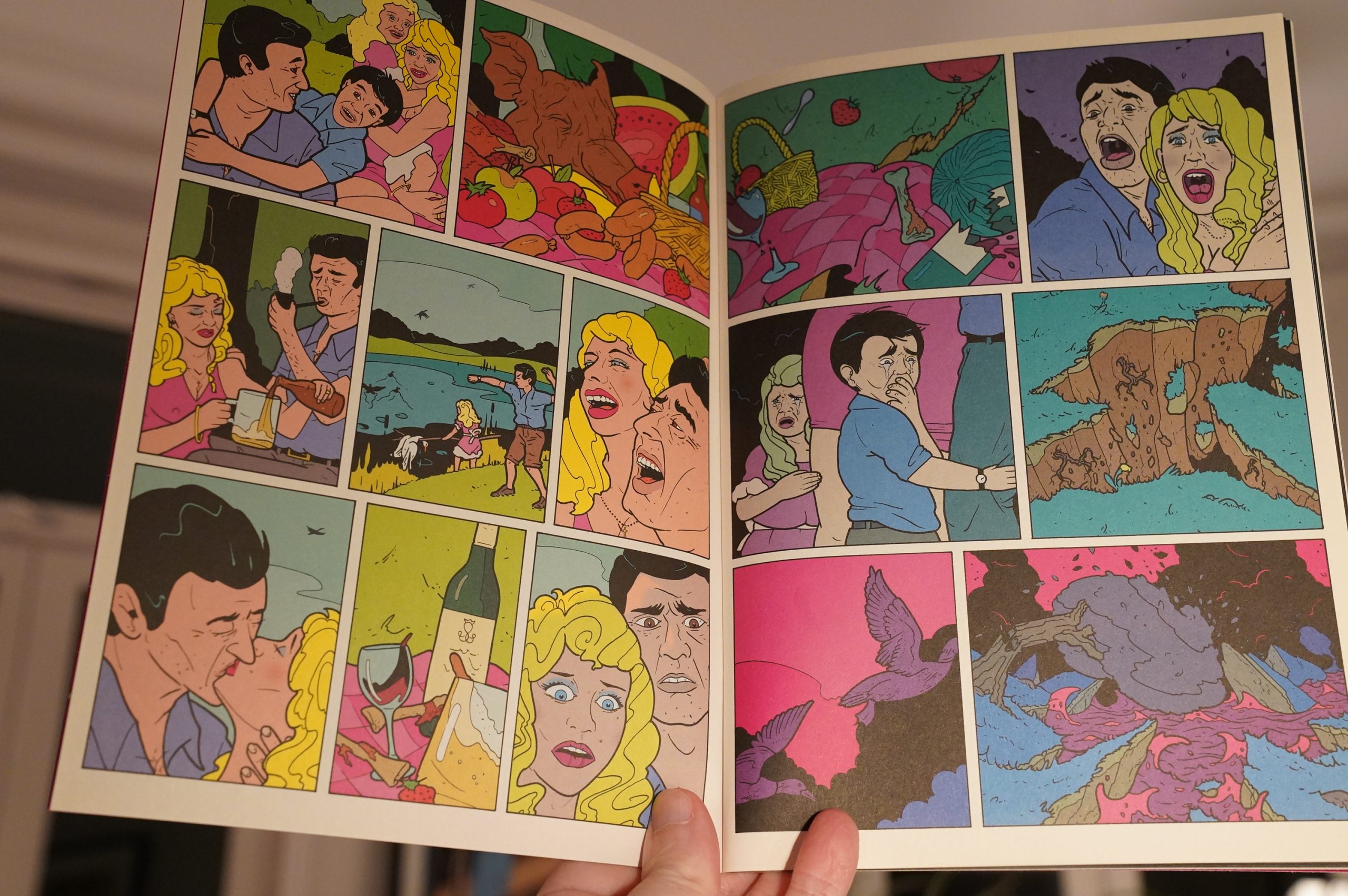 Wow! Haven't seen anything like this in a while: It's a one-person anthology in pamphlet form (from Finland).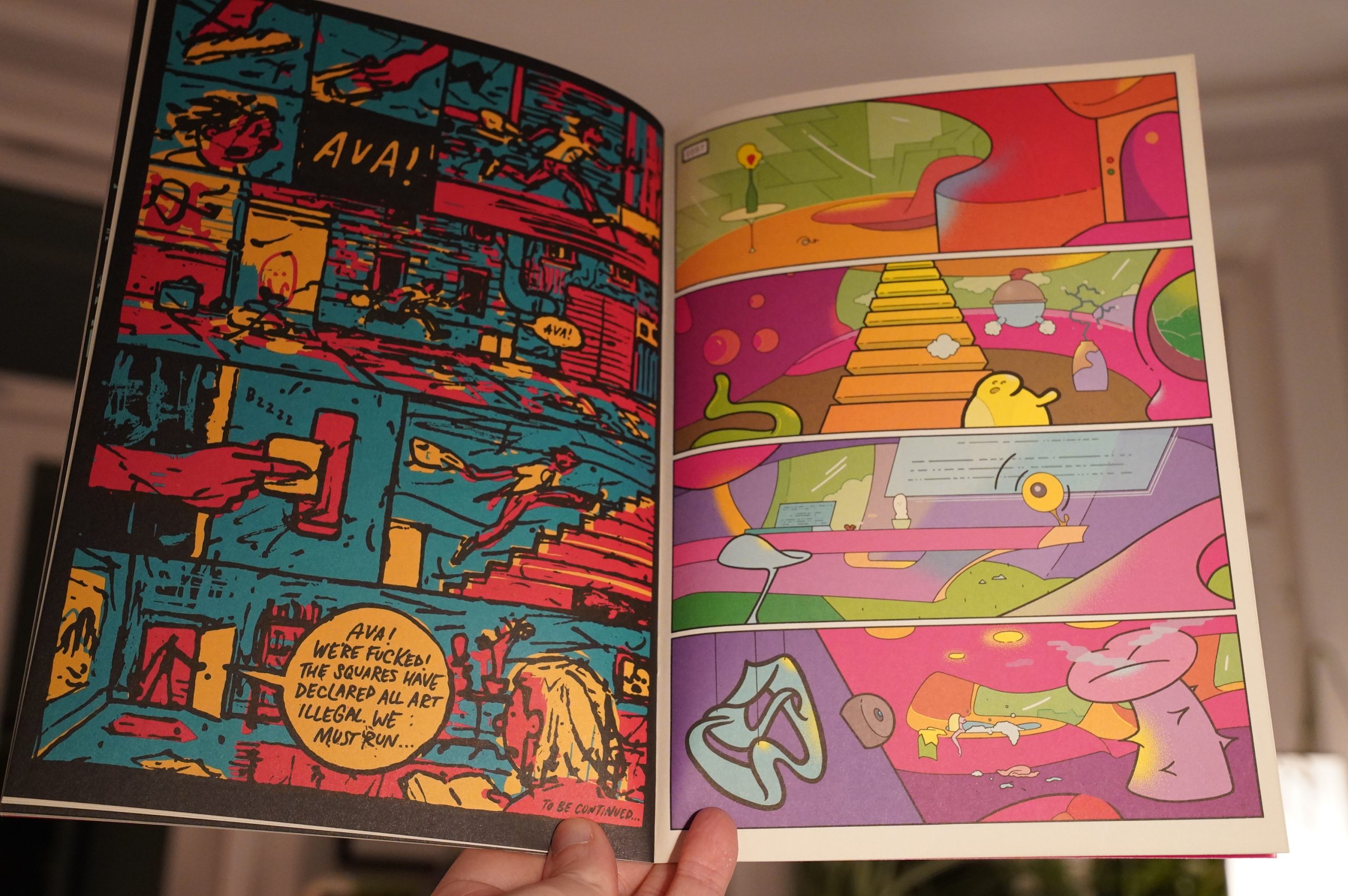 The level of talent on display here is amazeballs.
The reality show parody stuff is a let-down, but the rest is fantastic.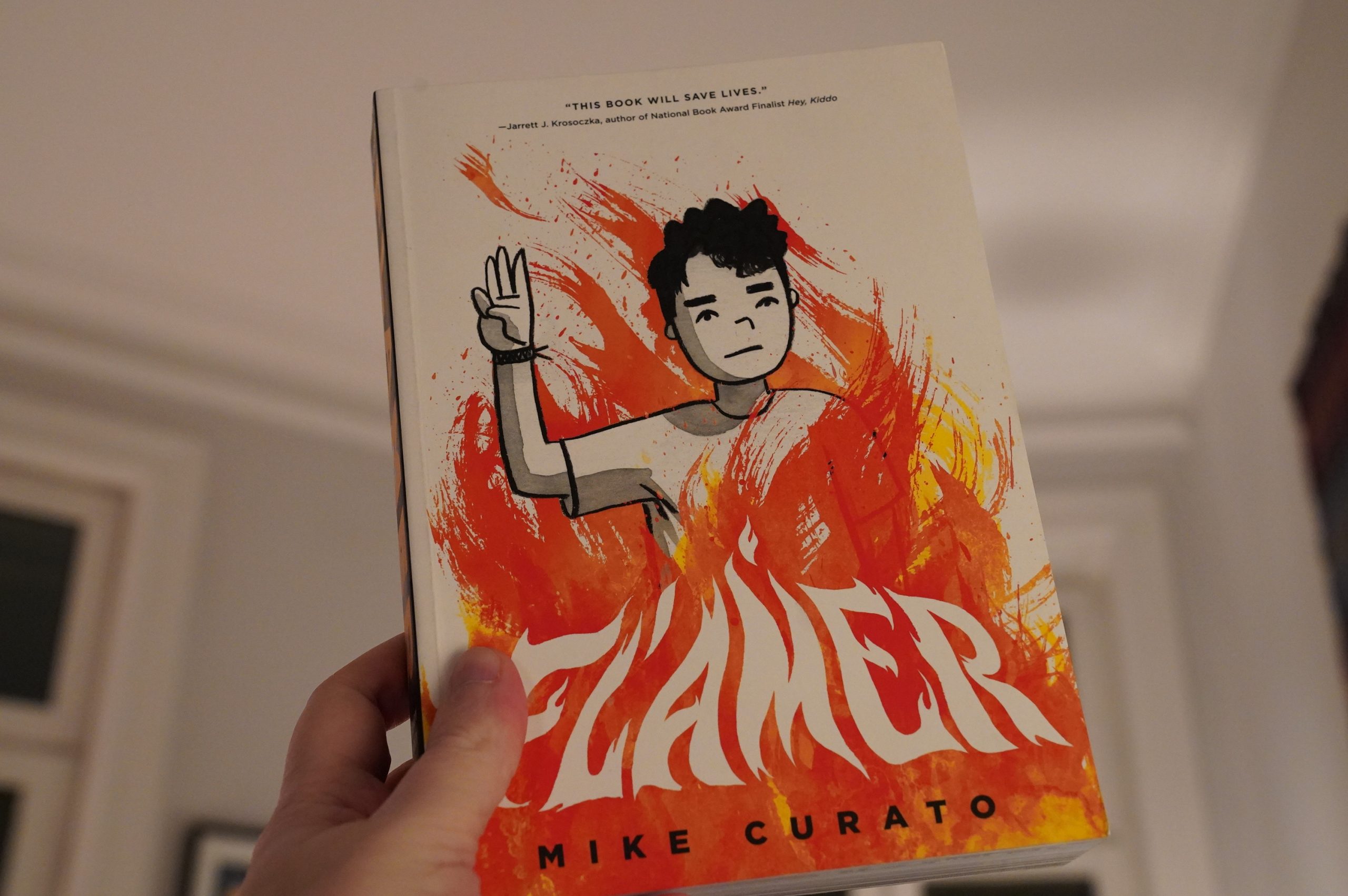 04:25: Flamer by Mike Curato (Henry Holt)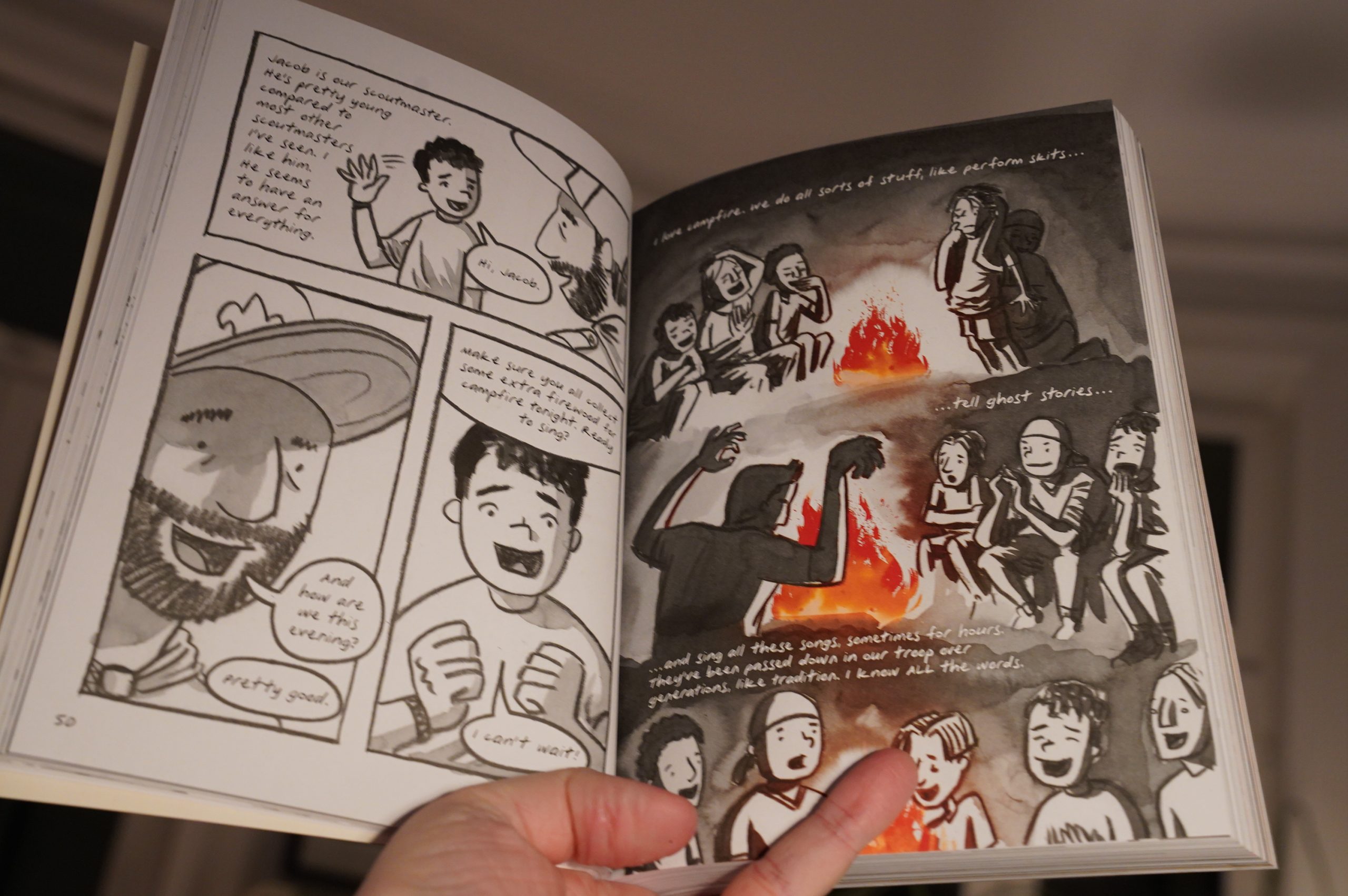 Cutesy art style… and yet another story about a sensitive kid being bullied, religious damage, and woe is me and stuff? Not very excited.
So this is where I'm saying "BUT THIS ONE IS GOOD!"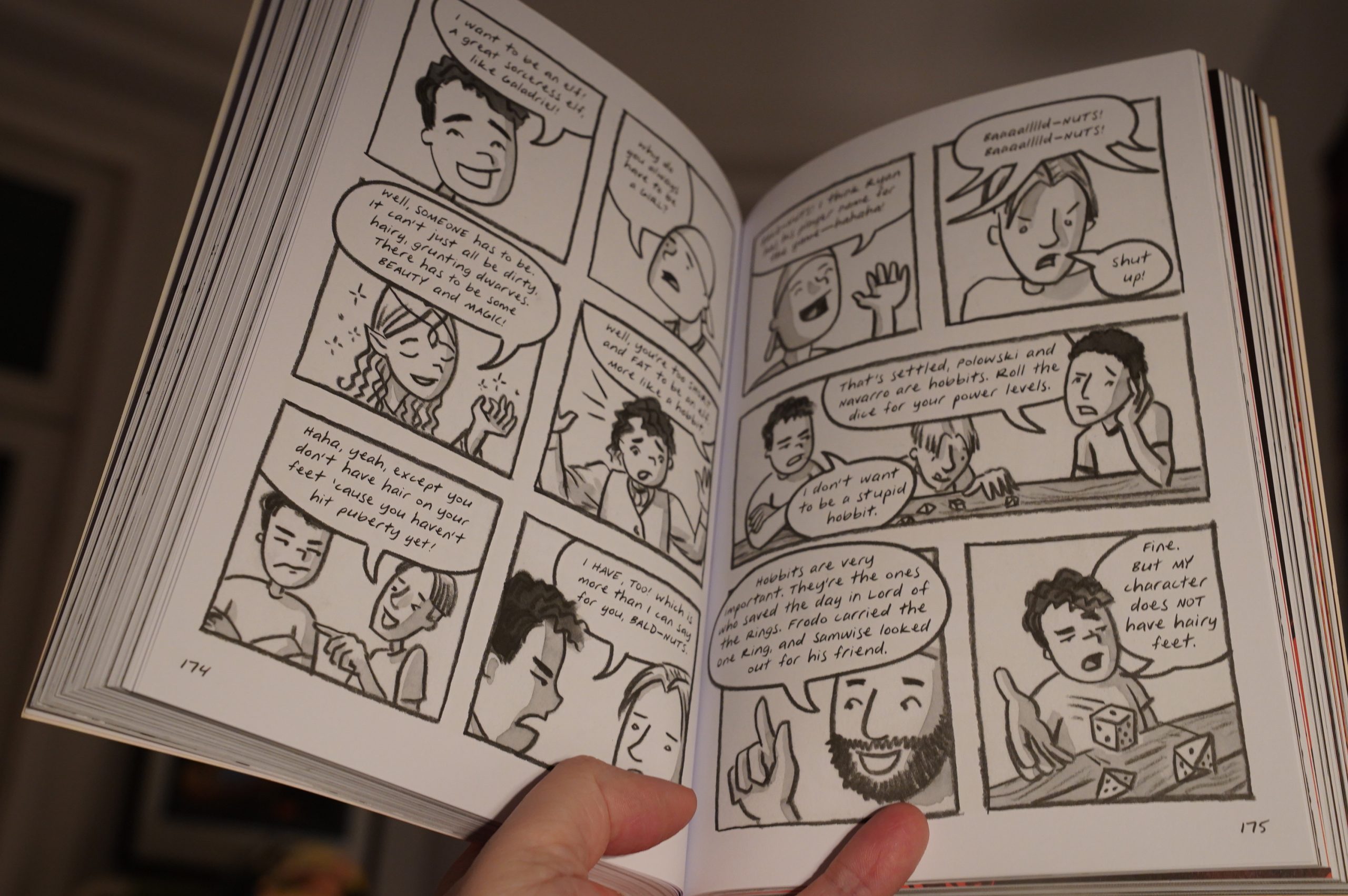 But it's not really. It's kinda… middling? The kid comes off as a bit creepy, which I don't think was the intention, and the while the artwork sometimes is a bit more inspiring, it's kinda … just … pedestrian?
But it's fine. It's mildly entertaining. And some of the scouting stuff was interesting.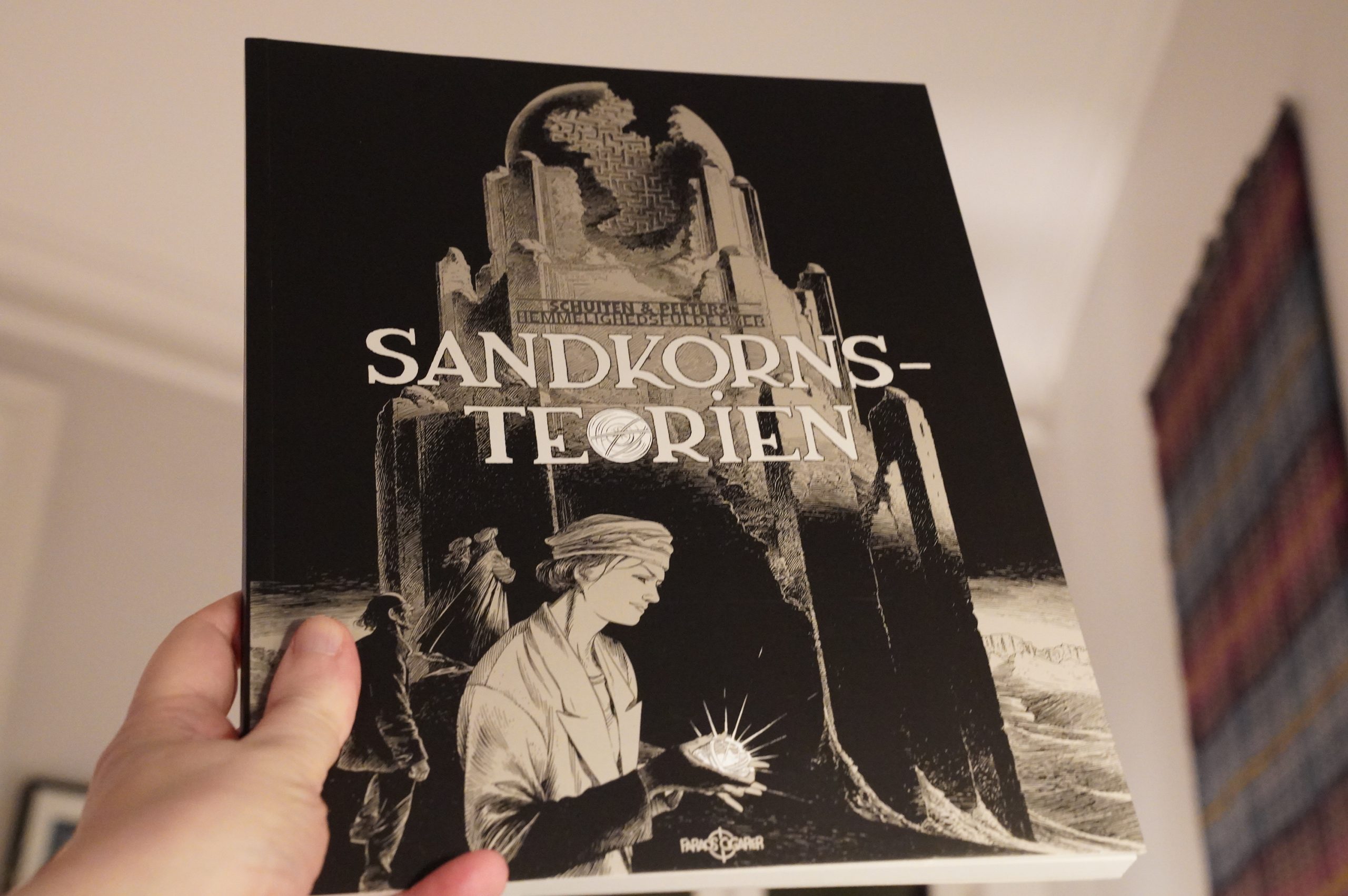 05:19: La théorie du grain de sable by Schuiten & Peeters (Faraos)
What? Schuiten & Peeters are still at it with their series of the mysterious cities? Or is this something old? Hm… 2010…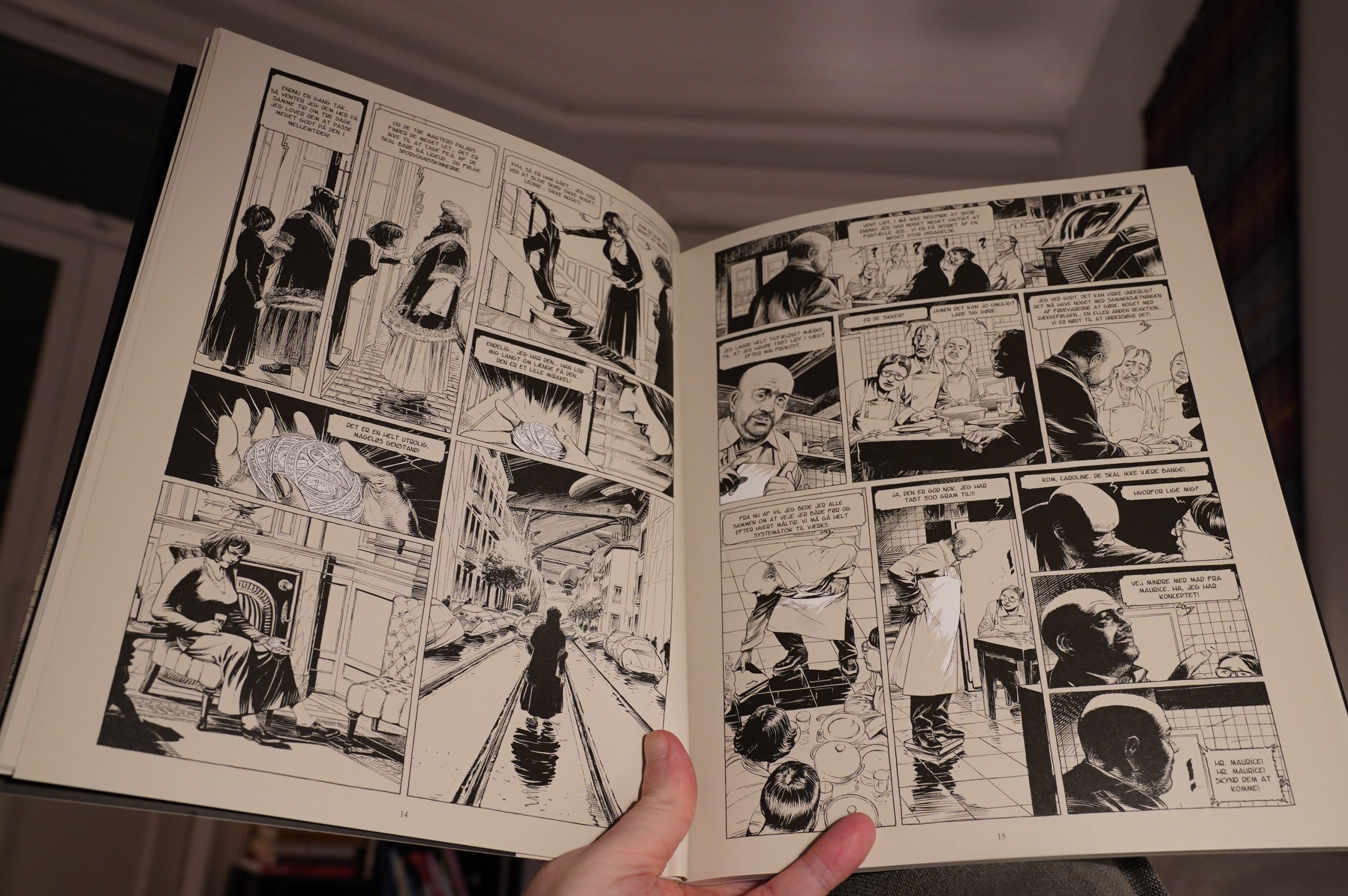 I love the way this is printed: The pages look like they're naturally beige, but they have to be printed that way, right? So that you can have magical white bits pop.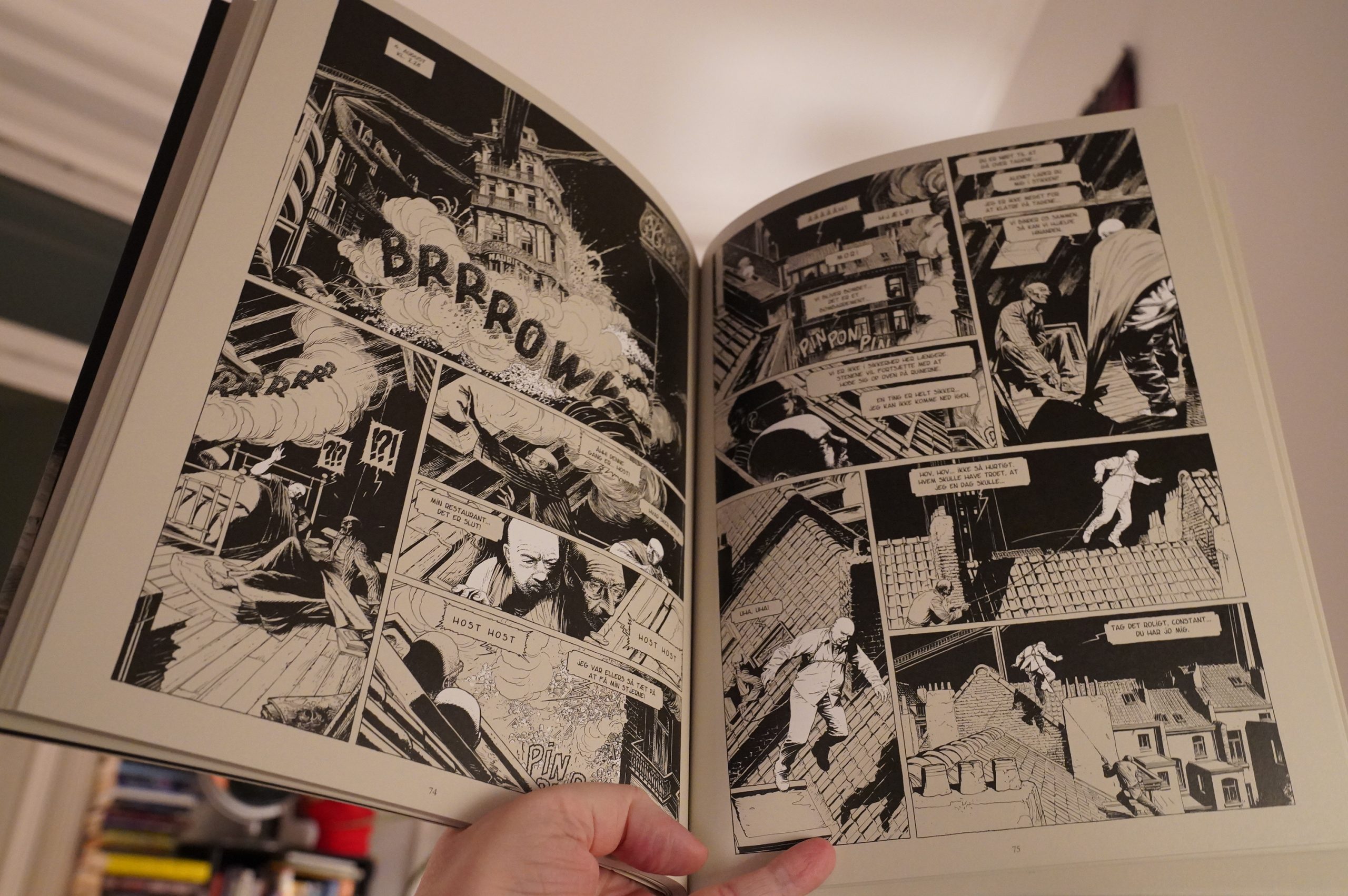 Reading this is strangely nostalgic. I mean, it's just like those weird, slightly spiritual French-ey comics from the 70s. And I mean that in a good way. It looks gorgeous, of course, but it's got that feeling of something odd going on (beyond the already-odd story), like… Ici même by Tardi, or… well, Schuiten and Peeters.
I really enjoyable read, even if you can't really say that the storyline is… er… well-developed.
But perhaps a bit on the long side? Still lovely.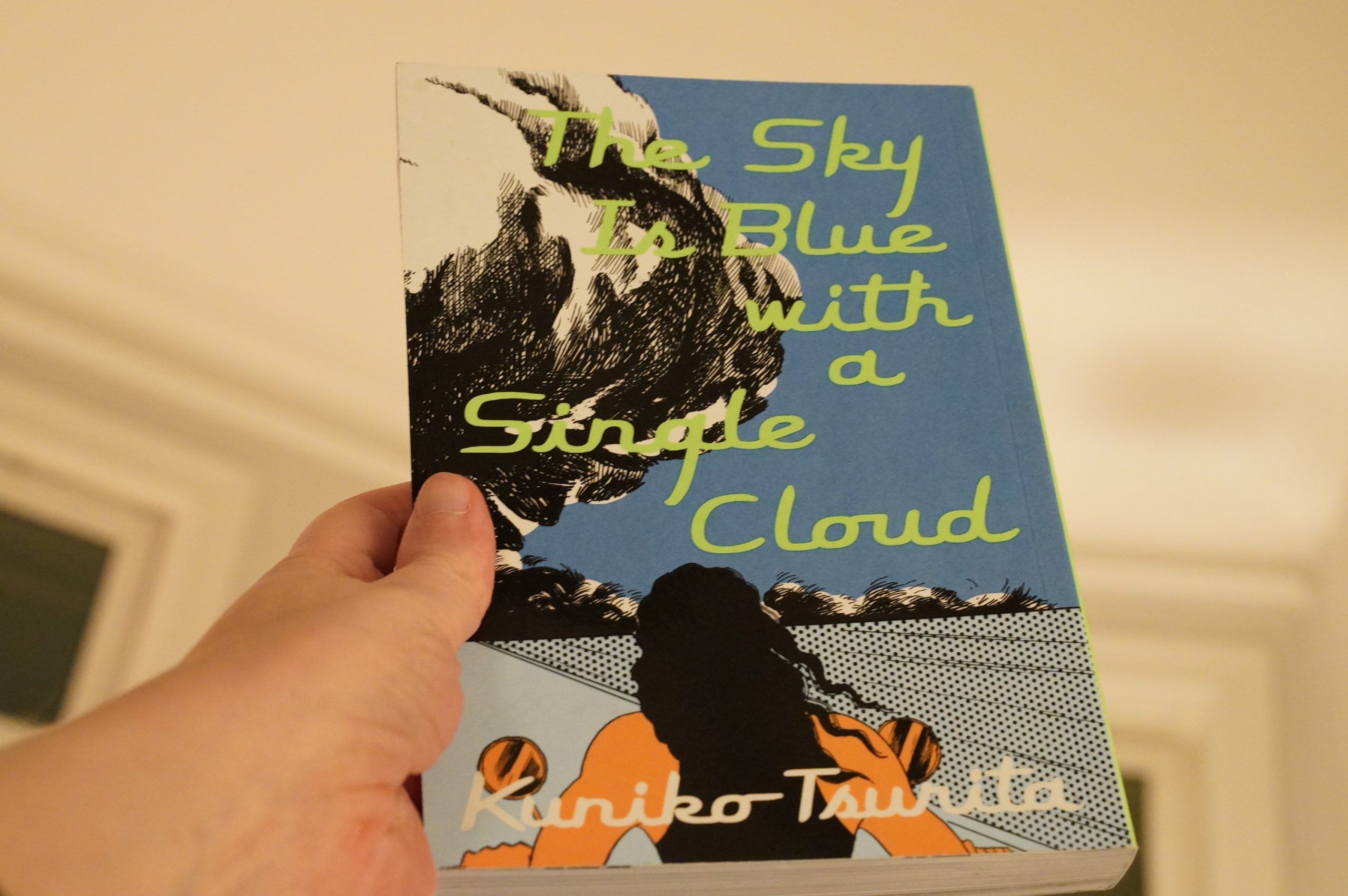 06:18: The Sky is Blue with a Single Cloud by Kuniko Tsurita (Drawn & Quarterly)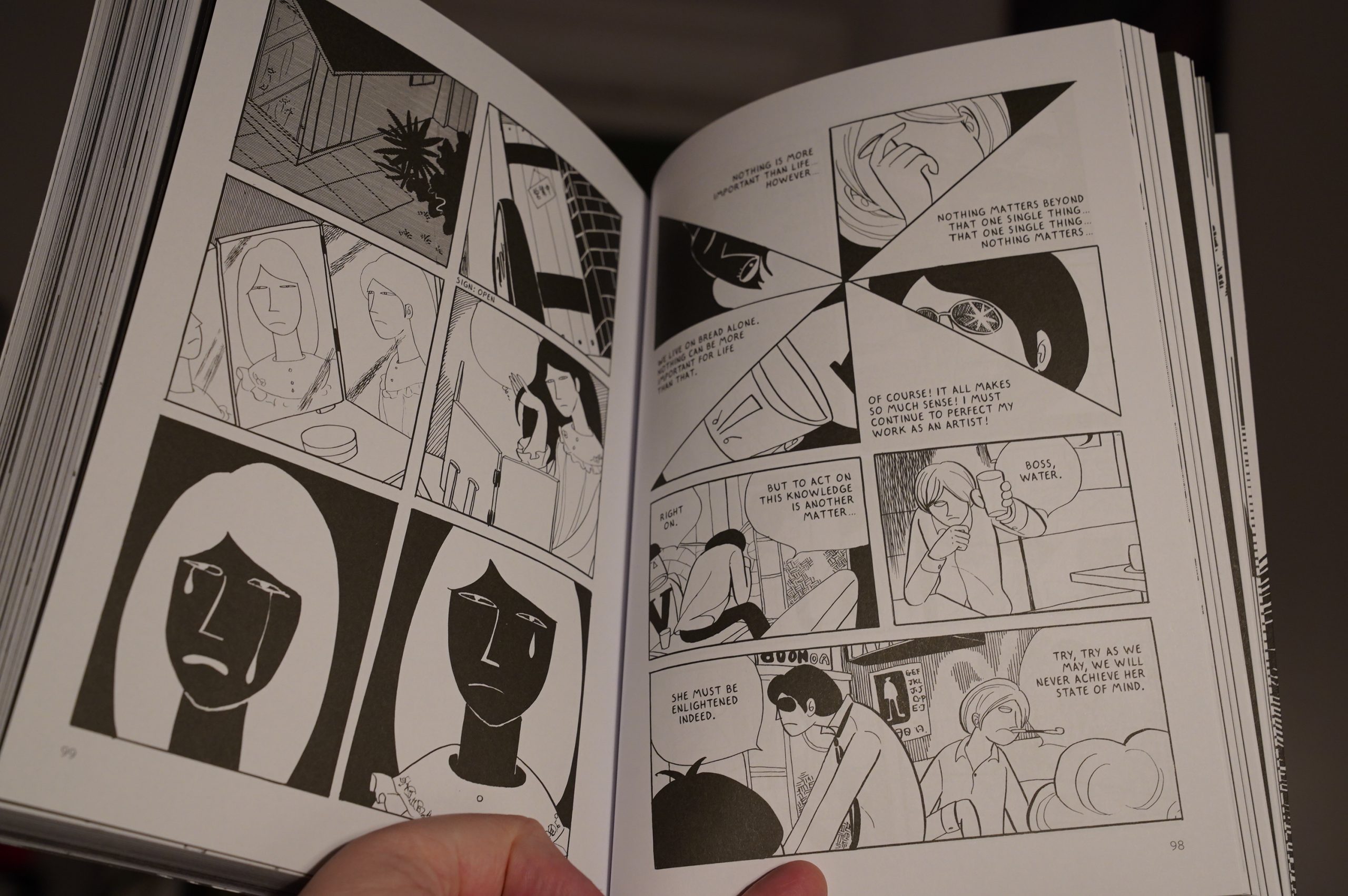 I keep buying these Ryan Holmberg-edited collections of Japanese comics, hoping that one of them will turn out to be, like, actually good. (I'm looking at you, Man Without Talent: Meh-o-rama.)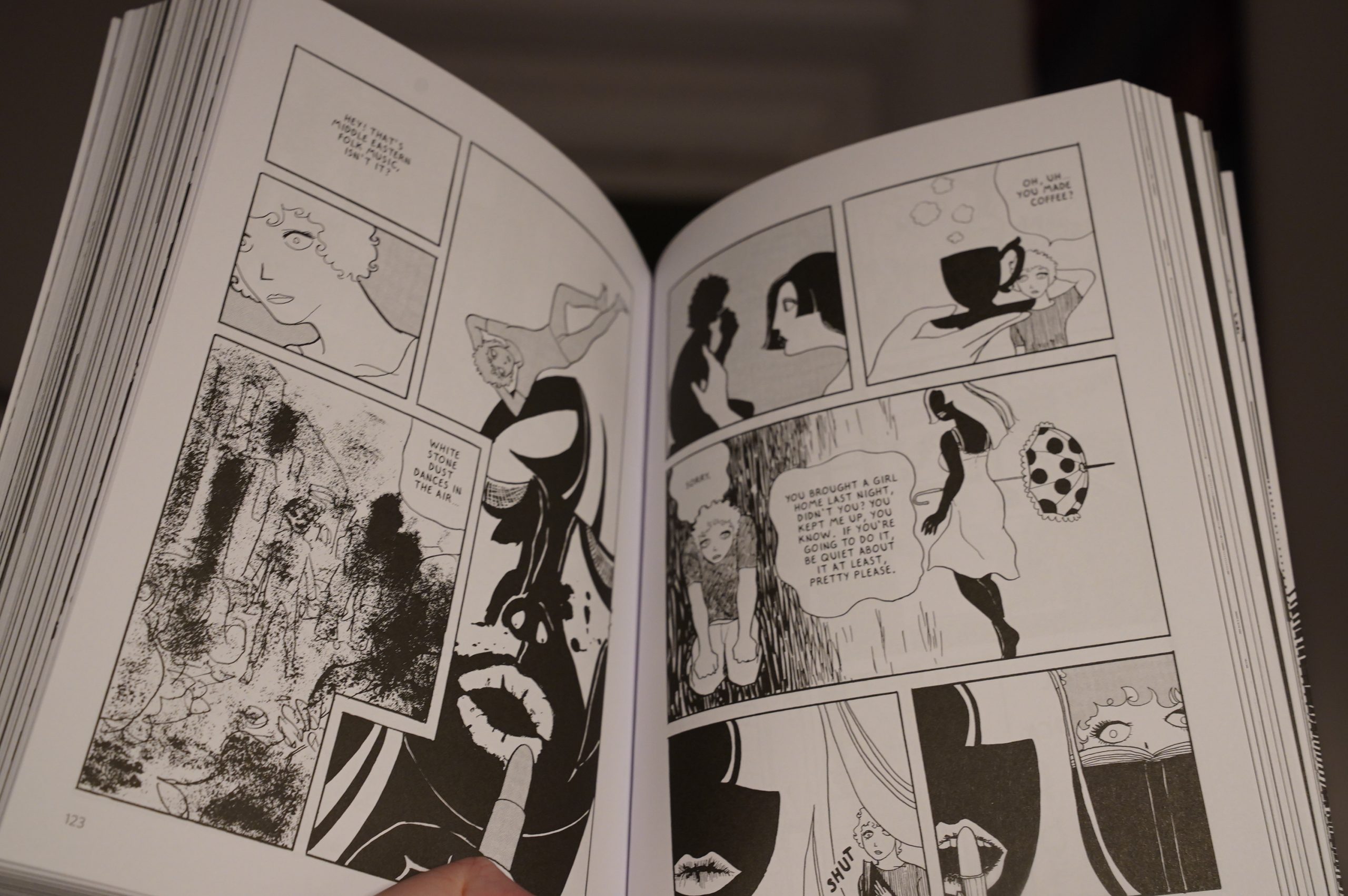 And this is it! This is finally a good collection!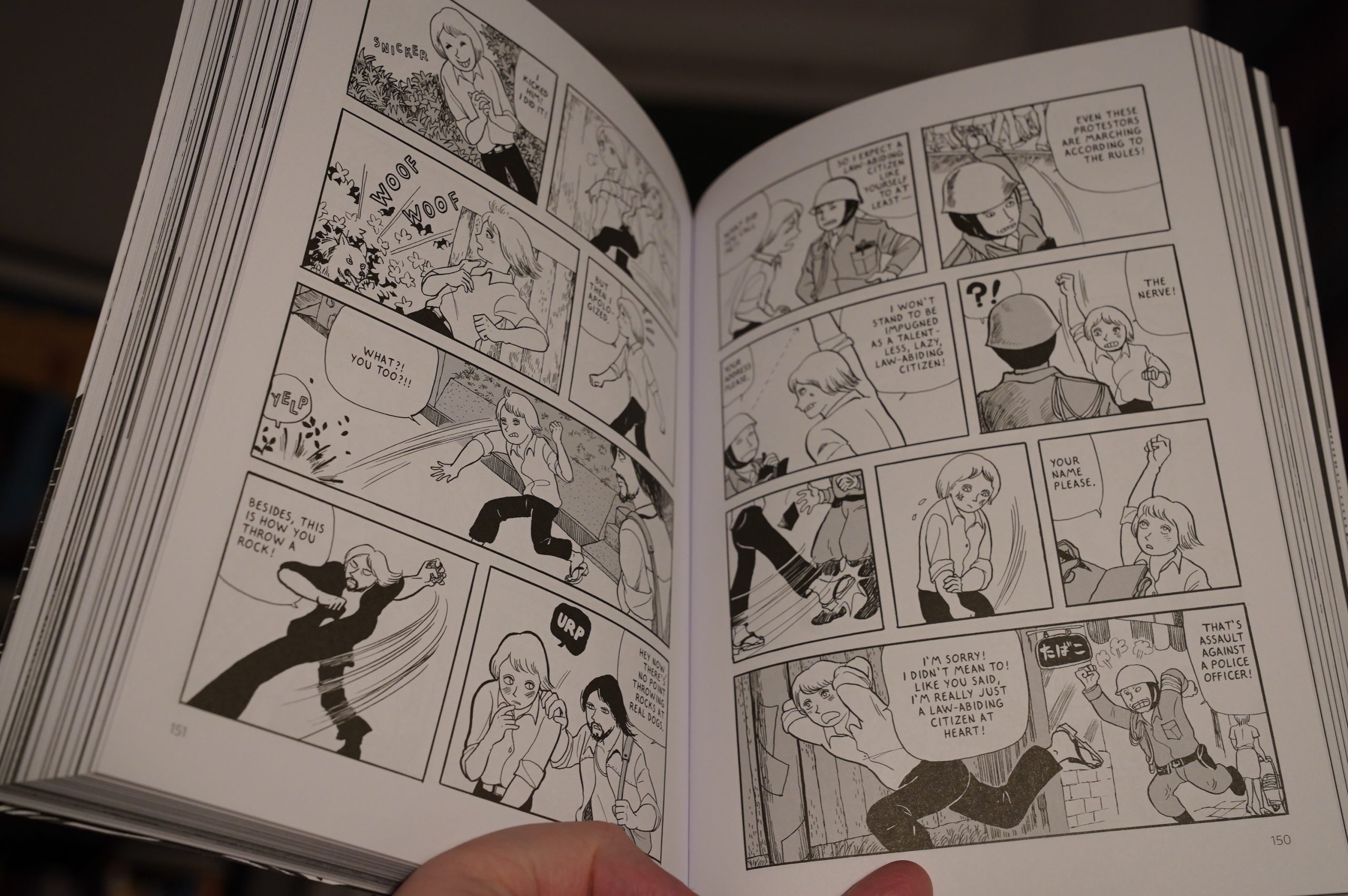 It's all kinds of fabulous. It's funny, it's moving, it's angry, it's bitter, it's strange. And the artwork keeps evolving; keeping it interesting.
It's a wonderful collection.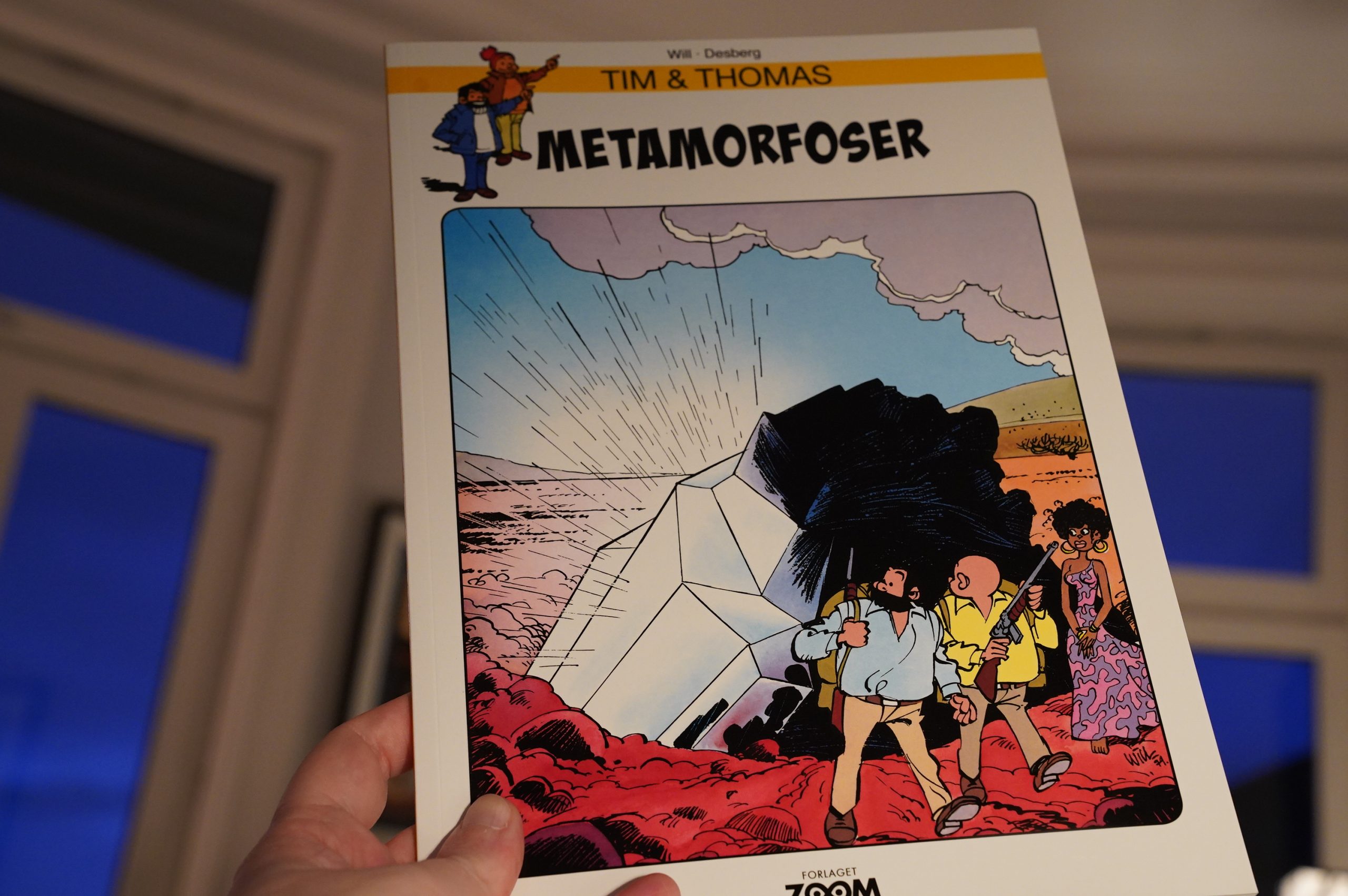 07:20: Tif et Tondu: Métamorphoses by Will & Desberg (Zoom)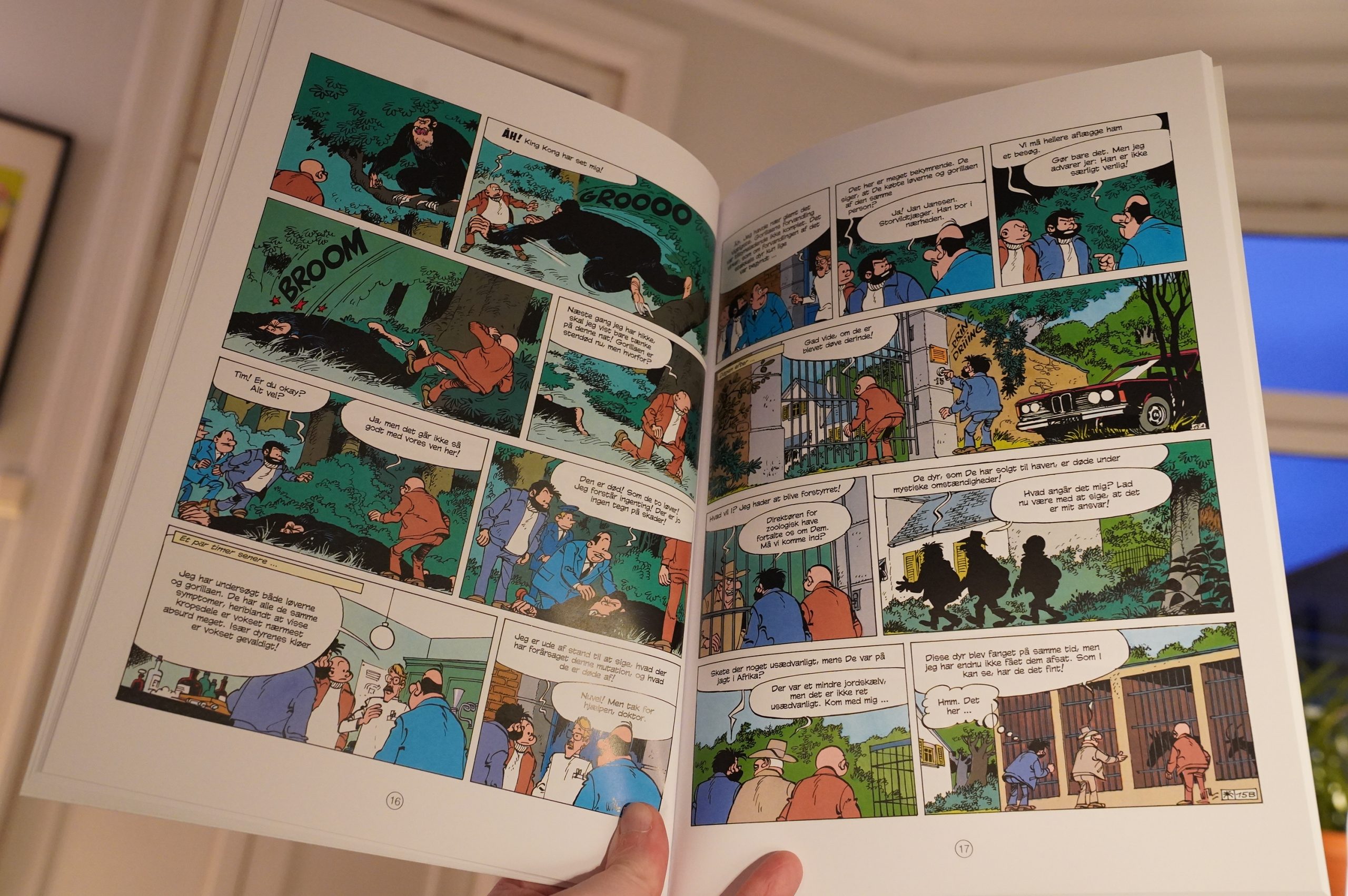 The Danes keep issuing translations of this not-very-beloved French-ey children's series, and I keep buying it, for some reason.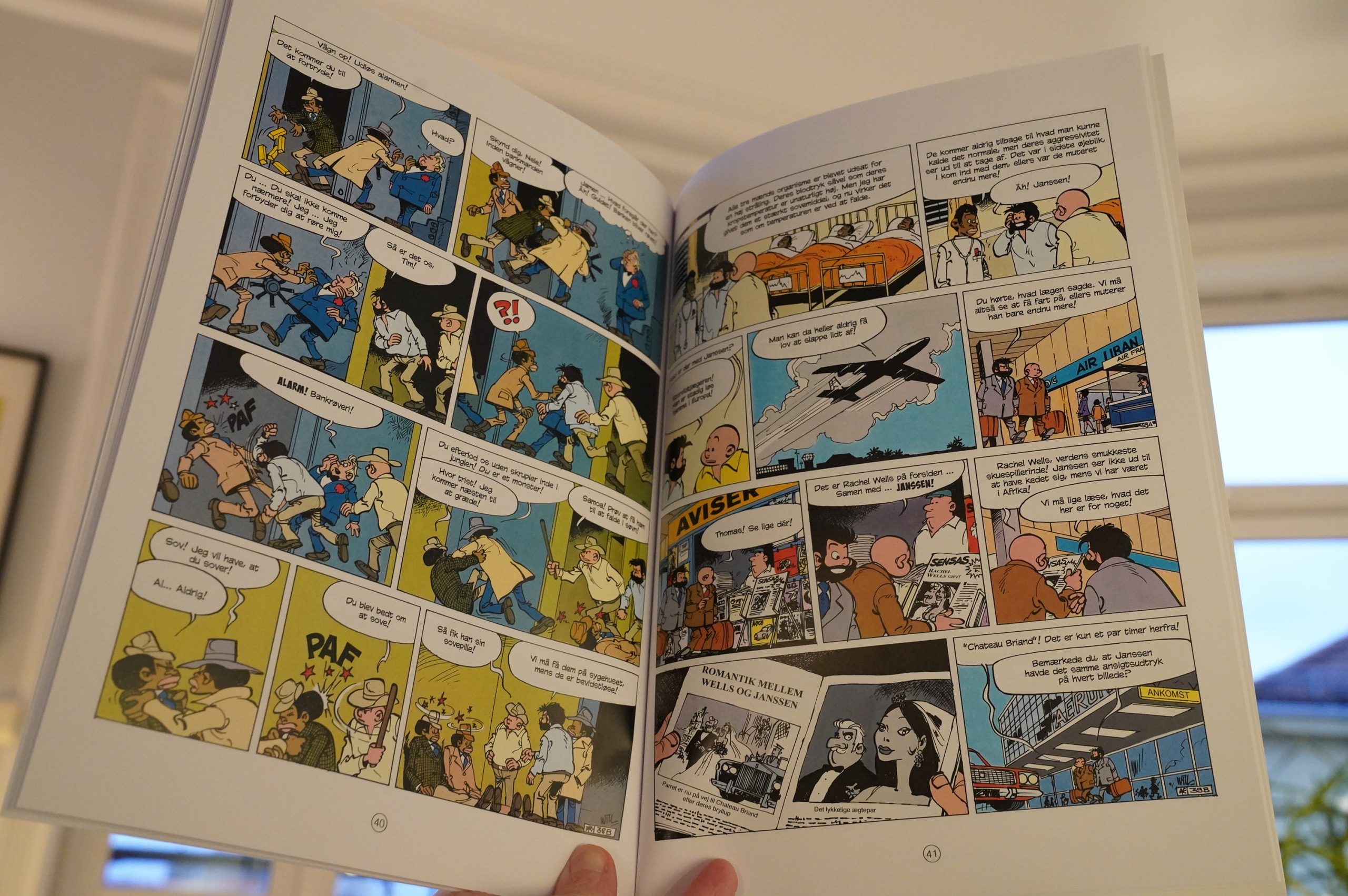 It's not particularly good. Will's artwork is very basic — it's difficult to tell the characters apart, and the action scenes aren't very exciting.
Still… I don't know… it's kinda entertaining?
I should probably stop buying these.
07:53: Nap time
13:58: I'm awake! I'm awake!
Man, that was a good nap.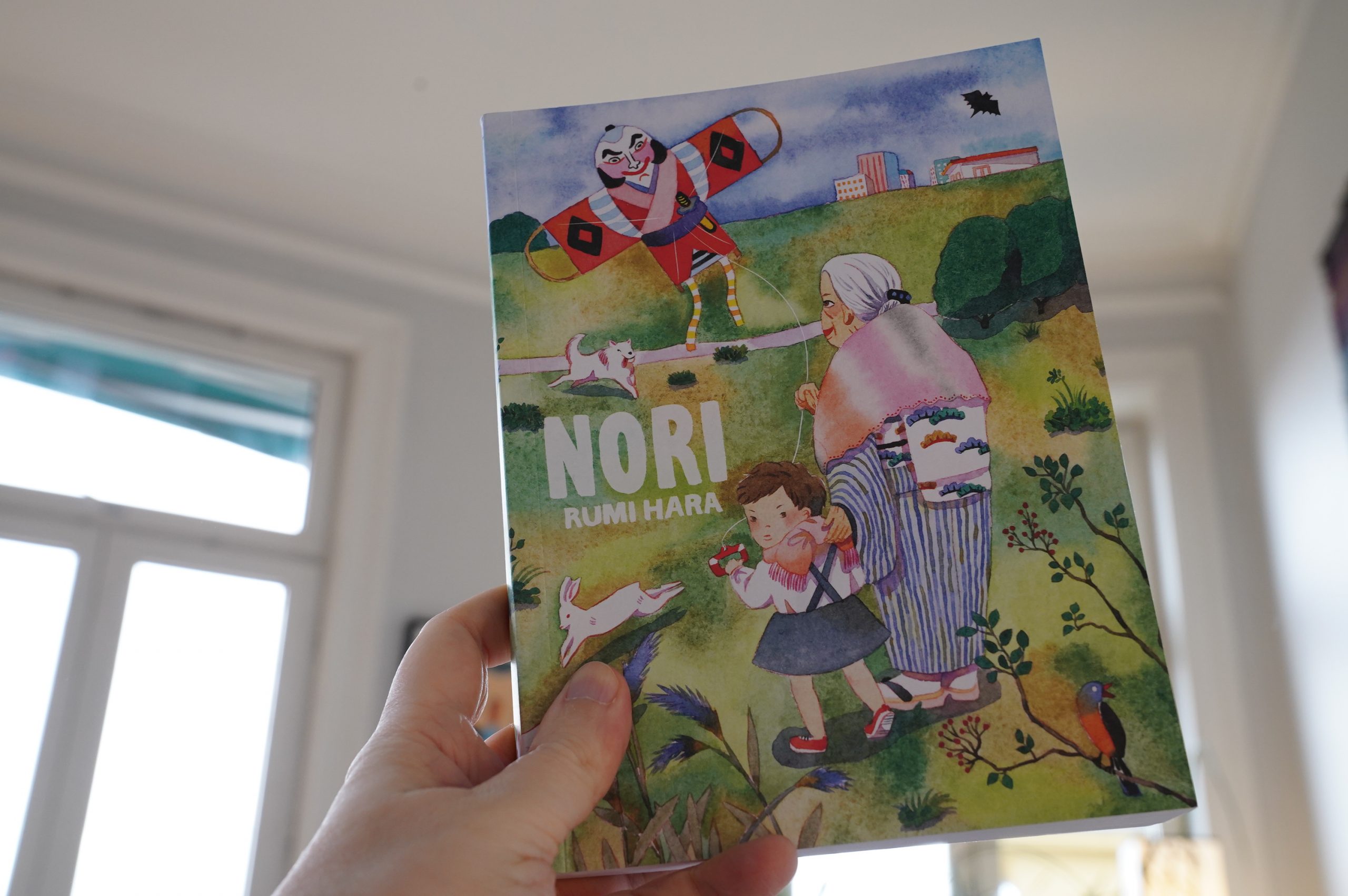 14:46: Nori by Rumi Hara (Drawn & Quarterly)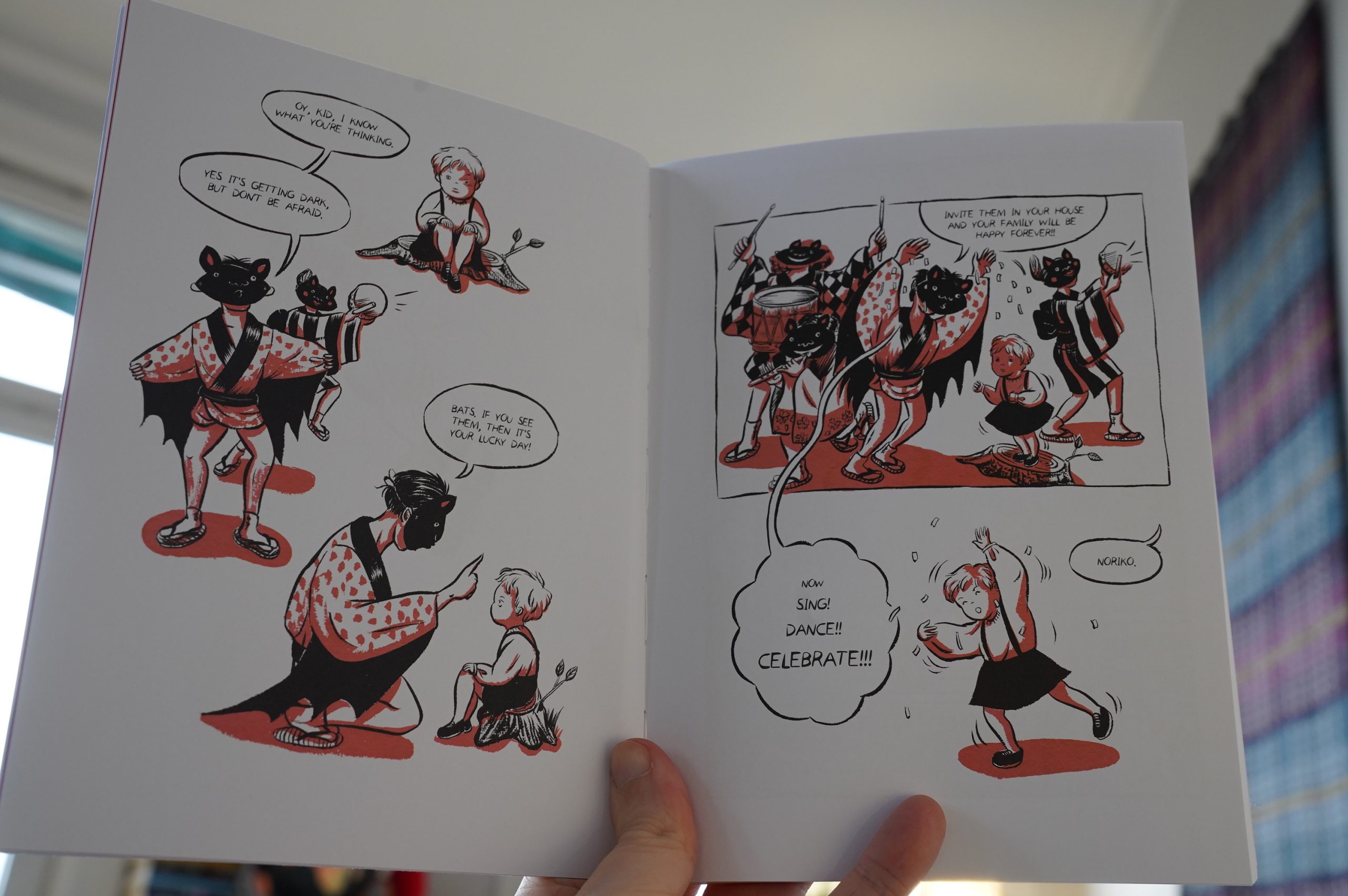 Very topical!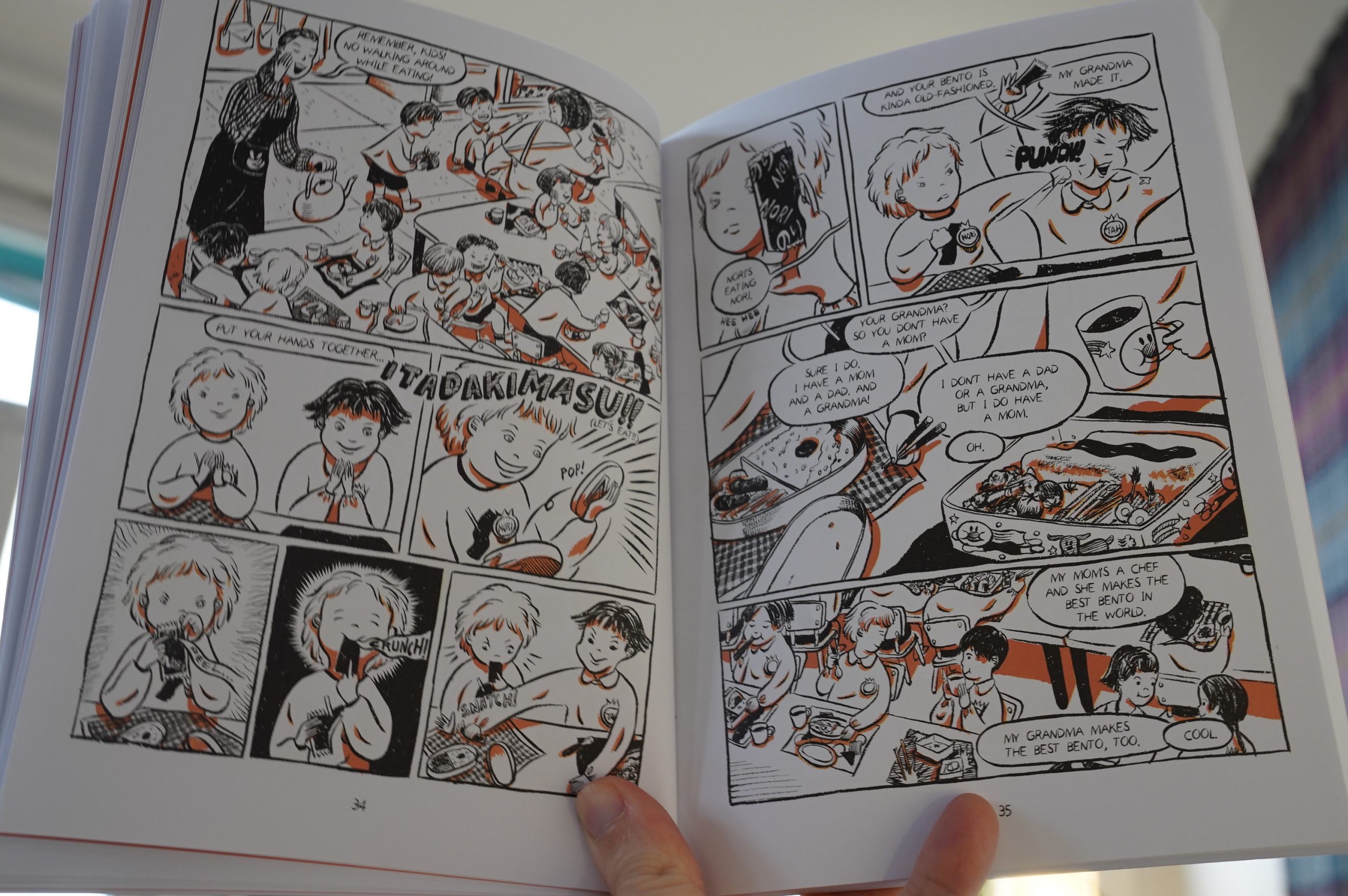 Man, this is such a good book. I was slightly sceptical at first — the storytelling felt a bit choppy, but then it all gelled: the mixture of reality and whimsy is so fluid (she probably didn't knock that other girl's tooth out).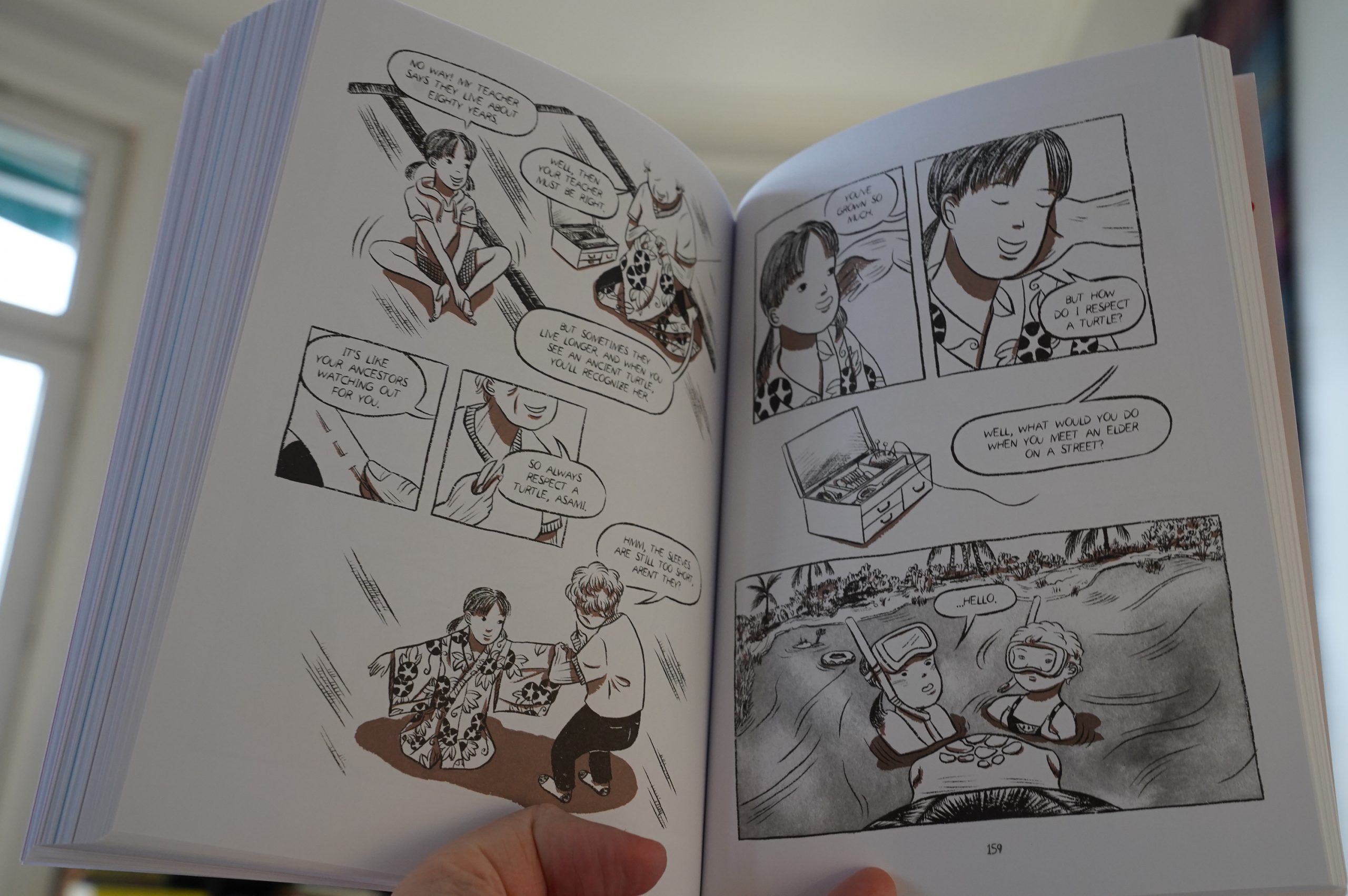 And you know some books have a cumulative sense of humour, where everything just gets funnier and funnier? This book just gets more and more moving, until at the end I'm tearing up at pages of people just walking down the street.
Not that it's not funny. It's very funny, too.
This book is such a delight. And such a surprise. Comic book of the year?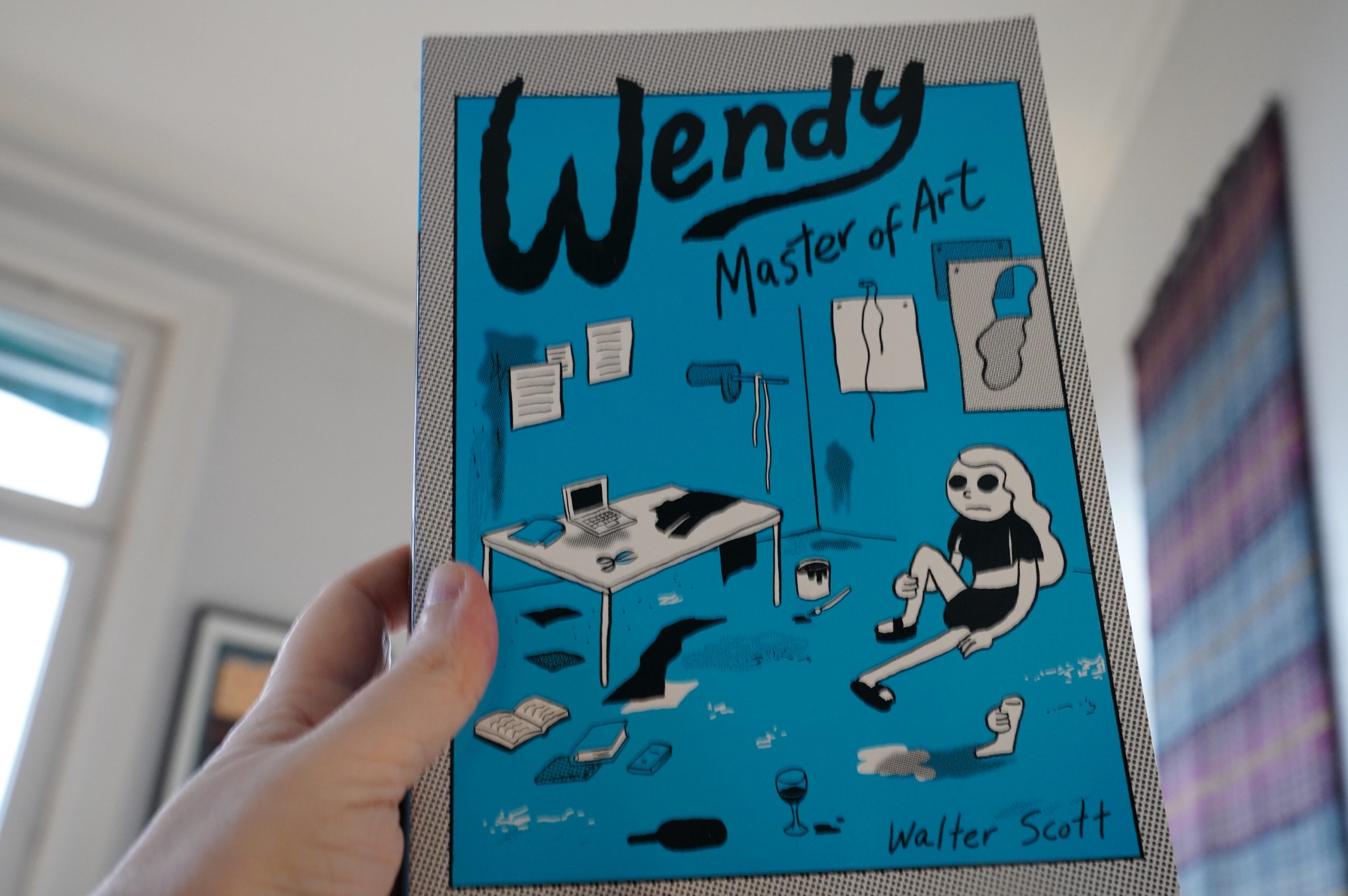 15:55: Wendy: Master of Art by Walter Scott (Drawn & Quarterly)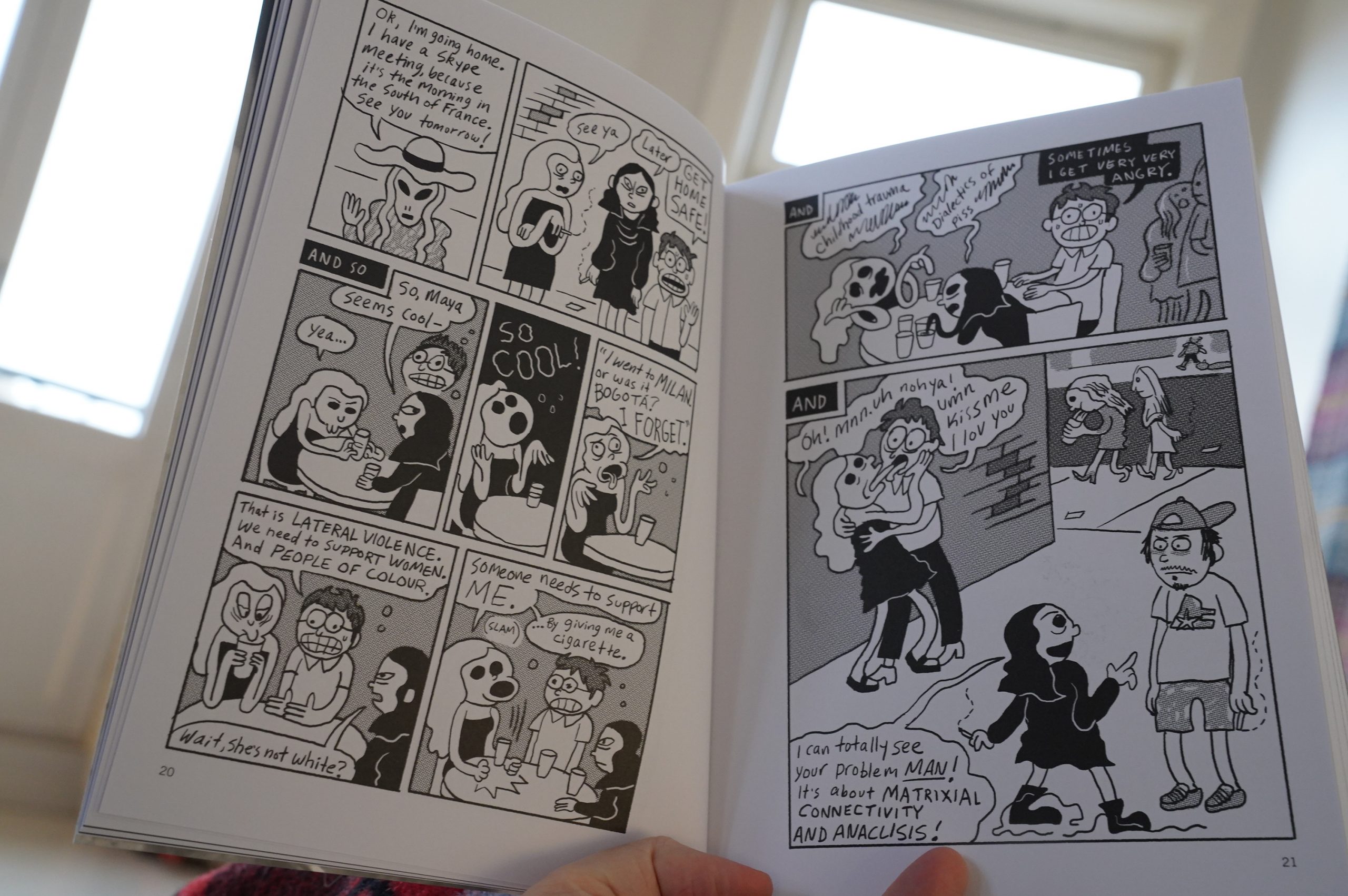 I've read a bunch of the Wendy comics over the years, and I guess… I like them? I do. But Scott doesn't make it easy: His art style is so relentlessly unattractive. The one thing I do like is the faces people make when eating or sipping (lower left hand panel). That's pure genius.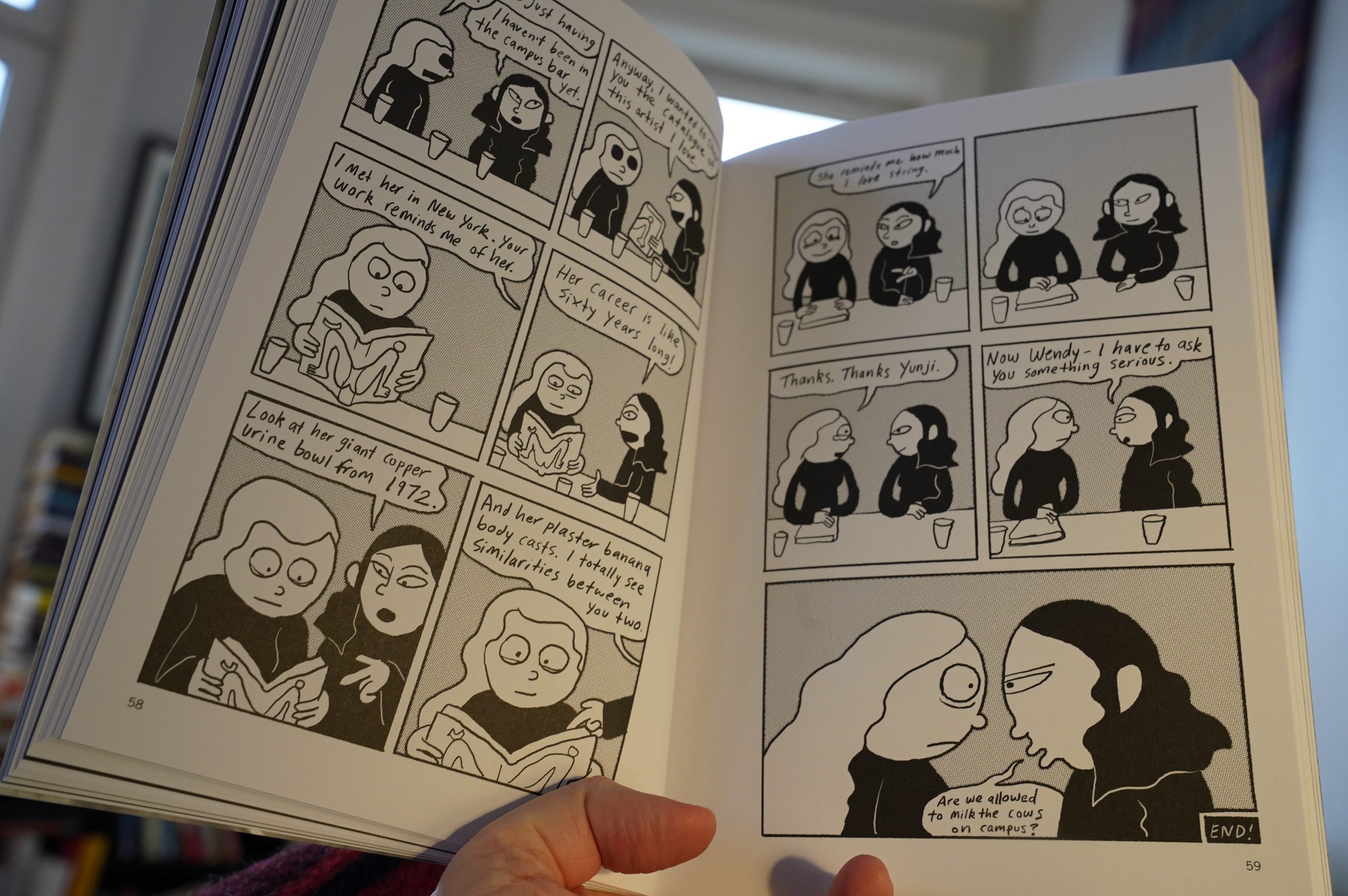 The punchline endings to every er chapter is… well, it's a structuring device, I guess. It kinda works?
I feel like this is a book that wants me to either love it or hate it: Scott wants to be provocative, I think. But I'm kinda just… I like it? A bit? It's somewhat stupid and pedestrian, but it's also intermittently entertaining?
So erudite. That's me.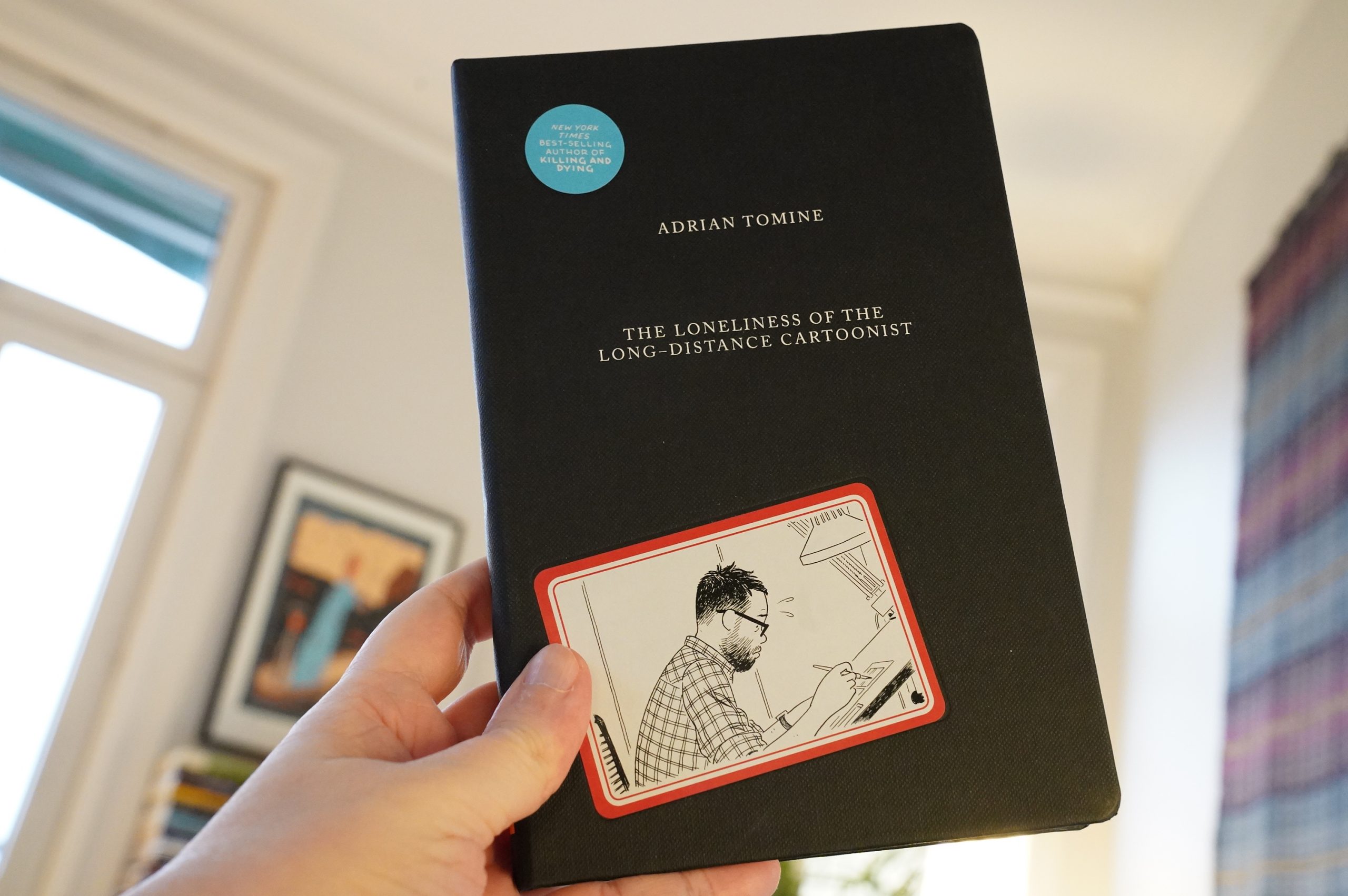 17:08: The Loneliness of the Long-Distance Cartoonist by Adrian Tomine (Drawn & Quarterly)
Another book from D&Q!? What the.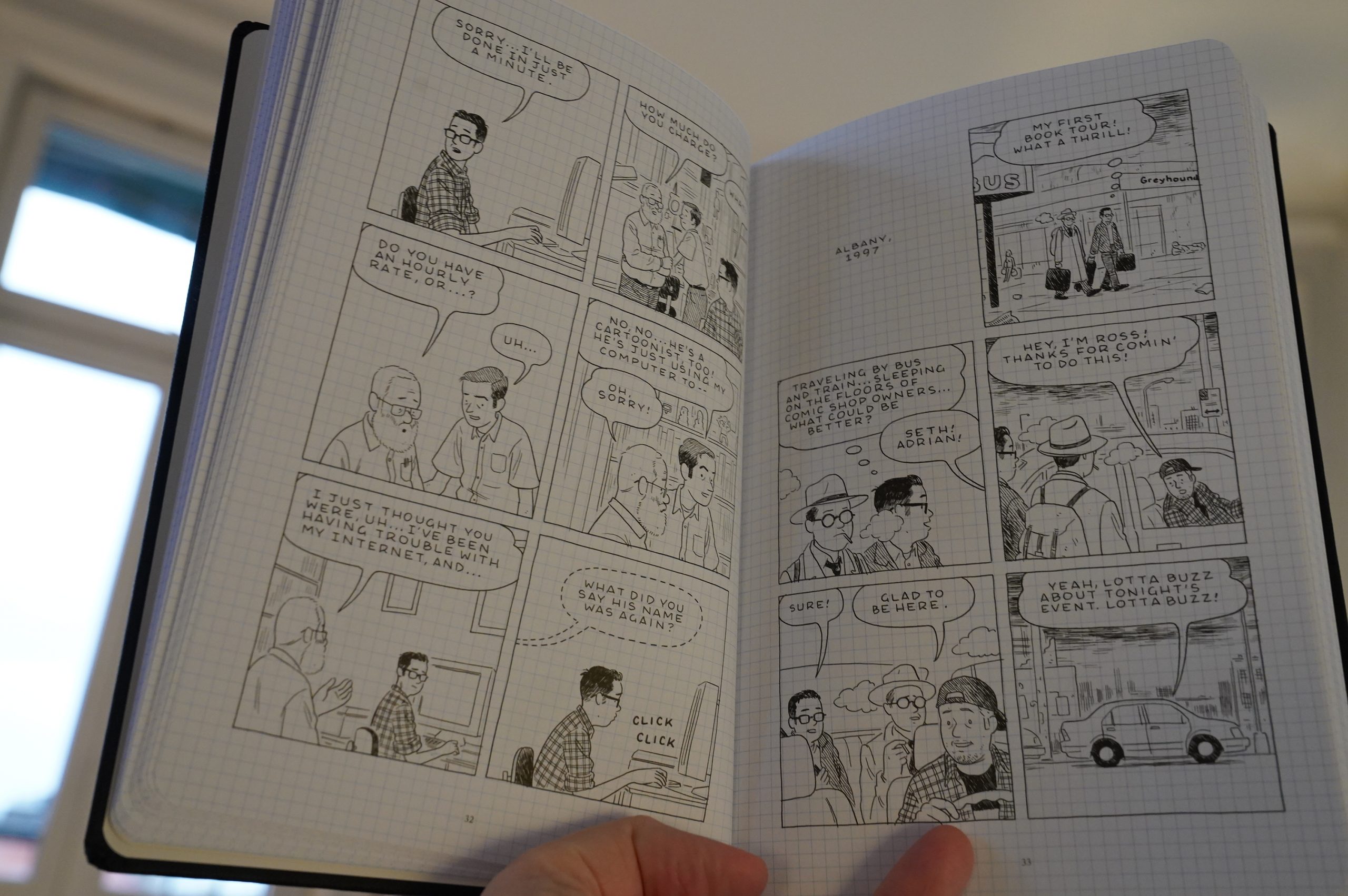 You know when you're trying to fall asleep and you mind keeps going over all the embarrassing things and humiliating situations you've ever experienced? Well, Tomine has collected all those things and put them on the page here.
On the one hand, you really want to commend him for his honesty: He's not leavening things much (I think?): He depicts himself as a hapless, hopeless nerd… and I think he asks us to laugh at himself?
But the thing is, it's a really painful read. These situations are so genuinely embarrassing that I just wanted to put the book away.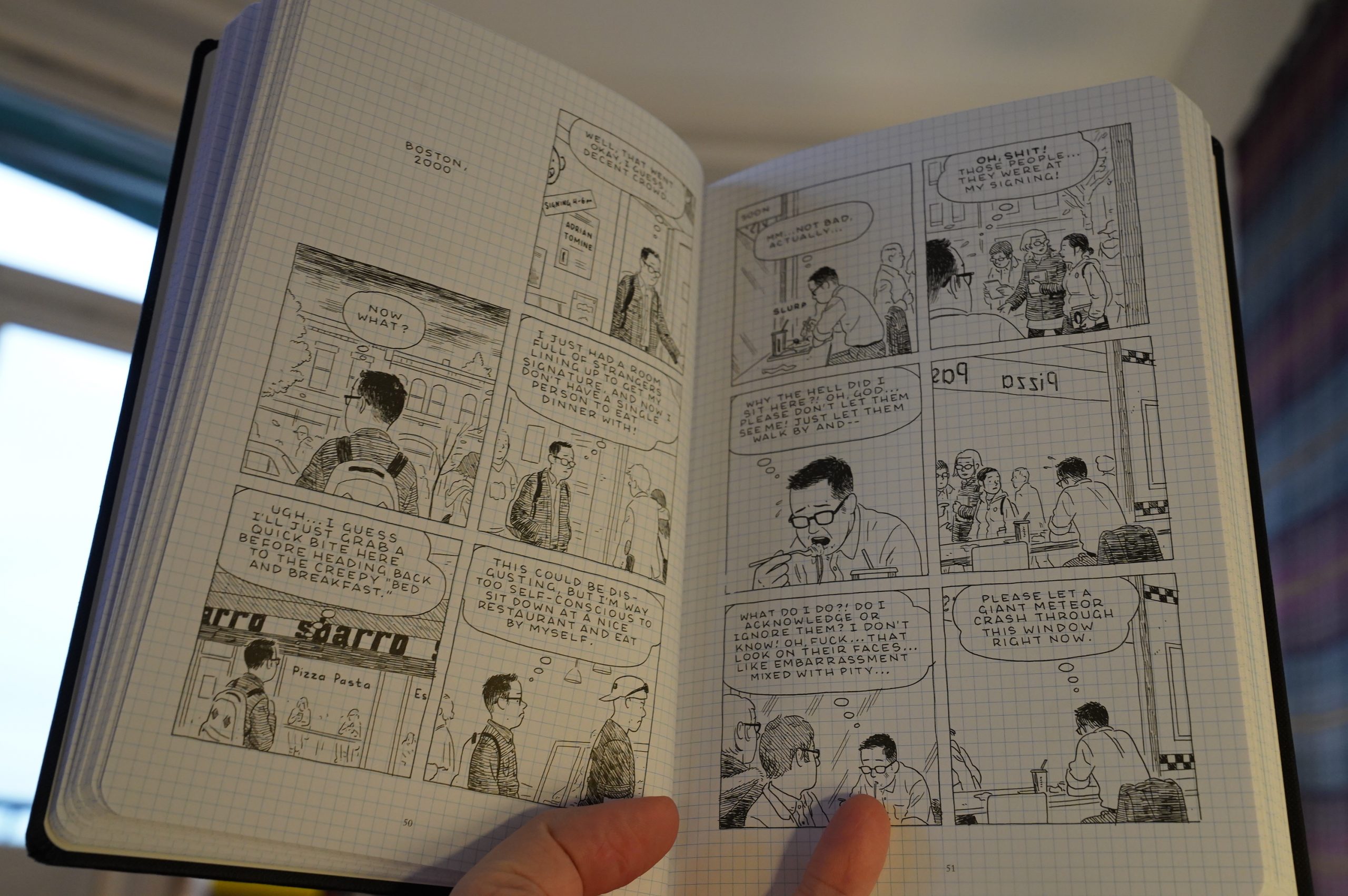 But I'm glad I didn't, because things change a bit about the half-way point.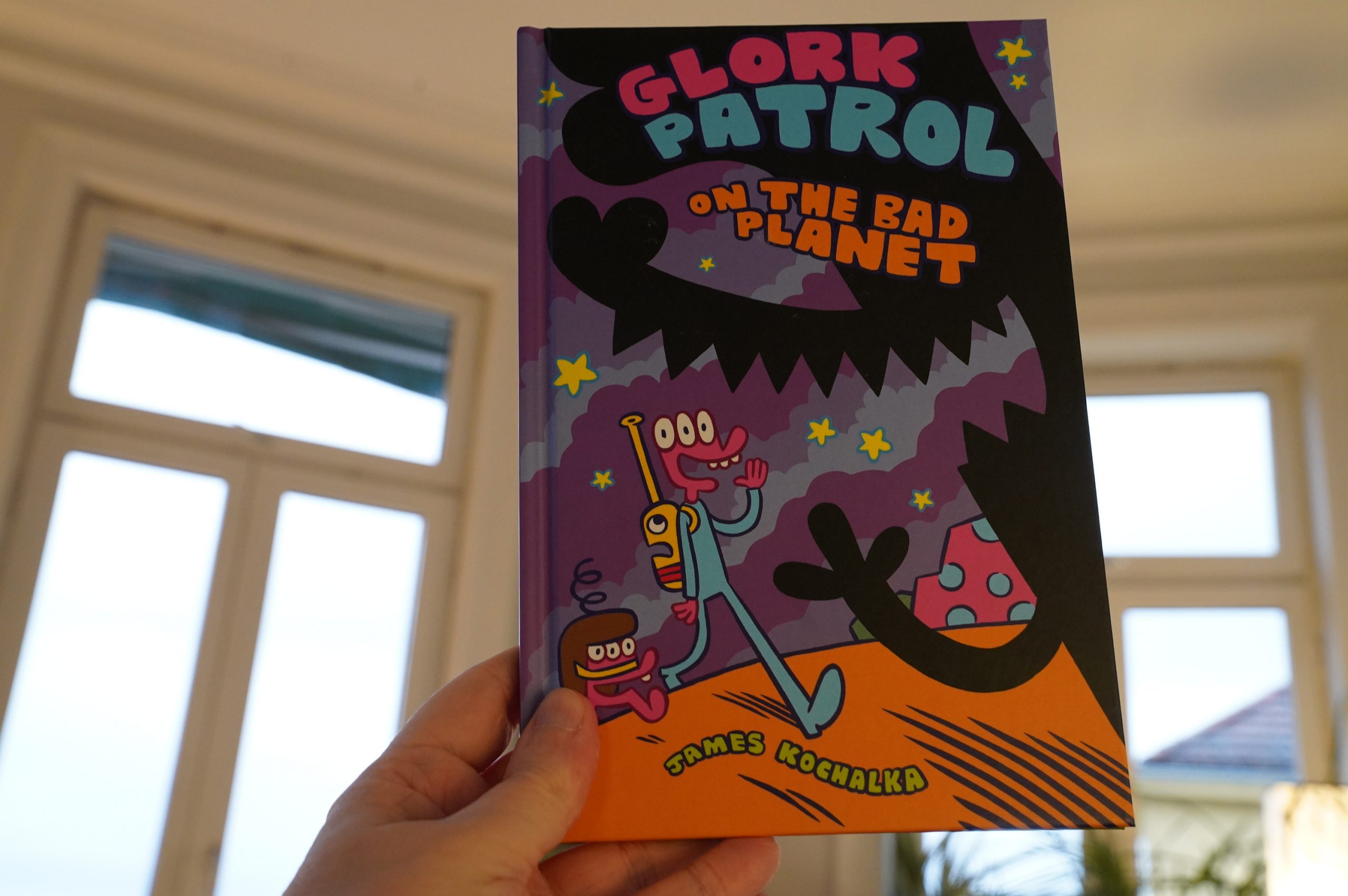 17:57: Glork Patrol on the Bad Planet by James Kochalka (Top Shelf)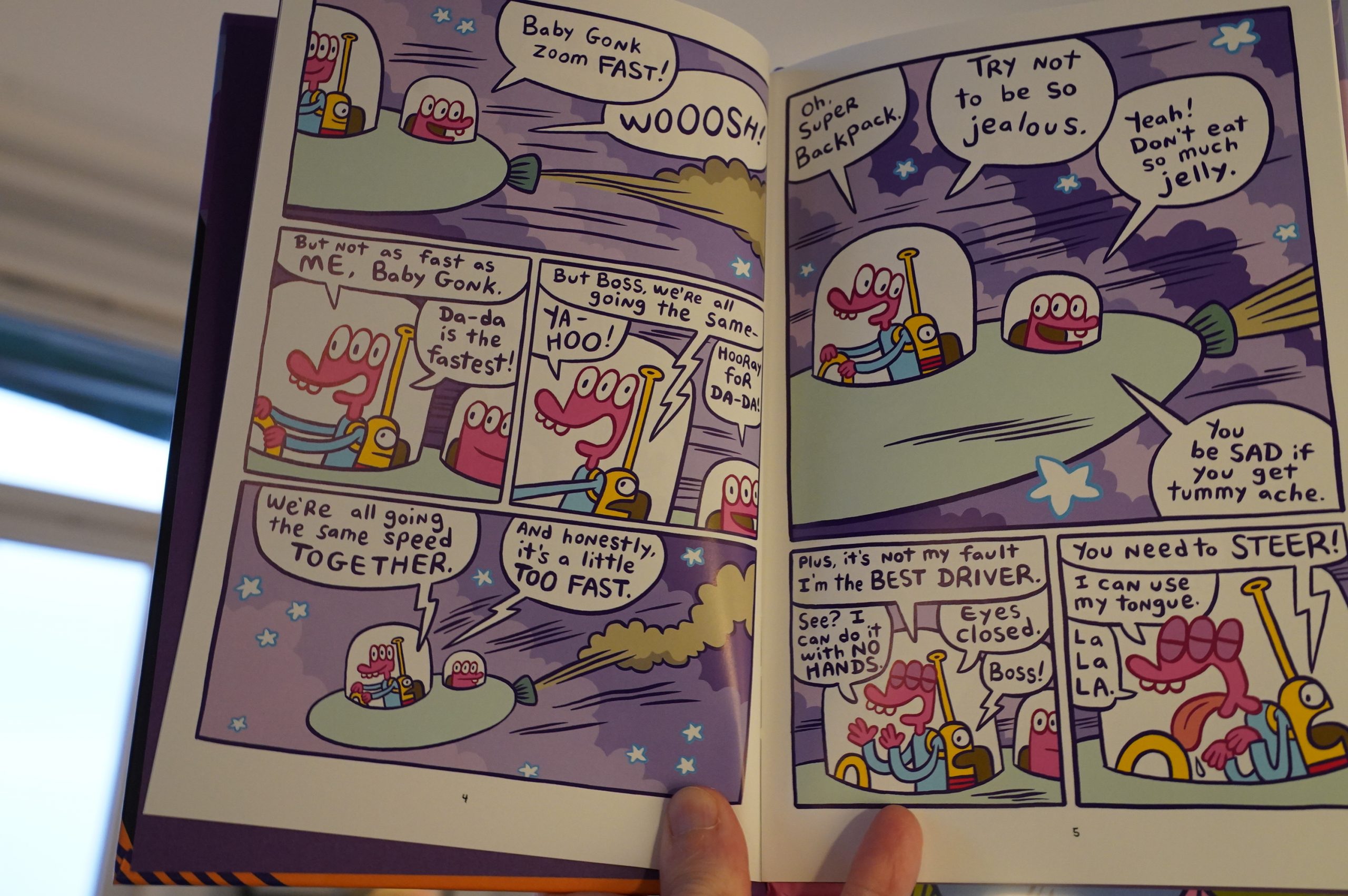 Always loves me some Kochalka. This one is funny, as usual.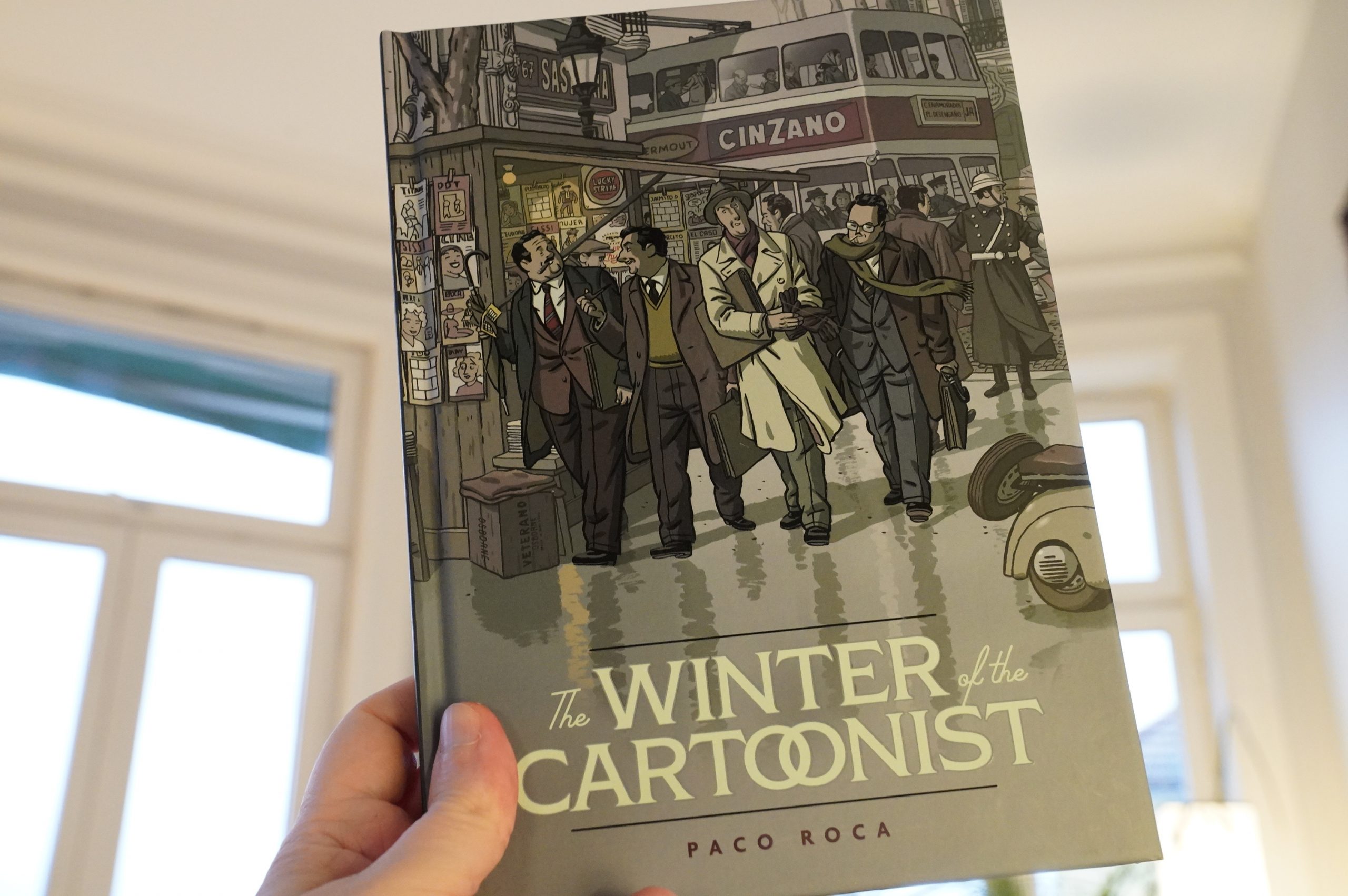 18:04: The Winter of the Cartoonist by Paco Roca (Fantagraphics)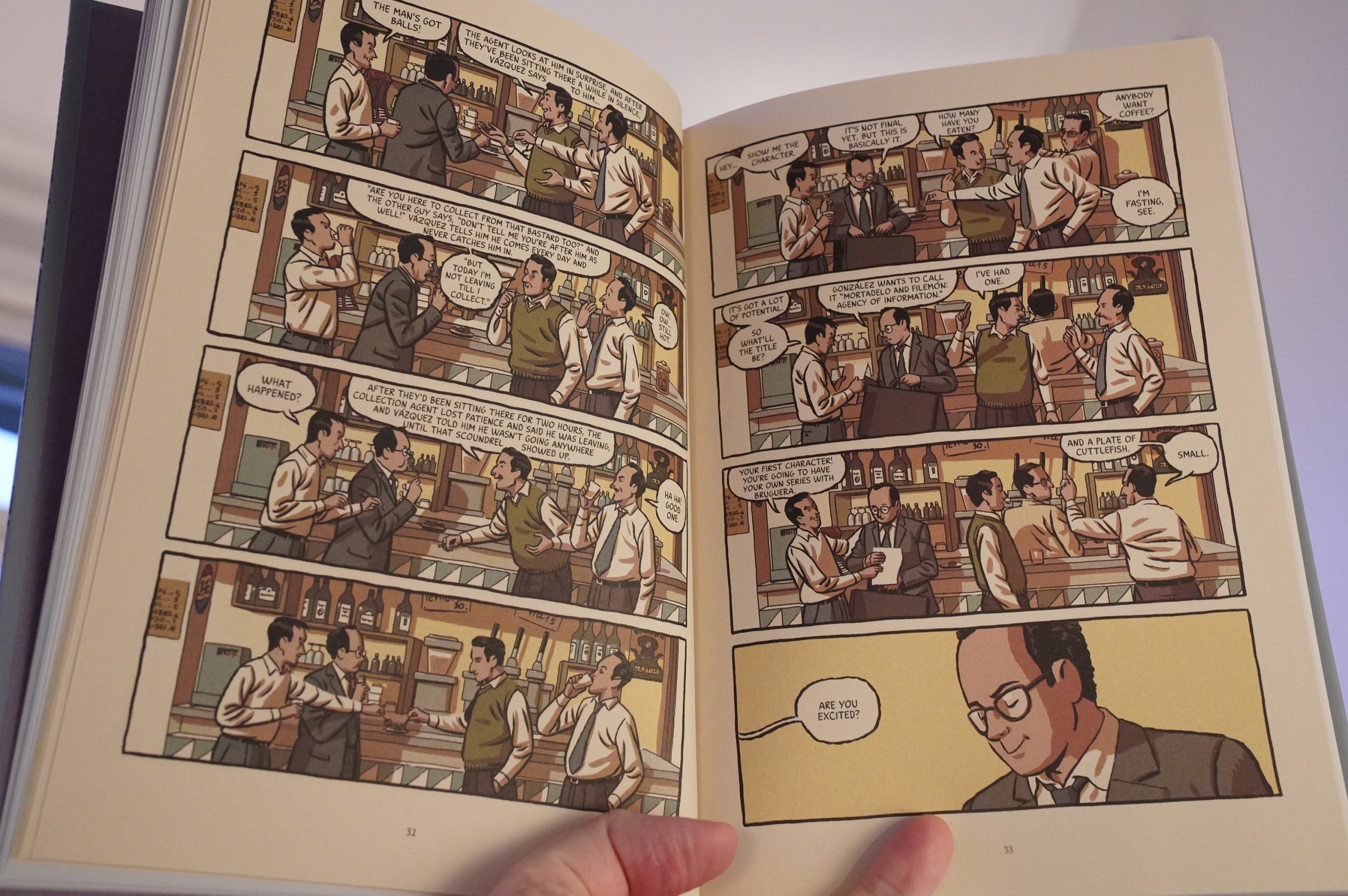 This is apparently the true story of five cartoonists that started their own magazine in the late 50s in Spain.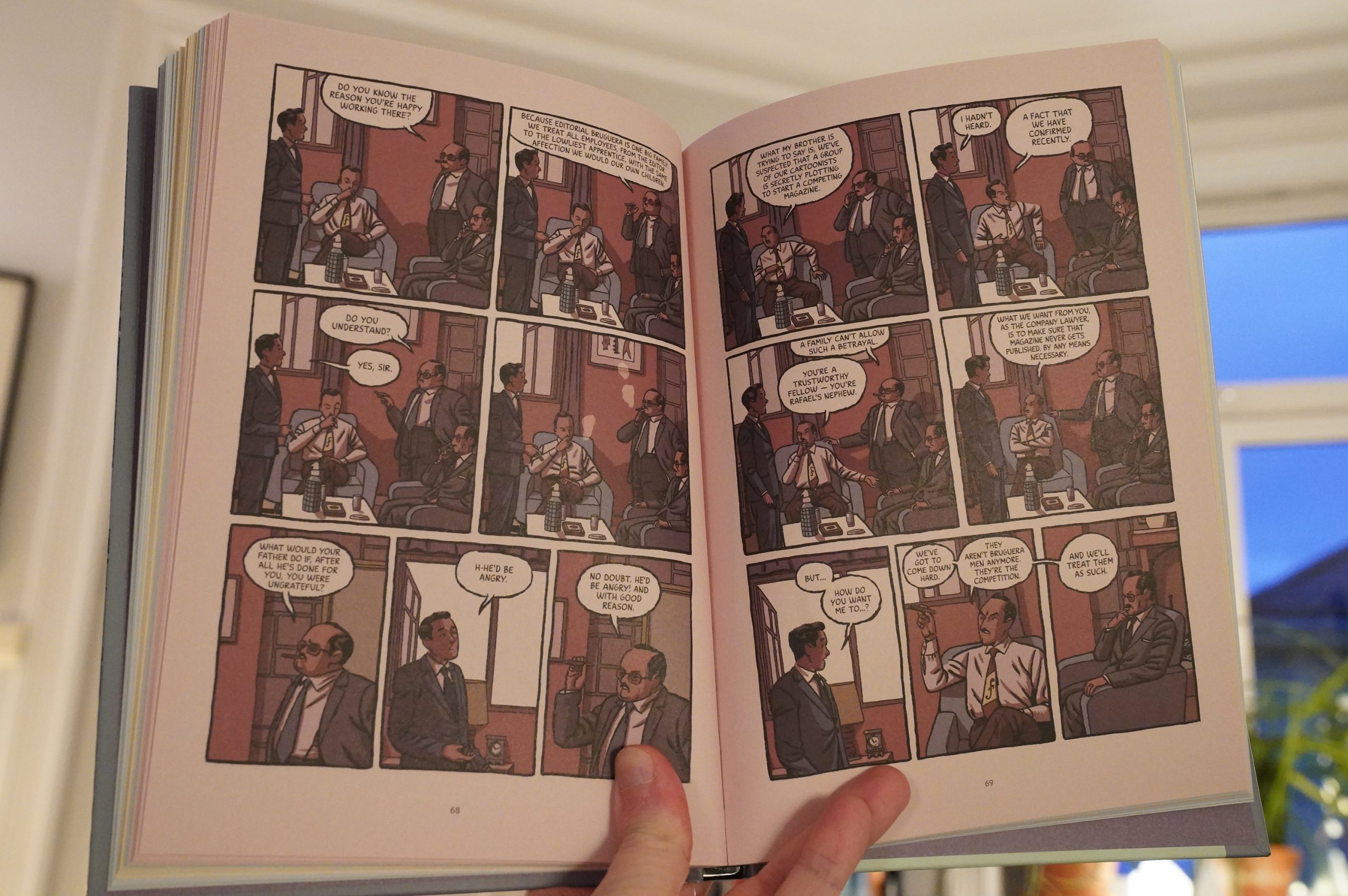 The problem is that there's a couple dozen characters in here, and they all look and dress the same (with one exception), and they all have names that are unfamiliar to me (but will be very familiar to fans of Spanish children's comics), so it's a bewildering read. I found myself flipping back and forth all the time to confirm that the penny-pinching guy with the slightly smaller stache wasn't the same as the guy with the slightly larger stache, and in the end, the story wasn't interesting enough to make that effort worth it.
I'm sure this book would be of interest to old Mortadelo y Filemón fans, though. (I find that strip to be kinda … nauseating.)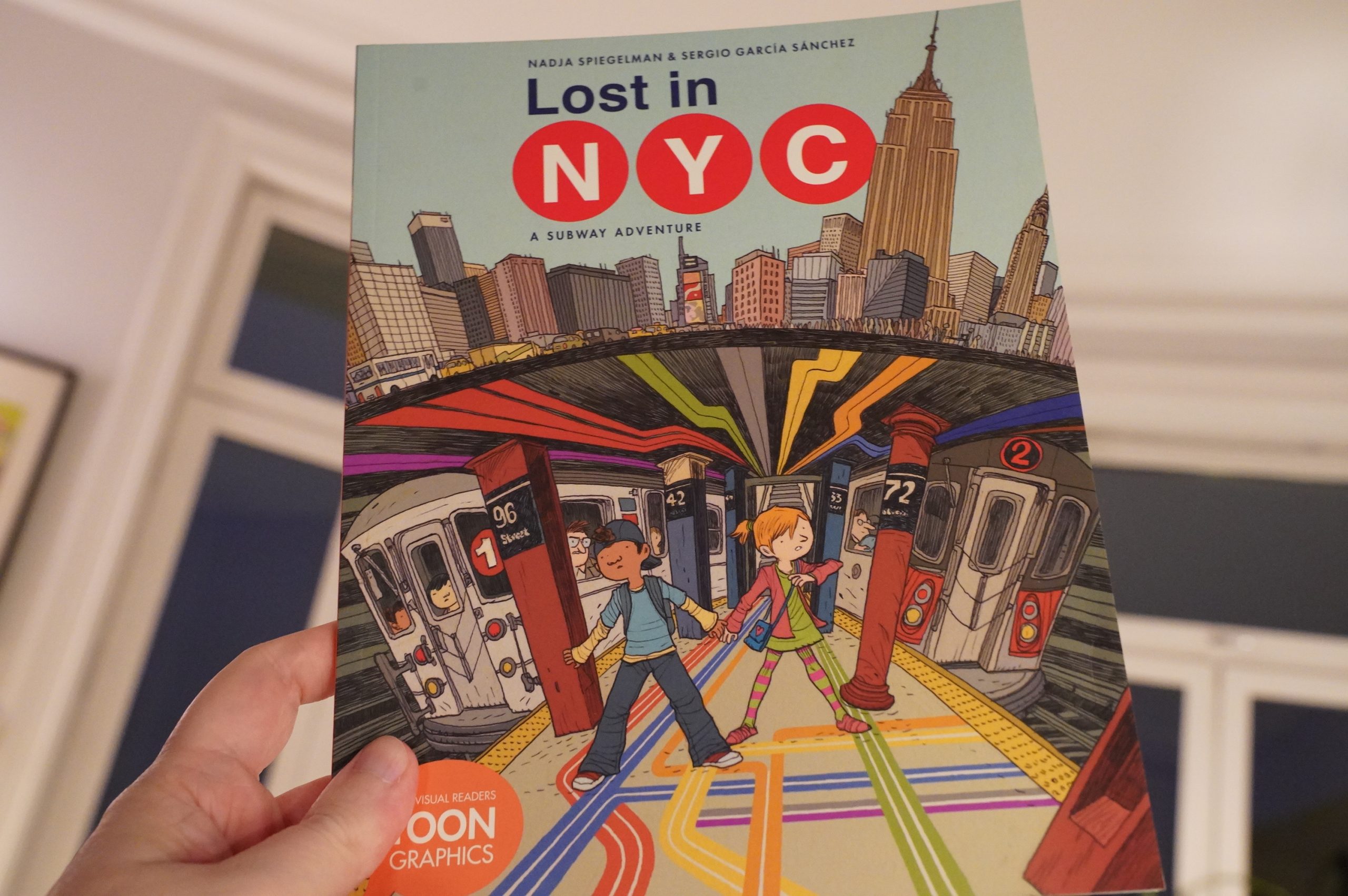 19:16: Lost in NYC by Nadja Spiegelman & Sergio García Sánchez (Toon)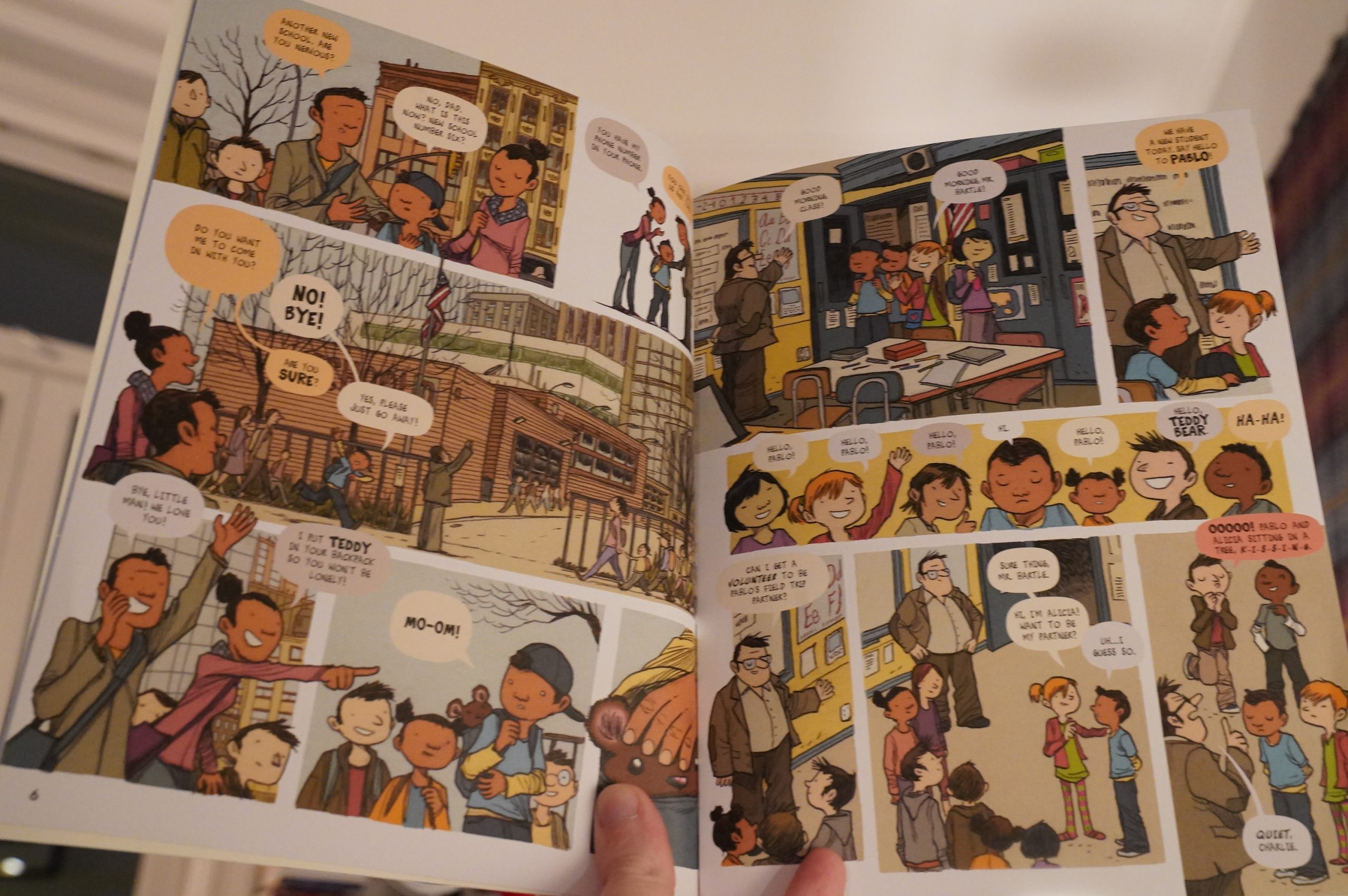 This children's book is well-made and pretty exciting (well, I'd have thought so if I were a child, I'm thinking), but it feels strangely out of time: It's about getting lost on Manhattan (which is scary in itself), but a thing that's not a thing any more: Presumably all kids have phones these days, so "losing touch with each other" must seem like such an alien concept. I can just picture kids trying to puzzle out whether this book was set in the dark ages or something.
Some true and tried plots just don't work any more.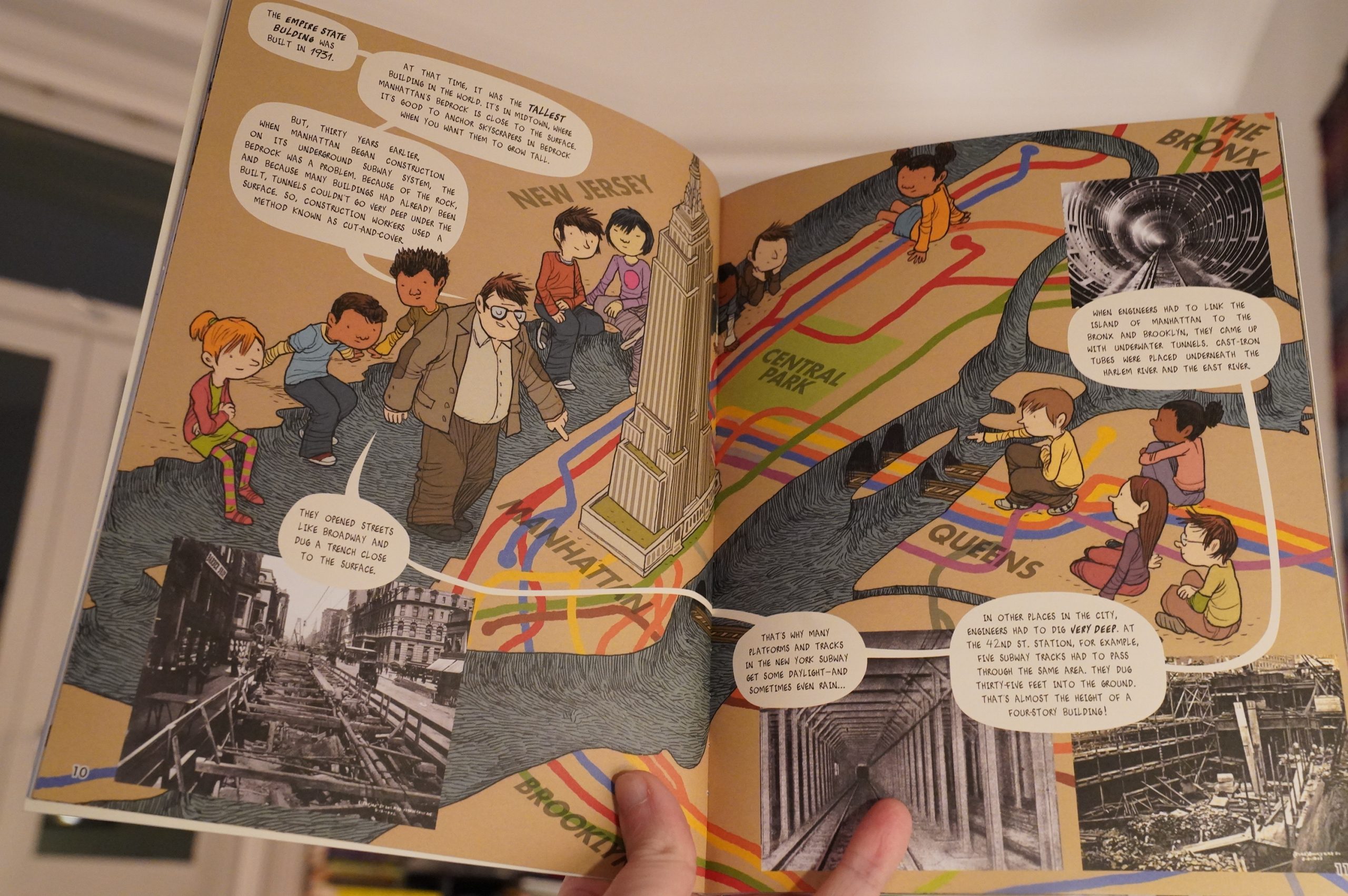 But it's very edumacational.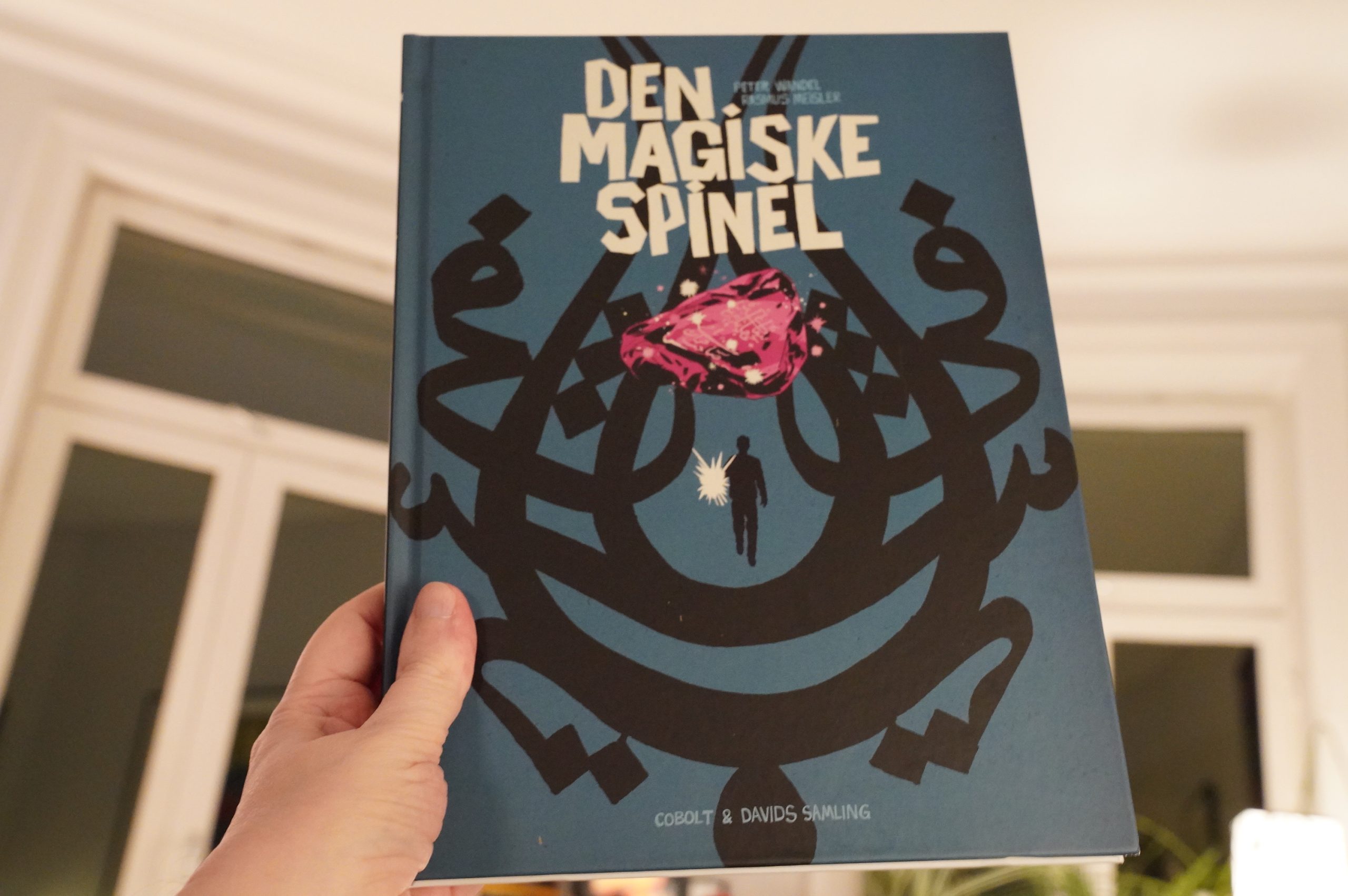 19:29: Den magiske spinel by Peter Wandel and Rasmus Meisler (Cobolt)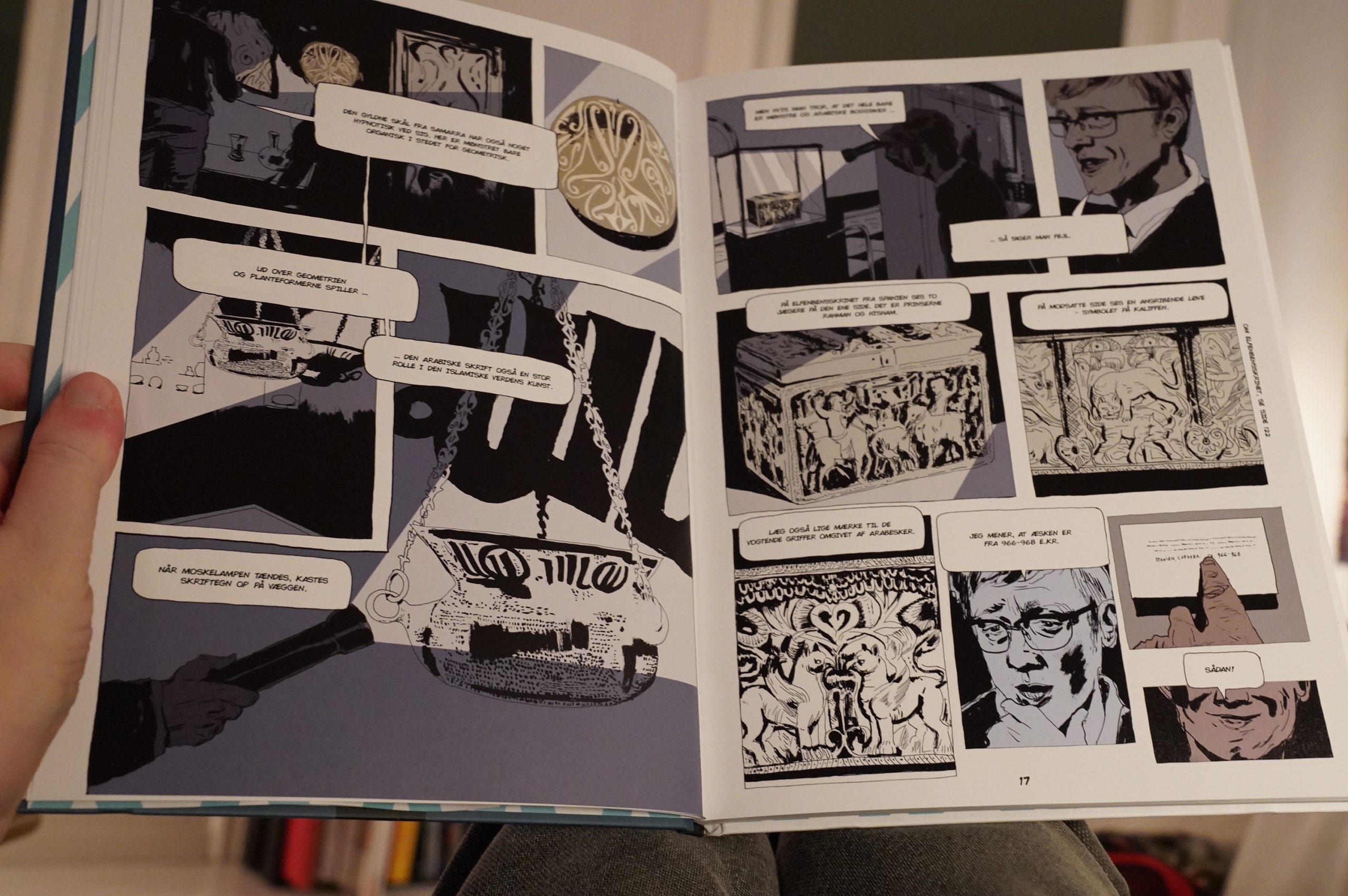 This book is co-published by a Danish museum, and it's all about Muslim artworks (and Sufism). The art in this comic is very photo-based, but it's pretty sprightly anyway.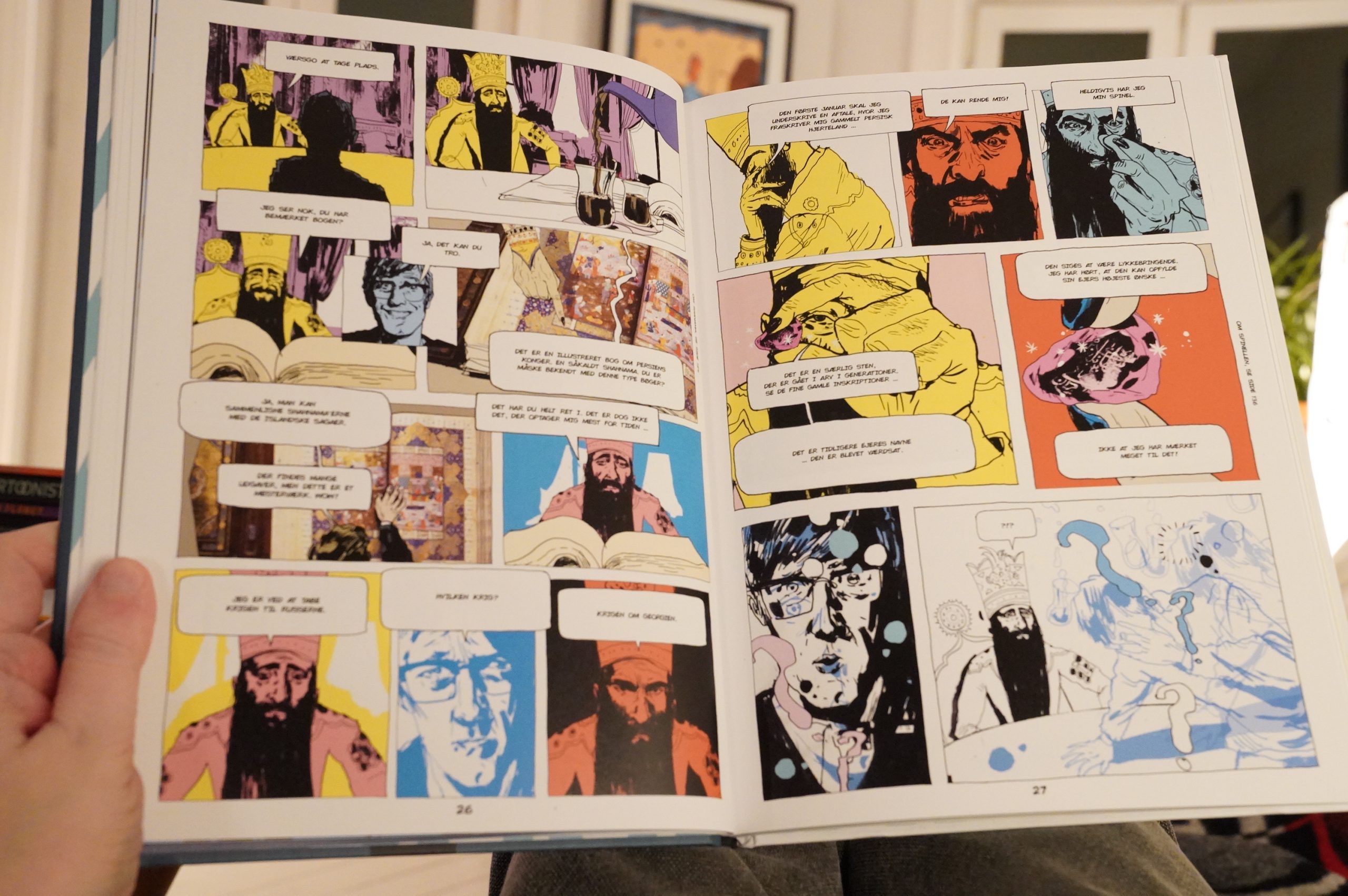 It's not much of a story, though: A guy finds a mysterious object and then travels through time (ish) to meet people who can tell him about the object. It does have a pretty fun ending, though.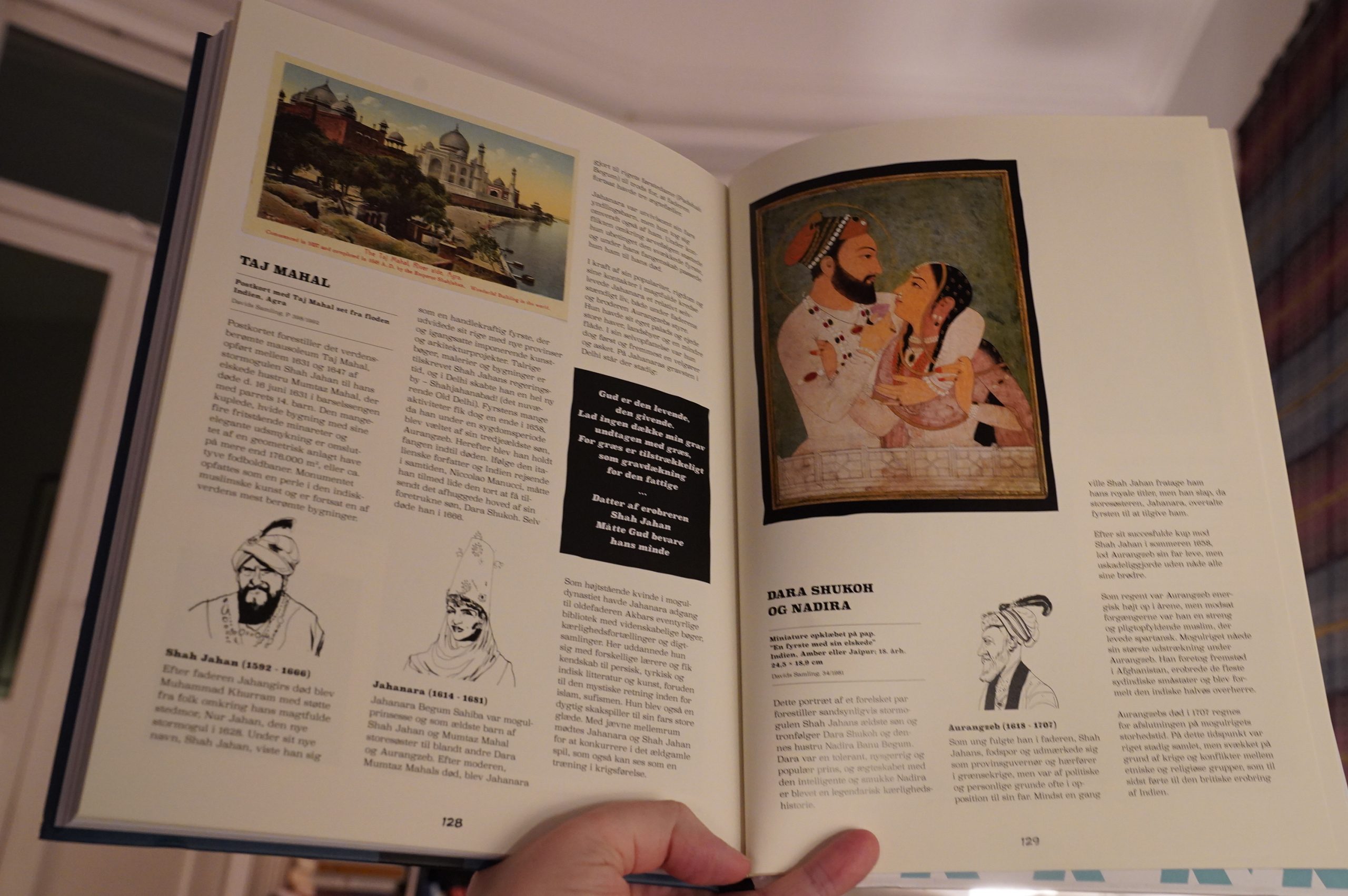 This is also very edumacational. I mean, it would have been if I'd read these pages.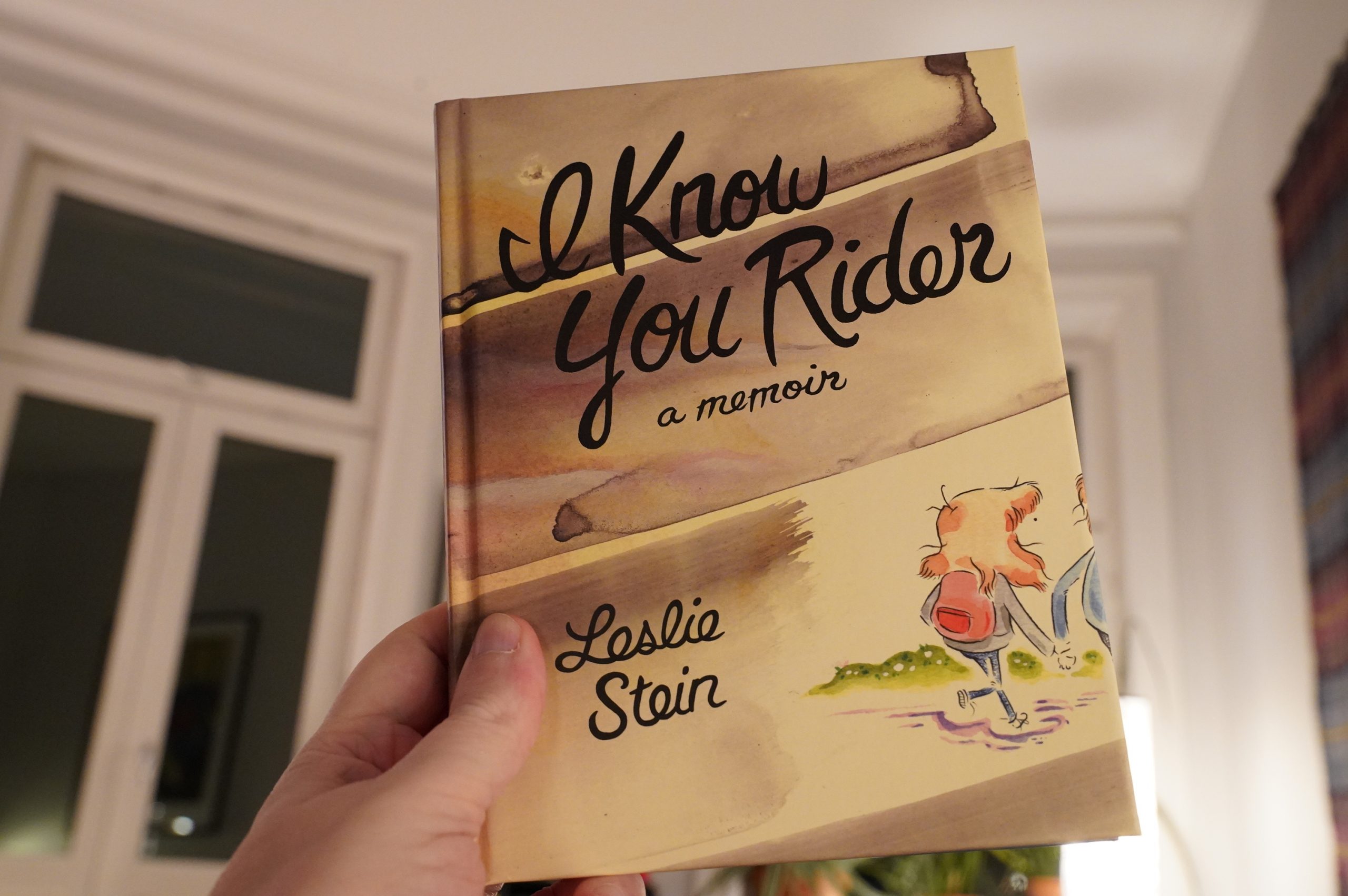 19:48: I Know You Rider by Leslie Stein (Drawn & Quarterly)
Yet another D&Q book!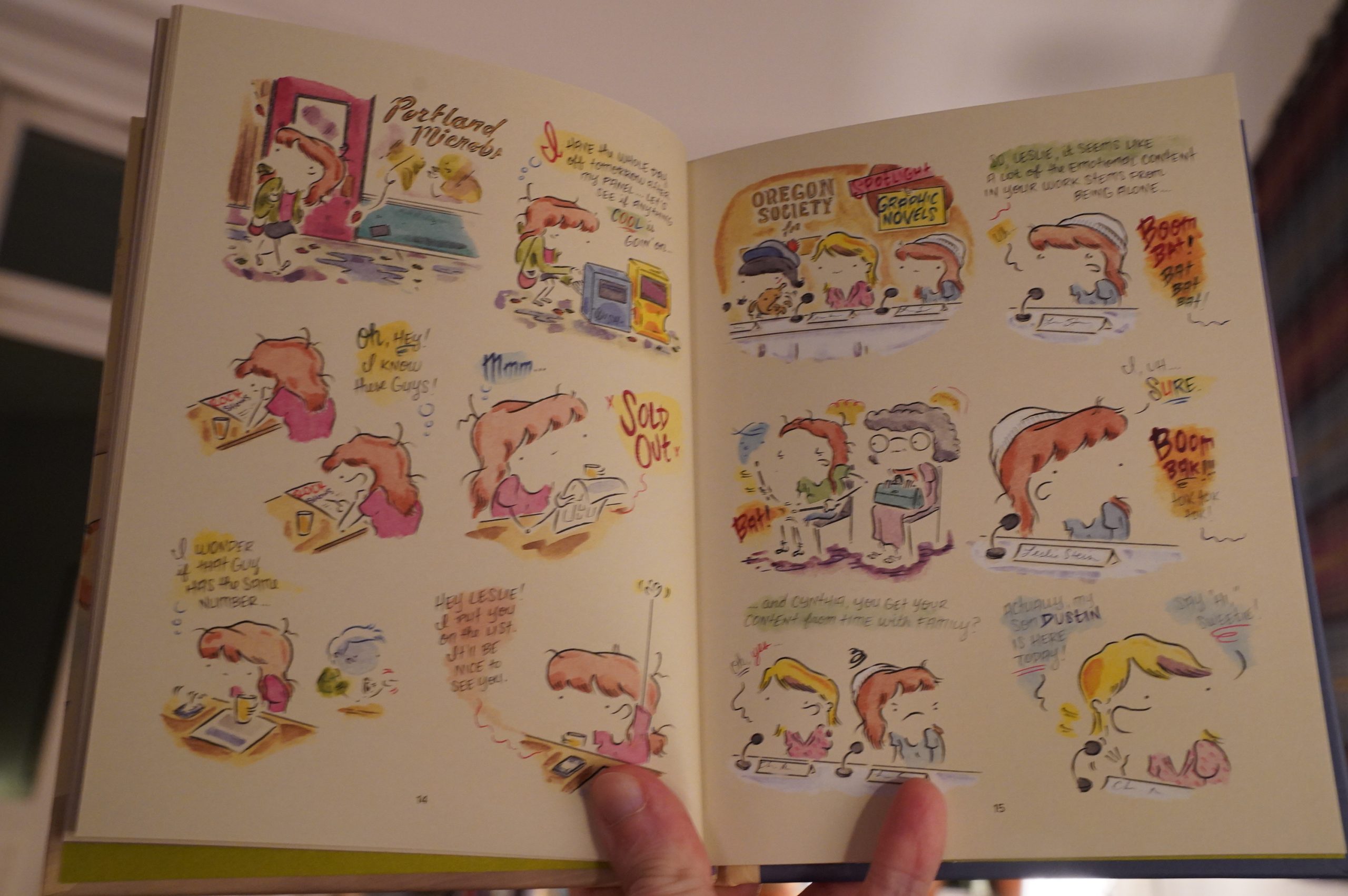 I've always really enjoyed Stein's artwork… but I'm not enjoying it here. It feels like she's taken her style one step too far?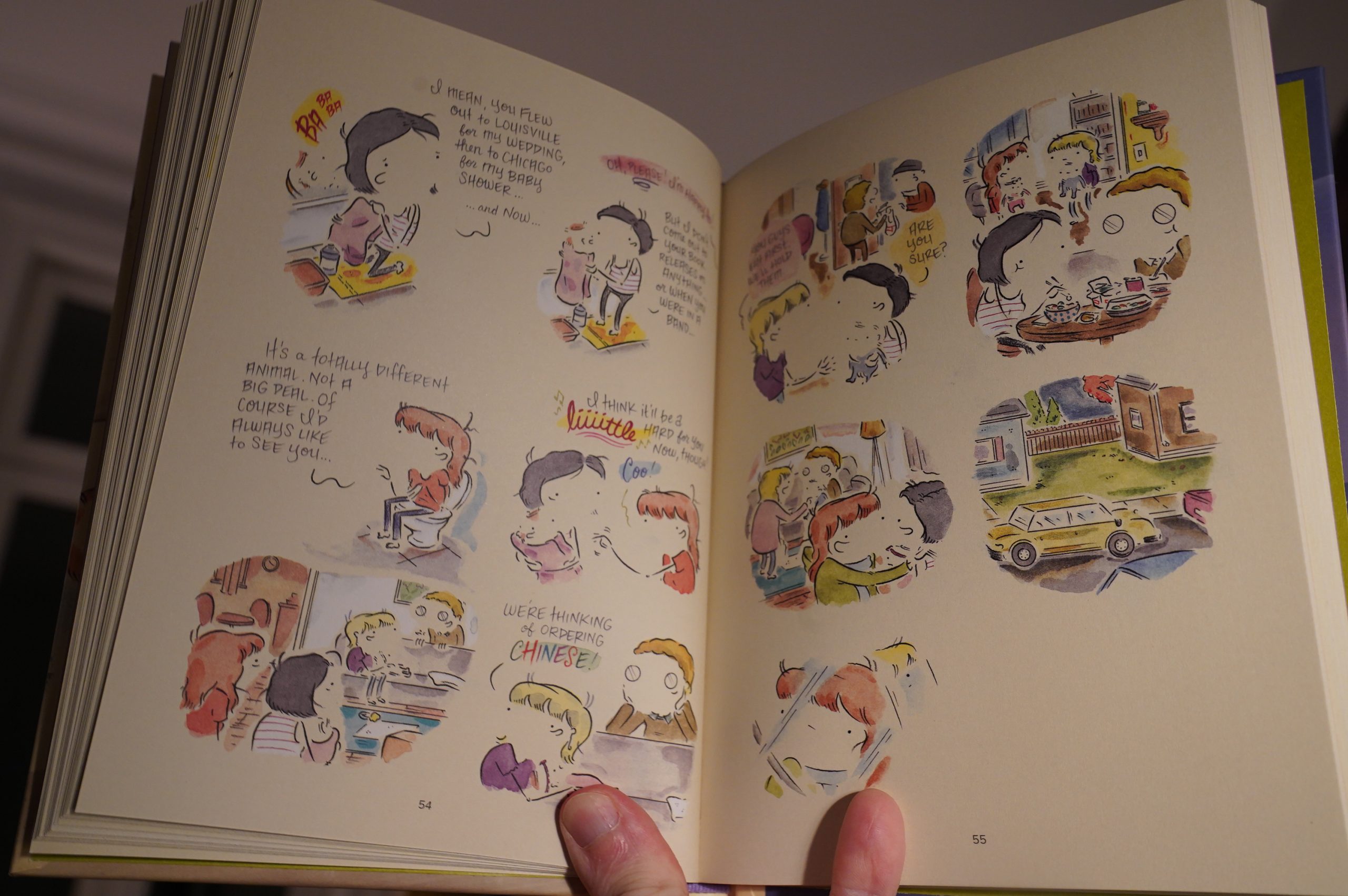 On some of these pages I have a hard time making out what's even happening.
That said, this is a lovely book. I really like the pacing and the structure, and the melancholic-but-not-sad tone throughout the book. And I kinda sniffled at the end.
THERE! I SAID IT!
20:27: The End
I think… that's enough comics for one day; my mind has turned into an even mushier sort of mush than it usually is.
Even with the ahem nap in the middle.