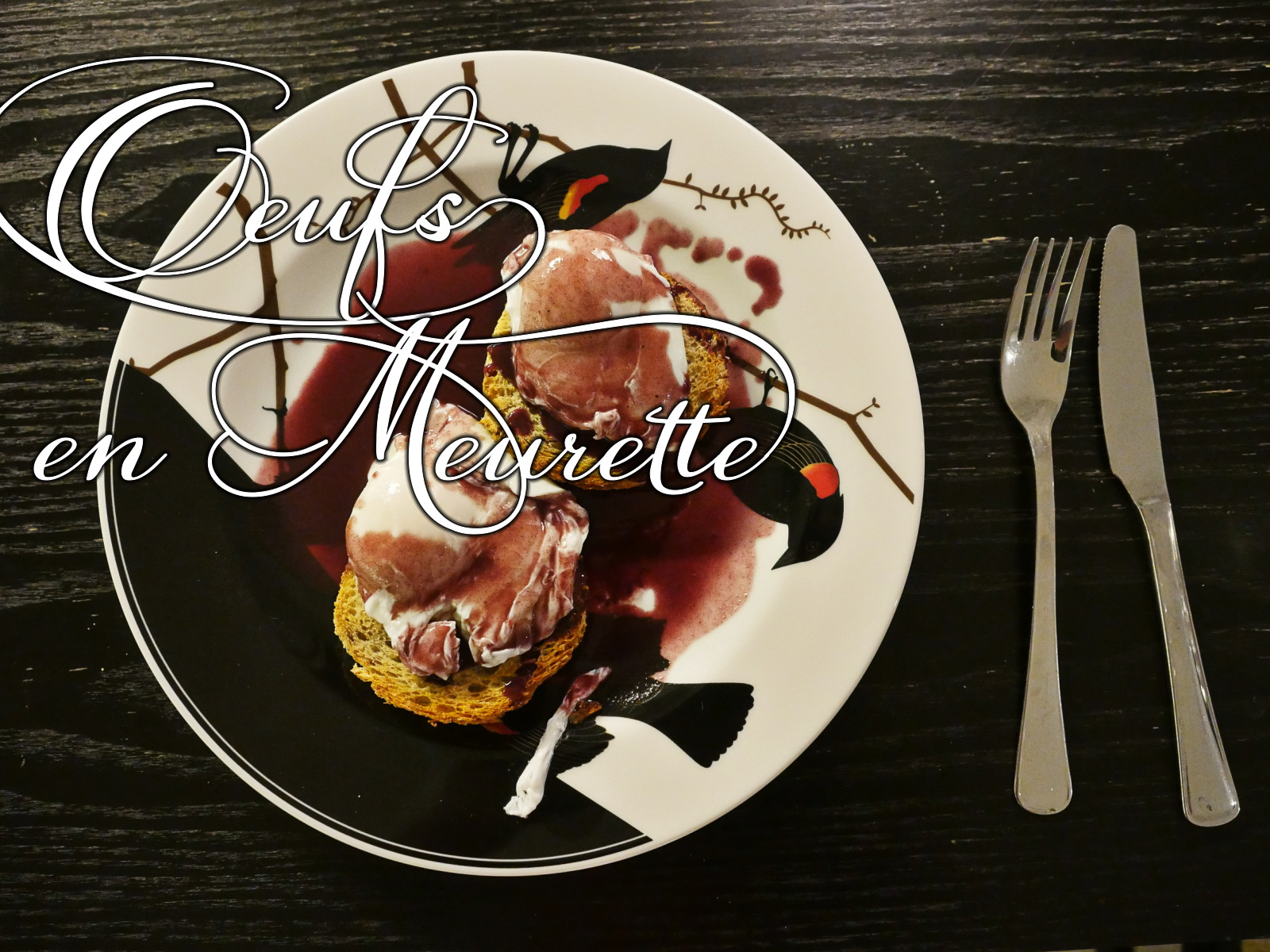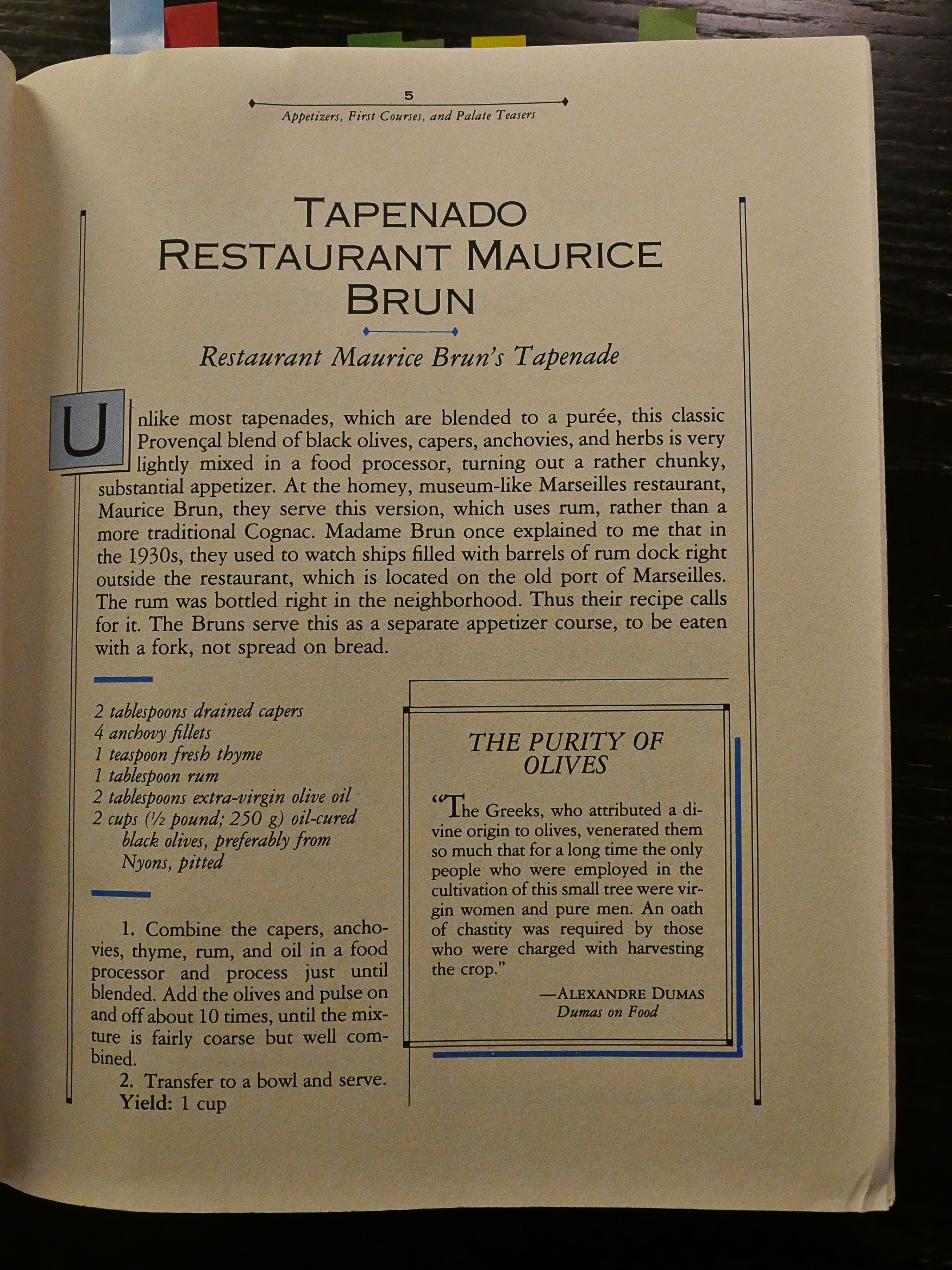 This is a slightly unusual tapenade — it's big and chunky and is supposed to be eaten like an appetiser. Well, I'm on board with that, because I love olives.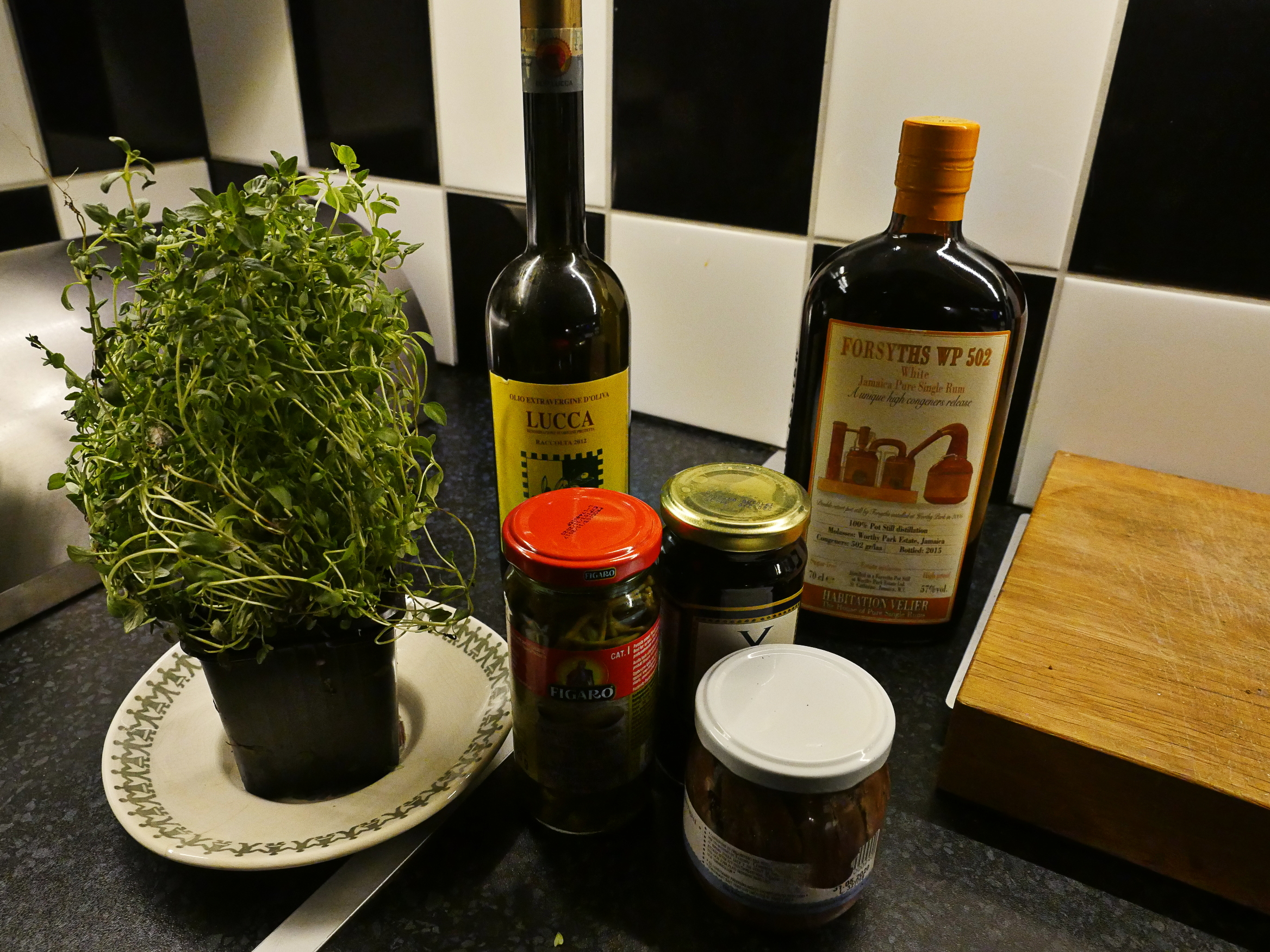 I was unable to find olives from Nyons, so I substituted some other, less Nyonneuse olives. I wonder what makes them special… Hm… Ah, they're called "Tanche" olives. I should try to get some to see what they're like.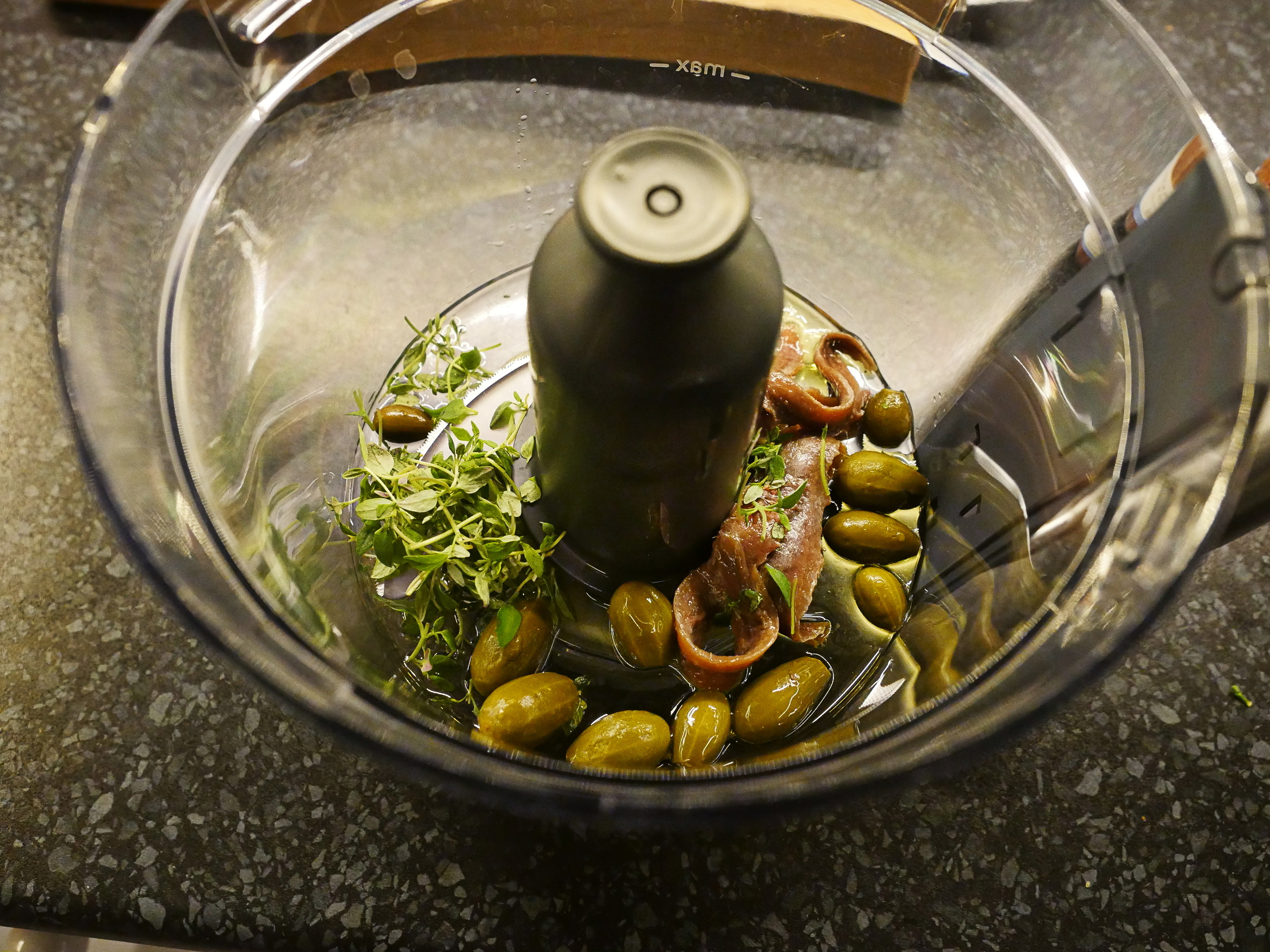 Anyway, the other ingredients are thyme, capers and anchovies, which is the normal ingredients for this sort of thing, I think. And then there's rum. That's a bit more speecial. Anyway, blast them in the food processor, but only until they're chunkily chunked.
That's not a very… pleasant sight now is it? OK, I'll sprinkle some thyme over it.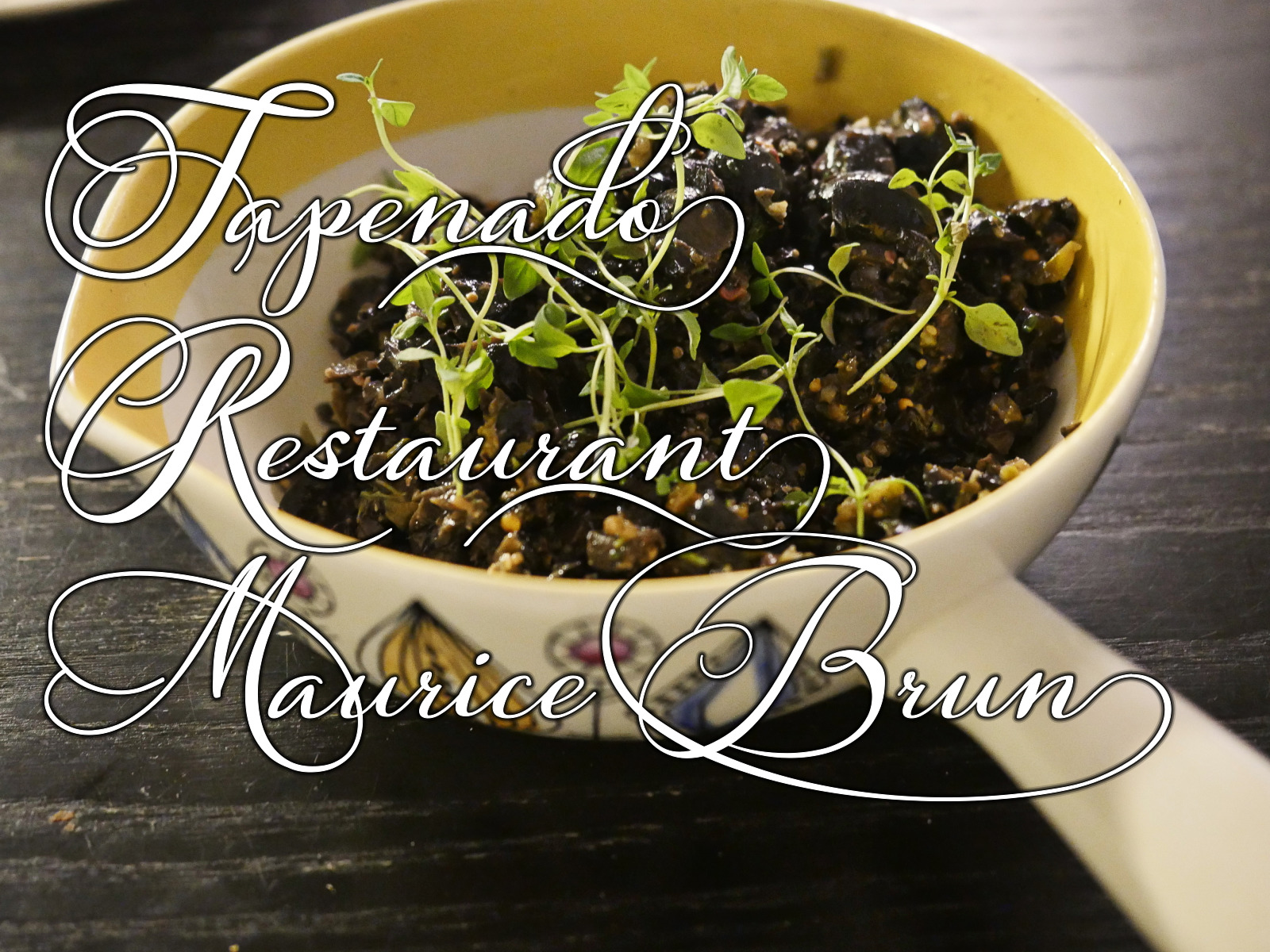 There! I did it!
OK, I have to quickly get started on the book to read while shovelling tapenade into my mouth. It's Patrick deWitt's French Exit, which was shortlisted for the Man Booker prize, which is never a good sign. But you can read the first three pages while I'm setting the table.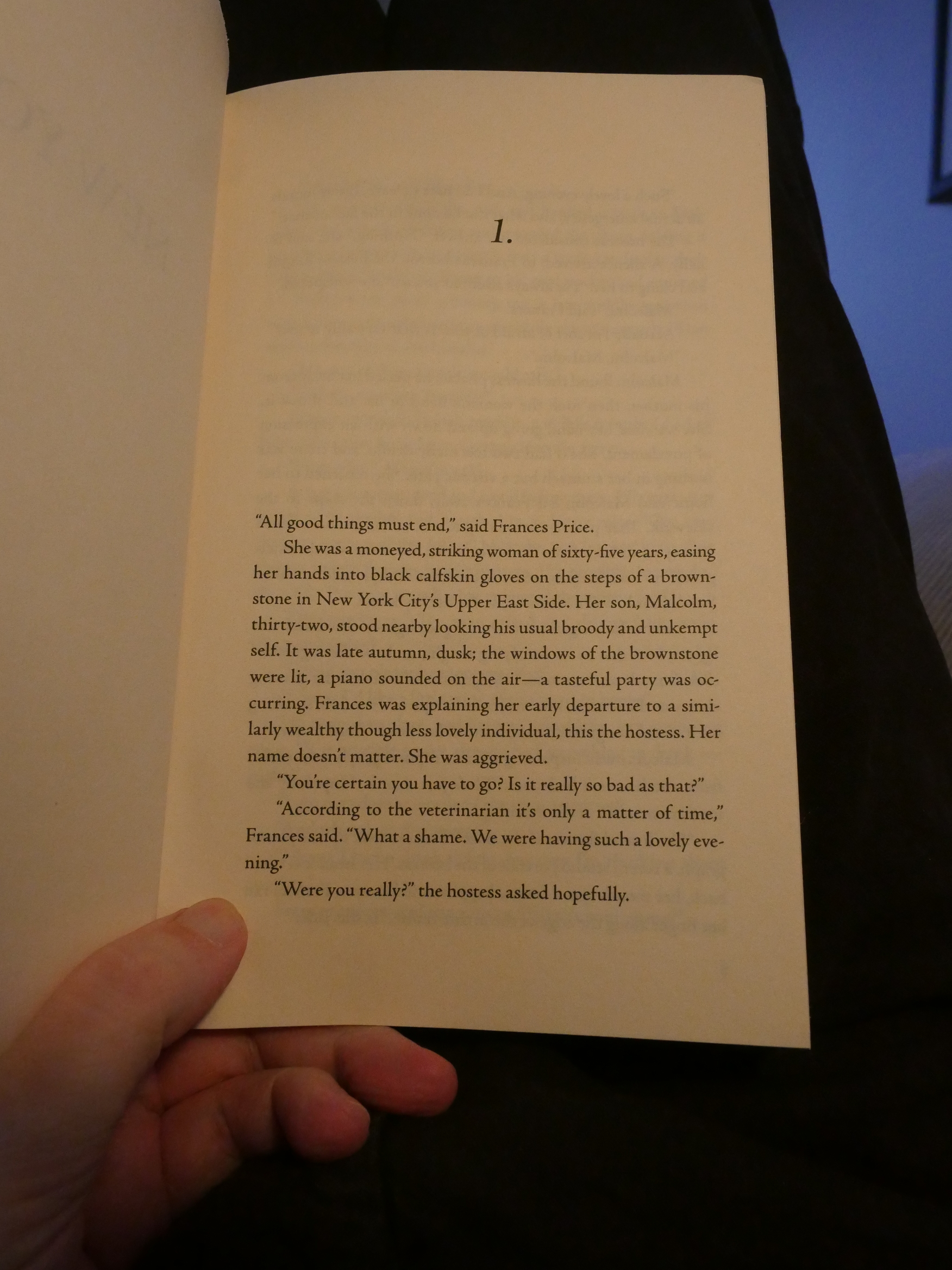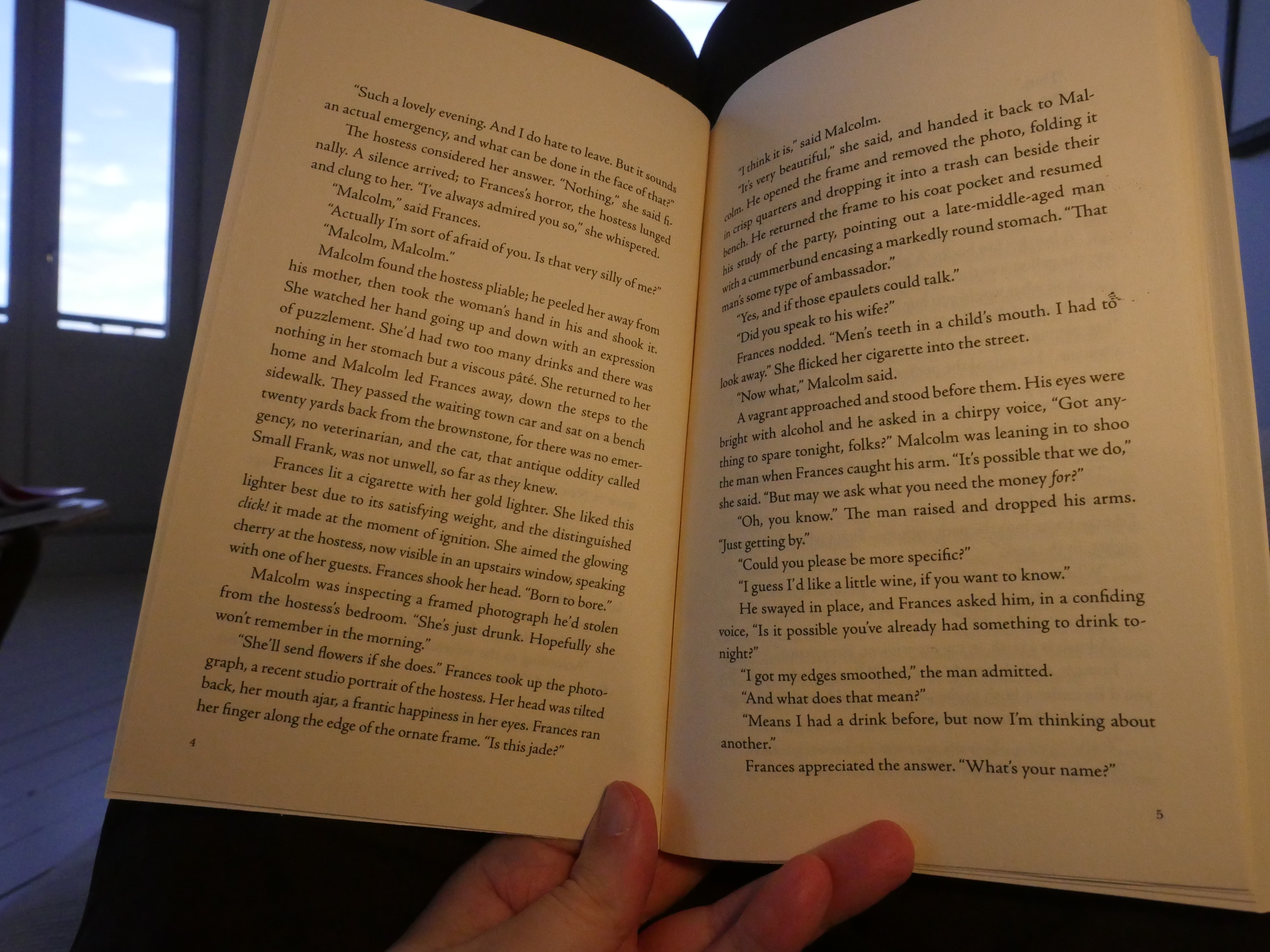 Caught up?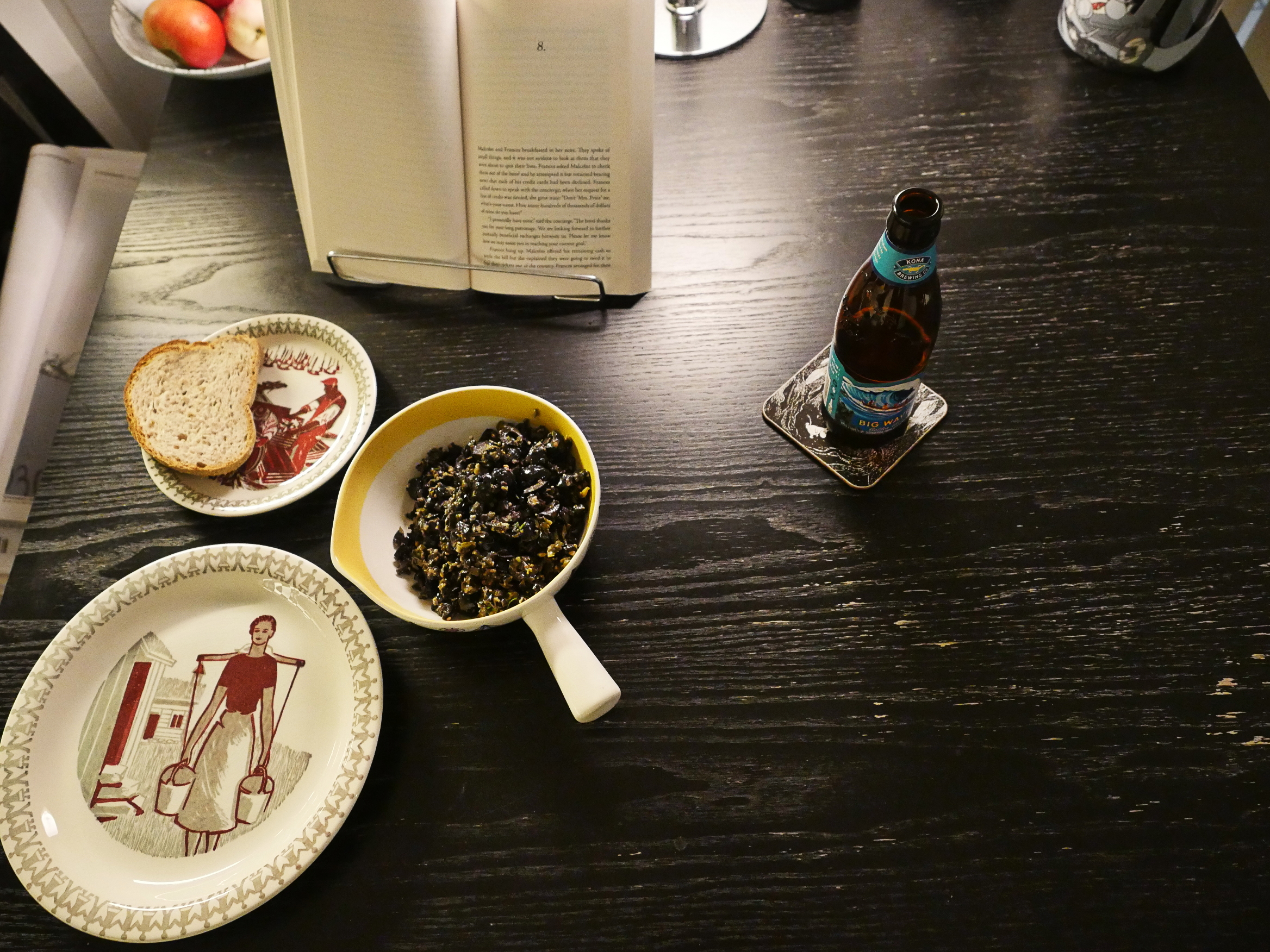 OK, let's get eating and reading. deWitt is going for witty and worldly, I guess, while this tapenade is going for super-rustic, so it's not an obvious pairing. The tapenade is quite good, though. Olives are always nice, and the pop of super-salty anchovies here and there provide excitement. And the rum does do something for it all. Adds a kinda effervescent thing.
Quite nice.
But more food is required, so: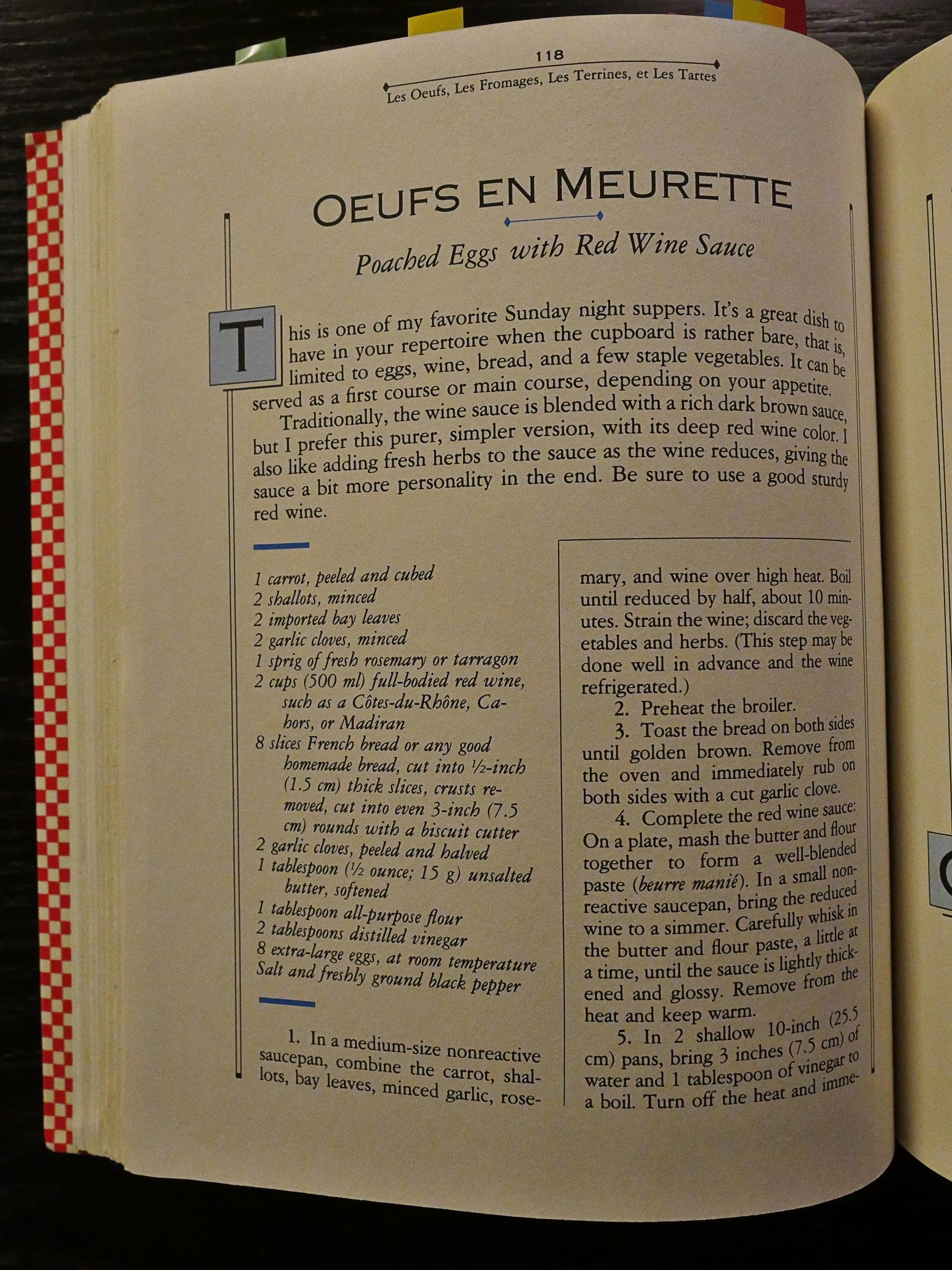 This is basically poached eggs on toast with a red wine sauce. Oh, right, it says to in the subtitle up there.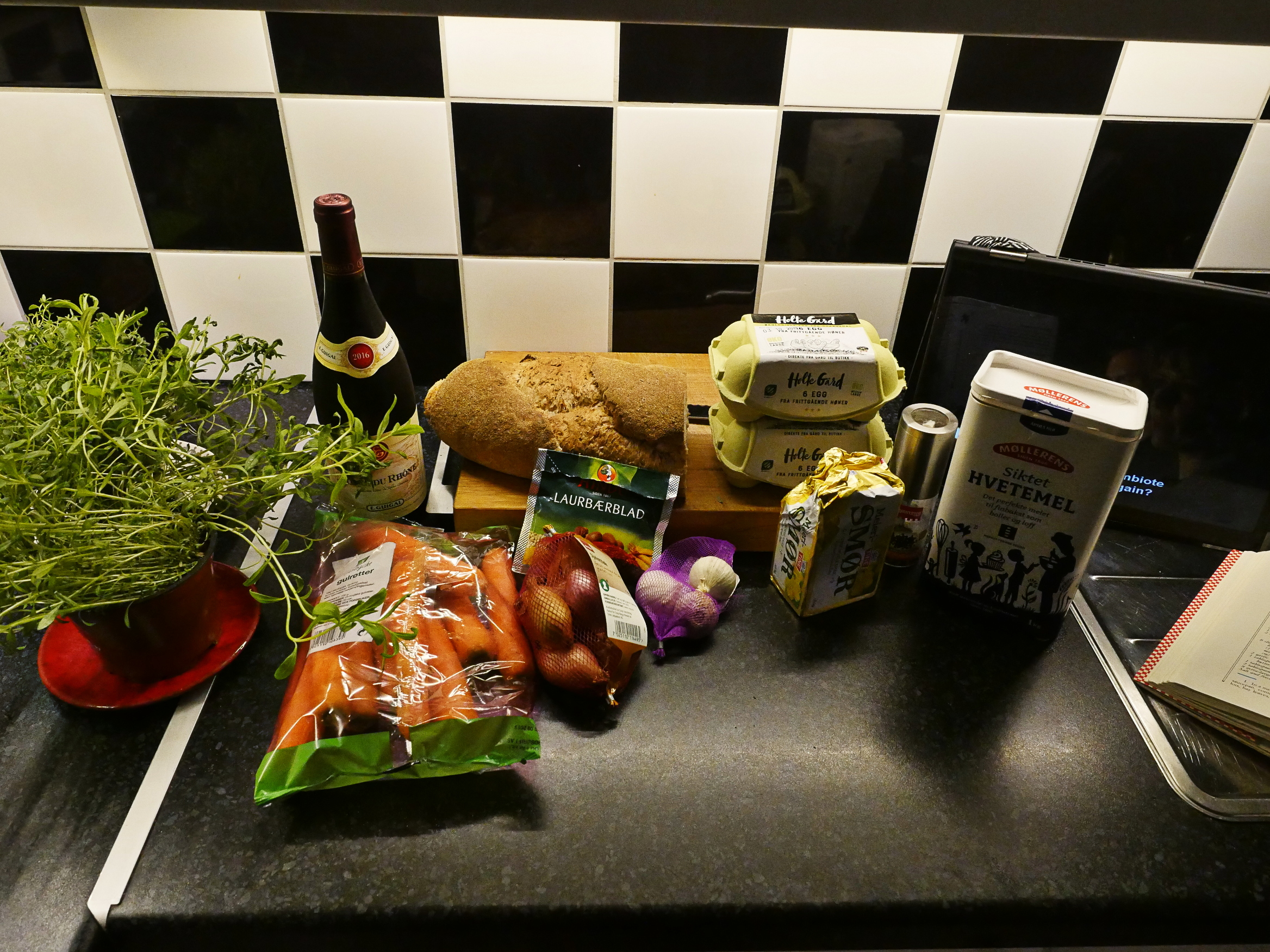 But so many ingredients for the sauce!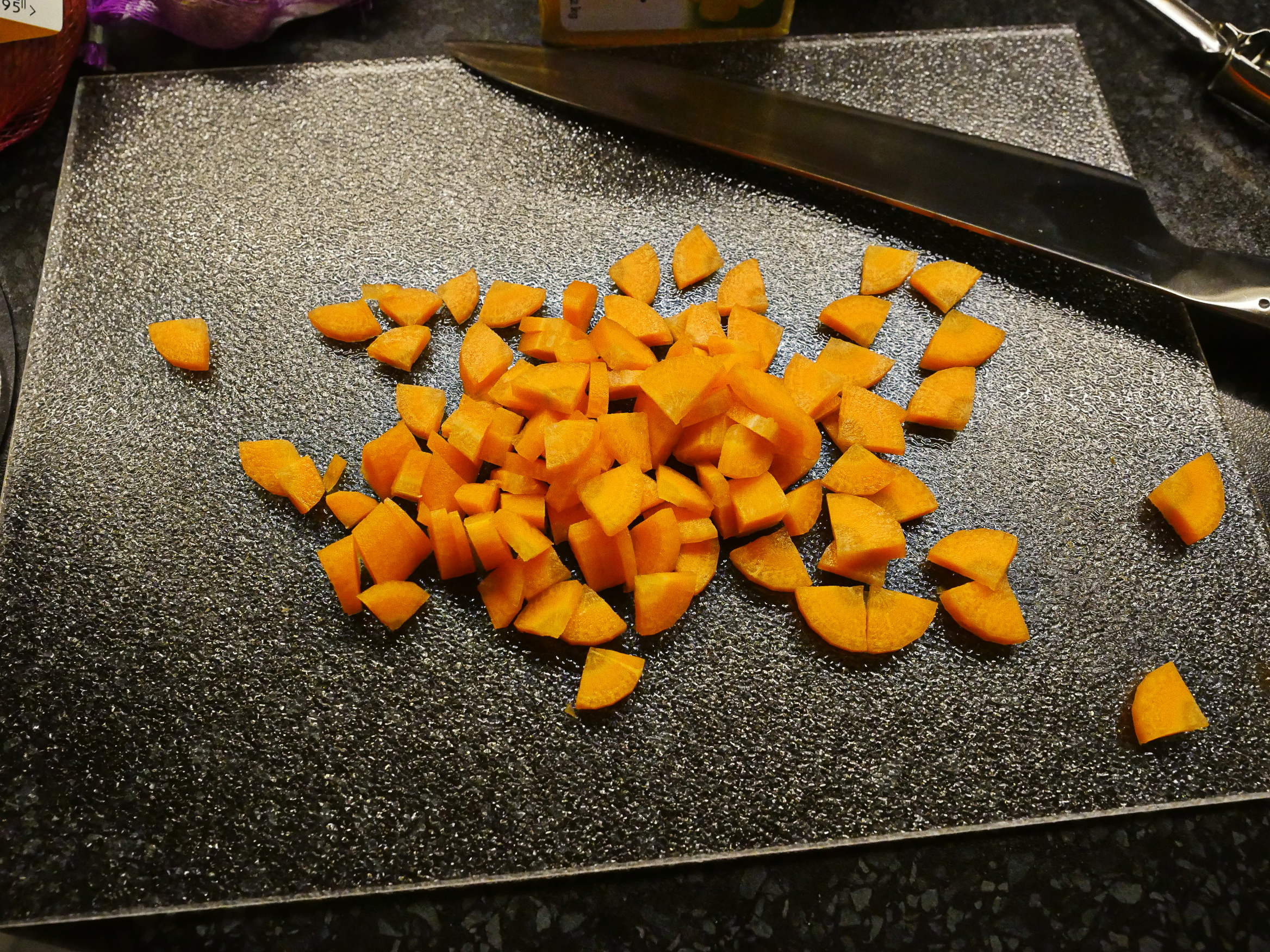 Chop!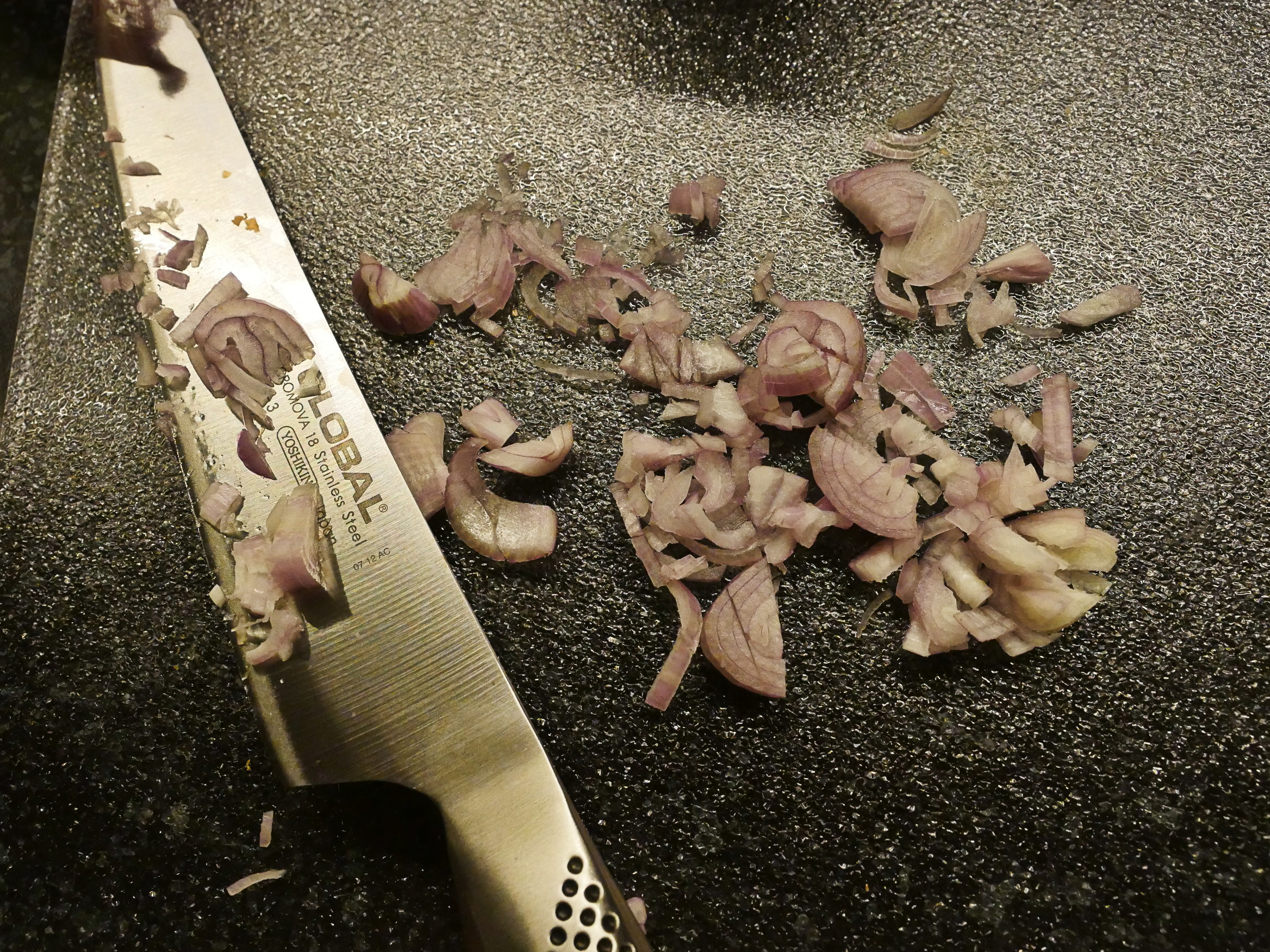 Chop!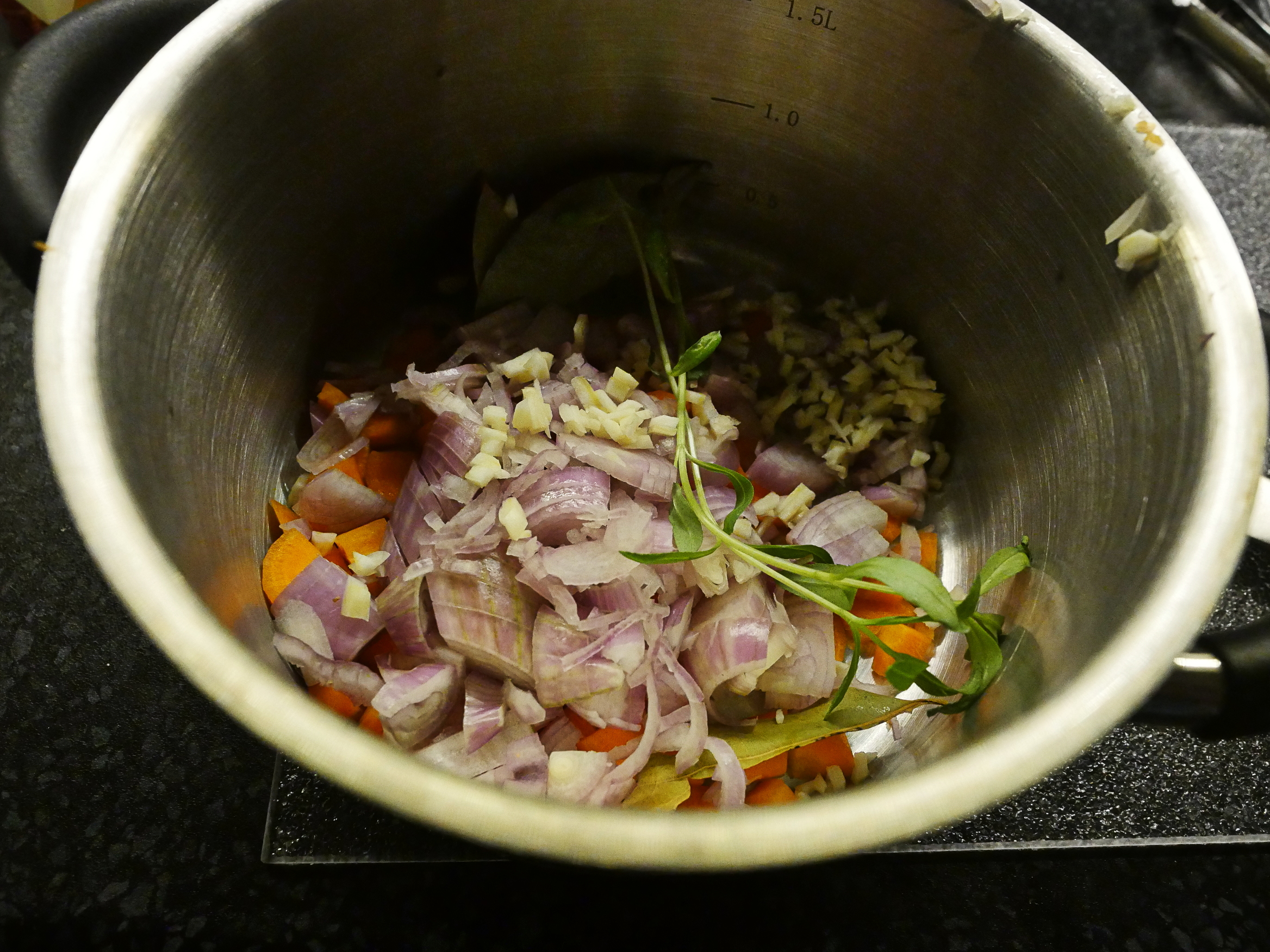 Chop!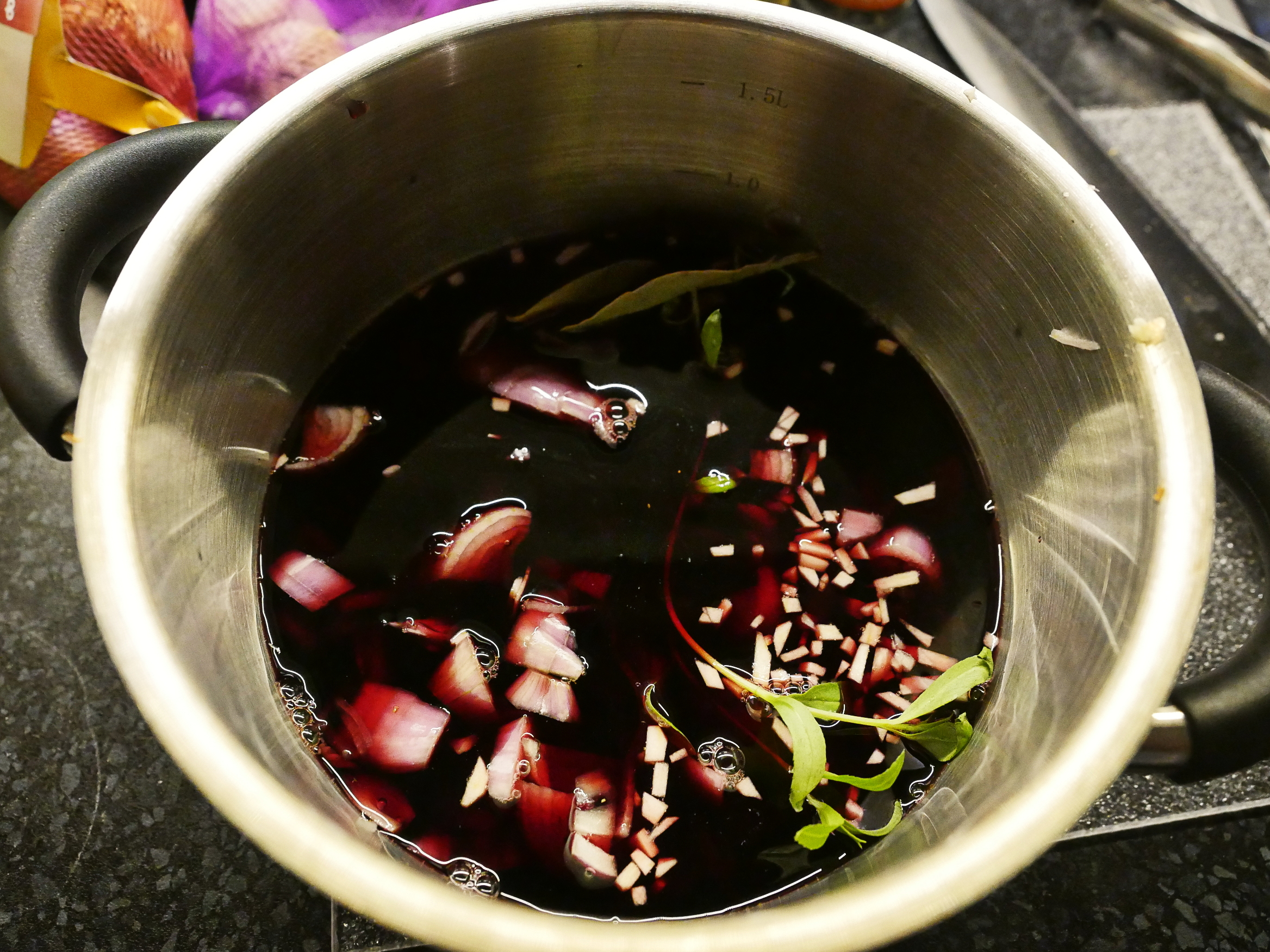 And then this is supposed to really cook for ten minutes to reduce. That's a lot of wine.
For the toast, we're supposed to cut out rings of rustic bread with a cookie form thing, but I don't have that, so I used a cocktail glass.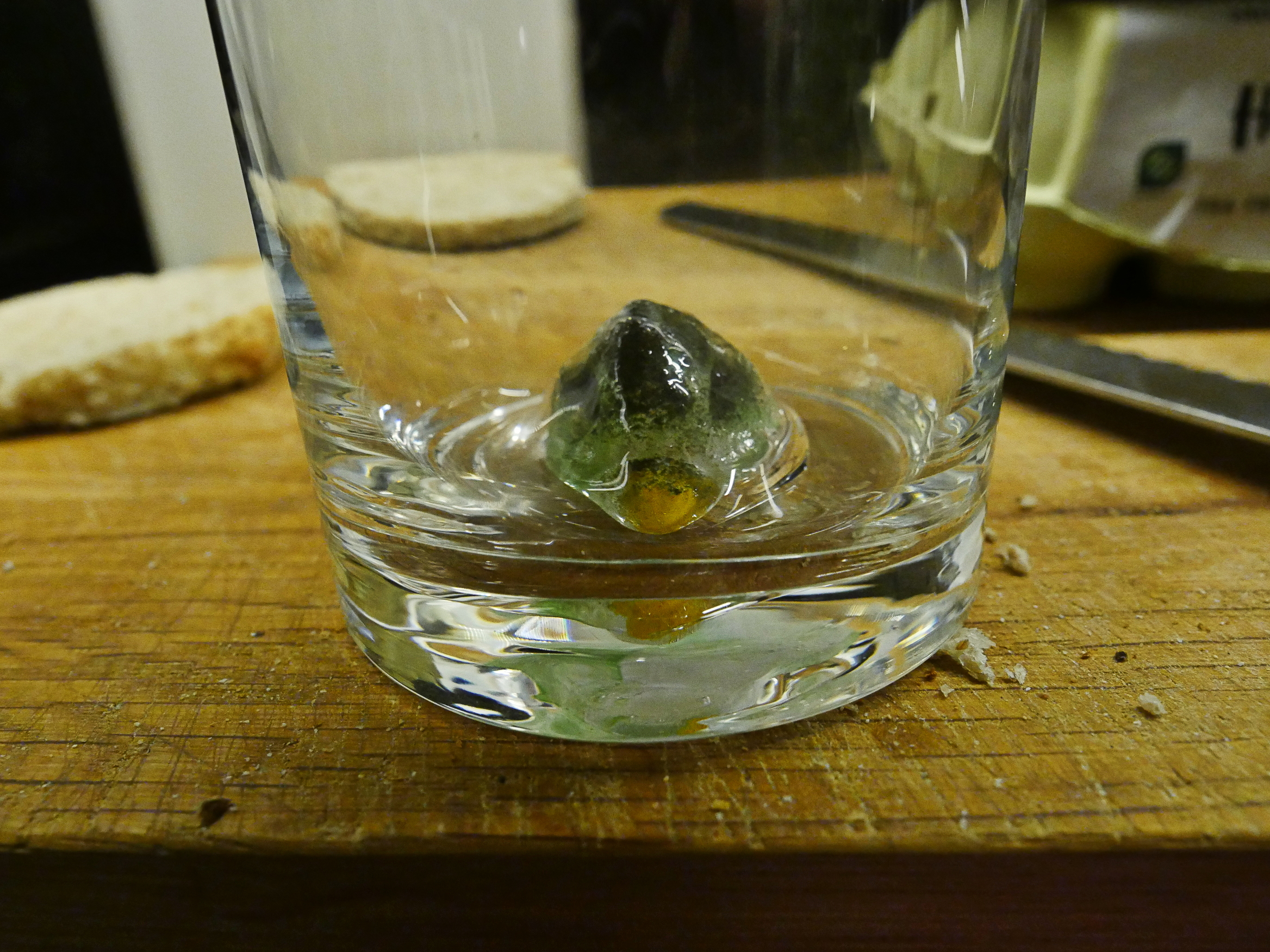 Poor birb.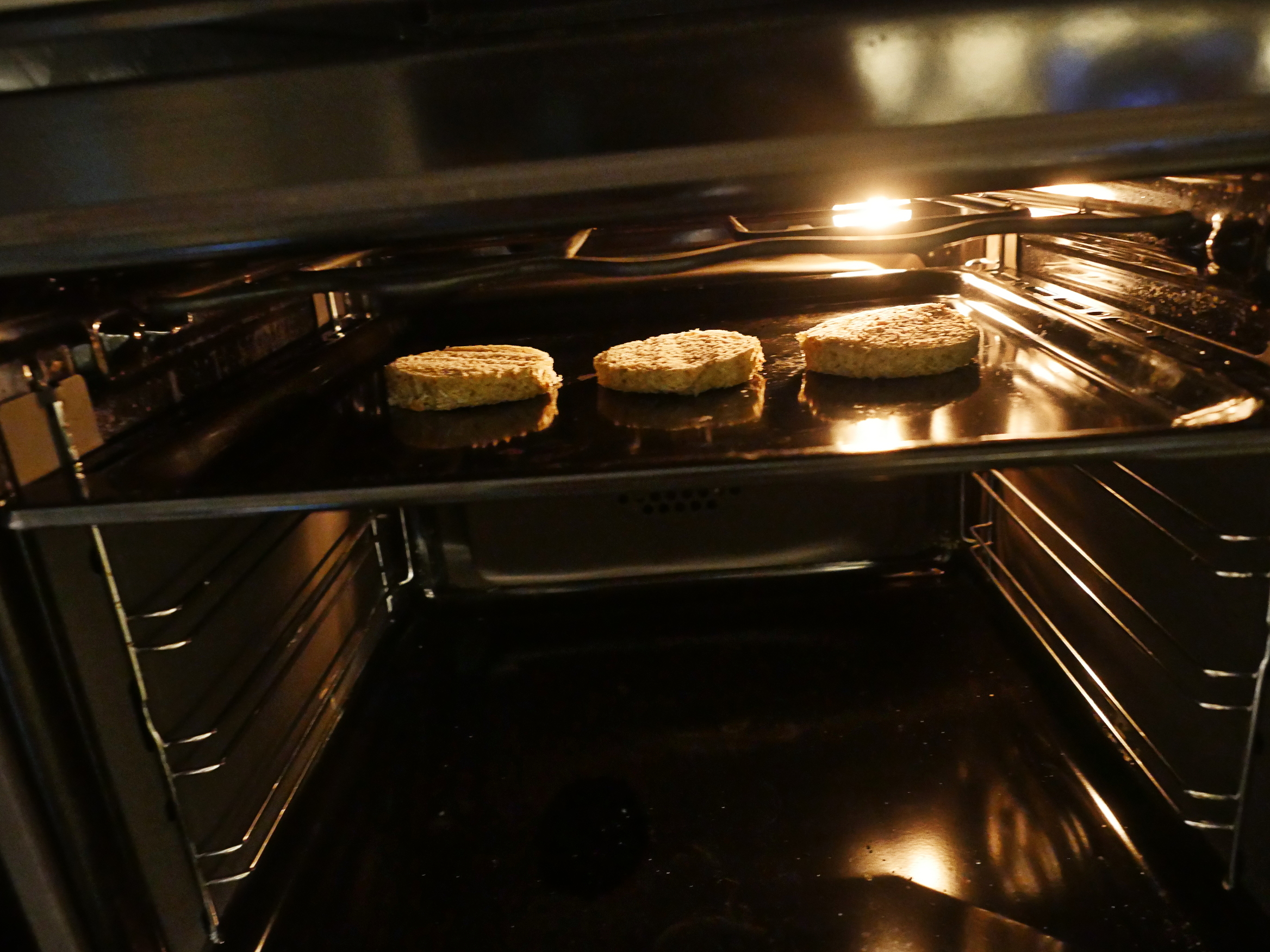 Into the oven to get some broiling.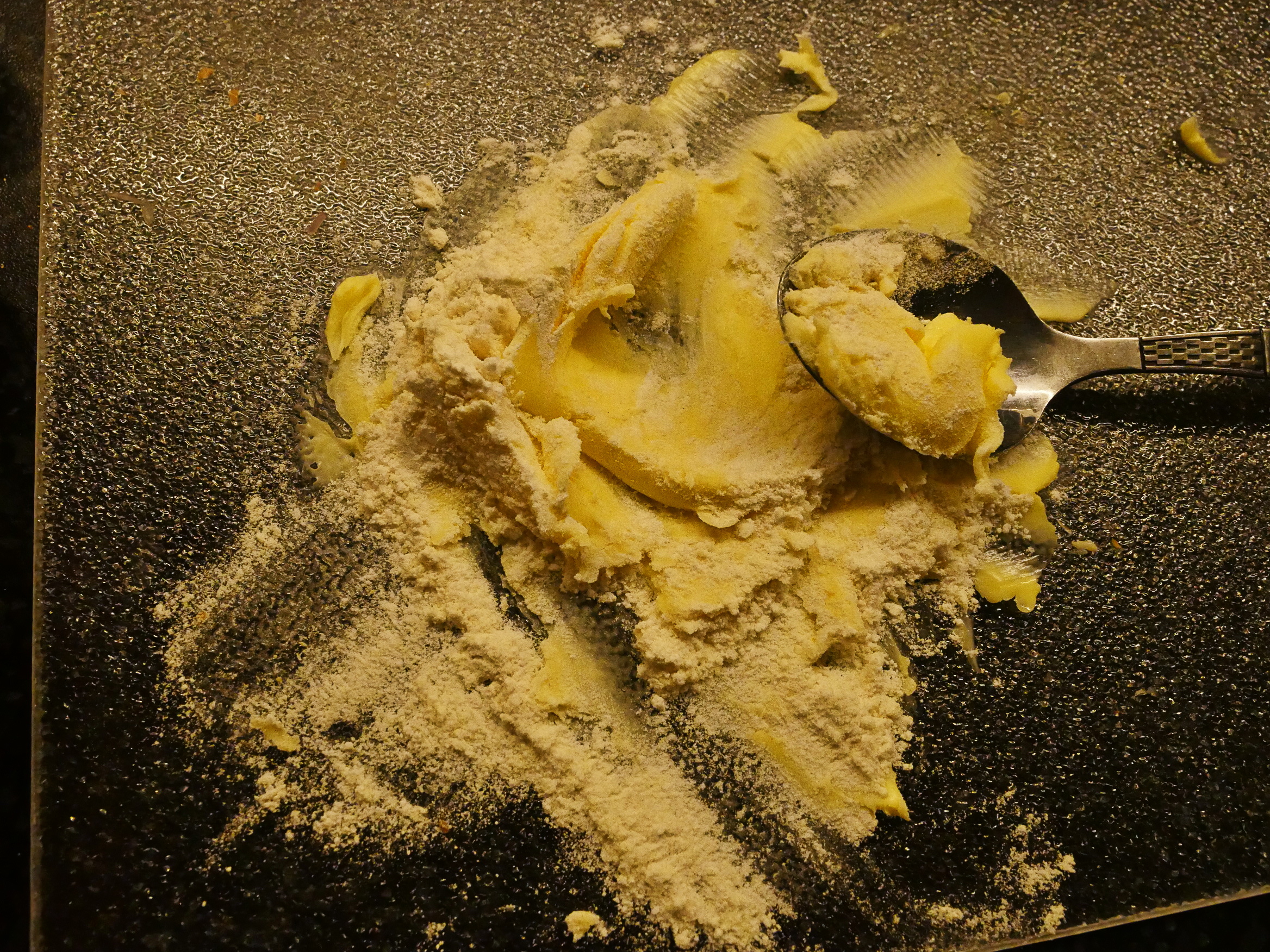 The sauce is thickened by adding a flour/butter mixture to the sauce slowly. It's not explained what's the point of mixing them together first is. Wouldn't doing a normal roux work?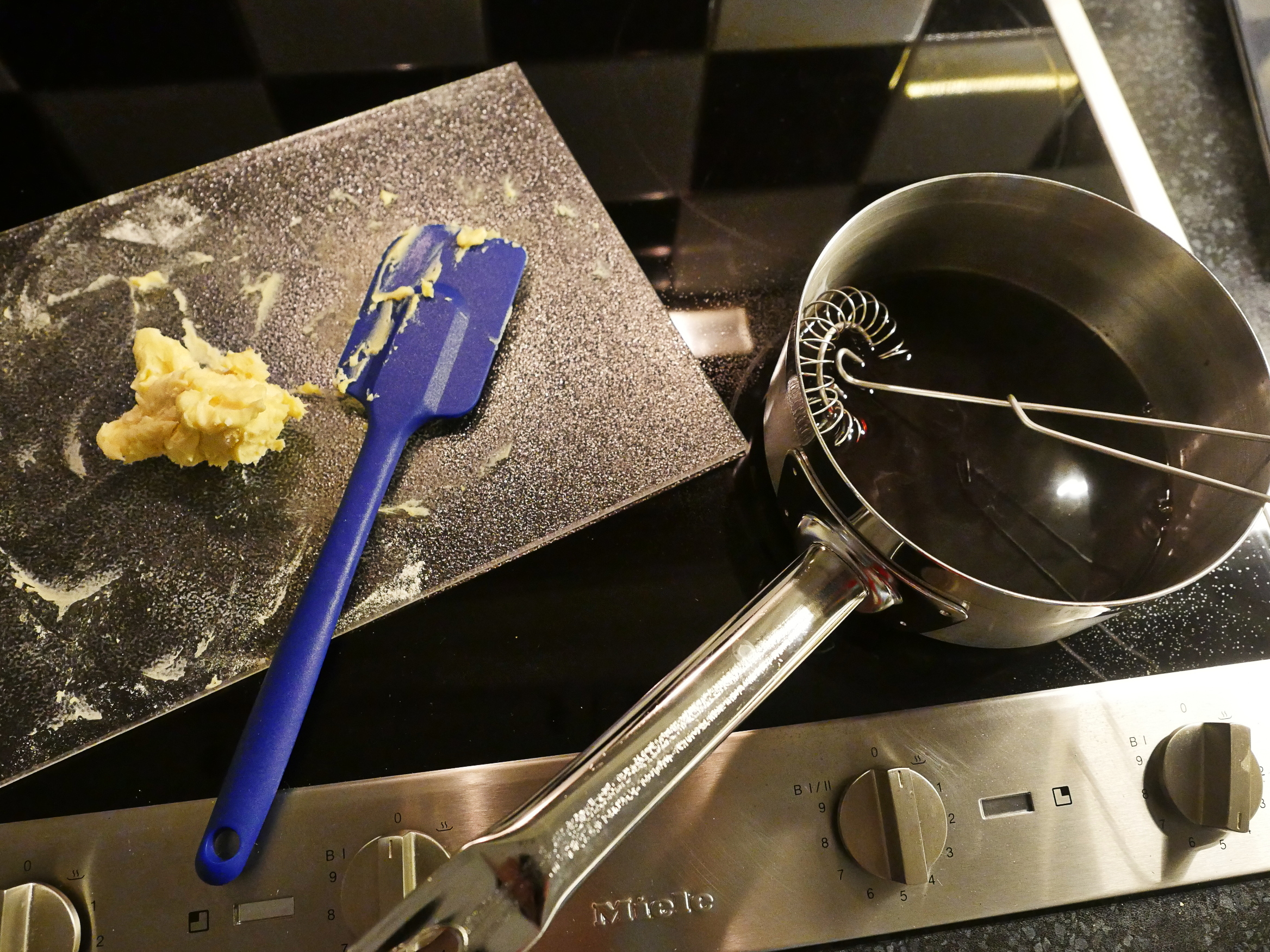 Add add.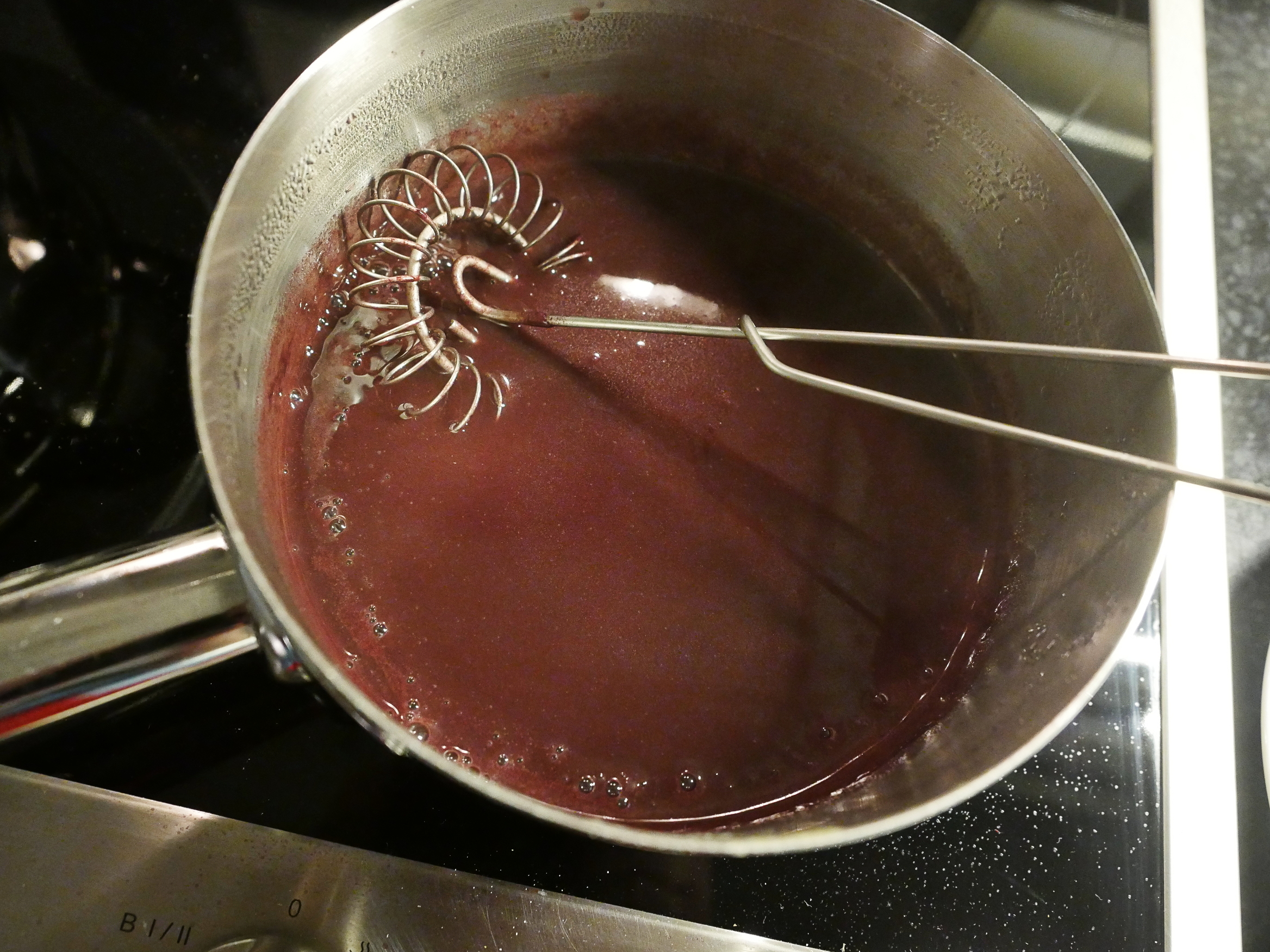 Whisk whisk.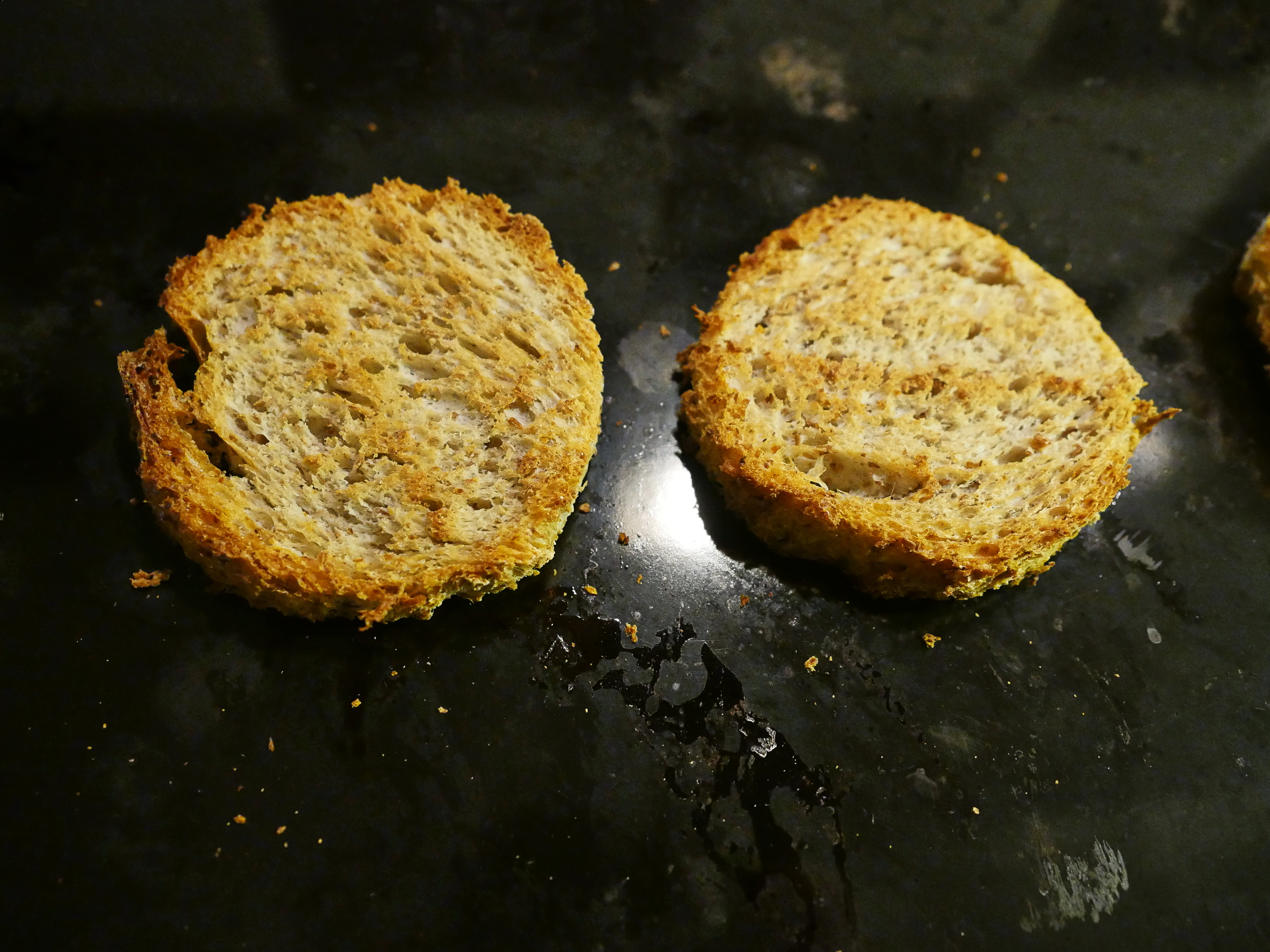 And now the toast is ready, so it's time to do something I've never done before: Poach eggs.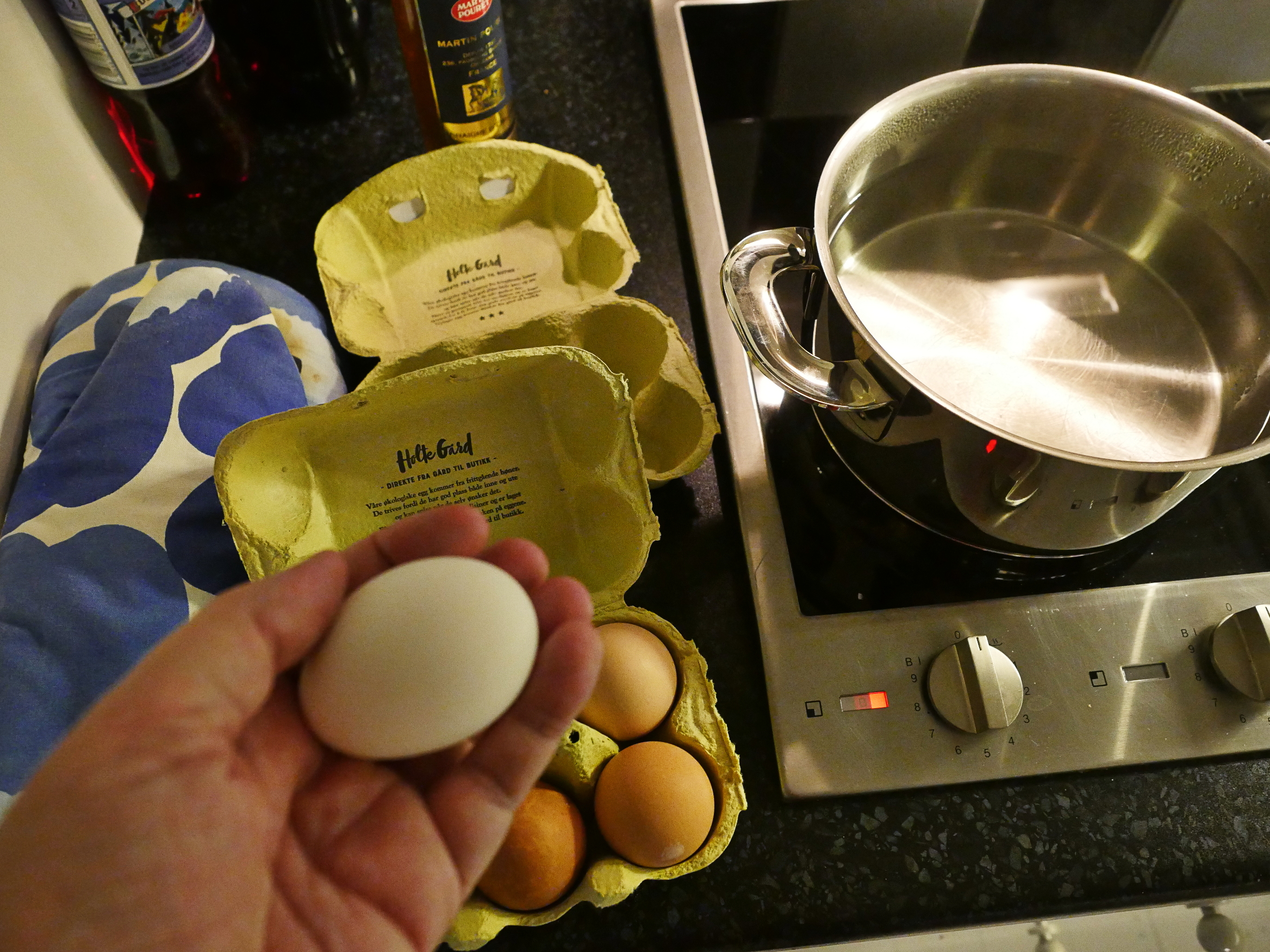 So I've got my water/vinegar cooking, switch it off, and then I add a couple of eggs and let them steep for three minutes. I managed to get the eggs into the water without burning my fingers! I'm a pro!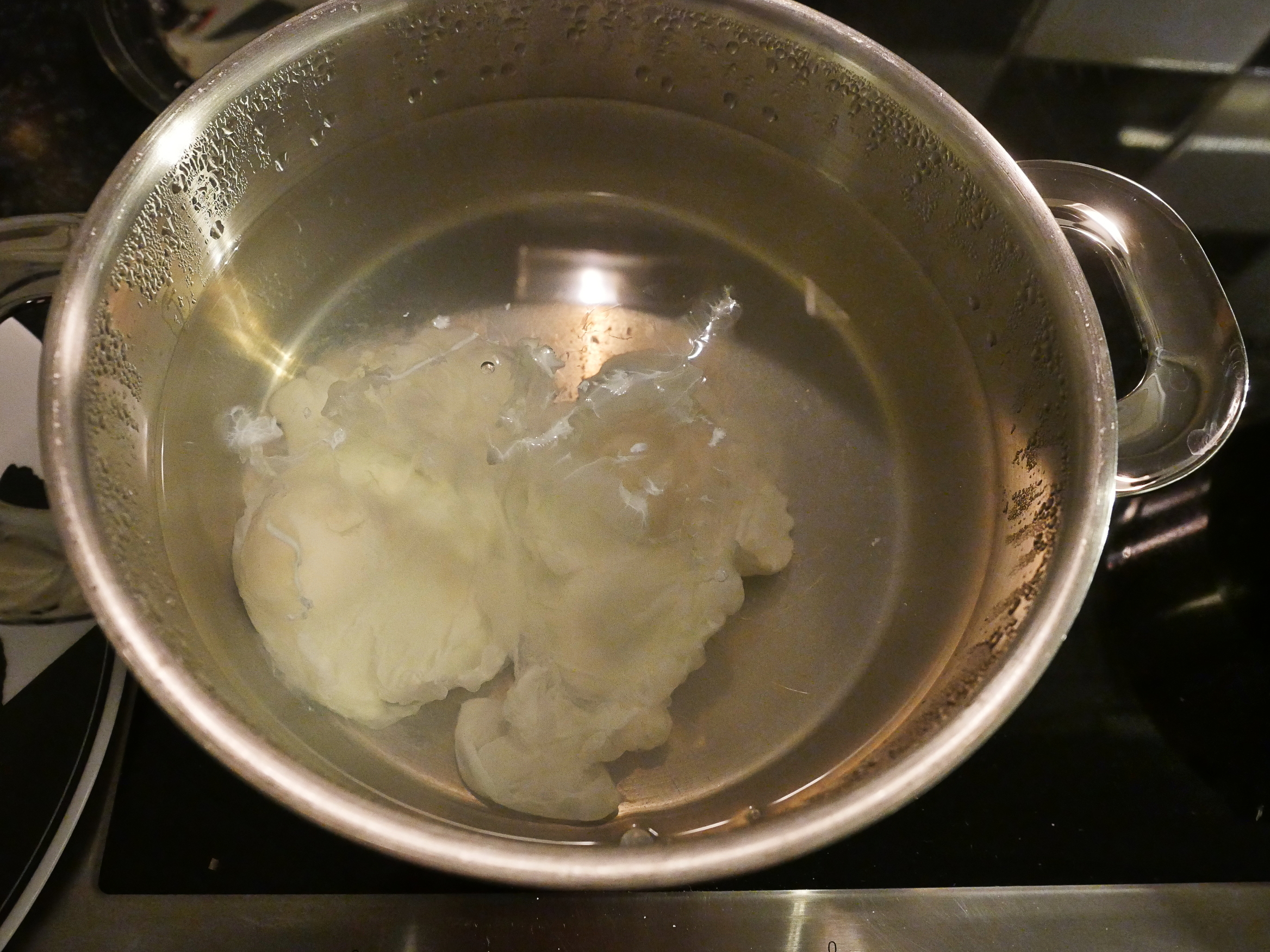 That… does… not look very appetising.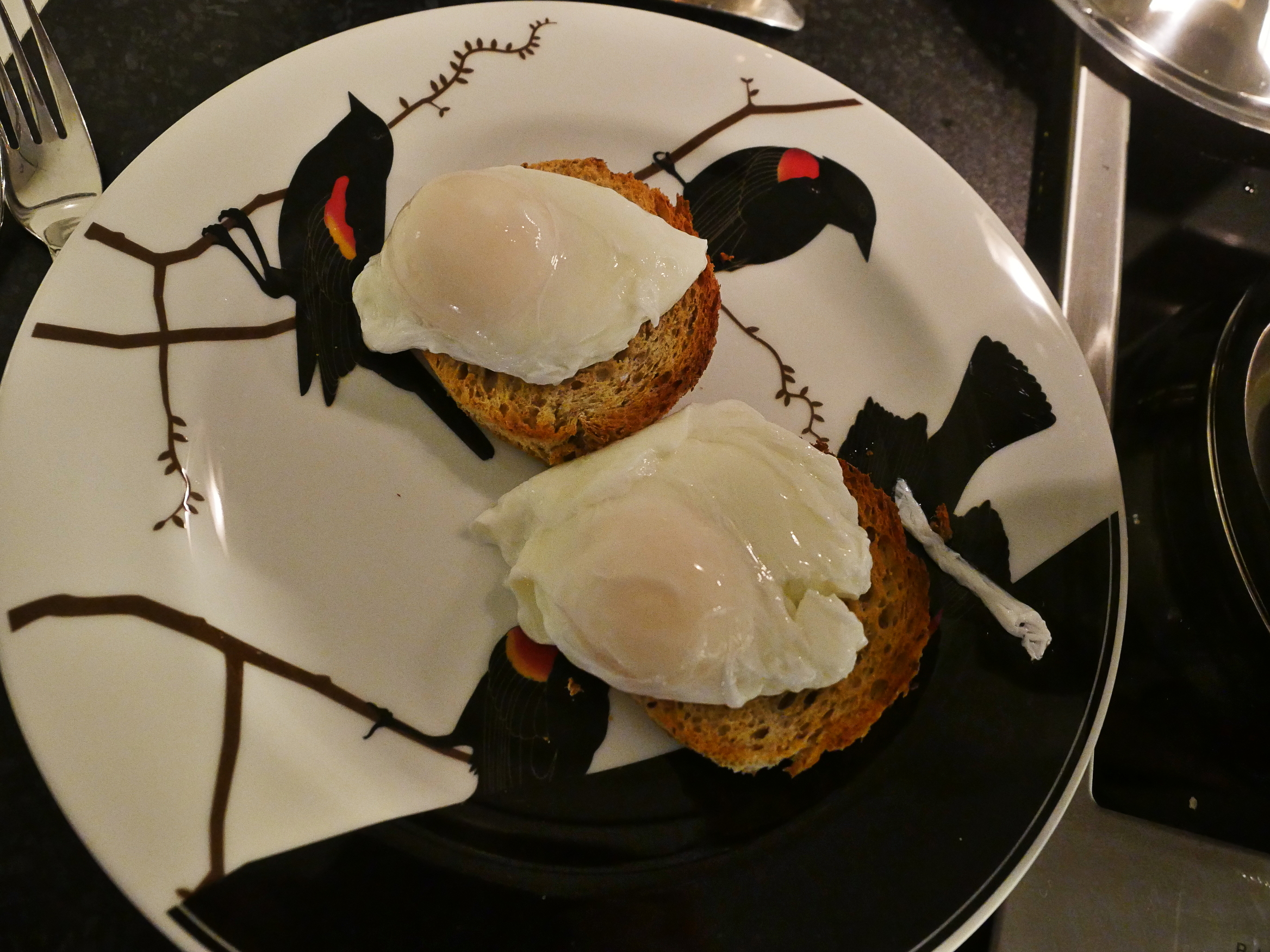 But as soon as it's on the toast it looks delish!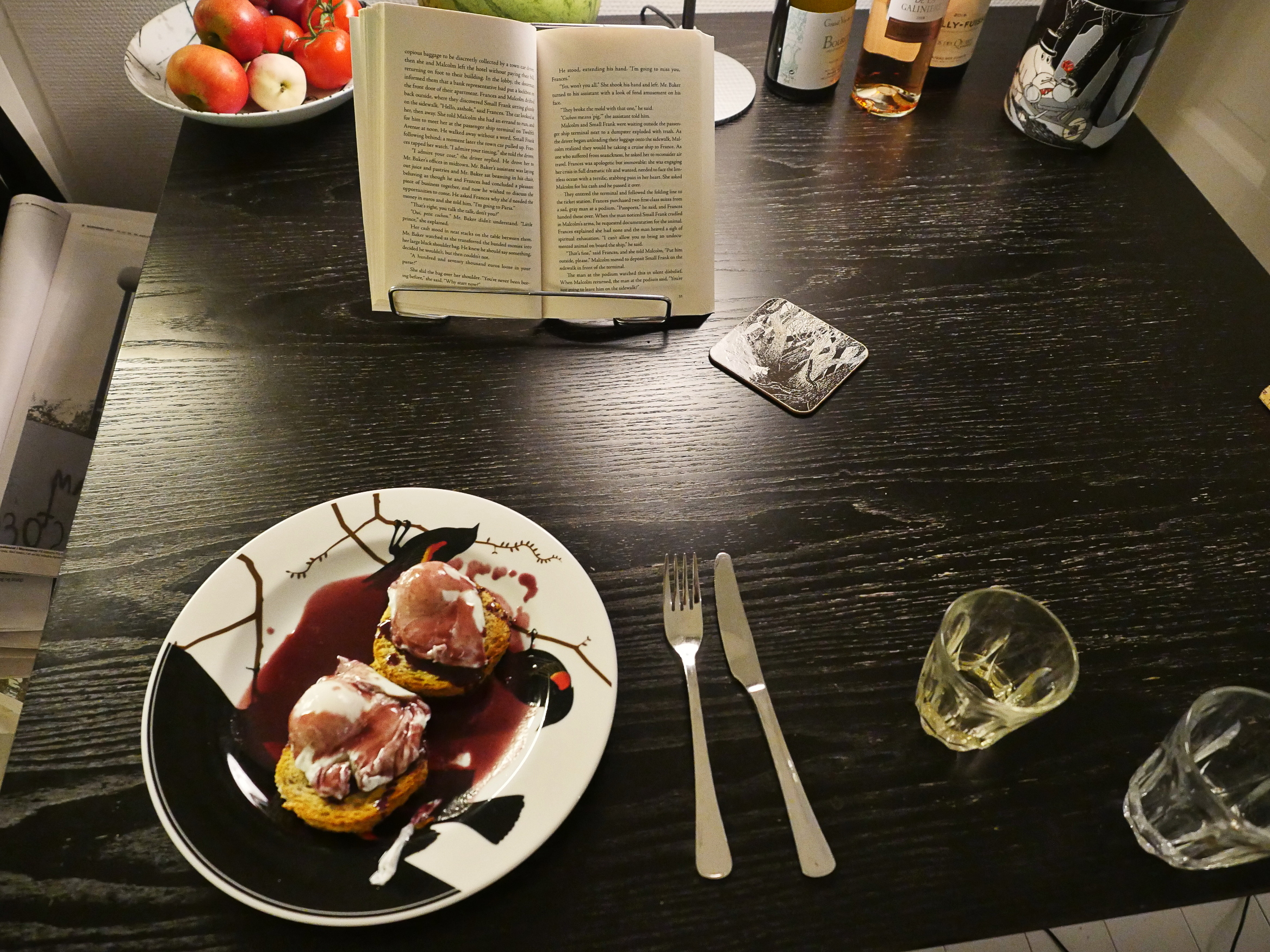 And then I poured some of the sauce over and did my best to eat before the eggs cooled off.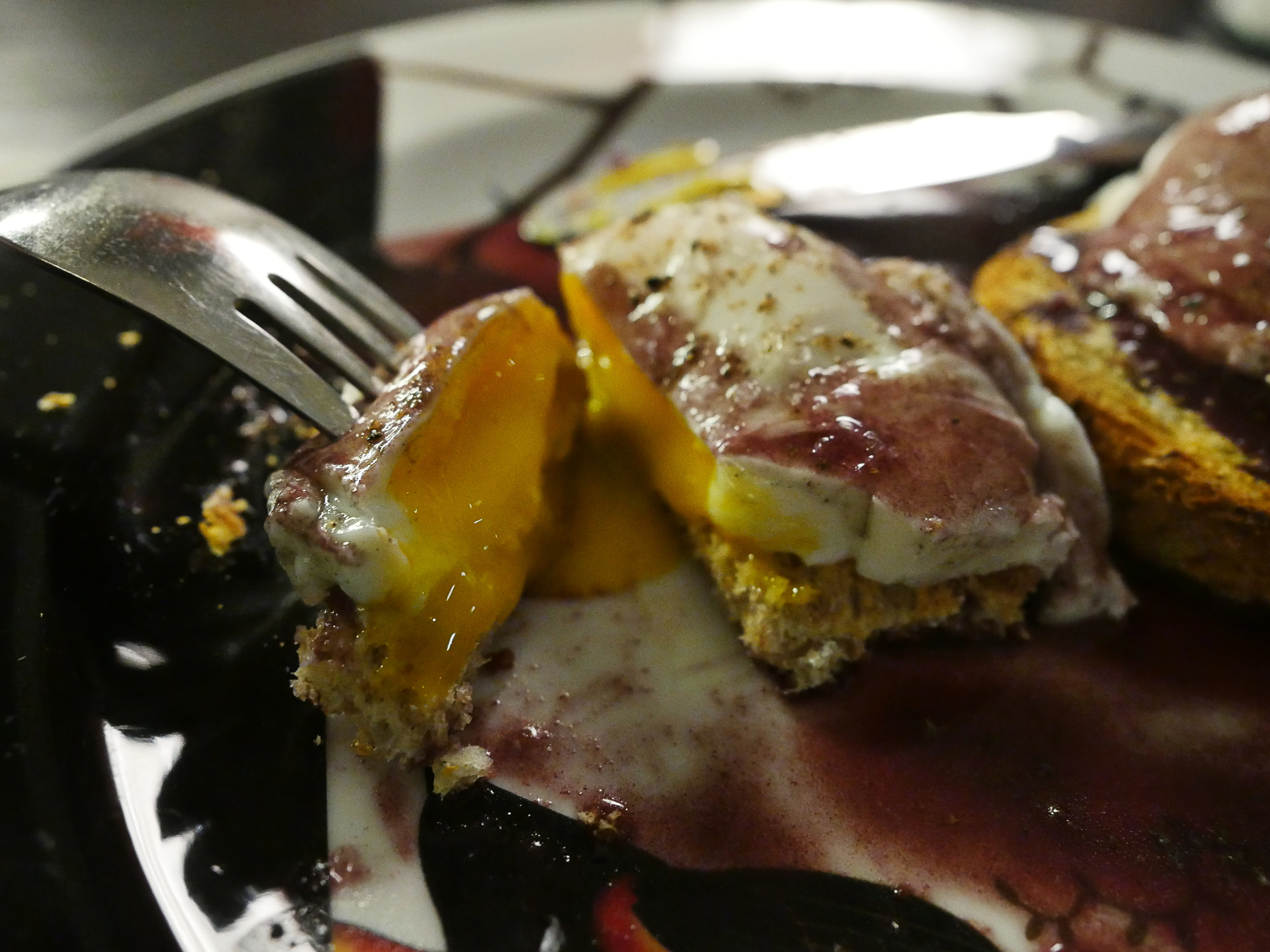 Mmm… almost perfect yolks. Yum yum.
This was pretty good. The eggs are eggs are eggs, but the red wine sauce did add something special to it all. I mean, besides making the plate look like I had committed a grisly murder.
Perhaps there should have been less sauce.
But know I know how to make poached eggs on toast, at least. I should do that more in the future.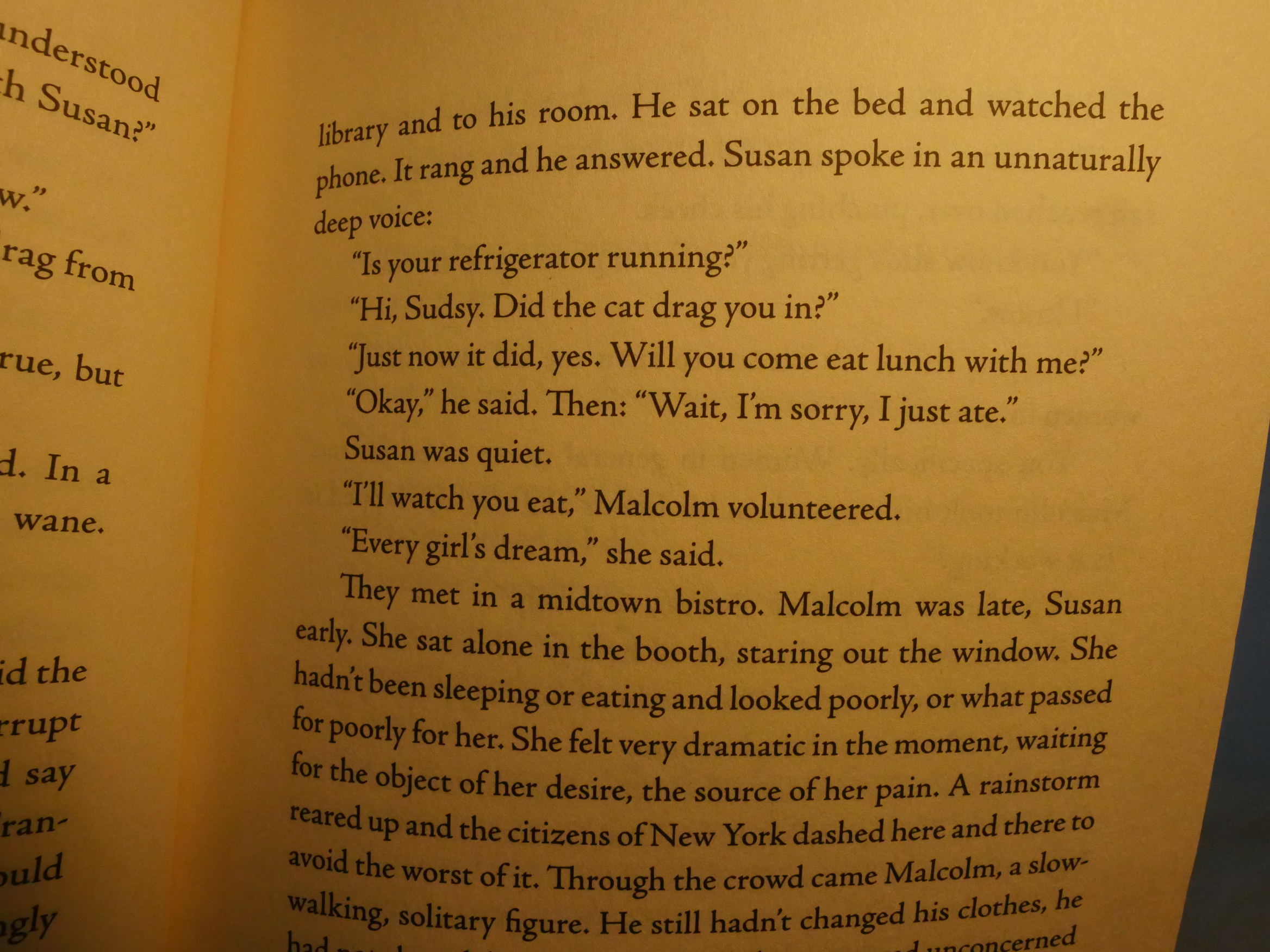 I didn't get to read much while eating the eggs (JUST EAT NO READ), but the books is a bit annoying. deWitt tries so hard to do this style of writing that it comes off more like a proposal for a romantic indie comedy: The characters deliver one line after another like this; always seeing like scripted world-weariness. Oh yeah. It's being made into a movie.
Quelle surprise.
So I guess it was a successful gambit for the author, but not a win for the reader.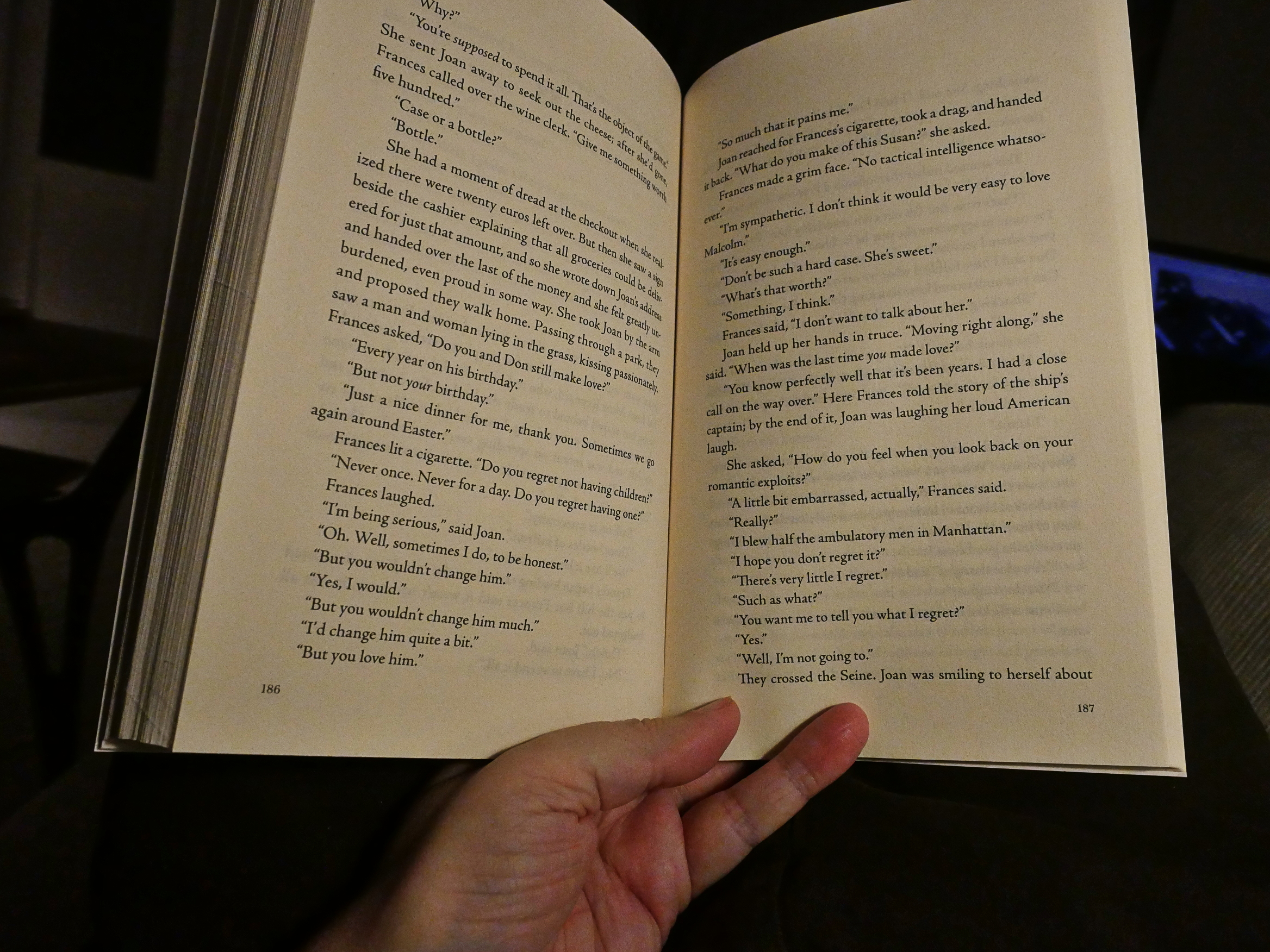 The author piles on the quirks and the repartee and characters, and it almost works. It's almost a charming book. It's probably going to be a very charming little movie. Michelle Pfeiffer plays the lead.
The most annoying thing about this book is probably the hapless son: He's given absolutely no positive characteristics, but even so, a young, stunningly beautiful woman can't help but love him. That shit's just not necessary in a novel, but in a movie, it's a must, of course.
On the positive side… uhm… well, OK, deWitt writes with a light touch. Everything breezes by. It's pleasant. It's a nice read. While nothing's actually funny, everything happens with with a little smirk and a wink.
Except for the requisite third act tragedy to give the movie the required gravitas.
This blog post is part of the Bistro
Cooking & Books series.