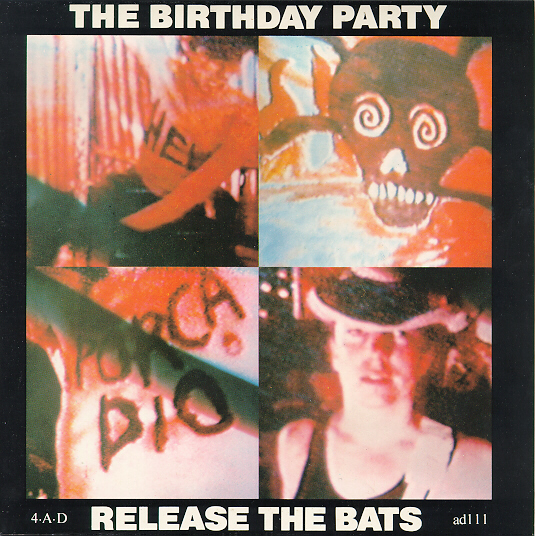 Here's the link: 4AD 1981 on Spotify.
Working with the 4AD data set brings back memories…
In the early days of the WWW, before Mozilla came on the scene, I had written a 4AD database (called "eyesore", written in C++) where you could mark what releases you owned, and it would spit out a list of what you needed to buy to get all the songs. The main browser those days was NCSA Mosaic, although I tested a lot with lynx as well.
The main user interface problem was in how you entered the releases you owned. I had a form per release, and there was a pulldown menu where you could say that you owned the 12″ version, for instance. And then a submit button to store the data.
But the problem was then you were then faced with a new page, and had to use the back button or re-navigate to where you were. That's a pain in the ass.
So I asked on the www newsgroup at the university, "is there a way to just send the data to the server without reloading the web page itself?", and after explaining what I wanted a few times because this all seemed to outlandish to even consider, a professor chimed in and explained to me something like "no, that would totally break the entire concept of the WWW, because then a URI would no longer be a resource to identify a resource".
That's what taught me to never take anything a professor says seriously.
(I wonder, though, whether what I wanted was possible at that time… This was slightly before Mozilla came on the scene with Javascript and other goodies. Like BLINK.)
Anyway.
1981 continues in the vein of the previous year: Still pretty much in the post-punk vein, and with a bunch of singles from bands that 4AD didn't have an extensive relationship with (Sort Sol, Past Seven Days, My Captains)…
The involvement with members of Wire bears fruit with Colin Newman's very striking solo album, but the group that really points the way to future greatness is really Dif Juz, with two EPs that represent something quite new and different.
But perhaps the most important development this year are the covers of the Modern English releases: They are the first ones designed by Vaughan Oliver/23 Envelope. For better or worse (I think better, definitely), his visual identity would come to make 4AD a thing in people's minds over the coming years. It's a very modest start, though: Those covers don't really stand out much here.
AD101
Sort Sol — Marble Station

Marble Station, Misguided

AD102
The Past 7 Days — Raindance

Raindance, So Many Others

AD103
My Captains — Four Track EP

Fall, Converse, History, Nothing

CAD104
The Birthday Party — Prayers On Fire

Zoo-Music Girl, Cry, Capers, Nick The Stripper, Ho-Ho, Figure Of Fun, King Ink, A Dead Song, Yard, Dull Day, Just You And Me

CAD105
Modern English — Mesh & Lace

Sixteen Days, Just a Thought, Move in Light, Grief, The Token Man, A Viable Commercial, Black Houses, Dance of Devotion (A Love Song)

AD106
B. C. Gilbert / G. Lewis — Ends With The Sea

Ends With The Sea, Hung Up To Dry Whilst Building An Arch

CAD107
Mass — Labour Of Love

Mass, Why, Ill, Why, Isn't Life Nice, Elephant Talk, F.A.H.T.C.F., Cross Purposes, Innocence

CAD108
Colin Newman — Provisionally Entitled The Singing Fish

Fish One, Fish Two, Fish Three, Fish Four, Fish Five, Fish Six, Fish Seven, Fish Eight, Fish Nine, Fish Ten, Fish Eleven, Fish Twelve, Reprise

BAD109
Dif Juz — Huremics

Hu, Re, Mi, Cs

AD110
Modern English — Smiles And Laughter

Smiles And Laughter, Mesh & Lace

AD111
The Birthday Party — Release The Bats

Release The Bats, Blast Off

AD112
Rene Halkett / David Jay — Nothing

Nothing, Armour

CAD113
Matt Johnson — Burning Blue Soul

Red Cinders In The Sand, Song Without An Ending, Time (Again) For The Golden Sunset, Iceing Up, (Like A) Sun Rising Through My Garden, Out Of Control, Bugle Boy, Delirious, The River Flows East In Spring, Another Boy Drowning

AD114
The Birthday Party — Mr. Clarinet

Mr. Clarinet, Happy Birthday

BAD115
Dance Chapter — Chapter II

Backwards Across Thresholds, Demolished Sanctuary, Attitudes, She

BAD116
Dif Juz — Vibrating Air

Gunet, Heset, Diselt, Soarn

CAD117
Various — Natures Mortes – Still Lives

Mr. Clarinet, Let's Have A Party, Feedback Song, Die Laughing, Rosegarden Funeral Of Sores, You And I, Like This For Ages, Gathering Dust, Marble Station, Controversial Subject, Raindance, Re
This post is part of the chronological look at all 4AD releases, year by year.