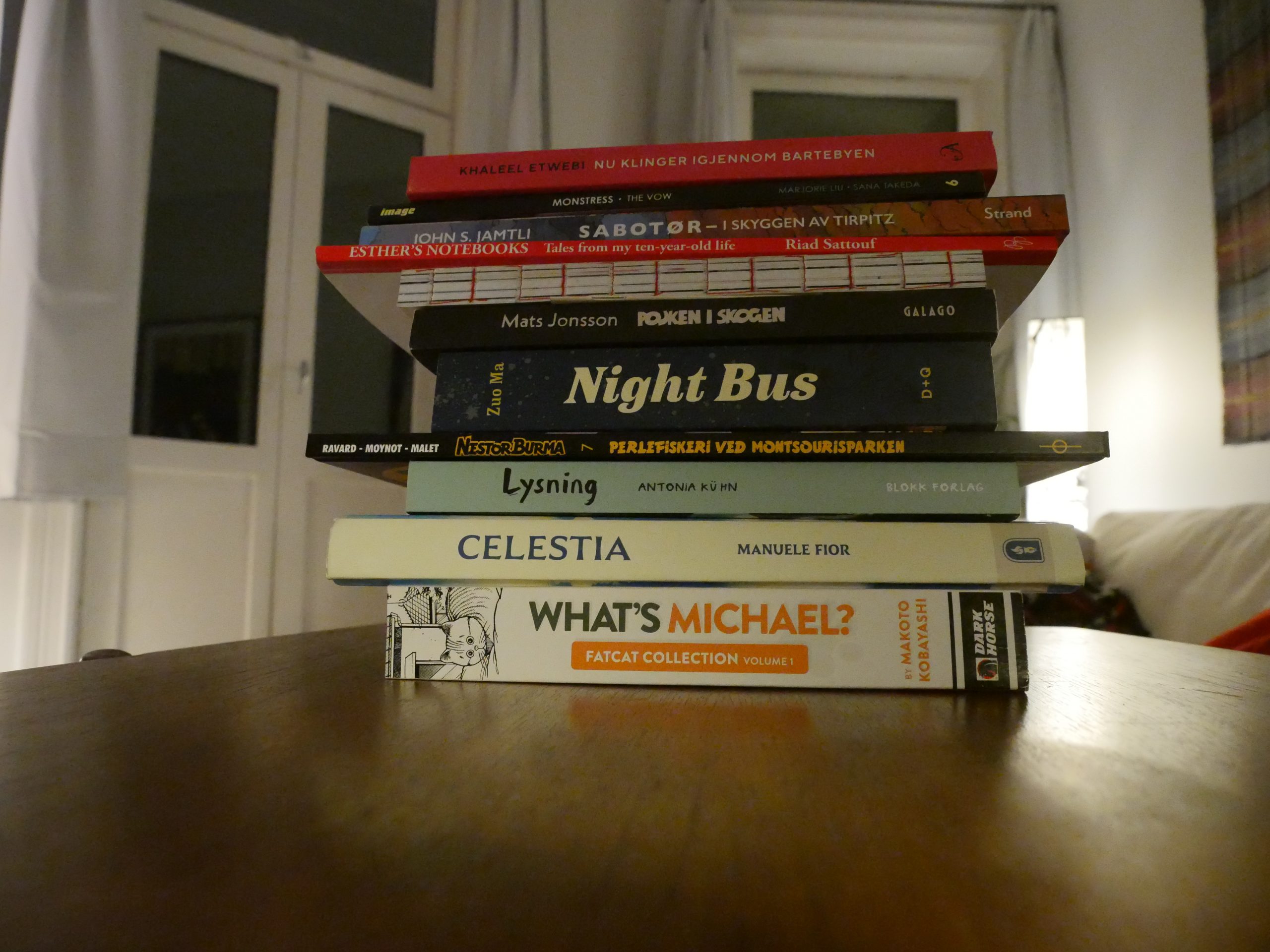 I feel like another comics day coming on — the rules are: Read comics until I plotz. No reviews, just a few random musings.
| | |
| --- | --- |
| Various: DJ Kicks: Kamaal Williams | |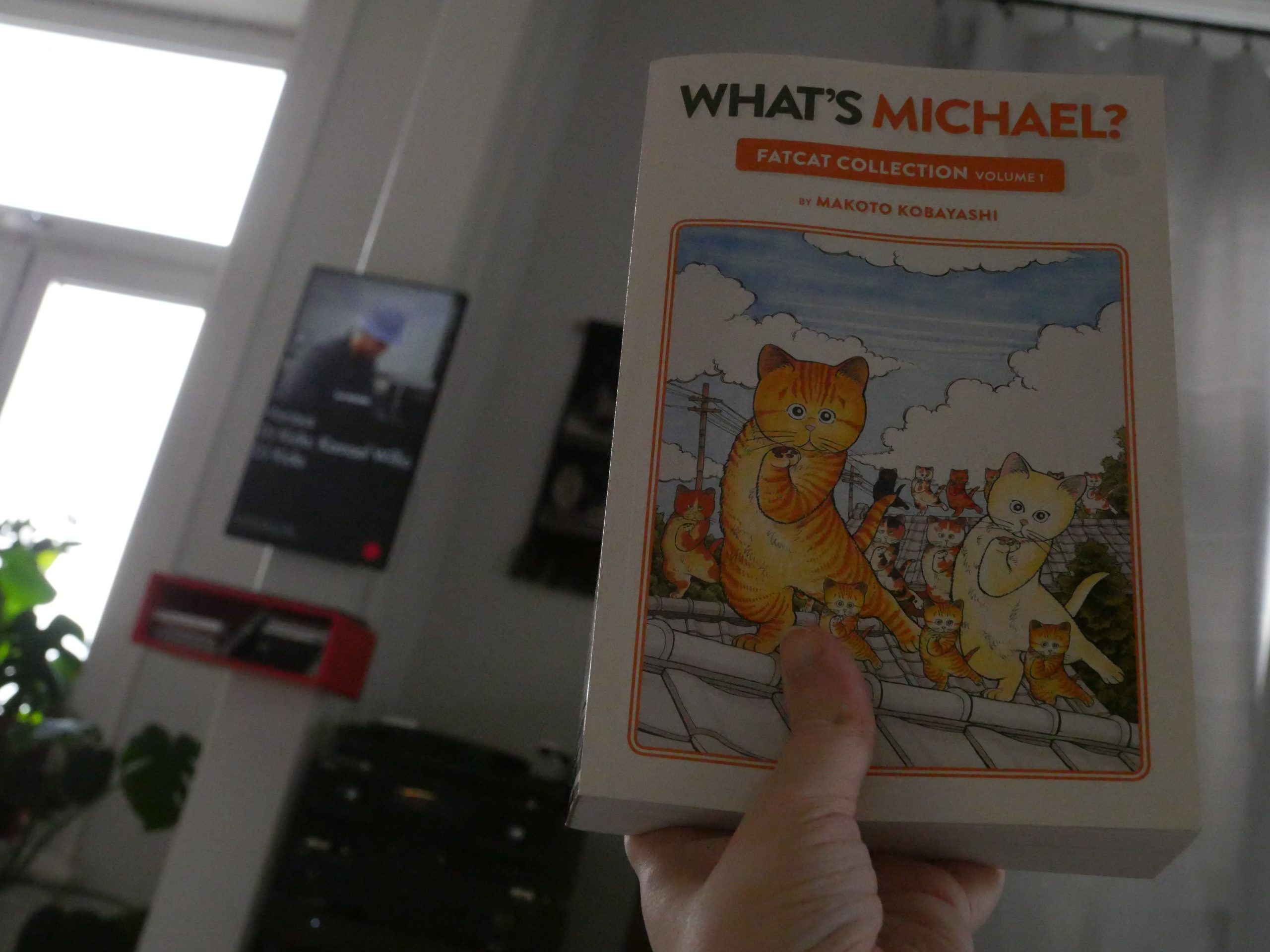 12:28: What's Michael? Fatcat Collection Volume 1 by Makoto Kobayashi (Dark Horse)
I've read this series before — but in the smaller individual books that were published… er… a couple decades ago? But when Dark Horse published a collected edition, I couldn't help myself and bought it again.
And I started reading it a couple of days ago, so I just have the last third of this huge book to read today.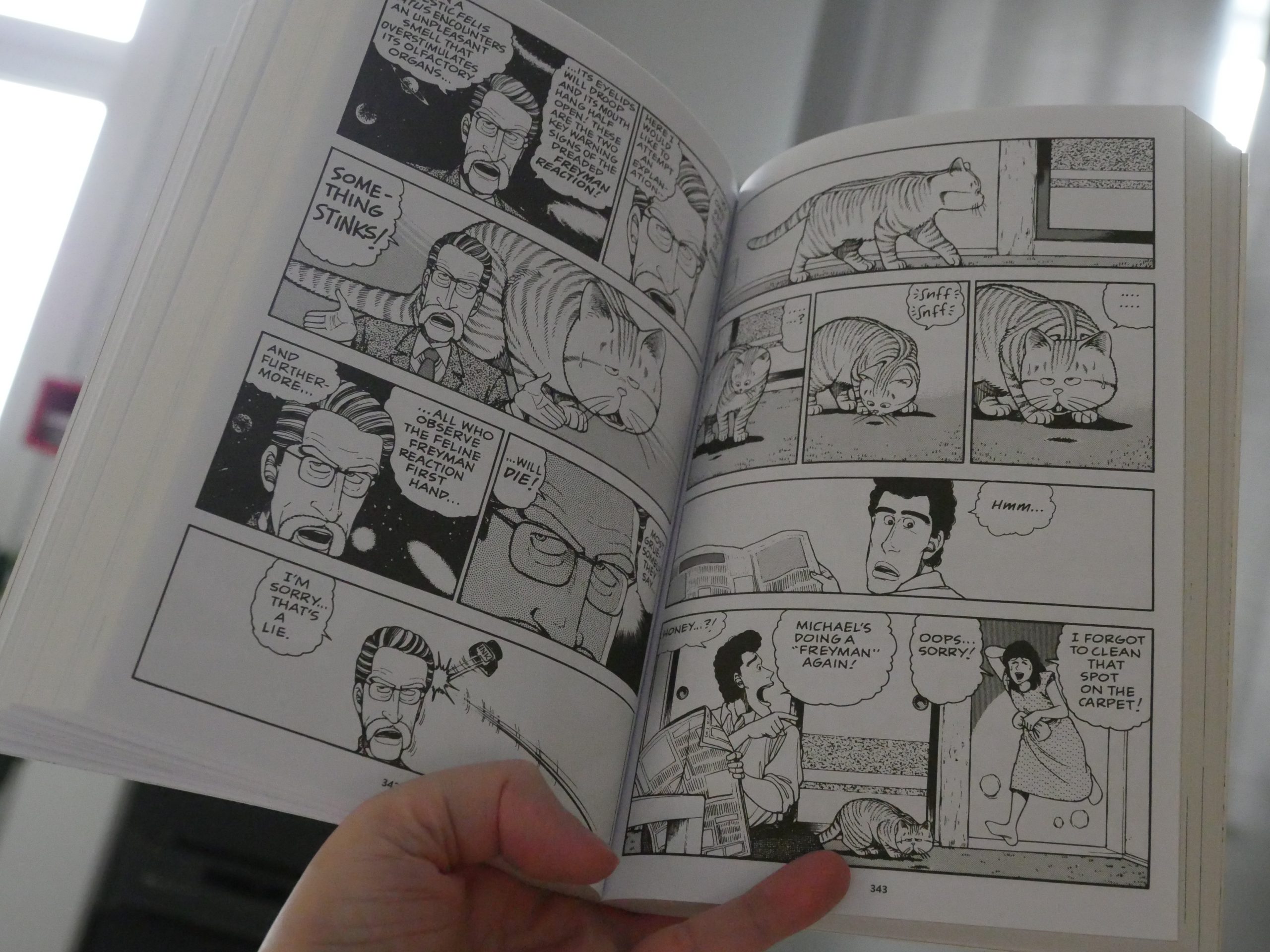 The mixture of impeccably observed cat dorkiness and expert silliness makes this the funniest comic ever.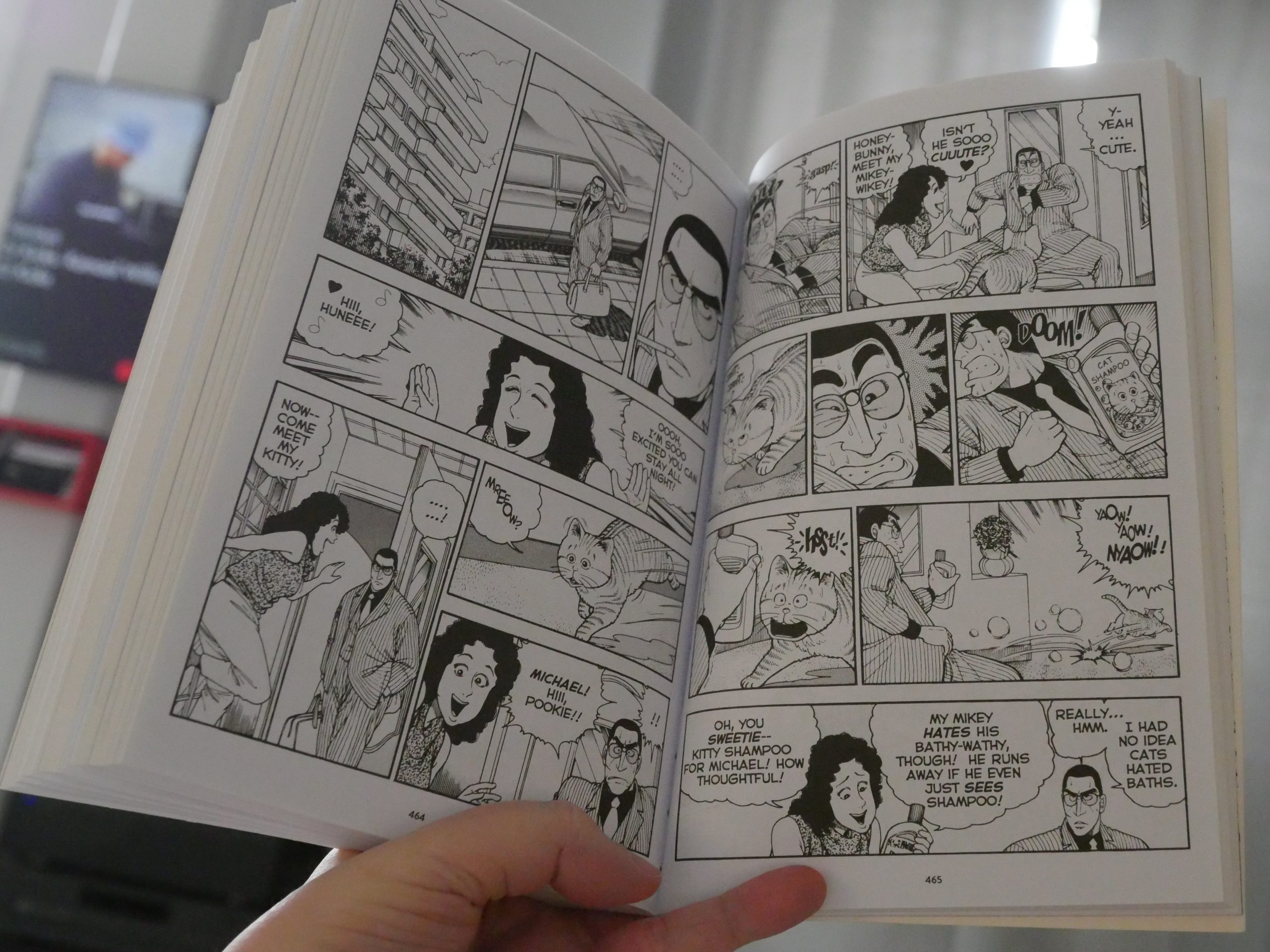 It's hilarious and the artwork's perfect.
| | |
| --- | --- |
| Soft Cell: Cruelty Without Beauty: Remixes | |
13:16: Celestia by Manuele Fior (Fantagraphics)
This reminds me of 70s French(ey) comics — all mystical/poetic with a vague plot. It's good.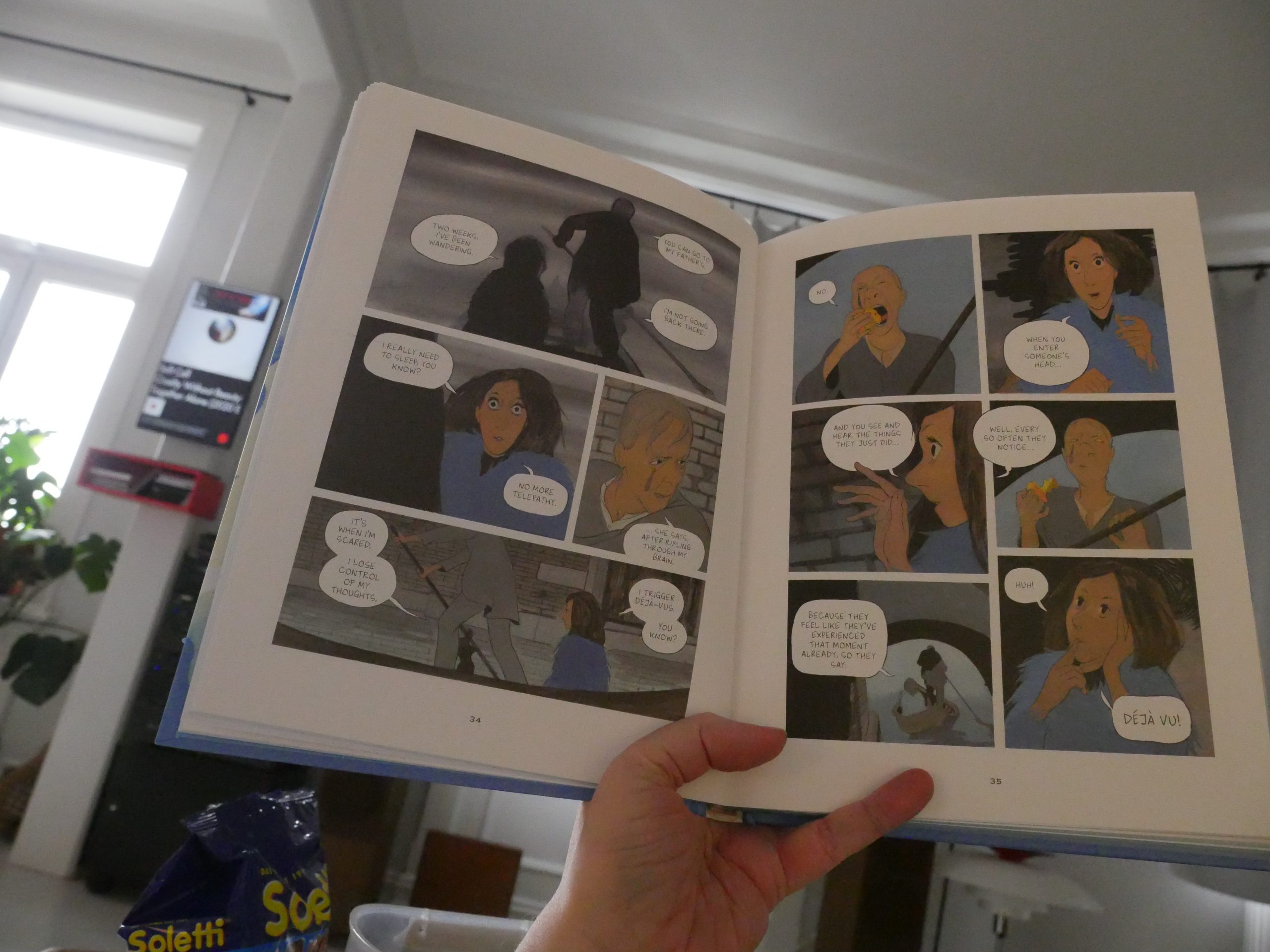 However, the last third of the book is mostly a long chase scene, and it's really boring, so the book kind of lost me there.
The dreaded three act structure strikes again.
| | |
| --- | --- |
| Mark Fell & Will Guthrie: Infoldings | |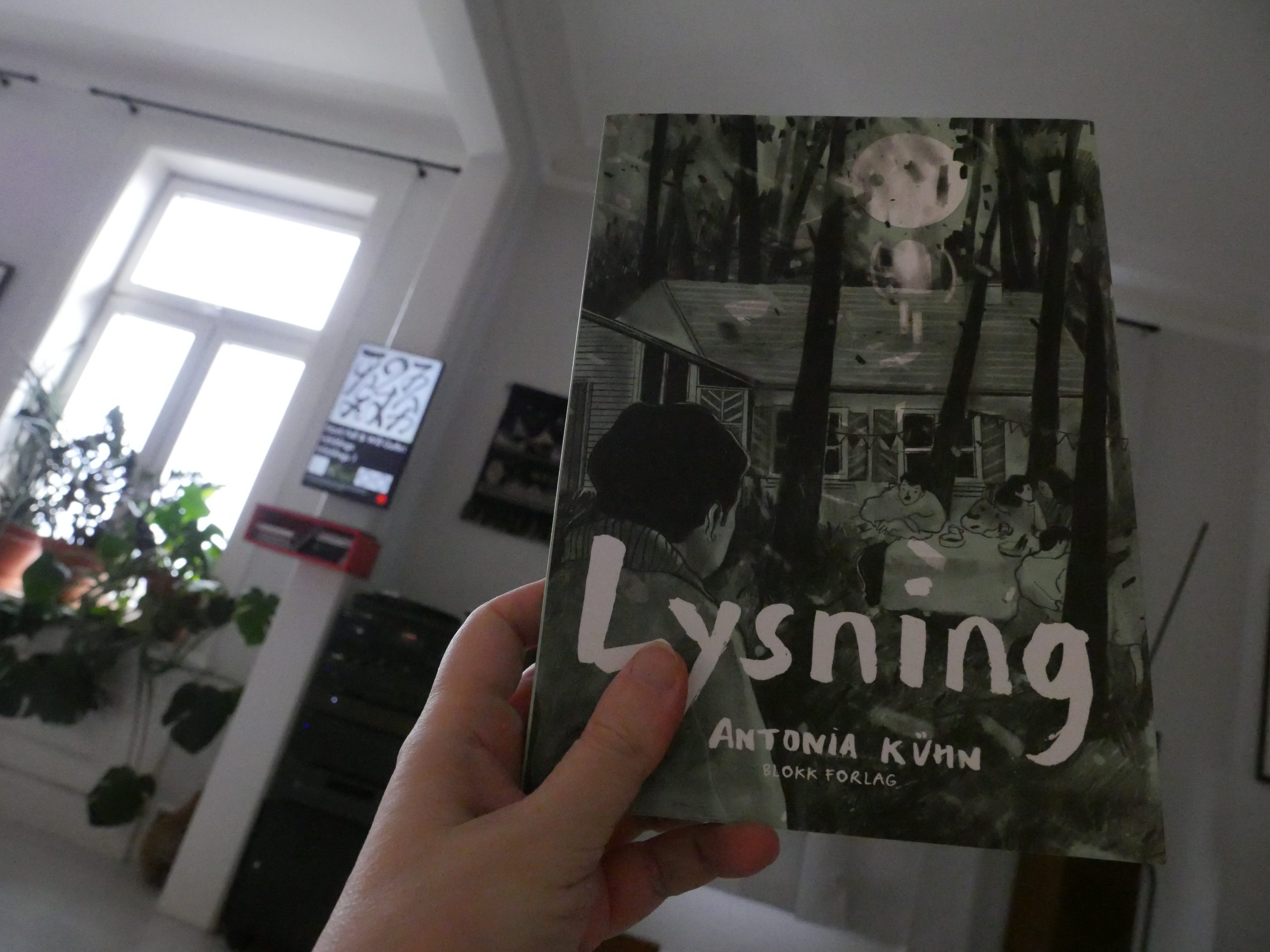 14:03: Lysning by Antonia Kühn (Blokk forlag)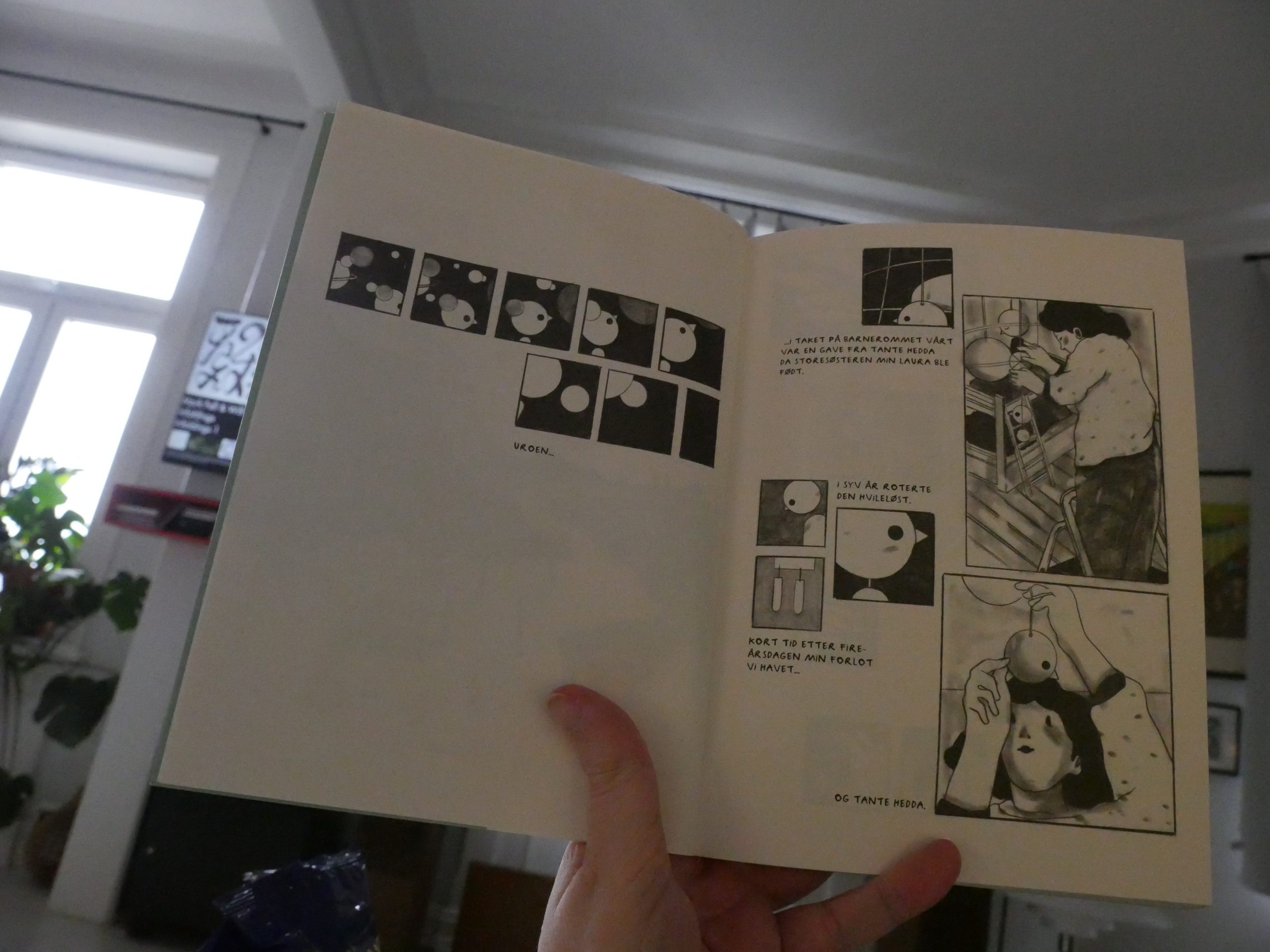 I love the inventiveness in the storytelling and the page layout. It's also got the perfect melancholic atmosphere going on, and lovely artwork.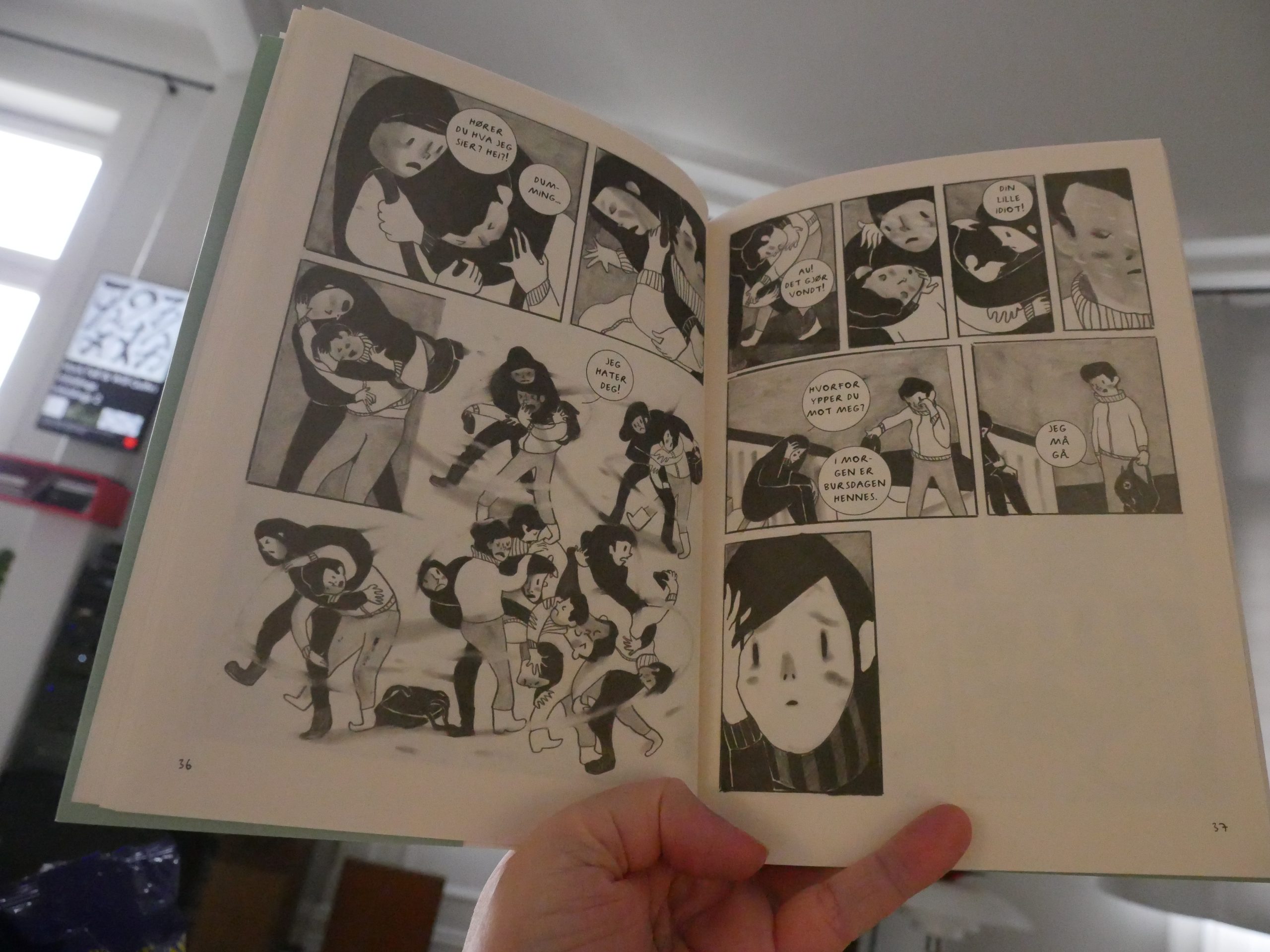 But there's something aimless about the storytelling. I know, it's on purpose — it's about people not getting on with their lives after a shock, so days go by like broken records — but it makes it hard to pay attention in the middle of all of this.
Kühn nails the ending, though.
| | |
| --- | --- |
| Hilt: Stoneman | |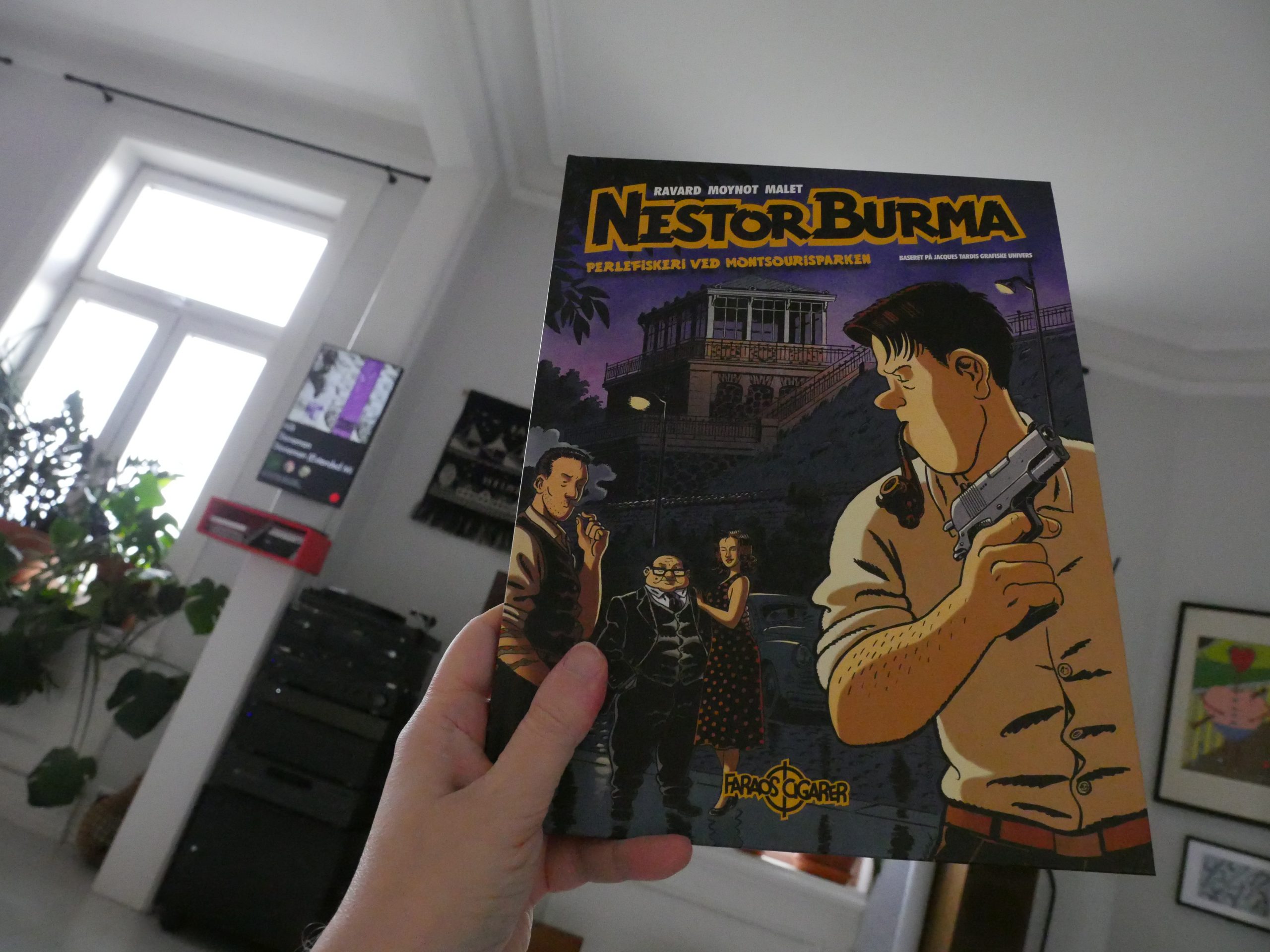 14:28: Nestor Burma – Les rats de Montsouris by Ravard/Moynot/Malet (Faraos Cigarer)
This is another album in the Leo Malet adaptation series — based on Tardi's approach to adapting Malet's novels. (It's less complicated than it sounds.)
I read the first one of these … er… last year? earlier this year? And it was great fun. So I'm excited to read this one.
The first album was rather overwhelming — seemingly a hundred different names were swirling around. This is tighter. I mean, it's still twistier than a drawerful of USB cables, but the plot is a lot easier to follow.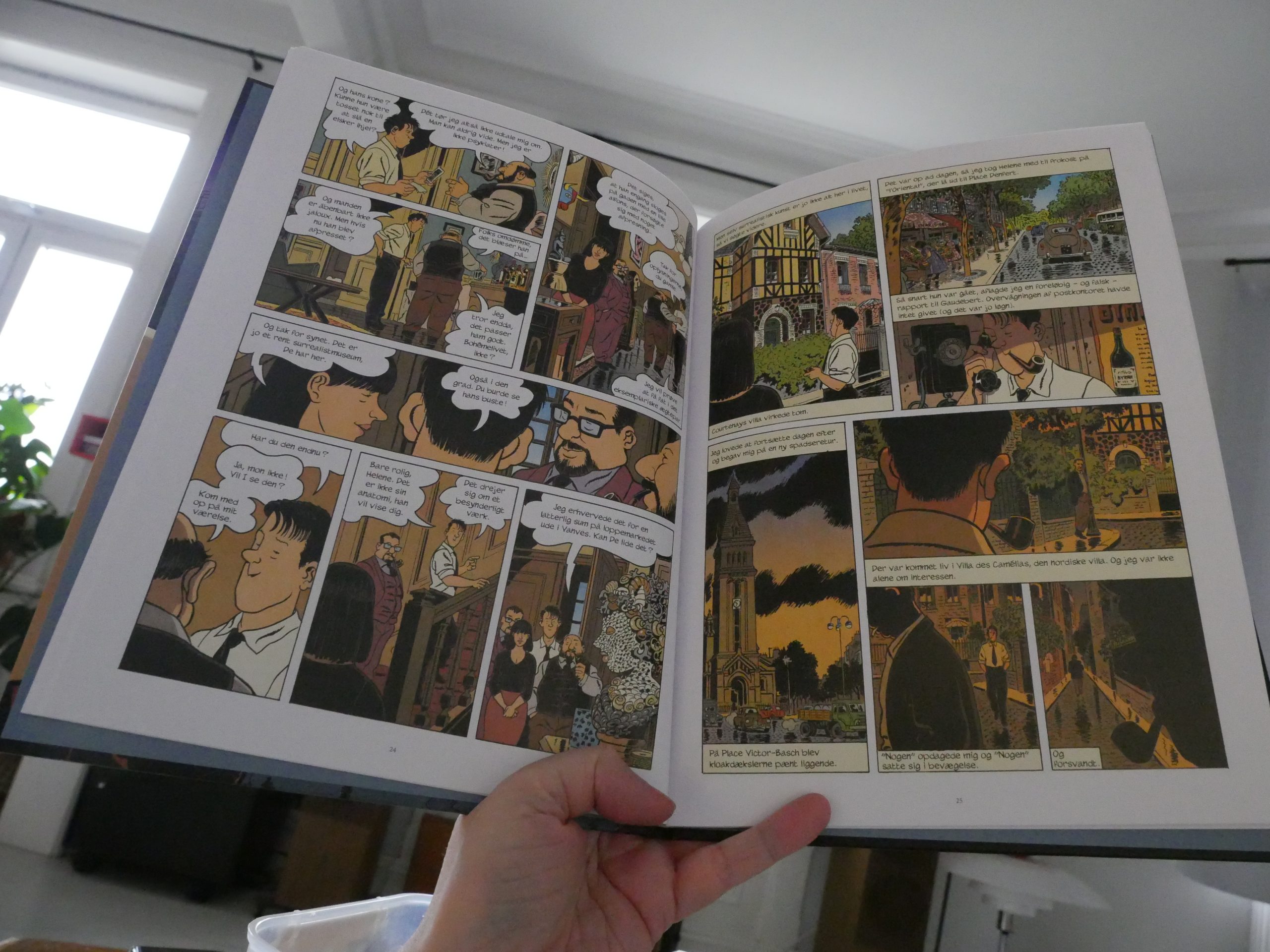 It's really entertaining (if you like this sort of thing), and Ravard does a pretty good Tardi pastiche.
I hope there'll be a bunch more of these.
| | |
| --- | --- |
| Matmos: The Consuming Flame: Open Exercises in Group Form (2): On the Team | |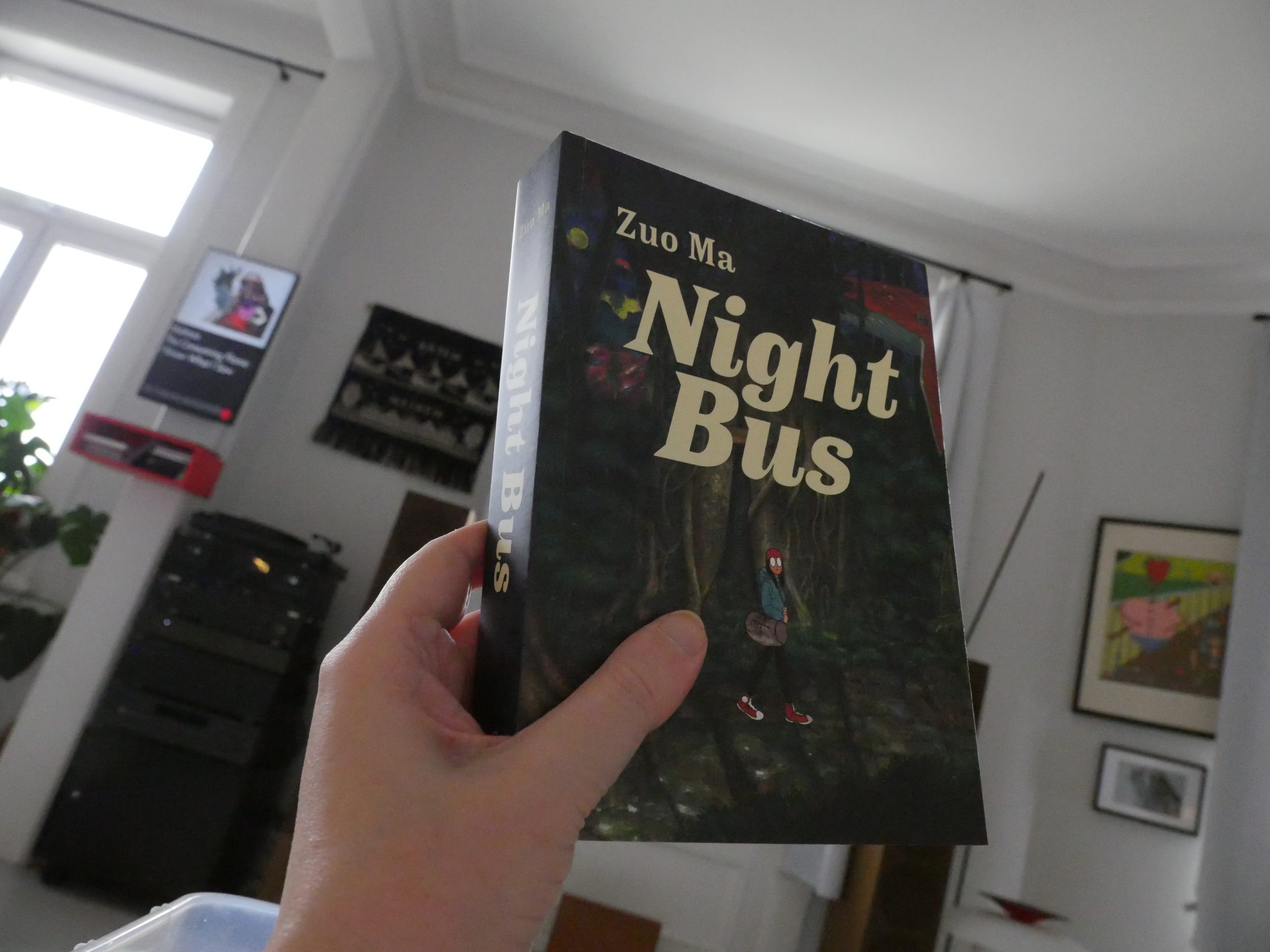 15:23: Night Bus by Zuo Ma (Drawn & Quarterly)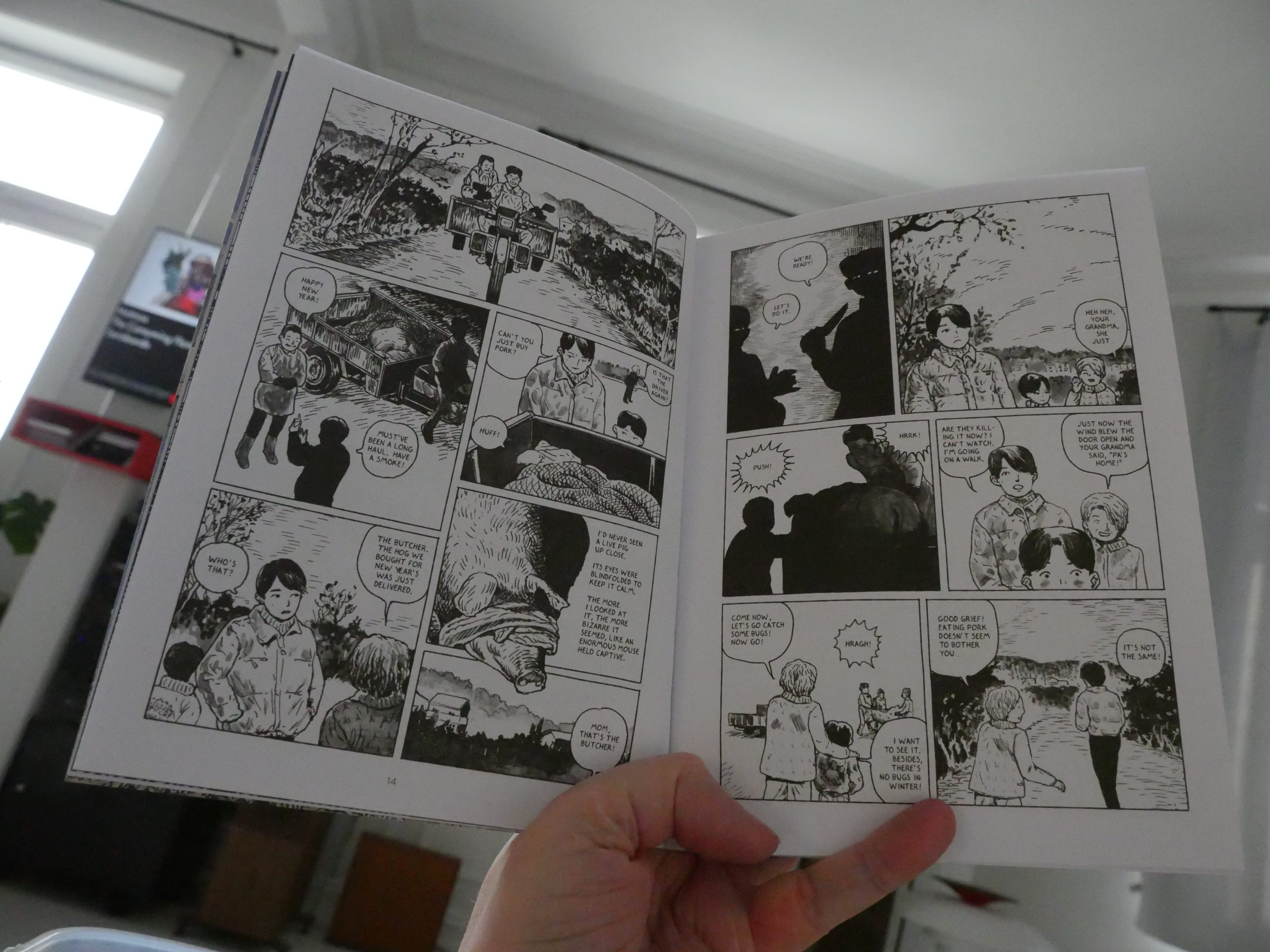 I thought this was a bit choppy going at first…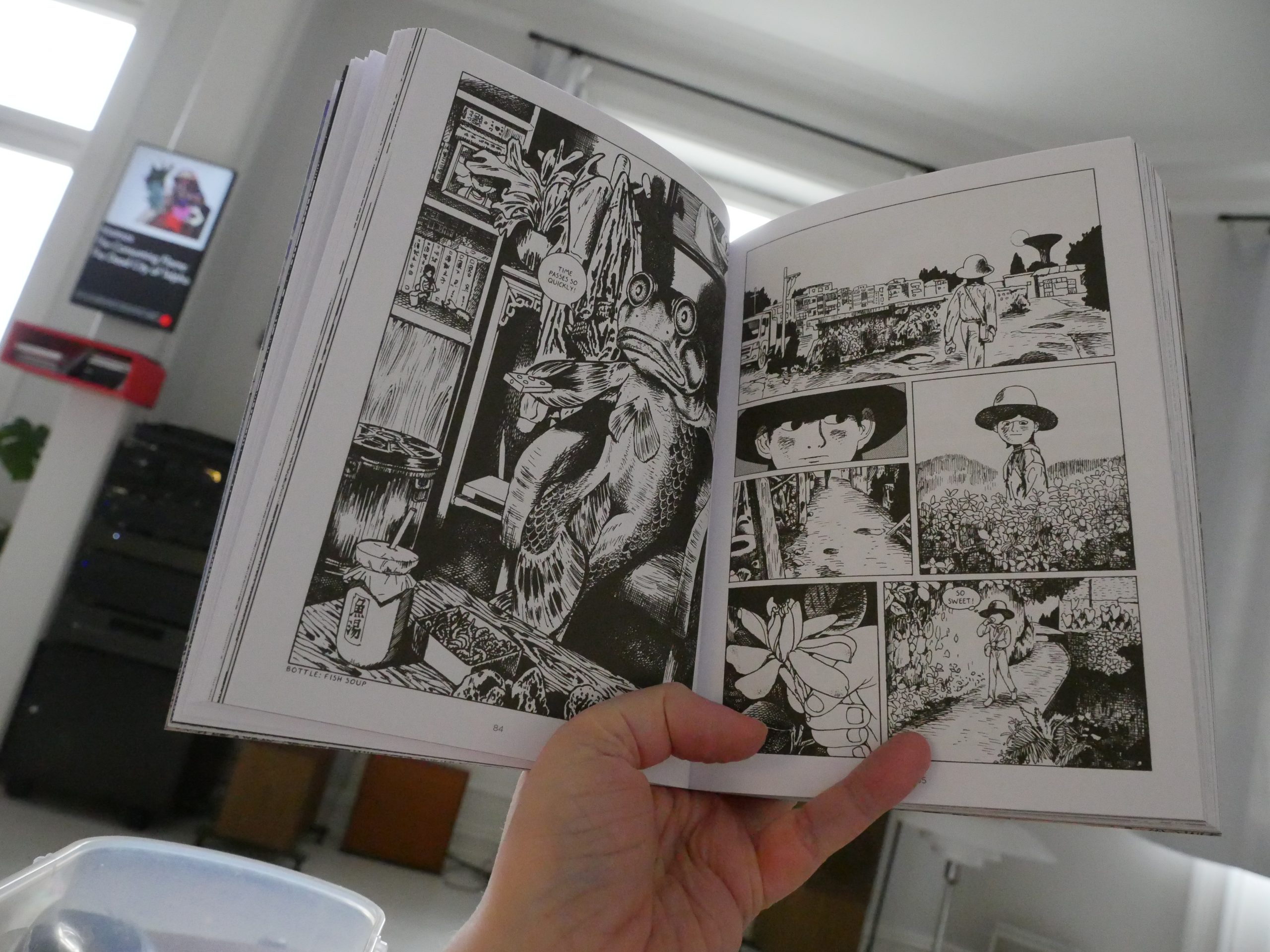 But then the rhythms started making sense — this is absolutely wonderful. The way it flows from "reality" to dreams to fantasy to remembrance is seamless. The way scenes repeat, bringing more meaning every time, and the way motifs seem to mirror each other…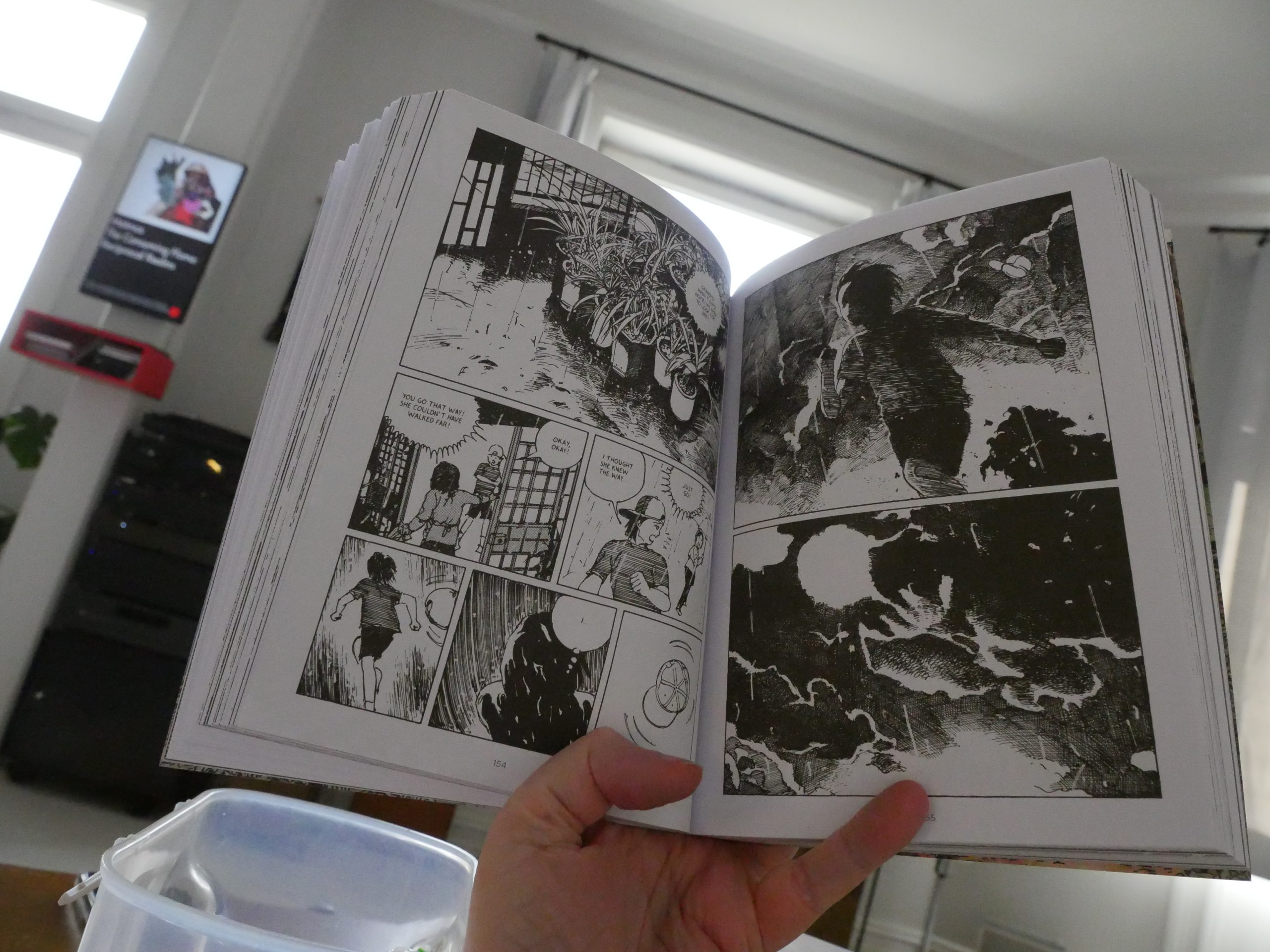 It's absolutely amazing. It's a collection of stories (one very long one and many shorter), but they seem to tie together in oblique ways that makes this a complete, satisfying work.
The artwork shifts between kinda simple and very sumptuous and striking.
I want to read this again straight away, but I think I'll hold off a bit. Comic book of the year?
| | |
| --- | --- |
| Various: Tuxedomooning: A Tribute | |
16:40: Pojken i skogen by Mats Johsson (Galago)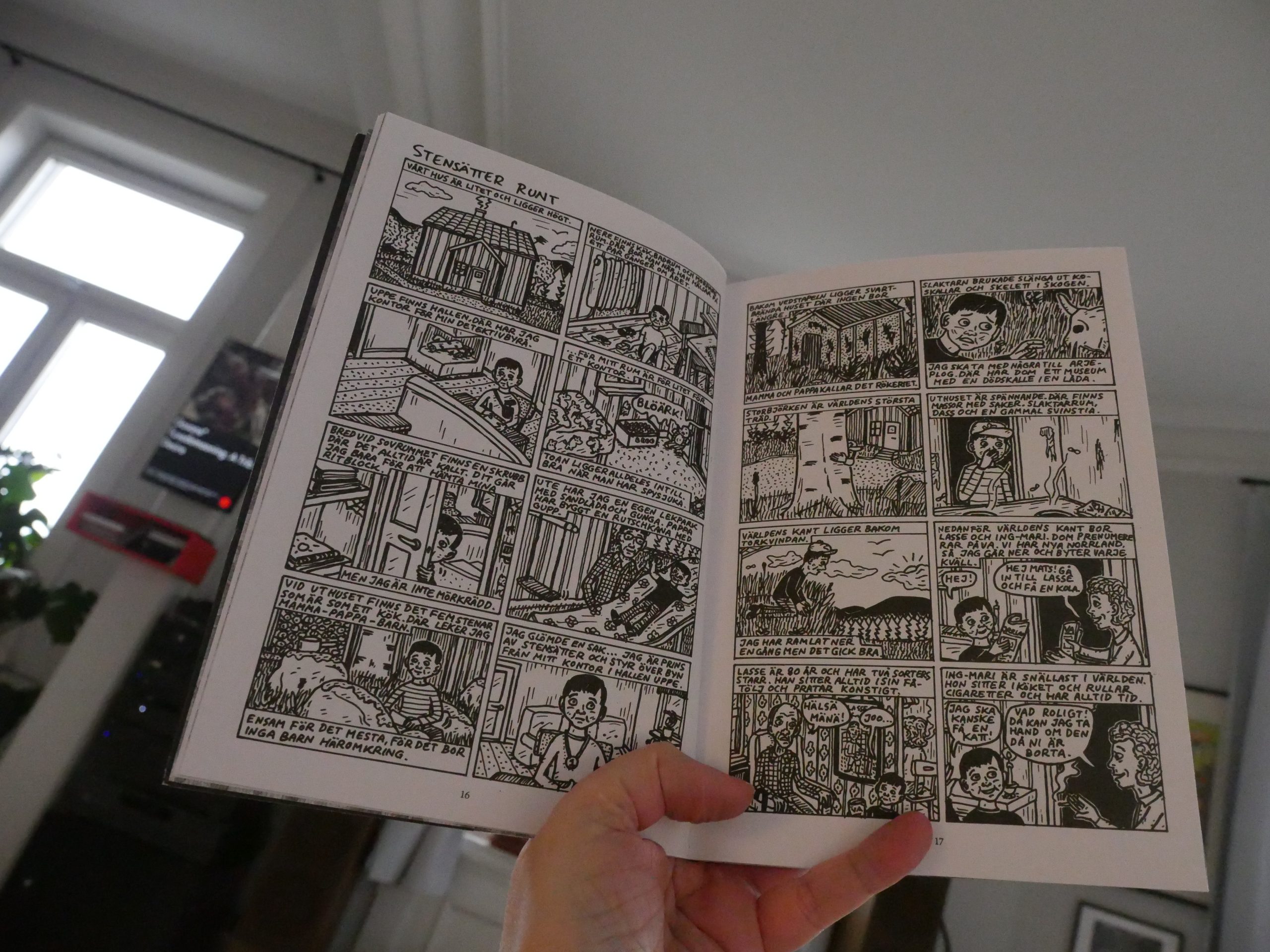 This is a new edition of the book that won "best comic" in Sweden in 2006. I think I've read most of his other books, but I think I missed this one somehow?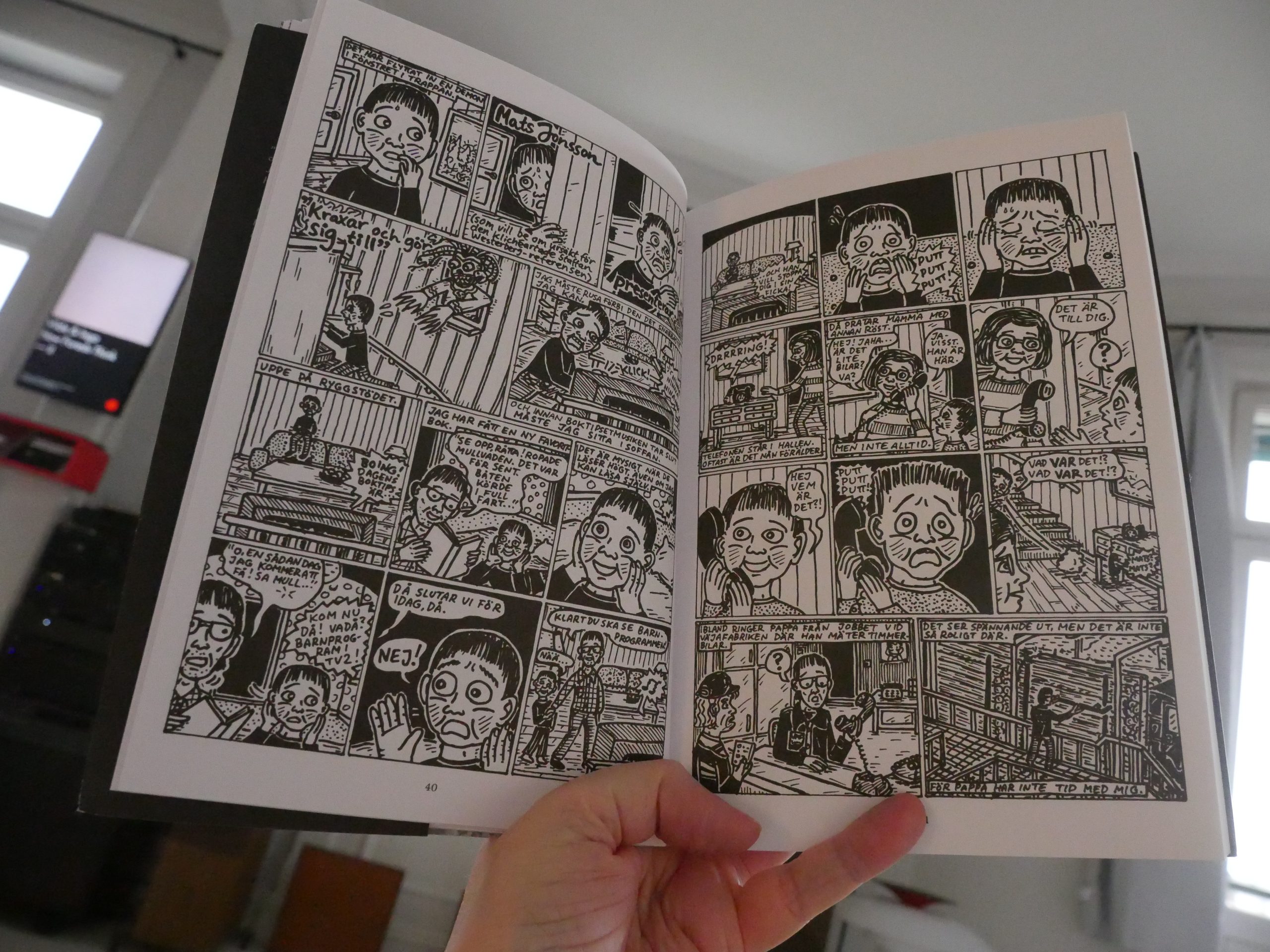 The artwork's so relentlessly ugly it's hard to care, though.
I mean, this is worse than it usually is? Is there a problem with the reproduction? There seems to be a lot of ink gain here… has this been shot from the printed version of the previous edition? Was it originally in a different format somehow?
Anyway, it's a bit of a chore to read, even if it's intermittently interesting. It feels more private than personal, though.
| | |
| --- | --- |
| Vilde & Inga: How Forests Think | |
19:11: Food break
| | |
| --- | --- |
| Black Stereo Faith: Hey (House Naté HD Club Mix) | |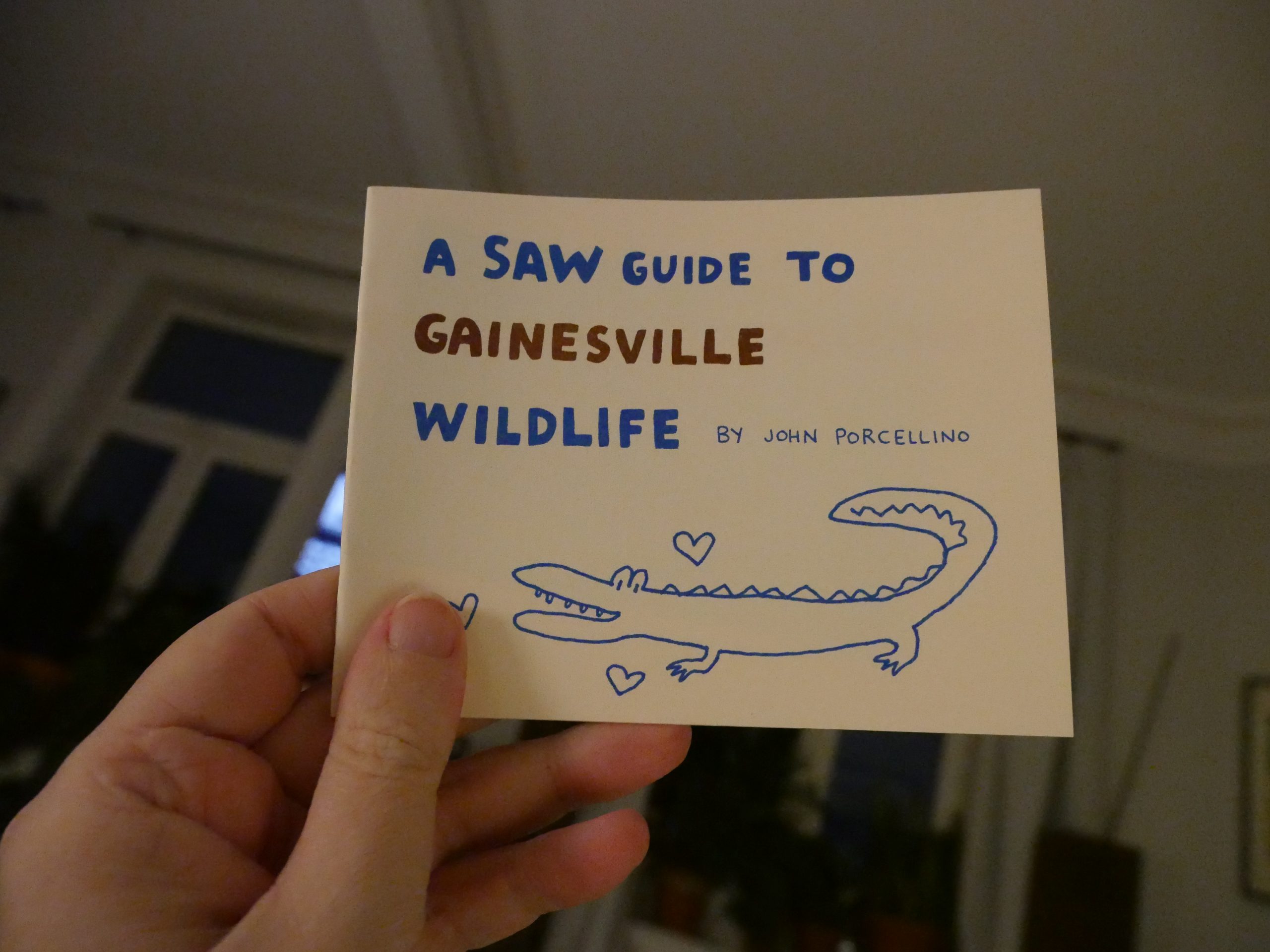 19:38: A SAW Guite to Gainesville Wildlife by John Porcellino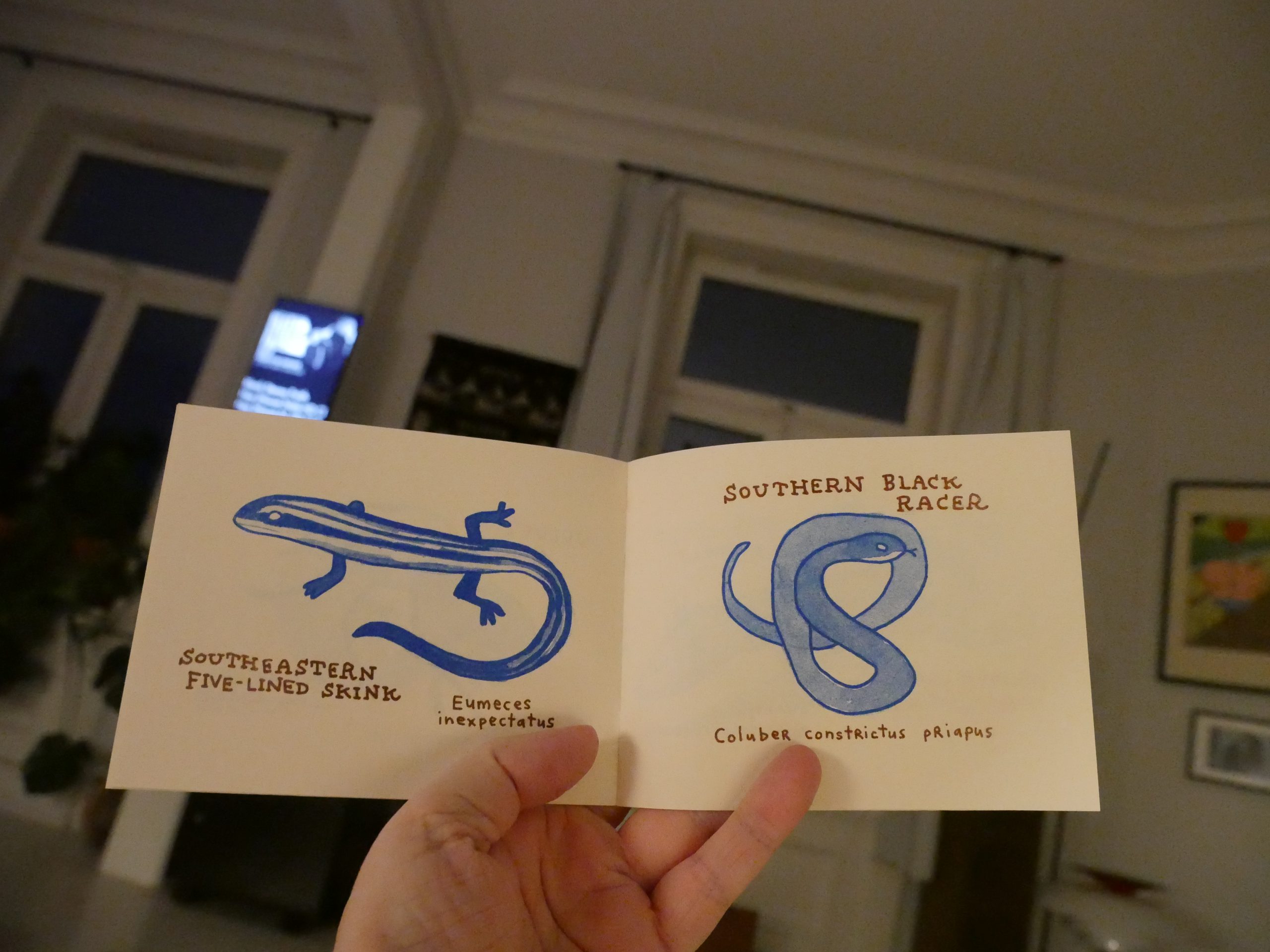 Hey! Cute.
| | |
| --- | --- |
| Kelly Lee Owens: Inner Song | |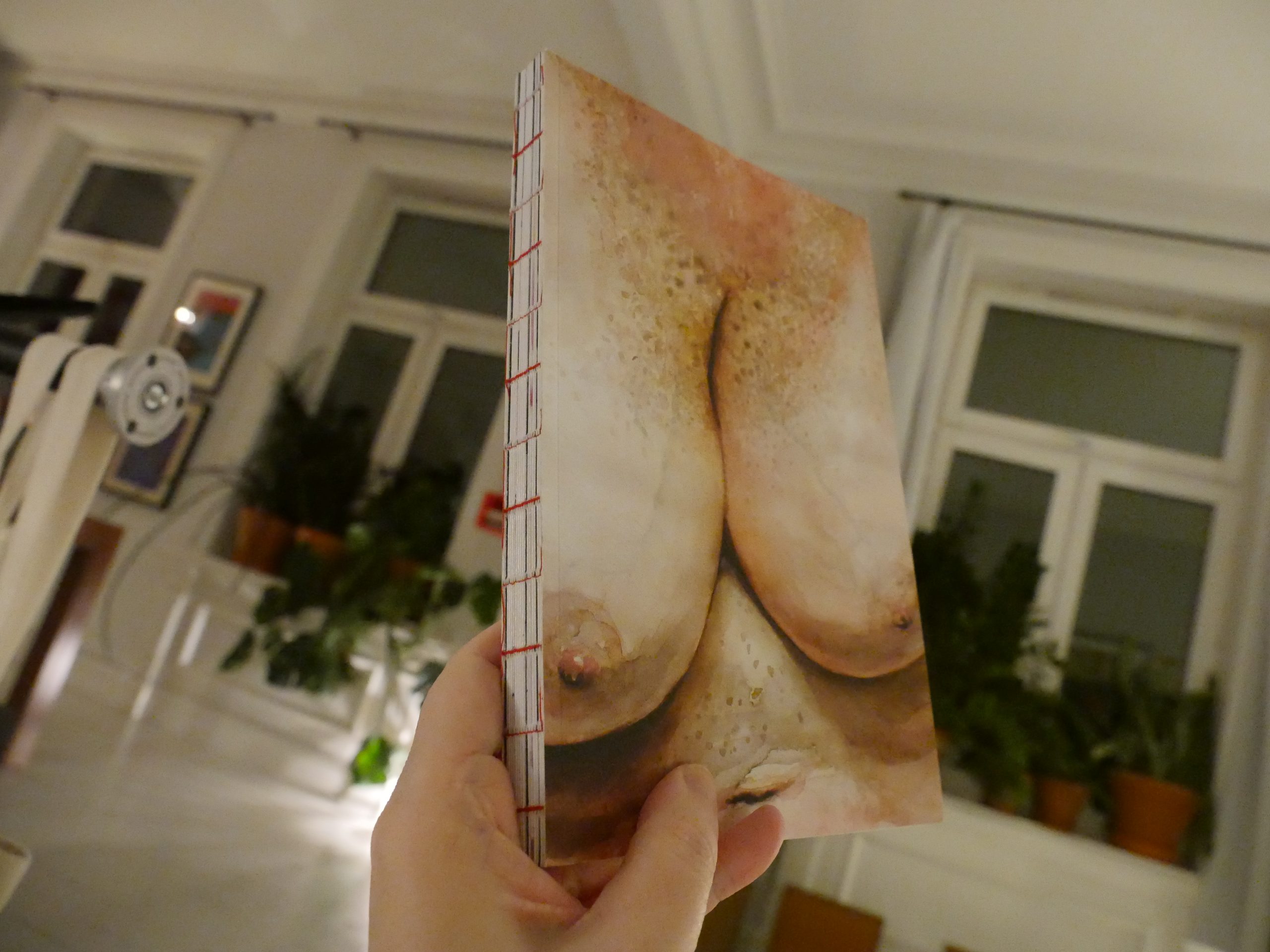 19:42: Naken (Blokk forlag)
Heh. This book (name translated: "Naked") has a … er… a naked spine? That is, there's just glue and thread, no cardboard at the end.
So conceptual.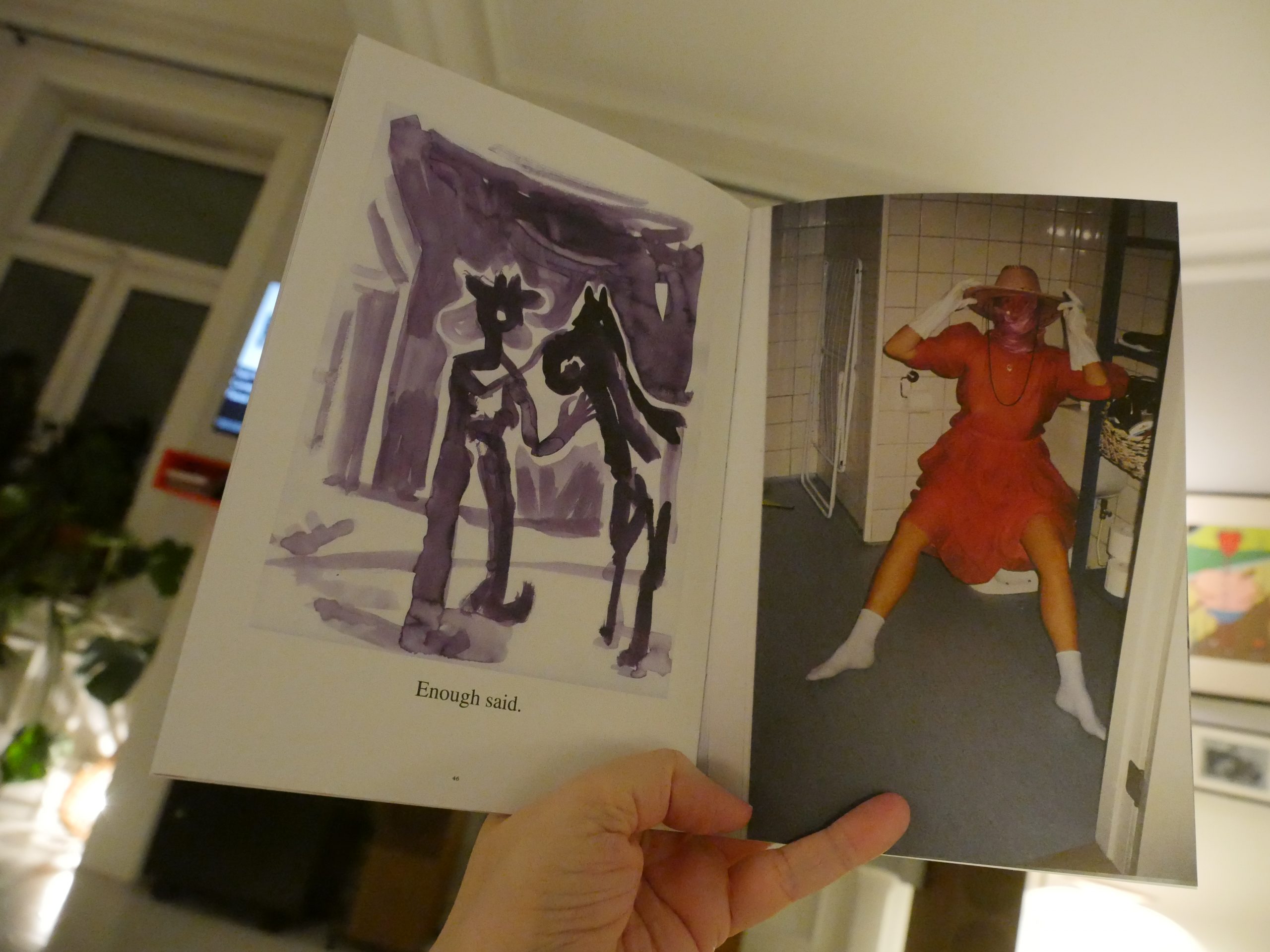 This is a Norwegian anthology of illustrations, photos, poetry…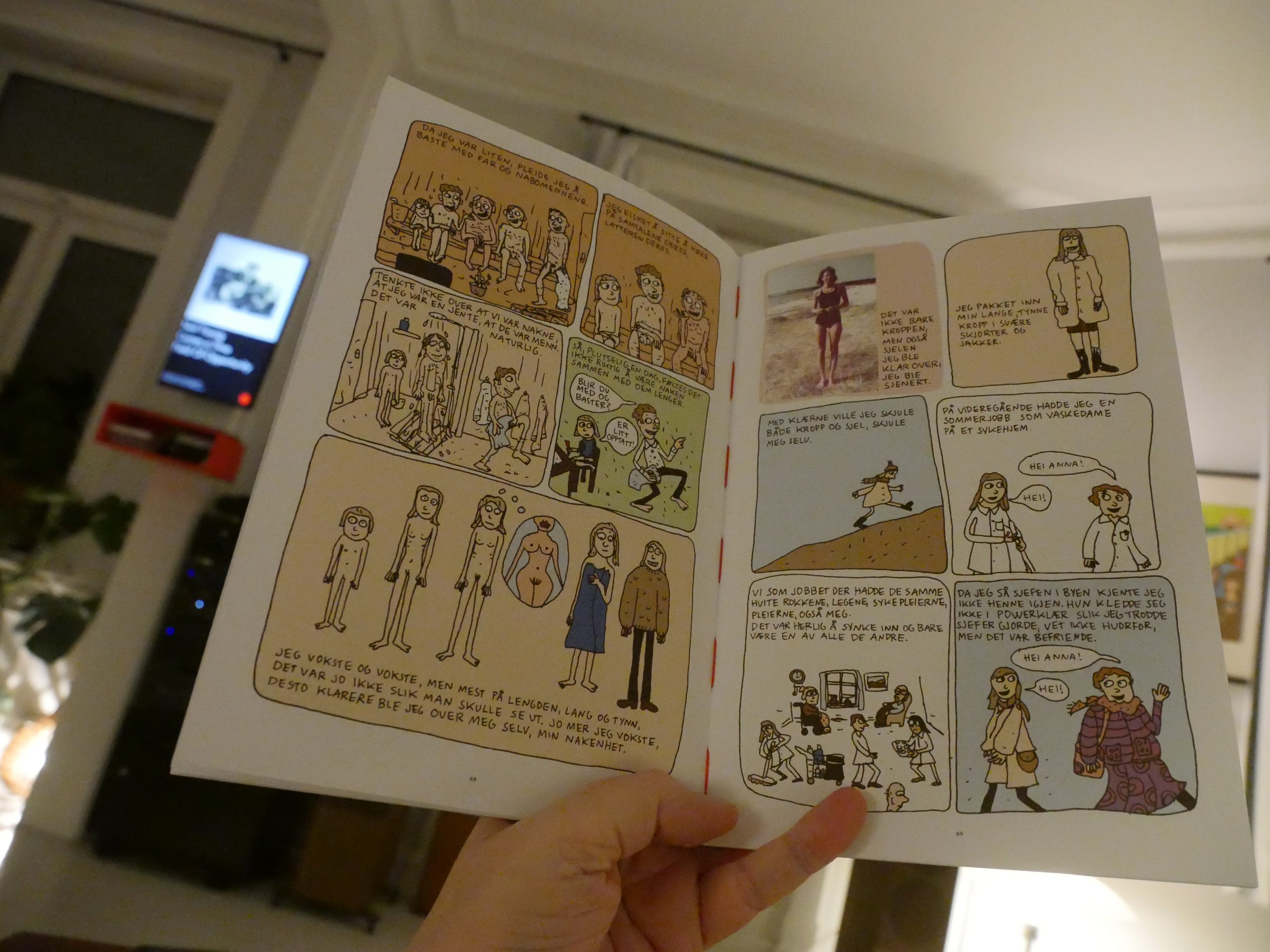 … and comics. (Anna Fiske here.) The theme is "being naked", and people approach the subject from a variety of angles.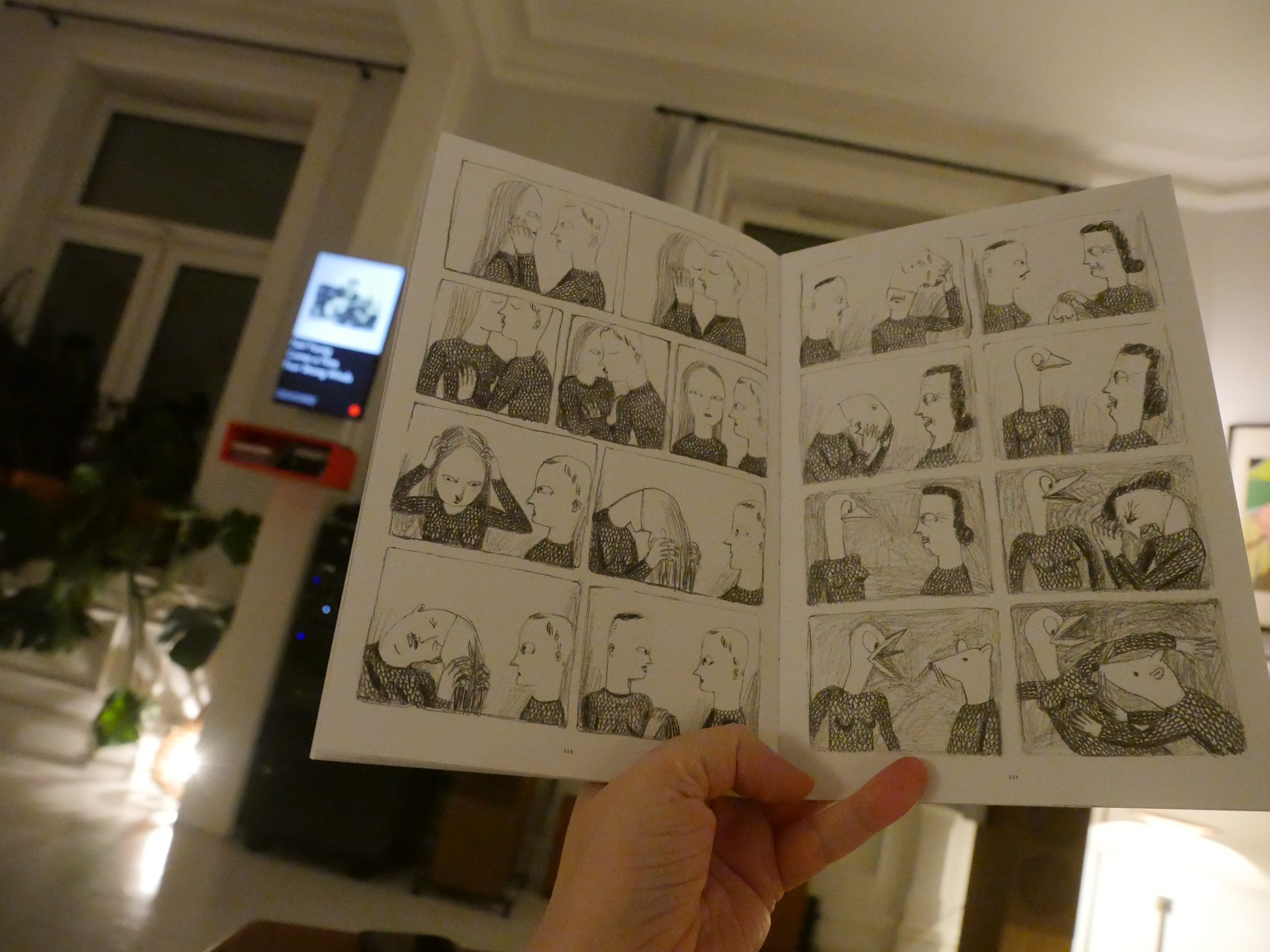 It's a really strong, cohesive reading experience — the pieces complement each other nicely without being samey. (Sara Lundberg here.) Everything here is good, and some of these pieces are great.
| | |
| --- | --- |
| Scout Niblett: It's Time My Beloved | |
20:30: Esther's Notebooks by Riad Sattouf (Pushkin Press)
Oh! This is the guy who did the Arab of the Future books? I'm guessing this is more geared towards children…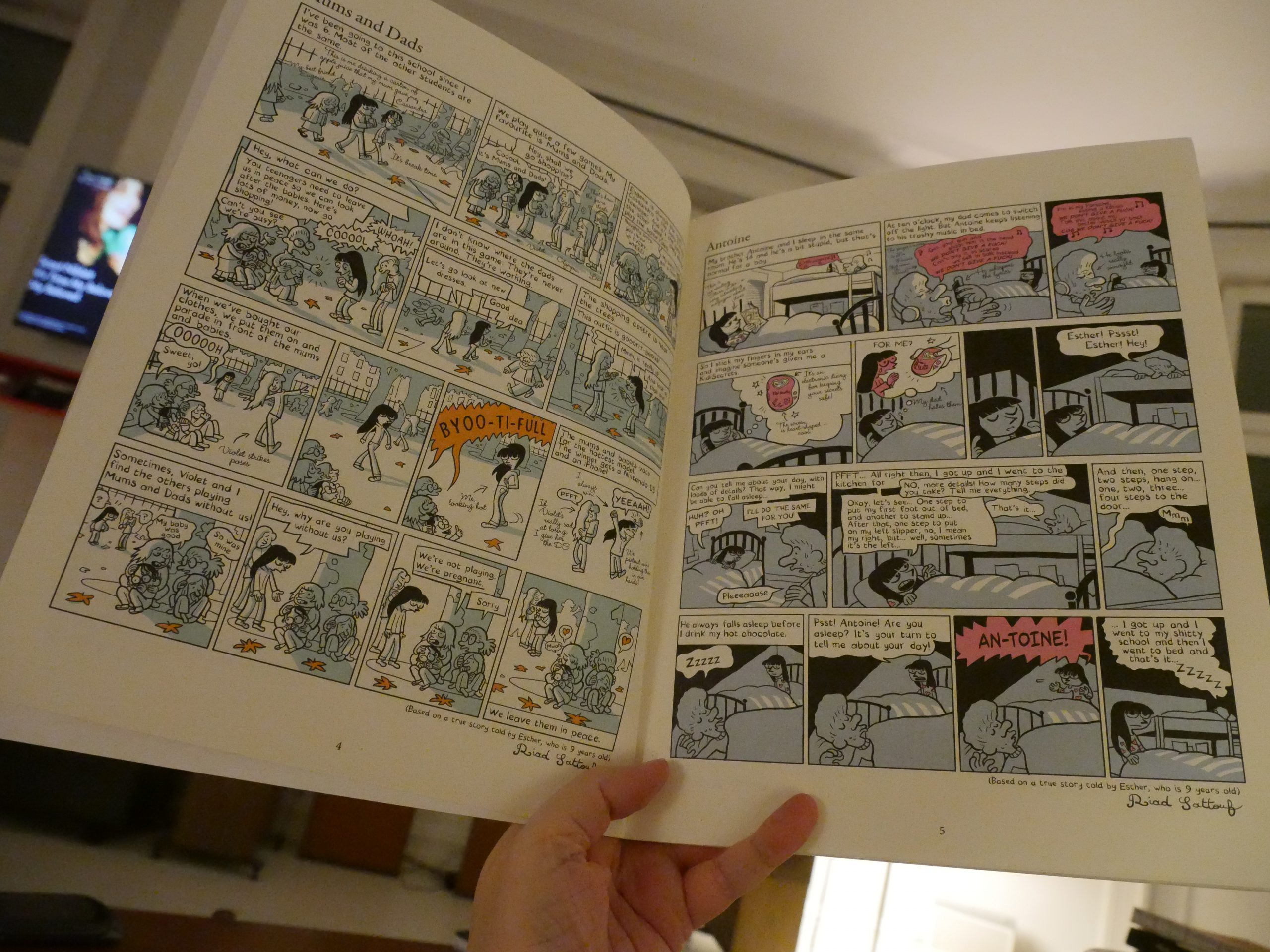 OK, not really. Now I'm guessing that this ran as a weekly one-page strip in some general-audience magazine? It's got that cutesy thing going. Perhaps I should just google it.
… Yeah, it ran in L'Obs. Heh heh:
it is the most prominent French general information magazine in terms of audience and circulation
"General" and "audience". Man, I'm good at guessing.
I'll read some more, but I feel ready to ditch this after a handful of pages.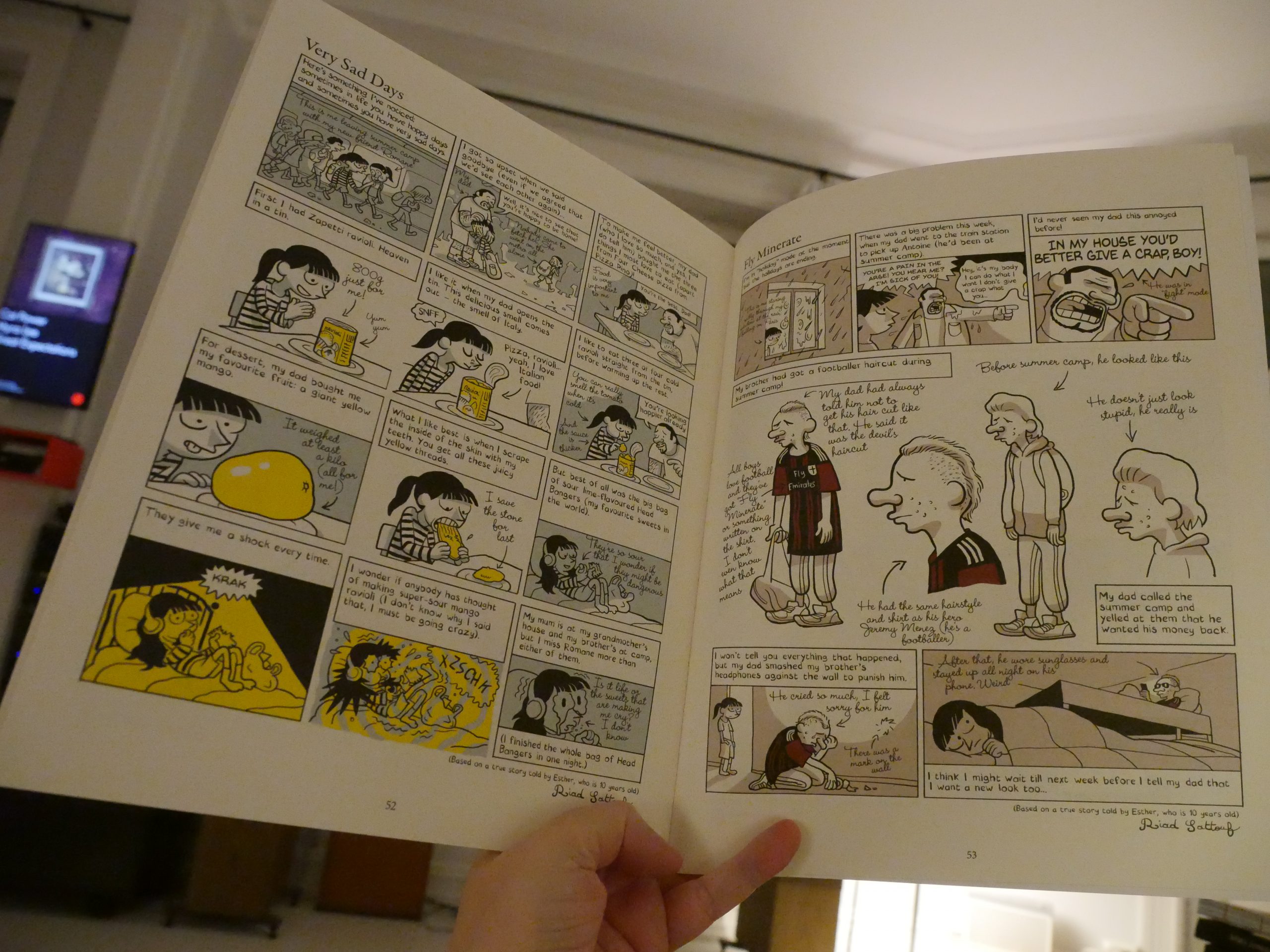 I think this is the sort of things that a lot of people would definitely like, but I just find it tedious. It's so… faux cutesy. I love cute, but not this.
So I skipped to the end to see whether it gets any better, and nope.
| | |
| --- | --- |
| Cat Power: Myra Lee | |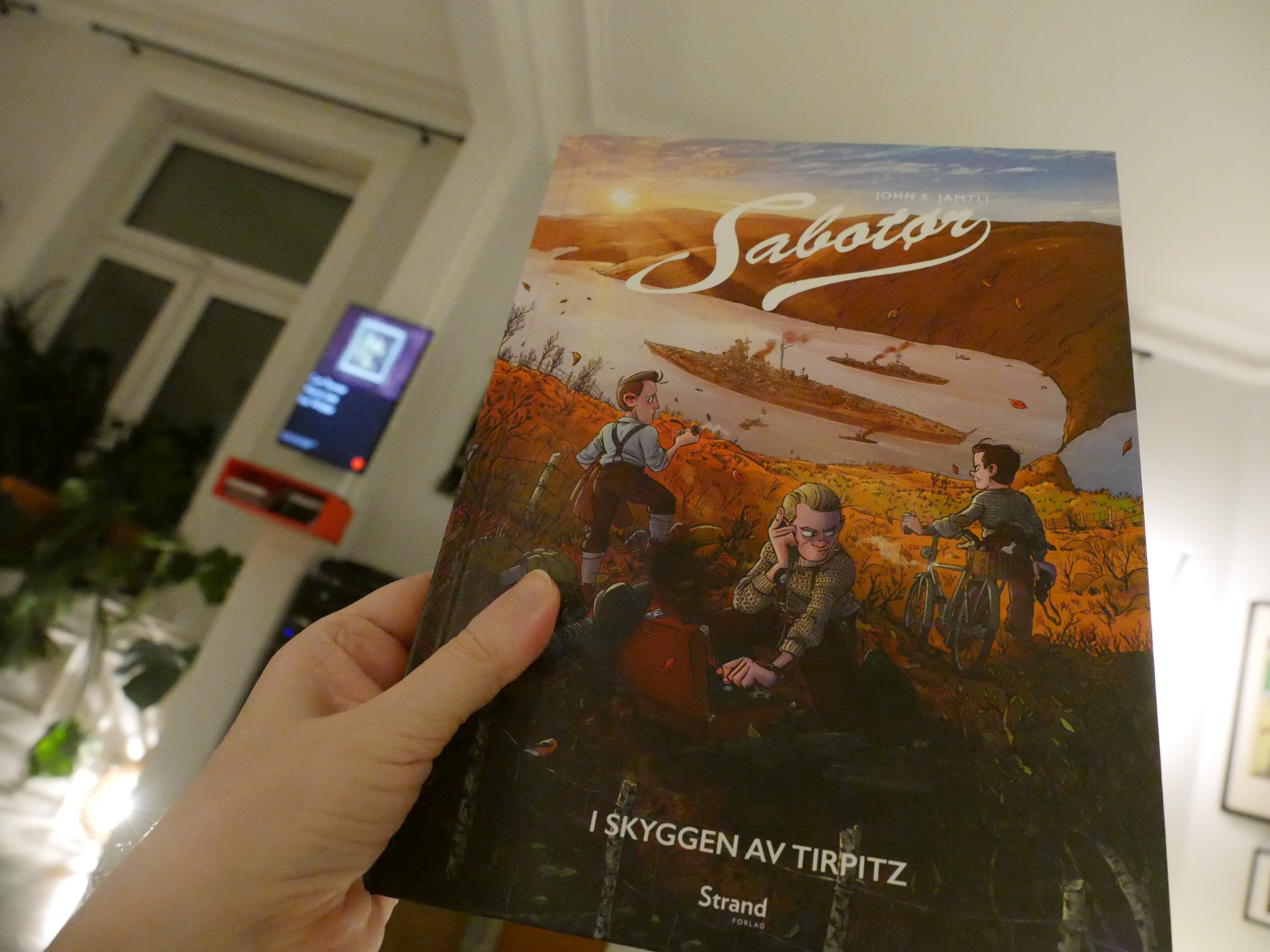 21:00: Sabotør: I skyggen av Tirpitz by John S. Jamtu (Strand)
This is a Norwegian album, and I'm making a wild guess that it has something to do with World War II? So I'm guessing this is going to be absolutely awful.
I've got such an open mind.
So this is drawn in a broadly Belgian way, but kinda unappealing? The bobble heads are distracting on the somewhat realistic figures.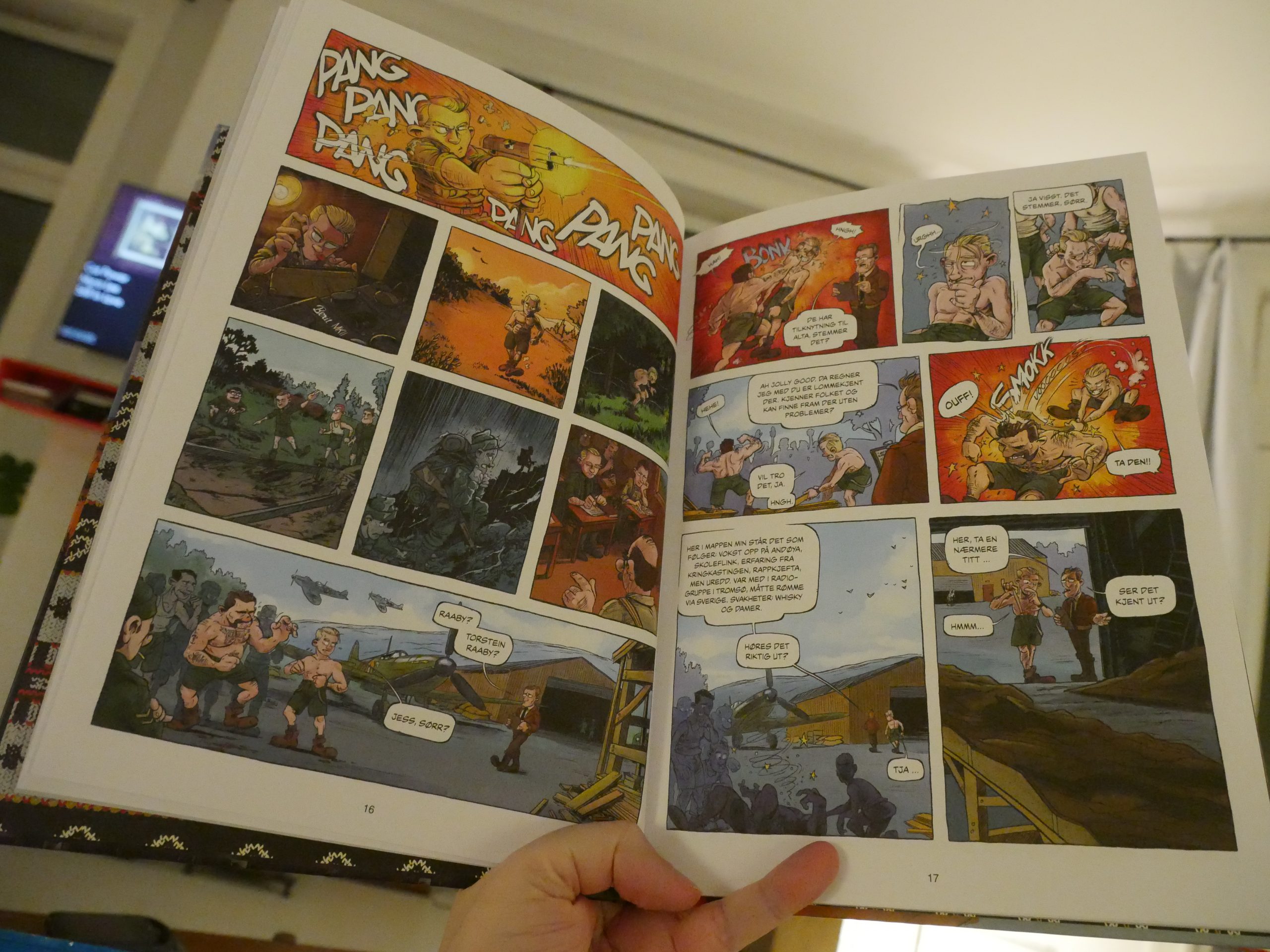 The storytelling is pretty choppy, and I never could tell the different characters apart. It's about the bombing of the Tirpitz, and a problem here is that the protagonists don't really seem to do anything significant — they just sit around waiting for the Brits to bomb that damn ship time after time. (OK, they radio in the weather sometimes, but…)
It's OK? But I definitely won't be getting the other albums in the series.
| | |
| --- | --- |
| Cat Power: Dear Sir | |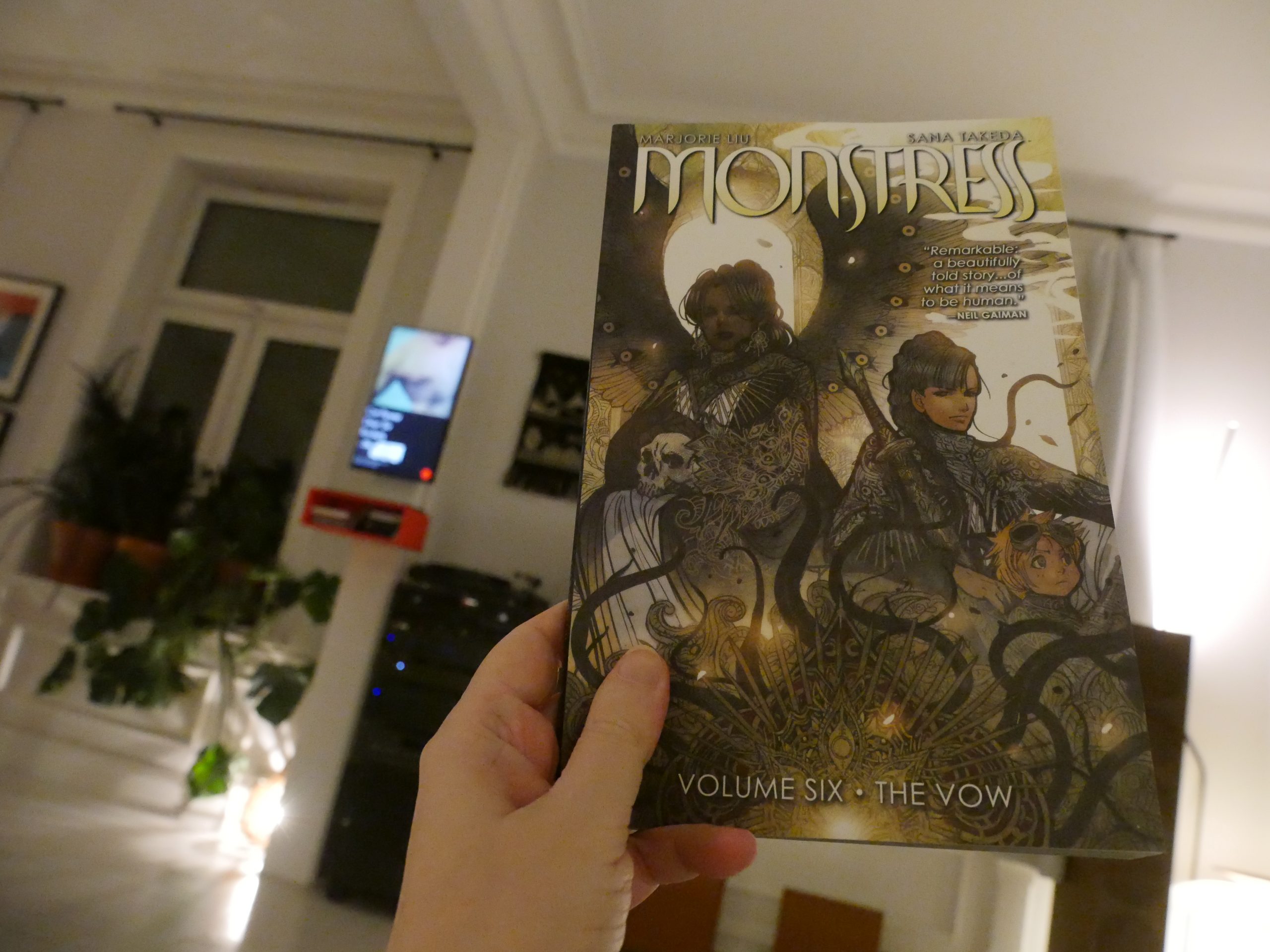 21:36: Monstress volume six by Marjorie Liu and Sana Takeda (Image)
Oh, man. This thing again. I mean, I like Monstress, but I'm always completely befuddled when reading it, because I never remember who any of the three hundred characters are or the nineteen factions who are fighting are.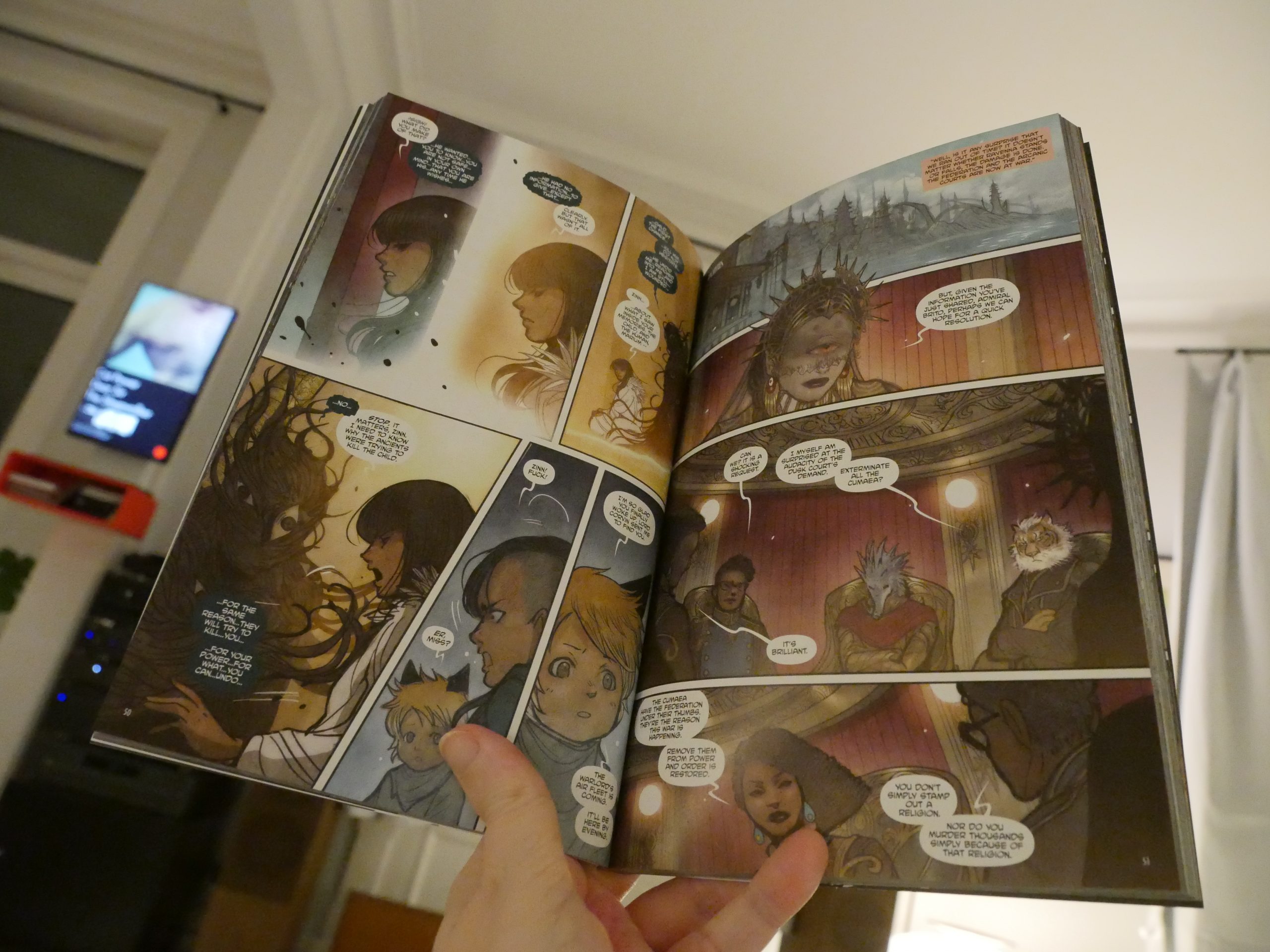 OK, I think I remember more about these people than usual… this is a pretty exciting chapter. Lots of twists and turns.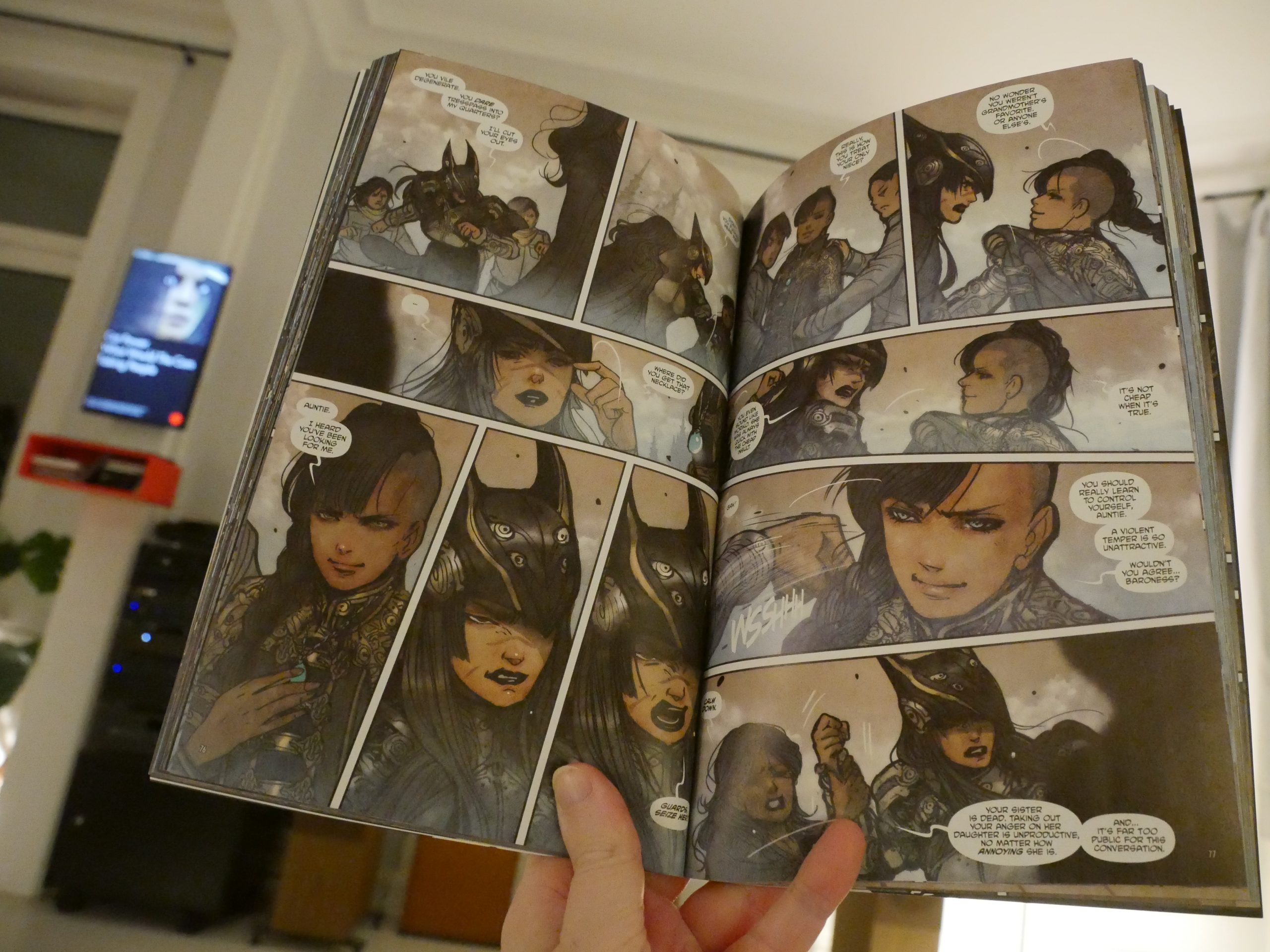 As usual the main weakness is how they pour all this fake drama into the book when there's already a lot of real drama. But I guess I understand why — 90% of book are people standing around talking so that the reader can get some revelations, so they figure it's more exciting if people are hitting each other a lot while standing around talking?
I guess it works, because it wins all the rewards.
It's also rather unnecessary to have so many of the characters looking really similar.
But it's fun.
| | |
| --- | --- |
| Cat Power: Moon Pix | |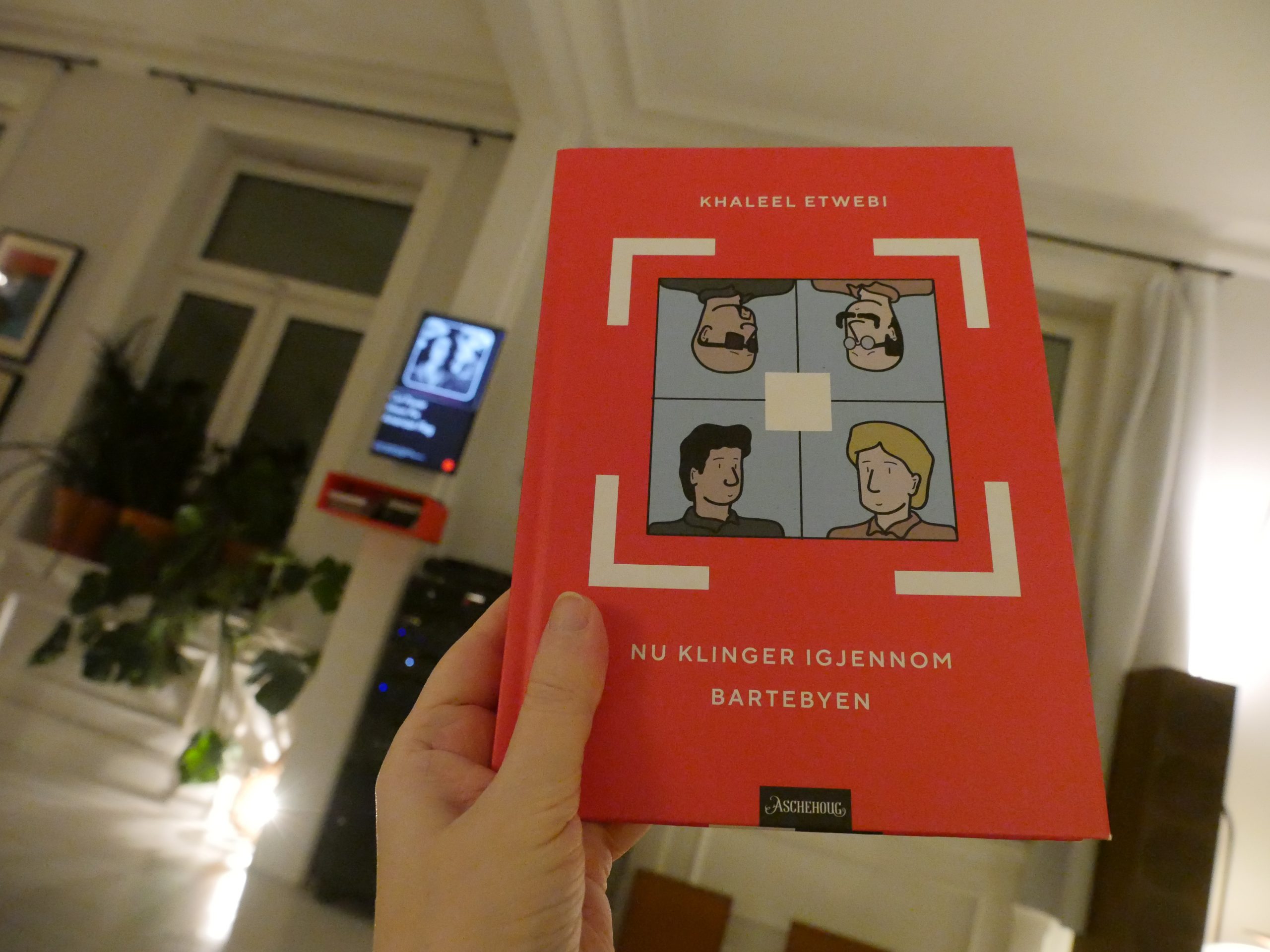 22:56: Nu klinger igjennom bartebyen by Khaleel Etwebi (Aschehoug)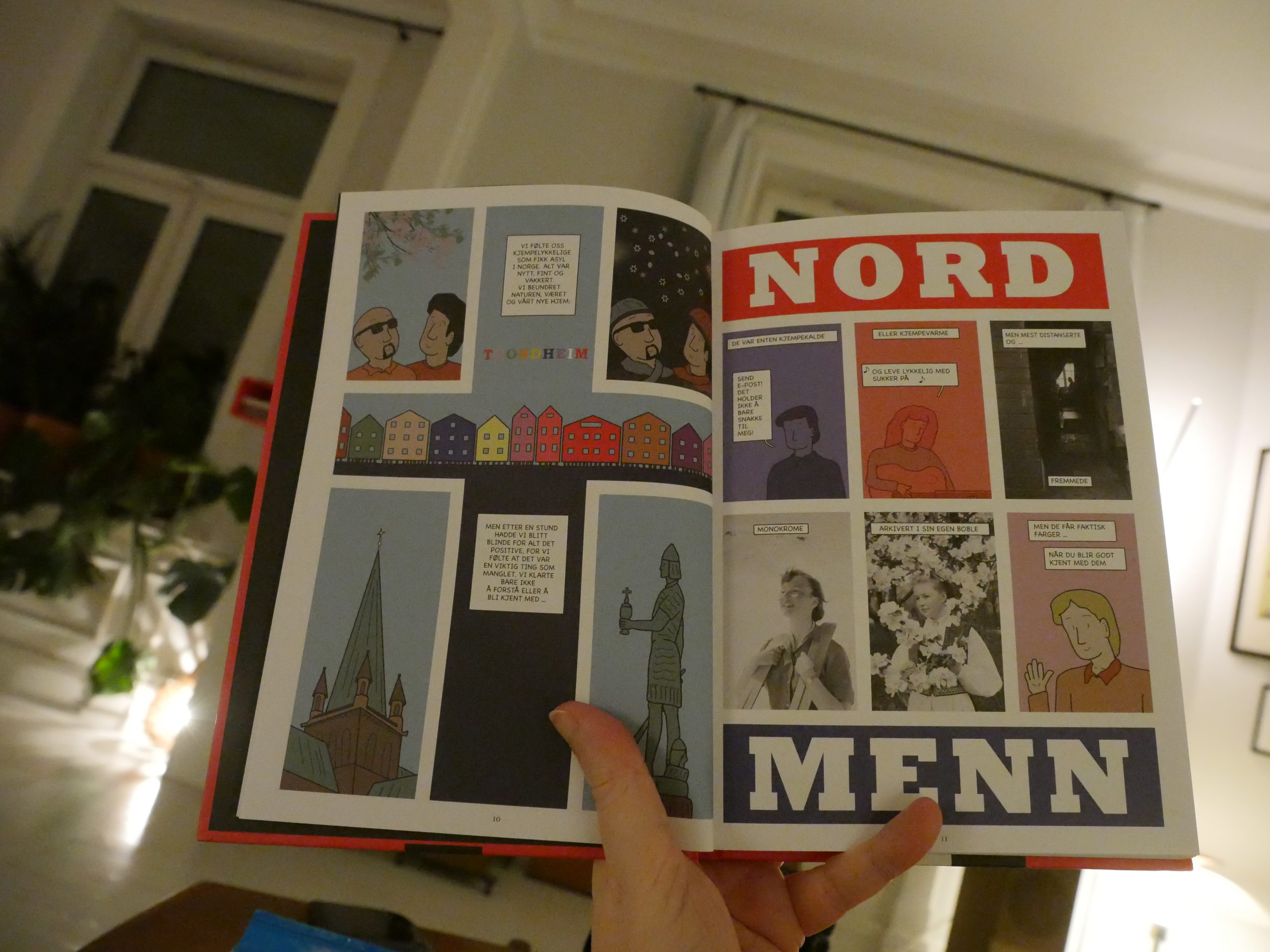 This is very interesting… I like the mood and the storytelling rhythms here a lot. It's got an appealing melancholy.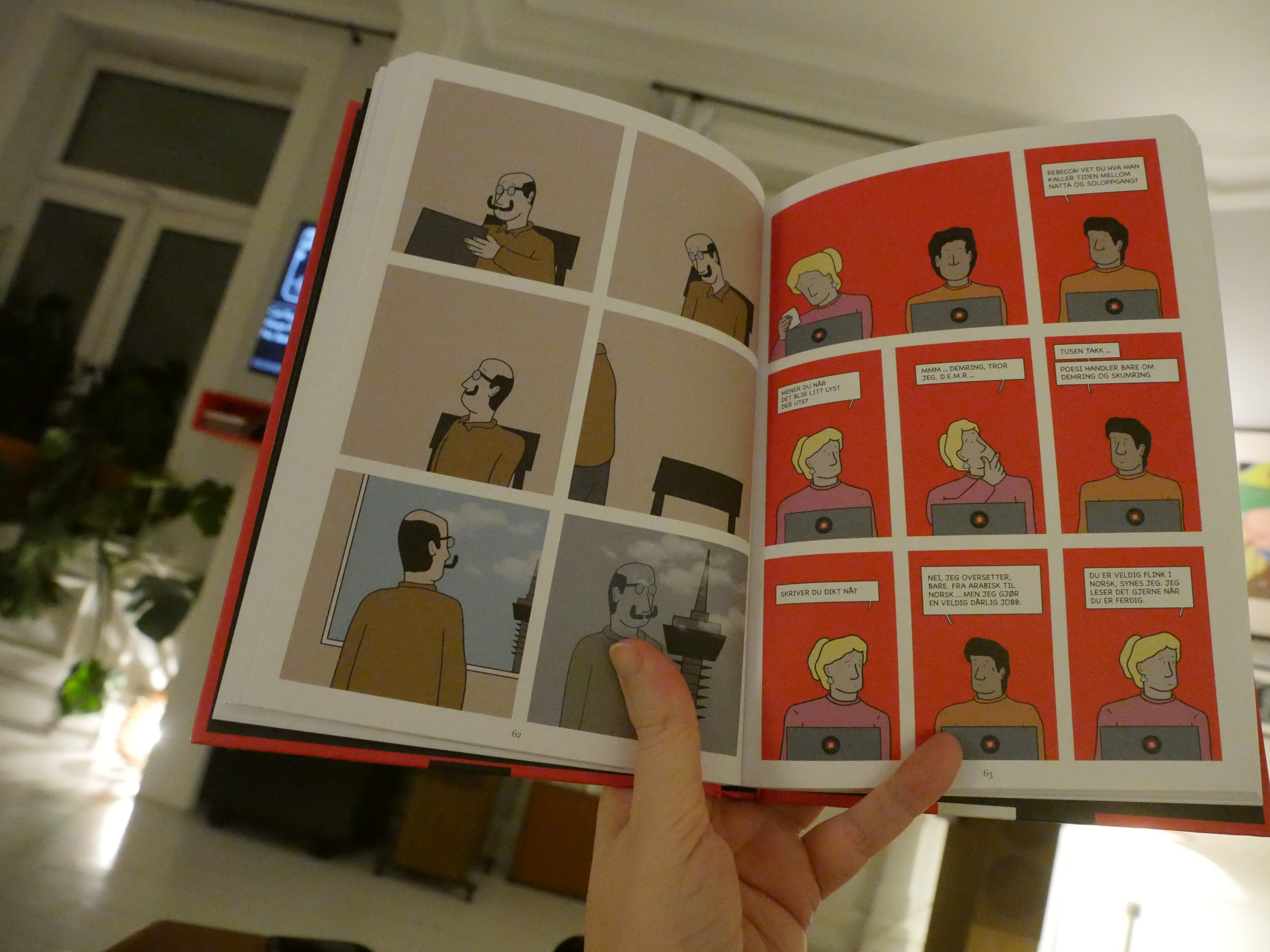 It's graphically intriguing, but the minimalism sometimes makes it difficult to tell the characters apart. And a couple of scenes feel like a storyboard to a movie. But on the whole, it's a good read.
| | |
| --- | --- |
| Juana Molina: ANRMAL | |
23:24: Sleepytime
That was a good batch of comics — my head is all abuzz. But now it's sleepytime.