Listen to 4AD 1994 on Spotify.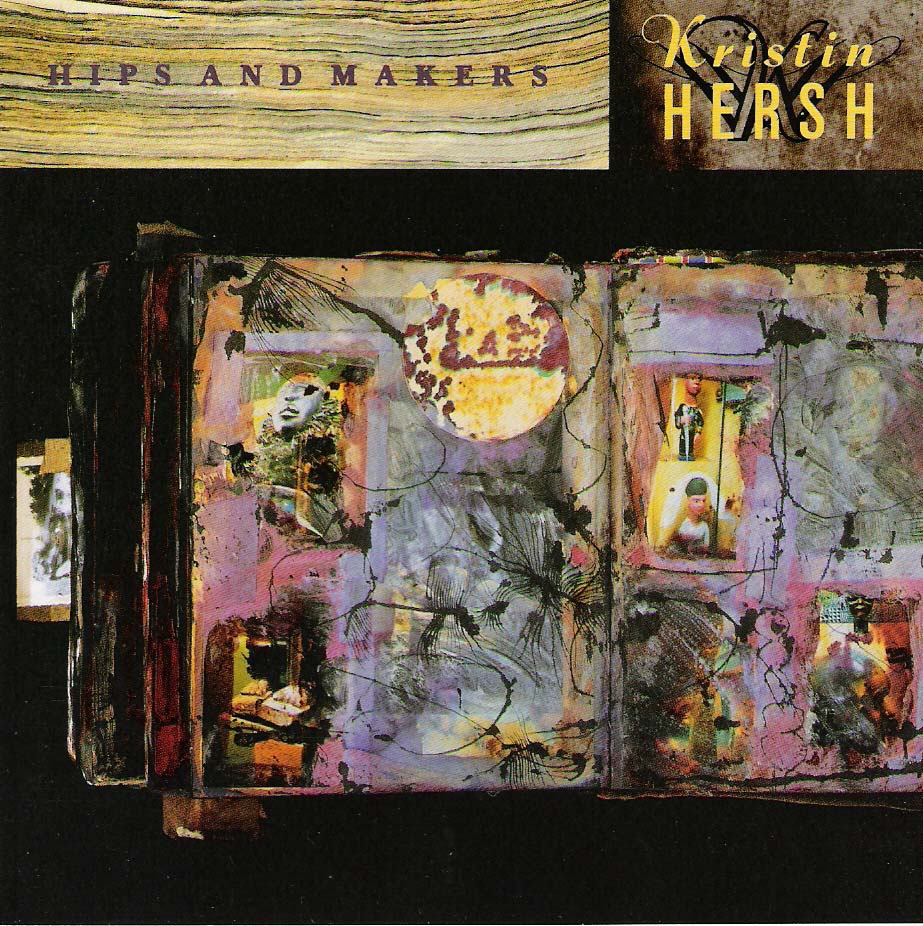 The most important thing that happened in 1994 was that Kristin Hersh launched her solo career. While not really that radically different from her Throwing Muses music, it gave us more Kristin Hersh, and that's always better, right?
Also: 4AD signed Lisa Germano and released her stunning Geek the Girl album. It's all an album on 4AD should be: Scary, beautiful, gripping.
Lush released their most accomplished album, Split, and some spiffy EPs, too.
Let's see… Oh, yeah, Frank Black was such a dick that Ivo Watts-Russell let him go, and the incident was perhaps also instrumental in him withdrawing even further from being involved with artists on 4AD, according to that 4AD biography you've all read, no doubt. If you haven't, you should.
Art-wise, I think that Vaughan Oliver and Chris Bigg of v23 make something of a comeback this year. After a couple of years of uneasily adjusting to CD-first designs, and failing a lot, this year we get a number of kinda stunning covers, including the Shinro Ohtake things for Kristin Hersh' releases.
Some significant releases are missing from Spotify this year (in addition to the usual promo releases): Perhaps most importantly, Inconsiderate Bitch by Lisa Germano. 4AD label boss Ivo remixed a bunch of Germano songs and put out a five track EP, and it's rather brilliant, I think. But you probably have to get it on discogs.com if you want to listen to it.
But the 10″ limited Head to Toe by The Breeders, BADD4012, is also missing, which is just weird, because… it's the fucking Breeders, right?
The second version of Frank Black's Headache EP (BADD4007CD) isn't on Spotify either; something we can all be thankful for.
BAD4001
Kristin Hersh — Your Ghost

Your Ghost, The Key, Uncle June and Aunt Kiyoti, When the Levee Breaks

CAD4002
Kristin Hersh — Hips and Makers

Your Ghost, Beestung, Teeth, Sundrops, Sparky, Houdini Blues, A Loon, Velvet Days, Close Your Eyes, Me and My Charms, Tuesday Night, The Letter, Lurch, Cuckoo, Hips and Makers

TAD4003
Lisa Germano — Inconsiderate Bitch

Happiness (remix)*, Energy (remix)*, Puppet (remix)*, Sycophant (remix)*, (Late Night) Dresses (remix)*

BAD4004
Red House Painters — Shock Me

Shock Me, Sundays and Holidays, Three-Legged Cat, Shock Me (rerecorded), Untitled

lp45496
The Glee Club — Mine

Need, The Blame, No Reason, Bad Child's Dolly, Already There, Free to Believe, Drives You Away, Remember the Years, All The Promises, Take you There, Icy Blue

CAD4005
Lisa Germano — Happiness

Bad Attitude, Destroy the Flower, Puppet, Everyone's Victim, Energy, Cowboy, Happiness, The Earth, Around the World, Sycophant, Miamo-Tutti, The Dresses Song, The Darkest Night of All

TU7CD
Insides — Clear Skin

Clear Skin

AD4006
Kristin Hersh — Strings

A Loon (strings), Sundrops (strings), Me and My Charms (strings), Velvet Days (strings)

BAD4007
Frank Black — Headache

Headache (David Bianco), Men in Black, At the End of the World, Oddball

BADD CD4007
Frank Black — Headache

Headache*, Hate Me*, This is Where I Belong*, Amnesia*

BAD D4008
Lush — Hypocrite

Hypocrite, Cat's Chorus, Love at First Sight, Undertow (Spooky Remix)

DAD4009
Frank Black — Teenager of the Year

Whatever Happened To Pong?, Thalassocracy, (I Want To Live On An) Abstract Plain, Calistan, The Vanishing Spies, Speedy Marie, Headache, Sir Rockaby, Freedom Rock, Two Reelers, Fiddle Riddle, Ole Mulholland, Fazer Eyes, I Could Stay Here Forever, The Hostess With The Mostest, Superabound, Big Red, Space Is Gonna Do Me Good, White Noisemaker, Pure Denizen Of The Citizen's Band, Bad, Wicked World, Pie In The Sky

BAD D4010
Lush — Desire Lines

Desire Lines, White Wood, Girl's World, Lovelife (Suga Bullit remix)

CAD4011
Lush — Split

Light From A Dead Star, Kiss Chase, Blackout, Hypocrite, Lovelife, Desire Lines, The Invisible Man, Undertow, Never-Never, Lit Up, Starlust (rerecorded), When I Die

BADD4012
The Breeders — Head to Toe

Head to Toe*, Shocker in Gloomtown*, Freed Pig (originally appeared on «Sebadoh III»)*, Saints (htt)*

BAD4013
Pale Saints — Fine Friend

Fine Friend, Special Present, Marimba, Reprise

CAD4014
Pale Saints — Slow Buildings

King Fade, Angel (will you be my), One Blue Hill, Henry, Under Your Nose, Little Gesture, Song of Solomon, Fine Friend, Gesture of a Fear, Always I, Suggestion

DAD4015
Dead Can Dance — Toward the Within

Yulunga (spririt dance) (live), Rakim (live), Song of the Sibyl (live), I Can See Now (live), American Dreaming (live), Cantara (live), The Wind That Shakes The Barley (live), I Am Stretched On Your Grave (live), Desert Song (live), Oman (live), Tristan (live), Sanvean (live), Don't Fade Away (live), Persian Love Song (live), Piece for Solo Flute (live)

CAD4017
Lisa Germano — Geek the Girl

My Secret Reason, Trouble, Geek the Girl, Just Geek, Cry Wolf, …a psychopath, Sexy Little Girl Princess, Phantom Love, Cancer of Everything, A Guy Like You, …of love and colours, Stars

BAD4018
Throwing Muses — Bright Yellow Gun

Bright Yellow Gun, Crayon Sun, Red Eyes, Like a Dog
This post is part of the chronological look at all 4AD releases, year by year.
*) Missing from Spotify.