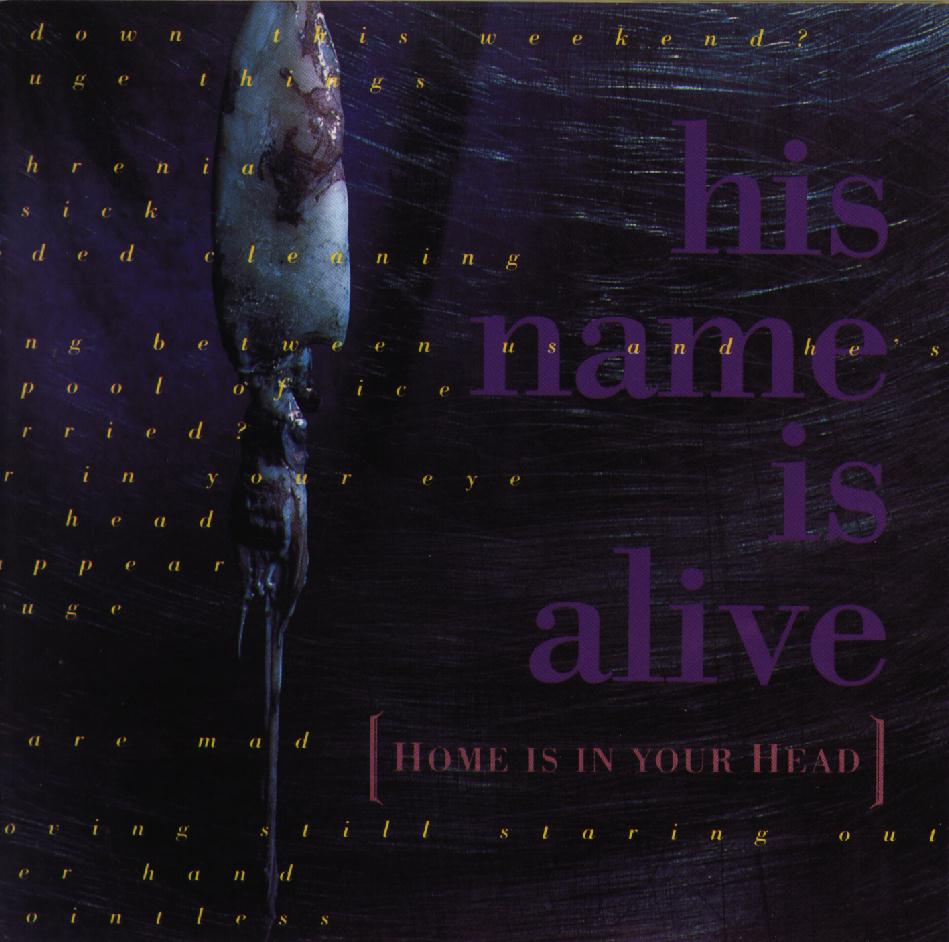 Listen to 4AD 1991 on Spotify.
The most striking thing about 1991 is that a lot of the sleeves aren't very good. Vaughan Oliver/Chris Bigg might have been going through a period of burn-out, and there's some external designers used, too. Counting Backwards, Time, the Spirea X releases, Flesh Balloon are all pretty bad. And Mama Told Me Not To Come is just disgusting.
Musically, things are moving in a distinctly more stream-lined and commercial direction. With Trompe le Monde, Pixies are finally nothing more than just another boring rock band; all the weirdness and fun has been discarded. Throwing Muses loses Leslie Langston's glorious bass lines. The Wolfgang Press decide to stop being such contrarians and go dancing instead. (Which I quite like.) And Spirea X… what the fuck is that even? The first band on 4AD since 1982 that I just don't like even a tiny bit.
But it's not all bad. His Name Is Alive return with a magnificent second album, and Heidi Berry's Love is glorious and fresh. And, of course, This Mortal Coil release their third and final album, and it's quite good. Not as good a Filigree & Shadow, but then very few things are.
There's a whopping 17 "official" things released this year (and more than a few promo releases), but only a handful are vital, which makes this the worst year in 4AD history.
SO FAR!
(I haven't included the promo stuff in the Spotify playlist because they're not very interesting, and, well, they're not on Spotify.)
BAD1001
Throwing Muses — Counting Backwards

Counting Backwards, Same Sun, Amazing Grace, Cottonmouth

CAD1002
Throwing Muses — The Real Ramona

Counting Backwards, Him Dancing, Red Shoes, Graffiti, Golden Thing, Ellen West, Dylan, Hook In Her Head, Not Too Soon, Honeychain, Say Goodbye, Two Step

BAD1003
The Wolfgang Press — Time

Time (single), Time Less, Dark Time

BAD1004
Spirea X — Chlorine Dream

Chlorine Dream, Spirea Rising, Risk

DAD1005
This Mortal Coil — Blood

The Lacemaker, Mr. Somewhere, Andialu, With Tomorrow, Loose Joints, You And Your Sister, Nature's Way, I Come And Stand At Every Door, Bitter (), Baby Ray Baby, Several Times (Several Times I), The Lacemaker II, Late Night, Ruddy And Wretched, Help Me Lift You Up, Carolyn's Song, D. D. And E., 'Til I Gain Control Again, Dreams Are Like Water, I Am The Cosmos, (Nothing But) Blood

BAD1006
Spirea X — Speed Reaction

Speed Reaction, What Kind Of Love, Jet Pilot, Re: Action

BAD1007
The Wolfgang Press — Mama Told Me Not To Come

Mama Told Me Not To Come, Mama Told Me Not To Come (inside out mix), Summer Time

BAD1008
Pixies — Planet Of Sound

Planet Of Sound, Theme From Narc, Build High, Evil Hearted You

BAD1009
Pale Saints — Flesh Balloon

Hunted, Porpoise, Kinky Love, Hair Shoes (demo version)

CAD C1010
Dead Can Dance — A Passage In Time

Saltarello, Song Of Sophia, Ulysses, Cantara, The Garden Of Zephirus, Enigma Of The Absolute, Wilderness, The Host Of Seraphim, Anywhere Out Of The World, The Writing Of My Father's Hand, Severance, The Song Of The Sybil, Fortune Presents Gifts Not According To The Book, In The Kingdom Of The Blind The One-Eyed Are Kings, Bird, Spirit

CAD1011
The Wolfgang Press — Queer

Birmingham, Mama Told Me Not To Come, Heaven's Gate, Riders On The Heart, Questions Of Time, Louis XIV, Fakes & Liars, Honey Tree, Birdie Song, Dreams & Light, Sucker, Mother Valentine

CAD1012
Heidi Berry — Love

Washington Square, Up In The Air, Gloria, Great Big Silver Key, Wake, Cradle, Hand Over Head, Silver Buttons, Lonely Heart, Bright As Day, Lily

CAD1013
His Name Is Alive — Home Is In Your Head

Are You Coming Down This Weekend?, Her Eyes Were Huge Things, The Charmer, Hope Called In Sick, My Feathers Needed Cleaning, The Well, There's Something Between Us And He's Changing My Words, The Phoenix, A Pool Of Ice, Are We Still Married?, Put Your Finger In Your Eye, Home Is In Your Head, Why People Disappear, Her Eyes Are Huge, Save the Birds, Chances Are We Are Mad, Mescalina, Sitting Still Moving Still Staring Outlooking, Very Bad A Bitter Hand, Beautiful And Pointless, Tempe, Spirit And Body, Love's A Fish Eye, Dreams Are Of The Body, The Other Body

CAD1014
Pixies — Trompe Le Monde

Trompe Le Monde, Planet Of Sound, Alec Eiffel, The Sad Punk, Head On, U-Mass, Palace Of The Brine, Letter To Memphis, Bird Dream Of The Olympus Mons, Space (I Believe In), Subbacultcha, Distance Equals Rate Times Time, Lovely Day, Motorway To Roswell, The Navajo Know

BAD1015
Throwing Muses — Not Too Soon

Not Too Soon, Cry Baby Cry, Him Dancing (remix), Dizzy (remix)

BAD1016
Lush — Black Spring

Nothing Natural, God's Gift, Fallin' In Love, Monochrome

CAD1017
Spirea X — Fireblade Skies

Smile, Nothing Happened Yesterday, Rollercoaster (spirea), Chlorine Dream (remix), Fire And Light, Spirea 9, Speed Reaction, Confusion In My Soul, Signed D. C., Sisters And Brothers, Sunset Dawn
This post is part of the chronological look at all 4AD releases, year by year.
*) Missing from Spotify.