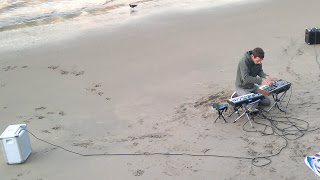 Just beachy electronic music
Laurie Anderson is doing a tour! I had no way of getting away from work until one of the last dates on the tour: Performing at Antony's Meltdown thing in London. Which was fine by me. Lots of other shows at that thing that I'd like to see, like Matmos. And Antony.
So I ordered the tickets. And then it dawned on me that this was taking place during like that sports event you know.
Eek time.
But you know. It's been just luvverley. Sure, there are more people here than usual, but it not a catastrophe. It' more of an apostrophe.
There's a bazillion nice people kindly directing the excess touristry ("Oi! Get off the road! It's a red light innit?"), and while the tube may be crowded sometimes, it seems like there's a train everywhere every minute.
Boris makes the trains run on time. You know what that implies.
London is the same as always, only more so. You can't pass through any park, no matter how minuscule, without happening upon a pavilion with some ladies singing. Pass through the South Bank Centre and watch the 20 ballet dancers that seem to happen to spend all day practising synchronised break-dancing in the basement. And walk along the beach and listen to a busker performing abstract electronic music on his two Korgs.
It's just kinda awright, innit?
Oh! And the Tate Modern. In the Tanks they had a new exciting artist called Unilever, who was doing a piece involving like 50 people running around in a whopping big room. Or standing around and singing. Or sitting down. Or doing nothing.
They were dressed normally, so during the more dormant periods the audience would sort of wander amongst them, until they realised what was going on.
The unsettling thing about the piece was that occasionally one of the performers would leave the herd and come sit next to you. Then they would tell you a story. About something awkward. Or something they were ashamed about, I guess.
It's very odd sitting there listening to somebody tell you something personal and not saying anything in return.
I give Unilever lots of thumbs up.
It's apparently gonna run until October. Those people must get tired of running and confessing after a while.
Oh well.  That's art.