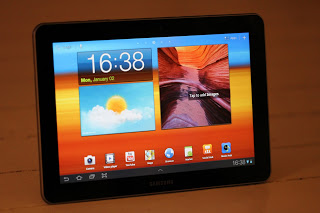 Ugly OS
This year, I'm finally actually really (this time) learn to read French.  So I needed a dictionary by the couch, so I bought a Samsung Galaxy Tab 10.1, which is the tablet with the longest battery life, allegedly.  (Apart from the tablets from The Company That Shall Not Be Mentioned.)
The most immediately striking thing about Android is how butt-ugly it is.  Excuse me.  I didn't mean to slander butts.  It's not just ugly.  It's ugly-fugly.  I mean, look at those colour combinations.  Just look at it.
And scrolling in the browser is quite choppy and not smooth and nice, like those other tablets that I'm not mentioning.
And that concludes this consumer review.  This stuff is easy!