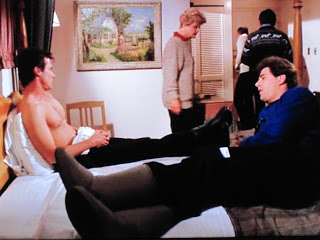 Extreme Couching
It's always fascinated me that on American TV shows, people seem to put their feet up on furniture, even though they are wearing shoes.
After spending some time in the US, I realised that TV was only reporting fact.
It's so shocking, I'm sure.
I've got a cold now, so I'm watching episodes of Murder She Wrote.  It's the closest thing you can to do being asleep without actually sleeping.
And there I found the most extreme example of Couchshoeing ever.  It's two guys on a bed WEARING SKI BOOTS!
We have a winner.