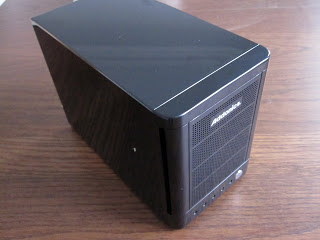 Addonics Mini Storage Tower
You will remember me getting a new eSATA box with the crappiest thermal design ever.  To recap, there's a big fan situated a few millimeters from an almost totally non-holey wall, Batman.  When fans are that close to an obstruction, the air flow makes a lot of noise.  So I unplugged the fan to see whether it would work as a fanless box.
And it didn't.  One disk died after a week or so, presumably from heat stroke.  So I plugged the fan in again, and lived with the sound of a vacuum cleaner emenating from the hall closet.
Cthulhu Attacking
Until today, when a new enclosure (from Addonics) arrived.  As you can see, there's nothing obstructing the air flow here.  However, it's not really a hot-plug enclosure, which is disappointing.  With all the various loose wires inside the box, it looks like Cthulhu exploded inside it.
But it's pretty quiet.  I can't hear it at all on a two meter distance, if the closet doors are shut.
So I give this a two thumbs up on a five star scale.