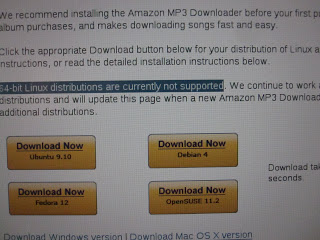 So, I stumbled onto Suddenly, Tammy! having their third album (which was recorded in 1997, but held (and not released) by Warner's (they fired the band, but refused to give back the music to the band (record labels are scum)) finally seeing the light of day yesterday. (You can untangle the tenses, I think.)  So I googled for the album, and Amazon came up first.
The album was only released digitally, so I 1-clicked it (Amazon so deserved that patent), and then the screen at the right appeared.
So: To download the mp3s, Amazon wanted me to install an executable!?
Are they insane?  Or just deranged?  I don't install an executable on my precious machine for anybody, unless it comes from debian.org, or is in source code form.
Why, by Emacs, would downloading a set of mp3s require installing an executable on my machine?
To add insult to injury, the executable wasn't actually available on my machine, since it's only for 32-bit Linuxen.
What.  Ever.
I clicked further into the Google results, and on page fourteen i finally stumbled onto 7digital, which allowed just, like, downloading the mp3s (in a zip archive).
Yay.  Music.