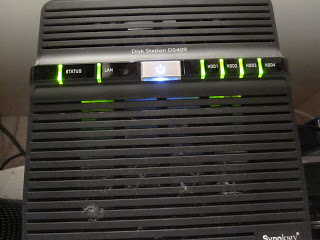 Do you see that thing over there?  The Synology Disk Station DS409?  It's crap.
It's not the usual hardware RAID problems that make it so crappy. 
Yes, it's slow.  Painfully slow. 
Yes, it has a weird Linux kernel that, somehow, manages to do put all NFS clients into
df: `/mirror': Permission denied
if you change any export permissions.  Any.  Not even on the volume in question. Or
df: `/mirror': Stale file handle
if you reboot it.  How have they even managed to do that?
No, it's not that.
It's that if one of the disks break (as they are wont to do, which is why we have the "R" and "I" in "RAID"), which usually happens at 2am, the thing starts beeping.
Loudly.
Beep.  Beep.  Beep.
And there's no way to turn the beeping off.  Other than switching the entire thing off.  So you have a redundant disk system, but if one of the disks break, it starts beeping so loud that it'll wake all the neighbours, so you just have to switch it off until you can find a new disk to replace the old one.
So it's redundant, but you can't use it.  Ingenious.
The only thing I can recommend about the Synology DS409 is that it's less unstable than any of the other commodity hardware RAID devices I've used.  Which means that as soon as 4TB disks become available, I'm going to just make a two disk soft RAID device and escape the horrible clutches of hardware RAID makers.
(I should make this blog into an electronic consumer review site, shouldn't I?)