Dear diary,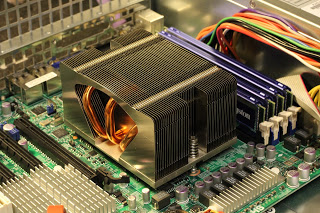 Sinking Heat
today I got the heat sink and the RAM for the new server. I installed them and hit the power switch.
It's alive!
I haven't built a server in ever so long, so I'm happy and kinda surprised that it works.  The Samsung 830s I ordered haven't arrived yet, but they're supposed to ship in a few days.  The OS is going to be on a spinning disk, anyway, so I installed a normal Western Digital Enterprisey and untarred Debian onto it.
It still works!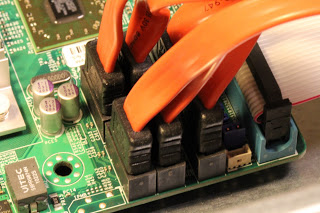 SATA Galore
However, the disk performance isn't all that great.  Since the disk is quite modern, and the motherbord is quite modern, I had expected sequential writes of 120MB/s, but I only get 105MB/s.  Boo.
To bad I don't have any SATA3.0 disks to test with.  The spinning disk is just a 3Gbps SATA disk.  At least it means that les backplanes sont des connecteurs simples sans électronique ni intelligence.  For SATA2, at least.
Oh well.  The Samsungs will arrive any day now and I can start testing!
(Continue reading my secret diary.)